I've been travelling around Asia for over four years now but it wasn't till recently that I travelled to Myanmar and hell… This insane, beautiful, challenging and hilarious country just blew my mind. Whenever I meet backpackers, I always say to them "You have to go to Myanmar, it's a life changing experience". Many people skip Myanmar for the easier, well trodden, backpacker route of Thailand-Laos-Cambodia-Vietnam. Don't overlook Myanmar, don't miss out on such an awesome country, now is the time to go. In my opinion, Myanmar offers more than all the other countries of South East Asia thrown together, here's ten of the best Myanmar travel experiences for budding explorers…
HERE ARE MY 10 BEST MYANMAR TRAVEL EXPERIENCES…
01: Meet The People
For true hospitality, travel to Myanmar
In my travel experience, out of all the Asians I have met, Myanmans are the kindest, most friendly people and are willing to go above and beyond to make friends with you, help you out and make sure you are having a great time in their country. They always seem to be happy, smiling and keen to practice their English over a glass of tea! They can be quite a shy people as they are extremely polite, kids tend to be the exception to the rule – they will always run up to you to practice their English. Unlike the rest of Asia, I was never once hassled by locals for money. The Myanman people left a lasting impression on me; I felt that I could truly trust them and I made some incredible connections with locals I met whilst travelling there. One of the best Myanmar travel experiences is simply getting to know the locals…
02: Explore Insane Temple Ruins
Get lost in some of the biggest temple ruins in the world
When most people think of lost cities they immediately think of Angor Wat in Cambodia or maybe Hampi in India but the ruins of Bagan in central Burma are without a doubt the most stunning, least touristy, ruins I have ever seen. I spent an incredible few days exploring by bike, watching the sun set over Bagan's temple studded plains and making friends with the local kids out to practice their English. For the true adventurer, you can head even deeper into the country's largely unexplored regions and visit the stunning temple ruins at Mrauk Au, you will probably have them all to yourself. Exploring temples is one of the best Myanmar travel experiences for history-geeks… like myself!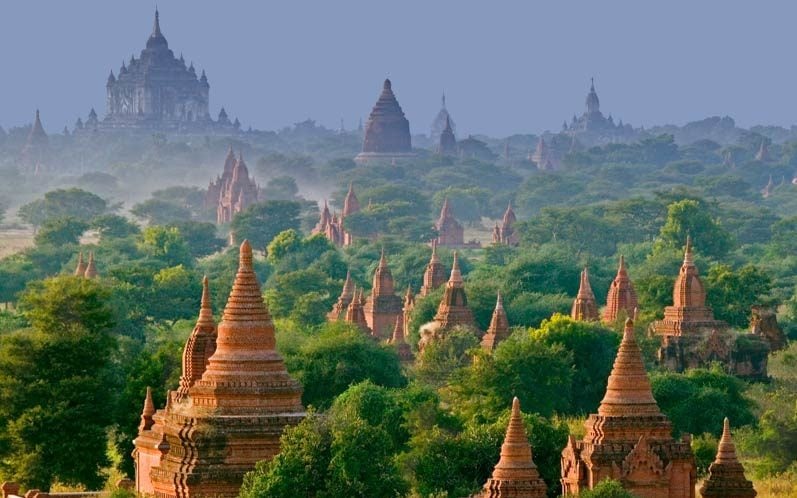 03: Real Exploring
Discover the Asia of 100 years ago
Myanmar is an absolutely massive country and there are many hidden gems in this astounding country which only the locals will know about. It is extremely easy to get off the beaten track and to have temples, ruins, mountains and caves all to yourself. When backpacking in Myanmar, I felt like I had stepped back 100 years into the past, I felt like a proper explorer. The people who I met in remote communities in the Shan highlands had often not seen another westerner for months or even years, this is prime exploring territory.  Whilst exploring the south of the country I came across a huge field of painted Buddha statues, some were cracked and covered by jungle, others looked freshly painted. Who built, painted and maintained them? I have no idea. This is why I love Myanmar and this is why heading off into the hills is one of the best Myanmar travel experiences.
04: Trekking
Take to the hills and meet awesome people
Trekking in Myanmar is a relatively new activity but already tour agencies are springing up to cater for adventurous backpackers. Most backpackers opt for a two day trek around the stilt villages of Inle Lake but for a real experience; head deep into the Shan highlands or South to Hpa-An. Here you can summit jungle clad limestone peaks, many of which are topped by small monasteries, and soak in some spectacular views. Trekking in Myanmar is a really amazing experience; I spotted colourful freshwater crabs, hiked through mist draped forests and shared tea with novice monks who spoke no English but always seemed happy to see me. The best Myanmar treks are in the North of the country…
[irp posts="14554? name="Chin State Photologue"]
05: Monks
Spiritual-esque discussions galore
Speaking of Monks, it's pretty hard to travel in Myanmar without meeting a few! I had some amazing discussions with monks I met in temples, on buses, on the street or even whilst riding my bicycle. I was told by a monk that 1% of Myanmar's entire population are monks and they certainly seem to be everywhere.One of the best Myanmar experiences that I had was chatting to a monk I met in the jungle… We chatted for a while and I spent an hour helping him repair a wall, he offered me tea and allowed me to take his photograph. I came away with a richer understanding of what Buddhism is all about. The monks are a friendly bunch and would often ask me all kinds of questions about life outside Burma, spirituality and even football!
06: Food
 "Really? The food's OK?" I hear you ask…
The food is better than OK, Myanman cuisine is some of the best in Asia. Sure, there may not be many Myanman restaurants outside of Myanmar but that's largely because the country has been shut off from the rest of the world for so long. The food is an eclectic mix of Thai, Chinese and Indian cuisine and basically includes all the best bits from Thai, Chinese and Indian dishes. Be sure to try out some of the best Myanmar dishes…  Check these tasty, one of a kind, meals out:
– Gyin Thohk – tasty ginger salad with sesame seeds.
– Kat Kyi Hnyat – The Burmese answer to Pad Thai, a gorgeous coastal dish of rice noodles with seafood, meats, raw bean sprouts and fried eggs.
– Danbauk – A tasty Indian inspired curry served with mango pickle, fresh mint and green chilli.
– Shan Tofu – Do not miss this awesome home-made tofu from the Shan highlands.
07: Cheap Beer!
Beer for 50 cents?!
I have made it a personal mission to sample as many local beers throughout the world as I possibly can… so far, Myanmar Beer is without a doubt my favourite in Southeast Asia. For just 50 cents, you can have a cool, refreshing, tap drawn beer in an iced glass. For five bucks, you can get well and truly merry. Mandalay Beer makes a tasty alternative if you get sick of Myanmar Beer but I can guarantee you won't… One of my best Myanmar moments was getting pretty sloshed with a bunch of locals who didn't speak any English.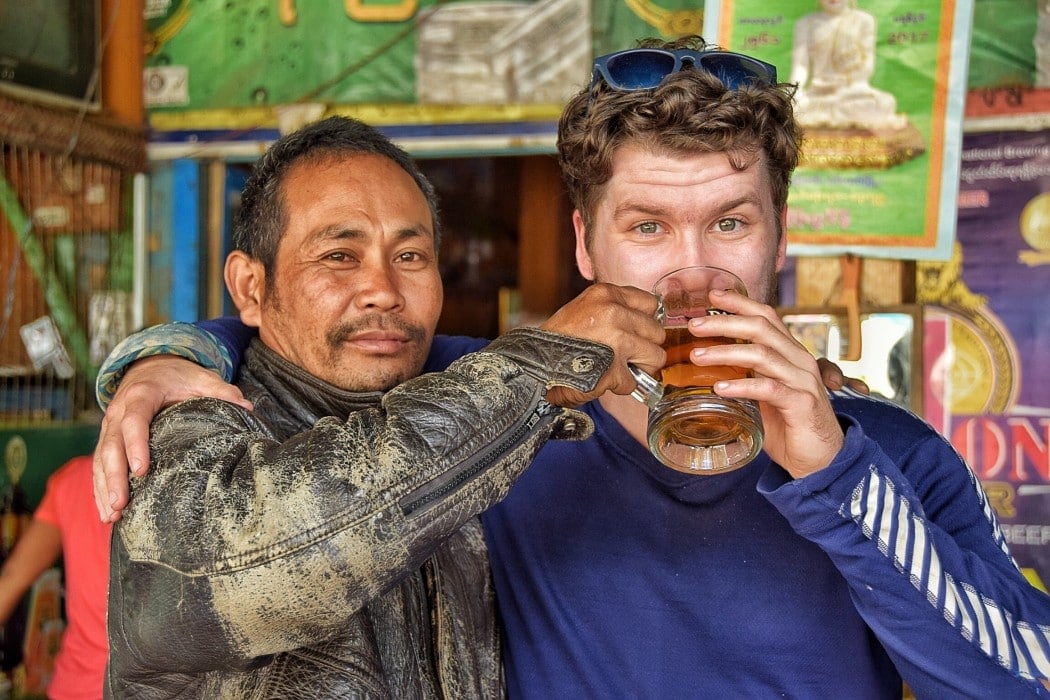 08: Stunning Islands & Beaches
Myanmar has a hidden paradise of unexplored beaches and islands
Most Backpackers are not yet aware that Myanmar has some of the world's most beautiful beaches and islands. Until recently, these palm-fringed, white sand playgrounds were off limits unless you had a super-yacht handy but this is changing fast and every week more and more restrictions are being lifted. Now is the perfect time to travel to Myanmar and hunt for your dream island; think coral blue waters, coconut cocktails and perfect sandy beaches, the opportunities are endless. There are over 800 islands in Myanmar's Mergui archipelago which are currently empty, making this the perfect opportunity to head out on a kayak or boat and discover paradise in the ocean.
09: Caves
Discover cavernous underground temples filled with Buddha images
When travelling, I'm always looking for adventurous ways to keep myself busy, whether it's living in a cave with a Bedouin or mountain biking through the jungles of Laos. In Burma, there is a ton of activities for the adventurous traveller but one of the best has got to be exploring some of the huge caves which pockmark the country. Many of these are not covered by any guidebook, it's simply a case of asking around and seeing if there are any cool caves nearby. One of the biggest which I visited, in the South of the country, was filled with huge Buddha images and statues as well as some beautiful rock formations. I walked through it for over an hour, it must have been about three kilometres long, before I emerged on the other side to find a hidden lake framed by a backdrop of limestone mountains; to this day it is still one of the most beautiful things I have discovered whilst backpacking. The best Myanmar cave temples are in the South.
10: It's changing fast
Now is the time to go!
Myanmar is well and truly back on the Backpacker map and in 2017 it has become the place to go. I was lucky enough to first visit in 2011 and I met perhaps a dozen backpackers in my entire time there. These days, more and more backpackers are tagging Burma on to the classic Thailand – Laos – Vietnam – Cambodia route, and rightly so! However, as the country continues to open up and as investment and travellers continue to pour in it is only a matter of time before some of Burma's most enchanting attractions become diluted. Luckily, the country is so big that there is plenty of room and plenty of wild places left for backpackers to explore. Do not hesitate; visit this incredible land now, meet the wonderful people, have a beer or three and explore till your heart's content.
…AND NOW? PACK YOUR BACKPACK, BOOK YOUR FLIGHT AND GET OUT THERE!!
Need some more information? Check out this travel guide I wrote based on my travels in Burma. While you're at it, check out how the safe the country really is with our dedicated Burmese safety guide!
Have you been to Burma? I would love to hear all about your experiences! What was your favourite place, where did you go, where did you stay?
---
Thanks for reading – that was fun! 😀
We bring you epic FREE content!
Find out how YOU can help support us.
We're a big site with a big team and this job isn't always easy. But we do it because we love it – we love providing epic and free content. We love the knowledge that our content keeps you adventuring. We don't ask for money, but if you'd like to find out how you can help the site in more organic ways, click the button below.
Thank you for your support 🙂
---
Bye for now, but not forever!
If you want MORE top-tier Broke Backpacker content like this, then sign up for our weekly newsletter below to get the latest and greatest!
And for transparency's sake, please know that some of the links in our content are affiliate links. That means that if you book your accommodation, buy your gear, or sort your insurance through our link, we earn a small commission (at no extra cost to you). That said, we only link to the gear we trust and never recommend services we don't believe are up to scratch. Again, thank you!