Ahoy friends, and welcome to what will be my final year in review on The Broke Backpacker.  
What a year we have all just had! 
I'll tell you what, 2021 was the best year since 2020, that's for sure, and in some ways it was the best year of my life personally… a lot of truly magical things happened, and I'm looking forward to sharing some of the most valuable things I've learned over the last year.
I'm going to be sharing my highlights of 2021, my goals for 2022 and the most impactful lessons I've learned from traveling and blogging over the last ten years… There's some good stuff in here so whether you want to level up your skills as either an entrepreneur or broke backpacker, I hope you find some value. 
Firstly, a brief walk down memory lane to bring you up to speed…
A Closing Ceremony
Incense stung my eyes, the smell of jasmine hung heavy in the air. I waited, my heart doing somersaults in my chest.
I had not seen Nina for over a year. She had moved out of our shared home eighteen months ago, our relationship taking a couple more months to fully break down.
Nina was gone from my life and change was inevitable.
Myself and Nina first met in January 2016 in a snow-soaked Tehran, the capital city of Iran.
I was on a solo journey travelling from the UK to Papua New Guinea (the furthest away exotic location I could see on the battered map hanging in my parents living room). I had hitchhiked across Europe (in winter – not the best idea) before driving along the length of Turkey, spending my birthday in Georgia (and getting incredibly wine-drunk for the first time in my life). Once the hangover had passed, I crossed into Iran.
I had plans to blaze my way across Asia, to explore far-flung places, meet interesting people, and to push myself to my physical and mental limits.
I'll be honest with you though – I went on this trip to achieve three things…
It seemed like a good way to meet girls.
I wanted to push myself far out of my comfort zone in my quest to become better at problem solving, managing my mental health and gaining confidence.
I recognised that my route was pretty unique and if I pulled it off I may be able to generate some kind of media attention leading to oh so sexy backlinks and therefore a step in the right direction to being able to earn a living from my humble little travel blog. 
I had always been fascinated with lesser-visited countries. It seemed to me that the vast amount of travel blogger coverage (at the time) focussed on pretty unaffordable flashpacker style jaunts around places such as Thailand, Mexico, Costa Rica, France and all the rest…
There's nothing WRONG with these places (apart from France obviously) but, for me, they lacked the electric energy of traveling somewhere more raw, somewhere that could truly shock me, teach me, and push me out of my comfort zone. I also couldn't afford to even think about travelling in such a flashpacker style. I genuinely had to strategise my trip around spending as much time as possible in cheaper and more wild countries. I was stoked to cover these places, learn some things and share them with a humorous, honest and hopefully useful lens on my blog.
When I think of the beginning of this journey, more than six years ago, I smile ruefully and think that it was a glorious, mayhap foolhardy, plan… I specifically remember I planned to somehow raft my way from Malaysia, along the length of Indonesia to Papua New Guinea; a feat which I now view as risky for sure and quite likely far beyond my intermediate abilities as an adventurer and sailor! 
For better or for worse, a roll of the dice had occurred, and meeting Nina was to change my life. 
Our meeting was passionate and 'go with the flow' from the very beginning. A heady rush of forbidden love in an Islamic state where anything, surprisingly, was possible. After talking all day in a coffee shop and seeming to really just vibe, I asked Nina if she wanted to join me for my time in Iran.
We spent 6 weeks hitchhiking around Iran together, camping and couchsurfing, exploring deserted beaches and sharing our hopes and dreams whilst watching shooting stars race across the night sky. 
Eventually, my visa was up and the time came to leave Iran. The plan was to inch my way closer to Papua New Guinea.
I left Nina and made my way to Pakistan –  a country which was to surprise me more than anywhere else I have ever been. 
It was here that I was to find myself deeply enmeshed in a mountain community; a village I would return to every year for five years, a place that felt more like home than anything I had experienced elsewhere. 
The mountains of Pakistan are a truly special place and it was here that a younger Will was first able to take a deeper breath, calm down for a second and try to find a deeper connection with himself whilst in the mountains. 
This was the first time, surrounded on all sides by giants of stone, rock and ice, a shining glacier stretching away in front of me, eagles whirling and weaving overhead, a cup of hot and spicy chai in one hand, a fat fucking joint in the other, that I first started to truly journal.
I had always travelled with a journal, but incredibly rarely did I do an honest assessment of my strengths, my weaknesses, my triggers, my values, my goals and the strategies that would enable me to reach my goals. 
I gotta tell ya, journaling has absolutely changed my life…
During that first journaling experience, I wrote down some childhood trauma upon a scrap of paper, set it aflame, and released it swirling and dancing, disintegrating and disappearing, into the winds of the Karakoram. A relief hit me as the final embers sputtered and died, and I felt it was time to take a chance on love, no matter the doubtful looking odds.
I pulled forth my phone and sent a simple message (which would not actually send for several days, because I was in the mountains)…
"Nina, do you want to explore this further? Would you meet me in India?"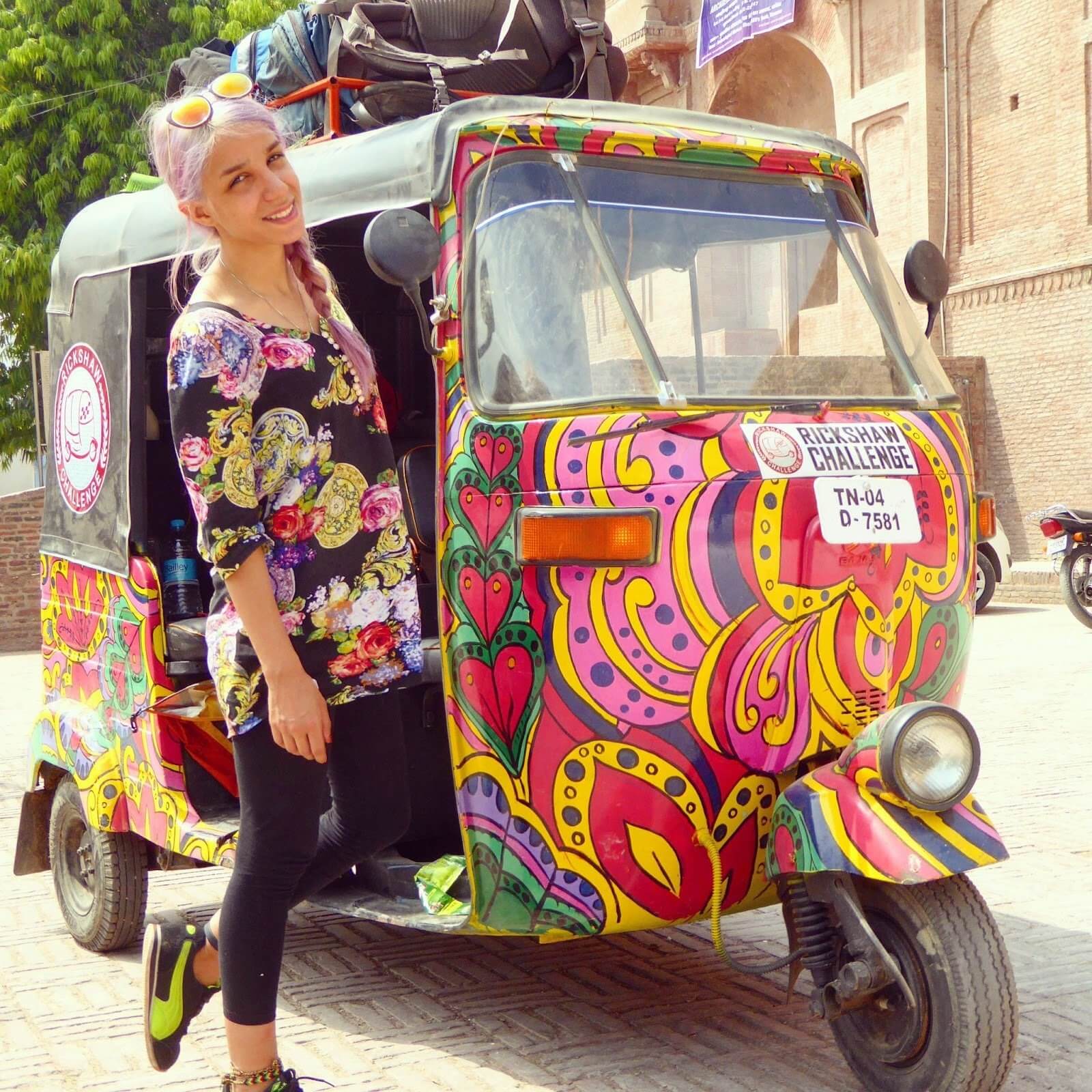 At the time, The Broke Backpacker, was an incredibly humble and decidedly amateur affair that would bring in about $500 – $2000 a month; mostly from sponsored content.
Nina and I spent the next years working our asses off to grow The Broke Backpacker into the proud pillar of backpacking knowledge that it is today. I learnt a huge amount along the way about what it takes to build a successful online business; I'll be sharing the five most important lessons later in the post so keep an eye out for that. 
Over our four years together, me and Nina would go on many adventures… we traveled together and separately, we experimented with opening up our relationship, we grew together and ultimately we grew far apart and our relationship ended. 
In February 2020, Nina did the brave thing and she moved out of our shared villa in Bali and up to her own place in Ubud. She generously allowed me to keep our dog.
Nina embraced her new life in Ubud, breathing a sigh of relief that she no longer needed to work on The Broke Backpacker, or had to face every day with the fact that we were in a broken relationship. 
For me, things were about to get pretty bad… you can read all about that in this post here but basically just after Nina moved out, Corona washed over the world, crushing my businesses and putting me in a precarious financial situation. I was stressed, anxious and alone. 
Bankruptcy loomed its ugly head, I was working my ass off juggling all kinds of ways I could maybe make enough money to keep my team employed and invest in the other projects I was already committed to.
Over 2020, I exhausted much of my savings keeping the ship afloat, my team employed –  and myself as drunk as possible. Slowly but surely however, I picked myself up and began to invest in a new life by myself. 
I doubled down on my gym training, I got a counsellor, I worked hard to find things to be grateful for, and I worked on forging habit stacks for myself that made it easier to be a better person. I cut back on my drinking, dialled in my sleep and hit my whiteboards hard, working on my affirmations, goals, and habit tracking.
I met a few girls here and there for casual fun, but there was nobody who truly captured my attention and nobody I really vibed with. 
I started to think it was pretty unlikely I was going to meet somebody who I could really connect with… somebody who was fun, brave, brutally honest, fucking sexy, genuine, non-judgemental, committed to growth and overall wanting to live a happy, healthy and easy life.
I wanted to meet somebody who was passionate about travel, but ultimately also wanted to settle down and start a family. I wanted to find somebody who made me feel properly understood, accepted and loved. I wanted to find somebody who would be unshakeable in the face of my weirdness. It seemed like a lot to ask for.
I thought 'fuck it, it isn't the right time' and I stopped looking. 
As is often the way – when you stop looking, if you've got other parts of your life in order and are working hard on your personal development, the hand of fate may wave to assist thee…. More on that, complete with a romantic 'awwwww' love story, in a little bit. 
Alright, back to the ceremony…
I admired Nina's new home, a villa she had completely gutted and started again, upon the edge of a rice paddy in Ubud (you can actually rent it if you visit Bali, it's truly beautiful, check it out here), whilst waiting for her to finish her hair appointment.
I had driven up to Ubud at Nina's invitation for what she called a 'closing ceremony' – a chance to honor our journey, forgive old hurts and properly move on. 
She came into the other room and I sensed some awkwardness. I rushed to close the gap, gave her a crisp high five (always the easiest way to start a connection) and followed it up with a hug.
Over the next two hours we took the time to honour our journey together and each other. 
We listed the things we were grateful for from our time together.
We expressed how we both had grown since we had separated.
We reminisced. We laughed. We cried. But they were mostly happy tears… a release. 
We let go of hurt, anger, jealousy and strife. 
We shared our hopes for the other to find love, peace, joy, and all that good and wholesome stuff…  It was an incredible weight lifted. 
Finally, at the end, Nina burned some sage, we embraced one more time, and I set off… freer, lighter and feeling that we had ended our relationship in a beautiful and spiritually wholesome way. 
(Note: I sought Nina's permission to retell this story). 
Alright friends, now that I've made that nod towards the events of 2020, it's time to run you through the highlights of 2021…  
Strap in, there's some interesting things to share.
THE HIGHLIGHTS OF 2021
Keeping Businesses Running During Covid
An undoubted highlight of 2021 was the slow recovery of The Broke Backpacker's traffic and revenue. Whilst Covid truly DID kill off or freeze several of my projects over the last year, this has kind of been a good thing. 
When I originally started my entrepreneurship journey I threw a lot of ideas at the wall to see what would stick. More stuck than anticipated and I ended up involved in a total of 9 ventures, for a while.
I have now vastly reduced my scope so that I can focus my time on my core projects; Tribal Hostel
Whilst 2021 was definitely better than 2020, we still encountered new challenges on TBB.  Various companies slashed their affiliate percentage payout or cut their program altogether. 
Still, the proof is in the pudding, and you can see the site's growth in the analytics screenshot below which shows the HUGE dropoff we experienced in traffic as Covid truly got going around March 2020…. And then a healthy and respectable recovery that is growing strongly. 
Returning to Pakistan, and ending a journey. 
In March, I hit the road for the first time in a while and made my way back to Pakistan to get some much needed mountain time.
Being back in the mountains was, as always, a powerful experience in which I was able to take a moment to examine who I am, what I stand for and where I want to be in three years' time. 
After asking myself some tough questions, I realised that it was time for me to move on from Pakistan and that there were some unhealthy relationships in my life that were holding me back and causing me consistent stress. It was time to let these go. 
I had the honour of being one of the first bloggers to really put out information on Pakistan and have since returned to the country many times. I was so passionate about Pakistan that I considered myself an ambassador of sorts for the country – at least in the tourism and backpacker sense. I worked hard to promote and ultimately bring people to Pakistan; I promoted it on my blog, founded Epic Backpacker Tours on my own back in 2016, and was also involved in funding a small local guesthouse in Hunza.
I started the Backpacking Pakistan Facebook group in 2016 as an up-to-date resource for backpackers to source and share info and contacts for Pakistan. Back then, there was woefully meagre information available on Pakistan, no phone signal up in Hunza, and hardly any travellers in the whole country – it was a different time. 
Since that group thrives on up-to-date info and collaboration, I am no longer the man to steer that ship as my knowledge of the current happenings in Pakistan's affairs is becoming quickly outdated. Thus, I am handing the group over to the undisputed Pakistan expert, and my fanboy adventure-crush, Alex Reynolds over at Lost with Purpose, as well as Samantha Shea (who seems to basically live in Pakistan now and has taught herself fluent freaking Urdu – impressive) over at Intentional Detours and disappearing into the sunset, steel charger a-chugging-along.
I will always have a deep love for Pakistan, however the time has now come for me to step away and explore new frontiers. I don't think I'll be returning to Pakistan anytime soon, and I have ended my involvement in the tours – it's not possible for me to vouch for them moving forwards. 
If you want to go to Pakistan, go independently (it's honestly pretty easy) or go on a tour with Alex Reynolds. I do not recommend travelling with EBT. 
I was sad to surrender a business I had founded solo, spent considerable time on and put a lot of money and energy into keeping going but ultimately I feel much happier to have some dishonest people gone from my life.
I could have fought to have the name EBT retired to avoid confusion, but I wanted this chapter closed as quickly as possible and that clouded my judgement. 
Ultimately, surrendering my stake in EBT was the right decision for my mental health and allows me to spend more time on things that make me happy, whilst cutting unneeded stress out of my life permanently.
Pakistan is still incredible, and in the words of Maximus' awesome gladiator buddy… I will see you again but not yet, not yet.
Exploring time alone
With Nina leaving our home together, and many friends opting to leave Bali for home amongst the uncertainty of Covid, I found myself suddenly alone a lot of the time. This was a bit of a change for me and I struggled with my mental health.
As with a lot of travellers, I usually find an immediate fix for my mental health in changing my scenery; moving on to someplace new. 
However, I was unable to simply hit the road, as the borders were closed. I imagine so many of us that live a somewhat transient life – or at least took travel for granted – ran into this wall. We had to sit still for the first time in years. Look, if it was hard for you: I feel you. This was not an easy time.
Then again, having so much time alone turned out to be the most amazing opportunity; I was able to really experiment with and dial in different routines and habits with the goal to forge my dream situation.
When Nina left, I sat down with a piece of paper and thought about what I wanted my life to look like moving forwards and how I wanted to show up. I listed qualities I wanted to foster, came up with some mantras around these qualities and stuck them fucking everywhere e.g. alongside my monthly, yearly, and three-yearly goals. Thinking about this stuff allowed me to move past the immediate pain of feeling lonely and reading these mantras and affirmations daily had a powerful effect and would spark a journey of fascination with attempting to condition myself to behave in certain ways. 
I would spend a lot of time figuring out the best ways to strengthen my mental and physical health over the year, here's some of the best stuff I learned…
It's useful to constantly ask yourself who you want to be and to figure out your personal value system; you can then design mantras around these, put them into affirmations or even write your own manifesto to guide your decisions. Goal setting is incredibly powerful; seeing those goals written down every day has a powerful cumulative effect. 
Social media is not something that makes me happy, healthy or wealthy (so I cut it from my life).
Time efficient fitness wins; Tabatas, Pilates, Icebaths, Intermittent fasting. 
Journaling (however you use it) – is great. Some ways I use my journal: Gratitude, check in with self (questions), goal setting, time slot organisation, letting go of something that pissed you off. 
Awareness is key; being aware of when I'm tired, hungry, dehydrated, anxious or triggered by something allows me to reduce the effect it has on how I feel. 
Habit stacking and habit tracking (best done visually, a static whiteboard on the wall is ideal) and actively thinking about what habits you do and don't want in your life is important. Environment is often key, so make your environment less or more comfortable as necessary to achieve what you want. 
Since I do a lot of my work through voice messaging, my phone was causing me a lot of stress. I couldn't switch off and use the healthy elements of a phone (music, audible, podcasts etc) without being tempted by all the other shit which could spike my dopamine or stress hormones with no fucking warning… I came up with the 2 phone system to solve this problem and it's a fucking game changer.
Expanding the team of legends… 
Over the last year, The Broke Backpacker family has grown! There's now over a dozen swashbuckling adventurers contributing to what we think is the world's most honest, no-punches-held travel blog. 
We made the somewhat crazy decision to hire more folks because with the ravages of Covid we found that a lot of our content was, how to put this delicately, totally fucking inaccurate. 
I'll hold my hands up and admit to you, dearest reader, that Covid dealt us not only a financial blow but also a relevancy blow. Many countries, routes, borders, attractions, and even backpacker hostels remain fundamentally different to how we reported on them last. 
TBB is a big fucking site and we need a small army of people to even attempt to keep this much information up to date, whilst also of course working on cool shit to help you travel cheaper, better and with more purpose than before. 
The Broke Backpacker is the tip of the spear when it comes to putting out real adventure content on far-flung, lesser visited, lands, but also when it comes to guiding our readership on how to, well…. not be a dick. I believe that TBB has accomplished great things with our efforts to educate backpackers on how to travel in a way that benefits everybody, and how to maximise the opportunities for personal development that one finds upon the road. 
By having a larger team, The Broke Backpacker is able to remain the gold standard of accurate and actionable information for those seeking to hit the road on a real fucking adventure, whilst also continuing to put out really fucking awesome content (the best stuff makes us zero money) to help guide the next generation of globetrotting adventurers… Here's some content we put together recently that I'm particularly proud of…
Meeting my Person 
An undoubted highlight of 2021 was falling in love, something I wasn't expecting to happen again for me. Here's how I met my person… 
Curly auburn hair peeked out from beneath her motorbike helmet, catching the sun like spun gold. She looked at me and smiled (I think… she was wearing a face mask so it was hard to tell). 
"Can I help you?" I asked her, nodding towards her bike, one wheel stuck fast in a ditch. 
She nodded and I caught a flash of simply stunning sapphire blue eyes, a whole mysterious world swirling within. My heart caught in my chest for a second and then I gallantly rushed to get her shitty little scoopy out of it's predicament. 
A couple of big heaves later and it was free.
"Ask for her number, ask for her number, ask for her number" 
And…. she was gone. 
I had not asked for her number. 
I took a moment to call myself a stupid fucking cowardly idiot, made a note to work on my self-talk, sighed and headed down the pot-holed track towards a gigantic steel structure reaching up towards the sky. 
Tribal Hostel, a dream of mine for nearly a decade.
It was far from ready. We were one and a half years into the construction project and had been hit with multiple covid-related delays in the construction. 
We had run into so many problems and the scope of the project had ballooned until it came attached with a hefty price tag indeed. Myself and my business partner in Tribal, Mark, were very much all in. 
Whilst I was excited about Tribal, I remember at the time, walking down the shitty road in the fierce baking sun, seeing empty steel pillars like a sea of outstretched middle fingers, feeling distinctly demoralised… when the heck was this bad boy going to be ready to pop open its doors? I felt frustrated and impatient and I wanted a win… 
I wandered around the construction site whilst Mark pointed out where the bar would go, where the rooms would be, the outline for our co-working booths (complete with whiteboards!), the proposed colour scheme for the billiards table (hot pink, motherfucker!), the empty shell of the gigantic pool, and our chill seating area organised around a garden. There was a lot to be excited about, but right then and there, I remember feeling super stressed that all my cash was in this project and it looked like a very long time before I could hope to get any kind of money back. 
I spent an hour on-site and then wandered back up the road to where I had parked my bike and recently rescued the mysterious yet undoubtedly hot AF damsel in distress.
I popped in my headphones, put on my helmet, turned the key and turned around.
And she was there.
She was returning back to our shared parking space…
I took off my helmet, took off my mask, took off my headphones and waited for her to turn off her bike. 
"Hi, we didn't really meet before." I tried a calm and casual smile.
"My name is Will, and just a minute ago I was really kicking myself for not asking for your number… So…"
"Hi Will. Ah, Noice. Sure, sure, that would be great!" She said, smiling a little shyly (I thought), pulling out her phone and we exchanged numbers. Her name was Carrie, and when she smiled at me I felt like a million bucks. 
Almost immediately that evening, I texted her and invited her to join me for a cheeky smoke at sunset. It was a somewhat risky move but, to be honest, if she didn't smoke I doubted we would be aligned for spending much time together. 
She came over to my place and my two dogs, Chimigi and Kiki instantly fell in love with her. Kiki liked Carrie so much that she (Kiki, not Carrie) peed all over the place. 
We sat, chatting, watching the sunset. Carrie laughed at my clumsy, methodical, slow (yet steady, I hasten to add!) attempts to roll a joint and took over. 
The sun set and bathed the emerald green rice paddies in orange and yellow, patterns rippling across the water, a flock of water birds, some kind of crane I think, took flight and wheeled as one unit, heading off to somewhere new. Chimigi rested her head upon my lap and sighed, soaking in the last golden rays of the ebbing sun. 
Carrie and I sat and talked and then suddenly I did something I have no memory of ever doing before. 
Mid-sentence, I leaned forwards, brushed a lock of hair behind her ear, looked intently and fiercely into her eyes; galaxies and wormholes and spaceships and alien civilisations and nebulas swirled and danced and she looked back at me. She really looked deep into my eyes. It was incredibly intimate and I remember thinking "Read my mind, read my mind, read my mind" as I tried to pour my thoughts into her gaze. 
I kissed her, and that was that… our fates were entwined.
I think I can only remember four or five first kisses from my life, this one was the best. 
Over the coming weeks I got to know Carrie better. We had the best humour compatibility I have ever experienced and we laughed a lot. We connected deeply and casually, it was bliss. 
Over way too many drinks, I opened up to Carrie and told her I basically knew exactly what I wanted from my partner and life… We would spend the next year helping each other through our own personal development journeys, laughing, learning and growing together with a casual, trusting intimacy I had always desired. It's honestly been a beautiful fucking story. 
Basically, in a nutshell, she rocks my world and I'm grateful to be with her.
In November we headed off on our first trip together – visiting Portugal where we hiked, camped, dined, picknicked, explored and grew closer than ever before. 
We took MDMA together, prepping beforehand with our journals for some points we wanted to discuss, and then sitting out under the stars, poured forth our hopes, dreams and perfected our shared vision for the future.
Having the space in my life to truly think about how I can show up as the best version of myself, and what I need and can truly offer in a relationship was a powerful exercise. I've really been enjoying the process of setting intentions and a shared vision for the future within our life together – it's been epic. 
Anyway, that's enough loved-up ramblings from me, onto the next big and FUCKING EXCITING update!
Opening Tribal Hostel in Bali
It has been a lifelong dream of mine to open a hostel and after several years of struggle, Tribal Hostel Bali is finally open! 
For years, the idea of Tribal Hostel has been coming together. We've imagined the kind of place where one could stay for a day, a week, a month and feel at home…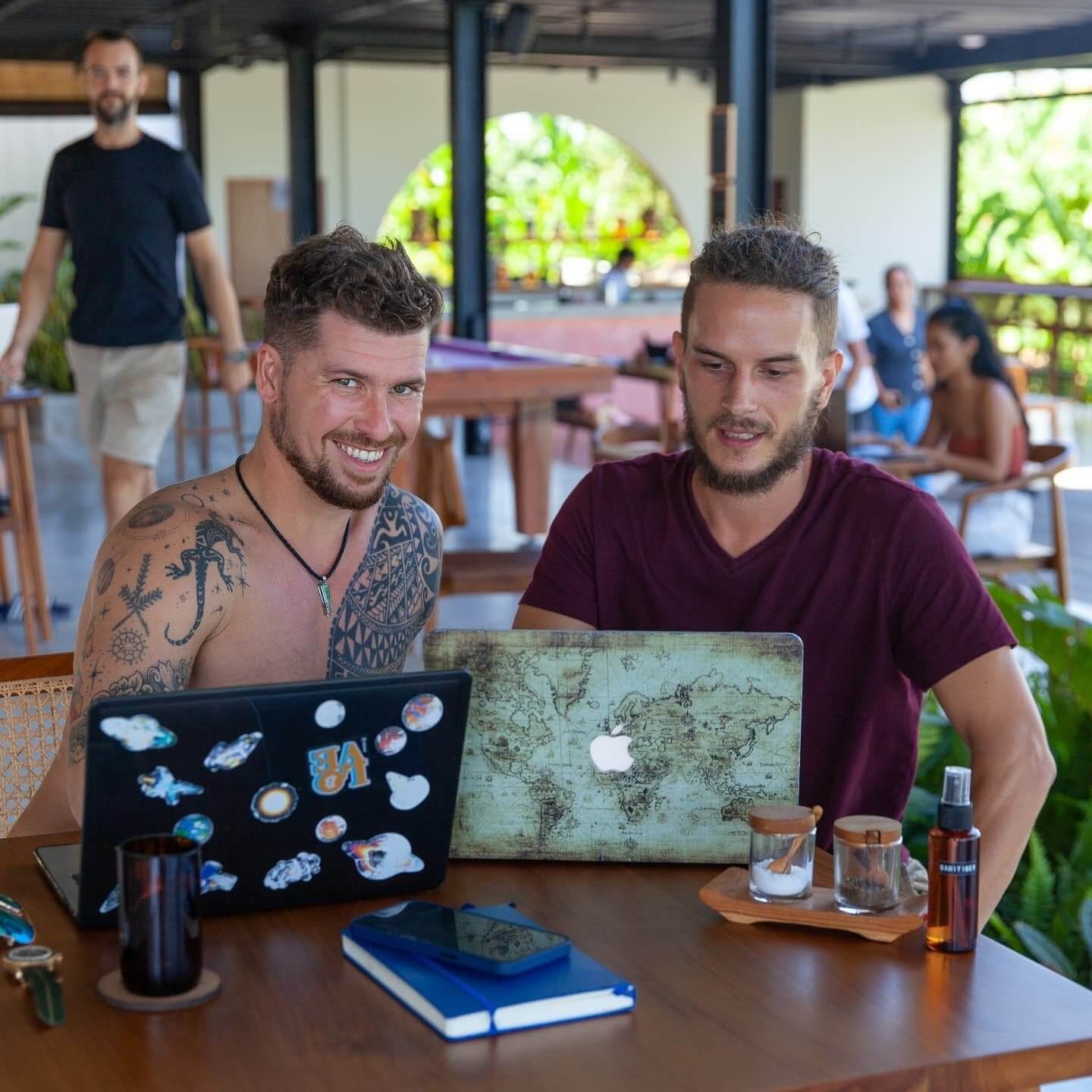 A hostel which has everything you need… beautiful views, comfortable beds, friendly vibes, damn good coffee, an excellent bar, classy cocktails, plentiful greenery, great vibes, an awesome team, a slackline, tasty food and, crucially, the kind of place where one could work from…
I wanted to build the kind of hostel I had always looked for but never found – somewhere I could work my ass off during the day, in peace, and then be assured of a good time in the evening with plenty of social areas.
We had our soft launch in September (opening the downstairs facilities only) and so far, Tribal Bali has been quite the hit. We tend to have a pretty loyal group of online entrepreneurs and digital nomads who come on down to work and play. Truly though, the journey is only just beginning… 
Dorms and private rooms will be opening in the next couple of months, watch this space and follow Tribal Bali on Instagram to be kept in the loop! 
Playing around with new writing styles and topics
Over the past couple of years, my gradual shift from writing about travel to writing about personal development (Most of which never sees the light of day) picked up speed as I simply wasn't able to travel much over the last couple of years.
I've instead been focusing on working on my personal manifesto (check out this post if you're interested in writing yours), my two phone system and my travel fitness routine.  
I have, frankly, been writing less and less content for The Broke Backpacker as it's important that we have folks with recent travel experience cover updates and new content so it really makes more sense for our large and varied team to all 'become experts' on certain destinations. 
I've also, in my spare time, been working on world building for a fantasy realm I plan on fleshing out over the next couple of years – it is an epic tale of magic and mystery, and yes – there's elves. Dark elves.
I will be blogging more, yet still sporadically, over at Ditch Your Desk as I continue to fade into the background here, to let the next generation of Broke Backpackers take over. Be sure to subscribe to the Ditch Your Desk newsletter to stay in the loop when I DO get round to publishing some of the personal development and entrepreneurship content I've been working on. 
Christmas, Omnicron, Preparing for the year ahead… 
Following our trip in Portugal, myself and Carrie returned to Bali for Christmas, enduring a short 3 day quarantine. My parents were supposed to visit for Christmas but with the new Omicron variant dominating headlines, many governments seemed to panic and shut down borders or extend quarantines so sadly my folks had to cancel their trip. I plan to visit them in Ireland next year, where we'll see each other for the first time in a while. 
Over New Year's Eve, I took time to reflect on the lessons I've learned from the year just gone as well as remind myself of my goals, the traits I am working on fostering and my priorities for the coming year. 
It was a powerful and exciting time, and it evolved into a mega journaling session in which I reflected on my journey as the broke backpacker. I  thought of the most impactful lessons learned from travelling, entrepreneurship and pursuing personal development over ten years. These insights are below and whilst they may not work or vibe with everybody, they have been incredible powerful lessons for me personally to learn.
The Most Powerful Lessons I've Learned from Ten Years of Travel and Entrepreneurship
Travel Lessons
Ok friends, I'm going to try and keep this short and punchy… These are the five biggest lessons that travel has taught me.
1. Travel can change your life – On the road, there are so many opportunities to grow and to learn. There truly is no greater opportunity to examine and work on yourself, to defeat shyness, learn how to negotiate, and learn what makes you tick… If you do it right…
2. Growth begins at the end of your comfort zone – This is how you do it right; you travel to less visited countries, you get off the trail, you bravely open yourself up to new experiences and connections, you put yourself through discomfort (living very cheap) in order to achieve your goal of proving you can make life on the road work. Every time you push past your anxiety and strike up a conversation, stick out your thumb, or try to make a stranger smile, you grow stronger. Don't hide behind your phone; interact. Don't visit Thailand, try Laos. Don't stay in fancy hotels, experience a richer, fuller and rawer life by staying with locals and living as local people do. 
3. Put out good energy, you'll receive it back – Be kind, but don't get taken advantage of. A smile or a fist bump is an excellent way to break the ice. 
4. Fitness on the road – Crucial for keeping you strong physically and mentally. Move every day. Never hit three days without some kind of exercise. Fitness is hard to gain and fast to lose; so don't lose it. 
5. Journaling is a game changer – Good for your mental health, fun to look back on your adventures, experiences and outlook later on in life. I just finished going through 6 years of journals to analyse wins, lessons, losses and my general mental health; it was a really fascinating exercise that helped me solidify what I need to work on next, how far I have come and also reminded me of the sheer joy of real, raw travel.
Entrepreneurship Lessons
I'm going to be sharing the best lessons I have learned in nearly a decade of working online…
These lessons are not just for the aspiring travel blogger, there is value in here for ANYBODY who seeks a life of online entrepreneurship…
1. Be a Productive Human – Do the Work
Consistency – 2 years of work. Big days, big hours, chip away an hour a day if that's all you have and make it count, turn up every day. Be CONSISTENT. 
It takes time and perseverance –  Keep chipping away and remain focussed. Strap in and prepare for a two year, minimum, journey. Most people fail only because they give up too early (or aren't working smart – more on that later). 
Goals –  Define your short term and long term business goals. the more you talk about and plan your goals, the more excited you become and the closer your goals shall seem. 
Don't be afraid to take risks – many people email us here at TBB asking us if they should quit their job to travel or to pursue a life of working for themselves online. The emails almost always are asking the same thing – "Is this a stupid risk".  Look, if you want an outstanding life, you have to take risks. I took a lot of risks when I started out, I maxed out credit cards, I slept rough, I worked 12 hours a day not knowing if it was going to work out. I believed in myself though, put in a ton of sweat equity, made a few smart tactical decisions, and so it did. 
Be curious – Learn as much as you can about online entrepreneurship, productivity and creating systems so that you can crush it!
2. Focus on Work Quality & Speed
Not everything is equal – 4 hours of focused work is often better than a 12-hour slog. 
Build a routine – Understand what "depth" of work you're engaging in. Find a rhythm that works for you… Emails in the morning, writing in the afternoon…
Focus on what actually matters – Don't waste 2 months on your logo. Focus on what will move the needle for your business. 
Don't be distracted – Close your inbox, close your WhatsApp; focus on the deep work and clear your inbox and phone once or twice a day at set times. They should be closed the rest of the time. Be selective over who you ask for advice, get away from naysayers and disbelievers – some folks are so ingrained in normal life that they will actively discourage anyone who seeks to be more than normal.
Build a Productive Environment – Environment is everything. Be smart around your phone use  – I have a two phone system where one phone has no messaging apps on it; just music, podcasts, food delivery etc – this means that I don't get sucked into my phone after I want to sign off for the evening. Phone use is seriously fucking addictive – take steps to protect yourself and to get the most productivity out of your work time – don't have your phone sitting right next to you, you will end up wasting time and your state of flow by auto-reaching for it. Use headphones, don't get distracted. 
Find like-minded people – The more aspiring, similarly goal-orientated, entrepreneurs you are around, the better. This is a shameless but worthy Tribal plug; Tribal is a purpose-built co-living space for aspiring entrepreneurs where you can eat, live, work, play and find your tribe of inspiring folks to bounce ideas around with. We are incredibly motivated to make Tribal the best possible experience for newbie entrepreneurs and backpackers alike – if you have the opportunity to visit Tribal, or somewhere like Tribal that will attract the right crowd, take it.
Invest in yourself – sleep well, journal often, watch your self-talk, improve your physical and mental health, be honest with yourself… Would you show up drunk for a traditional job? Maybe! But still – not a good idea when you're the one paying the bills… So ensure that you play the 'boss' role properly and are working hard on building your business. 
Build a Team – You can't do everything – build a team, know when to outsource, trust your gut when it comes to trust but don't ignore facts.  Expect failure in your team building journey. Ensure you create training docs and videos so you don't have to re-train from scratch every time you hire new people.
Get Your Copy of the Backpacker Bible Totally FREE!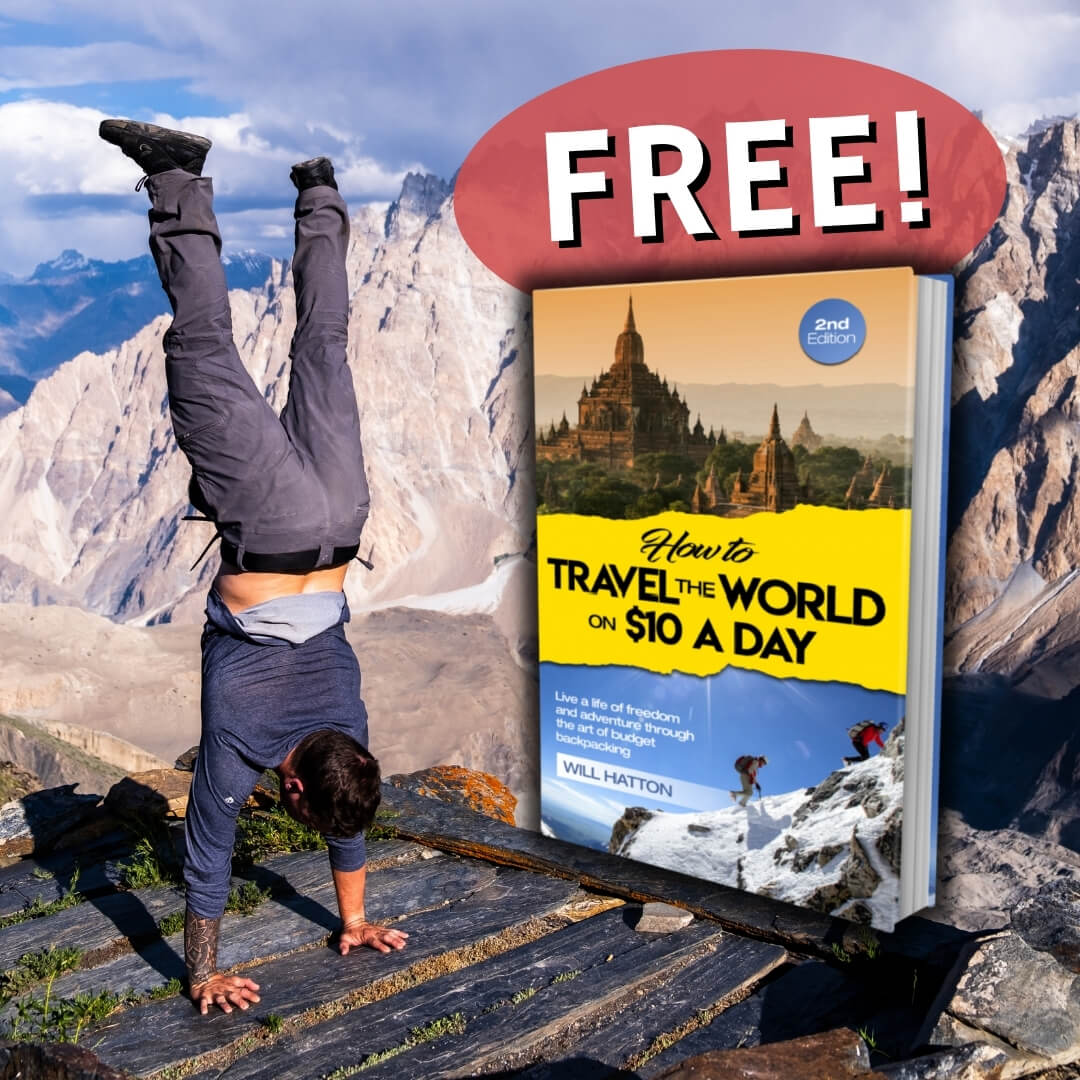 Learn how to travel the world on just $10/day with the Backpacker Bible – Will Hatton's own personal guide to the life of a budget traveller!
This book is the ULTIMATE culmination of more than 10 years of travel experience. It's full of valuable insider hacks and secrets that will help you unlock your full potential as a traveller.
AND… it's also FREE at the moment! All you need to do is click this link (or the sexy image of Will flexing his handstand skillz), provide your email, and we'll email you the ebook lickety-split!
Practical Tips For Success Online
Web-speed is crucial –  more now than ever.
Content is king – create stuff that matters and that you take pride in. 
SEO lives and dies on links – but they're genuinely hard to get… so become an expert and cover niche topics for the best chance of building authority on a topic. 
Be ready to pivot –  You can be fucked by your partners – in 2020 Amazon cut their affiliate program percentages significantly – this was a devastating blow as it meant we not only were getting less traffic and fewer conversions (on account of Covid) but these conversions were now worth less than ever before. Airbnb also cancelled their program for many affiliates and this killed off some smaller blogs. So always have a plan  – pivot quickly so that if your streams of revenue suddenly dry up you can try something else or replace affiliates with one of their competitors. 
Trello is great –  It is my favourite organisation (record keeping, task management) tool and I use it to organise my work tasks, personal life and goals.
Habit tracking is incredibly powerful – I use static whiteboards to plan projects, track habits and set goals. I tick off habits successfully hit at the end of each day, this way I can see at a glance 1. What habits I am working on (this constant reminder is super powerful) and 2. How I am doing in the month. At the end of each month, I throw those numbers into Trello to keep a proper record, as well as any lessons learnt from the month; this is all super useful for looking back on and for keeping me accountable. 
Invest in good tools – Obviously, you need a good fucking pen and a decent journal. Do not underestimate the value of good headphones too; super helpful for building a good workflow if distractions surround you.
And finally, partly to keep myself accountable, I want to share with you some of my goals for 2022…
My Goals for 2022
Tribal Bali to open its dorms – Tribal is not YET open to bums in beds; but it nearly is so stay tuned! We aim to get the first eight-bed dorms open for the end of February and a couple of the private rooms should be ready shortly after. Myself, Mark and our whole fantastic team down at Tribal truly cannot wait to welcome our first guests to this very special, custom designed, co-living hostel… it's truly a one of a kind space.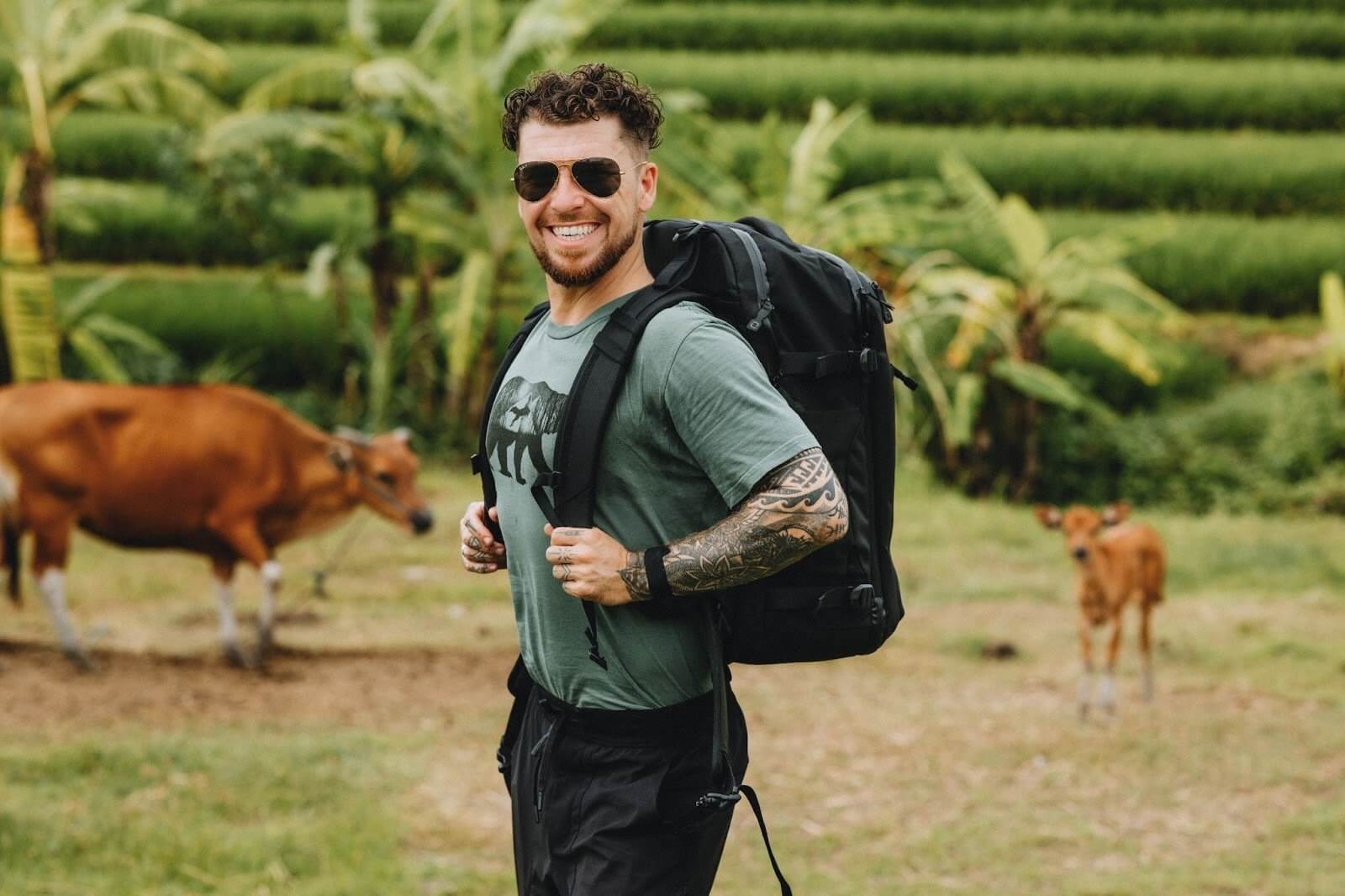 Blog more on Personal Development – I've got a lot of topics I want to blog further on but they really aren't travel related so I'll be dusting off Ditch Your Desk later on this year and starting to blog about personal development and hardcoding routines over there.
Make space on The Broke Backpacker for the new generation – Our team of awesome broke backpackers has grown exponentially over the last few years and I'm really proud of the honest, veteran and expert team we have pulled together. 
As I'm now 33, and my life is definitely changing into a different gear, it makes sense for me to take a step back and give up more control of the site to my team as between them they are simply more in touch with the modern-day spirit of The Broke Backpacker. My time of sleeping rough, selling weed on beaches, typing out blog posts on a battered iPod touch (I didn't have a phone), hitchhiking and Couchsurfing, wild camping and dumpster diving, has come to an end
It's time for me to pass the torch, and I could not be more grateful to have such an inspiring, honest and brave group of broke backpackers to pass it on to. Thank you, team. 
Build my home in Bali – I'm super stoked to custom-design this very special place with multiple opportunities for zoning – i.e. conditioning myself to associate and pursue certain behaviours with specific areas of the house. I am also beyond elated to finally, nearly, have an actual fucking dedicated writing room with zero distractions – it is here that I shall relax into the simple joy of writing for fun; designing my endless fantasy worlds and whirling Sci-Fi battles. 
Experience van life in New Zealand – At the end of this year, the plan is to hit the road for three months focussed on experiencing the great wilds of New Zealand. This has always been a dream of mine and the plan is to not take my laptop or my work phone; to just up and fuck off for three months focusing on myself, my partner and the great outdoors. 
To be better – To love and to live bravely, honourably and fiercely – honestly, I just want to keep working on myself. I could be pretty fucking awesome… but there's work to be done.
Some personal lessons I've learned over the last two years
Journalling is the best tool for my mental health
Working on my value system (within my manifesto) has successfully shaped who I am and how I turn up.
Gratitude makes me happy, and helps me sleep, simple. 
Self-talk is important, love yourself fiercely and bravely. 
My two-phone system has enabled me to quieten and calm my life, whilst being more productive and wasting less time. 
Habit stacks, coupled with habit tracking on whiteboards, is the most effective way to build happy, healthy and easy routines. 
Intermittent fasting is excellent for fat loss. 
Always be kind, never be weak, don't get taken advantage of. 
Actively practise empathy, understanding and patience. 
Porn is toxic and kills love. 
Icebath affirmations – a super powerful way to reinforce mantras and values.
Early to wake, early to bed (to read), is the most effective holding pattern.
Growth begins at the end of your comfort zone…. So get out there.
And that's it from me friends, this is likely the last year in review post on The Broke Backpacker from myself as I will now be stepping back and handing the reins to my team and The Broke Backpacker of The Month; stay tuned for plenty for epic adventures, inspiring tales and informative travel guides – we got you covered 😉
And hey, if you're visiting Bali, come say hey down at Tribal…
---
Thanks for reading – that was fun! 😀
We bring you epic FREE content!
Find out how YOU can help support us.
We're a big site with a big team and this job isn't always easy. But we do it because we love it – we love providing epic and free content. We love the knowledge that our content keeps you adventuring. We don't ask for money, but if you'd like to find out how you can help the site in more organic ways, click the button below.
Thank you for your support 🙂
---
Bye for now, but not forever!
If you want MORE top-tier Broke Backpacker content like this, then sign up for our weekly newsletter below to get the latest and greatest!
And for transparency's sake, please know that some of the links in our content are affiliate links. That means that if you book your accommodation, buy your gear, or sort your insurance through our link, we earn a small commission (at no extra cost to you). That said, we only link to the gear we trust and never recommend services we don't believe are up to scratch. Again, thank you!