A stunning place where gleaming emerald seas meet powdery beaches and secluded coves, Bermuda is a fantasy-level island destination. This Caribbean gem boasts countless places to unwind and take a minute to forget about your worries: it's just the place for a global pandemic.
We've created this informative guide to the COVID entry requirements for Bermuda to help you navigate the New Normal in this island territory. We've included helpful information, such as who can travel to Bermuda right now, its quarantine requirements, and on-the-ground guidelines.
This guide has everything YOU NEED TO KNOW if you're travelling to Bermuda in 2020.
A message from Will, the OG Broke Backpacker
Amigos, let's face the facts: travel isn't what it was. Things have changed.
We strive at The Broke Backpacker to be the best source of up-to-date and relevant information in the travel-sphere. All the information here was sourced, checked, double-checked, and published on 10/12/2020. While the information was correct then—and we will outline any changes and updates that we do make in the future—it's important to respect the immense changeability of this topic.
If you're going to be travelling amongst the coronavirus world, you need to, do your own research and do it hard. No one blog or website is a sufficient source, and even if it was, it might all just go tits up anyway.
This information changes more often than I fart in a day. Tread with caution.
And if you do see some misinformation, please leave a (constructive) comment so that we can patch it up! We really do appreciate your support and input in these weirdest of times.
Who Can Travel to Bermuda Right Now?
As of 1st July 2020, Bermuda's borders are open for all international tourists. The British Overseas Territory claims they are "open and welcoming visitors back to the island," but that visitors must comply with government protocols (see later sections).
Note that there are currently no cruises permitted to arrive in Bermuda indefinitely. This is subject to change as the pandemic situation develops.
Can Americans travel to Bermuda?
American tourists are permitted to travel to Bermuda.
Due to the reopening of Bermuda's borders, U.S. citizens may travel to Bermuda for any purposes, including for leisure. In addition, the U.S.-based Centers for Disease Control and Prevention have also deemed the island territory "low risk" in terms of COVID-19.
Alas, it's hard days for the Americanos, but have no fear! We've put together a couple of sexy COVID-proof travel guides that may just help you plan your travels through the Ragnarok times:
What are the COVID-19 Entry Requirements for Bermuda?
There are specific entry requirements for all travellers arriving in Bermuda. Its borders may have reopened, but there are still certain protocols that all travellers must adhere to to gain entry and to prevent the further spread of COVID-19. These will be detailed below.
Individuals travelling to Bermuda must provide evidence of a negative PCR COVID-19 test. It must be taken "ideally" no more than 72 hours prior to departure, with an upper limit of no more than seven days before departure.
Children aged ten and upwards are also required to have this test prior to travel.
Test results must be uploaded as part of additional documentation before departure (see Extra Documentation and/or Services Required section).
All visitors must then take an additional set of tests. Beginning with the first test before travel or on arrival (counted as day 0), all individuals are required to take a test on day 4, day 8 and day 14 of their trip.
The time and location of these tests will be automatically booked for you in advance. Visitors will receive an email reminder 24 hours before each test must be conducted.
An additional mandatory COVID-19 test is required on arrival at the airport.
Individuals must quarantine/self-isolate at their accommodation while they await the results of the COVID-19 test taken at the airport. This can take up to 24 hours.
If adults or children aged ten and above are unable to test prior to arrival, they must quarantine for 14 days upon arrival in Bermuda.
Those who
Test positive during their stay in Bermuda;
Present symptoms of COVID-19; or
Have been in contact with anyone who has tested positive for COVID-19
are required to self-isolate at their accommodation for 14 days. Many tourist accommodations have guidelines in place for the event of a quarantine and may even offer a "quarantine room" at no additional cost.
Those who test positive will be fitted with an Aqua electronic bracelet. This will alert the authorities as to your whereabouts. If you are found to be in breach of quarantine measures, you can face fines of US$2,500.
All travellers to Bermuda must complete the Bermuda Travel Authorisation application. As well as personal information, recent travel history, and flight details, the following must be included in the application:
A declaration of having no symptoms of COVID-19
Valid email address
Proof of negative PCR COVID-19 test taken no more than seven days prior to departure
Consent to taking a PCR COVID-19 test on arrival, and on days 4, 8 and 14 (if applicable)
A signed agreement to abide by Bermuda's quarantine requirements
Failure to agree to or include any of the above information or requests may result in your application being denied.
A fee of US$75 per traveller is required to process the application. For children aged nine and younger, the fee is US$30.
The Travel Authorisation application must be completed between one and three days before departure. It may be printed or presented to show via a smart device. The application can be accessed here.
There are currently no changes to the visa requirements for Bermuda. Numerous countries may travel to the British Overseas Territory without having to apply for a visa, while other countries do not need a visa only if they are transiting through the United Kingdom.
To check whether you are eligible for visa-free travel to Bermuda, please see here.
Though travel insurance is not a mandatory requirement, the Bermudan government does request that travellers have "appropriate insurance" when travelling to the island. This should cover the cost of illness and injury, as well as any expenses incurred due to COVID-19.
For more information please see our travel insurance section.
Bermuda Travel Restrictions – On the Ground in the Bermuda
Bermuda is open for business, but like many countries in the world, it is living alongside COVID-19. This means there are many enforceable rules and regulations in place to prevent the further spread of the virus. The most basic of these that all visitors should follow include:
Maintaining a social distance of 6 feet or more
Practising good hygiene (washing hands, cough/sneeze etiquette)
Using contactless/cashless payment where possible
Wearing a mask is mandatory in Bermuda. This must be observed in public spaces where social distancing cannot be maintained, as well as in the airport, on public transport, and in enclosed spaces such as grocery stores and restaurants (when not seated).
Individuals should note that face masks should be worn on flights into and out of Bermuda.
Other recommendations, such as avoiding contact with people (e.g. hugging, kissing and shaking hands) should be followed at all times.
Individuals are also asked to bring along their own thermometer and record their temperature twice daily. It should be recorded on the reverse side of this form. If your temperature is over 38 degrees centigrade, you are asked to email: [email protected]
What Tourist Services Have Reopened in Bermuda?
Since 1st July, when Bermuda's state of emergency was lifted, the island entered Phase 4 of their reopening strategy, dubbed the "New Normal". Many tourist services have reopened in light of this, easing restrictions while keeping many guidelines in place to ensure the safety of tourists and locals.
Services that remain open in Bermuda include the following:
Museums
Restaurants
Bars and nightclubs
Cinemas
Grocery stores
Parks and beaches
Hotels
Public transport
Island boats
Barbershops, nail salons, etc.
All businesses are required to follow New Normal guidelines. These include measures such as enforcing social distancing and ensuring employees wear masks in restaurants, for example.
There are restrictions in place for public gatherings; a maximum of 50 people may congregate, and social distancing measures must be in place. In general, people are encouraged not to attend large events.
In terms of accommodation, check this site for a list of hotels that are reopened for guests.
Now, while travel insurance is not a mandatory entry requirement for Bermuda, that doesn't mean you shouldn't have it. You really shouldn't ever be travelling without insurance, and that goes double for the pandemic!
Keeping yourself covered against coronavirus mishaps is a complex subject, however, Americans get it easy. Our favourite insurance provider World Nomads just got favourite-r! They're covering against COVID-related illness and will also count for countries where corona coverage is a requirement.
Is there a backup option? Sure is—SafetyWing Travel Insurance! SafetWing is the cheap, long-term insurance for cheap, long-term travellers. And now, they've stepped up to the plate covering travellers and digital nomads against COVID-19 related medical costs… at a bargain!
And if neither of those two choices are right for you? Well, in that case, I strongly, strongly, strongly recommend doing your own research on the top travel insurance companies and finding one right for your trip.
The BEST Travel Backpack?!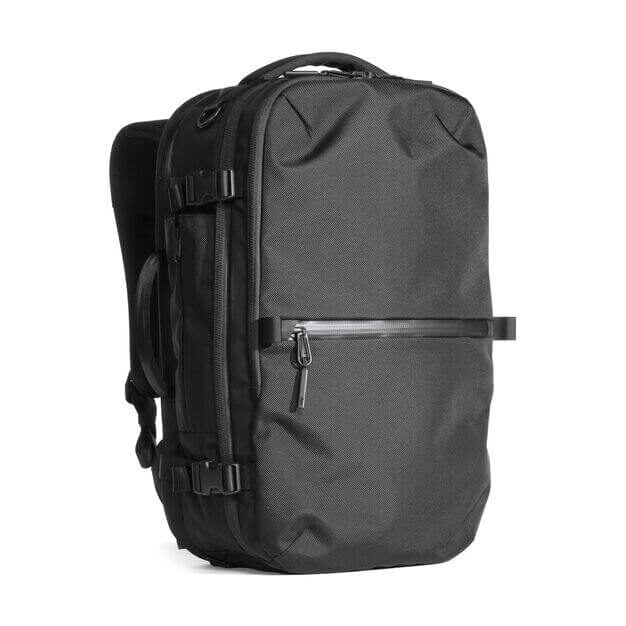 Pssssst! Not picked the perfect travel backpack yet? The Broke Backpacker team has tried out over thirty backpacks this year! Our favourite travel backpack is the Aer Travel Pack 2.
View on AER
And Keep Smiling
Because Bermuda is open for business, there's nothing keeping you away from this sparkling dot in the Caribbean – other than restrictions in your own country (and maybe budget. And time).
So, for now, travel is not so much a distant fable, more a tangible reality for Bermuda. In theory, you could be living it up on a beach under the sun, cocktail in hand, in almost no time at all.
That's if you can travel right now. If it's still tricky for you, or if you'd prefer to wait until things are more actually normal than New Normal, well, you can always dream of a vacation to Bermuda.