Massachusetts is full of stories written on aged stone buildings, along streets as old as time.
It's not just for history buffs, although a visit to Boston and the hallowed grounds of Cambridge should be high on every traveler's list. Massachusetts has an incredibly diverse horticulture scene, with cideries and wineries, as well as cranberry bogs and endless orchards, that makes their official Wine and Cheese Trail a worthy venture.
The Massachusetts coastline is a great place to stop off, and is the home of Cape Cod. With over 40 miles of protected coastlines, there is a sense of history thanks to the cute small towns that are dotted along, and the literary gems that were born here. The coast is one of the best spots in the US to go whale watching.
There are many amazing holiday rentals in Massachusetts where you can get cozy and make a home base.
Airbnbs in Massachusetts will give you insider access to beautiful, yet mostly unknown neighborhoods. You can stay by the coastline or in the mountains.
Read on to find out more on why Airbnbs are the perfect option before we dive into the best Airbnbs in Massachusetts.
Quick Answer: These are the Top 5 Airbnbs in Massachusetts
Overall Best Value Airbnb in Massachusetts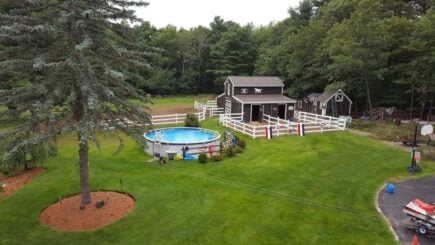 Overall Best Value Airbnb in Massachusetts
Farm Stay
> $$
> 5 Guests
> Working farm
> Private access
Best Budget Airbnb in Massachusetts
Best Budget Airbnb in Massachusetts
Little Paris
> $
> 2 Guests
> Great location
> Shared kitchen
Best Airbnb for Couples in Massachusetts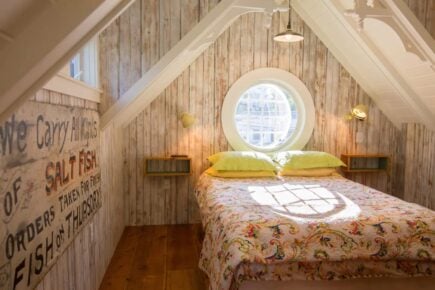 Best Airbnb for Couples in Massachusetts
Annisquam Village Cottage
> $$$
> 2 Guests
> Well designed
> Great location
Best Airbnb for Families in Massachusetts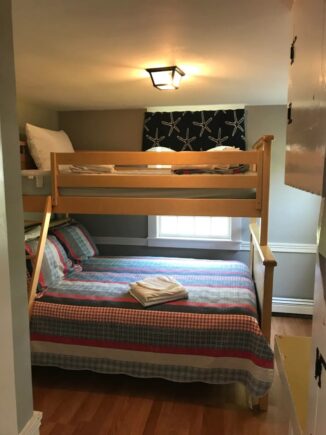 Best Airbnb for Families in Massachusetts
Cottage in Harwichport
> $$$
> 8 Guests
> Walk to beach
> Family room
Over-the-Top Luxury Airbnb in Massachusetts
Over-the-Top Luxury Airbnb in Massachusetts
Cape Cod Estate
> $$$$
> 16 Guests
> Beautiful views
> On-site concierge

Unlock Our GREATEST Travel Secrets!
Sign up for our newsletter and get the best travel tips delivered right to your inbox.
What to Expect from Airbnbs in Massachusetts
Airbnbs throughout Massachusetts always fit in with the vibe of the town, the city, or the nature surrounding it.
If you head for downtown Boston, you will find apartments and studios with skyline views and easy access to public transport and local attractions.
On the coastline, looking out over the Atlantic Ocean, you will find romantic getaways in the form of beachfront homes, and family cottages steps from Main Street.
In the woods, you can discover tiny homes, cabins, and estates with rustic charm and fire pits. Be close to the mountains, and rural towns for classic homestyle cooking.
Prices range from budget private rooms in a bed and breakfast in Massachusetts up to expensive oceanfront mansions. But crafty travelers can use Airbnb to find themselves a great deal and get even closer to where they want to explore.
The homes, cabins, and apartments are run with a mom-and-pop-type vibe by people that are excited to show off their homes and where they live. You should expect a welcoming experience, cozy bedrooms, and hopefully, a lovely view.
Cottage
There is a reason cottages provide an excellent Airbnb vacation spot. They are a combination of spacious and private with older architecture and homey charm. Thankfully, Massachusetts is full of cottages, offering a cozy home in every part of the state.
These homes are particularly great for larger groups and families. Instead of going in on multiple hotel rooms, simply pool the cash and rent out an entire home and property to yourself.
Cottages in Massachusetts are mostly found along the coastline, especially in the Cape Cod or Cape Ann region. If you take a trip to Rockport You can grab yourself a wonderful ocean view with plenty of space to hang out and chill.
For family vacations, cottages boast extra living and dining space along with family-friendly layouts that will include bunk-beds, games rooms, and lawns to run amok on.
Cabin
Airbnbs give guests a chance to live a little differently from their day-to-day grind, that's why cabins are so popular with those traveling through Massachusetts.
Instead of the same old drab hotel room, shack up in a rustic cabin in the woods and disconnect from the world. Wake up each morning in peace, and soak in the fresh air from your porch.
Cabins in Massachusetts can be found in every corner of the state, although to really embrace the vibe, we suggest heading towards the Appalachian mountains. They may be smaller in Massachusetts, but the woods are just as beautiful.
Enjoy one or two-bedroom homes – great for a romantic escape with your loved one or a small family getaway.
Condo
For travelers heading to popular destinations, summer vacation spots, or downtown Boston, condos are a great option. They are often the cheaper way to explore, especially when it comes to staying on the coast or in the big city.
If you do your research, you can snag a condo with an awesome Atlantic view, or one just a stone's throw away from the beach. The majority of condos are single and two-bedroom places, although a comfy pullout couch may come in handy for bigger groups.
As a part of a larger complex, condos feature plenty of communal spaces. These can include indoor and outdoor pools, outdoor cooking spaces, playgrounds for kids, and even private access to beaches.
Why Stay in an Airbnb
Need even more reasons to stay in an Airbnb? We've got your back:
Local experience: Trade the regular travel for a more in-depth adventure through Massachusetts. Ask your host for local favorites and hidden gems.
Unique properties: Want to live the cabin life, or have a cottage by the sea? Ditch the hostel and treat yourself to a unique stay.
Privacy: Thanks to contactless check in, private access, and personal rooms, you can say goodbye to staying with strangers.
Affordability: For a reasonable price, enjoy entire homes, proper kitchens, backyards, and patios.
Staying long-term: Don't worry about falling in love with Massachusetts – you can grab an Airbnb with a monthly discount.
The Top 15 Airbnbs in Massachusetts
Ok folks, now it is time to dive into the fun stuff. Here are the best Airbnbs in Massachusetts!
Overall Best Value Airbnb in Massachusetts | Farm Stay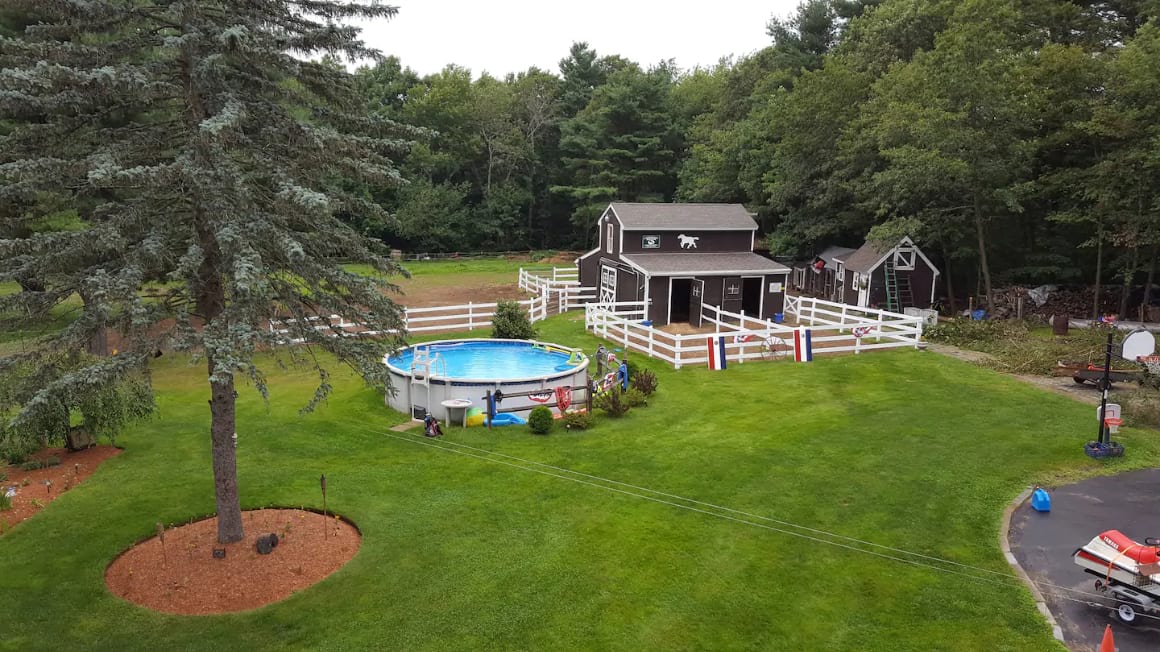 Get away from the hustle and bustle of the city and soak in a quiet country setting at this Airbnb in Massachusetts. The home has its own separate entrance and a large living room with multiple bedrooms.
This Airbnb experience is a little bit different from others as it is located on a working farm. Come and meet cows, horses, pigs, chickens, ducks, and more!
Ideal for a group of friends, or a family with kids, you can take in the views from the private patio, or light up the fire pit and relax under the stars.
Best Budget Airbnb in Massachusetts | Little Paris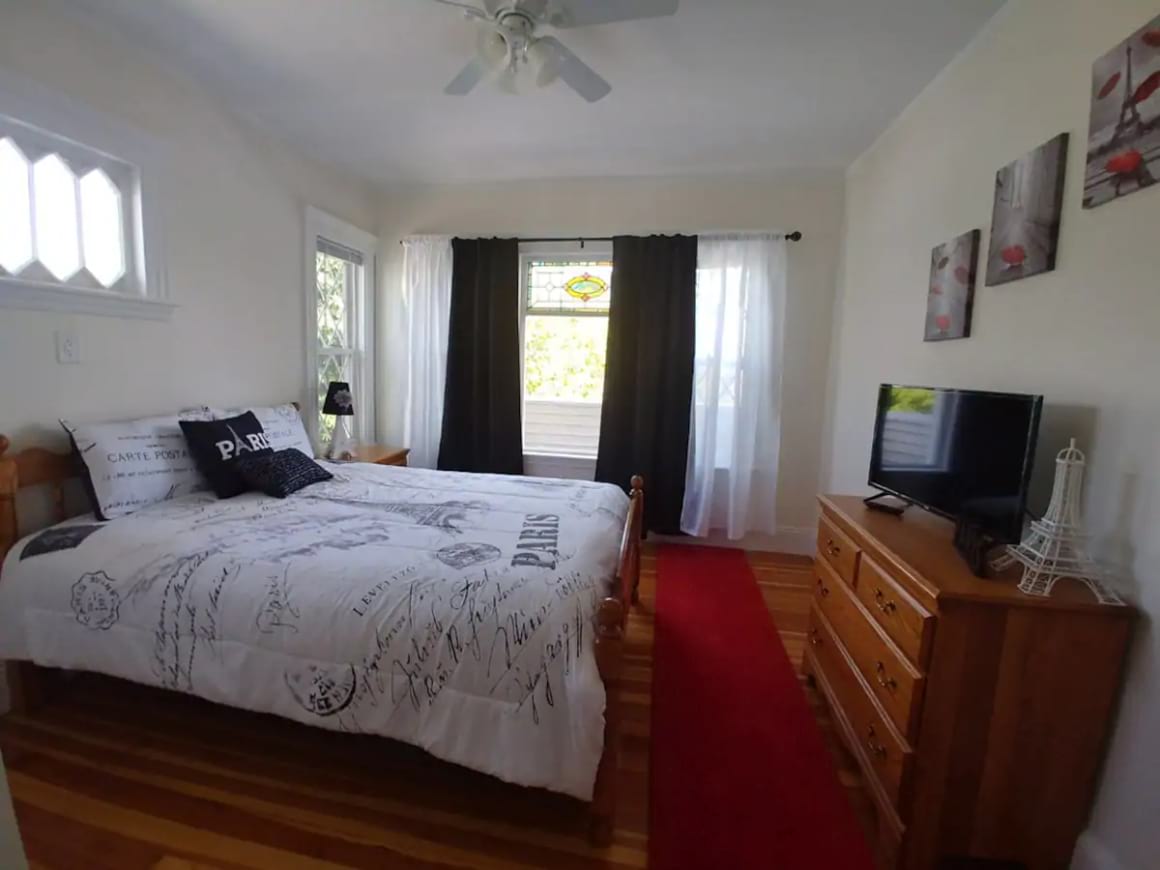 Save some pennies without venturing too far out of Boston with this Airbnb in Massachusetts. The large and cozy room will be waiting for you each night after a day of adventures.
Boston is an easy 10-minute drive away, so you don't have to trade away proximity to save some money. Check out all the best things to do in Boston with a cozy home to return to.
Right down the road are local grocery stores and restaurants, and the spacious shared kitchen is open to be used.
Beyond your own private space, you will also have access to the patio, backyard, and grill. Cook a nice meal and relax in the backyard after a big day on the move.
If you picked up some marshmallows, feel free to start a campfire! Budget traveling doesn't get much better!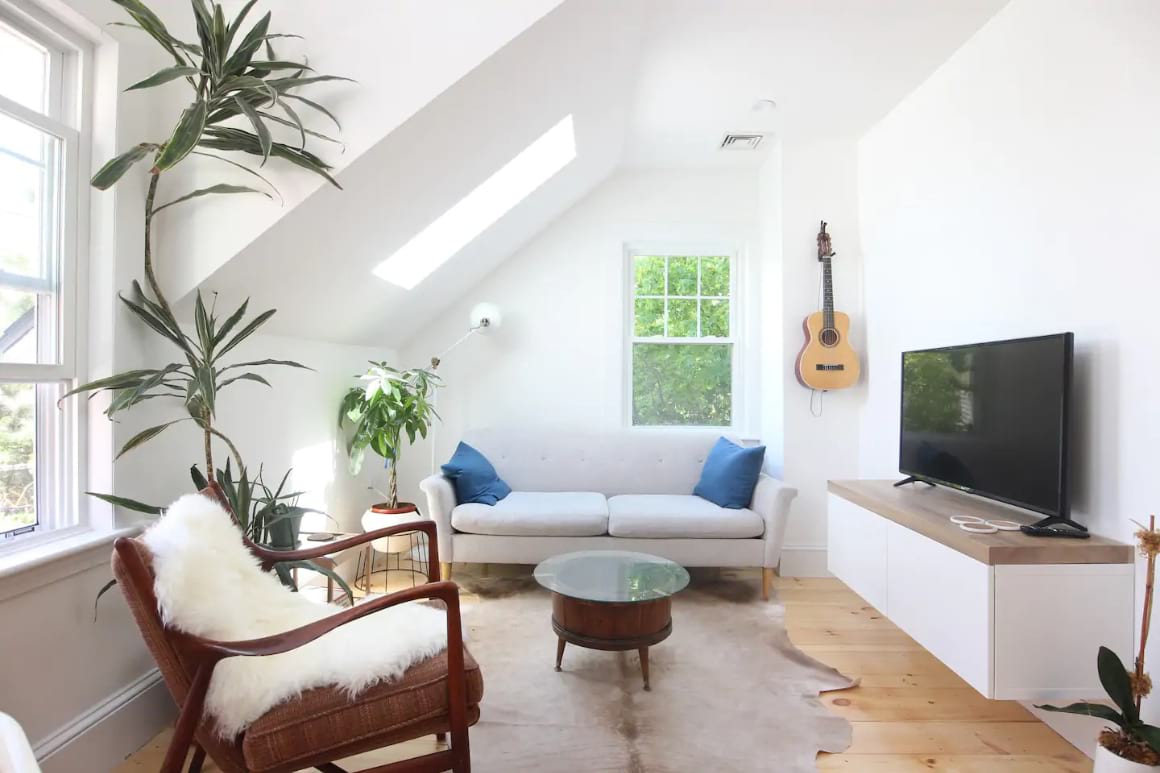 At this airy, open-concept apartment, you can enjoy a sun-filled start to each day. This Airbnb in Massachusetts is placed nearby to many local amenities. Enjoy a lovely walk along the river to reach restaurants, shopping, bars, cinema, and even kayaking.
Have easy access to public transport that will take you to Cambridge, the home of Harvard University. Alternatively, stay on the bus to reach downtown Boston.
Each night, make use of the brand new kitchen and take your meal out to the patio to enjoy a cool breeze. End your day relaxing on the sofa with Netflix, or having a nightly stroll around the beautiful neighborhood.
Is This the Best Backpack EVER???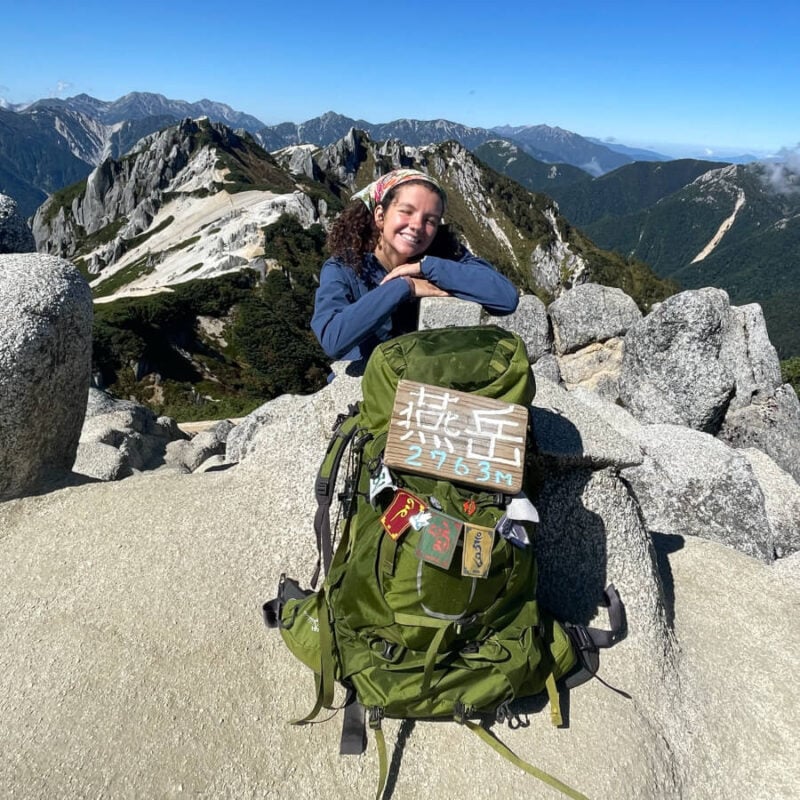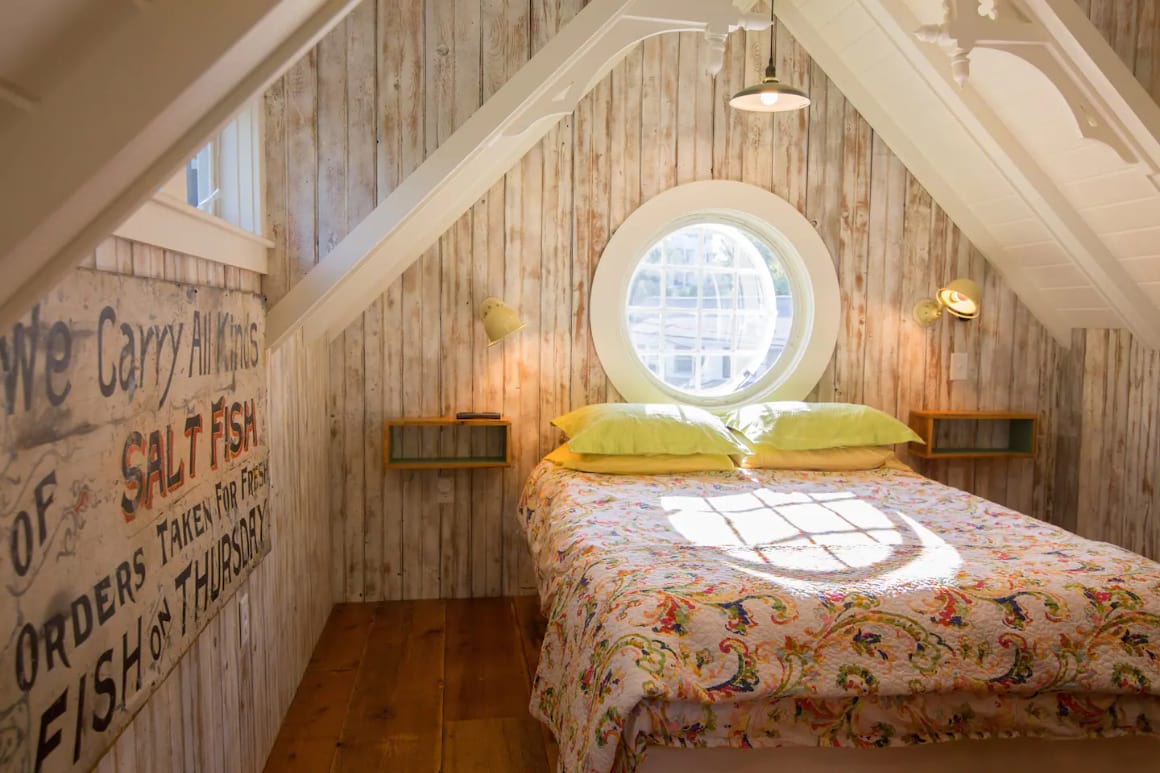 Renovated by two artists, you will immediately appreciate the passion and style that has gone into the Bunny Cottage. But even more importantly, this home is perfect for walking around to explore.
Just a five-minute walk from the lighthouse and Cambridge beaches, as well as the wonderful Market Restaurant, you can stroll around town and enjoy the sights.
Wake up each morning with a French press coffee in hand as you take in the views from the private patio. Overlooking the garden on the lounge chairs, you can begin to plan the day.
The cottage has private access from the main house, so you can come and go as you please.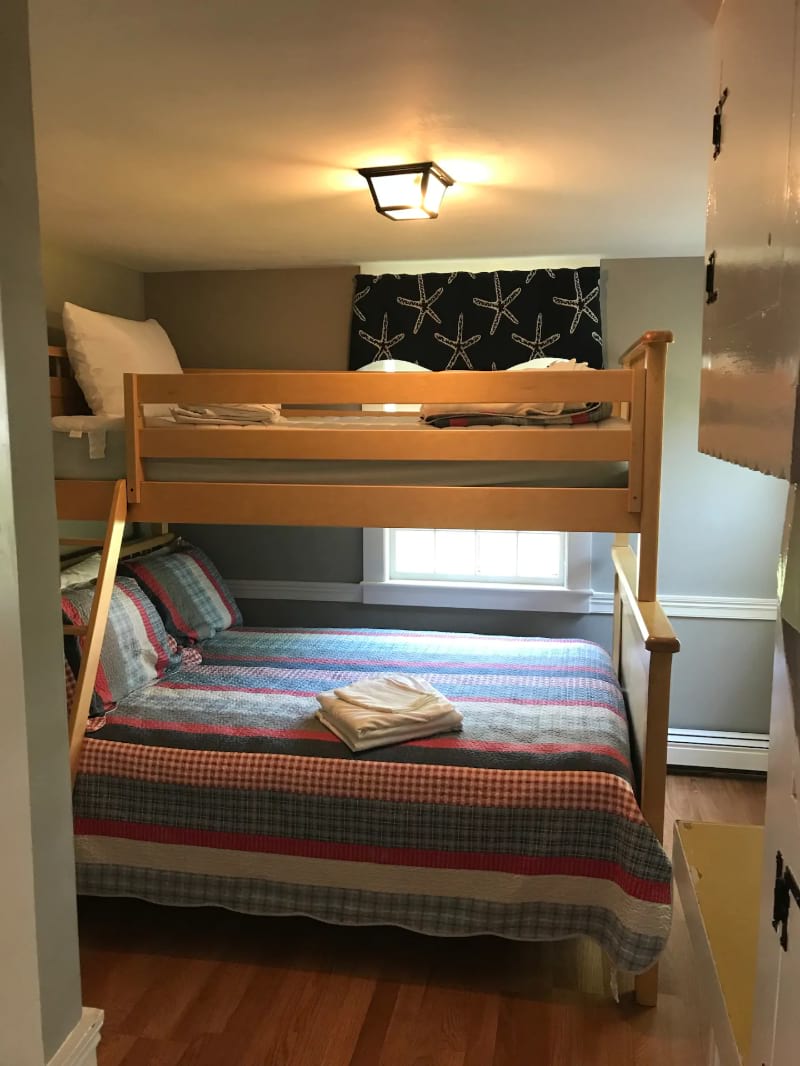 Take your family on a perfect Cape Cod vacation by heading to this beautiful cottage, which features three bedrooms, including a bunk-bed room.
Each evening, gather around the wood-burning fireplace inside the huge family room with vaulted ceilings. The galley-style kitchen is ideal for preparing home cooked meals on the nights you don't fancy going out. Meanwhile, the lovely backyard patio will be great for relaxing in the sun and watching the kids run around.
When you wake up in the morning, the fresh sea breeze will float through the home, reminding you that a mere two-minute walk is all that stands between you and an exciting day at the beach.
Meanwhile, the town of Harwichport, with restaurants and family fun, is right down the road.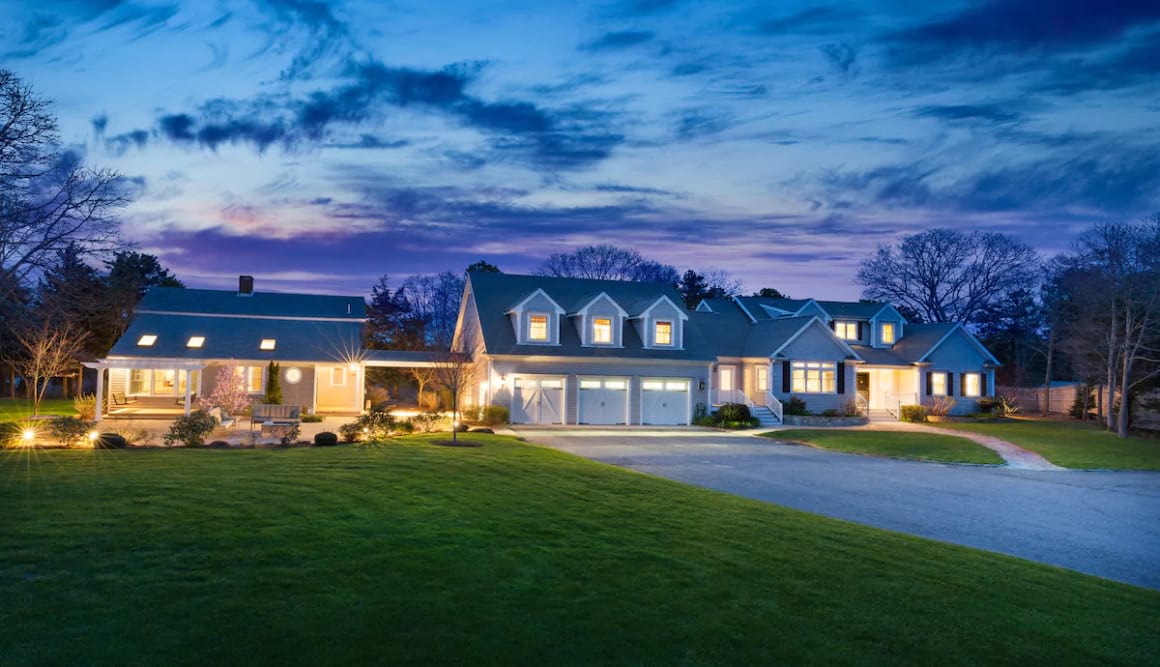 16 Guests
On-site concierge
Pool together all the cash you have, gather your friends, and head to this incredible Cape Cod Estate. It features luxury you can only dream of.
There is a huge 8,000 square feet of living space, and multiple lush outdoor areas. With over two acres of lawns to yourself, this is the perfect spot for games. Soak in beautiful views of the pond located in the Lower Cape.
With eight bedrooms and 5.5 baths, each guest or couple will have their own private room. Meanwhile, the massive dining space will mean everyone has plenty of space to gorge.
During the day, you can head down to the sand bottom pond, and relax on the floating swimming dock.
Best Cottage on Airbnb in Massachusetts | Graham Cracker House
At the Graham Cracker House you can say goodbye to the world, and immerse yourself in beautiful nature. This newly renovated cottage is located on the crystal clear White's Pond.
Enjoy private access to the pond, for swimming, fishing, and boating, and a spacious outdoor area perfect for eating alfresco and having a campfire each evening.
The home is within walking distance of the Cape Cod Rail Trail which will take you up and down the peninsula, while many of the best local beaches are a short drive away.
When you don't feel like heading far, have fun on the kayaks provided with the home!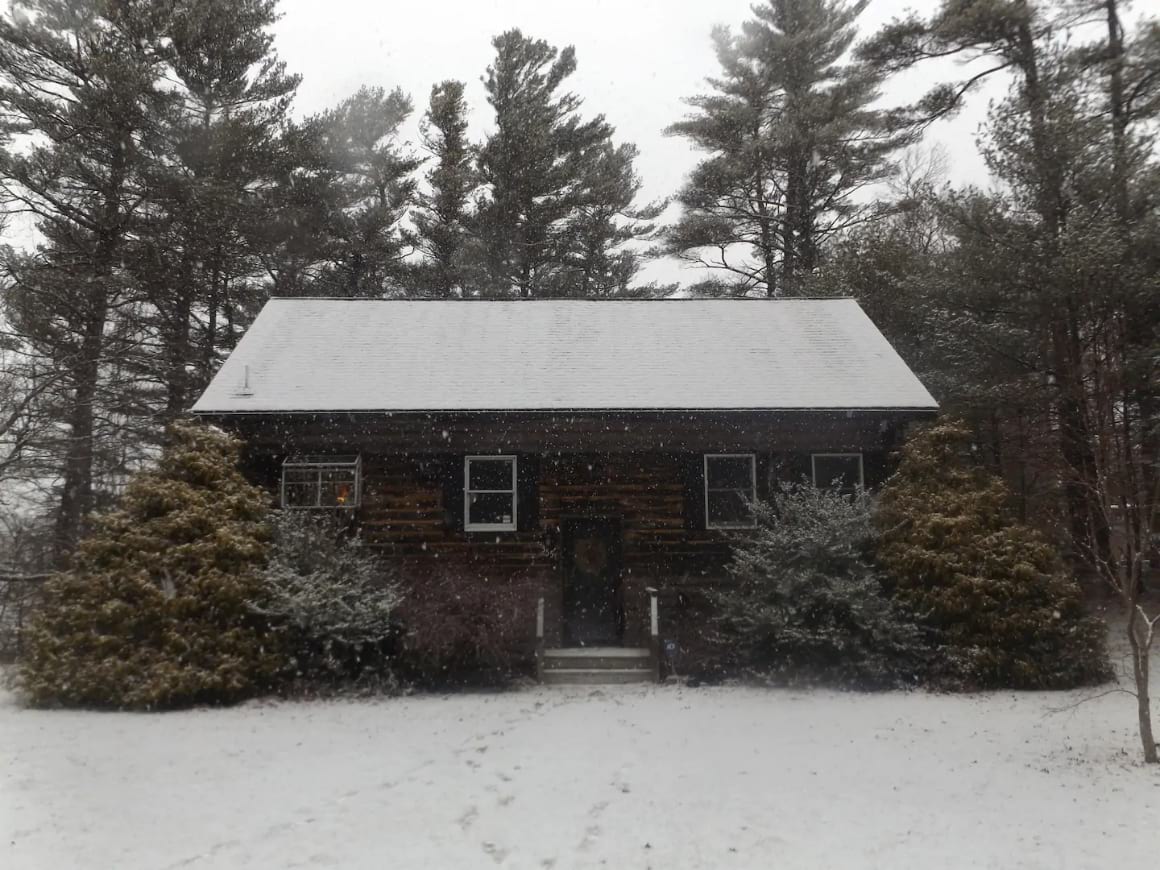 4 Guests
Traditional Cabin
A cabin experience is always memorable. It is the kind of place you can immediately feel at home, so much so, that it will be the best part of your holiday.
This beautiful log cabin offers exactly that.
Perfectly located to explore the surrounding towns such as historic Plymouth, the beaches, and Cape Cod, this home is ideal for those who want to wander around. However, there is also much to see and do on the property itself. Private and heavily wooded, you can enjoy an escape to nature.
Across the street, you'll discover cranberry bogs which are a constant hit with guests.
The rustic interior comes with a certain charm that you will never forget. It is warm, cozy, and has unforgettable views.
Best Condo on Airbnb in Massachusetts | Rooftop Retreat
2 Guests
Historic Brownstone
Have wonderful views of the Boston skyline as you grill up a storm on the rooftop patio. This Airbnb in Massachusetts is a beautiful, renovated historic brownstone, decorated with an artistic vibe.
The condo is filled with records, art, and books along with all the trappings of home. All the while, the quiet neighborhood is waiting for you to come and explore.
Make the most of the short walk to public transport for easy access to downtown Boston and Cambridge. After a big day of exploring, relax and watch the sun go down from the rooftop.
Away from the excitement of the city, you can rest each night in peace, ready to explore again the following day!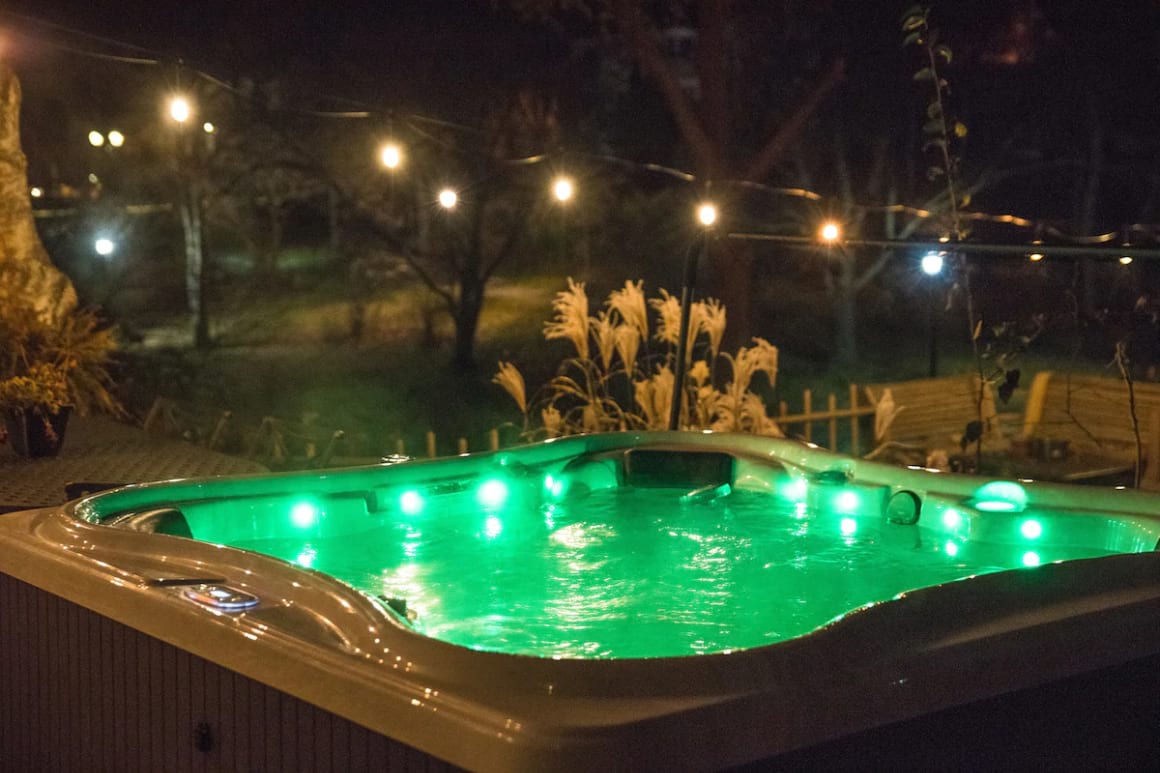 A beautifully restored historic home, this Airbnb has one of the best Jacuzzis in the state of Massachusetts. When you aren't admiring the beautiful streets of Plymouth, rest your weary legs in this Jacuzzi with a view.
The home is situated in town, just steps away from the Pilgrim's first settlement. Plymouth is also home to a variety of award-winning restaurants, shops, nightlife, and numerous tours to historic landmarks.
Relax in the evenings on the plush king bed, and take your time getting ready in the morning. After all, you have this spacious home all to yourself. Make some coffee, and take in the brook views from the back deck.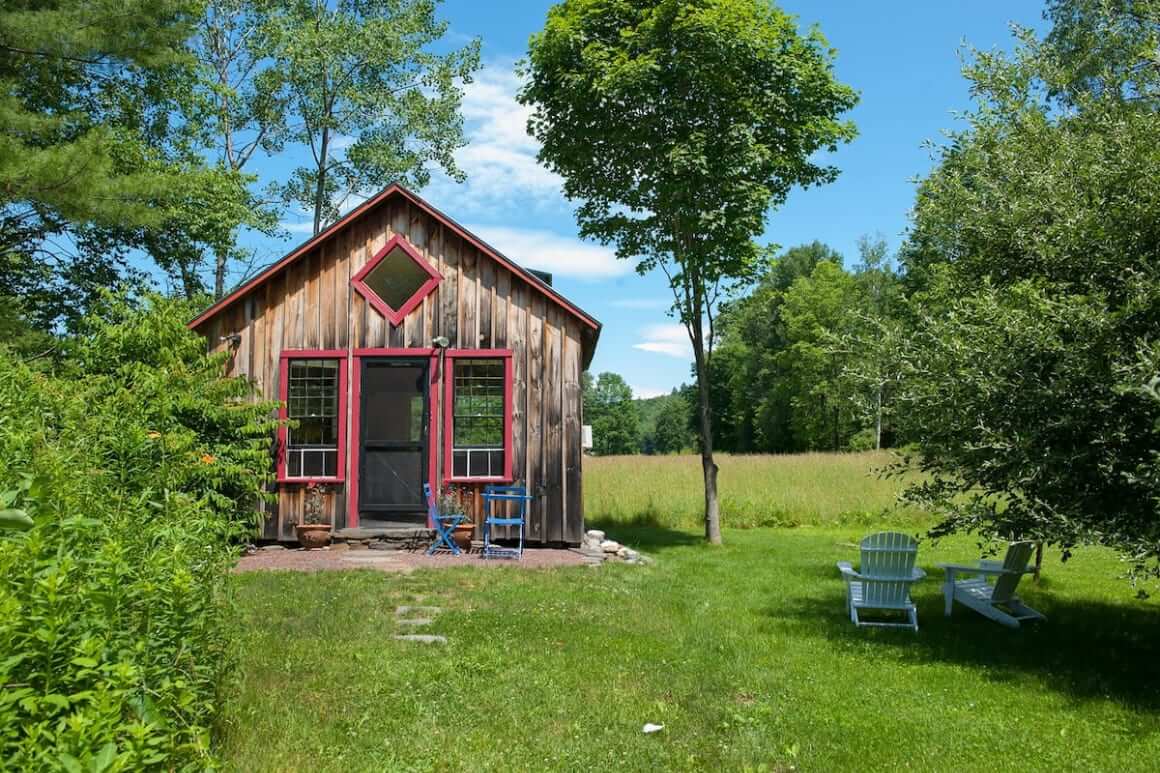 For all digital nomads and remote workers, taking a trip away doesn't mean signing off from work. Upon arrival, you will immediately feel at ease as the fresh country air fills your lungs.
The simple, one-bedroom cottage features a great work desk that overlooks the meadows. With no distractions, noisy neighbors, or crazy traffic, you can fly through your workday with ease.
Take your lunch breaks strolling through the 23 acres of rolling meadows, which boast an abandoned orchard. Alternatively, you can simply relax in the walled gardens.
For adventures beyond, head to Shelburne Falls or grab a beer in Northampton.
Best Airbnb for a Weekend in Massachusetts | Waterfront Condo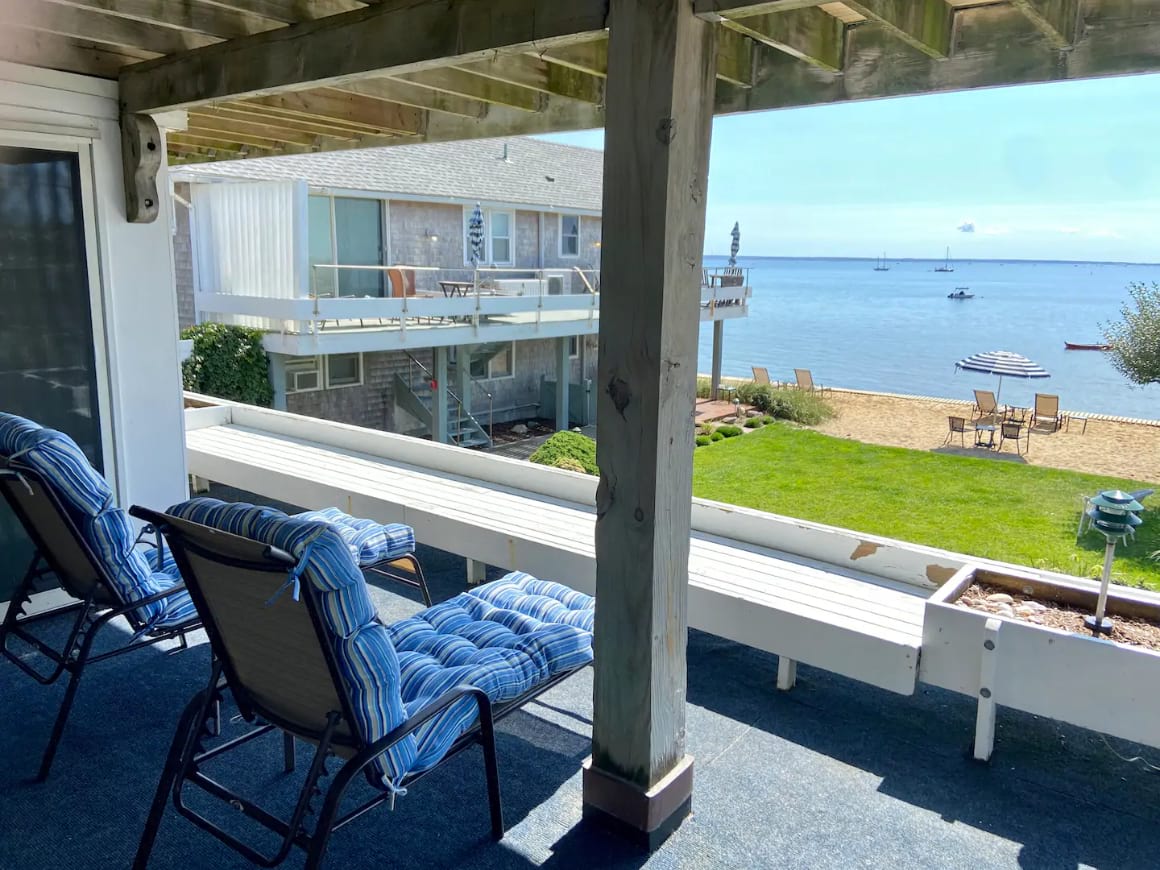 Get away for 48 hours and enjoy breathtaking views of the Provincetown Bay. This condo Airbnb opens up to the waterfront giving you easy access to the bay.
The condominium community is the only one in Provincetown that has its own grass area and a private beach with lounge chairs. When you aren't admiring the views from your deck, enjoy a slice of luxury down by the water.
This home features one spacious bedroom with a queen size bed, and also a single bed if you have an extra guest, or small child.
Restaurants, nightlife, and the gallery district are all within walking distance. Enjoy stunning sunset views as you explore the bay on breezy evenings.
Stunning Airbnb for Honeymooners in Massachusetts | Romantic Ocean Views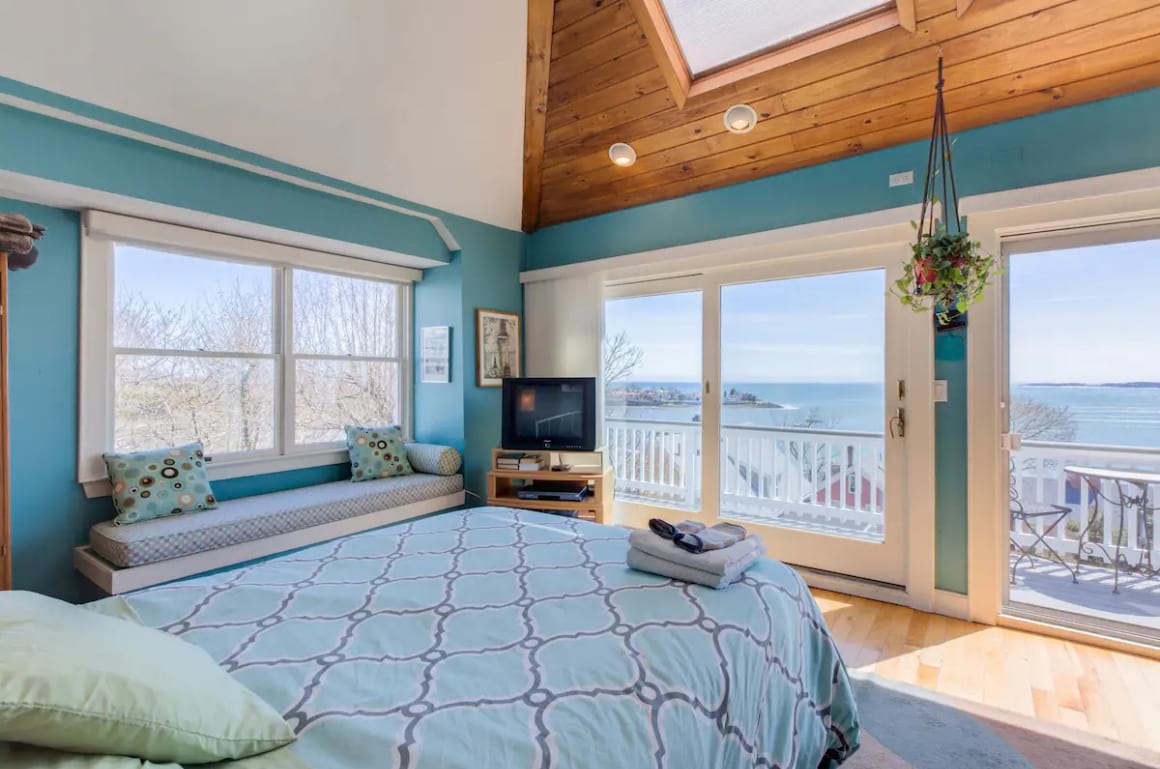 It'll be hard to find a more romantic oceanfront Airbnb for your honeymoon to Massachusetts. Over two levels, this home has stunning views of the Atlantic Ocean, as well as the Boston skyline.
Enjoy an easy stroll to the beach each day, and in the evenings you can walk along the sand and have your choice of delightful oceanside restaurants.
Post dinner, wind down in hot tub, or stoke up the wood burning fireplace.
The morning sunrise will have the home glowing, adding another layer of romance. Cook a tasty brunch in the chef's kitchen, and admire the gorgeous views from the comfort of the wrap-around patio.
Most Beautiful Airbnb in Massachusetts | Oceanfront Compound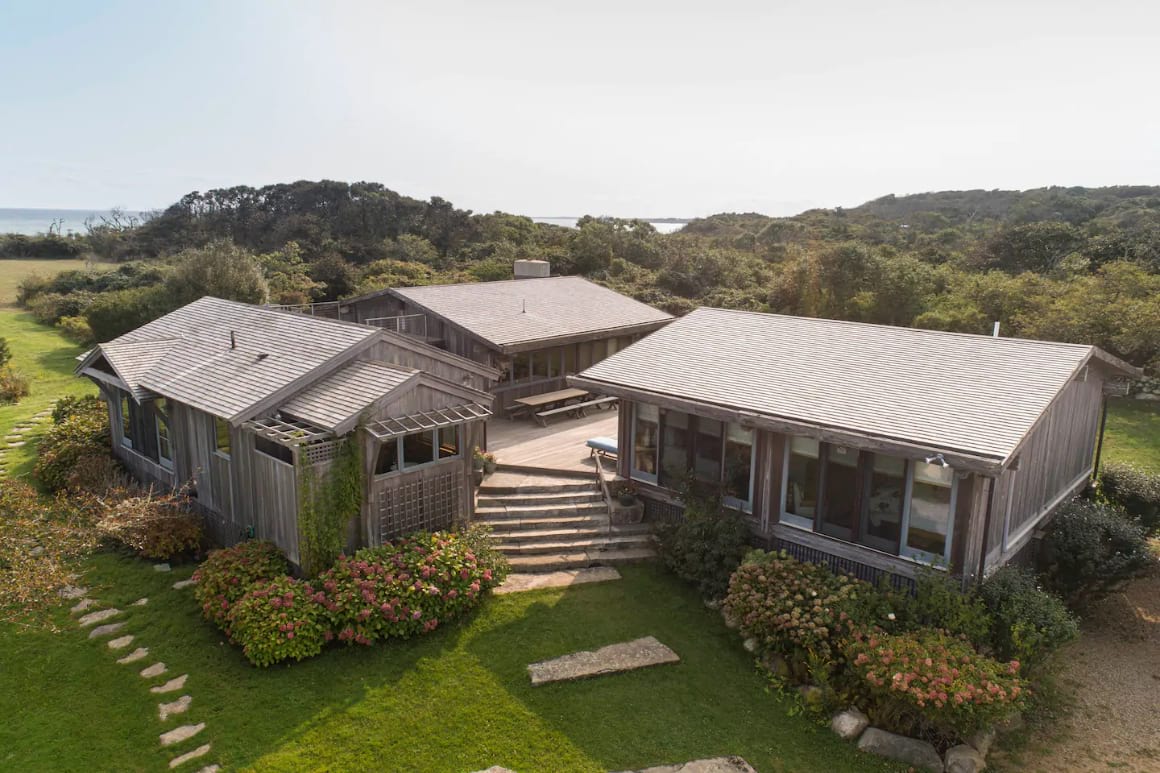 This home incredibly beautiful and surrounded by coastal nature, earning its spot in our list of the best Airbnbs in Massachusetts. This oceanfront compound is one of the most spectacular homes on the exclusive island of Martha's Vineyard.
Located on the precipice of Chilmark Bluff, the views are as intimidating as they are spectacular. You will feel on the edge of the world.
The immaculate property features four bedrooms including two master suites across a total of three homes. The large deck that connects them will be the perfect gathering place for your family and friends.
At night have your choice of an indoor or outdoor fire, or simply head up to the viewing platform and admire the stars.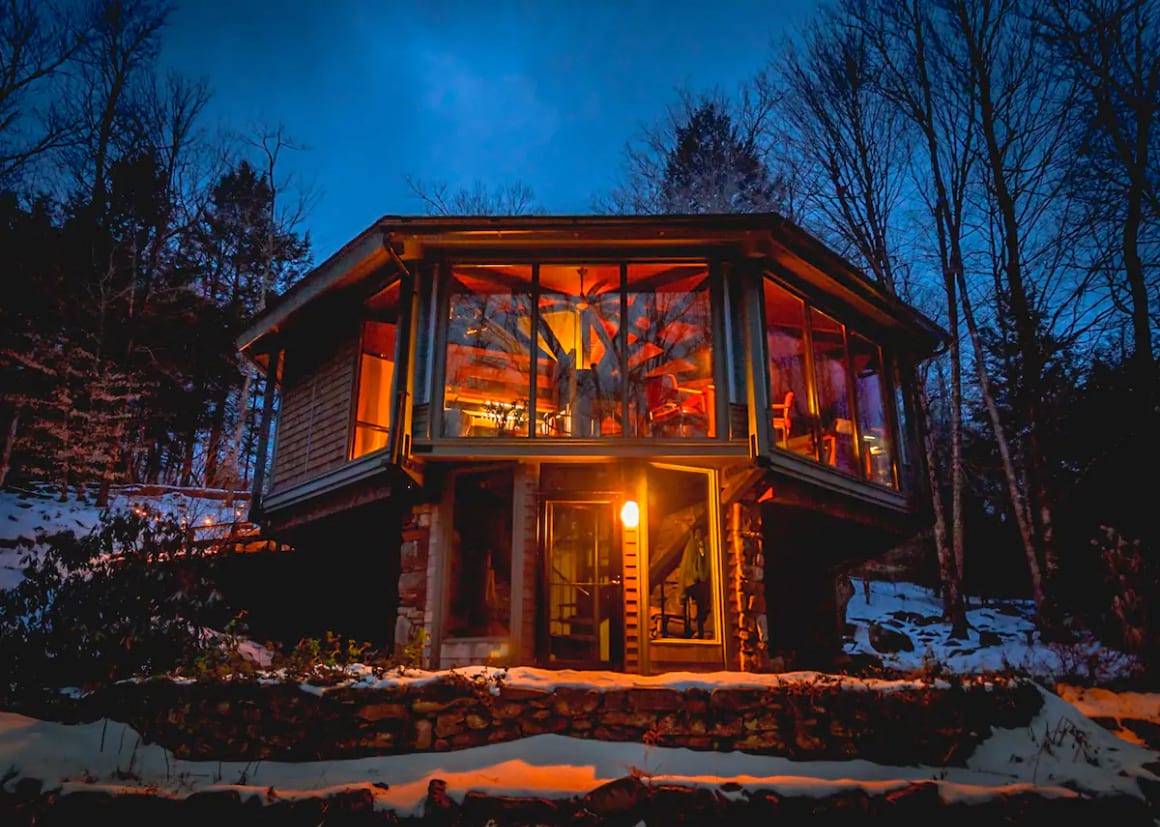 Pack your bags and head to the Berkshires to stay at this incredible Airbnb. This home manages to combine the whimsical vibe of a treehouse with a spectacular circular home featuring floor-to-ceiling windows.
Regardless of where you stand, you can enjoy unobstructed views of the woods, while being elevated high up in the canopy.
The large back deck has outdoor dining and seating as well as a BBQ, so you can grill among the trees.
The seven private acres that surround the home are yours to explore every day. Meanwhile, the end of day activities will no doubt include lighting up the wood-burning fireplace.
Top 5 Airbnb Experiences in Massachusetts
Tired of wandering around town feeling like you are on the outside looking in? Trade in the overly commercialized tours for a more unique adventure. Airbnb Experiences are created and led by residents of Massachusetts who know their town like the back of their hand.
With the help of your guide, you can explore the town through the eyes of a passionate local. Learn about the forgotten histories and discover delicious restaurants that aren't on any blog, find little-known hiking trails or coves along the bay.
As well as with tours, you can break up your trip with a variety of classes. These experiences can be learning how to cook local cuisines, a new skill, or crafting a piece of jewelry. Each Airbnb Experience is not like the last. Here are our top picks for Massachusetts.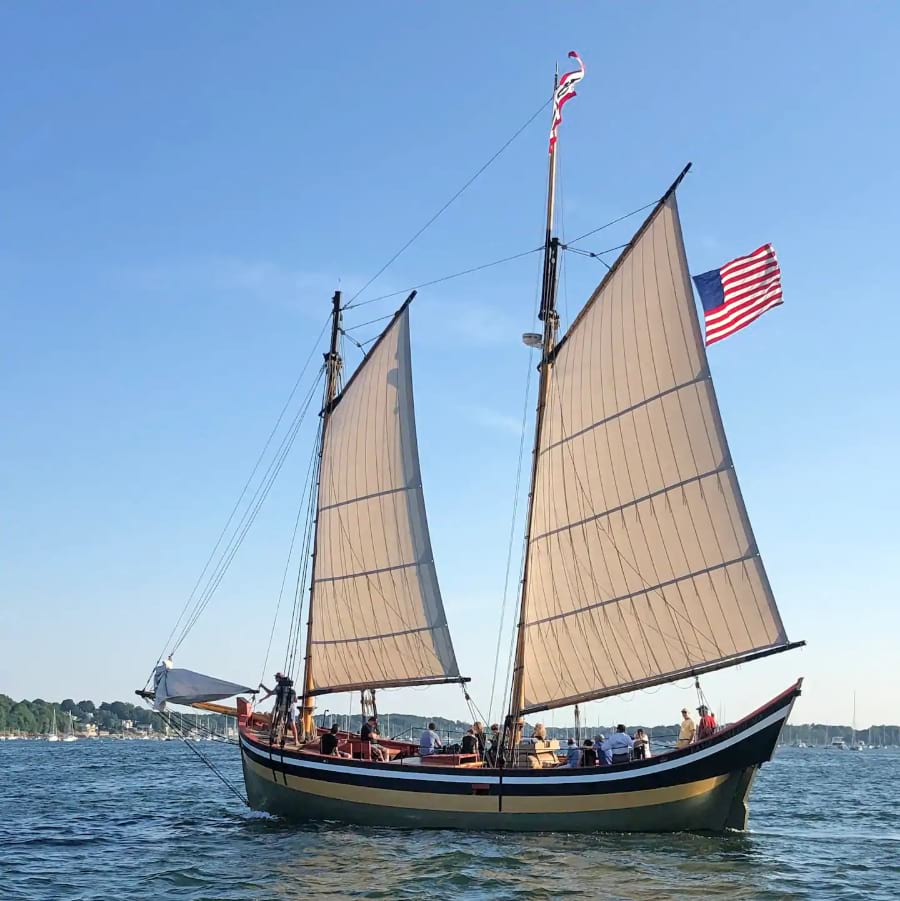 $44 p/p
90 Minutes
Up to 10 people
Drinks sold onboard
Relax on the deck as you explore the waters off the coast of Salem. Raise the sails and take the helm of this magnificent schooner, Fame.
Glide through Salem Sound sipping on one of the boat's yummy cocktails. Sail past lighthouses, beautiful waterfront homes, and old-time forts.
Your captain and crew will show off the glorious schooner and teach you the historical significance of the boat. The crew will talk about various landmarks, show how the yacht works, and make all the drinks you need.
Once you have returned to land, you'll be in downtown Salem – the perfect spot to begin a night on the town.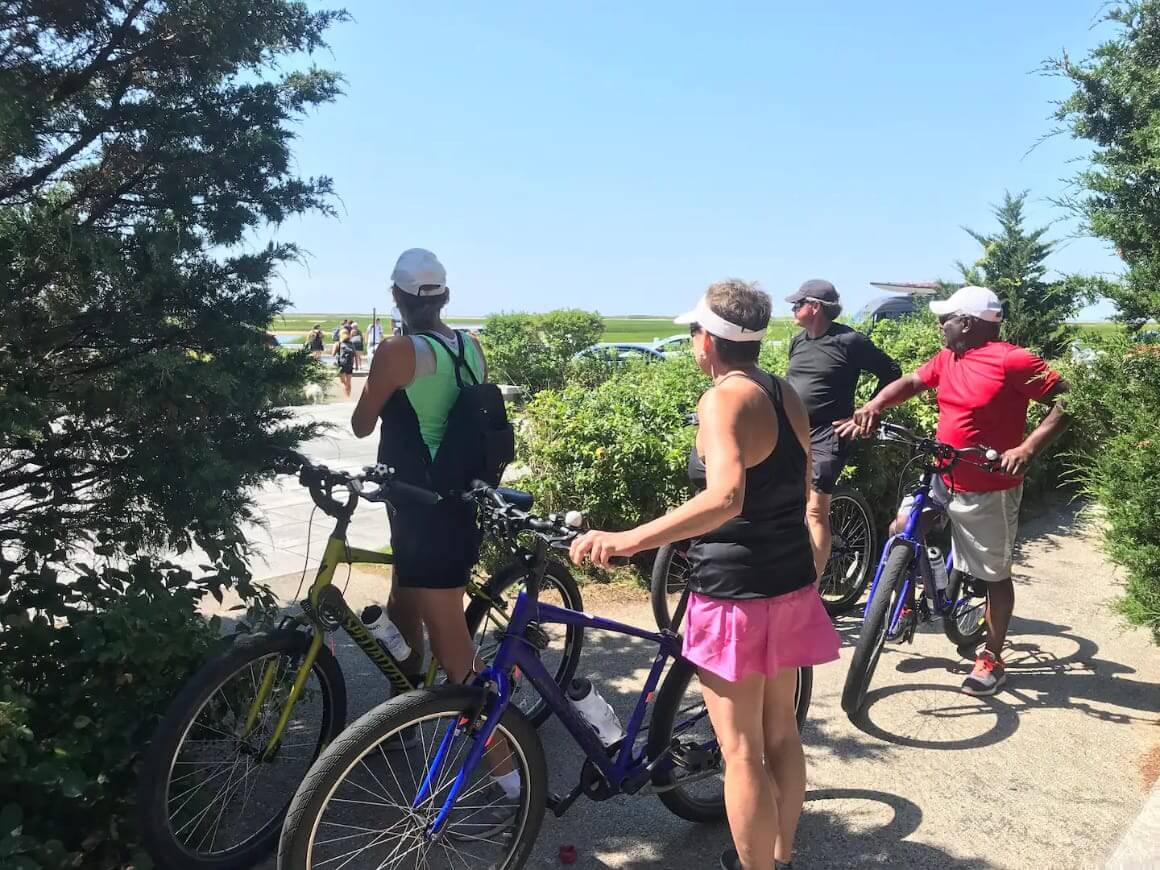 $89 p/p
2.5 Hours
Up to 4 people
Bikes included
Alongside some friends, come get an insider's take on Provincetown's deep arts, culture, and history scene. The private tour will give you access to places major tours skip.
Receive local knowledge and insight at each location along with helpful tips for must-do activities, and unknown spots that are off the tourist track.
The bike ride itself is relatively simple with only a couple of small hills along the way. However, the overall pace is relaxed, so there is never a rush to get around.
Some of the places you'll see include a hidden art gallery, the oldest house in town, and favorite local restaurants.
$34 p/p
2 Hours
Up to 10 people
There is no bad time to visit Boston. Likewise, there is no better way to see the sights and learn the storied past of Boston than by following the Freedom Trail.
Boston is a great city to explore on foot. Alongside your friendly guide, you will take a deep dive into the people and events that helped shape the city.
Learn about the Old State House, the Irish Famine Memorial, and the South Meeting House where the Tea Party was founded. Visit the oldest continuously running hotel in the country, before finishing up at the vibrant Quincy Market.
Your guide will give helpful tips on bars and restaurants to see post tour.
$53 p/p
2 Hours
Up to 10 people
Food and tickets included
Now that you know about Boston's famed history, it is time to go explore the city's food scene. On this food tour, you'll begin at Boston Harbor and walk the waterfront.
Once you've arrived in the North End, visit a hidden Italian bakery for mouthwatering fresh bread, before heading to a salumeria for fine Italian meats and cheeses.
After a quick pitstop at a delightful cafe, allow the caffeine to power your steps to your next destination. The hallowed, Old North Church.
Your final stops are a neighborhood favorite pizza joint where the flavors run wild and the stories are endless along with a taste of dessert, sampling some of the best pastries in Boston.
$95 p/p
2.5 Hours
Up to 6 people
Kayaks included
Explore one of the hidden gems of Cape Cod at sunset. Monks Cove got its name from two monasteries that were active in the early 1900s.
Paddle through picturesque coves and salt marshes on your way to Toby Island. Once on land, you can catch a glimpse of shorebirds, explore the shellfish beds, and take a moment to enjoy the views.
From there, you will jump back in the kayaks and return to Monks Cove right as the sun begins to touch the horizon. From Buzzards Bay, you can sit back in your kayak and watch it all unfold.
Don't Forget Your Massachusetts Travel Insurance
ALWAYS sort out your backpacker insurance before your trip. There's plenty to choose from in that department, but a good place to start is Safety Wing.
They offer month-to-month payments, no lock-in contracts, and require absolutely no itineraries: that's the exact kind of insurance long-term travellers and digital nomads need.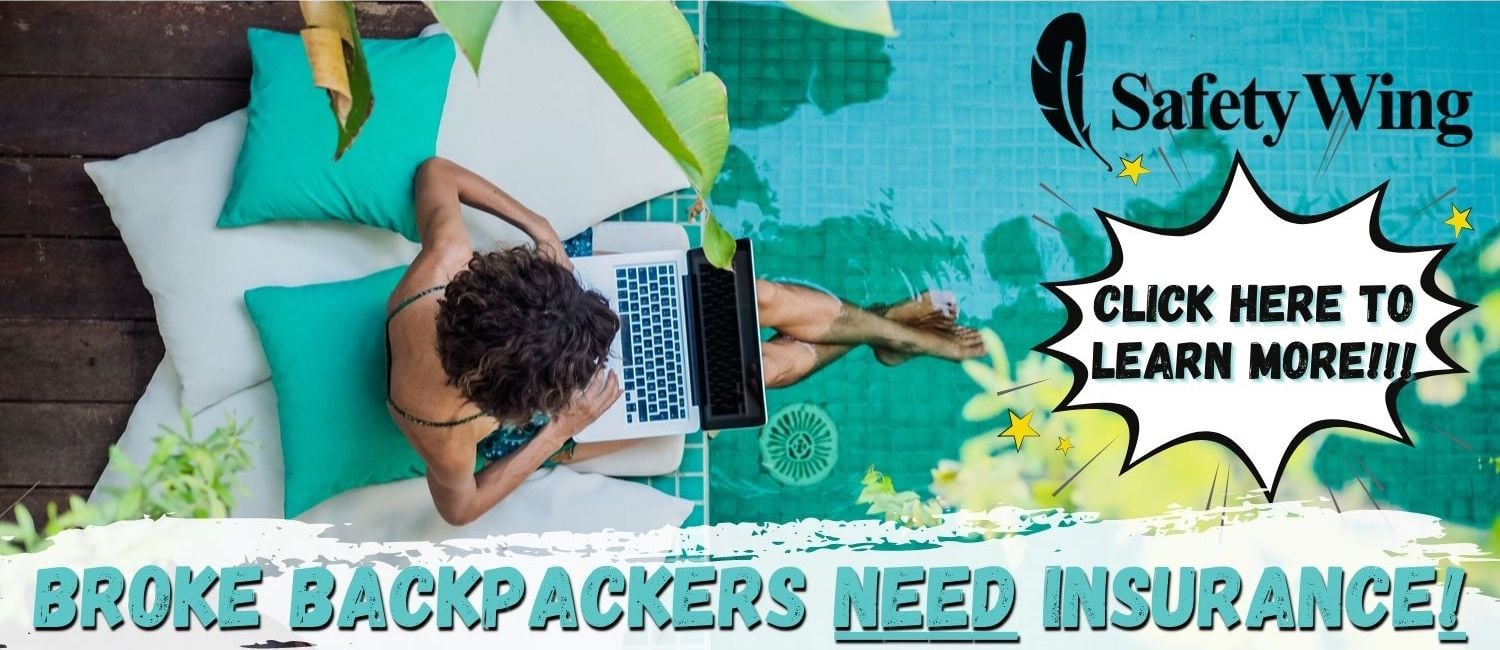 SafetyWing is cheap, easy, and admin-free: just sign up lickety-split so you can get back to it!
Click the button below to learn more about SafetyWing's setup or read our insider review for the full tasty scoop.
Final Thoughts on Massachusetts Airbnbs
As you can see, one of the best ways to get around is by staying at an Airbnb in Massachusetts. Whether you want a unique vacation full of memories or a well-located studio to catch a red-eye flight, there's a perfect Airbnb for you.
The best Airbnbs in Massachusetts will bring your destination to life. Budget travelers can snag themselves an ocean view, couples can have romantic retreats, and families can have entire homes to themselves.
One thing is for sure, your accommodation will be remembered as much as the adventure itself. The unique properties will be hard to leave, and you just might find yourself clicking the button for round two.
---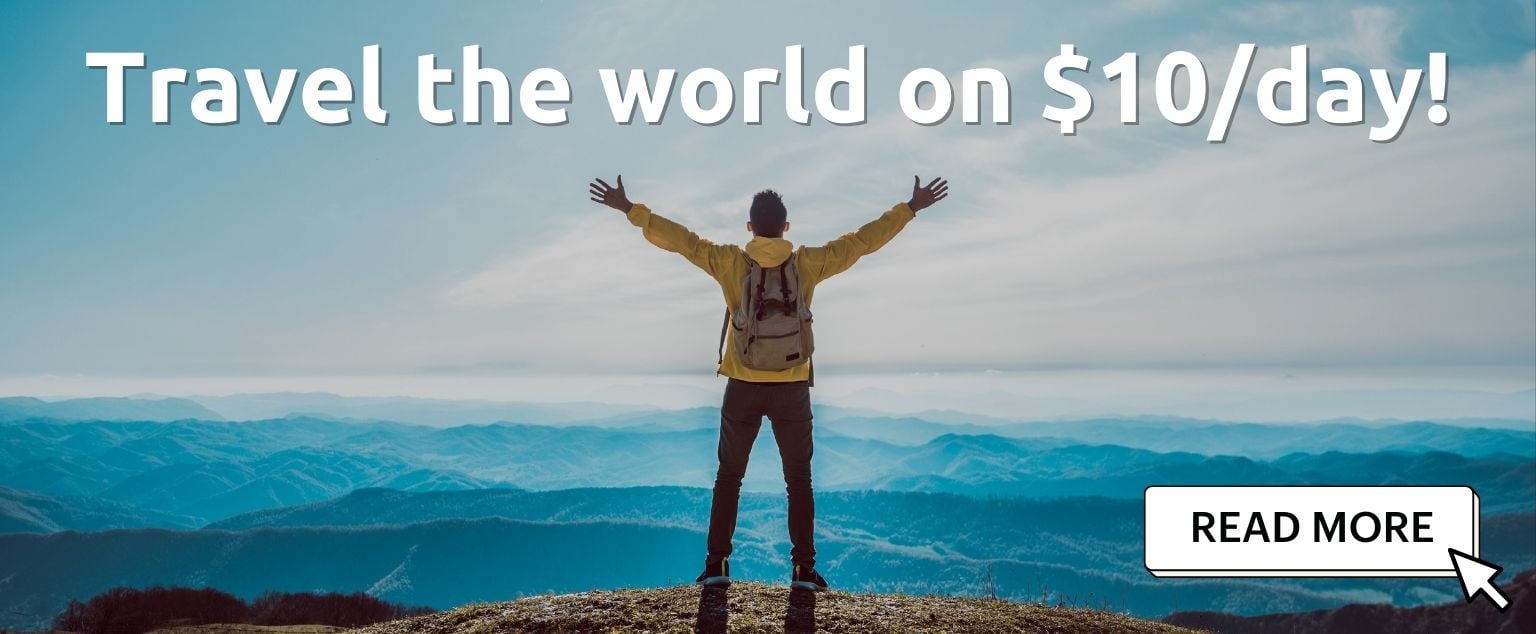 And for transparency's sake, please know that some of the links in our content are affiliate links. That means that if you book your accommodation, buy your gear, or sort your insurance through our link, we earn a small commission (at no extra cost to you). That said, we only link to the gear we trust and never recommend services we don't believe are up to scratch. Again, thank you!