Based around a medieval centre, Montpellier is the fastest growing city in France. Though it doesn't boast the Roman heritage that many towns in the South of France do, it still has 1,000 years of history. Not only is it popular for its relaxed vibe, but it's also just a stone's throw from the warm waters of the Mediterranean Sea.
It's a great place to spend a long weekend, so you'll be thinking about somewhere to stay, right? If that's the case, check out vacation rentals in Montpellier. Unlike a stuffy hotel or a hostel, you'll be able to pick something that's dripping in individuality – and it'll likely offer great value for money too.
In this post, we'll take a look at the best Airbnbs in Montpellier. We've covered several different categories, so there's sure to be something to match your travel style and budget. Not only that, but we've picked out our five best Airbnb Experiences, too. Let's check them out!
Quick Answer: These are the Top 5 Airbnbs in Montpellier
Overall Best Value Airbnb in Montpellier
Overall Best Value Airbnb in Montpellier
Comfortable Studio in Montpellier Centre
> $
> 2 Guests
> Clever use of space
> Overlooking quiet street
Best Budget Airbnb in Montpellier
Best Budget Airbnb in Montpellier
Light Room with Great View
> $
> 2 Guests
> Outdoor terrace
> Access to the whole apartment
Best Airbnb for Couples in Montpellier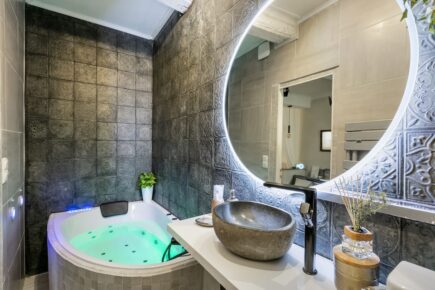 Best Airbnb for Couples in Montpellier
Historic Centre Suite with Jacuzzi
> $$
> 2 Guests
> Queen bed
> Jacuzzi bath
Best Airbnb for Families in Montpellier
Best Airbnb for Families in Montpellier
Family Apartment in Historic Centre
> $$$
> 6 Guests
> Cute balcony
> Kids' toys and books
Over-the-Top Luxury Airbnb in Montpellier
Over-the-Top Luxury Airbnb in Montpellier
NocNoc Loft
> $$$$$$$$
> 16 Guests
> Huge outdoor terrace
> Wonderful location
Not sure where to go after your Montpellier trip? Check out our where to stay in France guide for even more awesome places and hidden gems around the country!
What to Expect from Airbnbs in Montpellier
There is a whole host of Airbnbs in Montpellier to choose from. It depends on the type of holiday you're after, really. If you're going to be chilling in the city centre and wandering round the medieval warren of streets stopping off at cafes, a loft, apartment, or even a private room may do.
However, if you're looking to enjoy the incredible beaches of Southern France and you have some cash to spare, you might want to look at a villa instead.
For the most part, Airbnbs here are private affairs where you'll be dealing with a friendly local host. However, larger properties are owned by businesses. But don't worry; they can still give you great tips on what to see and do.
Here are three of the coolest types of Airbnb in Montpellier.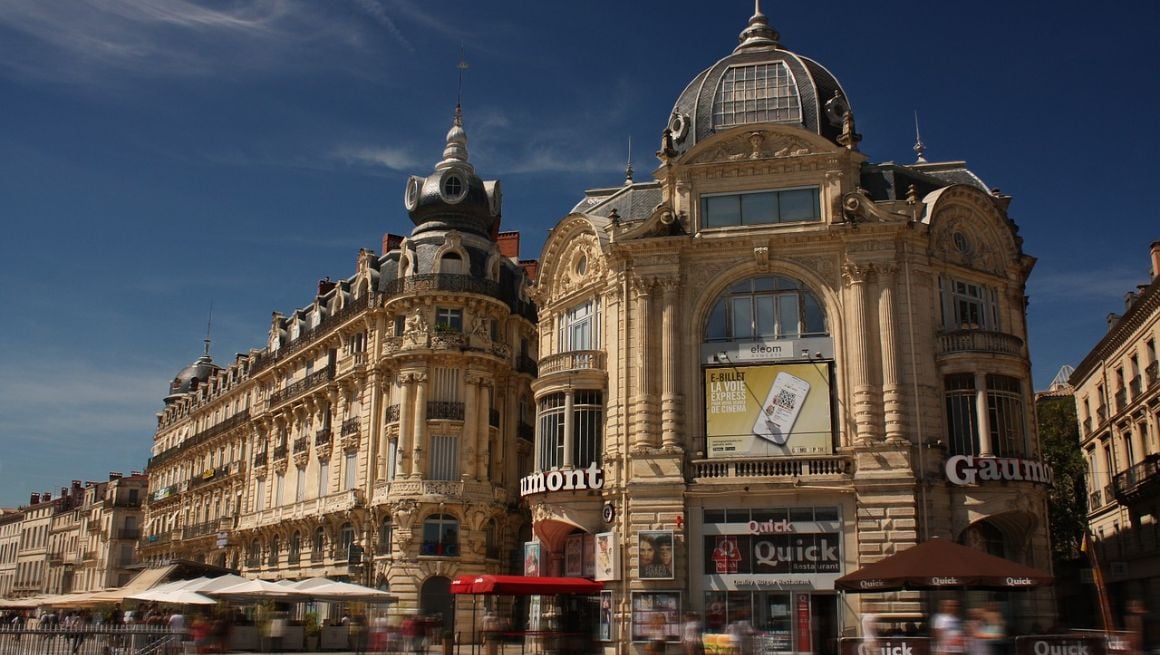 Loft
A loft apartment is great if you want to be right in the heart of Montpellier's historic centre. Of the 80 loft properties on Airbnb to choose from, that's where the majority are.
Lofts are just that little bit fancier than your standard entire flat – and you'll find them on the top floor. As many of the roofs in Montpellier are sloping, you can often find a bed raised on a mezzanine platform, looking down over a living area and a fully equipped kitchen. This doesn't apply to all, of course.
Loft apartments usually sleep up to six guests, so they're great for small groups of friends and family. However, a smaller loft apartment with a double or queen bed is perfect for a couple.
Townhouse
Since the historic centre of Montpellier is quite built up, you won't find a townhouse there. However, they are just a stone's throw away in districts such as St Roch, Beaux-Arts, and Figuerolles.
These properties can be suitable for all travel styles. If you're travelling in France on a budget, look for a private room in a townhouse. That way, you'll have a friendly host who can guide you through the city. If you're in a bigger group or value privacy over saving money, book an entire townhouse.
You'll get a fully equipped kitchen in most, a living area, and in some, you might be lucky enough to get a garden – or dare we say it – a pool!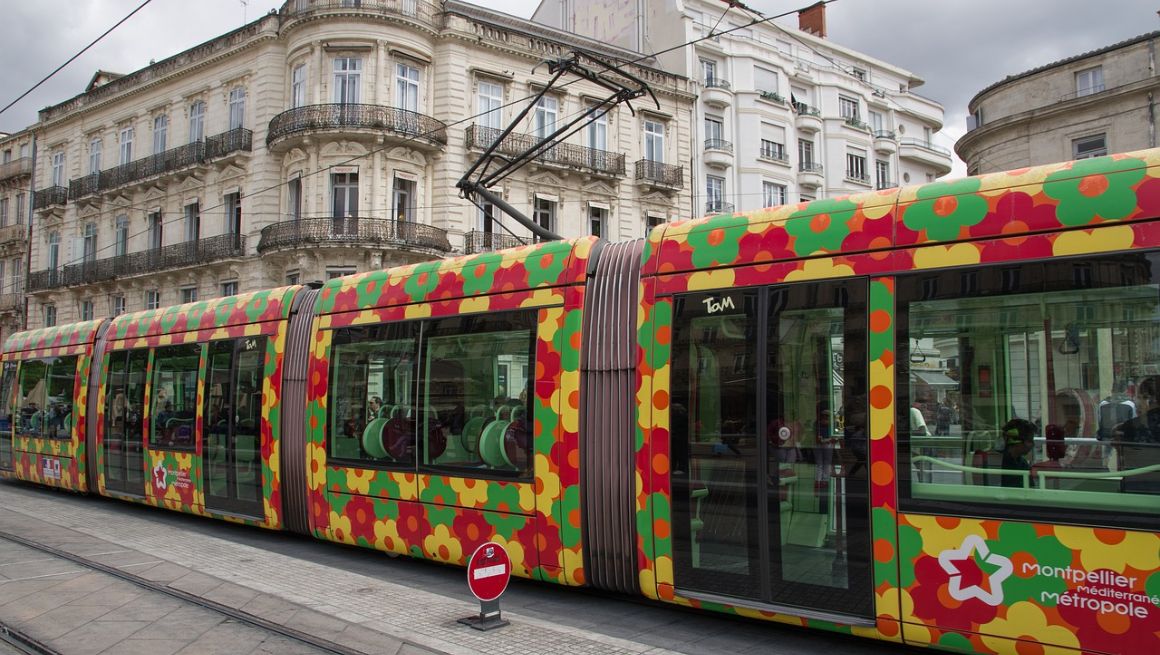 Villa
Now, this is the king of Airbnbs in Montpellier. Yes, it's going to set you back more money – but for that, you're going to get a lot of space and some awesome extra features. While it does cost more, that's because you can have a lot of people staying – sometimes as many as 20!
Villas are best for those who want to see the city but want a little distance from it – you won't find any villas in the historic centre. However, there are a few within the city limits, and several if you head out towards Lattes and the Mediterranean Sea.
Villas have all the usual features of a large house, with a big garden and a pool, too. There are a few private rooms in villas if you want to enjoy the experience without the price tags. However, it's more common to find an entire property.
Why Stay in an Airbnb
What's that? You're still not convinced about staying in an Airbnb in Montpellier? Well, let us give you our top five reasons to stay in an Airbnb – you'll be booking up straight away.
Local Experience: With a local host, you can get their recommendations on the best things to see and do. Get off the beaten tourist track!
Unique Properties: Hotels are nice, but they can all be a bit samey. Get a breath of fresh air by booking a unique Airbnb property!
Privacy: Many Airbnbs have self-check-in. If you'd rather not deal with anyone when you arrive in Montpellier, that won't be a problem.
Affordability: Line a hotel and an Airbnb up that cost the same, and there's only one winner when it comes to which gives you the most for your money!
Airbnb Experiences: Airbnb isn't just great for choosing where to stay – it's also great for things to do. We'll explain Airbnb Experiences and show you some of our favourites later on.
Want to keep your money safe?
You should always have emergency cash hidden on you – pick up this awesome security belt with its hidden pocket before you travel, it's perfect for hiding money, a passport photocopy.
The Top 15 Airbnbs in Montpellier
Now that you have a bit of background to the city and what you can expect from your accommodation, let's get down to what you've been waiting for. Here are 15 of the coolest and most unique Airbnbs in Montpellier. Which one are you going to choose?!
2 guests
Overlooking quiet street
It's not often you'll find an entire place at this price, let alone one that is so comfortable, clean, and nice to look at. That's why it's our overall best value Airbnb in Montpellier. In the Rondelet District, everything is just a stone's throw away, whether you want to walk or take the tram. The light and bright apartment would suit a couple or a solo traveller. Digital nomads take note of the laptop-friendly workspace!
2 guests
Access to the whole apartment
Want to make your money go further? Then check out this cute private room in an apartment. Your host offers you more than just a bedroom – you're welcome to prepare meals in the kitchen and sit out on the terrace to take in the sublime views of the city. If you're in town to watch rugby union, it's just a stone's throw away from the Yves du Manoir Stadium.
1 guest
Bed on mezzanine level
If you're travelling solo, a homestay is a great way to keep your costs down while meeting a friendly and knowledgeable Montpellier local, who can show and tell you their favourite things about the city. It really is a win-win – especially in such a beautiful apartment. You've got a double bed on a mezzanine level above a dining area and cute kitchenette. A great base!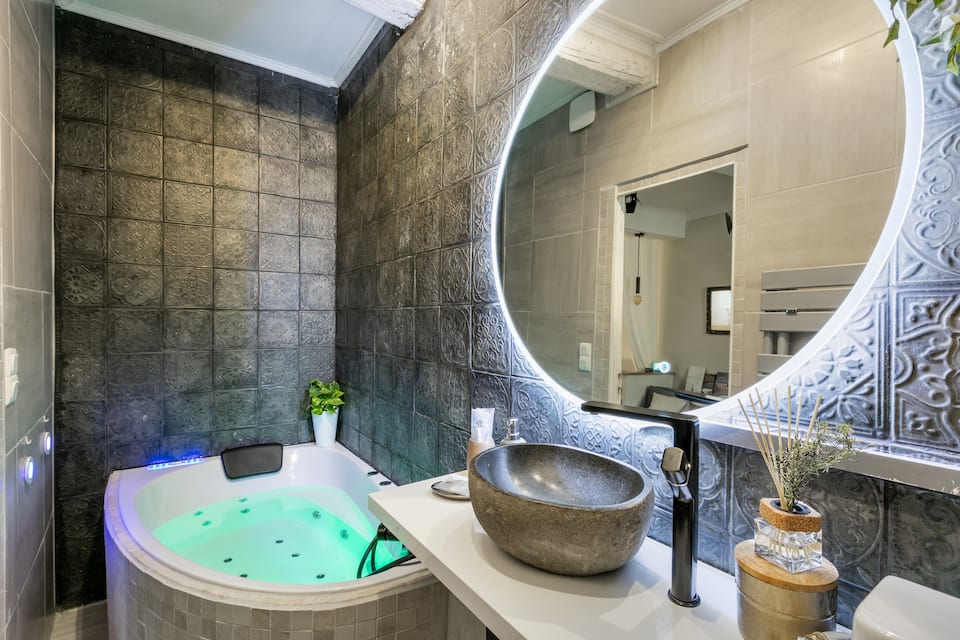 When you're travelling with your other half, it's not so easy to just pick any place with a double or queen bed and go for it. You have to take into account what they'll like, as well as somewhere that offers the privacy you need to spend quality time together. Thankfully, this suite in the historic centre offers all that – and a jacuzzi! There's a projector set up by the bed too, so you can enjoy a movie while you're cosied up!
The BEST Travel Backpack?!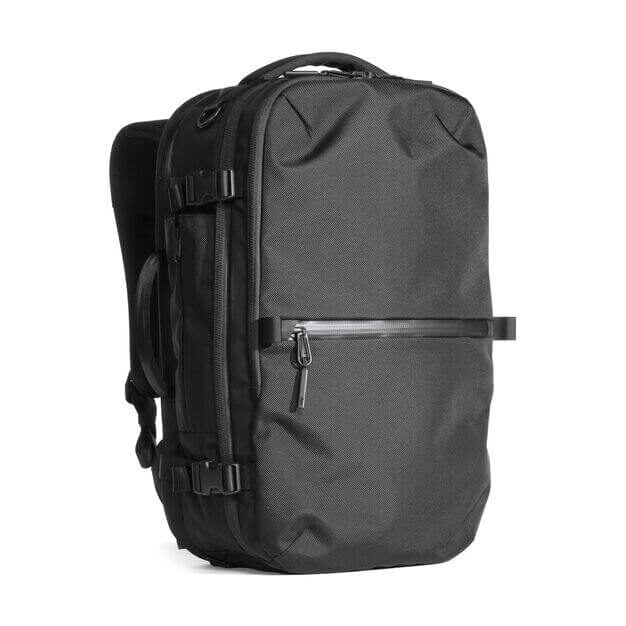 Pssssst! Not picked the perfect travel backpack yet? The Broke Backpacker team has tried out over thirty backpacks this year! Our favourite travel backpack is the Aer Travel Pack 2.
View on AER
6 guests
Kids' toys and books
With room for six guests, this city-centre apartment suits families of all ages. However, thanks to a dedicated kids' bedroom with bunk beds, a play kitchen, and children's toys and books, it's especially good if you're travelling with younger ones. The rest of the apartment is pretty great, too – you've got a fully equipped kitchen, a balcony where you can chill out, and the living space has some high-spec headphones for escaping into your own world for a bit.
Over the Top Luxury Airbnb in Montpellier | NocNoc Loft
$$$$$$$$
Huge outdoor terrace
16 guests
Wonderful location
NocNoc? Who's there. The nicest apartment in Montpellier! That's not even a joke. Located right above Place de la Comedie – Montpellier's main square – you couldn't have a better location. However, this is the sort of place that would tempt you not to get out and explore. Spend hours sunning yourself on the enormous roof terrace, or host a meeting in here if you're a business traveller. The possibilities are endless!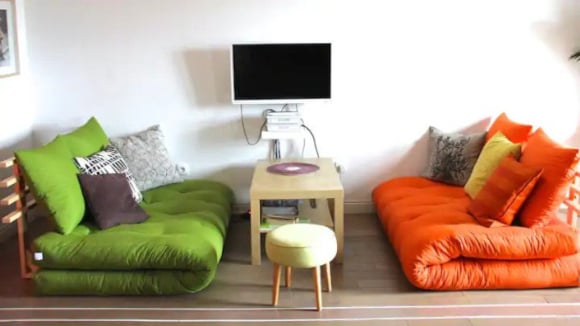 6 guests
Very high ceilings
This playfully designed loft really does make the most of the space it has. Within those high ceilings, you'll find a beautiful, fully equipped kitchen and some gorgeous chill-out spaces. In the master bedroom, you even have a bedside jacuzzi bath. Futon sofas in the living area extend out into beds too in what is a very clever use of space. All of that, and it's not even that expensive!
6 guests
Wooden beams and mosaics
While you won't find any townhouses in the heart of the historic centre, you don't have to head too far out of it to find something. This home is dripping with character, as its part of a 12th-century church complex that even has its own wine cellars! If that doesn't get your attention, the modern touches will, such as the swimming pool, bright living room, and well-equipped kitchen. Great for families and groups of friends!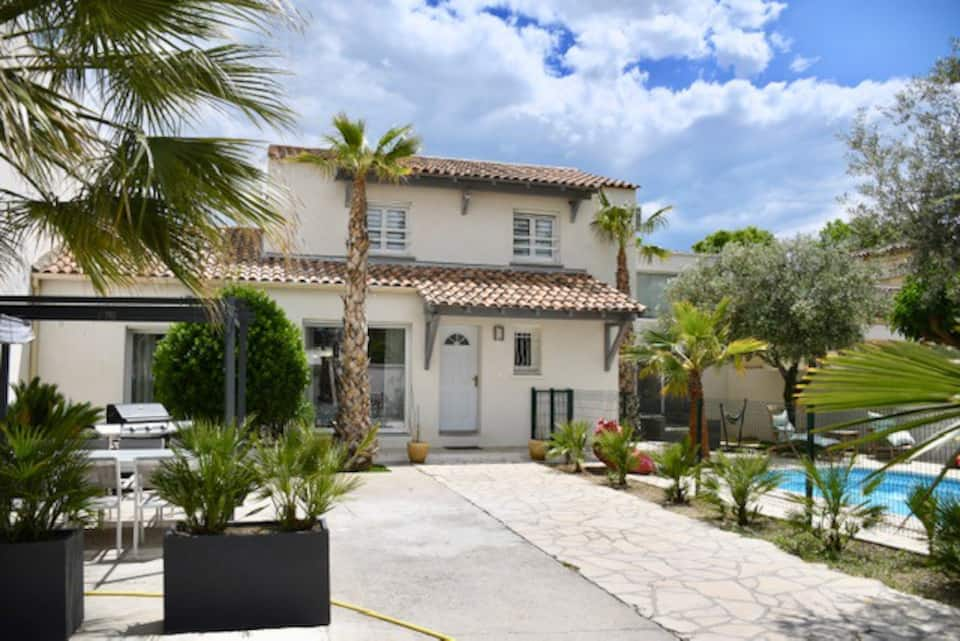 Now, we get to one of the nicest properties on this list. A villa in the Med is a dream many aspire to, and you can live that dream for a few days here! In the unlikely event that the weather isn't right for using the swimming pool, retire to the games room for a shot on the foosball table or challenge your friends or family to a board game.
$
Laptop friendly workspace
The beauty of being a digital nomad is that you can work anywhere with a Wi-Fi connection and a laptop-friendly workspace. But wouldn't you rather do it on a terrace overlooking a beautiful French garden? La Chamberte is 15 minutes from the historic centre of Montpellier, so you'll get a real local experience. One of the big pluses of this room is that you have your own private bathroom too – handy if you fuel yourself on coffee.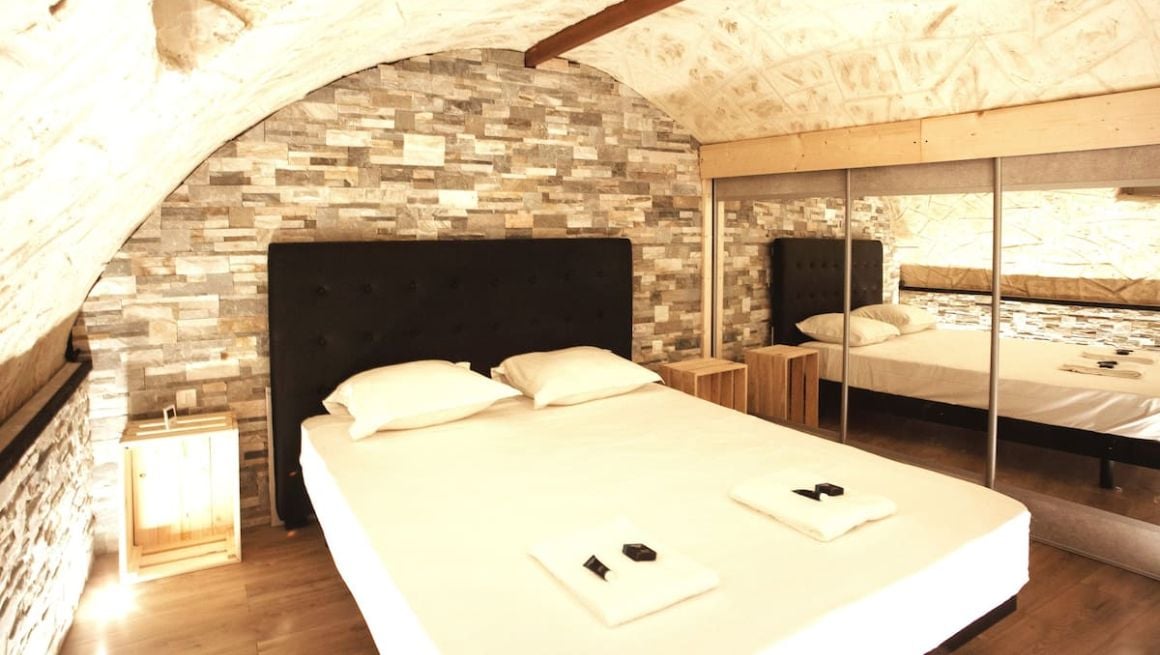 If you want to make the most of your weekend in Montpellier, it's important to get the location right. With this apartment, you're within a hop, skip and a jump of all the hotspots – including Saint-Denis, the Promenade du Petrou, and the city's art museum. Not only that, there are several cafes and restaurants right on your doorstep. Aside from location, how cool is that bedroom?!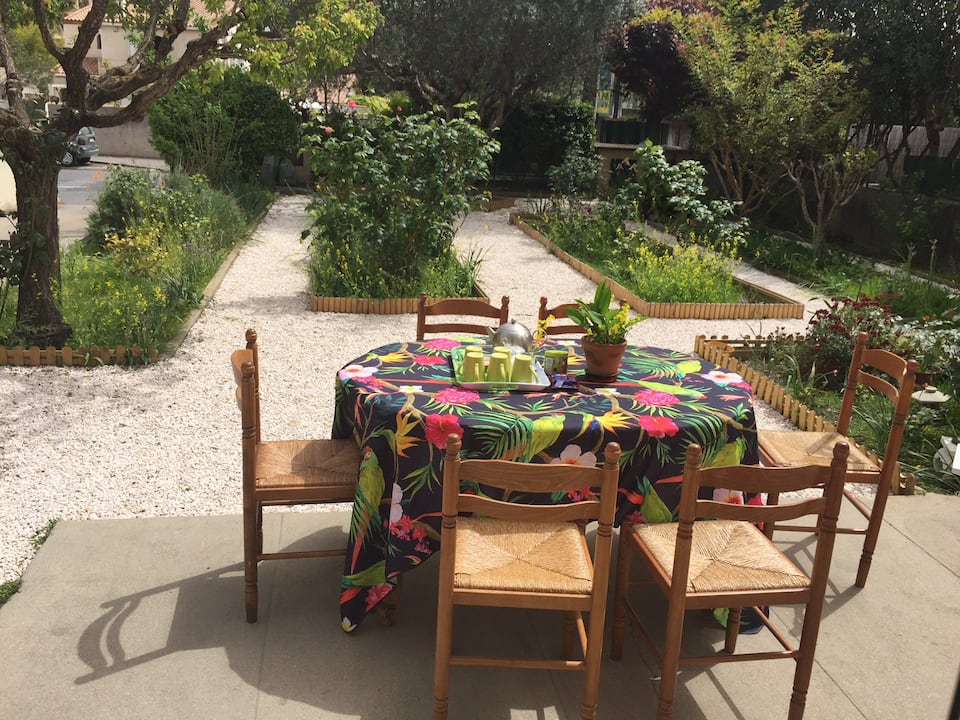 8 guests
Fully equipped kitchen
Travelling to Montpellier with your own vehicle or renting a car? You'll need somewhere to keep your vehicle safe as you explore the city. Helpfully, this zen house has three parking spaces. With space for eight guests, it means that there are no worries if you've got multiple cars. But this place is more than just the parking; you've got a gorgeous garden with an outdoor terrace – a great place for drinks or food on an evening.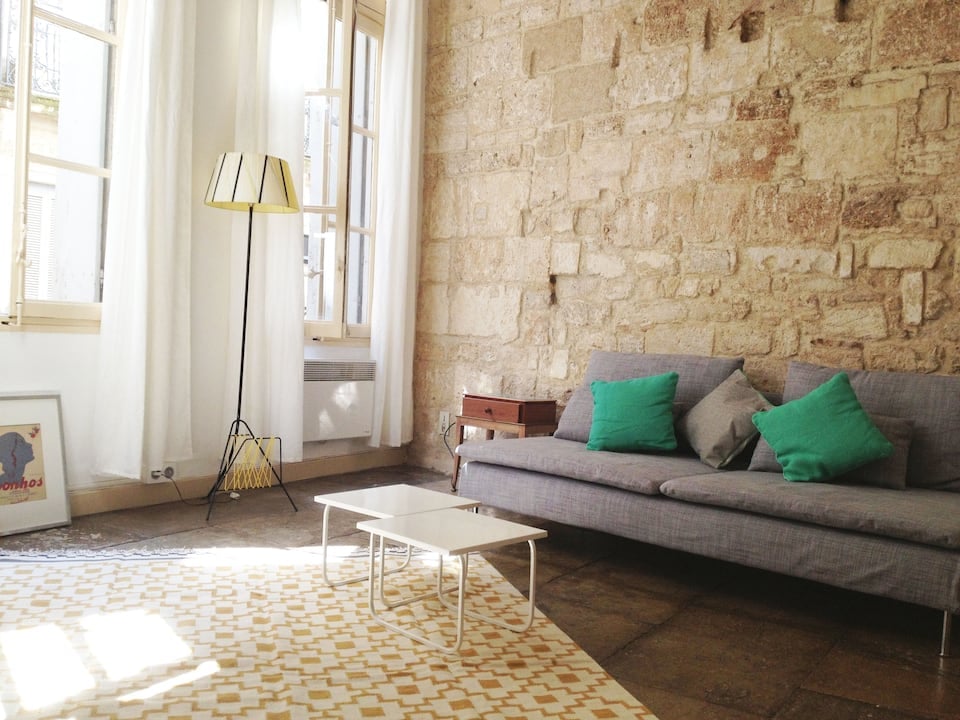 You'll find the glut of Montpellier's clubs and bars in the historic centre. So, here's another great flat in that area. This one has space for two guests and it's quite inexpensive, so it would suit a couple or a solo traveller who likes to have their own space. Should you need to get rid of your hangover the next day, the bed is comfy and there's a large and light living room where you can enjoy a coffee and some stodgy food.
This certainly is a left-field choice, but if you're travelling to France and you have the chance to stay in a château, are you really going to pass that up?! With space for 16 guests on this wine estate, it's a wonderful spot for a family or friend get-together. In the west of the city, it's 15 minutes drive from the historic centre, but you'll feel a million miles away as you're surrounded by a wooded park and animals.
Airbnb Plus properties are the cream of the crop on the platform. They've been inspected in person, and the hosts are known for their attention to detail and excellent review scores. But it's not so often you'll find such a well-priced Plus property. This beautiful home is right in the centre of Montpellier, and the high ceilings and wooden beams will get the tongues wagging of any aspiring interior designers!
Best Airbnb in Montpellier for a Group of Friends | City Centre Adventure
Just look at this place! It is great for a group of friends – especially if you're interested in cinema. This film-themed attic is chock full of movie posters and quirky design touches. There's even a corner sofa where you can enjoy a film night together if you don't fancy heading out into town. There's room for four guests, and the master bedroom is absolutely packed with books. One thing's for sure – you won't be bored!
Top 5 Airbnb Experiences in Montpellier
Now that you know what to expect from Airbnbs in Montpellier, it's time to think more about what you're going to do in town. Of course, with some of the properties, you might be tempted to spend your whole time indoors, but we wouldn't recommend that!
Airbnb Experiences are a great way to get a window into local life. Tours are curated by people who know the area like the back of their hand and love to show their city off to tourists. They can be anything from a hike in the surrounding hills or mountains to an animal encounter or sampling the regional dishes.
Here are five of our favourite Airbnb Experiences in Montpellier.
€90/person
9 Hours
Up to 8 guests
Though Montpellier is a beautiful city, it can be nice to get out and see the surrounding areas, especially when they're as pretty as the Petite Camargue. On this 9-hour day trip, you'll go with a small group to the marshes of Saint-Gilles, where you'll taste typical products from a farm. You'll also meet rice farmers, go on a walk, and take a guided tour of the medieval city of Aigues-Mortes. A wonderful way to see more of what's around!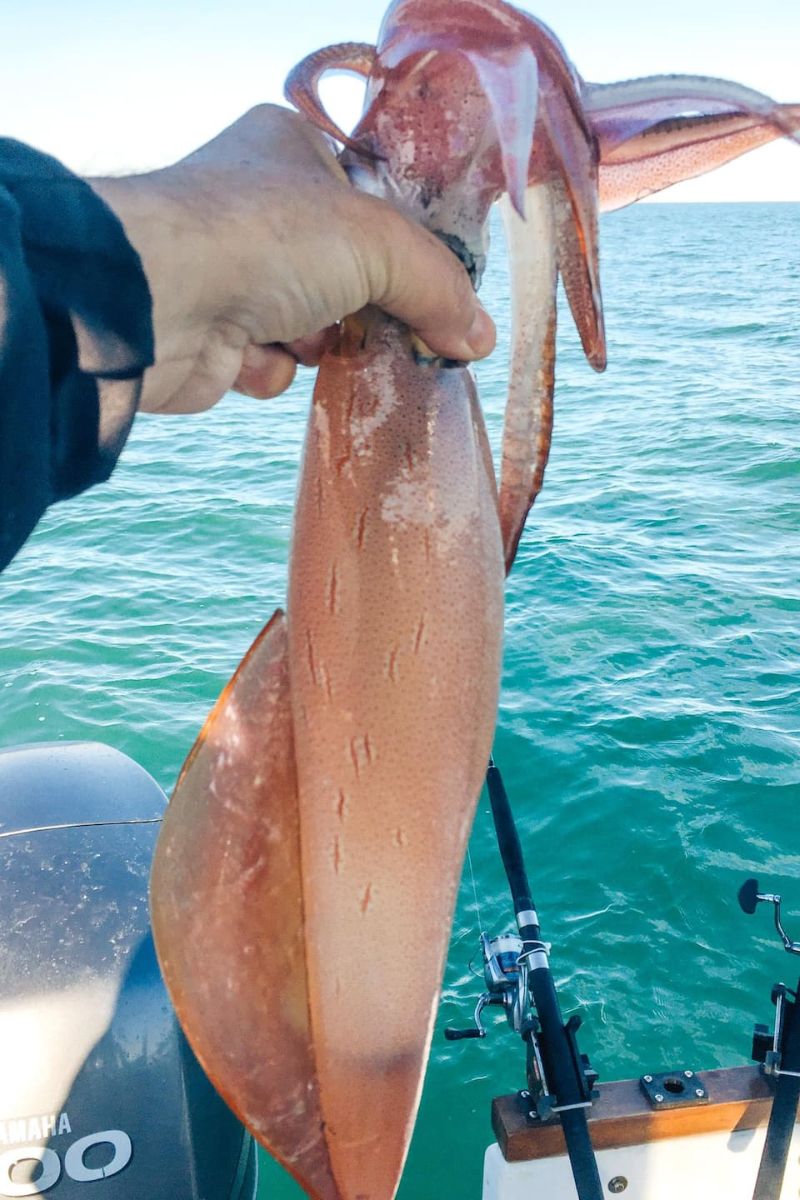 €35/person
2 Hours
Up to 3 guests
A big part of Southern French cuisine is seafood – and why wouldn't it be with such rich waters off the coast?! You'll be heading a little out of the city for this to the port of Palavas-les-Flots. Not only is it likely you'll catch squid, but also cuttlefish and octopus. You'll be supplied a lifejacket for the duration of your trip, and groups are small due to the combined weight of guests. Squid season is between August and March, so that's the best time to do this!
€50/person
2 Hours
Up to 4 guests
Want to see as much of the city as possible in just two hours? Ditch walking and jump on a Segway. With a certified local guide, you'll be able to navigate your way around the narrow alleys – just keep your eyes peeled for other pedestrians! On the tour, you'll see some of the most popular sites, including the Antigone District, Cathedral, Place de la Comedie, and the banks of the Lez River.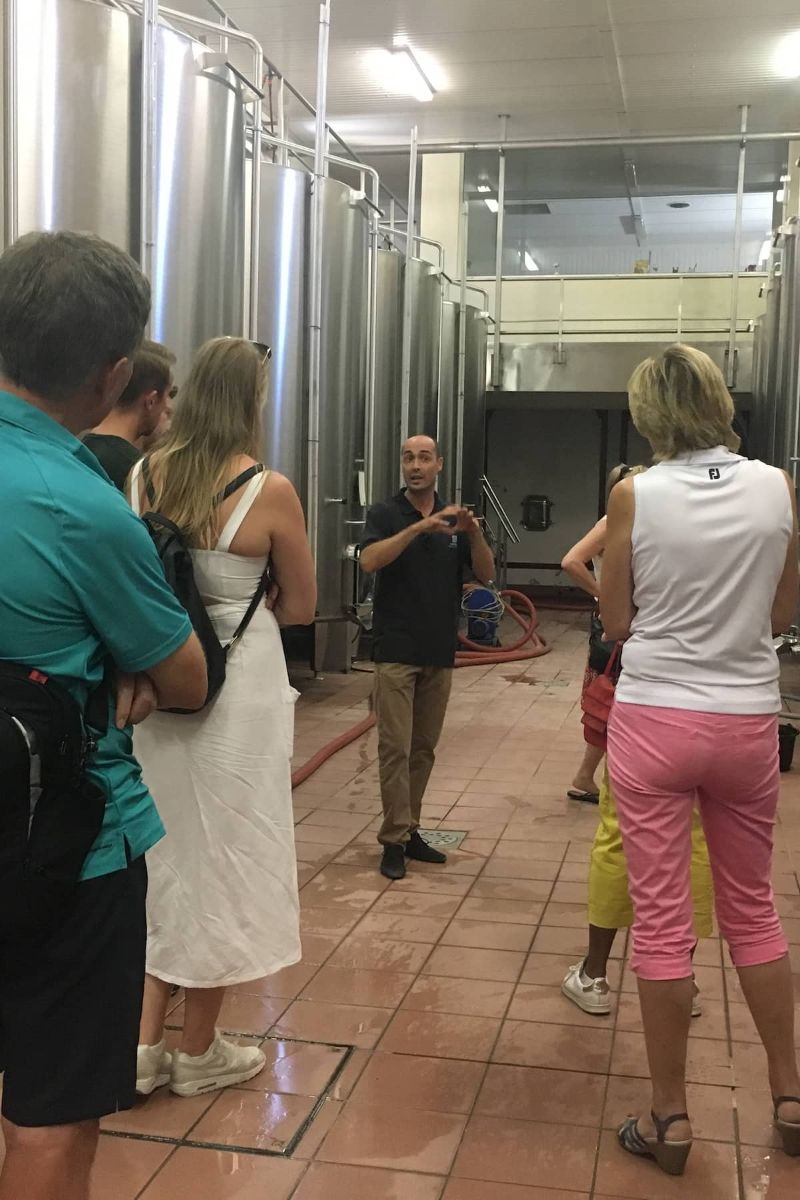 €59/person
3 Hours
Up to 8 guests
No trip to France is complete without sampling the fine gastronomy. In this case, it's wine and olives. Your host will take you to their own familial olive farm and mill, where they'll tell you all about how olive products are produced. Don't worry; you'll get a chance to taste them, too. There's also a wine cellar full of excellent wines that you'll get to sample.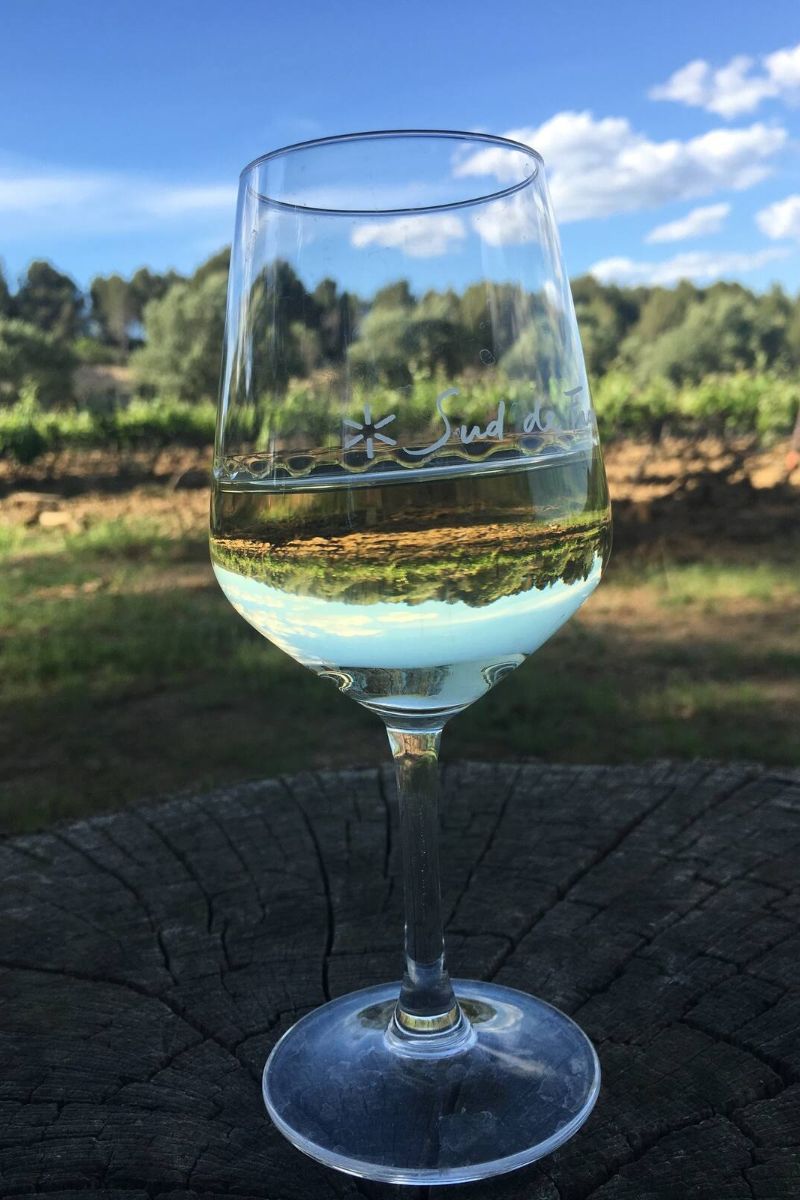 €65/person
3.5 Hours
Up to 8 guests
If you're not that bothered by the olives, you could always just go on a straight-up wine tour. Not only will you be able to learn about wine production in the region, but you'll also take a journey through the stunning Pic Saint Loup. Your host shows you the best way to sample their wines, so by the end of it, you'll be a real wine professional!
Final Thoughts on Montpellier Airbnbs
So, there you go. Not only have we shown you 15 incredible Airbnbs in Montpellier, but five awesome experiences, too. With everything from gorgeous apartments to luxurious villas, we're sure there's something in there that will suit your travel style and budget.
If you're still trying to make your mind up, let us give you one last piece of advice. Go for our overall best value Airbnb in Montpellier, the comfortable studio in Montpellier Centre. It's location is pretty much unbeatable, and you'll still have enough money in your pocket to sample the fine cuisine of the city!
And don't forget to take out Travel Insurance for your trip! I have been using World Nomads for some time now and made a few claims over the years. They're easy to use, professional and relatively affordable. They may also let you buy or extend a policy once you've started your trip and are already abroad which is super handy.
If there's one insurance company I trust, it's World Nomads. To find out why I use World Nomads, check out my World Nomads Insurance review.
Getting an estimate from World Nomads is simple—just click the button or image below, fill out the necessary info, and you're on your way!

"Find out how YOU can support the site. We work hard to put out the best backpacker resources on the web, for free! It's all about helping out our tribe of awesome backpacker readers [that's you!]. Please visit the link to find out how you can help keep the site going 🙂
For the sake of transparency, some of the links in our content are affiliate links. This means that if you book your accommodation, buy a book or sort your insurance, we earn a small commission at no extra cost to you. I only link to stuff I've actually used and never endorse products or services that are not up to scratch. Thanks for your support.