Las Vegas is the land of the lucky, where anything feels possible! You may want to see an epic and opulent show, or try your luck at a casino and see if Lady Luck is on your side! We'll keep our fingers crossed for you.
If you don't want to take an extra risk, don't let where to stay in Las Vegas be a toss-up. No luck is needed here. We've done all the work for you and figured out which Airbnbs in Vegas are the best of the best. Indeed, better than all the rest. You'll feel snazzy and swanky at one of these rentals in Vegas!
Take a seat, relax, enjoy a martini and let's go over the best Airbnbs in Las Vegas given your budget, vibes and travel group size! Whether you want to call Vegas Sin City, or the City of Lights, or even the Glitter Gulch, it doesn't matter what you call it if you are staying in comfort and style!
Quick Answer: These are the Top 5 Airbnbs in Las Vegas
OVERALL BEST VALUE AIRBNB IN LAS VEGAS
OVERALL BEST VALUE AIRBNB IN LAS VEGAS
Beautiful Condo Close To Strip
> $
> 2 Guests
> Free Driveway Parking
> 10-Minutes to the Strip
BEST HOMESTAY IN LAS VEGAS
BEST HOMESTAY IN LAS VEGAS
Neo-Classical Meets Modern Suite
> $
> 2 Guests
> Easy Self Check-in
> Modern and Open Floor Plan
BEST AIRBNB FOR COUPLES IN LAS VEGAS
BEST AIRBNB FOR COUPLES IN LAS VEGAS
Chic Condo Close to Strip w/ Pool
> $$
> 2 Guests
> Access to hot tub spa and pools
> 24hr security guard
BEST AIRBNB FOR FAMILIES IN LAS VEGAS
BEST AIRBNB FOR FAMILIES IN LAS VEGAS
Relaxing and Quiet Condo
> $$$
> 6 Guests
> Baby high-chair & crib available
> Access to pool & gym
BEST LUXURY AIRBNB IN LAS VEGAS
BEST LUXURY AIRBNB IN LAS VEGAS
Huge Penthouse w/ Hot Tub Balcony
> $$$$
> 12 Guests
> Balcony Hot Tub
> 57th floor incredible views
Why stay in an Airbnb?
Local Experience: While many Las Vegas Airbnbs are managed by companies, they're still locally based. Get the best recommendations for your Las Vegas itinerary that you won't find in the guidebooks to make your trip truly special!
Unique properties: Airbnb has every kind of property you could think of. There's even a 'unique stays' search function, where you can find your dream property on the site.
Affordability: When it comes to value for money, Airbnbs offer so much more than hotels at the same price.
Safety: It might seem a little weird staying in someone's house; however, both hosts and guests are vetted by Airbnb reviews to ensure the safety of both. USA is overall safe, and the Airbnb booking security just adds a little extra to it.
Convenience: staying in a vacation rental allows you to spread out and enjoy the homely comforts you might find at home, such as kitchens, laundry facilities and parking.
Airbnb Experiences: Airbnb isn't just about great places to stay; it also offers incredible local experiences. We'll show you some of our favourites in a bit.
What is the One Item Every Traveller NEEDS???
There is one item every traveller NEEDS. Some travellers don't even know they need it, but those travellers need it more than anyone.
What is this forgotten essential of the backpacker-life? SPOILERS! Guess you'll just have to click the button to find out. 😉
Find Out What It Is!
The 15 Top Airbnbs in Las Vegas
2 Guests
10-Minutes to the Strip
This is one of the Best Airbnbs in Las Vegas because of the low cost, chic vibes, and location! Just ten minutes to the Strip, you'll feel right at home without feeling too far away. This short-term rental in Las Vegas is a dream come true with its high ceilings and crisp white walls. There is also a laptop-friendly workspace with a desk and comfortable chair. The complimentary parking spot in the driveway is an added bonus, for those who always keep parking on their list of travel worries!
$
Balcony with view of the Strip
2 Guests
Flatscreen TV with Roku
This apartment is a dream come true for everyone that's travelling through Las Vegas on a budget! It is a one-bedroom and one-bathroom apartment that is just a quick 5-minute drive to the Strip; that's less than a $10 Uber ride! There is also an extra pull-out bed from the couch in the living room, which is perfect if you are traveling with a third or even fourth wheel in tow. We love the free parking available on-site for 2 cars. If you are driving into town, you're looking at a great Las Vegas Airbnb find!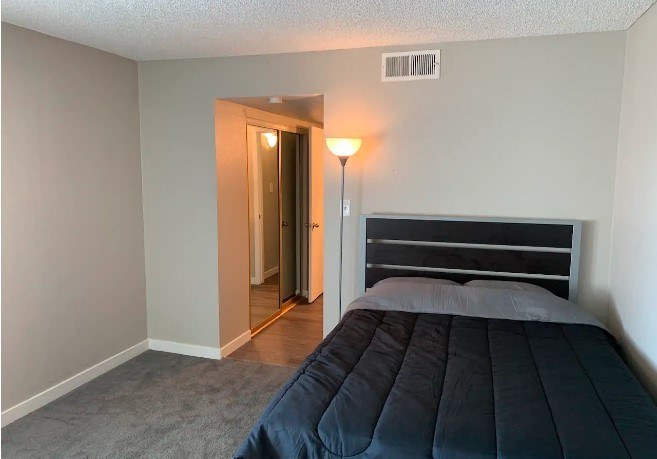 2 Guests
Full Kitchen access
Make a little workspace oasis for yourself in this Las Vegas homestay. While the room is a bit sparse in terms of decorations, this rental is for a one-bedroom and private bathroom Airbnb in a homestay. The owner encourages guests to use the kitchen, hot tub and pool and allows free parking onsite as well. There is a desk right there in your room where you can set up shop and get to work. When you need to relax, what's better than heading outside to take a dip in the pool or to immerse yourself in the rejuvenating hot tub waters. Let's be real. Hot tubs are the perfect excuse to leave your laptop behind for a break! This Las Vegas Airbnb is the perfect spot to get to work and treat yourself to some relaxation too!
For more short term rental properties, check out our favorite VRBOs in Las Vegas.
Is This the Best Travel Pack EVER???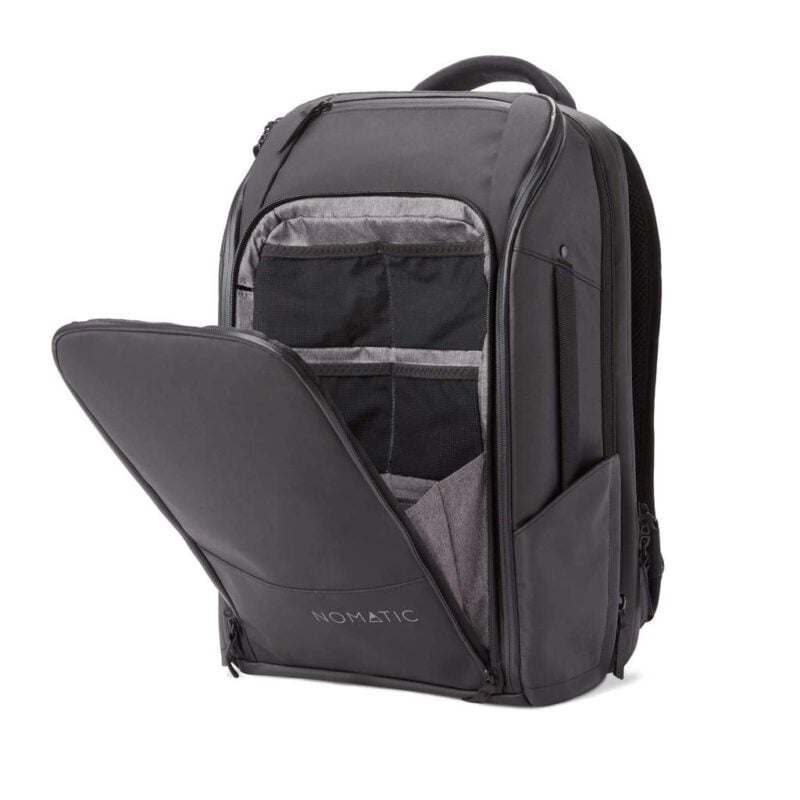 2 Guests
King Sized Bed with Chic Design
This Las Vegas homestay is an excellent choice for the solo travellers out there. The bedroom is complete with chic designs and a tiny table with two chairs perfect for working or snacking. There is a refrigerator and microwave, as well as other popular kitchen amenities available directly inside your room. You'll also have your own private entrance and access to the inviting waters of the outdoor pool. This Airbnb is 8 miles from the Las Vegas Strip and 5 miles from the Airport. Safe and quiet, this neighborhood is the perfect spot to stay for solo travelers who don't want to stay amidst the chaos of downtown but still have easy access to it!
4 Guests
Private Balcony with Great Views
This opulent condo right on the Las Vegas Strip is an incredible find. You'll be staying in comfort and style at this Las Vegas Airbnb. What's even better? It is located inside the MGM Casino Hotel in the Signature Tower. That's right. You'll stay in true Vegas style! Enjoy access to the pool complex and take advantage of all the luxuries this glamorous Las Vegas Airbnb has to offer. By staying right on the strip, you'll be close to the incredible shows, MGM casinos, and all the lights and action. This is a guaranteed win to stay at this condo!
$$
Access to hot tub spa and pools
2 Guests
24hr security guard
There simply couldn't be a more affordable and better option for a short-term rental in Las Vegas for couples. It comes at an enormously budget-friendly price and has all the bells and whistles of a Las Vegas Condominium. There is access to the gym, pool, and hot tub, as well as the free parking lot. There is a fully equipped kitchen, and a beyond gorgeous living room and dining area. The location couldn't be better either. Just 1-mile off the Strip, which is a quick 5-minute Uber ride away! This condo is located right next door to the Palms & Rios Casinos that have excellent food courts if you want a super convenient bite to eat.
2 Guests
Modern and Open Floor Plan
This newly renovated suite Las Vegas Airbnb is quite the find. It is a one-bedroom and one private bathroom located in a beautiful house. The room looks almost like it's straight from a hotel! It's sparkling clean and truly spotless. You'll have access to the fully equipped kitchen, comfortable seating areas, and 55'' flat-screen TV. The location is also excellent, as it's 2 miles from the Strip and other amazing things to do and see, yet close to local supermarkets and restaurants.
2 Guests
Easy self-check-in
This is a phenomenal Las Vegas homestay for those who want to be close to the best places to visit in Las Vegas, but not right in the middle of it. The price is right too! You can save extra money for the slot machine! We love that this modern-style apartment is only two miles away from the Strip, and comes with a comfortable queen size bed. You will also have access to the kitchen and you'll love the funky art that decorates this Airbnbs walls. This is a great homestay in Las Vegas that we consider quite a treat to stay in. Did someone say treats? Excuse us why we go on a quick run for donuts….
$$$
100% Free Open Mini-Bar
4 Guests
Free Airport Limo Pick-Up
This is a glorious luxury Airbnb apartment in Las Vegas that is actually probably cheaper than you might expect. That being said, it truly goes above and beyond. It feels like it practically goes to infinity and beyond! Who else would offer a free airport pick up and drop off in a Limo as part of their Airbnb listing? Only in Vegas… can we hashtag that? #OnlyInVegas It is a one-bedroom and two bathroom condo that has an additional hide-away Queen size bed and is situated on the 11th floor. Enjoy access to the open mini bar which is 100% free, so let the drinks flow! This Airbnb also comes with an Australian rain shower, whirlpool Jacuzzi, and two 42'' Flat Screen TVs. This Las Vegas Airbnb will make you feel like queens and kings!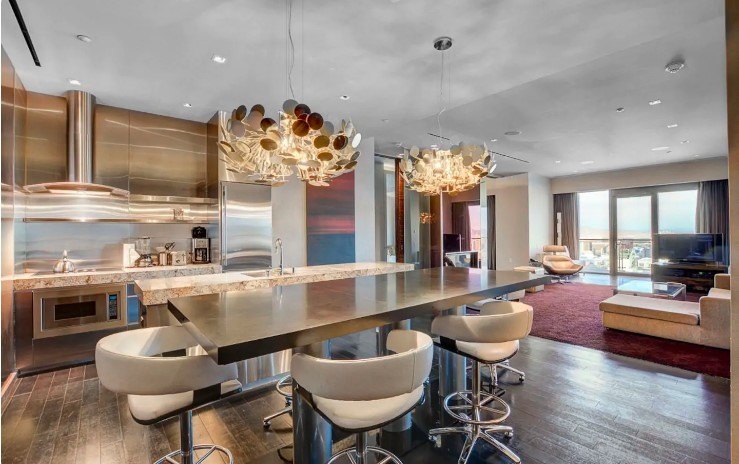 12 Guests
57th-floor incredible views
We mean it when we say that this is the most over-the-top luxury Airbnb in Las Vegas. With an outdoors, balcony private hot tub that sits right on the ledge on the 57th floor, you can soak up the relaxing hot water as you gaze out at the Strip below. There are two bedrooms and two and a half bathrooms. Huge king beds, hardwood, and marble floors, and a large movie area are just some of these incredible amenities you can expect. You'll feel like a celebrity staying in this Las Vegas Airbnb!
$$$
Baby high-chair & crib available
6 Guests
Access to pool & gym
This is a first-floor two-bedroom and two-bathroom Airbnb in Las Vegas. There are incredible amenities like access to the gym and enjoying the inviting waters of the outdoor pool. Enjoy cooking in the fully equipped kitchen, from popcorn snacks to a full-blown dinner. There are plenty of grocery stores and restaurants close by if you need to stock up on goodies, or want to indulge in a nice meal out instead. It's an incredible rental for families as it can accommodate many guests, is on the first floor, comes stocked with baby high-chairs and cribs, which makes staying with young ones even easier! And in case you were wondering, it is just a quick $10 Uber ride to the Strip.
$$$
Tennis courts, pool, gym & sauna
6 Guests
1 Minute Walk to Las Vegas Blvd
This newly remodeled suite can accommodate six guests. Even though there is only one bedroom and one bathroom, there are two queen beds and one sofa bed available which makes cozying up—or crashing—with friends easy as pie. You won't have anything to complain about when it comes to this Las Vegas Airbnb as you'll be situated super close to the Strip, so you have access to absolutely everything you need! Expect easy check-in with security, a fully equipped kitchen, and free parking. This complex also has a 24-hour gym, pool, sauna, and tennis courts, so if one friend wants to sunbathe and another wants to go for a run, no one has to argue! Onsite, there is also a free lending library of games, DVDs, and magazines as well as a complimentary supply of popcorn. So if you and your friends want to enjoy a night in, or recover from a night out, this is the perfect Las Vegas apartment rental for you.
If you're traveling with your friends, here are several awesome lodges in Las Vegas which we know you'll love!
6 Guests
Walking Distance to Farmers Market
This Las Vegas Airbnb is a great place to stay in North Las Vegas. There are farmer's markets to enjoy on the weekend, and restaurants, grocery stores, and even casinos within walking distance from this place! It is a two-bedroom, one-bathroom rental that is complete with a kitchen and living room. Additionally, there is free car parking available, and high-speed internet. The decor of this rental is quite eye-catching, so enjoy staying in comfort and style in this North Las Vegas Airbnb.
$$$
Self Check-in & Security System
8 Guests
65? Flatscreen TV
This house was built in 2018 and feels barely lived in. Enjoy this three-bedroom, three bathrooms, two-car garage rental that comes with a fully-equipped kitchen and an enormous 65'' flatscreen TV. We also love the self-check-in with the smart lock and the state-of-the-art security system. This is a great Airbnb in North Las Vegas for those traveling with a lot of friends and are looking for a bit of peace and quiet as well. You'll find this house clean and comfortable, the perfect place to call your home away from home for your Las Vegas trip.
$$
Free Parking with Security System
3 Guests
Quiet & Safe Neighborhood
This is a private studio apartment in the residential area of West Las Vegas. It's a one-bedroom and one bathroom unit. This is a clean little apartment that is attached to a house itself, which is actually called "Casita Style" for those of you who are unfamiliar with that term. Even though it is in West Las Vegas, this apartment is actually just a few minute's drive away from Las Vegas Boulevard and the other popular attractions. Enjoy access to the full kitchen and free parking. If you're looking for an affordable place to stay in West Las Vegas that keeps you close to the action, this is the place for you!
What to Pack for your Las Vegas Airbnb
Pants, socks, underwear, soap?! Take it from us, packing for a hostel stay is not always quite as straightforward as it seems. Working out what to bring and what to leave at home is an art we have perfected over many years.
Check out our definitive Airbnb Packing list for our top packing tips!
Don't Forget Your Las Vegas Travel Insurance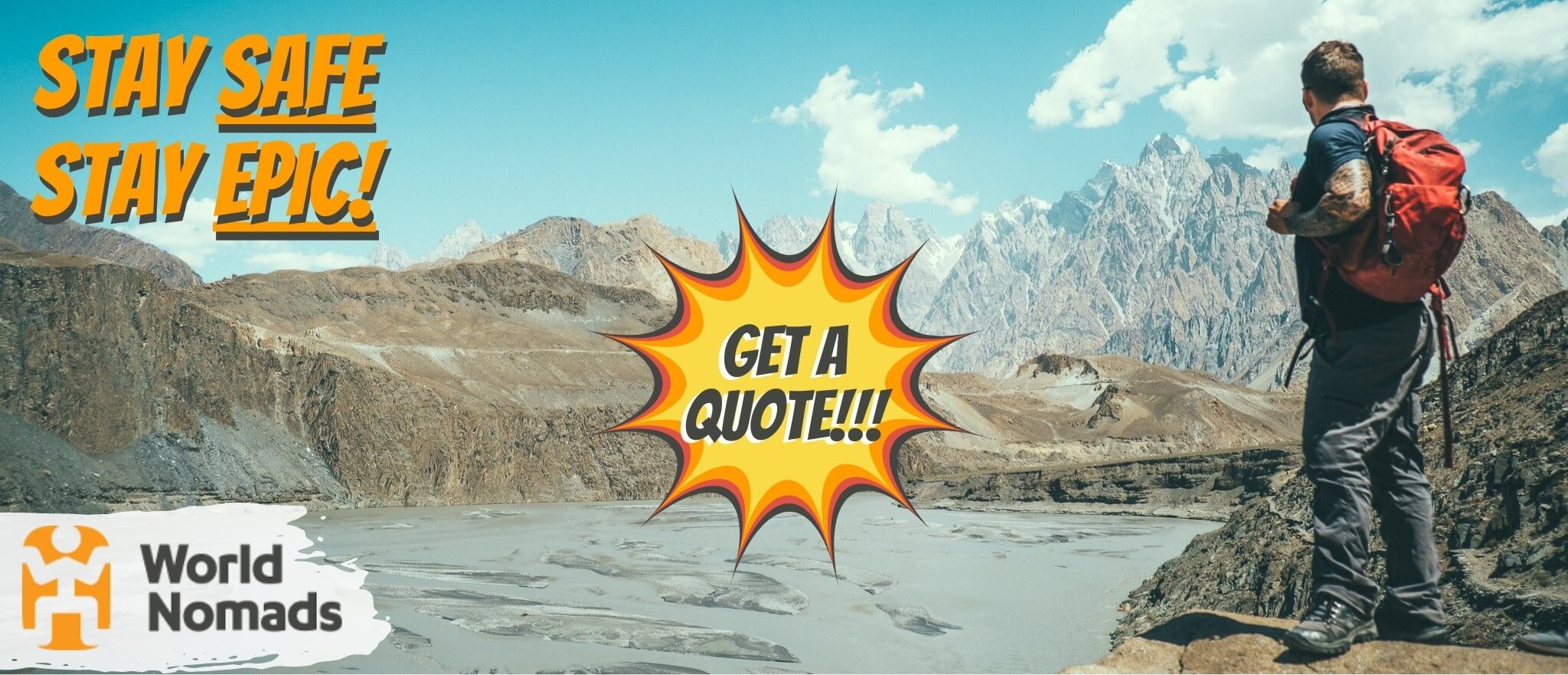 It's good to get lost sometimes, but it's also good not to get too lost. There are people that want you home in one piece.
There's one travel insurance provider The Broke Backpacker trusts for all his wildest shenanigans… World Nomads!
Click the button below to get a quote on your insurance or read our in-depth review of World Nomads' coverage. And then… let the shenanigans begin. 😉
Final Thoughts on Las Vegas Airbnbs
Las Vegas is a city of many names, most popularly called Sin City. With entertainment options galore and gambling aplenty, there probably are a few sins happening in Las Vegas, or maybe just one or two….
That being said, choosing the wrong Airbnb in Las Vegas would be a sin! Don't go randomly deciding and pick the first Airbnb you find on a whim. We hope that one of our top 15 Airbnbs in Las Vegas caught your eye and made you feel like you struck gold!
If you're heading off to Las Vegas, you never know what is going to happen. Truly anything could happen! Be prepared and stay prepared with grabbing a travel insurance quote from the travel insurance company that has your back, World Nomads.
---
Thanks for reading – that was fun! 😀
We bring you epic FREE content!
Find out how YOU can help support us.
We're a big site with a big team and this job isn't always easy. But we do it because we love it – we love providing epic and free content. We love the knowledge that our content keeps you adventuring. We don't ask for money, but if you'd like to find out how you can help the site in more organic ways, click the button below.
Thank you for your support 🙂
---
Bye for now, but not forever!
If you want MORE top-tier Broke Backpacker content like this, then sign up for our weekly newsletter below to get the latest and greatest!
And for transparency's sake, please know that some of the links in our content are affiliate links. That means that if you book your accommodation, buy your gear, or sort your insurance through our link, we earn a small commission (at no extra cost to you). That said, we only link to the gear we trust and never recommend services we don't believe are up to scratch. Again, thank you!