Continue down the Dalmatian coast past Split to almost as far south as you can go in Croatia. What's there? Dubrovnik. This stunning town on the shores of the Adriatic attracts millions of visitors each year. You might recognise the seaside Lovrijenac Fortress from the epic series Game of Thrones – a site that's increased the number of visitors in recent years. However, what has attracted travellers to Dubrovnik, long before A Song of Ice and Fire, is its spectacular beaches!
Okay, they may not boast the white or golden sand that you may be familiar with when compared to the rest of the Mediterranean; however, the rugged rocky beaches of the Dalmatian Coast are perfect for sunbathing and dipping in those gorgeous azure waters. Many of them are small and can fill up quickly, especially during the high season.
Not to worry, though – we've put together a list of the five best beaches in Dubrovnik. There's a mixture of popular beaches and some that are off-the-beaten-track. You can head to those when looking for some rest and relaxation away from the throngs of holidaymakers. Let's take a closer look!
When to go to beaches in Dubrovnik
There are a few factors to take into consideration when deciding the best time to visit Dubrovnik. Its Mediterranean climate means that between April and October, temperatures rarely dip below 20 degrees, and there's very little rain.
However, while the high season gets great weather, there is something else to think about – overcrowding. Dubrovnik is a small town, and many of the beaches immediately surrounding it are equally as small. With cruise passengers welcomed for almost 200 days of the year, in addition to other tourists, it can get very crowded.
Visiting outside high season – in April, September and October – is a good idea. The temperatures are manageable (rather than scorching hot), there are fewer cruise ships, and prices are slightly lower. However, if you can only visit in the high season, don't worry. You might just have to head to the Dubrovnik beaches that are off-the-beaten-track!
Although visiting in the winter months is a possibility, it's not recommended. Many of the restaurants and hotels in Dubrovnik are seasonal, and you'll have much less choice when it comes to places to stay and eat.
Most Popular Beach in Dubrovnik | Banje Beach
Who It's For: Families, cruise day-trippers to Dubrovnik, and anyone who wants to try some water sports!
Don't Miss: The rocky part of the beach; it's free to sunbathe here – perfect if you're on a budget.
One of the most popular beaches in Dubrovnik, Banje Beach is just five minutes' walk from the Old Town. This picture-perfect beach is sandy and has excellent views of the Old Town. Since it's located in one of the best areas in Dubrovnik and close to the Old Town, it can get very crowded, especially during high season. It's no surprise though; this is one of the few sandy beaches in the area, offering water sports during the day and parties at night.
Best Beach For Swimming in Dubrovnik | Sulic Beach
Who It's For: Anyone who wants to swim in Dubrovnik's blue waters. Game of Thrones fans shouldn't miss it either!
Don't Miss: Lovrijenac Fortress. Though you probably know it as King's Landing!
Just five minutes' from the Old Town, this beach was once a hidden gem. Thanks to GOT, you can now take hidden out of the equation! It's still a stunning beach, though, and a must-visit on any Dubrovnik itinerary. Calm waters mean it's great for swimming from the concrete platform here. If you don't fancy a dip, you can always just sip on a cocktail at the beach bar.
Most Beautiful Beach in Dubrovnik | Pasjaca Beach
Who It's For: Those who want to combine hiking with relaxation will love Pasjaca Beach.
Don't Miss: Heading inland to check out this wine-growing region, and tasting it, obviously!
This unique beach is another former hidden gem that has become a hotspot for adventure travelers and backpackers visiting Dubrovnik. Pasjaca Beach was recently named the best beach in Europe so who can blame tourists for flocking to its shores! However, you still won't find it too crowded as many visitors find the half an hour journey from Dubrovnik too much effort. If you don't, you'll be rewarded with one of the most beautiful beaches in Croatia!
Best Beach for Families | Sunj Beach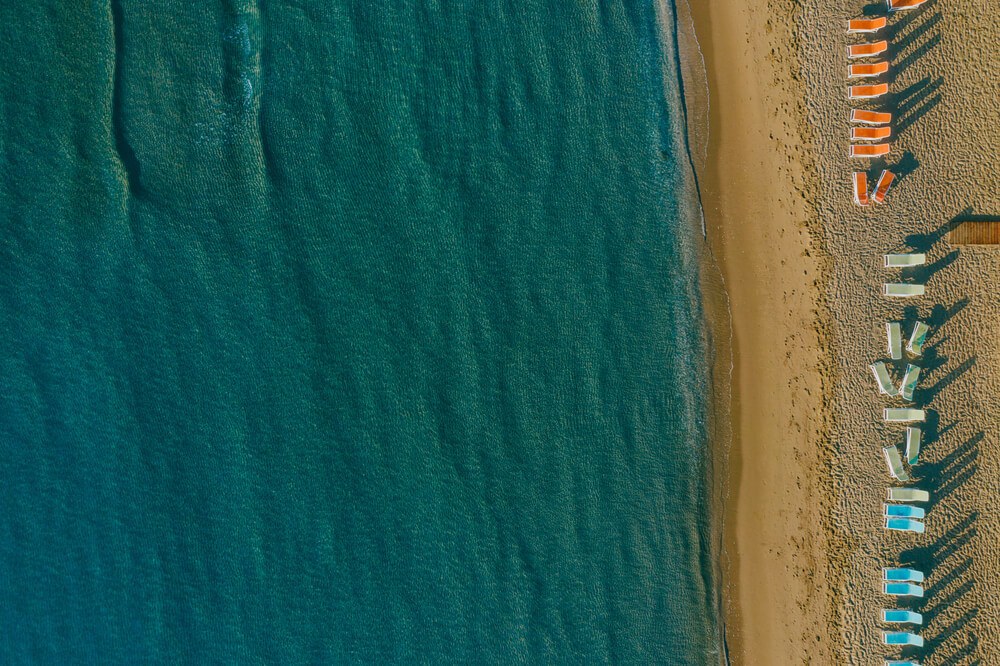 Who It's For: Families who want to escape the crowds and are happy to head to nearby Lopud Island.
Don't Miss: The ancient monastery which overlooks the village of Lopud. It dates back to the 15th century.
Sunj Beach is on the island of Lopud, a short ferry ride from Dubrovnik Old Town. This chilled out and car-free island offers the chance to disconnect and switch off at the beach – one of the only sandy beaches in the area – or explore the island at your own pace. Rent kayaks to circle around it, or explore the interior on a bike. Whichever you choose, you're bound to be bowled over!
Quietest Beach in Dubrovnik | Plat Beaches (Zupa)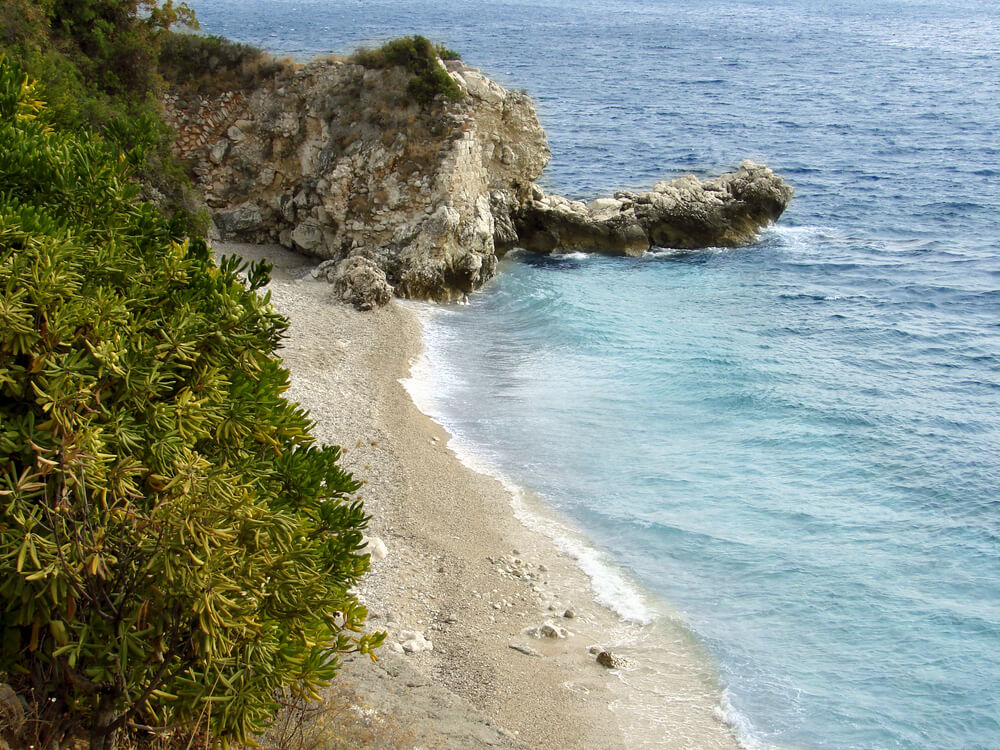 Who It's For: Anyone who is looking to escape the crowds of Dubrovnik. The beaches are family-friendly too.
Don't Miss: Beach-hopping. There are five beaches in Plat, so take your pick!
Plat is made up of several small beaches in Dubrovnik. You have Plat, Orphee, Bucanj, Tiha, and Pod Maslovo. This underrated area close to Dubrovnik is gorgeous, with more beaches per square meter than most of the rest of Croatia. If you want a safe place to swim with your children, or to get a slice of local life, head to the beaches surrounding Plat!
Don't Forget Travel Insurance for Dubrovnik
Shoutout from Will – The OG Broke Backpacker: Have fun on your backpacking adventure, but please do get insurance – take it from someone who has racked up tens of thousands of bucks on an insurance claim before: you need it.
As a wise man once said, if you can't afford travel insurance, you shouldn't be traveling! Presenting The Broke Backpacker's top recommendation: World Nomads!
Getting an estimate from World Nomads is simple – just click the button or image below, fill out the necessary info, and you're on your way!

Final Thoughts on the Best Beaches in Dubrovnik
Now that you've seen five of the best beaches in Dubrovnik, it may make it a little easier to plan your trip. With Banje Beach, you have the convenience of it being close to the Old Town, so it's perfect for families. Sulic will have you re-living Game of Thrones, while you might have the beaches of Plat all to yourself!
While the beaches in Dubrovnik are undoubtedly stunning, they're all quite close together. That's a good thing as it means you get to explore this amazing city, too. Whether you want to learn about the Dudrovnik's history, go hiking, or enjoy stunning views across the bay from Mount Srd, you can fit in a lot during a vacation here.
Just make sure to set plenty of time aside to sunbathe on the rocks – oh, and to cool off in those beautiful azure waters. Have a great trip!
Yay for transparency! Some of the links in this post are affiliate links. This means that if you book your accommodation through the site, The Broke Backpacker will earn a small commission at no extra cost to you. Your support helps me keep the site going.
---
Need More Inspiration?