Known as "American's Finest City" by the locals, it's hard to argue with this statement – especially when it comes to San Diego's climate! It has some of the best weather you'll find in America, with 68% of days being sunny. All that sun means it's perfect for quite a few things – but one activity stands out in particular. And that's hitting the best beaches in San Diego!
And what a selection of beaches there are to choose from. San Diego has 60 of them – ranging from secluded, quiet bays to surfing meccas as well as family-friendly beaches that seemingly never run out of things to do. It's hard to think of a better city in the United States for those who love the sea and sun!
Not only will we look at the best beaches in San Diego, but we've got more handy travel tips for you too. Whether it's the best things to do in the area, how to live like a local, or where to stay, we've got all that covered. So, let's check out a few awesome San Diego beaches that are worth a visit.
When to Go to Beaches in San Diego
San Diego's high season is during the summer, but it's not necessarily the best time to visit. Sure, you'll be treated to great weather, but the prices are higher, and the beaches can get extremely crowded. That's between June and August.
Spring can be a little unpredictable, and there's the June Gloom in… surprisingly; June (though it starts in May). This is when there's lots of fog, and the beaches can be quite cold. September and the first part of October guarantee great weather. If you visit the best beaches in San Diego during this time, you'll avoid the crowds and high accommodation prices.
Winter is the quietest time of year for tourists. While you might like the thought of having the beach to yourself, you probably won't want to stay too long. If you're unlucky and don't have great weather during your visit, you'll be spoiled for choice when it comes to indoor activities in San Diego!
Most Popular Beach in San Diego | Pacific Beach
Who It's For: Families, groups of friends, and solo travellers will love long strolls on this two-mile stretch of sand.
Don't Miss: Right in the centre of San Diego's coastline is one of its largest and most popular beaches.
Pacific Beach is wide and flat, and there's a long boardwalk with an array of restaurants, bars, and shops. It's also one of the best places to stay in San Diego! Although it's got a reputation as a party beach for younger tourists (and locals), it attracts people of all ages and from all walks of life. With so much to do, you could easily spend your entire vacation at this awesome beach in San Diego.
PB is what the locals call Pacific Beach, and this pad is just two blocks from the beach itself. There's a backyard bar and fire pit, so your night in is sorted!
Step out of this hostel, and you're already on one of the best beaches in San Diego. It's close to popular bars and restaurants, too – perfect for solo travellers looking to be in the thick of the action!
Wyndham offers a reliable – if unspectacular – name. It's an excellent option for the budget-conscious traveller. There's even an outdoor pool and hot tub at this spot!
Want to SUP and surf without having to pay to rent the equipment? This is the place for you. Oh, and the studio isn't bad, either!
JRDN San Diego
Enjoy dinner with a view at Tower 23's JRDN. It's a delicious fusion of Californian and Japanese cuisine! [image credit]
Catamaran Spa
Pamper yourself after a surf session at one of San Diego's best spas. The list of treatments is endless! [image credit]
Crystal Pier
A great spot to watch the sunset and also find some places to eat and drink. You can fish off here without a license too. [source: Gabriele Maltinti (Shutterstock)]
Boxing
Want to do a sport where you won't get wet but get a great workout nevertheless? Box on the beach!
Yoga With A View
Really test your flexibility with an acro yoga session at a beautiful cliffside location.
Go Surfing
Take your first surf lessons with a San Diego surf bro!
Best Beach for Paddle Boarding in San Diego | La Jolla Shores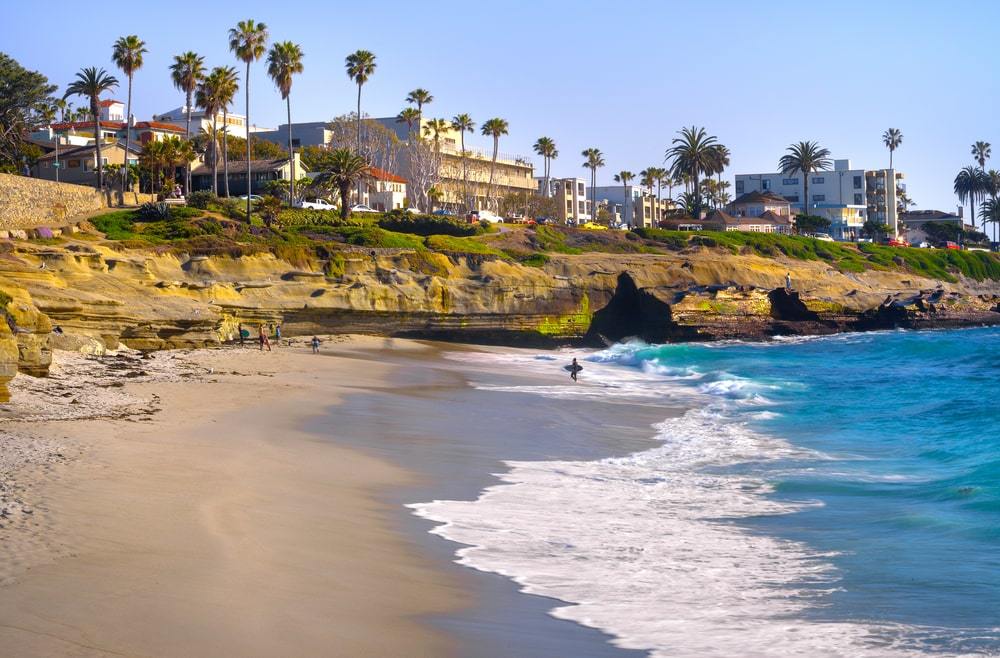 Who It's For: Paddle Boarders and surfers can't go far wrong with La Jolla Shores – it's a favourite amongst locals and tourists!
Don't Miss: Taking a stand-up paddleboard into the water and seeing if you can master this relaxing yet challenging sport!
North of downtown Los Angeles, it's well worth the trip out to La Jolla Shores Beach. It's not only great for stand-up paddleboarding, but also surfing and scuba diving. If you don't like getting sand in your shoes, there are several grassy areas near the beach where you can chill out and watch the waves coming in with surfers and SUPpers pulling off tricks. That is, of course, if there's not someone already practicing yoga on the grass!
Right on the oceanfront with your own private entrance, you could do a lot worse in La Jolla. A bonus this place has up its sleeve is that there's free parking!
One of the liveliest hostels in San Diego, it's worth staying here for the ease of meeting other travellers and heading up to La Jolla during the day!
Of course, you could save your bus fare and stay in La Jolla itself. This inexpensive hotel is a top choice, and there's a terrace you can enjoy away from the crowds.
This lovely bungalow has its own entrance. There's a beautiful view of the sea, and you can easily walk into downtown. Fancy going further? Use the bikes that are included in the price!
Kellogg Park
Just across the road from La Jolla Shores, you have the tranquil Kellogg Park. It's ideal for a picnic or a bit of shade when the sun gets too intense! [source: Pat Chuturbhuti (Shutterstock)]
Steven Birch Aquarium
This cutting-edge research facility of Scripps gives you the chance to see more than 5,000 fish across 60 habitats.
Shore Rider Bar
Eat with a breeze at this surf-inspired restobar. Wash down your meal with a delicious craft beer! [image credit]
Go Kayaking
Explore the marine reserve and sea caves of La Jolla Village by kayak.
Get Educated
Have a biologist take you under the waters of La Jolla to see the marine life that calls them home.
Explore the Tide Pools
Don't want to go in or under the water? You can still spot marine life in La Jolla's tide pools!
Is This the Best Travel Backpack EVER???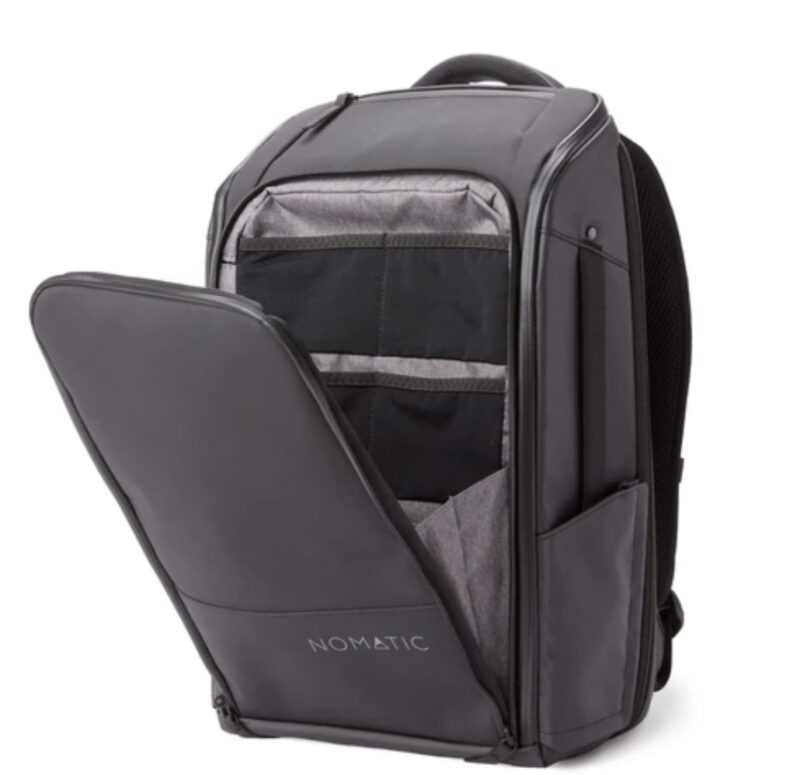 Most Beautiful Beach in San Diego | Mission Beach
Who It's For: Families and friends who want to enjoy the best of San Diego's beach life will love Mission Beach.
Don't Miss: The historic Belmont Park theme park. It's right on the oceanfront, and there are rides for even the smallest of visitors!
It's one of the busiest beaches in San Diego, but it's hardly surprising. The sunrise and sunset views that you'll be treated to at Mission Beach should be on any California travellers' bucket list. The beach has plenty of useful features, which makes it great for those travelling with families. The Ocean Front Walk boasts lots of restaurants and free parking.
Just steps from Mission Bay, this awesome beach condo has so much on its doorstep, including beaches, rentals, and nightlife. There's room for four guests too!
This popular hostel is right near the beach, and there's loads of free stuff – including breakfast, board games, volleyball, and beach yoga. It's perfect for solo travellers!
This tropical hotel is awesome for visitors to attractions such as Seaworld. Resembling a mini village, it has two pools, hot tubs, a bar, and a restaurant. You'll never be bored here!
It might be small, but it's perfect for a small group of friends or family – or even a couple. If you fancy eating in, make use of the fully-equipped kitchen to whip up your favourite meal.
Belmont Park
The oceanfront amusement park is guaranteed hours of fun – and best of all, it's free to enter! [image credit]
Cannonball Restaurant
The biggest rooftop sushi restaurant on the San Diego shoreline is a must for foodies. [image credit]
Over the Line playing area
Try a spot of beach volleyball at Over the Line – the old Mission Beach Athletic Club.
Go Stand-up Paddleboarding
Watch the sunset from a stand-up paddleboard in the waters off Mission Bay.
Enjoy a Whale Watching Tour
Get up close and personal with orcas on a whale watching tour in a semi-private RHIB.
Explore Local
Meet up with your local guide and go lobster hooping – hopefully, you'll take to it like a natural and catch dinner!
Best Pet Friendly Beach in San Diego | Ocean Beach
Who It's For: Travellers or families who have their pet in tow won't be turned away at Ocean Beach.
Don't Miss: Fishing off Ocean Beach Pier. You don't even need a license for it.
Despite the rather unimaginative name, there's a lot to like about Ocean Beach, one of our favourite beaches in San Diego! On a family holiday, no member should be left behind – including the dog. Ocean Beach has an area especially for dogs, where they can run free without a leash. It's probably best they don't go too far into the water (and you don't either), as there are strong rip currents here. When you and your furry friend are tired out, enjoy a meal and drink at one of the many restaurants and bars lining the shore. This is one of the best places to visit if you only have a few days in San Diego.
This modern studio has room for four guests just steps from the sand. There are a number of microbreweries and restaurants close by too!
Another HI property, this one in Point Loma has a laid-back atmosphere where it's really easy to meet like-minded travellers. Whether you chat around the fire pit or in the lounge is up to you!
This downtown Ocean Beach property has an outdoor heated pool where you can cool off on a hot day. The hotel is pet-friendly too!
This small yellow cottage is ideal for a couple (perhaps one with a small baby) who want to get to know Ocean Beach!
Ocean Beach Farmers Market
If you're in town on a Wednesday, don't miss this place! From 4 pm – 8 pm, you can sample some of the best local delicacies. [image credit]
Ocean Beach Pier Cafe
Fancy a stop off looking out over the waters for coffee and cake? Here's the place to do it!
Dog Beach
Known across the country, this was one of the first leash-free beaches in the US. Your pooch is going to love it!
Go For a Hike
Take a sunset hike on the cliffs of Ocean Beach.
Go Surfing
Start off with coffee, doughnuts, and a chat, before attempting to catch your first waves!
Enjoy a Yoga Class
Head to a secret beach where you'll learn the basics of yoga. Don't worry about looking silly – no one will see you!
Family Friendly Beach in California | Coronado Beach, San Diego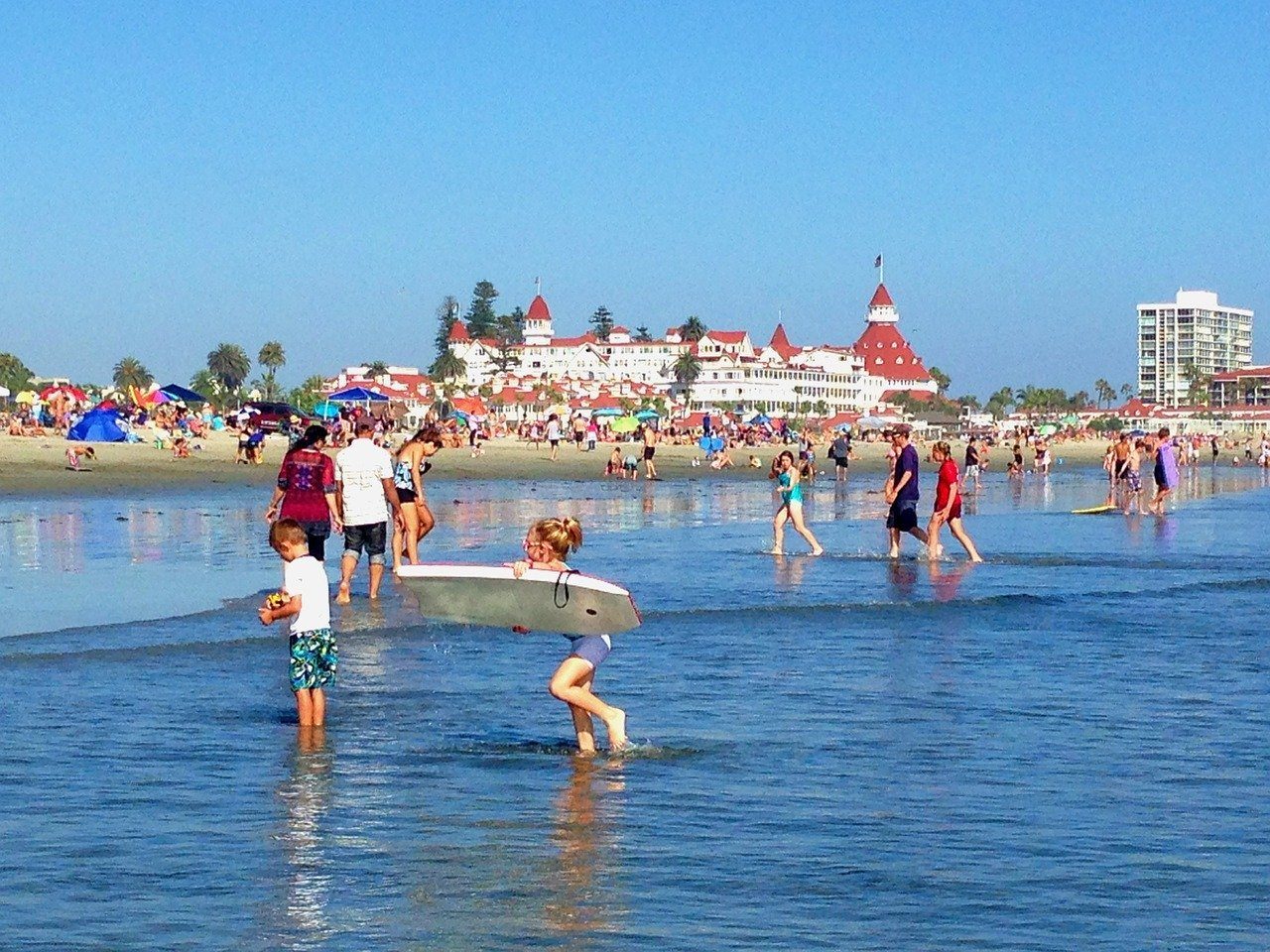 Who It's For: Families will love Coronado Beach thanks to how wide it is, and how warm and welcoming the waters are.
Don't Miss: The second-largest wooden building in America, the Hotel del Coronado. It's impossible to miss.
There's more to Coronado Beach than just that supposedly haunted hotel that overlooks it (although it's well worth a visit). This 1.5 miles stretch of sand on Coronado Island has loads of things to do making it one of our favourite beaches in San Diego – whether it's building a sandcastle with the kids or heading off into the waves on a SUP! There are plenty of places to eat and shop too if the weather's bad or the kids get bored of the beach.
The ideal space for a solo traveller, this San Diego homestay has its own private entrance in a 1920's Spanish style home. You've got a bath with a full tub, as well as a flat-screen TV and desk. Digital nomads, book immediately!
It might not be on Coronado Island, but it's pretty close. This lively hostel is one of the best places to stay in San Diego – and it comes highly recommended by backpackers!
With a nod to the Spanish heritage of San Diego, hidden underneath this hotel's colonial architecture are four restaurants, boutique shops, and a relaxing garden!
Another traditional Spanish home here. This beautiful green cottage has room for four guests, so it's ideal for a small family or group of friends. On-street parking is available.
MooTime Creamery
Nothing beats enjoying an ice cream at the beach. Those from MooTime Creamery are more enjoyable than most! [image credit]
This enormous aircraft carrier is one of the top tourist attractions in all of San Diego. It's just over the water from Coronado Island!
Glorietta Bay Park Promenade
A promenade that stretches alongside San Diego Bay, there are few better places to walk or bike.
Go Cycling
Take a scenic bike tour around Coronado Island – yes, there's more to it than just the beach!
Rent a Trike
If you need a bit of extra push for getting up the hills, then perhaps an electric trike is a better way for you to see Coronado!
Enjoy a Night Tour
San Diego's history has a lot of crime and creepy goings-on. Learn about those on this nighttime tour of the Gaslamp Quarter!
Don't Forget Travel Insurance for San Diego
Shoutout from Will – The OG Broke Backpacker: Have fun on your backpacking adventure, but please do think about getting insurance – take it from someone who has racked up tens of thousands of bucks on an insurance claim before: you may well need it.
I have been using World Nomads for some time now and made a few claims over the years. They're easy to use, professional and relatively affordable.
If there's one insurance company I trust, it's World Nomads. To find out why I use World Nomads, check out my World Nomads Insurance review.
Getting an estimate from World Nomads is simple – just click the button or image below, fill out the necessary info, and you're on your way!

San Diego Packing List
1. Security Belt with Hidden Pocket: I never hit the road without my security belt. This is a regular looking belt with a concealed pocket on the inside – you can hide up to twenty notes inside and wear it through airport scanners without it setting them off. This is hands down the best way to hide your cash.
2. Travel Water Bottle: Always travel with a water bottle – it'll save you money and reduce your plastic footprint on our planet. The Grayl geopress is a true behemoth amongst water bottles acting as a purifier AND temperature regulator – so you can enjoy a cold red bull, or a hot coffee, no matter where you are.
3. Microfibre Towel: It's always worth packing a proper towel. Hostel towels are scummy and take forever to dry. Microfibre towels dry quickly, are compact, lightweight and can be used as a blanket or yoga mat if need be.

4. Headtorch: Every backpacker should have a head torch! A decent head torch could save your life. If you want to explore caves, unlit temples, or simply find your way to the bathroom during a blackout, a headtorch is a must. Currently, I'm using the Petzl Actik Core rechargeable headlamp – an awesome piece of kit! Because it's USB chargeable I never have to buy earth polluting batteries.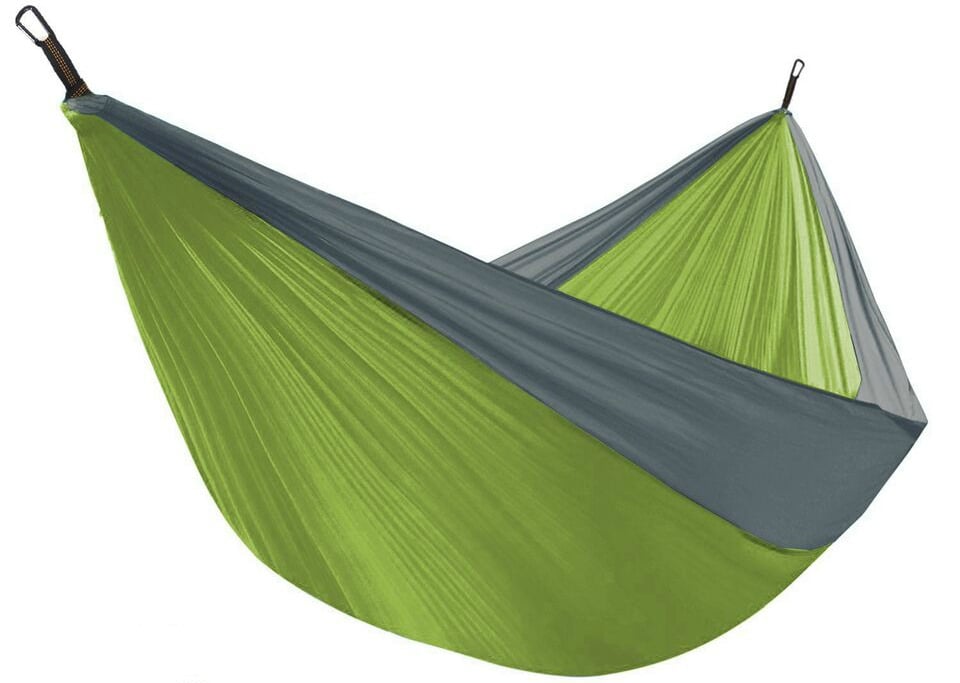 5.Hammock: Taking a tent backpacking is not always practical but hammocks are lightweight, cheap, strong, sexy (chicks dig hammocks) and allow you to pitch up for the night pretty much anywhere. Right now, I'm rocking an Active Roots parachute hammock – it's light, colourful and tough.
6. Toiletry Bag: I always travel with a hanging toiletry bag as it's a super efficient way to organise your bathroom stuff. Well worth having, whether you are hanging it from a tree whilst camping, or a hook in a wall, it helps to have quick access to all your stuff.
Final Thoughts on the Best Beaches in San Diego
Now that you know a little more about the best beaches in San Diego, it'll be easier to decide which one to visit first. The great thing about this city is that all of these beaches are relatively close together and so you could easily visit them all over the course of a week.
Remember, we've mentioned just five of San Diego's beaches – there are approximately 60! There is plenty more to discover after you've arrived in the 8th-largest city in the United States!
Make sure to leave some time in San Diego to head away from the beach too. Balboa Park, the USS Midway Museum, and sampling the nightlife in the Gaslamp Quarter should all be on your SD itinerary.
With everything there is to do in San Diego and on its beaches, you're sure to have an incredible trip. We hope you have an amazing time!
---
Find out how YOU can support the site.
We work hard to put out the best backpacker resources on the web for free! It's all about helping out our tribe of awesome backpacker readers (that's you!). Please visit the link to find out how you can help keep the site going 🙂
For the sake of transparency, some of the links in our content are affiliate links. This means that if you book your accommodation, buy a piece of gear, or sort your insurance through our link, we earn a small commission at no extra cost to you. We only link to stuff that members of the Broke Backpacker team has actually used and never endorse products or services that are not up to scratch. Thanks for your support!