Bouldering is one of the most fun, coolest outdoor challenges you could ever embark on. It's great exercise, you get to meet new people, push yourself and – when you graduate to climbing outdoors – get to see some INCREDIBLE landscapes.
If you're looking to buy a new pair of bouldering shoes and you're a beginner, you're probably at a point when you know some of the lingo, you've had a fair few classes, and your strength is starting to build. It is time for a new pair of climbing  shoes.
If you're more advanced, on the other hand, and looking to replace a well-used pair of shoes, and want to know what the best bouldering shoes at the moment are, well, you've come to the right place.
I've got an awesome list of my top choices right now – and a handy guide on how to find the best ones to help you send your next project.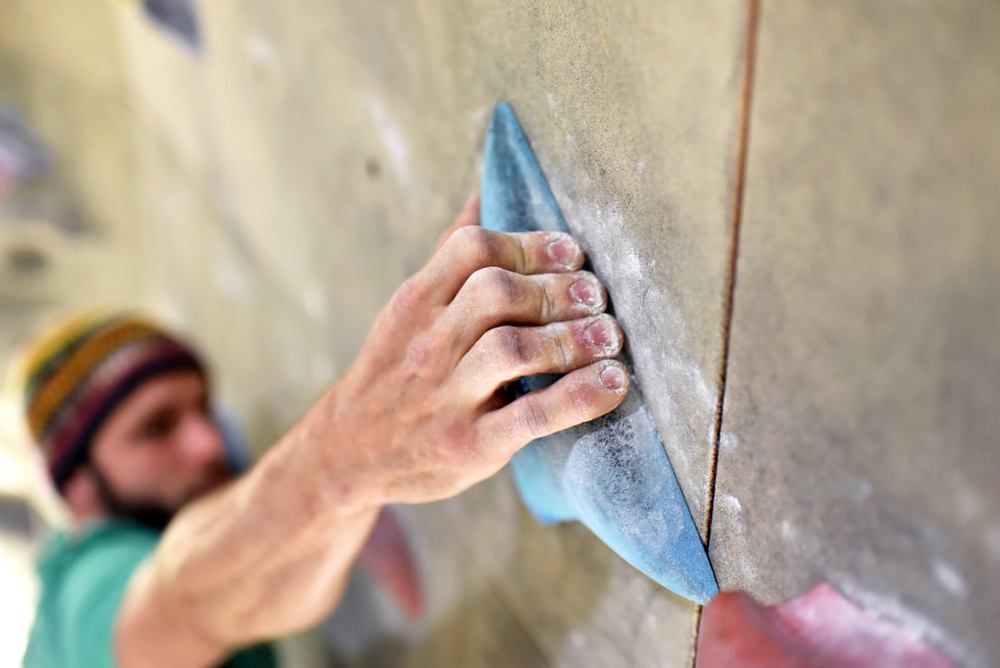 Quick Answer: These are the Best Bouldering Shoes of 2022
BEST BEGINNER BOULDERING SHOES
BEST BEGINNER BOULDERING SHOES
Scarpa Origin Climbing Shoes
Price: > $
> Scarpa Vision rubber sole
> Simple strap system with hook-and-loop closures
BEST CHEAP BOULDERING SHOES
BEST CHEAP BOULDERING SHOES
Five Ten VCS Climbing Shoes
Price: > $
> Made from Stealth C4 rubber
> Leather uppers are lined with cotton
BEST AGGRESSIVE BOULDERING SHOES
BEST BEGINNER BOULDER SHOES FOR WOMEN
BEST AGGRESSIVE BOULDERING SHOES FOR WOMEN
BEST CLIMBING SHOES FOR MEN
BEST CHEAP BOULDERING SHOES FOR MEN
BEST WOMEN'S CLIMBING SHOES
BEST CHEAP CLIMBING SHOES FOR WOMEN
BEST BOULDERING SHOES FOR VEGANS
Best Bouldering Shoes of 2022

Do You Want to Travel FOREVER??
Pop your email in below to get a FREE copy of 'How to Travel the World on $10 a Day!'.
#1 – Best Beginner Bouldering Shoes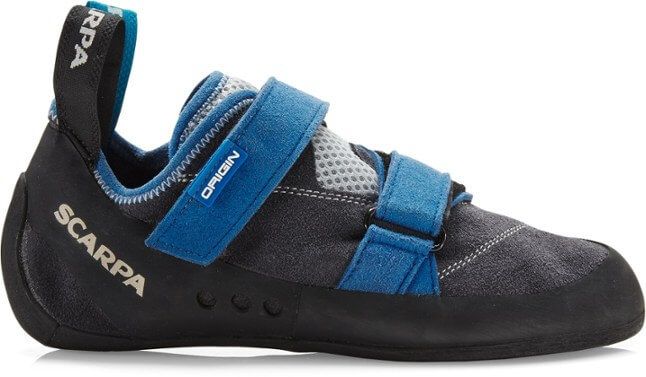 For those of you who are looking to get into bouldering and want to know which shoes you should get to start: these are the ones for you. The Scarpa Origin climbing shoes are totally where it's at for any novice climber, with all the comfort and support you need in a non-aggressive shoe.
Made specifically for rock climbing, the Scarpa Origins are designed with a flat profile that cocoon your feet for a combo of comfort and all-day performance.
One of my favorite things about these is the Scarpa Vision rubber sole, which provides great purchase indoors or outside. Great stick going on here.
Another neat feature is the simple strap system, with hook-and-loop closures; there's two of them, meaning your foot's kept in place.
Basically, these top bouldering shoes are great for a climber just starting out. I wore them pretty much every day on a two week bouldering stint and had no trouble whatsoever. It's a great overall shoe for climbing.
#2 – Best Cheap Bouldering Shoes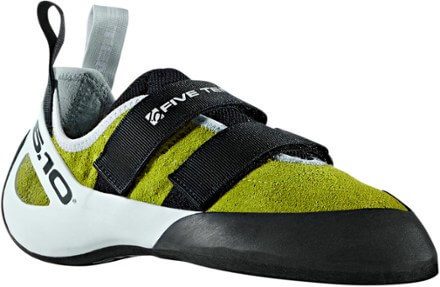 Having a hobby like bouldering does not mean you have to fork out tons of money to get your hands on some decent kit, which is where the Five Ten VCS climbing shoes come in.
A super solid climbing shoe, these babies offer great value for money. They're just as good on a climbing wall at the gym as they are out on actual rock – for routes not requiring a super-aggressive shoe cut.
The outsole is made from Stealth C4 rubber – it's crazy how much traction that gives you, sticking to edges that look like they're not even there. I was even able to lock into some smearing pretty comfortably with these surprisingly technical (but cheerfully cheap) bouldering shoes.
Inside, the leather uppers are lined with cotton… That, combined with the perforated tongue, helps keep your feet nice and cool without feeling too constricted and sweaty.
As a tip, these can come up pretty small, so you may want to think about sizing up at least one size. You could also consider loosening the straps if you've got wider feet. For the price, though, I think these shoes are totally worth it.
#3 – Best Aggressive Bouldering Shoes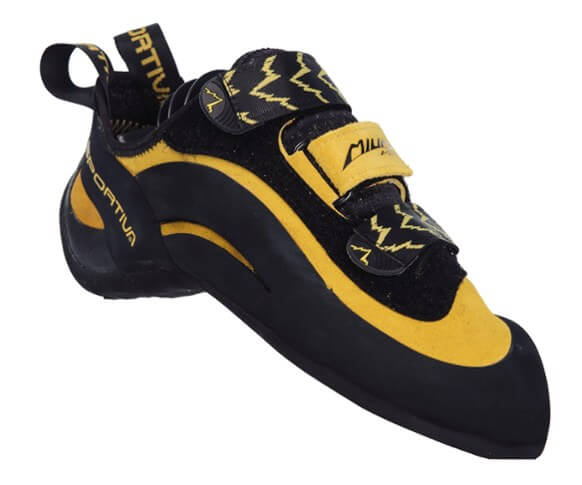 After beginner shoes, you may want to think about leveling up to a pair of aggressive bouldering shoes. If you're still pretty new to it all, no worries: how "aggressive" a shoe is basically refers to how downturned or pointed the toe is. Effectively, it ups how technical your climbs can be.
And the La Sportiva Miura VS men's climbing shoes are pretty damn aggressive.
I picked up a pair of these a while back and I've climbed a number of times with them since then. With its cambered shape, you cannot ask for more in terms of technical edging and smearing capabilities.
They do take a little bit of time to break in, and they feel a little harsh to begin with (especially in the toe department), but after you get used to them. They're something I would definitely recommend!
With leather uppers and wicking Dentex linings, these aggressive bouldering shoes are built to last. The soles themselves are constructed from 4mm Vibrum XS Edge rubber, meaning that you can get a great amount of support and friction in various temperatures, and focus your weight on tiny holds.
All in all, these are a top choice, kitted out to take your climbing to the next level. You'll end up recommending them in turn.
#4 – Best Beginner Boulder Shoes for Women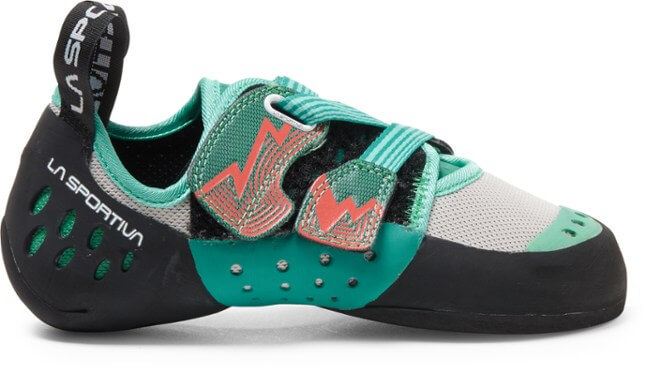 The La Sportiva Oxygyms aren't called "women's" arbitrarily – these are literally designed specifically for women. They're not the most technical of offerings, but they're just about the best beginner boulder shoes for women out there, whether that's for the gym or for rock.
They're very comfortable, which is great for starters, and pretty precise when it comes to non-overhanging footwork. Steep overhangs and tiny toe hooks aren't what the La Sportiva Oxygyms do really, but they're ok up to V4. A beginner's shoe, yes, but a shoe that will let you develop as a climber all the same.
It's pretty decent in terms of fit, since the velcro closures are highly adjustable, allowing for different shapes of foot. It won't take too long to break them in, either.
Not what you want if you're looking for an aggressive shoe, but just the ticket if you want something to wear on moderate climbs. Or if you want to improve in the gym, and want to stop renting shoes, then these are a great choice.
They're not the most breathable, but they do have AirTex Silver lining, which does help to reduce odor somewhat. My tip would be to wear a thin sock with them.
Another plus is that they're vegan-friendly, being made with all synthetic materials.
#5 – Best Aggressive Bouldering Shoes for Women
The women's counterpart to the men's La Sportiva Miura VS climbing shoes, these aggressive bouldering shoes are built for female feet.
I've spoken about this already, but the aggressive, high-performance type shoe that these are gives you the ability to up your game in terms of more difficult climbs. They help keep you on edges and are pretty much a godsend on technical boulder problems, but they can also see you through any number of gym climbs, too.
Like the men's version, the women's La Sportiva Miura VS are the type of shoe that you'll keep coming back to once you've worn your current pair out completely. That said, they can be resoled.
Yes, they take a bit to break in, but once that's done they'll provide about as comfortable a fit as is possible with aggressive climbing shoes. They are also built with a speed lacing system which means you can get off quickly on the go and offer you a snug, comfortable fit; also factoring into the equation is the 8-panel directional lining, made out of Dentex.
Pretty much the perfect shoe for advanced climbers who actually want some level of comfort with their aggressive shoes, trust me: you'll be surprised with how well these perform.
Proof that aggressive bouldering shoes don't have to cause you pain to be awesome!
The best present of all… is CONVENIENCE!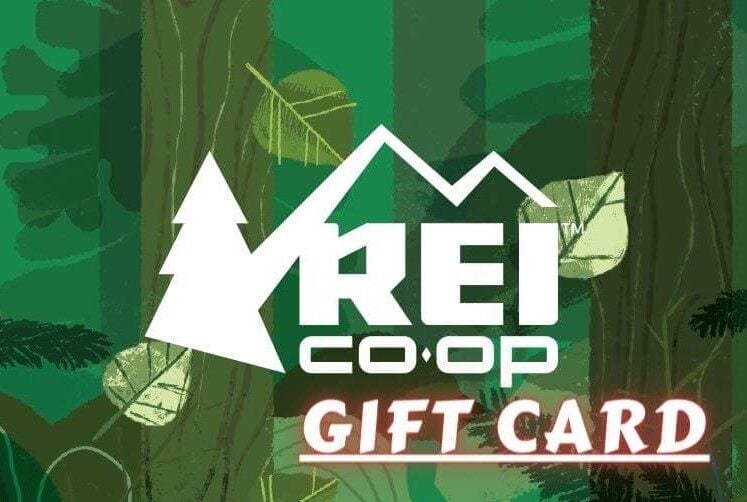 Now, you could spend a fat chunk of $$$ on the WRONG present for someone. Wrong size hiking boots, wrong fit backpack, wrong shape sleeping bag… As any adventurer will tell you, gear is a personal choice.
So give the adventurer in your life the gift of convenience: buy them an REI Co-op gift card! REI is The Broke Backpacker's retailer of choice for ALL things outdoors, and an REI gift card is the perfect present you can buy from them. And then you won't have to keep the receipt. 😉
Buy on REI!
#6 – Best Climbing Shoes for Men
Constructed for excellent performance all-round, in the gym, bouldering outside, technical facing – all while being comfortable – my pick for the best men's climbing shoes has got to be the La Sportiva Katana Lace.
I keep talking about comfort but with shoes – ESPECIALLY bouldering shoes – comfort is a huge deal. There's extra padding to keep your foot comfortably in place which, paired with the precision, easy-adjust lacing system, will keep your foot snug.
Though nowhere near as aggressive as other types of climbing shoes out there, their versatility gives you a pretty decent range of capabilities; they're fairly sensitive and does great with smears and edges. The Lorica synthetic toe box helps up your edging power.
When it comes to that moisture management, the highly breathable tongue and Pacific lining deals well with any excess sweat (and smells).
Basically if you – like I was before I got my feet in these – looking for something to level up your climbing above a beginner entry shoe, you honestly couldn't go wrong with this option. They'll certainly last you a few good years worth of usage if you are mostly using them inside.
Oh and they tend to run a little big on sizes, so you will probably want to go slightly smaller than what you'd usually go for.
#7 – Best Cheap Bouldering Shoes for Men
Another offering from La Sportiva (can you tell I like them?) the Tarantulace climbing shoes may have a low price tag, but that doesn't mean that they don't stand up as a top climbing shoe.
Surprisingly, I found them to be pretty wearable straight out the box and didn't require much breaking in at all. Within a few hours, they start to stretch out quite a lot and fit your foot. And they do this without getting loose or baggy around the foot. Fit-wise, these are surprisingly good.
Obviously, these are not aggressive shoes, so if you're looking for something uber technical, this won't be it. But these are able to hold small toe holds and slick smears, so if that's what you want – and for a decent price – the Tarantulaces will be a great option for you.
To get into the details a little bit, these are constructed with 5mm FriXion RS rubber soles, which give you a good amount of grip, and are hardy enough to withstand regular climbing.
Inside, the lined tongues are able to deal with moisture management, while the leather/synthetic uppers create a secure, accurate fit. They're a solid pair of shoes, work as a beginner shoe, or a casual option for any recreational climber. Recommend.
#8 – Best Women's Climbing Shoes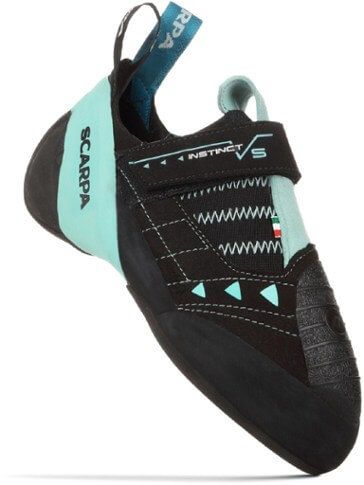 Built for climbers and boulderers alike who are looking for a sensitive shoe that can deal with terrain, the Scarpa Instinct VS has a ton of power behind its build to give you a long-lasting shoe with a precise fit.
Why are these best women's climbing shoes? Well, let's take a look at the specs.
The Vibrum XS Grip 2, in the forefoot and the heel, gives you a sticky grip when you need it most.  The floating power straps adds to this fit, meaning you get more oomph behind your moves – this shoe ain't slipping.
The rubber toe patch gives you extra hooking power, too, while the generally thin soles give you added flexibility; that said, it's thicker in the heel, being 2.5mm for extra comfort.
This is a great rock climbing shoe for women. Once you've broken it in, of course, it will start to really show its true potential. I reckon you'll love them from the first session you have with them.
Go up a size as the Scarpa Instinct VS can have quite a snug fit (even when you've gone up one size it is still pretty tight).
#9 – Best Cheap Climbing Shoes for Women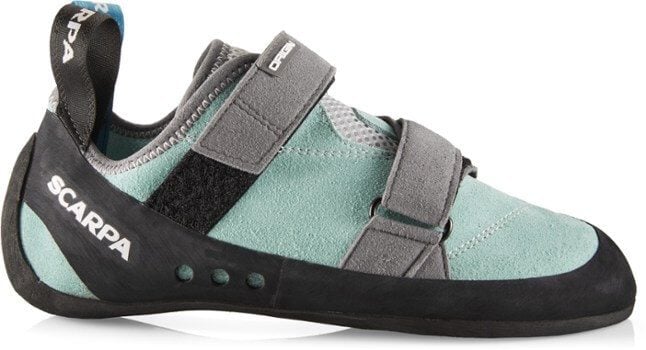 Like the men's equivalent, the Scarpa Origin climbing shoes for women are a great choice – and for the price tag, one of the best women's climbing shoes out there.
They're actually a pretty popular choice for women who "graduate" from their rental shoes at their climbing gyms (you can really only do that once); they're also a great option for a beginner's climbing shoe. And yes, all at a price that definitely won't break the bank.
The women's Scarpa Origin is not about pain. Climbing in this shoe takes it relatively easy on your toes and feet as a whole – it's got soft padded uppers and it fits specifically to women's feet to give you, well, pretty much no complaints at all.
Taking just a little while to break in, they'll fit nicely after a couple of sessions without any squashed toes (don't worry: you'll still be able to feel toe holds). The material used – suede leather – has a decent stretch to it, but won't get too baggy either.
Dual power straps fit with velcro means getting them on and off, and squeezing your feet into them as much as you want, can be done with ease.
Basically they're very comfortable (for a climbing shoe), with a ton of feeling and range of motion – they feel, and cost, just right.
#10 – Best Bouldering Shoes for Vegans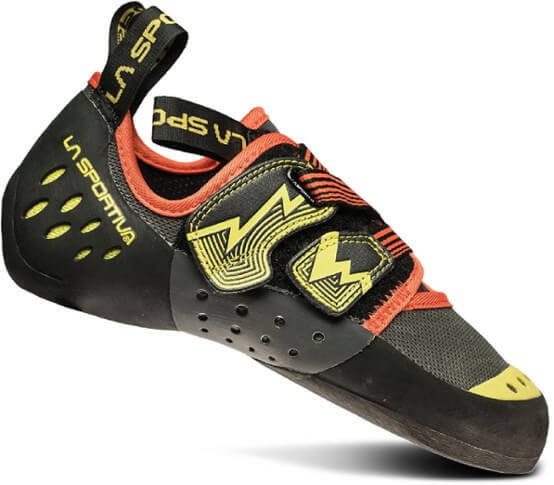 If vegan products are important to you in terms of a bouldering shoe, then the men's La Sportiva Oxygyms will be a great option for you.
Like the female Oxygyms, these top climbing shoes are made with synthetic uppers and AirTex Silver lining, with an additional 5mm FriXion RX outsole, which means that no animals have been harmed to help kit out your climbing passions.
Designed both for gyms and all-round rock climbing conditions, this option boasts top performance in a range of settings rather than suiting specific, technical climbs.
I'm into the Oxygyms for a first foray into aggressive climbing for beginner boulderers or climbers. I was pretty impressed with how quickly they broke in, too – I was up and on the wall fairly comfortably on the first try.
A good thing to note is that they are machine washable; synthetic shoes tend to get a little smelly, so you won't have to deal with bad odors since you just chuck 'em in a washing machine.
A decent shoe that doesn't cost the Earth – in more ways than one!
Looking for other vegan outdoor gear? Check out our guide to the best vegan hiking boots for all your mountaineering and approach shoe needs.
Buyers Guide – How to Choose the Best Bouldering Shoes for You
So those are my choices for the best bouldering shoes out there right now. There's a lot of great choices going on that can suit different people, but knowing EXACTLY which type is going to be best for you – especially if you're going to be choosing them over the internet and not in-store – is pretty crucial if you don't want to be disappointed.
So to help you out, I've decided to go in-depth and created this handy guide on how to choose the right climbing shoes for you…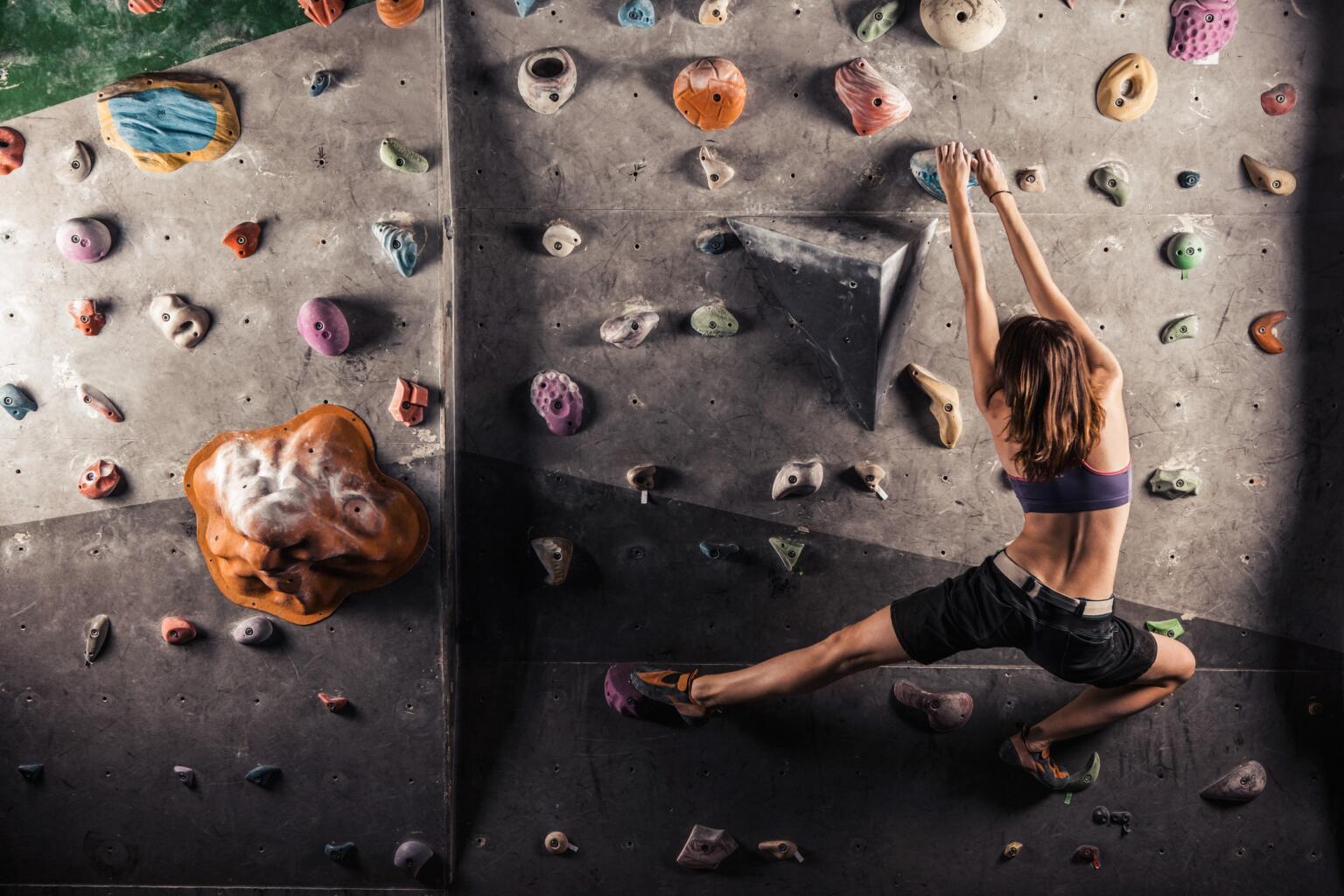 1. Comfort
This is pretty much one of the top things about any sort of footwear, let's be honest. Comfort is a huge deal.
Climbing and bouldering shoes are always going to fit differently to the normal types of footwear that you use. You are going to want to choose a pair that will give you plenty of support, but while also allowing you to feel sensitivity and stick to surfaces without skidding or slipping.
It can occasionally feel like a trade-off as, much of the time, the more sturdy, technical and aggressive a climbing shoe gets, the more time it takes to break in and, at least to start with, the less comfortable they are.
Some climbing shoes can actually feel painful.
Getting the type of shoes that fit your foot will save you a lot of time and discomfort. Many climbing and bouldering shoes out there won't be the same size as your shoe size; they're usually a snug fit. One rule of thumb is basically the more technical and high performance, the more snug the fit.
Beginner climbers should definitely opt for a more comfortable fit that is snug but that doesn't cause any pain. Chances are you won't be embarking on the most technical of climbs just yet, so there's not much point in getting yourself a pair of climbing shoes that you just won't be used to.
The breaking in process is also something to consider.
It is a really important part of getting the right shoe for you. Often the first few wears of a bouldering shoe won't be the most comfortable – you're going to want to take 'em off and stretch out your toes and feet. Essentially, once broken in, you will want shoes that don't distract you from what you brought them for in the first place: climbing.
2. Durability
Another massive part of what should really influence what bouldering shoes you purchase are their potential durability. If you think about the actual purpose of these shoes – which basically consists of scrambling up rock faces and multiple days in the gym tackling walls – then you can see why you'll need something that's durable, long-lasting and hard-wearing.
Often the less durable bouldering shoes out there fall apart in less than a year with frequent use. You will easily find yourself going through a pair a year.
Don't just take it from me. There are a lot of comments online about the (lack of) durability of some climbing shoes out there, which have started to fall apart in just a few weeks of heavy use, with frequent problems being everything from the soles falling off to the straps breaking.
Generally, the cheaper the shoe, the less durable it's going to be.
Entry level, beginner bouldering shoes won't necessarily have the same amount of durability that more professional level climbing shoes have, and won't be able to stand the level of battering they may take.
It is, therefore, worth it to fork out a little more in order to get your feet into something that is going to last you longer than a matter of months. You don't want something that's going to be falling apart on you, especially if you are mid-climb. A gaffer tape fix is not cool.
3. Women's vs. Men's
This might sound like an obvious one, but men's and women's shoes are designed differently to fit different shapes of feet.
In general, female-specific shoes have a lower cut ankle and a smaller heel cup. There are a lot of good women's designs; a longer toe-bed for example, or a lower volume forefoot. All in all, they're designed to be, on the whole, narrower than men's climbing shoes and have a thinner Achilles tendon. Shoes that are higher may rub or dig into the back of it.
That does not mean, however, that men can't choose women's climbing shoes. Some men have narrower feet than others, which may not suit a men's climbing shoe. Women's climbing shoes are actually just as well designed and well made as men's shoes and many men actually do opt for women's – especially if they have a thinner foot. Climbing shoes are all about a snug fit.
On the other hand, some women also choose to go for a men's bouldering or climbing shoe as opposed to a women's, preferring the support and wideness of the fit.
Obviously, not all people are built the same, so if you are having trouble with the low volume style on a women's climbing shoe, and you're female, then you may want to opt for one of the men's models and see if they work better for you.
4. Use
Not all climbers are the same and we've all got to start somewhere. With that said, what you will actually be using your climbing shoes for should definitely factor in how you choose your new bouldering shoes.
Stiffer shoes that have more support, for example, work well for beginners as well as for those who are on long outdoor roots, in which you will be wearing your climbing shoes for long periods of time at any given stretch. The stiff shoe will mean you get more support for your feel they'll end up getting less achy over time, basically.
As you become a stronger climber a softer shoe will be a better option for you.
If you are out climbing on steep rocks or overhangs, a stiffer shoe just will not be able to give you the same amount of flexibility. You won't be able to flex your foot to wrap around toe holds and accurately feel out edges.
If that sounds like you, a thinner, shorter midsole is what you want. Especially if you want to tackle training walls with overhanging pitches, or go for the real thing outdoors.
It's all about the strength of your feet; beginner's climbing shoes are stiff because your feet won't be up to strength yet – but once you've levelled up your climbing skills, more like around V4 difficulty and above (intermediate to expert), softer shoes factor in the strength you've built up in your foot and allow you to grab tougher holds more easily with your feet.
5. Profile
There are basically three types of "profile" in climbing shoes that you should pay attention to – especially if you are browsing the internet right now for your first ever pair of bouldering shoes.
First of all, there is the neutral profile. This sort of shoe offers all-day comfort and a relaxed fit. Pretty much a flat profile, the neutral profile has the ability to fit into cracks while still being comfortable. They're the ideal choice for a beginner, or for regular scrambling hikes over rocks.
To figure out if a climbing shoe has a neutral profile, put your foot in it – if almost all of it touches flush to the floor, then it's neutral.
A step up from this is the next profile: moderate.
These climbing shoes have a more rounded arc, with a built-in curve in the sole, resulting in a slightly downturned shape or camber. Shoes with a moderate profile are good for technical climbing and all-purpose terrains, from multi-pitch climbs to slab routes. The shape of the moderate profile forces the weight into the big toe, meaning you can balance on thin holds.
The downturned shape of moderate shoes still helps on challenging routes without the discomfort that can come with the next profile: aggressive.
The best aggressive bouldering shoes out there are notably hooked and boast a visible camber; they look very asymmetrical, almost as if you shouldn't be wearing them! (But you totally should for technical climbs).
The idea of the extreme down curve is giving you more support to grab tiny edges and holds on steep or overhanging sections. Forcing your feet into a powerful position as they do, aggressive shoes can be uncomfortable. This makes them good for short, steep sections, but not so good for multi-pitch climbs.
6. Materials
Bouldering shoes will essentially be made out of leather or synthetic. For one thing, this means there are different levels of care that the shoe boasts, from being machine washable to having specialised anti-odor abilities.
Which type you go for all depends on your personal preference.
First of all, there are synthetic materials.
These are often favoured by vegans and vegetarians who, understandably, want their climbing kit to be cruelty-free. These shoes may not have as much stretch to them – with much less give than the leather equivalent. So once you try them on, don't expect the fit to change too much; usually with synthetic materials, if that's how it feels the first time you wear 'em, that's how it will be.
Don't expect them to change their shape as much as their leather equivalents.
Another thing about synthetics: Although they often come with deodorising capabilities, and although they can be machine washed, people often do complain that they smell more than their leather counterparts. I mean, that can be the case!
Then we have leather. Leather climbing shoes often stretch to fit your foot, so getting them to fit first time around can be a little harder; they require some breaking in, basically. Unlined leather shoes will stretch possibly up to a full size larger, so you'll want to buy them smaller.
If you do buy them unlined, the colour from the leather will dye your foot with all the sweat going on (a thin pair of socks wouldn't be awful).
A good choice to go for is lined leather shoes. The lining reduces the stretch, meaning you don't have to do so much guesswork as to how well they will still fit you (or not) after a few wears.
7. Laces vs. Velcro
It sounds simple – and not a choice you've made since you were a kid going to school probably – but the whole laces vs. velcro thing in the world of bouldering shoes is definitely a big debate.
Lace-up shoes are often preferred because they add more comfort. You can wear them loosely or really cinch them in for some precision tightness, or looseness, depending on your comfort preferences.
Generally speaking, I would say that you can customise the fit more so with lace-up bouldering shoes; it allows you to tighten up on the toes while having looser heels, for example, or whatever way round you want it.
The downside of lace-up bouldering shoes is a simple one: time and convenience. It literally just takes longer to put them on and take them off. It can be a hassle after you finish a course. Some lace-up offerings are actually pretty time-effective, however.
Velcro closures on a shoe simply mean that you are able to take them off and put them on quite quickly – a norm when climbing. Because they're easy to take on and off, they're usually used for sport climbing and bouldering – the sort of thing you can easily switch to when faced with steep, aggressive climbs.
FAQ about the Best Bouldering Shoes
Still have some questions? No problem! We've listed and answered the most commonly asked questions below. Here's what people usually want to know:

Unlock the The Broke Backpacker's GREATEST Travel Secrets!
You pop your email here, and we promise to send you only travel content that's actually relevant — sounds like a pretty good deal to us!
Final Thoughts on the Best Bouldering Shoes
Choosing the best bouldering shoe for you is not something you should take lightly. More than any other type of shoe, a bouldering shoe needs to be reliable; coming up against an unnecessary problem mid-climb is not something you want.
So if you want to get out there and challenge yourself, whether you're a beginner or intermediate climber, I hope my list of the best bouldering shoes out there right now has been helpful. My tips on how to choose the right ones for you come from experience… So keep those in mind when you're going for it!
Remember: the only way to REALLY know if a climbing shoe is for you is to try them on. If ordering online, order a couple of sizes, send back what doesn't make the cut.
My number one, overall best choice is definitely the Scarpa Origin Climbing Shoes. These will basically suit any climber, beginner to intermediate, and even come in a women's version too, depending on what fit suits you best.
Rock shoes don't need to be painful – they need to be the best choice for YOU and your personal climbing goals.
What do you usually go for? Something on my list, or maybe something I didn't mention? Let me know in the comments!
---
Bye for now, but not forever!
If you want MORE top-tier Broke Backpacker content like this, then sign up for our weekly newsletter below to get the latest and greatest!
And for transparency's sake, please know that some of the links in our content are affiliate links. That means that if you book your accommodation, buy your gear, or sort your insurance through our link, we earn a small commission (at no extra cost to you). That said, we only link to the gear we trust and never recommend services we don't believe are up to scratch. Again, thank you!