Peru is arguably one of South America's most iconic destinations. From ancient cultural heritage sites, Incan ruins, towering mountains, pristine stretches of coastline, and untamed Amazonian jungles, it's a varied destination that has captivated travelers for centuries.
Peru has one of the biggest biodiversities in the world, but it is also hugely affected by climate change. Seasonal variations over the years have caused floods, damaging homes and historical sites. As well as this, Peru has a huge deforestation problem, which in turn has hurt its unique wildlife.
Eco-tourism in Peru is more important now than it has ever been.
That's why we have prepared this guide, so you can visit Peru and see all the incredible attractions it has to offer, without making a dent in its ecosystem.
The good news is, outside of the larger cities, much of Peru remains the kind of place where locals live close to nature, where their lives work inextricably with the natural rhythms and seasons. Because of this, many accommodations in Peru are committed to operating sustainably and with respect to nature.
In this list, we have selected the best eco-lodges in Peru for any type of traveler. If you're traveling with family, looking for an incredible adventure, or seeking a memorable experience just for two, we've got an option to suit your tastes.
So when you're ready, let's take a look!
In a Hurry? Here's Where to Stay in Peru for One Night
Is this amazing Peru Eco Lodge booked for your dates? We've got your back with our other favorite properties below!
Why Stay in an Eco-lodge in Peru?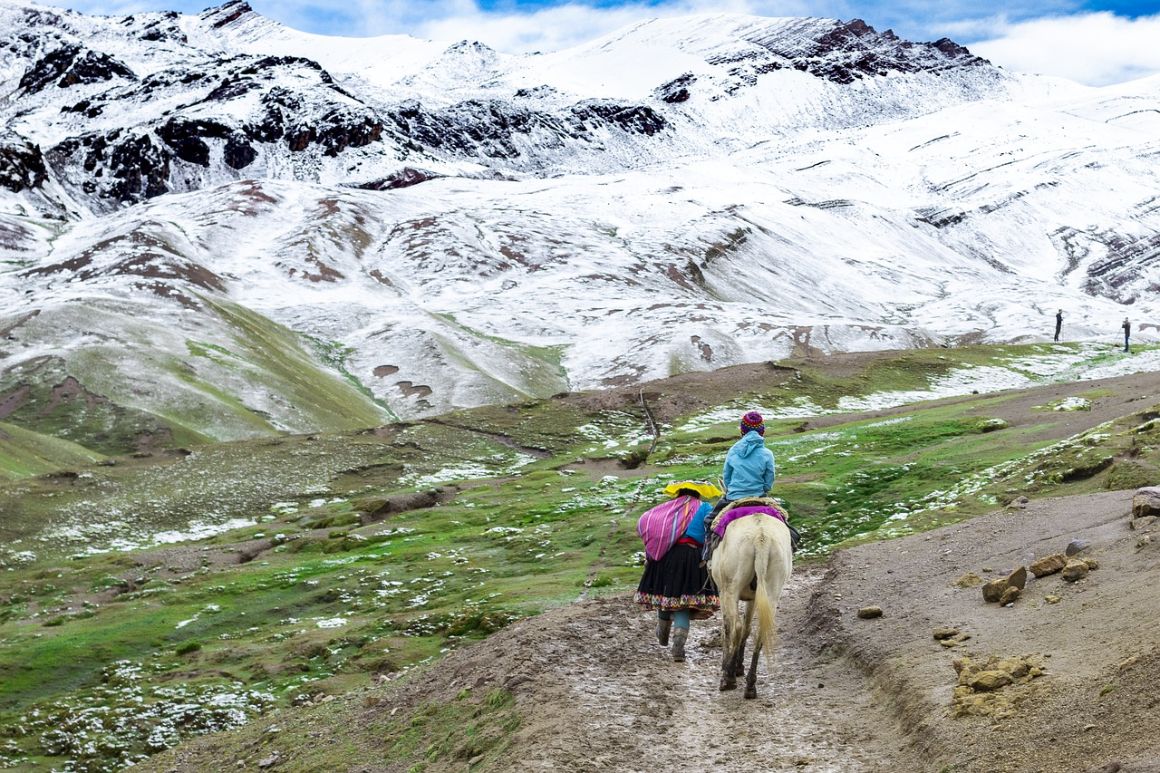 As we mentioned, in many of the more rural areas of Peru, life continues in a more traditional way with respect and reverence to nature and the rhythms of the seasons. With this in mind, it's expected that many of the more off-the-beaten-track locations will be inherently eco-friendly. Less out of acknowledgment of global trends than out of tradition.
As well as this, Peru is feeling the effects of climate change now more than ever. With seasonal changes causing floods that damaged homes and historical landmarks, as well as deforestation destroying the habitats of many species of wildlife that are native to Peru, it is important as tourists we do our bit to preserve what's left of this beautiful destination.
Aside from how important it is to live sustainably, it's also the best way to experience the most unique areas of Peru. The mountains, jungles, and other natural environments are best experienced from eco-accommodation in Peru that will get you closer to nature in a more authentic and memorable way. You won't be sacrificing all modern amenities, in fact, you're still likely to enjoy a very comfortable experience.
What is an Eco-lodge?
An eco-lodge is any accommodation that strives, in one way or another, to minimize its impact on the planet. Whether that is through using solar power, collecting rainwater, using eco-friendly cleaning products and toiletries, introducing recycling initiatives, or contributing to and supporting local communities.
While this is still a relatively new concept, it is one that is growing in popularity. Eco-lodges will vary in terms of their initiatives, and how they look and operate, but at the very heart of an eco-lodge is a desire to uplift the environment and the local people and culture.
So, as a traveler, you know that when you choose an eco-lodge you are making a positive contribution to the greater good.
Overall Best Value Eco-lodge in Peru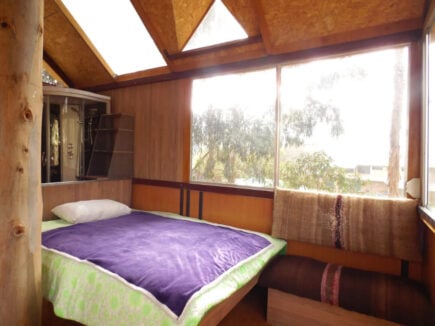 Overall Best Value Eco-lodge in Peru
Beautiful Tree House
> $
> 2 guests
> Solar-powered treehouse
> Skylight for stargazing
Best Budget Eco-lodge in Peru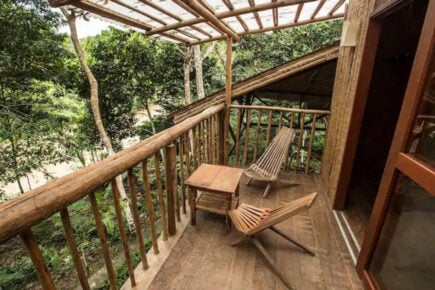 Best Budget Eco-lodge in Peru
Yacu Double
> $
> 2 guests
> Bamboo and timber tiny house
> Rustic retreat with river views
Best Eco-lodge for Couples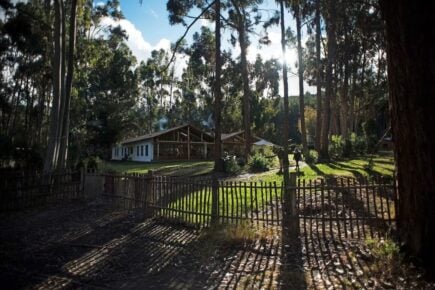 Best Eco-lodge for Couples
Pamuri Andes Lodge
> $
> 2 guests
> Nature-focussed mountain lodge
> Experiential escape in the Andes
Most Ecological Eco-lodge in Peru
Most Ecological Eco-lodge in Peru
Guadalupe Lodge
> $
> 12 guests
> Completely solar-powered
> Peruvian culture and food
Best Eco-lodge for Families Visiting Peru
Best Eco-lodge for Families Visiting Peru
Vive el campo
> $
> 6 guests
> Traditional adobe house
> Authentic countryside living
Best Eco-lodge for Backpackers
Best Eco-lodge for Backpackers
Chakra El Silencio
> $
> 5 guests
> Run by all-women coffee makers
> Rustic wooden cabin
Best Eco-lodge for a Weekend in Peru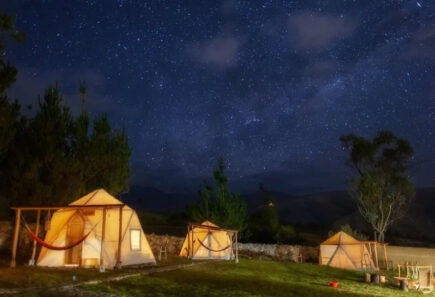 Best Eco-lodge for a Weekend in Peru
Domos Cordillera Blanca
> $
> 4 guests
> Ecotourism project
> Surrounded by nature
The 15 Top Eco-lodges in Peru
So now it's time to introduce to you our top eco-lodges in Peru. We've carefully selected this list to illustrate the variety of options available to suit different travel styles, tastes, budget, and needs.
All of these eco-lodges will offer you a comfortable and well-managed stay close to nature with a conscience to the environment.
Enjoy!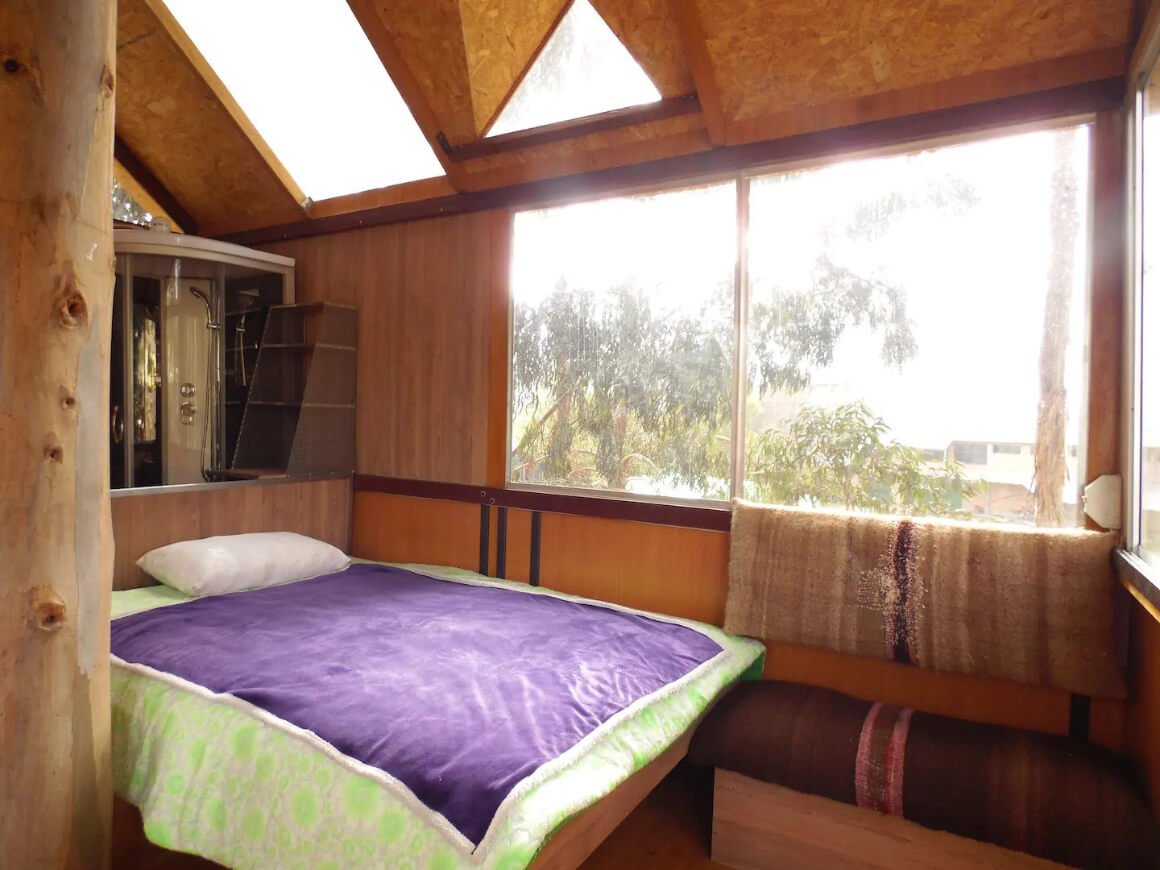 $
2 guests
Solar-powered treehouse
Skylight for stargazing
Situated in a quiet neighborhood outside the city center, this Beautiful Tree House is surrounded by nature offering a private and secluded feel, but it is still within easy reach of downtown Huancayo.
The treehouse is built in the canopy of the trees and is accessible by a suspension bridge. The structure is mostly made from timber, with large windows and a skylight to invite in the view of the surrounding treetops. Each guest will stay in their own private treehouse with an ensuite bathroom kitted out with modern appliances.
From your treehouse, you can explore the city's sites and shopping venues, sample local cuisine at one of the many restaurants, or explore the majestic Torre Torre towering rock formations near the city. The nearby river is within walking distance, or you can simply relax in the treehouse and enjoy the views and sounds of nature.
Best Budget Eco-lodge in Peru – Yacu Double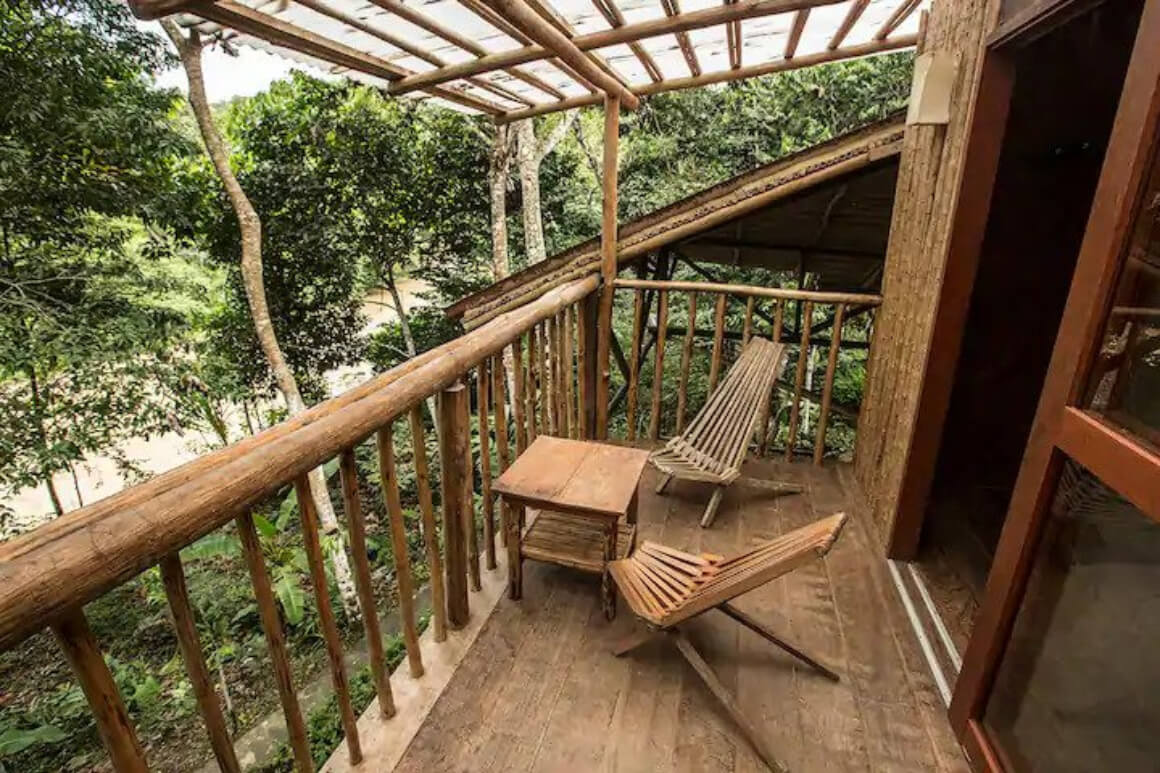 $
2 guests
Bamboo and timber tiny house
Rustic retreat with river views
Yacu Double is situated in a leafy setting in the town of Tarapoto, an area known for its Amazonian cloud forest. The private room is located on the second floor of the tiny house and boasts incredible views of the river nearby.
This unique accommodation in Peru is extremely economical on space while still offering a comfortable stay. It's constructed entirely from bamboo, timber, and earth, using traditional methods.
This is the perfect base for an Amazon Rainforest excursion. If you're backpacking Peru, a visit to the Amazon is one thing you cannot miss on your itinerary. From this eco-lodge, you can easily visit local restaurants for typical food of the region, as well as explore the abundant plant and animal life and nearby waterfalls.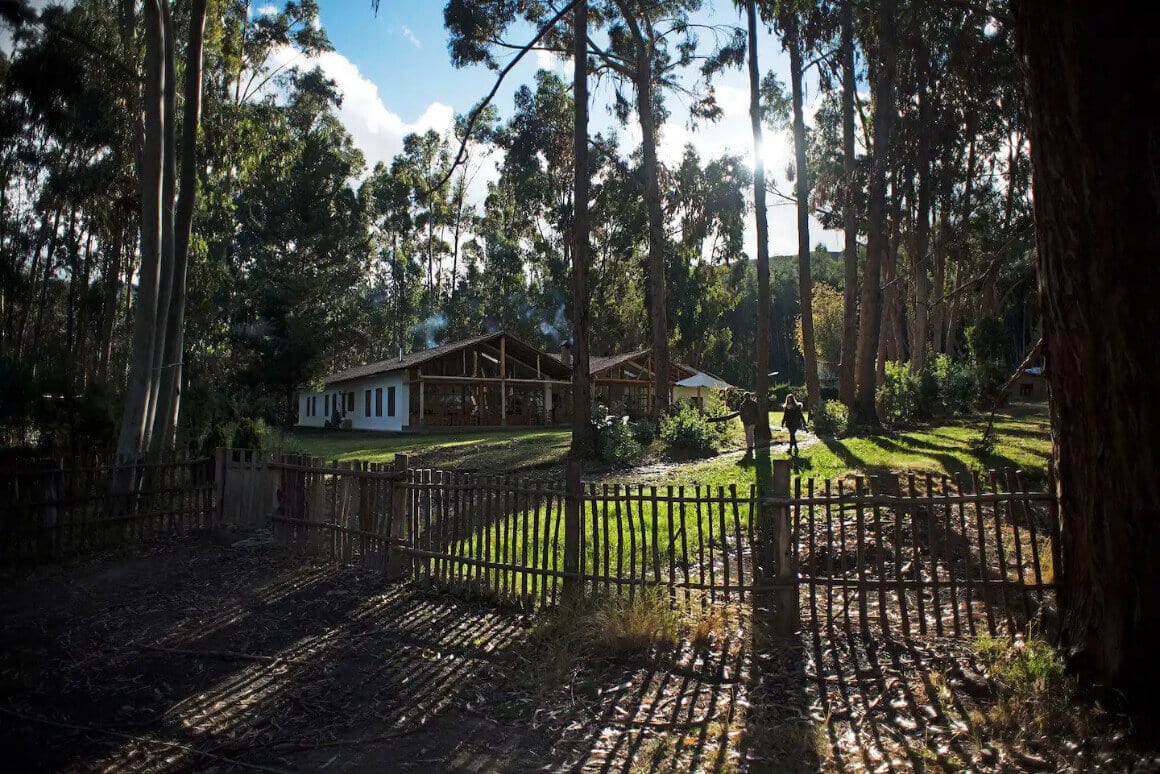 $
2 guests
Nature-focussed mountain lodge
Experiential escape in the Andes
Explore the scenic mountain region of Huancavelica from this beautiful mountain retreat. Pamuri Andes Lodge lies in a peaceful valley, surrounded by agriculture and livestock in the cute town of Pampas.
The nature lodge aims to foster a deeper connection with nature for its guests. The lodge was made using natural building materials like stone and timber, as well as local fabrics and traditional décor elements. Each guest will have their own private room with access to a shared bathroom.
Days can be spent exploring this beautiful area on foot or by renting a bicycle. After a day of adventuring, guests can relax in the communal lounge and dining area or the shared games room.
Most Ecological Eco-lodge in Peru – Guadalupe Lodge
$
12 guests
Completely solar-powered
Peruvian culture and food
Guadalupe Lodge is located within the Guadalupe Reserve just outside the village of Pilcopata. The lodge is surrounded by dense forest which is home to a wide variety of species, including birds, reptiles, and plenty of monkeys.
The lodge is entirely solar-powered and surrounded by pristine nature. Structures have been made from local bamboo and timber, with plenty of indoor/outdoor space to allow in the breeze. Guests get to stay in a private room in the lodge with a private bathroom and mosquito nets.
From the lodge, you can head out along one of the many hiking trails through the lush foliage to see the resident species. After a day of exploring the jungle, return to the lodge for a refreshing swim in the river nearby. Boat tours, night walks, and visits to the Wildlife Rescue Centre can be arranged.
If you're wondering where to stay in Peru for wildlife and jungles, this is it.
Best Eco-lodgein Peru for Families – Vive el campo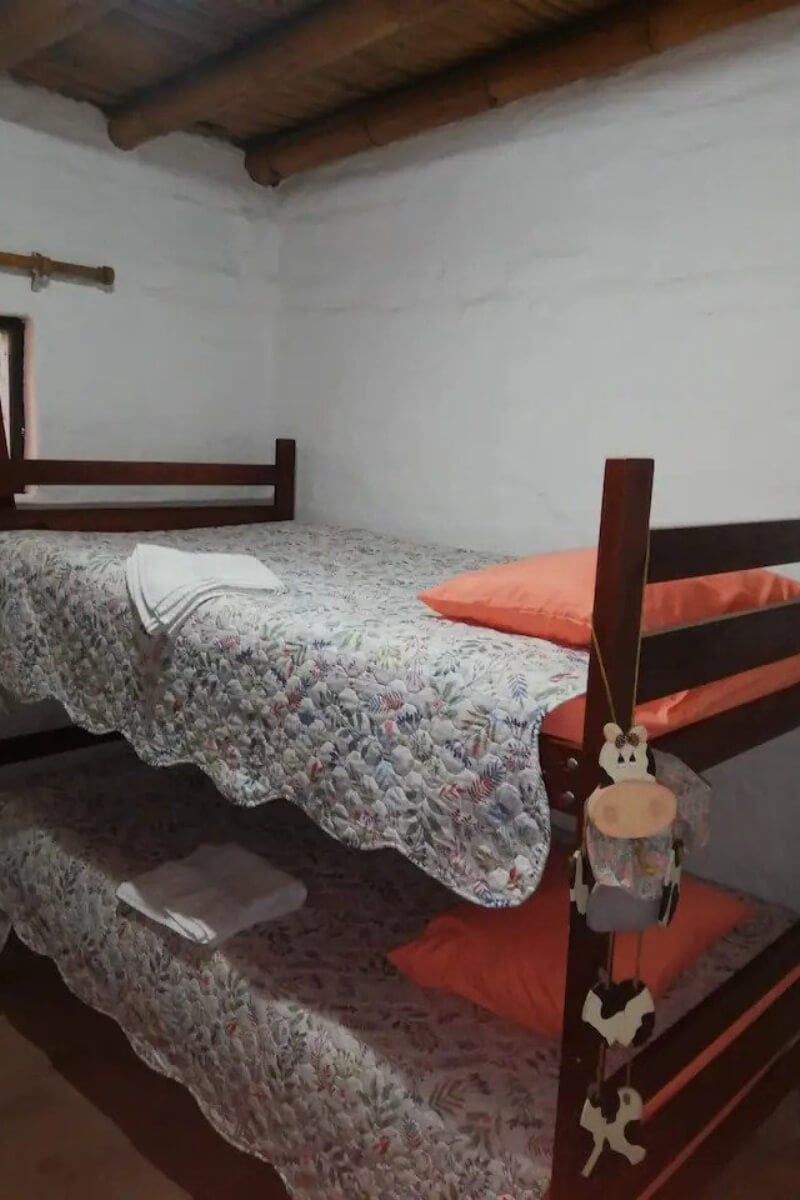 $
6 guests
Traditional adobe house
Authentic countryside living
Set amid the trees along the road from Pachacamac to Cieneguilla, Vive el Campo offers a truly rural setting to escape to. There's a farm on the property where corn and grass are grown to feed the livestock and animals on the property.
Life here is lived in partnership with nature, which is just one of the main reasons this is one of our best eco-lodge in Peru. The entire structure has been built using traditional methods and local natural materials like cane and stone. Recycling and reusing are a part of life here – nothing is wasted.
There are many animals on the property that you can see – donkeys, chickens, ducks, dogs, horses and goats. From the lodge, you can head out along the hiking and cycling routes, visit the local village, or explore the nearby ruins.
Great Eco-lodge in Peru for Groups– Fundo Ratatouille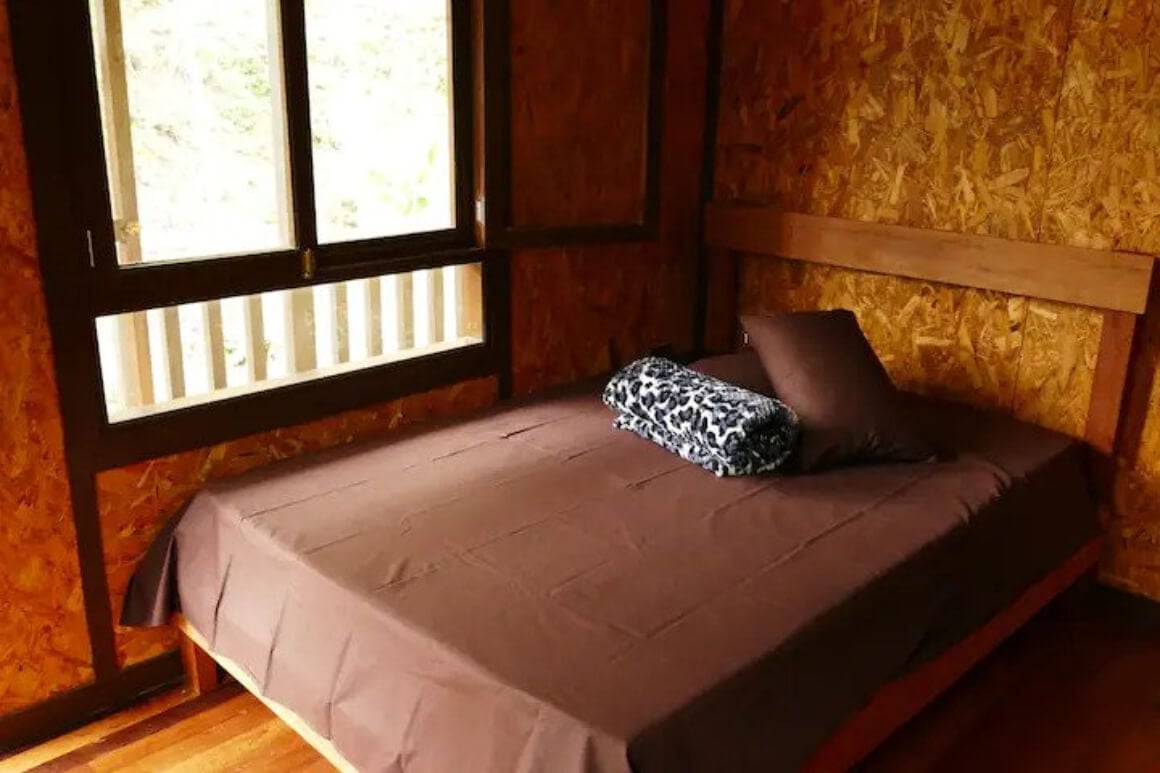 $
5 guests
Honey and fruit-producing property
Rustic retreat in a lush setting
Fundo Ratatouille is surrounded by lush tropical vegetation just outside the village of Pueblo Pardo. The rolling hillsides surrounding the property are blanketed in vegetation and plantations of banana, cassava, lemons and various flowers.
The structure has been made using natural stone, cane, and local timber while preserving as much of the native vegetation as possible. Herbs can be harvested from the gardens and used to create meals in the outdoor kitchen.
You can take a short walk to the river nearby for a swim, enjoy a tasting of artisanal honey and fruits from the property, or set out with a local guide to visit Oxapampa, Pozuzo and Villa Rica. The magnificent botanical gardens nearby are also not to be missed.
Best Eco-lodgein Peru for Backpackers – Chakra El Silencio
$
5 guests
Run by all-women coffee makers
Rustic wooden cabin
Chakra el Silencio is a rustic homestead on a coffee plantation just outside of the village of Villa Rica on the eastern slopes of the Andes. Surrounded by dense native vegetation and a pristine natural setting, this is the perfect place to reconnect with nature.
The wooden house lies on a coffee plantation run by 5th generation women coffee makers. Respect for nature underpins the simple way of life here. You will also get to learn about the medicinal plants and incredible variety of birdlife from your hosts.
From this eco-lodge, you can enjoy walks through the plantations, visit the Laguna el Oconal – a nearby lagoon, or relax in a hammock and enjoy the silence. At night, gather around the bonfire with a canopy of stars above.
Great Eco-lodgein Peru for Budget Travelers – Vrindavan Peru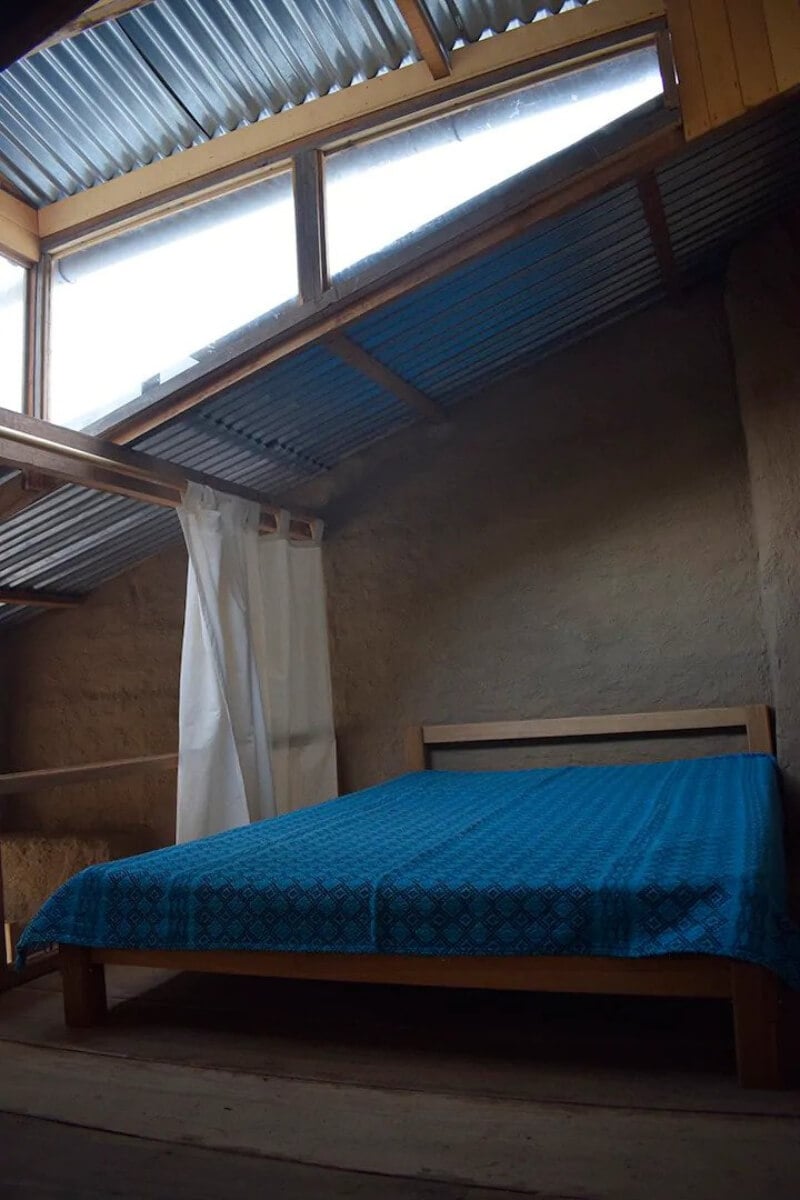 $
1 guest
Bio construction and bio gardening courses
Ecological estate setting
Vrindavan is a unique accommodation in Peru, located on an ecological estate surrounded by five beautiful waterfalls. The property lies in a scenic valley outside Matucana near Lima.
The ecological farm is driven by respect for humans and animals alike. Vegan and vegetarian dishes are provided, and you can also take a workshop on bio construction and bio gardening, as well as nutrition and healthy living workshops.
Spend your days walking along one of the scenic paths through gardens to the lookout point, enjoying yoga and natural therapies, or visit the animals on the property, including piglets, roosters, and peacocks. Guided tours to the waterfalls are a highly recommended activity.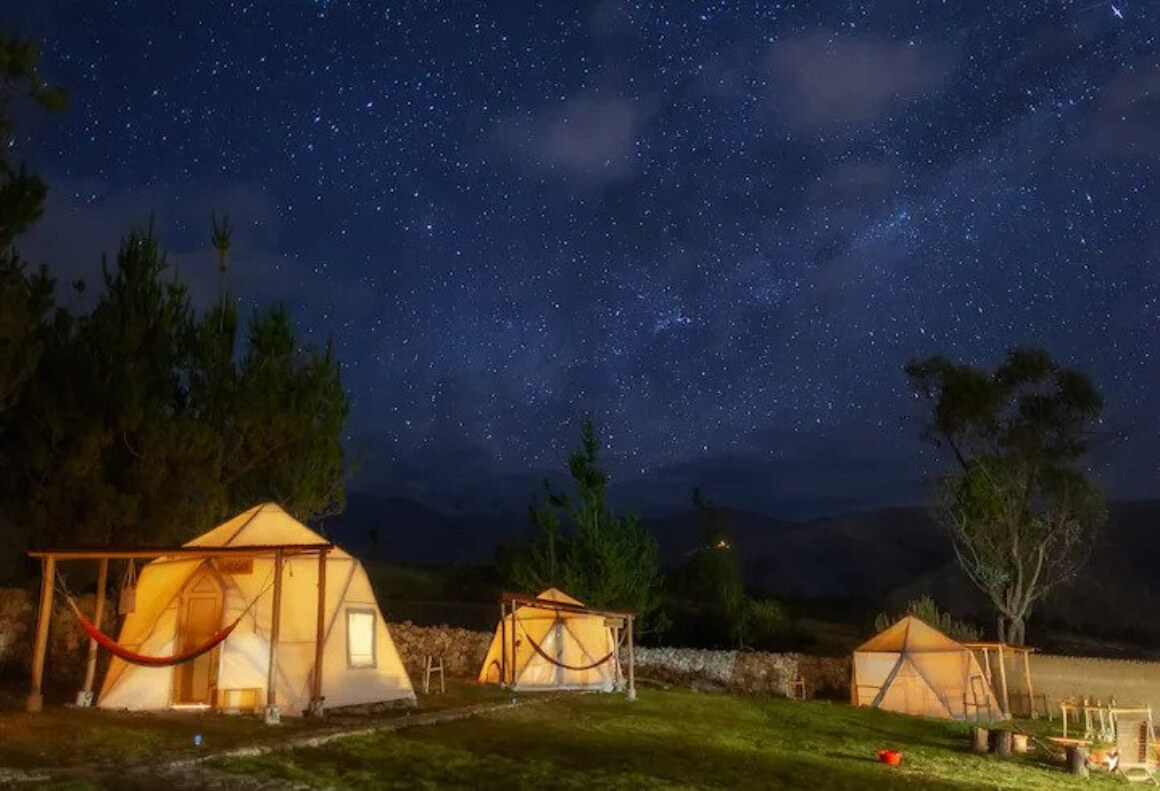 $
4 guests
Ecotourism project
Surrounded by nature
Cordillera Blanca's domes are located outside the city Huaraz – the ideal base from which to explore the nearby Huascaran National Park. With views of the snowcapped peaks of the park and surrounded by pristine nature, the domes are a scenic and peaceful retreat.
The domes are all well-equipped with electricity and Wi-Fi for convenience and bathrooms have hot water. The domes themselves are energy efficient and can be broken down leaving little evidence that they were ever there.
These magnificent landscapes offer a wealth of outdoor adventures to enjoy, with a multitude of lakes and valleys to explore. From this property, you can set out on a mountain bike excursion or take a donkey ride guided by members of the local community.
Great Eco-lodgein Peru for Jungle-Lovers – Casa Hacienda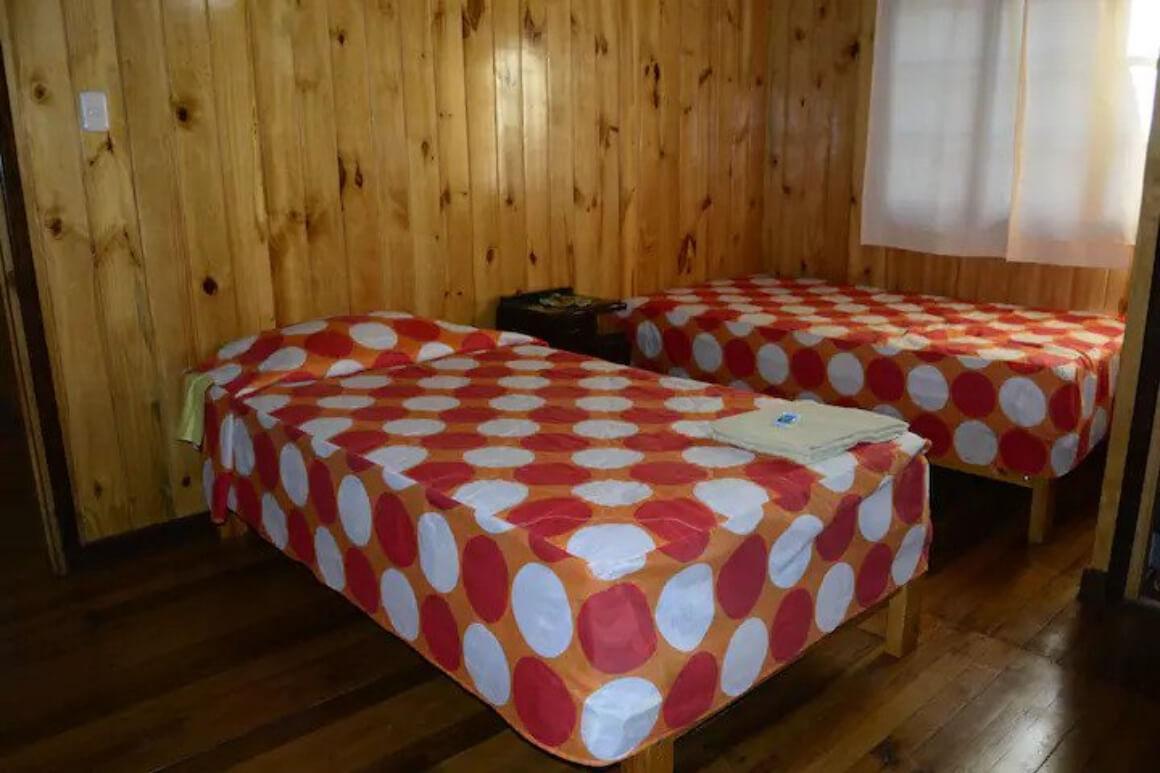 $
4 guests
Working coffee farm
Family-run farm stay
Located in the heart of the Central Jungle, Casa Hacienda is surrounded by coffee plantations and a diversity of fauna and flora. The farm is 10 minutes from the small town of Villa Rica and the village of El Oconal.
In addition to growing coffee, the farm aims to uplift not only the environment but the surrounding communities through tourism. Rainwater is harvested for use throughout the property and eco-friendly detergents and toiletries are provided.
Many paths surround the home for guests to walk along and enjoy the sounds and sights of nature all around. You will learn all about the process of producing coffee from bean to cup. For basic shopping, visit El Oconal, but for a wider variety of stores, head to Villa Rica.
Eco-lodgein Peru with an Epic Location – Salkantay Bio Domes
$
3 guests
Solar-powered domes
Views of Salkantay Mountain
Set in a scenic valley with views of the majestic Salkantay and Humantay mountains in Cusco, the Salkantay Bio Domes are an ideal stop-over for anyone trekking into these mountains.
The domes offer a comfortable stay, with hot water and electricity provided through solar panels. In the colder months, heating is provided by gas. Each dome has a small deck area where guests can enjoy the magnificent view.
Explore the surrounding mountains on an organized trek to explore either the snow-capped Salkantay Mountain or the Humantay Lagoon.
For anyone backpacking Central America, stopping off in Peru and witnessing the Salkantay Mountain is a MUST. It is one of the most beautiful mountain ranges in the Andes, if not the world, and cannot be missed.
$
10 guests
House carved into the mountainside
Unique home in an oasis
Located within the valley of Chilina, just 15-minutes from the city center of Arequipa, this unique cave house is partly carved into the rock. Surrounding the house is a lush green oasis of seedlings and a tree plantation, making this one of the most unique accommodations in Peru.
The house takes its name from the Vizcachas that live in the area and are only found in South America. These rodents resemble rabbits but are more closely related to chinchillas. The interior temperature of the home is regulated by the surrounding rock, eliminating the need for additional cooling or heating.
Activities in the area include rafting, mountain biking, quad biking, trekking, and rock climbing. Alternatively, you can spend a relaxing day at the swimming pool or play some foosball in the shade.
Best Eco-lodgein Peru for Views – Goctamarca Lodge
$
3 guests
Remote nature lodge
Expansive valley views
Set high in a mountain location near Gocta Falls, Goctamarca Lodge overlooks the beautiful Utcubamba Valley of Peru. This remote location is a peaceful retreat offering complete privacy.
The cabins feature large windows to invite in the magnificent mountain views and loads of natural light. Made from local timber, the cabins have been minimally decorated with local fabrics and natural elements.
Perched on a hilltop, the cabins offer plenty of fresh mountain air and silence, while remaining within a 5-minute walk from the main plaza. The area offers plenty of walking and hiking trails, as well as scenic lookout points to visit.
Eco-lodgein Peru for Long-term Travellers – Sacred Valley Lodge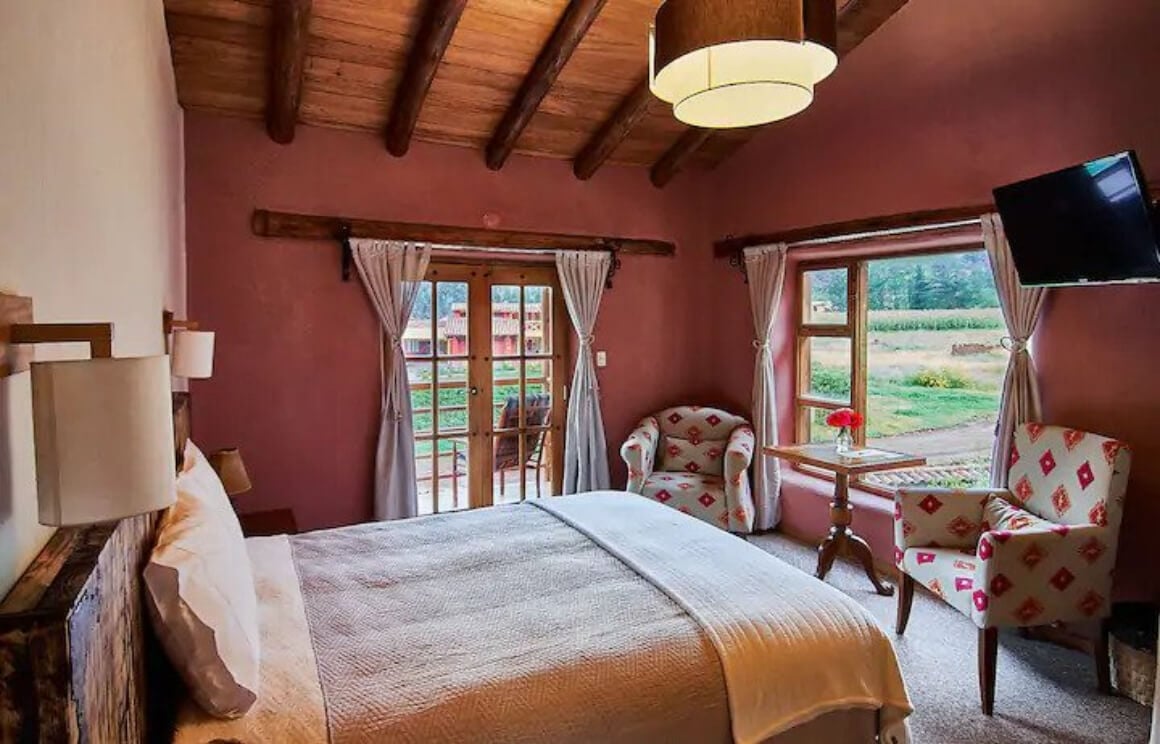 $
10 guests
Artisan market nearby
Tranquil Andes setting
Tucked at the foot of the Andes, in the Sacred Valley of the Incas, this lodge is a tranquil escape from the bustling city of Cusco. The lodge is adjacent to a working farm and overlooked by the incredible ruins in Pisac.
The house features plenty of natural stone and wood, as well as various traditional elements. A small indoor garden adds the soothing sounds of a water feature. Supplies for the house can be purchased at the artisan market just 15 minutes away.
From this lodge, you can take a tour of the farm that includes a variety of animals including cows, pigs, chickens, and guinea pigs, or relax in a hammock and enjoy the peaceful setting. There are two restaurants at the end of the road for dining out.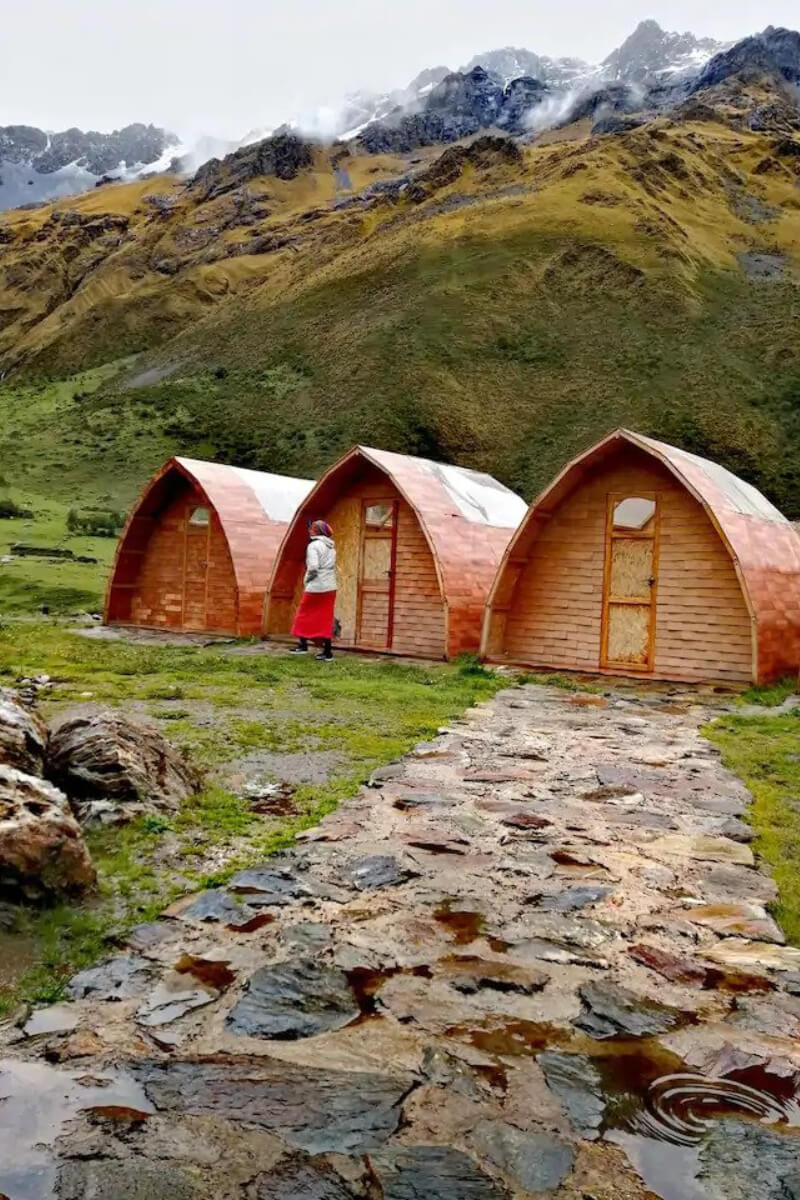 $
8 guests
Solar-powered wooden cabins
Starry skies and mountain views
Thirty minutes from the beautiful Lake Humantay in a scenic valley, the Humantay Lagoon Cabins are surrounded by snowy peaks and pristine nature.
The wooden cabins offer a cozy and compact retreat with a skylight above the bed for appreciating the incredible starry skies at night. Electricity is only available until 8 pm as they rely on solar panels.
From here, you can visit Lake Humantay which is just 30 minutes away, and explore the Salkantay Pass for views. If you're brave enough, try the tallest giant swing in Peru and the 300-meter zip line in the area.
Final Thoughts on Peru Eco-lodges
Peru is a destination of traditions, cloud forests, mountains, lakes, and adventure. It's a country where the past lives alongside the present, and nature still guide livelihoods.
From the cities of Lima and Arequipa to the mountains of the Andes and the cultural experiences of Cusco – Peru is a magical destination that is so much more than just Machu Picchu. And we want it to stay that way.
I hope that this guide has stressed the importance of staying at an eco-lodge in Peru, whether it's one from our list or one you've found yourself.
But I know that any of the unique accommodations in Peru on our list will offer you a memorable experience of this magical country and its people. You'll reconnect with nature and get a closer insight into this land and its unique history and culture. Do you have a favorite on our list? Let me know in the comments.

---
Find out how YOU can support the site.
We're a big site with a big team and this job isn't always easy. But we do it because we love it – we love providing epic and free content. We love the knowledge that our content keeps you adventuring. We don't ask for money, but if you'd like to find out how you can help the site in more organic ways, click the button below.
Thank you for your support 🙂
And for transparency's sake, please know that some of the links in our content are affiliate links. That means that if you book your accommodation, buy your gear, or sort your insurance through our link, we earn a small commission (at no extra cost to you). That said, we only link to the gear we trust and never recommend services we don't believe are up to scratch. Again, thank you!