What was once an Afrikaner hometown is now an apartheid regime. Pretoria, is on its way to becoming yet another multicultural hub for all races and cultures. The city has undergone major transformations and has quickly become home to many South African races and international embassy workers. It's now a comfy spot to enjoy a few days of vacation time.
With luscious green gardens, sunny warm weather and streets lined with purple blooming jacarandas, the laidback guesthouses in Pretoria are secret gems. Most tourists head into the area for safaris and forget about all the trendy bars, farmer markets. Not to mention the lovely accommodation they're missing out on.
A 40-minute ride on the Gautrain from the lively city of Johannesburg, Pretoria offers a completely different experience of South Africa. With museums, theatres, art galleries, historic sites, and architecture to be enjoyed, why wouldn't you want to spend a weekend in this quaint city.
Don't worry about the fact that it's not one of the bigger tourist spots. We've brought together 15 of the best guesthouses in Pretoria that are perfect for every traveler!
In a Hurry? Here's Where to Stay in Pretoria for One Night
FIRST TIME IN PRETORIA
Guest suite in Kingfisher Retreat
This guesthouse is in the safe neighborhood of Wingate Park. With its own entrance and outdoor patio, it's great value for money. It's close to some of the main Pretoria attractions too.
NEARBY ATTRACTIONS:
Wingate Park Country Club
The Moreleta Kloof Nature Reserve
Elardus Park Shopping Centre
Is this amazing Pretoria Guesthouses booked for your dates? We've got your back with our other favorite properties below!
Staying in a Guesthouse in Pretoria
Guesthouses in Pretoria range from extremely luxurious to an affordable and cozy home away from home. Many of the guesthouses are rated highly because they're safe, affordable, well-looked after and almost always have an outdoor garden space.
You have the benefit of the owners being on the property the entire time, with the perf of a private room for some quiet time. These guesthouses are usually created in family homes, and so encompass a lot of the host's life and personality in them.
Some of the Pretoria guesthouses offer a room in a large house, with the other rooms being rented out separately. Others are separate, self-catering studios on the owner's property which are rented out as a whole.
Staying in a Pretorian guesthouse over a hotel ensures that you get a true feel of the atmosphere of the city, and experience life as a local. With plenty of outdoor space, you can host your own braai (a South African version of the BBQ), make use of shared pools and spend a lot of time outdoors.
There's a social atmosphere about guesthouses in Pretoria as well, but as condensed as you'd find in a hostel. Shared living rooms and outdoor spaces allow you to meet the owners and other guests before retreating behind your closed bedroom door.
What to Look For in a Guesthouse
Guesthouses have a number of great amenities. These generally include free wifi, a self-catering kitchen area, private bathrooms, washing facilities and sometimes an outdoor area.
During the start of spring, the common jacarandas bloom with beautiful purple flowers, making the streets and gardens turn beautiful shades of indigo and lilac. We highly recommend staying at a place with a garden.
The most important thing you want to look out for with guesthouses in Pretoria is the security. Although the city is generally safer than neighboring Johannesburg, the crime here is sometimes a concern. All of the guesthouses we've mentioned here have security systems.
Since guesthouses aren't as commercial as hotels, you can find plenty of options on sites like Airbnb and Booking.com. Airbnb is the most helpful if you're looking for a place that's more private and casual. While Booking.com has guesthouses that have a lot of amenities. Be sure to have your suitcase packed properly for your South Africa Trip, as many accommodations don't offer emergency toiletries or other important things!
OVERALL BEST VALUE GUESTHOUSE IN PRETORIA
OVERALL BEST VALUE GUESTHOUSE IN PRETORIA
Guest suite in Kingfisher Retreat
> $$
> 2 Guests
> Private patio
> Laptop-friendly workspace
BEST BUDGET GUESTHOUSE IN PRETORIA
BEST BUDGET GUESTHOUSE IN PRETORIA
Entire Cozy Home Guesthouse
> $
> 2 Guests
> Backup generator for power outages
> Shared entertainment area
BEST GUESTHOUSE FOR COUPLES
BEST GUESTHOUSE FOR COUPLES
Charming Willow Cottage
> $$
> 2 Guests
> Great location for exploring
> Extra length queen-sized bed
BEST GUESTHOUSE FOR A GROUP OF FRIENDS
BEST GUESTHOUSE FOR A GROUP OF FRIENDS
Sunny Villa in the Menlyn Area
> $$
> 8 Guests
> Large pool
> Features an indoor fireplace
OVER-THE-TOP LUXURY GUESTHOUSE
OVER-THE-TOP LUXURY GUESTHOUSE
World-Class Service at Castello Di Monte
> $$$$
> 2 Guests
> Massages available on request
> Golf-course situated 300m away
BEST GUESTHOUSE FOR FAMILIES VISITING PRETORIA
BEST GUESTHOUSE FOR FAMILIES VISITING PRETORIA
The Links Guesthouse
> $$$
> 5 or more Guests
> Offers airport shuttle
> Family rooms
BEST GUESTHOUSE FOR BACKPACKERS
BEST GUESTHOUSE FOR BACKPACKERS
Birdhouse Cottage
> $
> 1 Guest
> Braai facilities
> 5-star location rating
The 15 Best Guesthouses in Pretoria
Without further ado, here are 15 of the best guesthouses you'll find in Pretoria. To keep things simple, we've listed guesthouses that'll suit any traveler's needs. From budget-friendly places to guesthouses fit for friends.
$$
2 Guests
Private patioLaptop-friendly workspace
Kingfisher Retreat is tucked away in the safe and quiet neighborhood of Wingate Park. If you're renting a car for your trip, you'll enjoy the designated parking bay. And the private entrance to your suite means you won't disturb other guests if you stay out late.
You'll be pleasantly surprised by the luxurious, extra length King-sized bed (which is even great if you're traveling solo).
Cook wholesome meals on the stove and oven, and easily pack your dishes in the dishwasher – no time wasted washing dishes. Relax outside on the huge patio, and cool off in the shared swimming pool found by the garden.
What is the One Item Every Traveller NEEDS???
There is one item every traveller NEEDS. Some travellers don't even know they need it, but those travellers need it more than anyone.
What is this forgotten essential of the backpacker-life? SPOILERS! Guess you'll just have to click the button to find out. 😉
Find Out What It Is!
$
2 Guests
Backup generator for power outages
Shared entertainment area
If you're looking for a quiet, cozy home that you can enjoy to yourself while also keeping on budget, look no further! This is our top choice of a guesthouse in Pretoria on a budget. It's a quaint little self-catering studio that's more than perfect for holiday living.
Although it's a cheap guesthouse in Pretoria, you still have some of the amenities found in some of the more pricey homes. Make use of the shared entertainment areas, as well as the pool. There's also a spacious garden if you're looking to spend your afternoon chilling in the sun.
Since most budget accommodations are located between Johannesburg and Pretoria, you'll have to use public transport to get to the city center. Luckily, this Airbnb is close to the Gautrain, making it easy to get around quickly and efficiently.
$$
2 Guests
Great location for exploring
Extra length queen-sized bed
An absolutely charming guesthouse that couldn't be better for couples. This modern, air-conditioned garden cottage is situated in Pretoria East and only 9 miles from the city center (in South Africa that's a good distance). It's easy to get onto the freeway and into the city, as well as to the Grove Mall.
If you're traveling light, you'll appreciate the fresh linen and towels offered. There's a kitchenette so you can still enjoy a romantic home-cooked meal, and the coffee & tea starter packs make coffee in bed an easy spoil.
Feel free to relax in your own privacy in the cottage and front garden, or head out to the pool and visit the two friendly schnauzers that live on the property.
$$
8 Guests
Large pool
Features an indoor fireplace
Have the entire villa to yourself and enjoy the company of your friends in a beautiful area. The guesthouse is situated in the suburb of Menlyn, with high security and a calm neighborhood.
Spread out between the 4 bedrooms and 3.5 bathrooms. This spacious guesthouse also has a large lounge and kitchen area, which is perfect for chilling with friends. Split the bill at the end of the trip between you and your friends to make this place into a budget accommodation for everyone!
The house has an extensive, gorgeous garden, as well as an outdoor lounge and braai area. A trip to Pretoria isn't complete without a real South African braai and local Black Label beers.
Is This the Best Travel Pack EVER???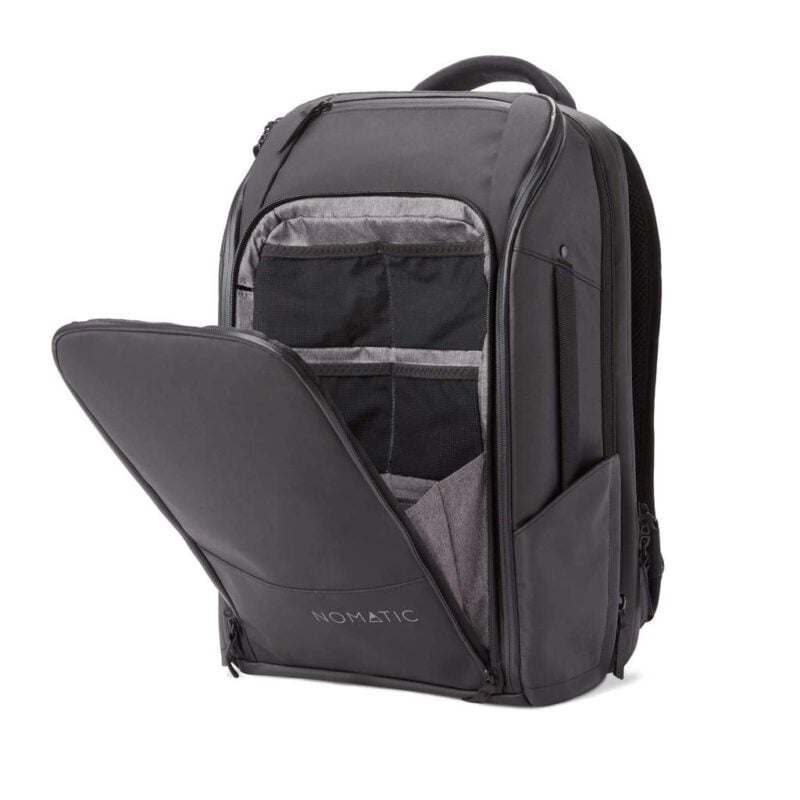 $$$$
2 Guests
Massages available on request
Golf-course situated 300m away
A grand Tuscan style guesthouse that offers incredible 360-degree views of Pretoria, with terraces offering views of the city. They definitely don't hold back when it comes to luxury living. Enter the lobby and the first thing you'll notice is the grand spiral staircase and Tuscan chandelier.
A special perk of this place is that each room is decorated with antique furniture and terraces with city views. The rooms are incredibly spacious, fitted with underfloor heating to keep you cozy during the chillier winter evenings.
Wander around the garden area and spend some time playing a game on the outdoor chess set. Breakfast is served daily, and lunch and dinner can be served on your request. Help yourself to the buffet, where you'll also find plenty of gluten-free and vegetarian options. This is definitely one of the best guesthouses in Pretoria!
Best Guesthouse for Families Visiting Pretoria – The Links Guesthouse
$$$
4 Guests
Offers airport shuttle
Family rooms
Not only is this place great for families, but it's also one of the most recommended places in Pretoria. It's inside the Silver Lakes Golf Estate, offering lots of open space and secure surroundings. It's been rated 8.9 for a stay with children.
You can book a room with two queen-sized beds next to each other, which is perfect for the kids! The rooms are all spacious, and each has its own en-suite bathroom, so everyone has space to get ready in the morning. They also have free toiletries as well as hairdryers, so don't worry about packing heavy.
There is an indoor pool and garden area where kids can play, as well as a fitness room for older children to use.
$
1-2 Guest
Braai facilities
5-star location rating
If you're traveling solo or with your partner to Pretoria and looking for somewhere cozy, this guesthouse suite is perfect. You'll have the place to yourself, ideal for anyone needing somewhere to do some work, spend some time on holiday or just use it as a base while you're visiting the tourist spots.
There are private indoor cooking facilities, as well as a braai area with lots of outdoor space, so you'll be sorted for dinner either way. Keep in mind that there's only 1 queen-sized bed available.
The surrounding trees attract a lot of South African bird species, and it can be quite pleasant to sit outside drinking your coffee as the birds gather round.
$$
2 Guests
24-hour security patrol
Own courtyard and braai facility
If you're staying for longer than a week, you want to book yourself somewhere that's comfortable and has all the facilities you'd need. This guesthouse is private and has its own courtyard for late evening lazing.
The space is super modern, but still has that awesome homely feel to it. It can also accommodate extra guests if you contact the host, which is something that families can consider too.
In a safe neighborhood, it's close to major Pretoria attractions like the Time Square Casino, Atterbury Theatre and Lynnwood Bridge.
$$
2 Guests
Central heating
Gym facilities
As the name implies, the Harfield studio is a great find if you're looking for somewhere with continuous access to great wifi. It's got its own laptop-friendly workspace, with a desk and comfy chair for anyone who takes work with them on their travels.
There's a gym for those who feel like burning a few calories, and the laundry room can save a few bucks.
The guesthouse is also within walking distance to the Gautrain, which can take you right into Johannesburg City Centre. This is a big perk if you haven't rented a car in Pretoria because many locations aren't within walking distance.
Another Great Budget Guesthouse in Pretoria – M&E Place
$
2 Guests
Flexible check-in
Great value for money
Traveling through South Africa on a budget is definitely possible if you choose the right accommodation. This little flatlet is super cozy and spacious enough for even 3 guests (as there's an extra single bed). It's beyond value for money, given that you'll have the entire double-level place to yourself.
The wooden finishes leave the place feeling warm and homely and offer you some peace and tranquility during your stay.
It's conveniently situated on the main bus route and close to Menlyn Park shopping center and Menlyn Maine events arena. Uber is a popular transport option if you're not too keen on taking the bus.
$$
2 Guests
Swimming pool
Breakfast included
If you're only planning to stay in Pretoria for a weekend, booking a guesthouse with a good location is key. This lovely little guesthouse is situated in the central area of Lynnwood.
It's a great choice for travelers interested in museums, shopping, and tourist attractions. Stop at Melrose House for high tea after a day of adventuring, or head to Walkerspruit for a walk along the river.
The guesthouse features an outdoor fireplace and a picnic area where you can enjoy the fresh air. If it rains, you can easily spend all day relaxing while reading a book from their library.
Another Great Weekend Guesthouse – Studio Suites
$$
2 Guests
Good security
Views of Menlo Park
This modern, self-catering apartment is ideal for travelers either on a business trip or leisure vacation with your partner. There are three suites to choose from and each offers its own unique style.
All of the rooms offer wonderful views of the Menlyn neighborhood and Menlo Park, not something you come across often!
Situated in a safe neighborhood with secure parking, the guesthouse is also conveniently close to a strip of good restaurants. Take your pick from burger bars, a greek restaurant, seafood or a selection of cafes. A popular market in Pretoria, Hazel Food Market, is close by and open every Saturday.
$$$
2 Guests
Rooftop swimming pool
Upmarket area
You'll fall in love with this classic one-bedroom apartment, with its beautiful wooden finishes. There is a quaint dining area and an open-plan kitchen to enjoy home-cooked meals in your own privacy.
With a luxury queen-sized bed and en-suite bathroom, you won't need more for a perfect honeymoon.
Take the elevator to the rooftop and you'll be delighted to find a beautiful swimming pool. You'll also have your own private patio that overlooks part of the north and east side of Menlyn.
$$$
2 Guests
Gym facility
Watersports on the lagoon
Considered to be pretty unique accommodation in Pretoria, this luxury guesthouse has a world-class lifestyle center. Get ready to enjoy a "beach" area alongside the pool, where you can spend your afternoons lounging on the comfy chairs or taking a dip in the lagoon.
Guests can rent SUPs for the lagoon and then come back for a hearty lunch at the pizzeria. If you're looking for a day indoors, then spend some time on the treadmill at the gym or get a facial at the spa.
Best Guesthouse for Solo Travellers – Wild Peach Inn
$$
1 Guest
Own balconies
Central Area
If you're traveling solo and not keen on staying in a hostel, guesthouses are an affordable, homely option. Enjoy this entire suite to yourself, without having to worry about sharing a bunk bed with a stranger. The room can technically fit two people since there is a double bed (just in case you run into a friendly travel buddy).
The spacious rooms at Wild Peach Inn offer elegantly decorated rooms with their own private outdoor area. There's also a tiny kitchenette so you can help yourself to midnight snacks during the occasional hunger attack.
Menlyn Park, which has around 360 stores, is not even half a mile away. You can even take a trip to Strubendam Bird Sanctuary which is only a 10-minute walk away.
Check out these other great resources
We have loads more information to help you plan your trip.
FAQ about Guesthouses in Pretoria
Here's what people usually ask us when they look for vacation homes in Pretoria.
Don't Forget Your Pretoria Travel Insurance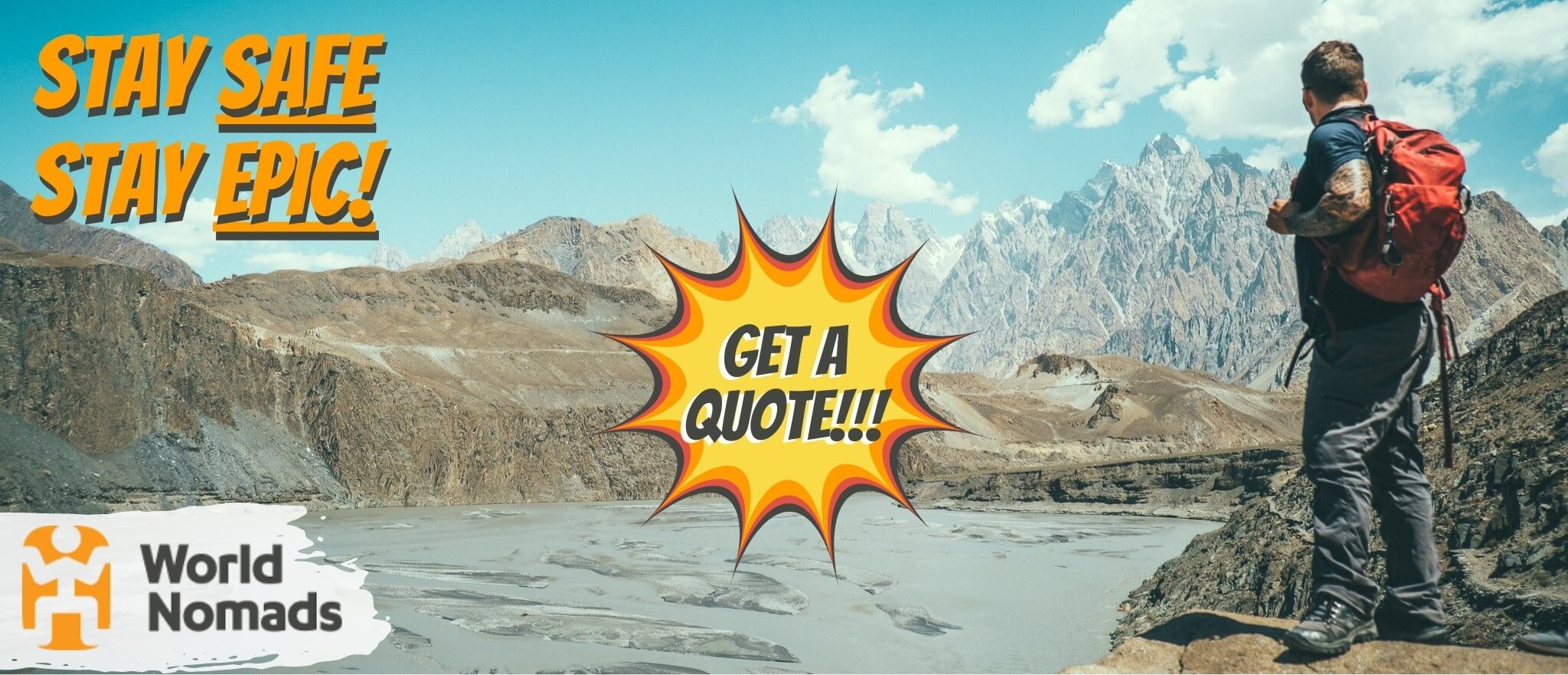 It's good to get lost sometimes, but it's also good not to get too lost. There are people that want you home in one piece.
There's one travel insurance provider The Broke Backpacker trusts for all his wildest shenanigans… World Nomads!
Click the button below to get a quote on your insurance or read our in-depth review of World Nomads' coverage. And then… let the shenanigans begin. 😉
Final Thoughts on Guesthouses in Pretoria
These great guesthouses in Pretoria offer you a chance to cater for yourself, but also to have the luxury of staying in beautiful accommodation.
It's a great balance between exploring a new city, and still having the perks of your home lifestyle. With plenty of cheap guesthouse options, you won't need to break the bank to find good-quality accommodation in Pretoria.
---
Thanks for reading – that was fun! 😀
We bring you epic FREE content!
Find out how YOU can help support us.
We're a big site with a big team and this job isn't always easy. But we do it because we love it – we love providing epic and free content. We love the knowledge that our content keeps you adventuring. We don't ask for money, but if you'd like to find out how you can help the site in more organic ways, click the button below.
Thank you for your support 🙂
---
Bye for now, but not forever!
If you want MORE top-tier Broke Backpacker content like this, then sign up for our weekly newsletter below to get the latest and greatest!
And for transparency's sake, please know that some of the links in our content are affiliate links. That means that if you book your accommodation, buy your gear, or sort your insurance through our link, we earn a small commission (at no extra cost to you). That said, we only link to the gear we trust and never recommend services we don't believe are up to scratch. Again, thank you!