Welcome to Northern Ireland's capital city: Belfast! Gone are the days where the city was engulfed in intense political conflict. Modern-day Belfast is a must-visit destination for any backpacker visiting Ireland.
Belfast is a city famous (or infamous) for producing one of the most famous ships of all time: the Titanic.
In addition to the history of that ill-fated ship, Belfast is home to a wealth of fine travel experiences. Stunning botanical gardens, a fun university-clad pub scene, and a happening downtown.
Now down to brass tax: Accommodation in Belfast can be very expensive (Northern Ireland is on the British pound) for budget travelers.
That is exactly why I wrote this hassle-free guide to the best hostels in Belfast for 2020! The goal is to save you time and money as you prepare to visit this super fun city.
By the end of this hostel guide, you will have all of your hostel ducks in a row. If that is a confusing expression, I'll simplify it:
Basically, this no-BS guide to the best hostels in Belfast has got you as covered as an Irish barstool so you can book a place without spending ages researching hostels!
You might even dance a jig afterward…
Let's get right to it…
Quick Answer: The Best Hostels in Belfast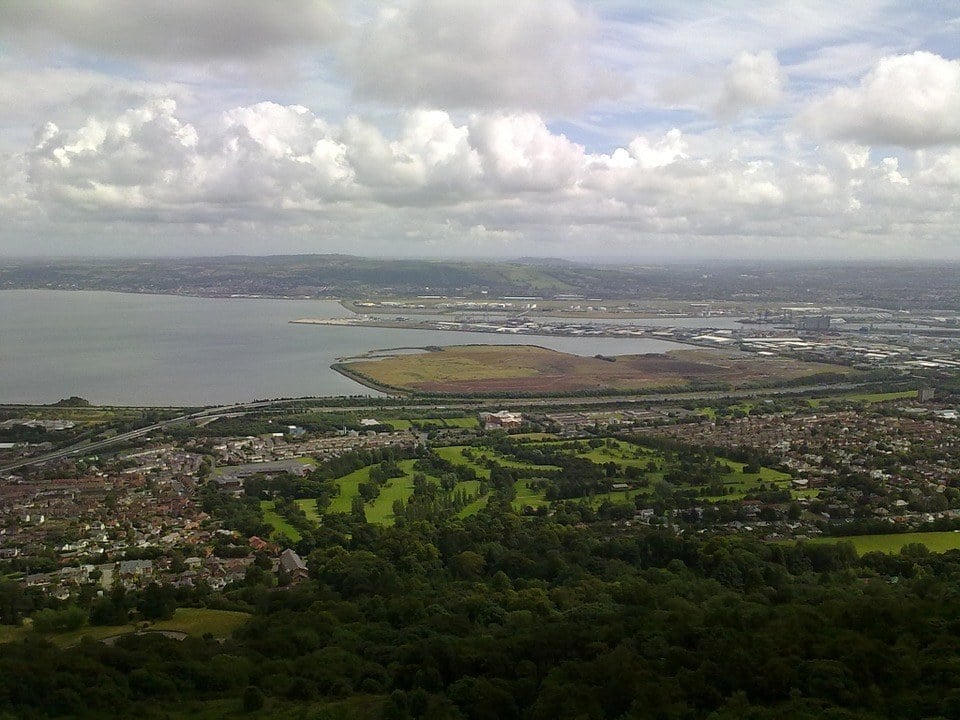 The 10 Best Hostels in Belfast
Overall Best Hostel in Belfast – Global Village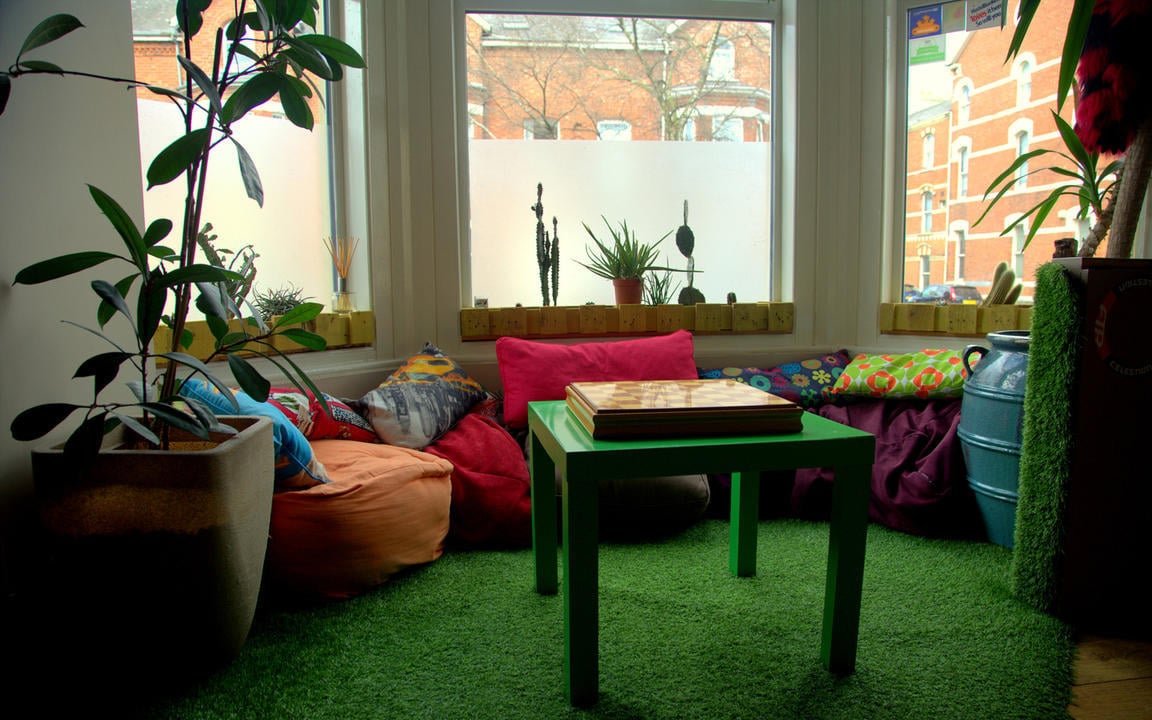 $$
Bicycle
Outdoor Terrace
24-Hour Reception
Despite having one of the most typical names for a hostel we could think of, Global Village is easily the overall BEST hostel in Belfast. It's set in a nice old house, but has been totally flipped inside – like a hostel-y remix of a period building there's patches of fake grass inside, murals and inspirational messages on the walls, places to chill and watch TV, a decent kitchen, pool table, foosball table, PlayStation, an outside area with picnic benches and a BBQ… It's got a lot going for it. The location of this best hostel in Belfast 2020 is good too, with central sights but a short walk – or cycle! – away.
Best Hostel for Solo Travellers in Belfast – Arnies Backpackers
$$
No Curfew
Tour Desk
Common Room
It's funny how it's often the staff at a hostel that will dictate how the vibe is – so the warm and super friendly team at Arnie's Backpackers set the tone for the warm, homely atmosphere at this top hostel in Belfast. Complete with kitchen, dining room, lounge and garden for guests to meet each other and chat, as well as guitars, board games and book collection for entertainment, it's a home away from home here. Chilled and cosy, it's the best hostel for solo travellers in Belfast for its atmosphere alone, really – plus there's so much stuff you can book through the hostel itself, e.g. the famous Belfast Black Taxi Tour.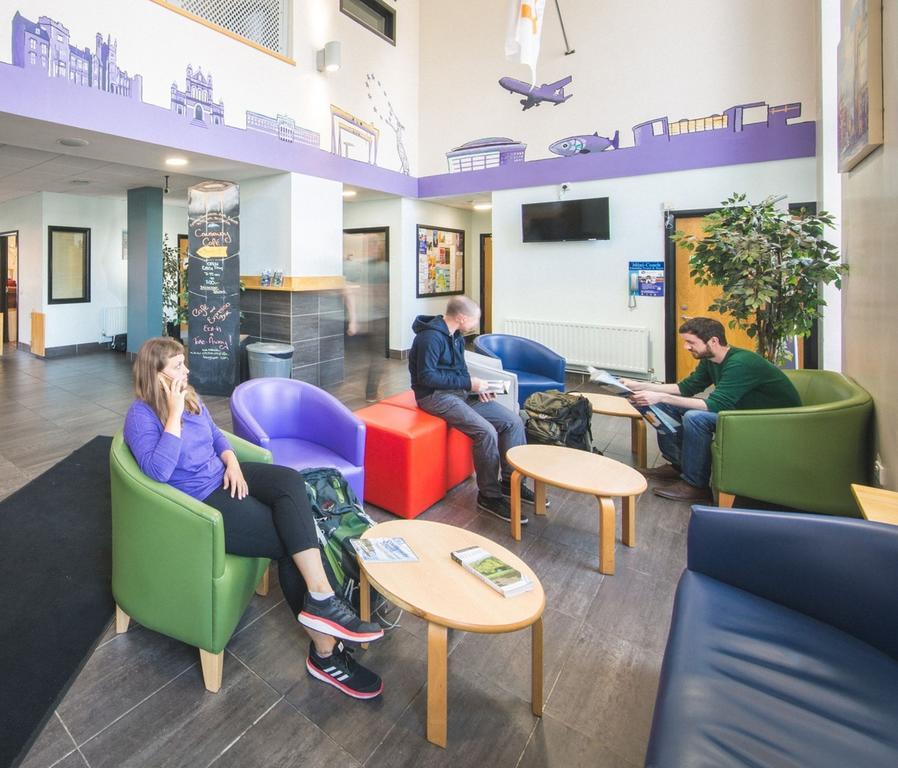 $
24-Hour Security
Common Room
Cafe
Basic but budget, Belfast International Youth Hostel is very much the best cheap hostel in Belfast. Not only is it literally one of the (if not THE) cheapest places to stay in Belfast, it is also a Very Nice Place in itself. For starters, the service is amazing – the staff cannot do enough for you. Which is fine with us. For seconds, well, the location is incredible: central Belfast doesn't get more central than central, does it? So everything you'll want to be seeing is in walking distance, pretty much. But it is pretty basic. However, if you can deal with a youth hostel in Belfast, this is a STRONG CHOICE.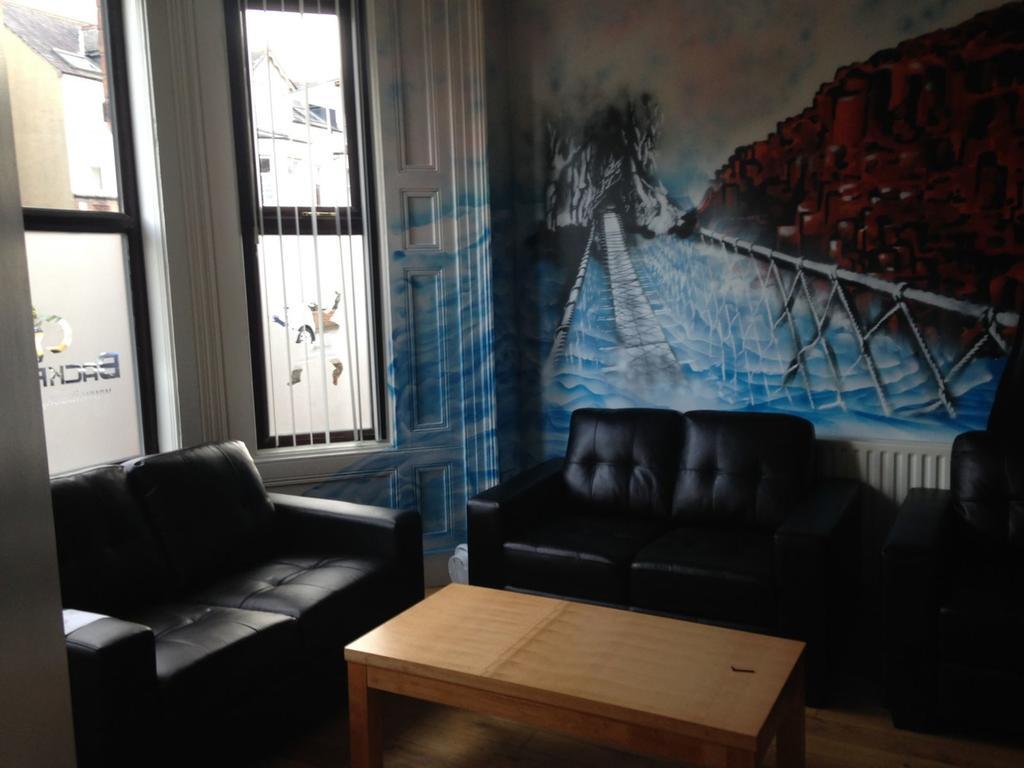 $
No Curfew
Self Catering Facilities
Free Breakfast
Pretty good location, pretty good atmosphere, pretty good facilities. It turns out that Belfast City Backpacker is a pretty good hostel. Not the best hostel in Belfast, but for the fun neighbourhood, the very decent free breakfast (not only cereal etc. but also eggs, toast – all the good stuff), the comprehensive kitchen, not to mention the lovely staff, it's a highly recommended hostel in Belfast, that's for sure. It also has some very comfy dorm beds indeed, and we can't argue with an agreeable sleeping arrangement, now can we?
Best Cheap Hostel in Belfast #3 – Vagabonds
$
Outdoor Terrace
No Curfew
Self Catering Facilities
Vagabonds! Arrr! Wait- that's pirates. Whatever vagabonds say, imagine that instead – vagabonds are just aimless travellers after all. Wow, suddenly feeling… self-conscious. But anyway. Vagabonds is pricey, relative to any other Belfast backpackers hostel, but for that you get a decent location, a free breakfast, a decent outdoor terrace complete with picnic benches, pool table and ping pong table, a catering kitchen to use, and the decor is stylish-ish – comparative to other Belfast hostels, that is. Decent choice, can't go wrong. You WILL have a great time at this hostel, too, since the staff cultivate such a friendly vibe.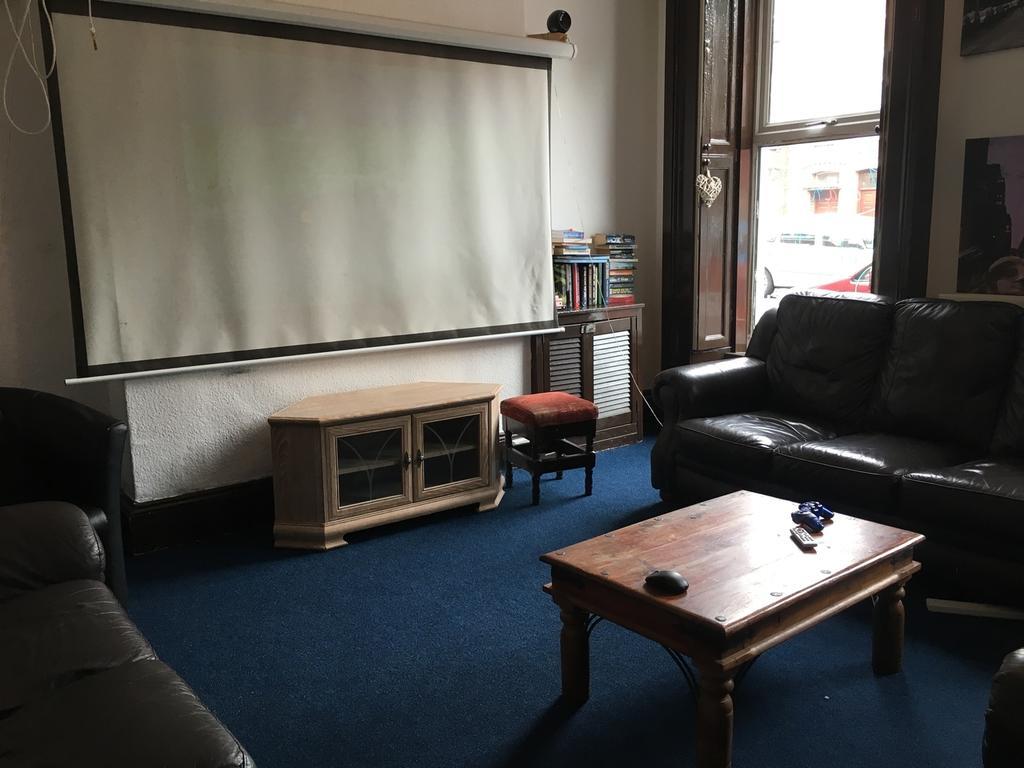 $$
Free Tea & Coffee
Free Breakfast
Common Room
The atmosphere at Lagan Backpackers is fun fun fun. See, it's more fun since we tripled it. But really, this is a party-oriented Belfast backpackers hostel and it's got all the things such a place needs. For instance, black-out curtains on each bunk – great idea. We love that. No need to be woken by blaring lights too early in the morning after a night of merriment, right? And there's a very nice little common room to drink in- err, we mean, socialise in. No but really we do mean drink. And the nearby area is plentiful with pubs and bars, et cetera. Bring earplugs. Oh and they serve dinner for £3 which is a BARGAIN.
Best Hostel with a Private Room in Belfast – Farset International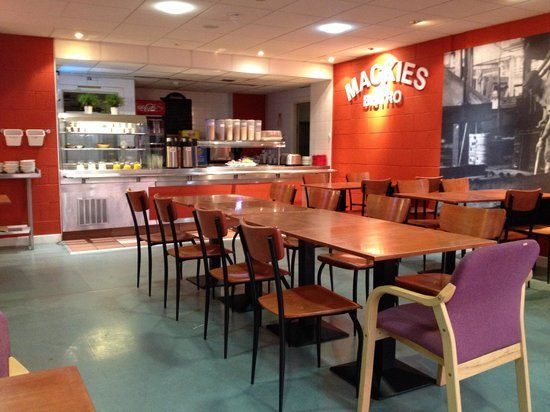 $$$
Clean!
Restaurant & Bistro
Private Grounds
The spotlessly clean private rooms at Farset International don't come cheap, but then again: the rooms are spotlessly clean. So there's that. Which is actually one of the main reasons that this 5-star hostel (really) is the best hostel with a private room in Belfast. And whilst the location isn't amazing, if you've got a car it's a breeze into town. It's not exactly the coolest hostel in Belfast, definitely not, but if you want warmth, comprehensive facilities, an on-site restaurant, and a bistro, AND cleanliness, here's a good option. It also has its own private grounds complete with fowl reserve (?) for breezy strolls.
Things DO go missing sometimes…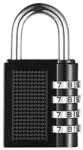 Psst! Heading to a hostel? Don't forget to pack a padlock! It's well worth having one so you can secure your locker and protect your stuff!
But if hostels aren't your thing, never fear! Or try not to anyway. Since there are, besides hostels in Belfast, a load of hotels, bed & breakfasts, guesthouses and other places to stay in Belfast to choose from. Here are a few of the best.
$$
Free Breakfast
Outdoor Terrace
24-Hour Reception
If you're visiting Belfast in the summer, then you'll be pleased to know that the Queen's University accommodation will be happy to have you. Maybe weird, right? Wrong. Only weird if you think it's weird. The fact of the matter is that the rooms are clean, modern, it's efficient, there's a free breakfast provided (winner), there's a chilled campus, plus the location is – well, it's ok, a fair walk into town, but it'll be summer! With the common room and free breakfast, it does feel very much like a youth hostel in Belfast. No dorms though. Expensive relative to a budget hostel in Belfast, cheap compared to these next two…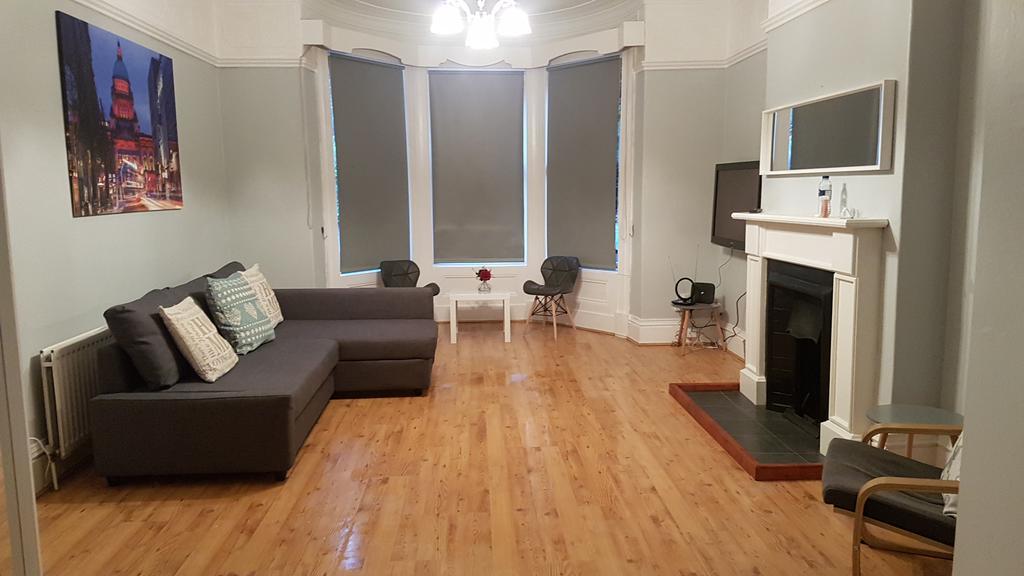 $$$
Beautiful
Bath!
Outdoor Terrace
Even though Crumlin Road doesn't sound very appetising (or wait- does it? crum.. crumb.. hmm) this bed and breakfast in Belfast is actually amazing. The rooms are spacious and lavish, with a traditional yet modern decorative style – sort of what you'd expect from a BnB though with a significant amount of taste added to the mix. Sorta like a Belfast backpackers hostel in that there's a kitchen to use, washing facilities, a shared bathroom, all of that. And whilst the location is not what we'd call good or even decent, there IS a bus stop right outside Lanyon House, so not all bad.
$$$
Free Breakfast
Beautiful
Location 10/10
Splurge alert! If you've got the budget, or if you have a friend (or two) willing to split the cost with you, then this hotel in Belfast will be a sick little place to chill for a night. Or two. But that might just break your wallet. But it's probably worth it. A far, far, far, FAR cry from a budget hostel in Belfast, Ten Square features sleek, modern rooms, a steak restaurant (yum), bar (win), and generally is pretty, pretty, pretty nice. Oh, did we mention it's right opposite Belfast town hall? And all the restaurants and bars and things to see right on the doorstep? Or the free breakfast? Or the- you get the picture. Luxury.
The Best Travel Backpack?!
Pssssst! Not picked the perfect travel backpack yet? The Broke Backpacker team has tried out over thirty backpacks this year! Our favourite carry on backpack is the Nomatic Travel Bag.
Read our full review!
What to Pack for your Belfast Hostel
Here's some gear our editors take hostelling.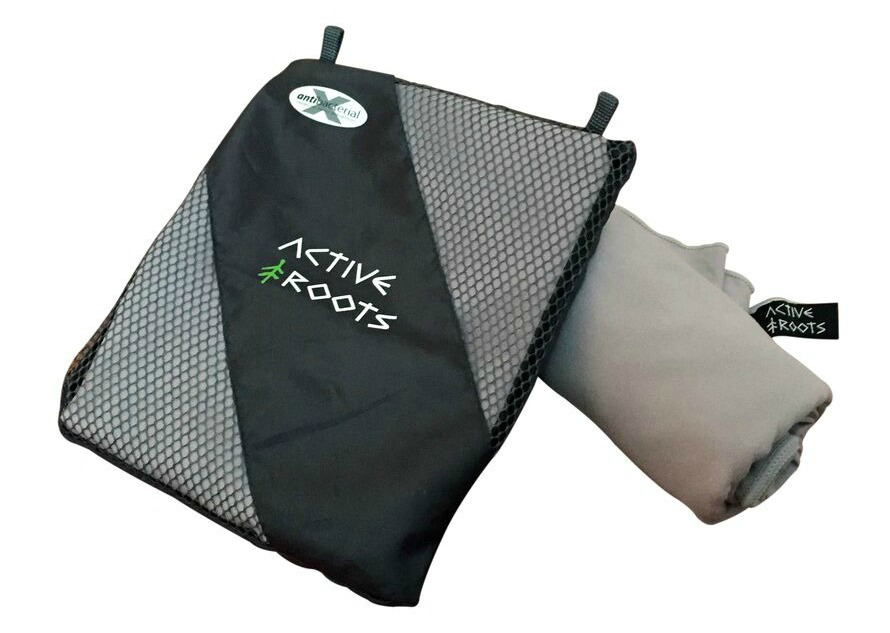 1. Active Roots Microfiber Towel: Having your own towel is a must when traveling since most hostels don't provide them. Plus as a backpacker, use of a towel will extend further than just showers, it's a minimalist yoga towel and a great beach blanket/towel combo! The Active Roots Microfiber Towel is really the best solution for backpacking.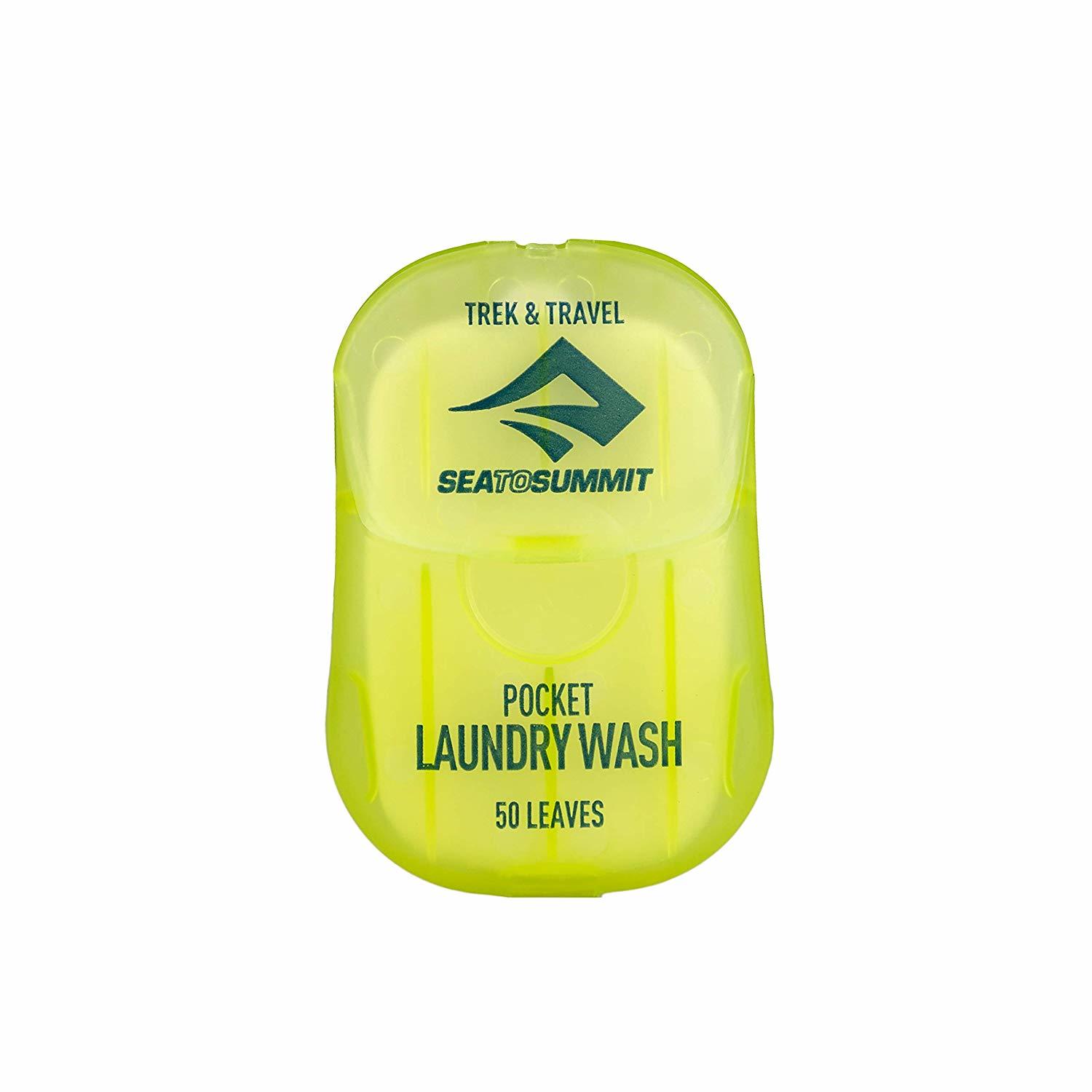 2. Sea to Summit Travel Soap: The Sea to Summit multipurpose soap leaves are the perfect hygiene travel companion. The individual, Leave-no-Trace-certified strips are great for keeping your hands clean before you eat in that dodgy but delicious restaurant. There are also little strip packs for laundry, shampoo and shaving.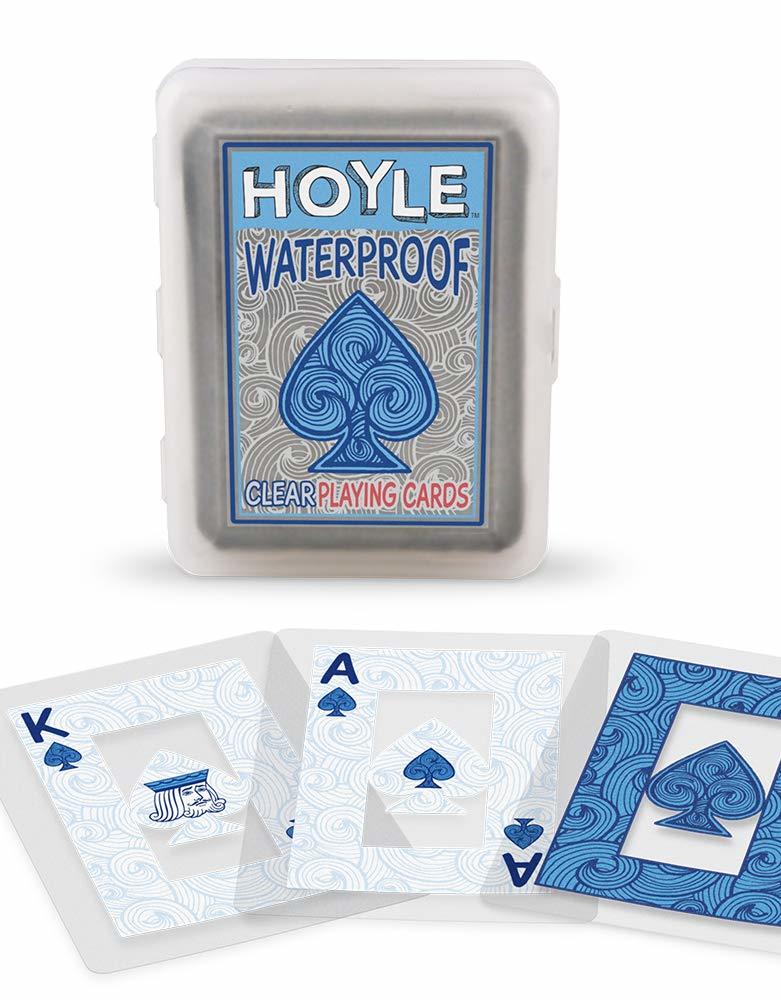 3. Playing Cards: These waterproof cards are essential kit for every backpacker. Play by the pool, beach or at your hostel after a long day with travel buds, without your cards breaking or getting soaked. And once you pull out those cards, the chance that you'll be the hero of the night is pretty high (no promises though).
4. Active Roots Toiletry Bag: Your toothpaste is lost in the depths of your backpack again? You won't have this problem with the Active Roots Toiletry bag. The bag is made from a durable, water-resistant material, which can be a lifesaver on long travels. Super cool bonus: for every purchase, the company donates to an environmentally-friendly charity – it's a win-win situation for everyone.
5. Headphone Splitter: You're the one with the Netflix account and your friend wants to watch too? But you don't want to share headphones? And you're good people who wouldn't disturb your dorm mates? That's not going to be a problem with this Headphone Splitter! Plug in two pairs of headphones at the same time, so both of you are able to listen to music or watch shows simultaneously. It comes in handy and won't weigh you down.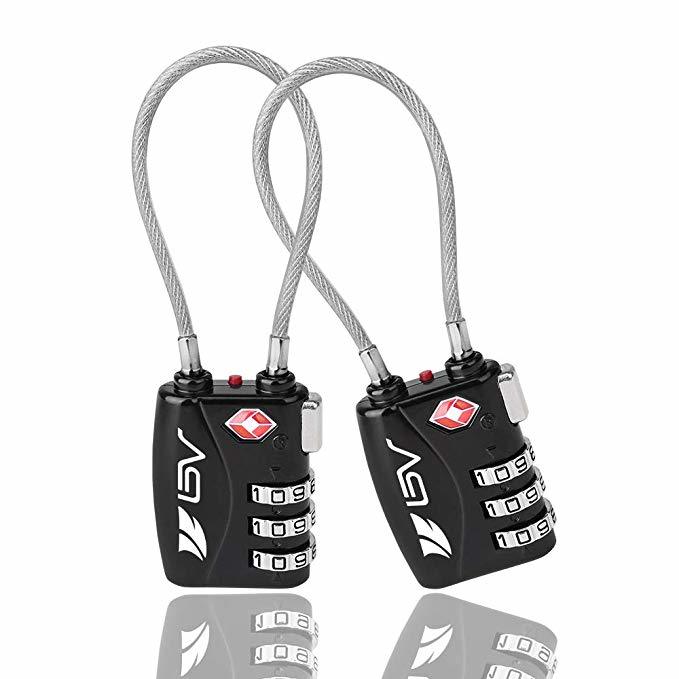 6. Padlock: Unless the thief literally spends hours to figure out the code (he won't), this three-digit padlock is going to keep your stuff safe. It's great for keeping the zipper of your backpack secured or your locker properly closed. This basic and very flexible padlock saves you from having your essentials stolen. Definitely a must-have for every backpacker!
Why you should travel to Belfast
All right guys! You have made it to the finish line of my guide to the best hostels in Belfast for 2020!
You will never be more ready or informed to book the right place for yourself in Belfast! With all the best options now before you, the choice of where to book is in your hands.
Belfast is a great place to visit, and with a little forethought you can really save some money by booking into a cheap (but really nice) hostel… That is the name of the game in expensive countries amigos.
Still having trouble figuring out which hostel to book? Feeling conflicted about what to choose like an Irish man in a beer shop? Ah stereotypes…
In the case of uncertainty I typically recommend that you just book my top pick for the best overall hostel in Belfast: Global Village.
Have a great time in Belfast and have a pint or two for me eh?
Happy travels!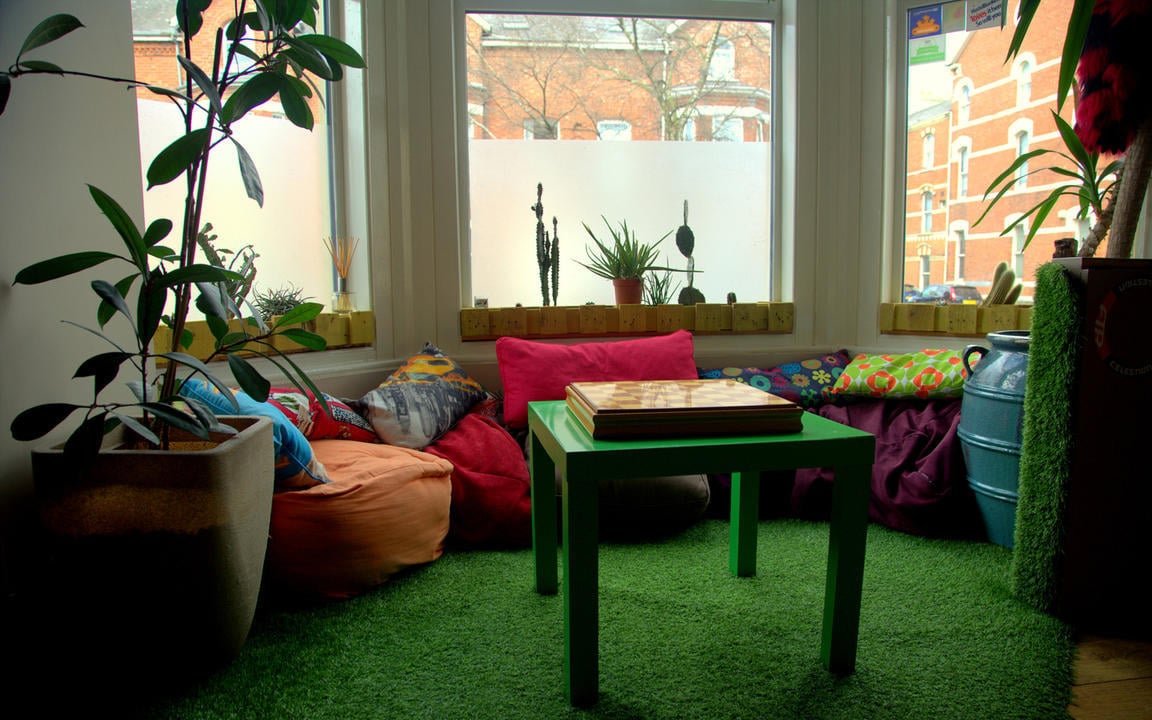 Travel Safety Tips for Belfast
And don't forget to sort your travel insurance before heading to Belfast! We've put together a roundup of the best travel insurance for backpackers – check it out here, or if you're low on time, get a quote from World Nomads, our favorite travel insurance provider.
Getting an estimate from World Nomads is simple – just click the button or image below, fill out the necessary info, and you're on your way!

Over to you
By now I hope our epic guide to the best hostels in Belfast has helped you choose the perfect hostel for your adventure!
If you think we've missed anything or have any further thoughts, hit us up in the comments!
Yay for transparency! Some of the links in this post are affiliate links. This means that if you book your accommodation through the site, The Broke Backpacker will earn a small commission at no extra cost to you. Your support helps keep the site going.