Croatia is killing it these days. There are so many backpacker hotspots there right now, that the topic of Croatia always seems to be coming up!
Hvar, Croatia is one of those hotspots.
Hvar is an island located in the Adriatic Sea. The island itself is quite picturesque and features 13th-century walls, an epic hilltop fort and a main square dominated by the grand Hvar cathedral. Plus the surrounding waters and beaches are absolutely beautiful…
More and more backpacker hostels are sprouting up in Hvar. The island is home to some truly magnificent hostels, and others—well—of dubious quality.
That is exactly why I wrote this guide to the 5 best hostels in Hvar for 2021.
This hostel guide unlocks all of the islands best-kept backpacker secrets.
Where you stay matters and I want you to have an awesome experience backpacking this special Croatian island.
Whether you are in the mood for the best party hostel in Hvar, the best hostel for couples, or just the cheapest damn bed in town, this list has got you covered.
I group each hostel by category so that finding the right place for yourself is quick and straightforward.
Let's get right to it…
Quick Answer: The Best Hostels in Hvar
What to Expect from Hostels in Hvar?
Hostels are generally known to be one of the cheapest forms of accommodation on the market. That doesn't just go for Hvar, but pretty much every place in the world.
However, that's not the only good reason for staying at a hostel. The unique vibe and social aspect is what makes hostels TRULY special.
Head down to the common room, make new friends, share travel stories and tips, or just have a great time with like-minded travellers from all over the world – you won't get that opportunity in any other accommodation.
There are so many cool hostels in Hvar popping up these days. Hvar is a really funky island that's starting to get the attention it deserves. The hostels you can expect to find here are super social and cater to the party-goers and the solo travellers. There are definitely chill places to be found – and with good internet – so the digital nomads can expect to be able to get work done.
But let's talk more about the important stuff – money and rooms! Hvar's hostels normally have three options: dorms, pods and private rooms (although pods are rare). Some hostels even offer large private rooms for a group of friends.
The general rule here is: the more beds in a room, the cheaper the price. Obviously, you won't have to pay as much for an 8-bed dorm as you would for a single bed private bedroom. To give you a rough overview of Hvar's prices, we've listed the average numbers below:
Dorm room (mixed or female-only): $15 USD/night
Private room: $40 USD/night
When looking for hostels, you'll find the best options on HOSTELWORLD. This platform offers you a super safe and efficient booking process. All hostels are displayed with a rating and previous guest reviews. You can also filter your personal travel needs easily and find the perfect place for you.
Knowing where to stay in Hvar is just as important as the hostel you book! Most hostels are located in the city centre, but it pays to be up to speed on local neighbourhoods so you book a hostel closest to where you want to spend your time.
Hvar's best hostels are located in these three neighbourhoods:
Stari Grad – perfect for you first timers!
Jelsa – for the broke-ass backpackers 😉
Hvar Town – where to go to PARTY!
Once you've figured out where to stay, it's time to pick your hostel!
The 10 Best Hostels in Hvar
With so many countless options, picking only 5 was difficult, so we took all the hostels in Hvar with the highest reviews, and separated them by travel niche. There's a little something for everybody!
The best hostel in Hvar is the perfect combination of chill and party; glamour and lowkey vibes. It is a great spot to meet other travellers, as well as sneak away for your own time!
Villa Marija is known for being the best hostel on the island – and it doesn't disappoint! Its central location makes it a fantastic base for exploring the beautiful island.
Why you'll love this hostel:
Social vibes!
Swimming pool
Sea views and central location
The staff work overtime here to ensure you have a smooth stay. There are pub crawls initiated each night, but there is also a quiet time policy after 10 pm to respect all guests. Beautiful kitchen space is free to use, so you can cook up a storm and show off your skills to other guests!
There are air-conditioned dorms with a curtain and locker for privacy and security, as well as private rooms overlooking the beach. There's also a book exchange and free maps for the area. So you can get very inspired to carry on adventuring!
This place really knows what they are doing, and your stay is guaranteed to be so good that you will find yourself extending your stay over and over again!
#2. Best Hostel for Solo Travellers in Hvar – Hostel Villa Skansi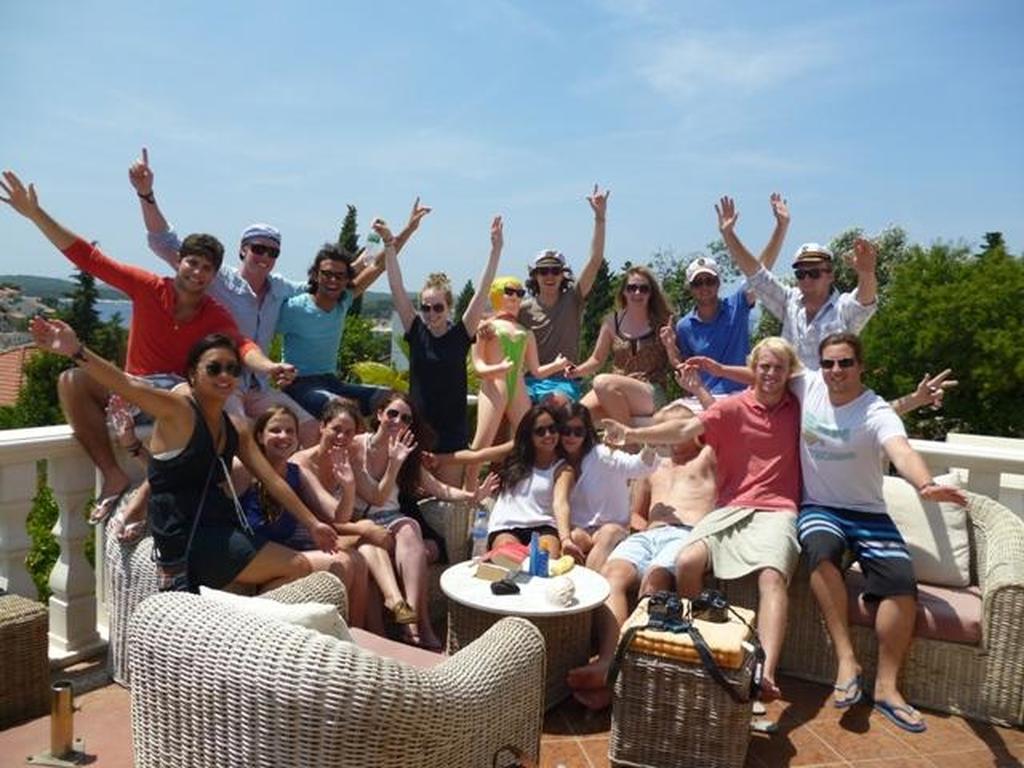 Self Catering Facilities
Pub Crawl
The magic combination of high energy fun and low key vibes shines through at Hostel Villa Skansi aka the best hostel for solo travellers in Hvar.
This is where you come to meet people for sure. There's always someone hanging around to chat to, or go and explore the city with – plus the location is damn good!
Why you'll love this hostel:
Onsite cafe
Outdoor terrace
Funky decor
The common areas include a beautiful terrace, and they are always full of people. The staff are super friendly and will let you know of all the best bars in town to try!
Oh, and there's a pub crawl. Nightly. It's a damn great pub crawl – rated one of the best in EUROPE! But of course, it's not all party-party. There's also a beautiful cafe and free wifi, so you can kick back and contemplate life.
There's a large kitchen space too if you want to mind your budget. There are mixed and female-only dorms available. ALSO! It is a very, very clean hostel. It's such a wonderful place to stay – you'll find yourself extending again and again!
#3 Best Party Hostel in Hvar – Dink's Place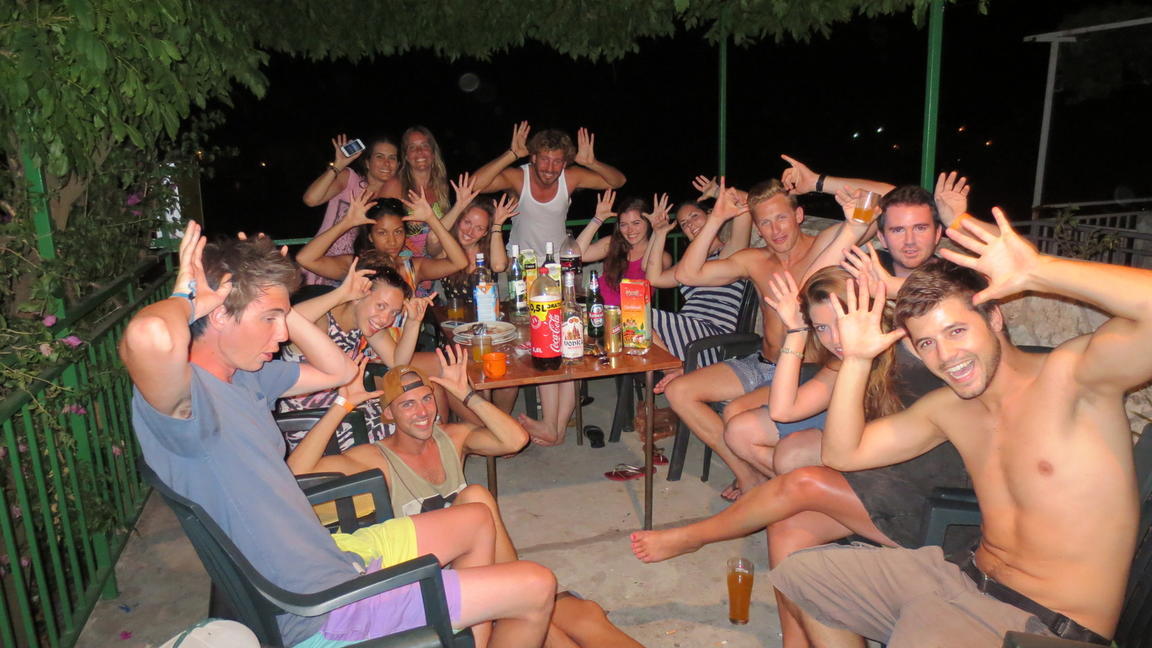 24-Hour Reception
Bicycle Hire
This is where you come to PARTY! The hostel is in with all the local bars and a pub crawl is basically expected! Plus, everyone running the place is super friendly – so you never feel like anything other than a friend!
While Dink's Place partners with local bars and encourages a good pub crawl, it also has a quiet location and provides comfortable beds and a sunny terrace to chill out in. So it's a place to party – and also recover from said parties 😉
Why you'll love this hostel:
Friendly staff!
Dreamy location
Comfy beds
There's an awesome outdoor common area so you can kick back and soak up some Mediterranean sunshine. Of course, there is a large kitchen space so you don't have to spend any more money than is necessary! Come back and show off your cooking skills!
There are mixed dorms and private rooms available – all of which are kept very clean. There are even lockers for your stuff! This party hostel still has all the facilities necessary for a comfortable stay.
But yeah, if you're here to party – this is where you do it! This is all good grounding for a top hostel in Hvar. The only thing we can't work out is who the hell Dink is…
#4. Best Budget Hostel – Luka's Lodge
Towels Included
Bicycle Hire
Croatia can be expensive so why not save a buck on hostels?
One of the longest-running hostels in town, Luka's Lodge . The owner is (unsurprisingly) called Luka and he's a born-and-bred Hvar…ian. Hvarian?
It's got cheap, clean rooms available and a really chill, sociable vibe as well. Because you might want to save a buck or two, but you don't want to give up all the things that make a hostel awesome.
Why you'll love this hostel:
Board games!
Cosy common areas.
Super friendly staff!
Luka has some top tips for what to do in the area, so that's always great – a bit of insider knowledge goes a long way to make a trip really, really cool. You can rent scooters here and zip around the island to do your own exploring, too.
There's a kitchen area so you can save money by cooking your own mad feasts. However, there's also a free breakfast of CREPES! I mean, it'd be rude not to indulge right?
Of course, there is also a friendly drinking scene here too. But it's very chill. There are comfy dorms to return to when you're done with the beers for the night. In all, a fantastic budget hostel in Hvar.
#5. Best Hostel for Couples in Hvar – Helvetia Hostel
Air Conditioning
That Location Tho
It may well be named after a font favoured by hipsters, but this is a super nice hostel with an even more bomb-ass location.
This hostel is located down a lovely little backstreet in Old Town near the city's top sites, which as an area is immensely pretty.
Why you'll love this hostel:
Stunning outdoor terrace
Great location amongst the cobblestone streets
Good private room options.
Particularly the view from the terrace of this top hostel in Hvar is stunning – all the old terracotta roofs, tasty cafes, and the whitewashed walls against the turquoise glitter of the sea, I mean… GAHHH! This is a Mediterranean paradise.
There are cool common areas to come and chill in and shared kitchen facilities. So you can come out and socialise, make a meal, and then treat to a private room with your boo.
You can have the best of both worlds at this hostel aimed at couples! The owner is also super helpful! You can pick up tips from them about all the best things to do on the island.
Things DO go missing sometimes…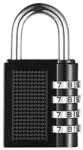 Psst! Heading to a hostel? Don't forget to pack a padlock! It's well worth having one so you can secure your locker and protect your stuff!
More Best Hostels in Hvar
If you still can't choose a hostel, rest assured we've got more! Here are some other top-rated hostels in Havr. You'll be sure to find something that suits you and your budget here.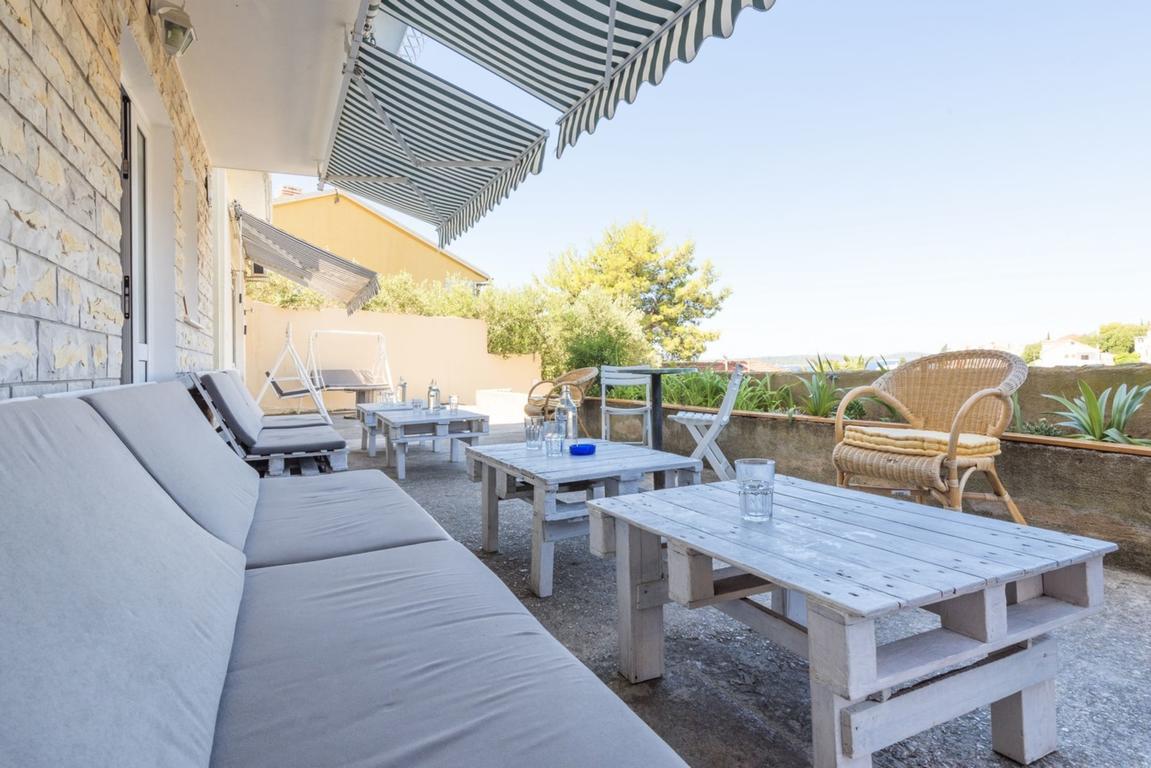 Bar & Cafe
Outdoor Terrace
If partying is something that you're interested in then you should probably make staying at a hostel that calls itself 'The Shaka' a vested interest of yours.
It's a very fun, very social hostel, the staff are open and friendly and everyone staying here seems up for a good time. The dorms are somewhat compact, but everything's clean and simply (yet tastefully) done decor-wise. Plus the terrace – and the vibe – MORE than sets you up for a good night.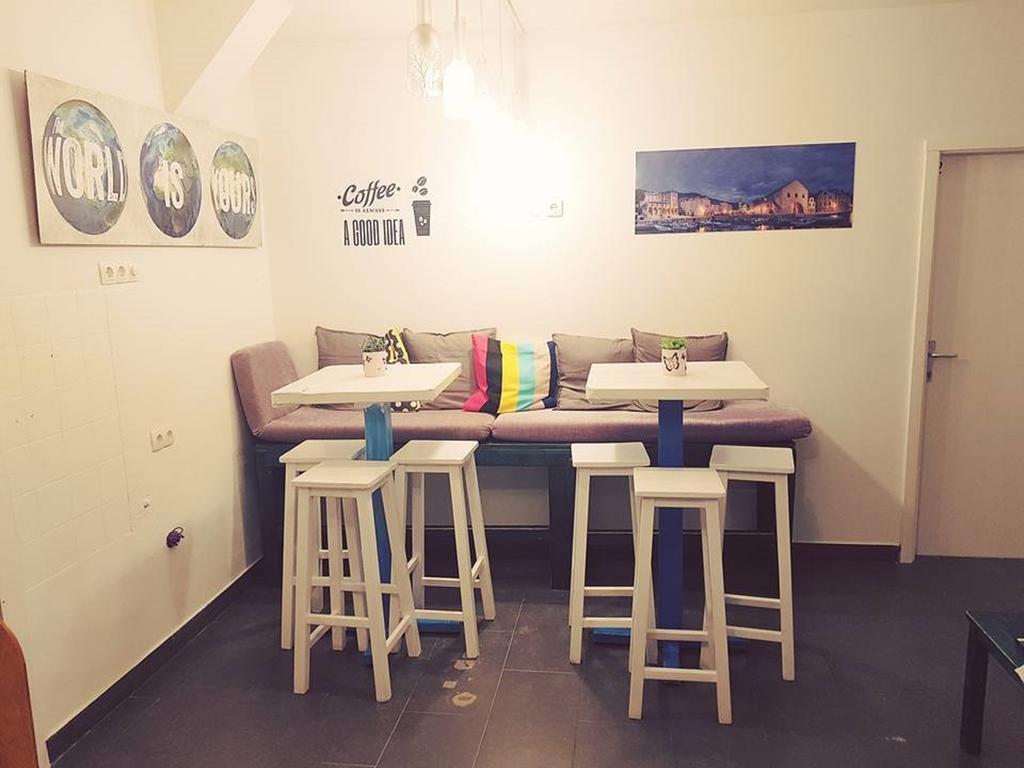 Outdoor Terrace
Hot Showers
At the rather expensive end of the price range of Hvar hostels, sits this one: The White Rabbit. It IS brand new to be fair, like all newly renovated, and everything's very clean and white.
Yes, it's very white actually. That may be the tenuous link to the name. But anyway this top hostel in Hvar is, yes, new, with bright and spacious rooms, air-con, some decent places to sit and work inside (and definitely outside), and a lively summer bar for your drinking needs.
What also makes this the best hostel for digital nomads is the very high-speed WiFi, which is basically essential and we LOVE fast WiFi. LOVE IT.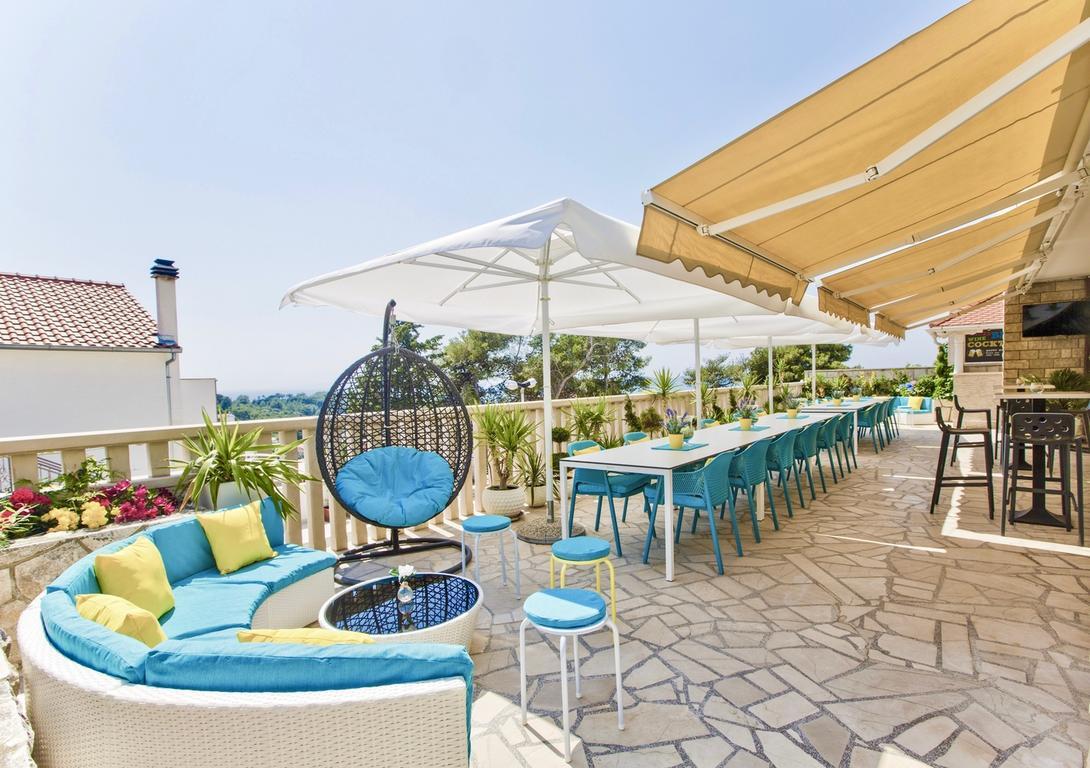 Add together a some well decked out private rooms, a great social scene, a very very acceptable outdoor terrace complete with (small) pool, friendly staff, a super social atmosphere, and you have yourself the best hostel with a private room in Hvar.
It's a little more pricey than other hostels, and the location is somewhat up a hill out of town (slightly), but really that doesn't really do anything to deter us from REALLY LIKING this youth hostel in Hvar.
When we say well decked out privates BTW we mean stylish, cool colour schemes, parquet floor, all that jazz.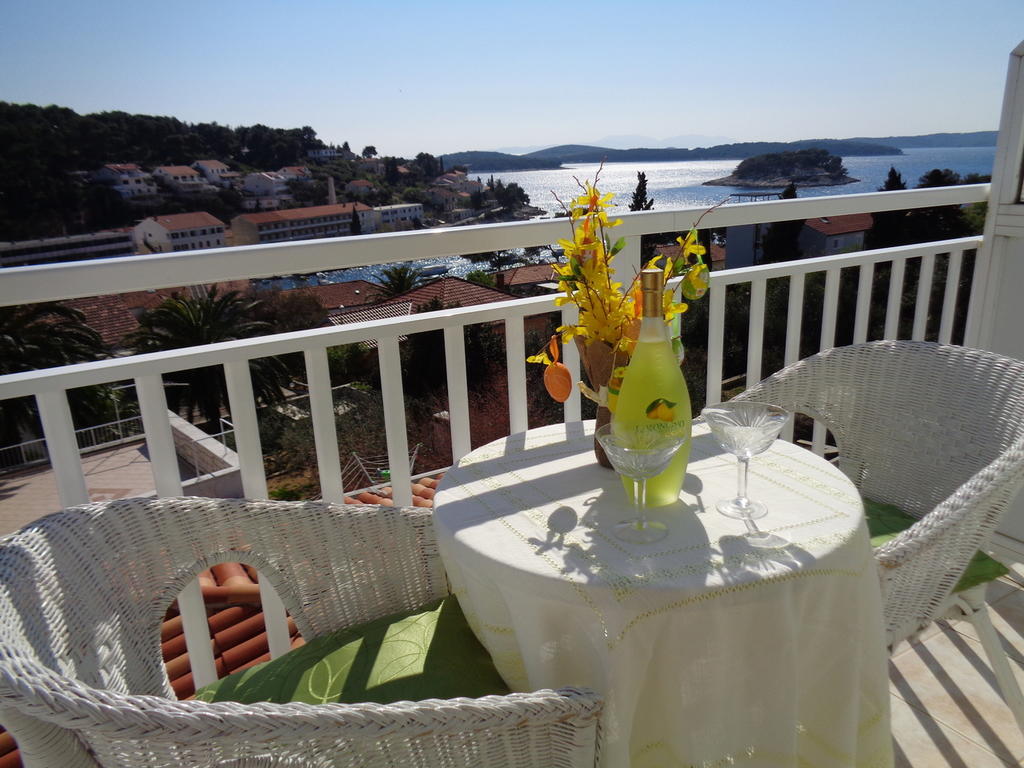 Towels Included
Outdoor Terrace
Charming! Friendly! Clean! (Cheap!) I mean, these three words basically sum up what it means to be a top hostel in Hvar – well, in ANYWHERE, really, let's be honest. Villa Zorana is a Hvar backpackers hostel that's located in a quiet area, so the hostel itself has a super chill vibe in the end – if you're looking for a party, here ain't it.
If you're looking for a chilled place to come back to (yeah it's a lil' walk outta town too…) after exploring, eating, drinking, beaching, then this is the place.
The staff give very very good ideas on what to do with your time in Hvar, too – we're talking resto recommendations, bars, sights to see, et cetera.
Is This the Best Travel Backpack EVER???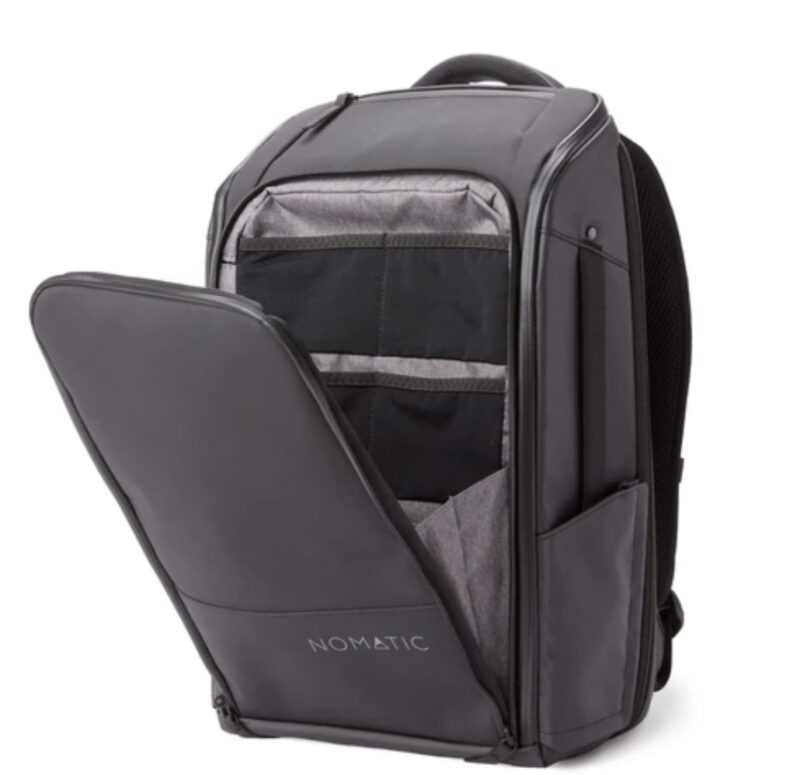 FAQ about Hostels in Hvar
Here are some questions backpackers ask about hostels in Hvar.
Travel Safety Tips for Hvar
And don't forget Travel Insurance! We've put together a roundup of Travel Insurance for backpackers – check it out here, or if you're low on time, get a quote from World Nomads, our favorite travel insurance provider.

More Epic Hostels in Croatia
Hopefully by now you've found the perfect hostel for your upcoming trip to Hvar.
Planning an epic trip all across Croatia? Be sure to check out our comprehensive where to stay guide for Croatia!
Or maybe you're going on an epic Europetrip?
Don't worry – we've got you covered!
For more cool hostel guides around Europe, check out:
Over to you
By now I hope our epic guide to the best hostels in Hvar has helped you choose the perfect hostel for your adventure!
That's all I got my friends: you have reached the final chapter of my 10 best hostels in Hvar 2021 list.
You might have gathered that Hvar is a pretty happening spot right now. With so many hostels opening their doors, I wanted to make sure you were hip to only the very best hostels in Hvar.
After reading my hostel guide, you are now in the know for all of the islands best-kept accommodation secrets.
A trip to Hvar is bound to be one hell of a good time. With the help of this list, you are now in the perfect position to book the right place for yourself.
Don't settle for less than an awesome hostel! Unfortunately, some do exist here in Hvar, but no matter. Those places aren't in your destiny.
The keys to all of the best hostels in Hvar now sit before you. You just need to make the hostel choice that works for you.
Sill on the fence about where to book? Feeling conflicted? In times like these, I typically recommend that you just book my top overall pick for the best hostel in Hvar: Hostel Villa Marija.
Good luck and happy travels.
Going on an extended Croatia backpacking adventure? Check out this awesome post on the best hostels in Croatia.
If you think we've missed anything or have any further thoughts, hit us up in the comments!
---
Find out how YOU can support the site.
We work hard to put out the best backpacker resources on the web for free! It's all about helping out our tribe of awesome backpacker readers (that's you!). Please visit the link to find out how you can help keep the site going 🙂
For the sake of transparency, some of the links in our content are affiliate links. This means that if you book your accommodation, buy a piece of gear, or sort your insurance through our link, we earn a small commission at no extra cost to you. We only link to stuff that members of the Broke Backpacker team has actually used and never endorse products or services that are not up to scratch. Thanks for your support!