Kayaks are a lot like turtles. No matter how sleek they are in the water, they don't move fast onshore. Sometimes it felt like it took more work to get the darn boat to the put-in than it did to get down the river. Forget about planning a pull-out, or trying to hitchhike back to the car holding a kayak bigger than a trunk.
The rush of floating on the water is impossible to achieve without hauling your kayaks a little, and heavy boats make long pre-paddle hikes out of reach.
Not anymore. A whole new genre of kayaks is dedicated to freedom of movement. Lightweight kayaks can fold up inside themselves, fit inside a storage bag, and always be a few foot pumps away from a good time.
Some of the best sweeping vistas and tranquil waters are far away from the nearest parking lot. To get further out there you need a lightweight kayak in your arsenal that you can carry through a few obstacles on your way to the stoke.
That's where we come in. We're not saying we've piled together a list of the best kayaks in the business, we're taking the competition to the scale and determining which lightweight kayaks are best for travel.
All About Lovely Lightweight Kayaks
Whether you've got to walk twenty minutes or two hours from your favorite spot to float, the kayaks on this list will get you to the water with more energy and motivate you to get out there on days where you don't feel like heavy lifting.
Some of these kayaks are small enough to be checked onto airplanes or stuffed under the back seat of crowded vans, and they all are worthy vessels in calm waters. We'll take a look at everything the industry has to offer by showing you the best lightweight kayaks across the board, and then we'll answer the tough questions.
We know as well as anyone that there is no such thing as the perfect vessel for every sailer. Paddlers come in all shapes and sizes and so do their crafts. This buying guide will explore the whole spectrum of options and talk you through key features that help define fit.
Follow along and think long and hard about what you want out of your light kayak and find the right partner for your life aquatic.
Quick Answer – So What Are The Best Lightweight Kayaks?
Why Would You Need A Lightweight Kayak?
I hope you never find yourself near a body of water with no way to float. A good quality Kayak can turn an afternoon by the river into an entire summer, a fishing trip into an excursion. It's akin to teaching a freshly caught Lapra Surf and granting real-world access to unreachable landmarks. The best way to get off the beaten path is to go where there is no path at all, the open water.
Lightweight kayaks take things up a notch and help you get away from the crowds even more. Most average kayaks don't make it easy to get from the car to the river and will hold you back from trying new floats.
The further you walk to the put-in, the less likely you are to bump into much traffic, but you'll only get as far as you can lug your vessel. Every pound these ships shave off helps you go the extra mile.
Unfortunately, there are some drawbacks to the genre. Most lightweight kayaks won't handle rapids, they are mainly designated to calm waters. You'll find some options on our list that can handle some whitewater, but you shouldn't charge these things down Class 5 rapids.
Instead, these kayaks keep things light and provide a laidback experience still capable of reaching blazing fast speeds on flat water.
Light kayaks specifically are the perfect companion for archipelagos, lake vacations, or just getting out there. The best lightweight kayaks in the business are on this list, so sit back, catch a buzz, and catch the sunset over the water, also known as the best seat in the house, aboard a lightweight vessel that can be carried in one hand.
These Are The Best Lightweight Kayaks
Making transport a breeze without sacrificing durability is not an easy task. To qualify for our list, these kayaks didn't just have to keep the weight down, they also proved themselves capable of a watertight afternoon on the water.
It doesn't matter how light your kayak is if it's not up to snuff when it's time to row. We weeded out the pretenders and put our favorite bonafide flyweight crafts on display. Stick around after our tour through the best lightweight watercraft and learn about a few features that make each kayak unique.
Time for a Gear Upgrade??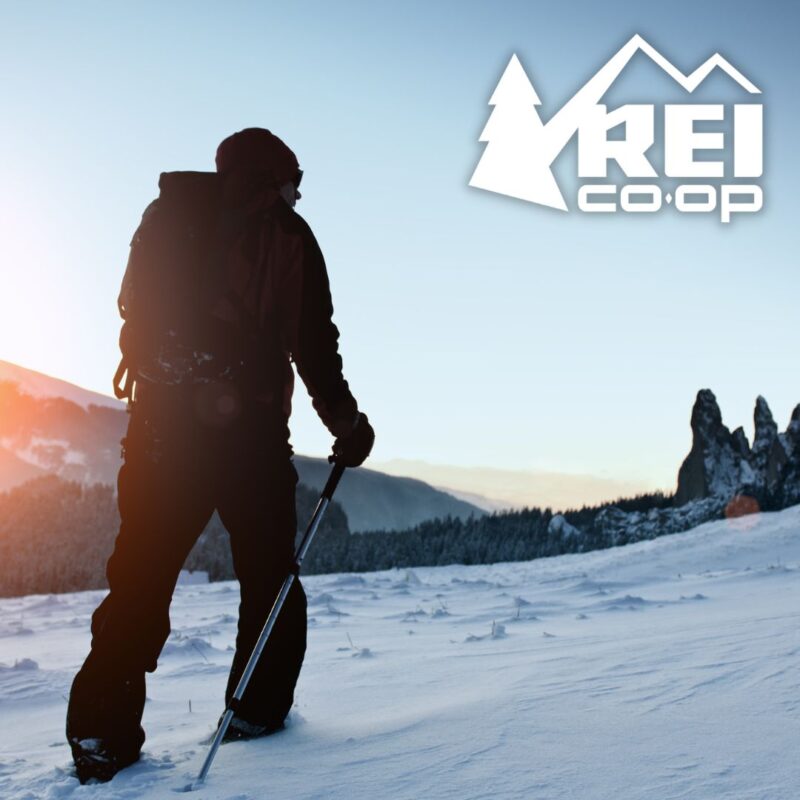 REI members SAVE 20% on a full-price item + an 20% extra on their outlet: and that's a double discount, baby!
This is the time for that sexy gear upgrade you've been thinking about — don't sleep on it.
View on REI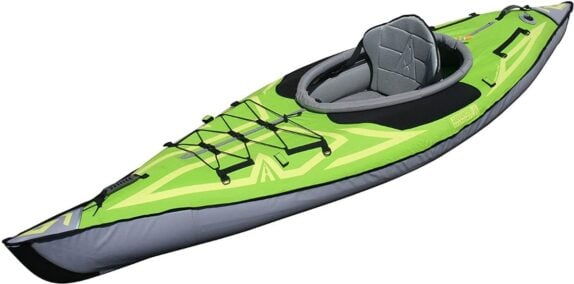 Specs
Type: Inflatable Sit-in
Weight (KG): 16.3
Length (CM): 317
Max Load (KG): 136
The best lightweight kayaks have to follow you anywhere, and this inflatable option is capable of just that. While 16 KG's is no joke, it's well within airline sports equipment policies and is totally fit-to-fly.
Lightweight is important, but function makes a kayak. The advanced frame model works as a hybrid, grouping a hard-shell bottom with an inflatable upper half. The hardshell is foldable, and your inflatable cockpit space is greatly enhanced with the built-in aluminum ribs and a cushy padded seat.
The floaty top-half makes paddling a blast and keeps the boat even-keeled across eddies, channels, and the like. You'll have a tough time capsizing this cheeky craft. Built with quality and reasonably priced, stay afloat in style with my favorite lightweight kayak.
Specs
Type: Foldable Sit-in
Weight (KG): 9
Length (CM): 304
Max Load (KG): 124
Also known as the original origami Tsunami, this sleek craft folds into thirds and unravels into a missile across flat waters. You'll be able to haul your kayak with one hand and have it sea-worthy in no time. The inlet model is Oru's lightest kayak yet, and it still found weight for an adjustable backrest and foot bars.
Simply unfold this papercraft and paddle off in a style inspired by kayaks from Greenland and space-saving techniques from Japan. The craft only looks like a paper crane, it's actually quite durable, although it's not made to be bashed over rocks.
To confidently set a course across lakes, bays, and large inlets, or to access waters far from the nearest parking lot, the Oru folding kayak is the most space-efficient vessel on the market.
Specs
Type: Inflatable Sit-in
Weight (KG): 14.5
Length (CM): 381
Max Load (KG): 229
With three seats and plenty of inflatability, you can bring along an extra set of eyes, or easily unhinge the removable chairs and replace them with a cooler. This badass 'yak comes with two sets of foldable paddles, its own pump, and a removable skeg that pulls it all together.
Tahe used to be known as BIC Sport, a brand renowned for delivering budget watersports tools that get the job done in calm waters. This boat uses a wide berth and plenty of carrying handles to help stay balanced while setting off for scenic vistas.
If three feels like a bit too much kayak, you can find more portable iterations of the LP series built for one or two and save a few precious kilos.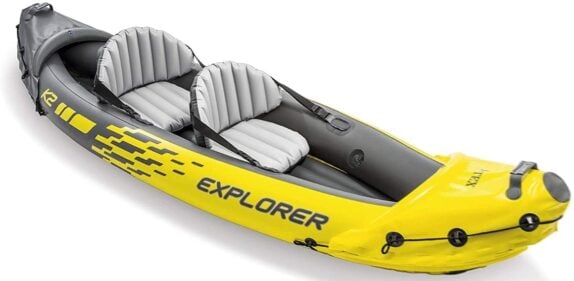 Specs
Type: Inflatable Sit-in
Weight (KG): 15.9
Length (CM): 313
Max Load (KG): 400
This affordable one-stop-shop will give you everything you need to get out on the water for less than 200 bucks. This kayak is built for two, perfect for tandems down a lazy river Sunday. Tough silicone and a central I-beam can handle a few bumps in the road and deflate quickly to get you out of the parking lot before sunset.
An attachable skeg turns this leisure craft into a full-on explorer capable of meandering tough corners. There's a lot to love about this affordable and inflatable watercraft.
At this price point, why not take a risk on a new weekend activity or year-round hobby? The Intex's focuses on inviting burgeoning kayakers into the fold and provides a great first kayak.
Specs
Type: Hardshell Sit-on-top
Weight (KG): 19
Length (CM): 289
Max Load (KG): 113
Slowly earning a reputation as a high-quality kayak for budget-conscious fishers, the Sun Dolphin is starting to dominate all sorts of categories. A large storage area in the back of the kayak helps all your gear make it across the channel or stock everything you need for some fresh catch. You can employ a few rods at once and take advantage of the Journies rod and cup holders.
Unfortunately, this versatile kayak dropped a few rankings on our list because it can't compress in size. It's not the most portable boat ashore but certain adventurers will be glad they carried along the extra weight.
The Sun Dolphin's impressive wealth of features qualifies it for the best kayaks regardless of category and anyone looking for a hand-powered fishing vessel won't have to look further than this sleek option.

Do You Want to Travel FOREVER??
Pop your email in below to get a FREE copy of 'How to Travel the World on $10 a Day!'.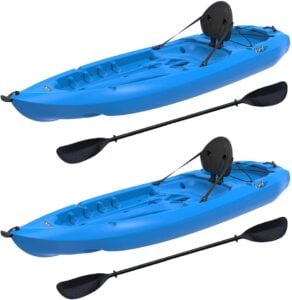 Specs
Type: Hardshell Sit-on-top
Weight (KG): 17.2
Length (CM): 240
Max Load (KG): 113
Lifetime is the leading manufacturer of folding tables and leading supplier of high school gymnasiums across the country. They took their resilient polyethylene perfect for tables and said, let's see what happens if we get this wet.
The result is a splashy sit-on-top kayak that can handle itself in some whitewater. The kayaks aren't as foldable as the tables, but they both will stand up against the rough & tumble of small waves and rapids.
These UV-protected kayaks come in packs of twos so you can always paddle with a friend. They're fun enough to handle the gentle waves of summertime and light enough to haul from the parking lot with one hand.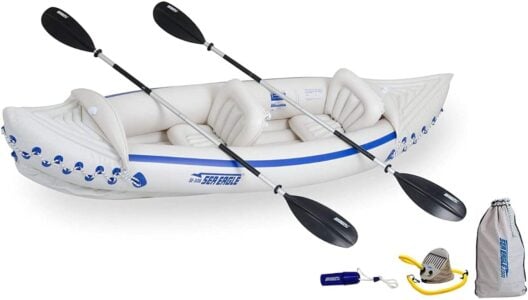 Specs
Type: Inflatable Sit-in
Weight (KG): 13
Length (CM): 330
Max Load (KG): 226
Fly like an Eagle and reach far out boating destinations easily with this particular inflatable kayak. This entire craft fits inside a convenient storage bag and moves easily. It succeeded in packing some of the best portability in the business into a flexible two-person tube on steroids.
So what exactly does this mean for your next trip? It means come hell or high water you'll have a floaty 'yak that fires back. You won't find any bells and whistles to slow you down, just a solid craft that inflates out of thin air.
Take out the second seat and paddle out solo, or add on a partner and find increased stability and rowing power. The boat is made for two and it's quite comfy to recline in for long paddles, thanks to the squishy inflatable exterior.
Specs
Type: Inflatable Sit-on-top
Weight (KG): 13
Length (CM): 365
Max Load (KG): 250
A true inflatable, every inch of the floatable area of the Aquaglide is split into three air chambers ready to inflate in under ten minutes. It's a classic system employed across the industry but you won't find many kayaks more committed to upholding the tradition.
The Chinook series created a series of lengthy kayaks that serve as an inflatable speed boost, while the buoyant material does an excellent job keeping everything balanced in the slim frame.
You can choose from three different interior layouts fit for one or two paddlers. All the models come floaty and flirty ready for a day in the water.
Specs
Type: Hardshell Sit-in
Weight (KG): 16.3
Length (CM): 305
Max Load (KG): 125
There are very few companies I trust to make a durable product more than Pelican. They've used their durable materials to create bear-proof coolers, Friday night-proof phone cases, and rock-proof rowboats.
You won't find much room for two on this lightweight craft, but you will have a cupholder. This is a weapons-grade kayak, built out of tough materials that weigh a bit extra but allow the kayak to last.
The best present of all… is CONVENIENCE!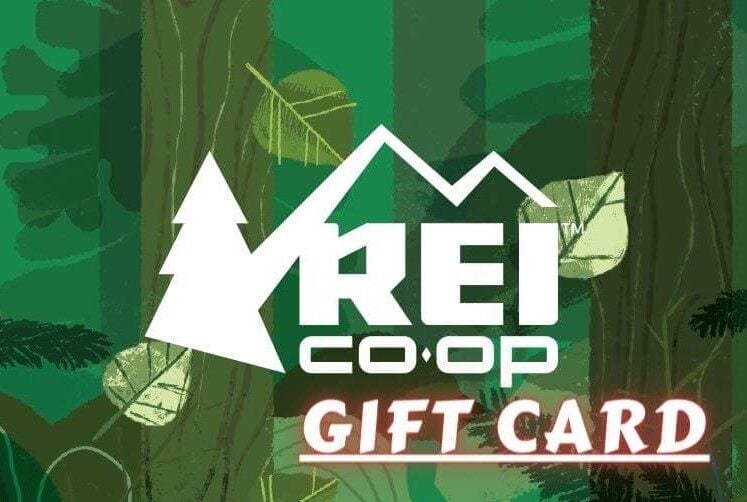 Now, you could spend a fat chunk of $$$ on the WRONG present for someone. Wrong size hiking boots, wrong fit backpack, wrong shape sleeping bag… As any adventurer will tell you, gear is a personal choice.
So give the adventurer in your life the gift of convenience: buy them an REI Co-op gift card! REI is The Broke Backpacker's retailer of choice for ALL things outdoors, and an REI gift card is the perfect present you can buy from them. And then you won't have to keep the receipt. 😉
Buy on REI!
Buyers Guide To Lightweight Kayaks
Whether you are shopping for your first watercraft or your fifteenth, it's important to take a look at the following features.
Boats are more customized than ever. If there's a specific reason you're shopping for a kayak, chances are you can find a kayak built for that purpose.
The constantly changing markets are a result of the bulk of design teams and physics departments optimizing themselves under the following traits to suit a different style of adventurer.
Kayak Type And Use
Let's start from the beginning. Each different kayak model is better than the competition at one thing and worse than its neighbors at another. The subtle places they differ define the kayak type. So you need to ascertain what style of kayaking you will be doing.
Today's kayak buying guide is focused on one particular niche of kayak: lightweight. Lightweight 'yaks use a splash of inflatability or efficient plastic pieces to keep the weight down while keeping your fun cranked up.
Most Kayak types will have a lightweight model somewhere out there. By combining your preferred kayak type with committing to a lightweight model, you'll be well on your way to connecting with your perfect boat.
Recreational
These are the all-rounders of the kayak world. They aren't made for maneuvering rapids or any whitewater, instead focusing on comfort and stability. Recreational Kayaks are often lightweight as you don't have to worry so much about busting your boat up against tough rapids.
These kayaks are rounder, more floaty, more spacious, and can often be found packaged with paddles and all the accessories you need to get your kayaking journey underway. This kayak type will often fit up to three riders and maybe even find a comfortable space for the dog!
Whitewater
This particular vessel category can be difficult to find in a lightweight category unless you're planning on skirting up and squishing into an intense boat. Whitewater kayakers are a crazy breed, willing to haul hefty kayaks miles from the parking lot if a great paddle at the end of the line.
Lightweight whitewater kayaks are designed to move through rapids and stay upright and can be some of the shortest kayaks in the business. Don't take this category lightly. Whitewater kayaks throw out all comfort features in favor of staying afloat in tough waters. Only look further into this category if you don't plan on spending much time rowing on flat seas.
Fishing
Fishing kayaks feature a few more quirks and storage options than other kayak models to provide anglers with everything they need for an afternoon on the water. Whether that means waterproof storage compartments or cupholders is up to you!
These kayaks are also typically wider than your average vessel because they aren't built for speed. Rushing only startles the fish anyways. Lightweight fishing kayaks generally outfit one or two anglers with specialized features built for a different kind of cast-off.
Sea
Slim sea kayaks aren't ready to paddle out at Pipeline but they can handle themselves pretty well in rough waters. Kayaks built for navigating tricky currents and wind swells will often feature a skeg or some sort of fin that helps paddlers cut through rough waters.
Lightweight sea kayaks will be long and thin with space for at least two paddlers, as it's never advised to head out to the open ocean on your own.
Inflatable
You won't find a boat more lightweight than an inflatable kayak. Technology has allowed these bad boys to come a long way in recent years, and current paddlers willing to haul a foot pump to the put-in can have seaworthy vessels that condense to an incredibly portable package.
Modern synthetics have allowed these kayaks to flourish. Typically made out of PVC, they have the same protections as hard-shell kayaks will at a fraction of the weight and size. This makes these kayaks perfect for anyone without a garage or a spare room lying around.
Before we start crowning inflatable kayaks the kings of the flat water, there are a few kinks in the system still to be worked out or one large kink in particular. Inflatable kayaks can be tricky to dry out. Ideally, you'll be able to let the kayak dry out completely before you have to deflate it, but that's not always the case.
Pay particular attention to the ways your inflatable I-beam flooring expands and contract to make sure you're not trapping water in an undrainable zone.
Foldable
Foldable kayaks when done well are the closest thing in the hardshell world to the portability of an inflatable kayak. Typically made out of a collapsible tough metal material and protected by waterproof nylon, some of these kayaks can fold and reduce to the size of a suitcase.
Foldable kayaks can be slightly complicated, but they'll ship with everything you need to carry your kayak to the river in one hand, including a handy carrying case.
Hard shell
The ole' beloved of the kayak industry, it wasn't too long ago that every kayak was hardshell and none of them even approached lightweight! The times are a-changing, even on the river, but still, nothing beats a hardshell for durability.
Most classic hard-shell kayaks were left off this buying guide, they simply weighed too much to be considered lightweight, however, there is one exception to this rule.
Extreme kayakers who tackle class five rapids and shoppers looking for a kayak that can fit tight storage spaces can both possibly find refuge in a hardshell kayak. Some boats built for high-performance rapids are also built to be light enough to carry the kayak from point A to point B and hitchhike home.
Those select few kayaks are known as whitewater hard shells, and they offer tons of fun for anyone looking to take their paddling to the next level. Those boats don't save space for any comfort features, however, and they aren't always so easy to sit in.
Sit-on-Top or Sit-In?
This pivotal kayaking decision is best tackled by deciding where you want to take your kayak. If you're expecting to build an arsenal, it's always a good idea to have one of each laying around, but we can't always have a garage full of goodies ready for the weekend.
The good news is you can find both of these styles in a lightweight container and both are equally capable as paddlers, so it all boils down to situational preferences. Let's take a look at some pros and cons of each.
Sit-In Kayaks
Sit-ins give you the feeling of sliding into a cockpit ready for adventure. They are slightly more secure and slightly better at keeping you relatively warm and dry, so they are often favored by paddlers in colder climates.
Most high-performance kayaks will be sit-ins that give you an extra splash of comfort over long paddles in the form of a backrest or even a spray skirt. The smaller your cockpit is, the better the water resistance but the harder time you'll have getting in and out.
Sit-On-Top
On the other side of things are sit-on-tops, the perfect partner for paddlers who don't care about getting wet. Sit on tops kayaks have drainage systems that make them self-bailing. This is a huge perk of the style and makes them the most fun kayak style for messing around in the surf.
The other main advantage of a sit on top is the freedom of movement. Instead of getting snug and ready in a cockpit, you can casually plump your way down the river, and get out for a splash without capsizing.
All these convenience perks come at the cost of comfort and performance over a long period of time. That makes sit-on-tops excellent choices for first-time kayak owners. Sit-on-tops may not be able to reach the same heights as a sit-in, but they are the fastest way to have fun on the water.
Size and Weight
When we're talking about lightweight kayaks, smaller is always better, but there is a cost to every gram saved and every centimeter shaved.
Typically, the longer a kayak is the faster it goes and the more gear it can haul at the cost of maneuverability. Anyone looking to meander through tight waters should shop for kayaks no more than 360 centimeters long.
Weight is another ball game, especially in the lightweight world. Every kayak on our list is somewhere between nine and 19 kilos. That may not seem like a huge difference on your first kilometer, but every gram counts for any longer treks to your put-in spots.
There is no remarkable difference in material quality between the heaviest and lightest kayaks on our list, so just frickin' go for it by choosing the lightest kayak you can afford. If moving around your equipment is a hassle, it will always stay in storage. Having a vessel you can hoist with one hand is priceless.
Weight Capacity
Here we get to the main sacrifice most lightweight kayaks make. Weight Capacity dictates how much your kayak can handle while staying afloat, and unfortunately many inflatable and foldable kayaks don't have near the weight capacity of heavy-duty 'yaks.
Now for the good news. Just because lightweight kayaks max load is less than the competition doesn't mean they can't float ya. The smallest maximum weight capacity on our list is 113 kilograms and you can find plenty of lightweight kayaks capable of handling twice that number. Just be sure to purchase a kayak that has some room to share so you can bring along a cooler.
Durability
You don't want to sacrifice durability when shopping for a boat, even in the name of saving weight. Above all else, durability is what truly makes a kayak. It may seem an inflatable kayak wouldn't pack the same durability as their hardshell brethren, but you'd be surprised.
Sure, hardshell kayaks still lead the way in durability, but their lead is shrinking. Every vessel on our list can handle a few bumps and bruises, or a few head-on rock collisions. Inflatable kayaks have sought to increase their longevity by adding on multiple air chambers and tough, puncture-resistant PVC, especially on the bottom side.
Any lightweight craft outfitted with fiberglass will be some of the most durable options out there, but it won't come cheap.
Storage
Consider both the storage space you have to keep your kayak at the ready and the storage space you'd like your kayak to offer up when it's time to get rowing.
When it comes to storing your kayaks, inflatable will be the easiest by far. Some completely deflated kayaks can be tucked away in a drawer between uses. Next up would be a foldable kayak, which can't break down quite like inflatable materials but still can be stored in half the space as a hardshell kayak.
The other end of storage is while you're actually using the boat. If you are shopping for a fishing vessel or for something to take on overnight adventures, you'll need a kayak that has taken advantage of its space to provide enough cheeky pockets for your journey.
Kayakers who don't plan on being out on the water much more than a few leisurely hours before lunch shouldn't stress too much about finding a lightweight kayak with storage space. It may even help you out in the long run, as you won't be tempted to weigh down your kayak with equipment if there is no place to put it!
Price
Be honest with yourself and ask a few tough questions. Mainly ask how often you expect to use your kayak.
There is nothing wrong with buying a kayak before being totally committed to the sport, but if you're still getting your feet wet there is no need to go out and buy a thousand-dollar boat just to try out something new. Why pay loads to use your kayak once a year?
On the flip side, if you go too cheap you may end up with a lemon. A crappy kayak won't help anyone get encouraged for a life on the water, and it could actually end up costing you extra if you have to go out and buy a new boat after one summer.
First-time paddlers looking to break into a new field can find an affordable vessel around $200 that will help inspire more afternoons outside. Seasoned kayakers looking for a serious lightweight partner for rapids or overnight trips should expect to shell out $600 for an adequate vessel.
Best Lightweight Kayaks

| Name | Type | Weight (KG) | Length (CM) | Max Load (KG) |
| --- | --- | --- | --- | --- |
| Advanced Elements AdvancedFrame Inflatable Kayak | Inflatable Sit-in | 16.3 | 317 | 136 |
| Oru Kayak Inlet Folding Kayak | Foldable Sit-in | 9 | 304 | 124 |
| TAHE Beach LP3 Tandem Inflatable Kayak with Paddles | Inflatable Sit-in | 14.5 | 381 | 229 |
| Intex Explorer K2 Kayak | Inflatable Sit-in | 15.9 | 313 | 400 |
| Sun Dolphin Journey 10 SS | Hardshell Sit-on-top | 19 | 289 | 113 |
| Lifetime Lotus Sit-On-Top Kayak with Paddle | Hardshell Sit-on-top | 17.2 | 240 | 113 |
| Sea Eagle 330 Deluxe | Inflatable Sit-in | 13 | 330 | 226 |
| Aquaglide Chinook 120 Inflatable Kayak | Inflatable Sit-on-top | 13 | 365 | 250 |
| Pelican Maxim 100X | Hardshell Sit-in | 16.3 | 305 | 125 |

Our GREATEST Travel Secrets…
Pop your email here & get the original Broke Backpacker Bible for FREE.
Final Thoughts On the Best Lightweight Kayaks
That's all there is to it! The best lightweight kayaks are also known as some of the best kayaks, period. These boats provide serious utility and quality perks, all at a light enough weight to be carried in one hand.
Some of the best overall kayaks on the market happen to be lightweight to give you the best of both worlds.
What more could you ask for out of a watercraft? Cupholders? Space for a cooler? Done.
Thanks to modern technological advances, we don't have to sacrifice performance or comfort in the name of lightweight anymore. No matter where you want to get rowing, you can find a lightweight option to take you further.
Our list highlights lightweight kayaks for all sorts of lifestyles. Whether you're shopping for something to take out on the lake, paddle down calm rivers, fishing trips, or the open seas, you'll find a great companion in one of these lightweight 'yaks that smile back.
---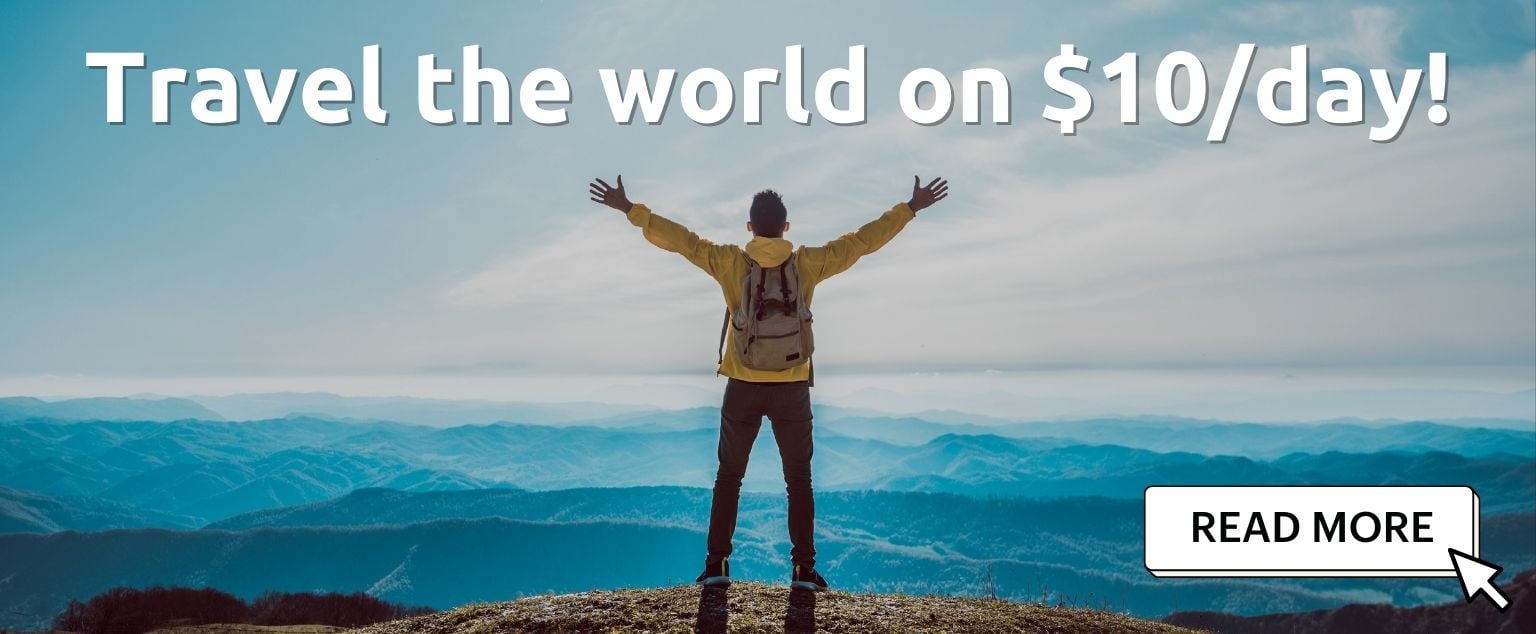 And for transparency's sake, please know that some of the links in our content are affiliate links. That means that if you book your accommodation, buy your gear, or sort your insurance through our link, we earn a small commission (at no extra cost to you). That said, we only link to the gear we trust and never recommend services we don't believe are up to scratch. Again, thank you!