Lush green landscapes, tumbling waterfalls and miles of hiking and biking, the best national parks in Europe are luring us out of lockdown and into the great outdoors!
Get your hiking boots and backpacks ready, because we're about to show you your next adventure – from the most famous National Parks to the hidden gems, we've got all of them listed below.
Choose between stunning views and peaceful vibes or action-loaded treks with breathtaking experiences. If you're an outdoor lover, you definitely won't be disappointed!
If you can't decide which European country's national parks to visit first in 2021, let Tiqets be your guide. We've gathered the intel on the ultimate national parks across Europe and the UK that have a little something for everyone.
So let's get right to it…
Top 3 National Parks in France: Rare brown bears and Mediterranean air
Let's start in beautiful France. There are three National Parks that are definitely worth mentioning. They are a literal paradise for outdoor lovers!
Pyrénées National Park
It's all about the mountains at the Pyrénées National Park, but this scenic wonderland on the border with Spain also boasts some wow-inducing waterfalls, lakes and forests. There's plenty of wildlife to keep you on your toes, too; blink and you might miss a rare brown bear, a species which was reintroduced here in 1995.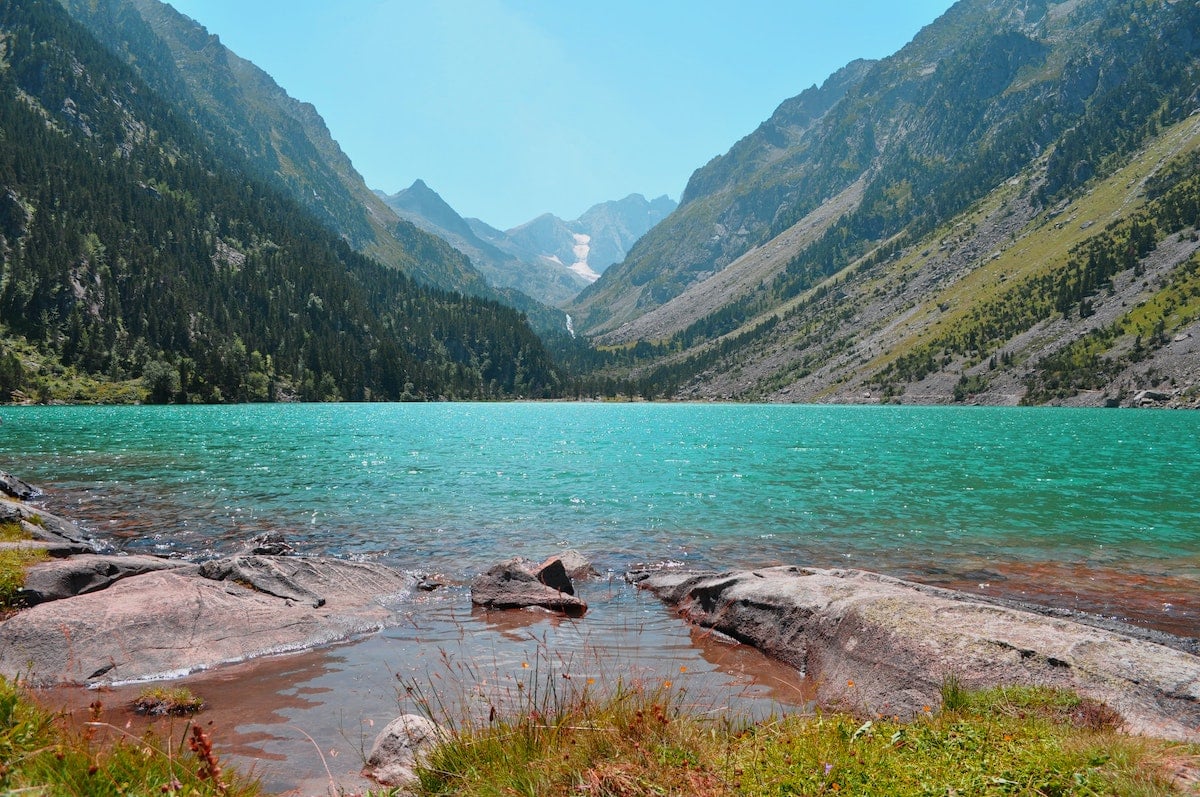 The best part of Pyrénées National Park, however, has to be the jaw-dropping Cirque de Gavarnie, a rocky cliff-face that curves into an amphitheater against an endless blue sky. Road cycling is popular on the mountain passes at Col du Tourmalet and Col d'Aspin, and skiing draws the crowds in winter.
What's it best for? Cycling, walking and skiing. There are also no fewer than 230 high-altitude lakes for you to discover!
Mercantour National Park
Hiking is key here on the border with Italy, thanks to more than 600km of footpaths, marked for your trekking pleasure. Roughly an hour from the Mediterranean, this southern Alpine region draws the hikers in summer, while others come for some of the best mountaineering in France. 
The park's rivers and lakes mean watersports are popular too, while skiers will find powder at Pra Loup, Sauze/Super-Sauze and Val d'Allos. Don't miss the Vallée des Merveilles, home to hundreds of unique and ancient rock carvings of people and animals, said to be over 3,000 years old. 
What's it best for?  Hiking, spotting rare natural wonders, whitewater rafting, and exploring remote high altitude terrain on skis.
Vanoise National Park
Scenically situated between the Tarentaise and Maurienne valley in the French Alps on the border with Italy, Vanoise National Park has dramatic scenery to rival any movie's CGI! 
Originally designed to protect the ibex, France's first national park is still a safe haven for these horny (literally) mountain goats. Trek along any of the hiking paths (there's 600km worth at Vanoise!) and you might spot them, along with other animals like the chamois – a goat-like creature, native to the mountains of Europe and the Middle East. With towering peaks over 3,000m high, the wilderness of the Alps is mesmerising. So, leave the vertigo behind, strap on a good pair of walking shoes, and get climbing. 
What's it best for? Amazing scenery, excellent hikes, great French cuisine and culture in the village of Bonneval-sur-Arc.
Top 3 National Parks in Spain: Natural spas, a slice of Hawaii, and golden eagles
Of course we can't forget about Spain. While the first National Park on that list is one of the most famous ones in Europe, the other two have not yet made their way into the focus of hikers and adventurers.
Sierra Nevada
Spain's largest national park, Sierra Nevada, spans over 850km, encompassing the area just south of Granada, all the way to the luscious valleys of the Alpujarras. Hikers will be in heaven thanks to over 20 pretty peaks stretching over 3,000 metres into the sky, plus an adventure network of sheer-sided gorges, stony slopes, torrential rivers and glacial lakes. 
There's been a natural spa here since 1765 – Balneario de Lanjarón – with waters some believe have medicinal qualities. Stop at the beautiful towns and villages, such as Bubión, Pampaneira and Capileira  perched on the steep sides of the sierras, and don't miss a sample of the best cured ham (jamón serrano) in Spain at Trevélez. There's also skiing from late November to late April. 
What's it best for?  Mountain biking, lounging on lagoons, unique fauna and flora, and family fun.
Caldera de Taburiente
You'd be forgiven for thinking you're in Hawaii here at Caldera de Taburiente, where thick, luscious greenery stretches as far as the eye can see. The erosion of a mountain formed a giant bowl that yawns a whopping 10km across, while cliffs climb up to 2km from the caldera floor, gushing with waterfalls. 
Take a walk through the Canary Island pine forests to feel a world away from anywhere else. Then pay a visit to the Roque de los Muchachos Observatory at 2,396 metres, where you can arrange to stargaze using the world's largest optical telescope. 
What's it best for? Hiking through Canary Island pine forest, geological and biological diversity, bathing under waterfalls.
Aigüestortes i Estany de Sant Maurici
Golden eagles and a small antelope called the Pyrenean chamois are just a couple of the wildlife specimens you might spot in Catalonia's Aigüestortes i Estany de Sant Maurici. This wild, vast Pyrenean landscape is best known for its hundreds of lakes all fed by trickling streams and waterfalls in acres of pine and fir forests. 
Families can enjoy hiking together here with plenty of easy strolls, as well as adventurous multi-day treks into the mountains. In winter, snow-seekers are drawn to the cross-country skiing opportunities. The streams, rivers and more than 200 lakes make this a lush paradise for escaping on a romantic adventure.
What's it best for? Nature, some of Spain's best-preserved Romanesque architecture and art, cross-country skiing, and adventure trekking.
Top 3 National Parks in Germany: lakes full of rowing boats, chalky cliffs and pirate myths
Germany might not be famous for its National Parks, but they're definitely worth the visit. Three completely unique adventures are waiting for you!
Saxon Switzerland National Park
Covering over 36,000 hectares of the Elbe Sandstone Massif in the far eastern corner of Germany, the Saxon Switzerland National Park is famous for its strange eroded rock formations that date back to the Cretaceous period. 
Its sandstone cliffs, carved valleys and gorgeous gorges make for a unique landscape. In fact, this is some of the best hiking in Germany. Rock climbing draws the thrill-seekers here, while a trip to the breathtaking Bastei rocks will have you pulling your camera out more times than you can count. A great way to see the scenery is to hire a rowing boat and take to the river.
What's it best for?  Hiking, climbing and cycling, and a great day trip to Prague.
Jasmund National Park
Moving up to the far north-east of Germany, Jasmund National Park in Mecklenburg-Western Pomerania is famous for its spectacular Königsstuhl chalk cliffs. These towering beauties were immortalized by the painter Caspar David Friedrich. 
Walking and cycling routes won't disappoint, and you can even book woodland treks and seminars with local experts and park rangers. The rangers love to talk about the area's myths and legends like the Germanic goddess Hertha, and Klaus Störtebecker, a pirate who allegedly buried his treasure on the island. Will you find it?
What's it best for? Stunning chalk cliffs in Germany, different species of birds, walks in ancient beech forests.
Müritz National Park 
A fairy-tale landscape awaits in the 660km network of trails that makes up Müritz National Park, spanning the eastern shoreline of Lake Müritz. Spot endangered birds as you get back to nature amongst beech forests, marshes and over 130 lakes.
Cyclists will find some of Germany's best cycling trails and if you want the lowdown on the landscape, opt for a guided walk with a local. If the sun is blazing, nothing beats renting a boat or joining an organised canoe trip through the lakes. The old town of Waren is a great place to stop for a cold beer.
What's it best for? Hiking, cycling, canoeing, and birdwatching a wide range of waterfowl.
Top 3 National Parks in The Netherlands: forests, windmills and sheep – lots of sheep
It's not all about Amsterdam, windmills and canals, the Netherlands have a handful of absolutely breathtaking National Parks as well. If you're over the city life, these are the perfect escape!
Hoge Veluwe National Park
Hoge Veluwe National Park in Gelderland has Dutch families flocking, especially in summer, as there's lots to do for everyone. Immerse yourself in nature, take a long blissful walk through the forest, or rent a bicycle at any station and leave it at another when you're done. 
It's also a great place to take a date in the great outdoors – picnic in the shade of a tree, then visit the Van Gogh exhibition at the Kröller-Müller museum, named after the couple who once owned the park. Don't miss the 1,800 free white bicycles for use on 40 km of bike paths.
What's it best for?  Easy cycling, shady family picnics, easy walks, great for dogs.
Texel National Park
A 20-minute ferry ride across the Wadden Sea brings you to Texel. This beautiful Dutch island, located just five kilometres north of Den Helder, is a great place to play 'count the sheep' while losing yourself in the dunes. 
Over a quarter of the island is dedicated to the Dunes of Texel National Park, where woodland, valleys, marshes and beaches are home to all kinds of protected plants and birds. An extensive network of cycle paths, walking routes and horse riding paths make Texel the perfect place to relax, switch off and unwind on a sunny weekend. Better still, it's quick and easy to reach from most other parts of The Netherlands. 
What's it best for? Sunset in the sand dunes, easy family cycling, huge sandy beaches and sheep!
Lauwersmeer National Park
Nestled in the province of Groningen and Friesland, Lauwersmeer National Park grew into being when a dam was constructed in 1969. This handy form of flood prevention is now a stunning, and highly photogenic freshwater lake. 
Geese, spoonbills, stilt claws, grey fringes and sea eagles all call it home, so take your birdwatching buddies and tune into the real-life Twitter. Likewise, you can also watch the stars. Lauwersmeer National Park has a special area with zero light pollution, which is why it's been called "Dark Sky Park" for the last few years. It has to be the most romantic thing to do in The Netherlands.
Check out this Netherlands Bucket List for more ideas! 
What's it best for? Romantic walks, birdwatching, photography and water-based activities.
Top 3 National Parks in Italy: picnics with a view, colourful coastlines and cows
Italy is known for some of the best hiking paths, trekking options, and outdoor activities in Europe. Some of our absolute favorite National Parks can be found here as well, so be sure to put them on your bucket list!
Bellunesi Dolomites National Park
The Italian Dolomites is undoubtedly one of the prettiest national parks in Italy. Drawing nature-lovers to the north-east of the country, the Monti del Sole and Talvena range promise miles of picturesque hikes to suit all levels – just watch out for the ticks – and endless opportunities to picnic-with-a-view.
Rock climbing and canyoning bring the adventurers all year round, and there's nothing like the view from the top of Via Ferrata, Braies Lake and Mis valley on a clear, sunny day.
What's it best for? Picturesque hikes to suit everyone, year-round crisp mountain air, and wildflowers in spring and summer.
Cinque Terre National Park 
Cinque Terre National Park on the west coast of northern Italy became a UNESCO World Heritage site in 1997. Clinging to the coast with sparkling azure waters all around, it's one of the most beautiful national parks in Italy and should definitely be on your bucket list of things to see in Italy.
Crammed with things to do and picture-perfect nooks and crannies, its five colorful towns, Monterosso, Vernazza, Corniglia, Manarola, and Riomaggiore are linked by  train, as well as stunning coastal trails. Seeing all five towns will take most of one day, so try and spread your sightseeing across several days, tie the walking shoes up tight and take your time exploring.
Side note: Did you know that you can visit Cinque Terre from Florence in One Day?
What's it best for? Italian cuisine and culture, beautiful coastal trails, and a tick off the bucket list.
Gran Sasso and Monti della Laga National Park
Not only do the mountains here feel special, the roads to get here are made for cycling. And driving through to admire the impossibly high plains and rugged peaks might also have you avoiding the random cows, who love to block the roads! 
Gran Sasso's highest peak, Corno Grande (2,912 metres), is the highest mountain in the Apennine, and is one of the reasons why the locals call this Little Tibet. Peace-seeking hikers will probably have the hills, valleys and mountains all to themselves at the Monti della Laga, which is cut off from the massif by a huge motorway. The promise of a personal slice of nature so close to Rome complete with sweeping landscapes is as much of a draw as the park's natural biodiversity.
What's it best for? Excellent traditional wine and food, great cycling, peaceful hikes to suit all levels.
Top 3 National Parks in the UK: extinct volcanoes, ancient moors and famous cheese
Last but not least, these two National Parks in the UK just can't be missed either! With a completely different atmosphere than any of the other National Parks in Europe, you can have a very unique experience here.
Dartmoor National Park 
Say a prayer in Brentor Church at the top of an extinct volcano. Sip a little afternoon tea in Ashburton, take a leisurely hike at Meldon Reservoir, or say hi to your 'neigh'-bours at the Dartmoor Pony Heritage Trust. These are just a few things to do at Dartmoor National Park in the south of Devon. 
This vast expanse of wild moors, ancient monuments and imposing granite tors was first deemed a National Park in 1951 and it's been a hotspot for adventure-lovers ever since – you can even take a llama for a walk! But you'll be reminded just how long people have been coming here when you cross the Postbridge Clapper Bridge, which dates all the way back to the middle ages.
What's it best for?  Wild camping, wide open spaces, exploring bronze age villages, and cycling the Granite Way.
Yorkshire Dales National Park
Spectacular limestone valleys, picture postcard villages and historic castles – the Yorkshire Dales National Park in northern England is British countryside as its best. 
The park encompasses miles of moors, sweeping valleys, hills and villages and is home to a staggering amount of wildlife and natural beauty. Canyoning, caving and gorge-walking await for the adventurous, while others can opt to simply plop on the grass, eat some sandwiches and admire the views.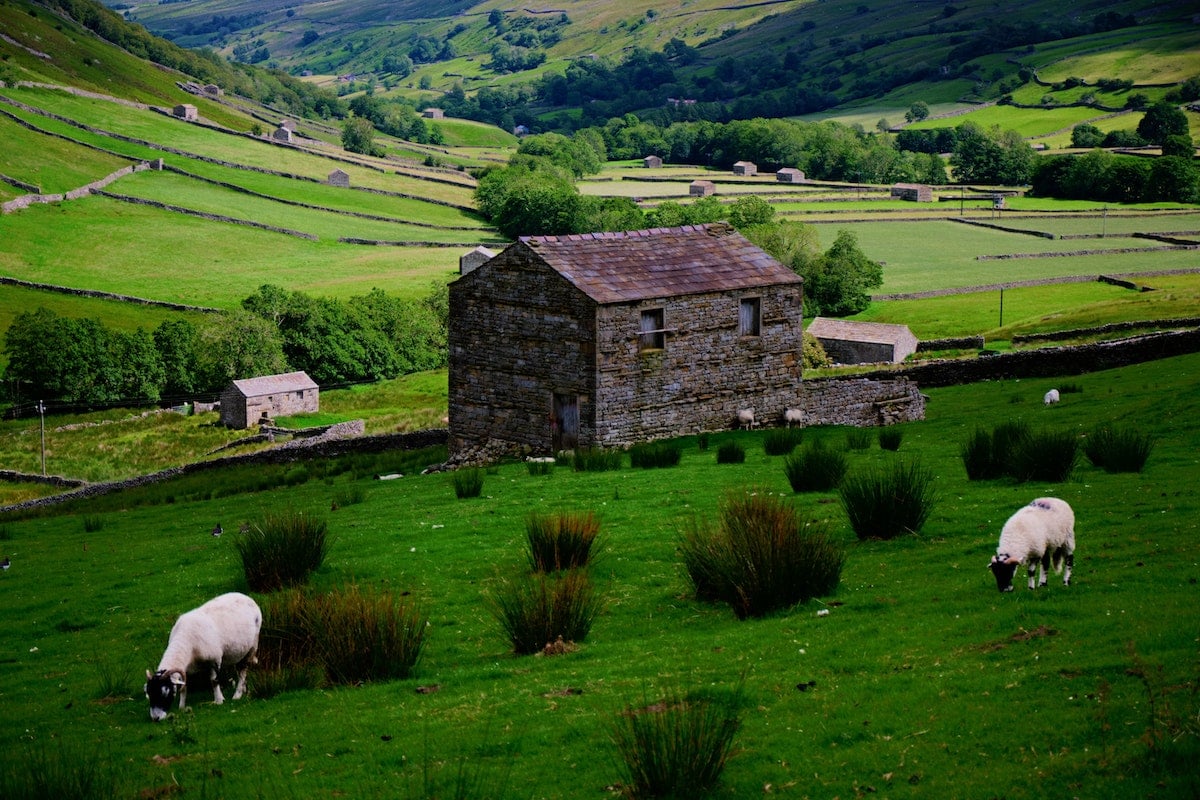 You can also go horse riding, discover the caves at White Scar, Ingleborough or Stump Cross Caverns, or ride the magnificent Settle-Carlisle railway through the Dales and the Blea Moor tunnel before a cheese-tasting at Wensleydale Creamery. If you love Wallace and Gromit, you'll know why this is special!
What's it best for? Cute scenic villages, family friendly activities, and a very special cheese-tasting opportunity.
Snowdonia National Park
The nine mountain ranges in Snowdonia National Park in Wales cover roughly 52% of the land, and some peaks stretch over 3,000 feet (915m). In summer, hike amongst waterfalls and lush green valleys, and be shaded by hazel, oak and rowan woodlands. 
Love the sea? Mix it up and take a trek along 23 miles of coastline, complete with sandy beaches. Some people come to hike Wales's highest mountain, Mount Snowdon, but you can go up the easy way with the Snowdon Mountain Railway. Explore the history of slate mining at The National Slate Museum and Llechwedd Slate Caverns, get your adrenaline pounding in Zip World Forest, or take to the bike on one of the many scenic cycling routes. 
What's it best for? Challenging hikes, walks by the sea and adrenaline pumping activities.
Final Thoughts
As you can see, Europe is home to some of the best national parks in the world. There's so much to see and discover in each place. Whichever you choose, it's probably less stressful than a city break, and you're guaranteed to come away with a deeper respect for nature.
Which will you visit first?
Becky Wicks is an author/copywriter from the UK with almost 20 years of traveling experience behind her, and hopefully lots more to go.
---
Thanks for reading – that was fun! 😀
We bring you epic FREE content!
Find out how YOU can help support us.
We're a big site with a big team and this job isn't always easy. But we do it because we love it – we love providing epic and free content. We love the knowledge that our content keeps you adventuring. We don't ask for money, but if you'd like to find out how you can help the site in more organic ways, click the button below.
Thank you for your support 🙂
---
Bye for now, but not forever!
If you want MORE top-tier Broke Backpacker content like this, then sign up for our weekly newsletter below to get the latest and greatest!
And for transparency's sake, please know that some of the links in our content are affiliate links. That means that if you book your accommodation, buy your gear, or sort your insurance through our link, we earn a small commission (at no extra cost to you). That said, we only link to the gear we trust and never recommend services we don't believe are up to scratch. Again, thank you!