Stand up paddling boarding has quickly become one of the most popular water sports, and it's no secret why! On the surface it might look difficult, but in reality, stand up paddle boarding is a very accessible sport for people of all ages and abilities.
Maybe you've tried out stand up paddle boarding when you were on vacation, or perhaps you've gotten some practice out at your friends cabin on the lake. Whatever the scenario may be, at one point or another you reach the decision to get your own paddle board.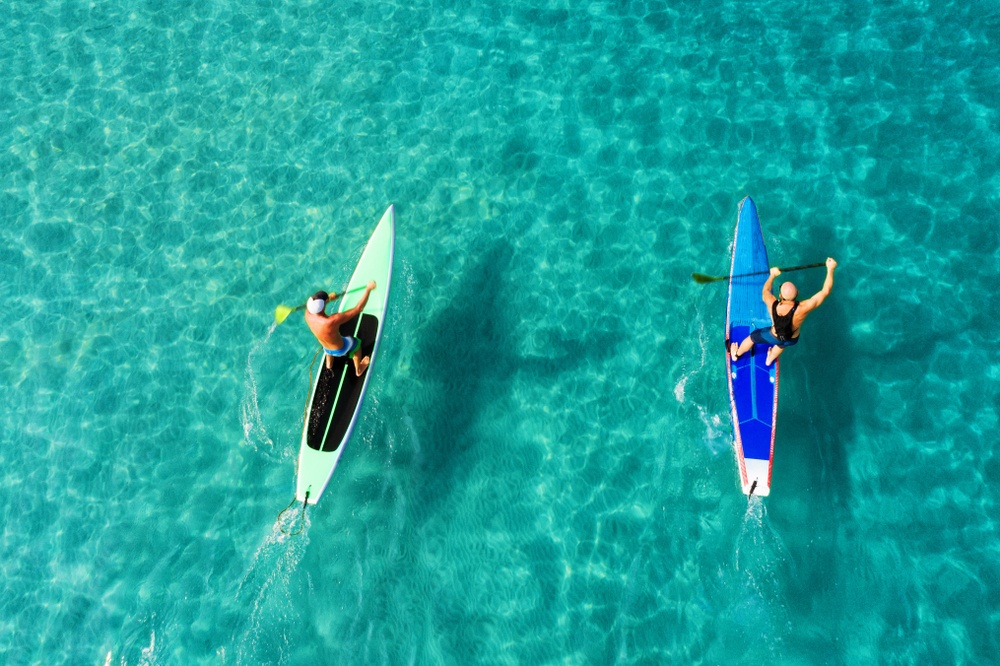 First off, great choice! Paddle boards are super fun and an awesome form of exercise. Second, we're here to help you with the research aspect of your purchase. Paddle boards aren't exactly cheap, and if you're going to invest that type of money in sports equipment, it's a good idea to make a well-informed decision.
In this guide, we have sections to describe the types of paddle boards, their pros and cons, and what you should look for in the best paddle boards. From family friendly inflatable paddle boards to more advanced touring boards, we've come up with a list of the best SUP on the market which achieve a balance between price, quality, and overall rad factor!
Let's dive right in…
Quick Answer: Top Picks >> Best Paddle Boards of 2020
The 9 Best Paddle Boards
Alright, now that you're geared up to start looking for the perfect paddle board for you, check out our list of the top SUP boards out there! We've taken length, material, hull type, and price into consideration to find the best value paddle boards for the money.
Get ready for some awesome water adventures in your near future!
Specs List
Price-$899.00
Length-10ft 6in
Material-ABS plastic/EPS core
Style-solid
Weight-31 pounds
Hull Type-planing
Weight Capacity-249 pounds
Affordable, durable, and good-looking to boot, the Pau Hana Malibu Classic hits all the requirements for what a good paddle board should be. Its great design makes it suitable for leisurely afternoons, touring, or surfing as you desire!
It's easy enough for beginners to handle, but also extremely versatile, so even advanced paddle-boarders can appreciate the make and design of the board. It comes with the adjustable Malibu aluminum paddle which is designed for maximum grip, stability, and speed.
The strong hull will withstand accidental beatings from rocks or paddles, and the 5mm EVA deck pad ensures you'll have good grip the whole time. If you want to improve your paddle-boarding experience, you can also get fun extras like cup holders, paddle clips or other accessories using the SeaMount attachment system.
Specs List
Price-$799.00
Length-11ft
Material-military grade PVC/composite fiber core
Style-inflatable
Weight-28 pounds
Hull Type-planing
Weight Capacity-275 pounds
Comfortable and convenient, the Bote Flood Aero has a great design for an inflatable paddle board. Whether you're a beginner looking for a sturdy board that's easy to transport or hoping for something that can take you long distances, the Bote Flood Aero delivers!
There are tie-down points on the deck where you can attach coolers and gear and the adjustable bungee straps will provide extra support to safely keep everything in its place. If you're hoping to go fishing, this board is also compatible with Tackle Rac attachments!
The Bote Flood Aero comes with one center fin, and if you're looking for greater control and stability during your paddle, you can purchase additional fins that attach to points on the side. Plus, in terms of paddle boards, the Bote Flood Aero comes in at a very reasonable price, considering all the accessory options and super durable material and design!
Specs List
Price-$1,499.00
Length-12ft
Material-ABS plastic/EPS foam
Style-solid
Weight-45 pounds
Hull Type-displacement
Weight Capacity-315 pounds
If you're looking for maneuverability and feeling up to the challenge of trying out some waves, then solid boards are definitely the way to go! What makes the HD Gatorshell one of the best paddle boards is that it offers a great middle-ground for speed and stability.
The displacement style hull means that this board can cut through the water with much more agility and speed than other models, but mid-length width is still 32 inches, which is comparable to other planing style hull models.
There's a built in slot where you can secure your paddle if you need your hands to be free, plus a watertight storage pod where you can safely keep a bottle of water to stay hydrated during the day. If you're interested in fishing on your paddle board, the Gatorshell is also compatible with the Tackle and Bucket rack, and there are tie-down points along the deck for securing gear, coolers, or other equipment.
Specs List
Price-$699.00
Length-11ft
Material-PVC
Style-inflatable
Weight-23 pounds
Hull Type-planing
Weight Capacity-220 pounds
Starting paddle boarding can feel like a daunting venture, and unfortunately, paddle boards aren't cheap. Maybe you've rented a paddle board a few times and are ready to get your own or simply in need of a radical exercise change. Either way, the BIC Sport Wing is a perfect place to begin.
Not only is the BIC on the lower-end of the paddle board price range, but it's also sturdy and well-balanced. The planing hull gives you a better sense of security and the board won't tip around so much as other models.
For your transport convenience, an oversized backpack storage bag is also included with the paddle board. You can use it to carry your gear, and carry it with you while you're out on the paddle board thanks to the bungee rigging on the deck!
Specs List
Price-$549.95
Length-10ft 6in
Material-PVC
Style-inflatable
Weight-23 pounds
Hull Type-planing
Weight Capacity-200 pounds
Okay, okay, $549.95 still isn't exactly cheap, but in the world of paddle boards, this is an exceptional deal! Whether you're just getting into paddle boards or you want something to keep the kids occupied and happy at the cabin, the BIC Sport Performer is an excellent choice.
The BIC is also an inflatable paddle board, so it's easier to store and transport than other options on the market. To help with stability, the BIC also has a high-pressure drop-stitch design which can hold up to 15 PSI for a stiffer frame and greater strength.
This is a great beginners board both in terms of design and price. Trying out the BIC will give you a great practice board that is strong and can withstand a bit of rough-and-tumble action if necessary. Although it's performance is better on flat water, the BIC also holds up okay with a bit of waves if you're ready for a bit more challenge and action!
Although it can't compete with some of the other paddle boards on the market, the level of quality you get for a lower price is a rare find in the market!
Specs List
Price-$1,195.00
Length-10ft 8in
Material-Drop-stitch PVC
Style-inflatable
Weight-29 pounds
Hull Type-planing
Weight Capacity-150-250 pounds
If you've fallen in love with paddle boarding and are ready for a long day trip out on the water, then you need to find a properly fitted board. Unfortunately, many of the options on the market force you to purchase every accessory separately, which is certainly a frustrating position to be in!
This paddle board makes it on to the list not only for its great design, but the fact that the price includes a number of gear products and accessories! Top of this list worth to mention is the 3L HydroLock dry bag, an ideal sack to store your valuables during water excursions, which can be securely fastened to the paddle board during your trips.
There's also a set of interchangeable plastic fins; as you become more confident with your paddle boarding abilities, you can customize each outing based on the wind speed and area you plan on paddling.
Since the board is inflatable, it won't have quite the same agility as a solid model, but the NRS is enhanced with some nifty features to add more rigidity to the structure. The deck features an acrylic stiffening agent and the drop-stitch PVC makes it possible for the board to withstand the knocking around that comes hand-in-hand with adventure!
Specs List
Price-$999.00
Length-11ft 6in
Material-ABS plastic/EPS core
Style-solid
Weight-31 pounds
Hull Type-displacement
Weight Capacity-249 pounds
Once you're ready to begin long-distance expeditions on your paddle board, you'll need something better suited to a variety of wave and wind conditions. Solid boards are key to accomplish this, and the Pau Hana Malibu Tour Stand Up Board ranks top of the list thanks to the design and features.
One distinguishing feature of the Pau Hana Malibu Tour is the Vacuum Formed Technology (VFT) used to strengthen the core. If you plan on taking a paddle boar out for extended periods of time, you need something that can withstand some bashing and battering that's bound to happen over time.
In addition to strength, you can also count on excellent traction, thanks to the 5mm EVA deck which provides a soft and stable surface. There are also fixtures where you can attach a leash in case of rough water and the SeaMount where you can add cup-holders, bungee ties, and other gear. Serious paddlers can purchase the Pau Hana Touring kit to go along with this stand up paddle board to maximize your experience and time on the water!
Specs List
Price-$995.00
Length-11ft 6in
Material-Molded epoxy/carbon strands/fiberglass
Style-solid
Weight-28 pounds
Hull Type-planing
Weight Capacity-230 pounds
The All Rounder stand up paddle board certainly lives up to its name! With the higher size to volume ratio, you can count on excellent balance and maneuverability in calm water as well as choppier wave conditions.
Of course, an extra big solid board isn't for everyone-it certainly takes up a lot of space for one! For first-time paddlers and beginners, this probably isn't the right option for you, but if you've already had some experience paddle boarding and are ready to take things to the next level, then this is the choice for you!
The All Rounder has a single fin design which has a high single-side stroke rate for paddling on flat water, meaning you won't have to switch back and forth so much for corrective strokes. On rougher conditions, you can also add side fins for greater stability and control.
Despite the strong design and size, the All Rounder is still relatively light for its dimensions, coming in at 28 pounds. Plus, if you're interested in documenting your adventures on your stand up paddle board, there's a nose plug on the front where you can mount a GoPro for some awesome photos and video footage!
Specs List
Price-$1,599.00
Length-11ft
Material-EPS core/epoxy resin/fiberglass
Style-solid
Weight-36 pounds
Hull Type-planing
Weight Capacity-274-366 pounds
Stand up paddle board yoga has become a popular activity and an excellent form of exercise! And seriously, it's something every adventurer should try at some point-not only is it a cool and unique way to get active, but it's also an awesome mindfulness practice.
The Pau Hana Big EZ Handler has all the requirements for an awesome yoga stand up paddle board. It's certainly larger and heavier than other models, so make sure you have room for this board in your life (and home!) before making the purchase.
First thing you'll notice is that the Big EZ has a real teak deck, which makes it top-of-the-line for the best paddle boards for yoga. Plus, the mid section of the board is 36 inches, giving you the space you need for sun salutations or downward-facing dogs out on the water!
It's not just yoga that the Big EZ is good for; it's designed to be durable and strong for accidental bumps against logs or rocks. Plus, there are easy ways to attach gear including fishing accessories and other gear for longer trips and days out on the water!
How to Choose the Right Paddle Board
There's no doubt about it, there are a lot of paddle boards on the market. As the sport becomes more and more popular, various brands put up their own version of a stand up paddle board, but be warned that not all of them are created equally!
The good news is, is that with so many options it's possible to find a paddle board that fits your individual needs. The bad news is that the process can become overwhelming.
To help you in your search, we've identified some of the most important factors to consider when you're looking for the best paddle board.
If you've already had a lot of experience on a stand up paddle board (SUP board for short!), then you probably have an idea for what to look for. However, if you're not quite sure where to begin, here are a few things to pay attention to in your decision process.
Types of Paddle Boards
Inflatable vs. Solid
Price
Get moving!
Hull type
Types of Paddle Boards
As the paddle board market continues to expand, boards are better designed to fit specific uses. Depending on your own plans for using the paddle board, you can select the right model to fit your life-style and goals.
Paddle board yoga has become one of the most popular uses for stand-up paddle boards, so it's no wonder that many models now advertise this in their uses. If you're hoping to do yoga on your board, look for one that's flat and wide and avoid the narrow, racing paddle boards where you're more likely to tip.
On the other hand, if speed is your game, then a racing board is perfect for you. These boards tend to be much narrower and more streamlined, meaning they can go much faster than other varieties. However, they're also more challenging, so if you're a newbie this might not be the best choice for you.
Touring paddle boards are another variety that offers a bit more challenge. These models usually have pointed noses, are hard rather than inflatable, and are designed for speed and covering longer distances.
If you're already a surfer, there are some paddle boards that have dual surf-paddle usage, and are usually a bit smaller and lighter. However, for the standard beach-goer who just wants to give stand-up paddle boards a try, an inflatable version is probably the best way to go! These boards are much more convenient to transport, and while you won't get the speed like some other versions, they're much more forgiving and easier to learn on.
Many of the best paddle boards can be used for multiple purposes. For example, some paddle boards do just fine on flat, lazy water, but can also be used to ride the waves. Touring boards may be designed with distance in mind, but that doesn't mean you can't use it for an afternoon of splashing around on a small lake. However, knowing the primary use for your board can help narrow your search.
Inflatable vs. Solid
It's all a matter of personal preference when it comes to picking an inflatable or solid paddle board. If you don't have much storage room, then inflatable is the obvious choice. However, no matter how well an inflatable board is made, they never quite compare to the performance of a solid board.
For the standard leisure paddle-boarder, inflatable is usually a better option. Easier to handle and better for a fun day at the beach, you also don't have to put so much planning into transportation or handling.
If you plan on surfing with your board, going for day-long paddles, or racing, then a solid board is essential. Especially for people who already have some experience and who plan on regularly using a board, the higher price of solid boards is totally worth it!
Price
And speaking of price, it's no secret that the best paddle boards are not cheap! Almost any board will be a fairly major investment, but one that's totally worth your outdoor adventures and hours of fun.
Just how expensive a board you get will be determined by how you plan to use it. Higher price means a higher level of performance and longer life. If you live by the beach and want to use your board every day, it's better to spend more money upfront for something that will last a long time. If you simply want a board for some family outings during the summer, you can definitely get a cheaper board that still gives you good quality but wouldn't hold up to long paddles or races.
We've tried to stay on the lower end of the price spectrum for our options on this list to help make stand up paddle boarding a more feasible investment for a variety of people. No one should have to miss out on the fun and excitement SUP boarding has to offer!
Get Moving!
Finding ways to make exercise fun and not a chore is a goal for many people, and stand up paddle boards may be one of the best solutions out there! Whether you're getting a paddle board just for yourself or investing in something for the whole family, you're guaranteed hours of fun out on the water.
Stand up paddle boards aren't as hard as they look, and are a great solution for a low-impact exercise, making it a good option if other types of exercise like running or biking are too hard on your body.
Paddle boards also offer a total body workout since all of your muscles are engaged in providing balance and stability. As you advance, you can take your exercise up a notch and try doing yoga on your board or simply paddling faster!
Hull Type
Stand up paddle boards either have a planing hull or a displacement hull, and each has its pros and cons. Before buying your paddle board, consider how you plan to use it which will determine which type of hull is the best for you.
A planing hull is much wider and flatter and has a rounded nose, making it the ideal option for beginners who are just learning how to paddle board. Even if you've had a lot of experience, a lot of people prefer planing hulls thanks to their balance and sturdy build and the fact that they can handle small waves.
A paddle board with a displacement hull is recognizable because of the pointed nose, which lends itself to speed and agility. Generally, the boards themselves also tend to be longer and narrower, which further increases the capability for speed. Displacement hulls are good choices for people who have more experience with paddle boarding and comfortable with balancing since these boards are a bit more tippy.
Final Thoughts about the Best Paddle Boards
There you have it, the best paddle boards out there which simultaneously deliver on quality, price, and style factors! Whether you're looking for an inflatable paddle board to take to the beach or a paddle board which can take you racing, we've got you covered.
The great thing about paddle boards is how you can always make the call about how easy or difficult you want the activity to be. Going for lazy afternoon paddles through calm shallow water, or day-long tours for a tough work out are both possible!
Pretty soon, you can impress all your friends with cool pictures of doing yoga on your stand up paddle board with the sunrise in the back-round, or show off your new skills surfing the waves. Who knows, you might convince your friends and family to try out paddle boarding for themselves and get more people hooking on the coolest of sports!
"Yay for transparency!Some of the links in this post are affiliate links. This means that if you book your accommodation, buy a set of trekking poles, or sort your insurance, I'll earn a small commission at no extra cost to you. I only link to stuff I've actually used and never endorse crap. Your support helps me keep the site going."
---
Need More Inspiration?
Chris Lininger is a writer, photographer, and guide from California. He is an advocate for off-beat responsible travel and the preservation of the world's wild places and spaces. Chris is also a founding member of Epic Backpacker Tours and leads expeditions to Pakistan throughout the year. He is currently riding out the pandemic in Bali.  Follow his adventures on Instagram.