The Russian capital is alive with history, art, and culture, and it's the perfect place for a short (or long) break. Architecture that manages to be intimidating and intricate at the same time, museums with incredible collections of art, and delicious restaurants and slick bars make Moscow a vibrant and must-visit capital city. Many of the attractions are inside the Garden Ring, the wide boulevard that encircles the city centre. However, stray off the beaten track and you'll be rewarded with some cool and unusual things to do in Moscow too.
In this article, we'll take a closer look at some of the best places to visit in Moscow. Hopefully, we can help you make the most of your trip to this amazing city!
Need a place quick? Here's the best neighbourhood in Moscow:
BEST AREA IN MOSCOW
Tverskoy
Home to luxury boutique and upscale restaurants, Tverskoy is a neighbourhood where history and elegance mesh seamlessly with modern amenities and opulence.
Places to visit:
Enjoy cheap beer, table games, and Russian techno tunes at Gogol, one of Moscow's oldest and most popular clubs.
Spend an evening enjoying the ballet or an opera at the Bolshoi Theatre: the heart and soul of Moscow's arts and culture scene.
Enjoy luxury boutiques and upscale restaurants as you walk along the lively and grand Tverskaya Street.
These are the BEST Places to Visit in Moscow!
Moscow is HUGE so buckle your seatbelt and let's get started by checking out where to stay in Moscow! There are over 100 neighbourhoods in this bustling metropolis so we've narrowed it down to our 5 favourites for you. Give it a gander! And then, let's get into the good stuff…
#1 – Red Square – A great place to see in Moscow if you love architecture!
Moscow's largest public square
Lined with some of the most important landmarks in Moscow
Be amazed by the onion-shaped domes of St Basil's Cathedral
Why it's awesome: The top of our Moscow itinerary with good reason. Red Square has some of the most famous places in Moscow. St. Basil's Cathedral, Lenin's Mausoleum, and the Kremlin are all centred around the former market square. The cobblestoned square is arguably the most popular point of interest in Moscow, and this site has seen a lot of historical Russian events unfold. Those historical events include everything from public executions to protests, to parades. An intercontinental ballistic missile has even made its way across the square. Thankfully, it wasn't armed at the time!
What to do there: Where do we start? First of all, take a walk across the square itself. Admiring all the beautiful architecture that surrounds it and taking photos will certainly eat up a chunk of time here. Then it's deciding what to do first. You could easily spend a whole day at Red Square. Do you head into the most important Russian Orthodox church, St. Basil's Cathedral? Or you could head to the Kremlin, one of the hotspots of Moscow's politics and history. Lenin's Mausoleum and the State History Museum are other landmarks in Moscow that you shouldn't miss during your Red Square day. Some of Moscow's best hostels are also located in the area so you could even make it your base for a while!
#2 – Bolshoi Theatre – Possibly one of the most important places to visit in Moscow!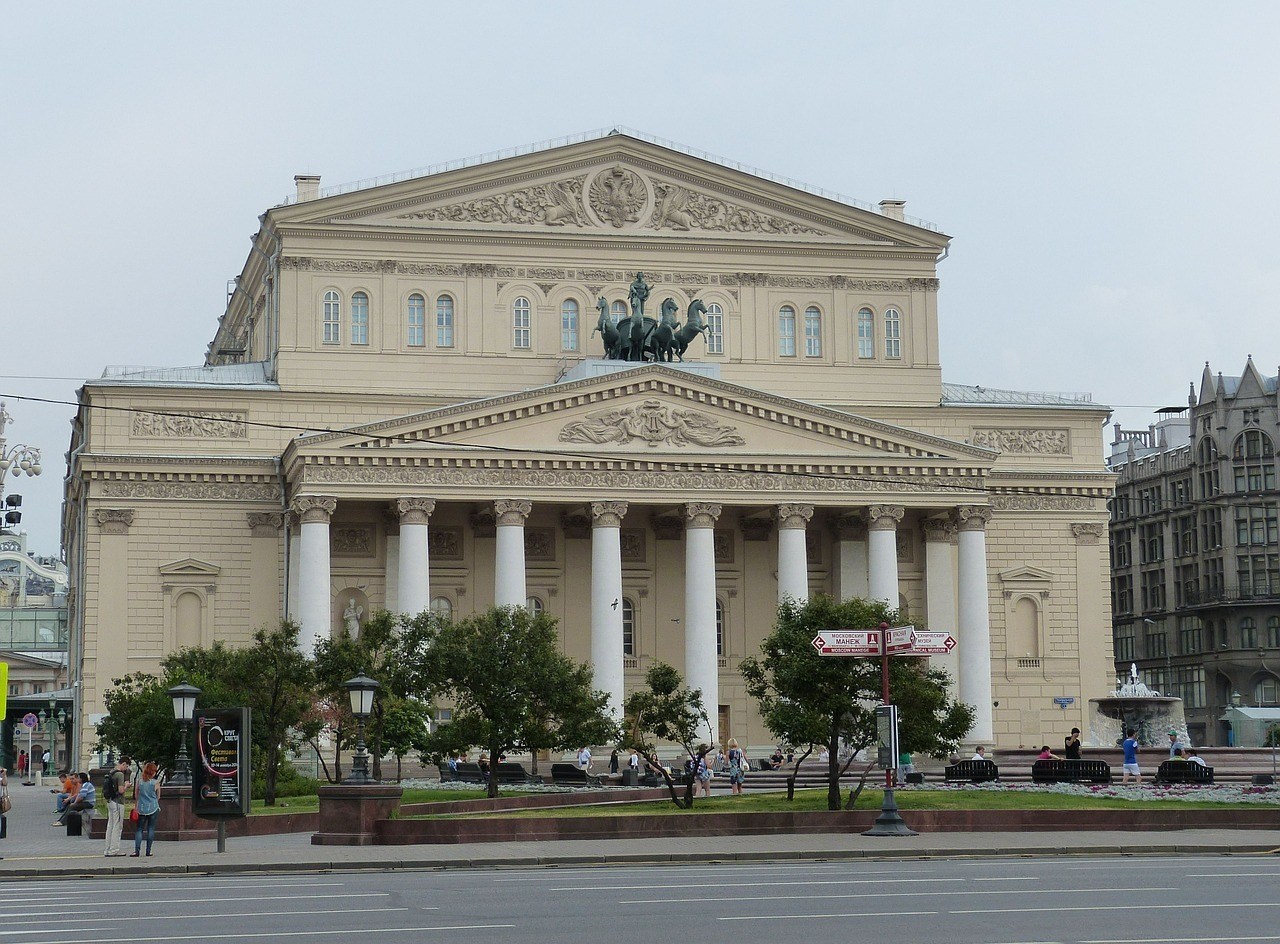 One of the most famous places in Moscow
Choose between watching an opera or ballet performance
Take a guided tour of this iconic Russian institution
Why it's awesome: If you love music, art, or culture, you can't miss visiting the Bolshoi theatre when you travel to Moscow. 150 years after it first opened, it's still one of the most romantic and entertaining places to head out to for an evening! The Russian Ballet and Opera perform in the six-tier auditorium throughout the year. If you do want to see a performance at the Bolshoi Theatre, it's very hard getting last minute tickets. So, if this is on your Moscow itinerary, book as soon as you know when you'll be travelling!
What to do there: The first and most obvious thing is to see a show! A packed events calendar with world class and experimental performance of Russian and foreign classics is not to be sniffed at. The only downside of this is performances can be expensive, and they sell out quickly! If one is out of your price range, or more likely fully booked, not to worry. You can take part in a guided tour of the theatre, which lasts for over one hour. Therefore, you don't have to miss out on seeing one of the most iconic landmarks in Moscow!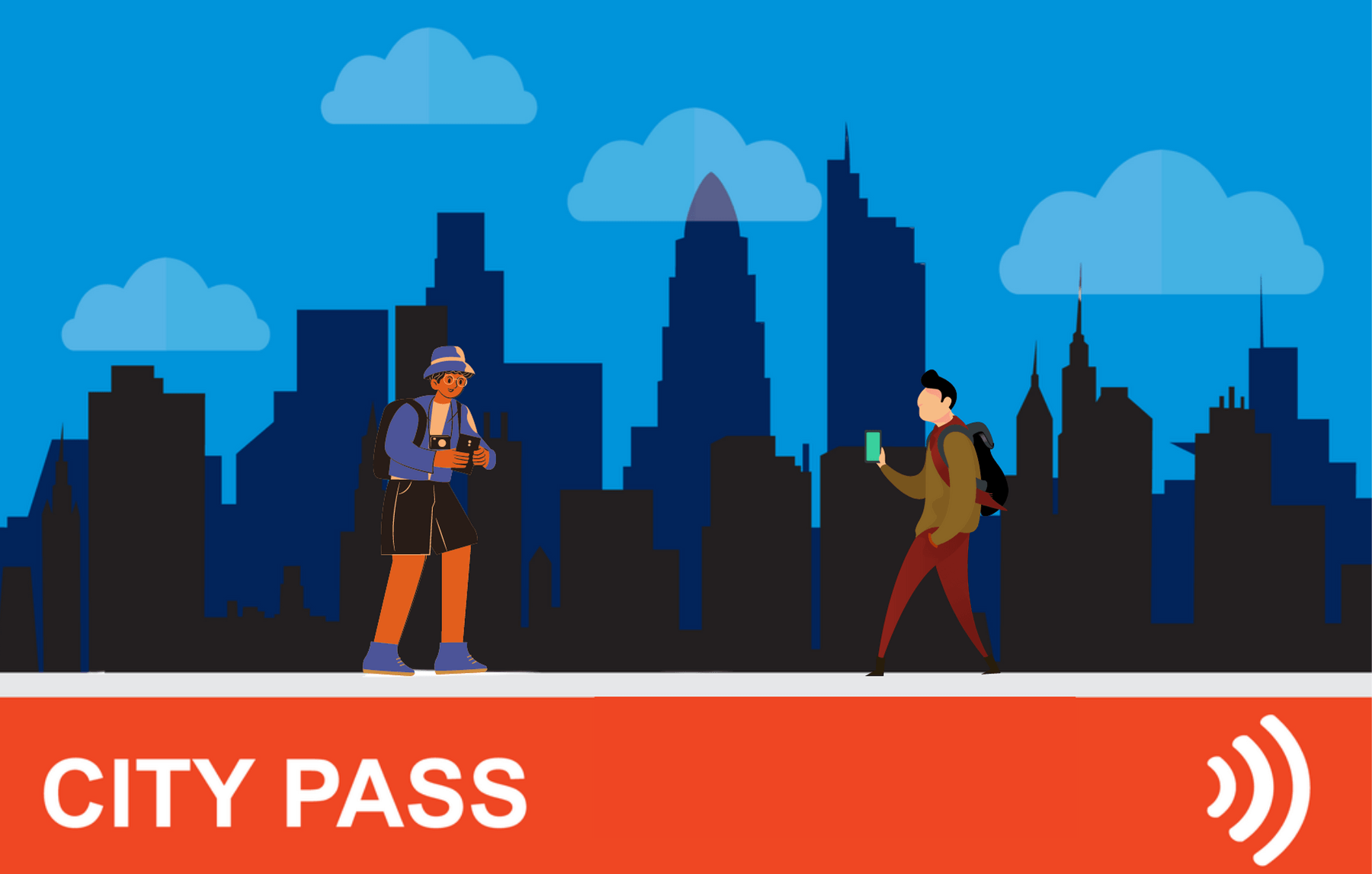 Travelling to Moscow? Then plan yo' trip the smart way!
With a Moscow City Pass, you can experience the best of Moscow at the CHEAPEST prices. Discounts, attractions, tickets, and even public transport are all standards in any good city pass – be sure invest now and save them $$$ when you arrive!
Buy Your Pass NOW!
#3 – Gorky Park
Escape the hustle and bustle in Moscow's premier green space
Visit the open-air movie theatre
Enjoy a range of fun and entertaining outdoor activities.
Why it's awesome: This 300-acre park is the ideal way to trade the fast pace of city life for some well-deserved chill time. One of the best places in Moscow for a whole host of different activities, Gorky Park is a favourite among locals and tourists alike. You can find Russian pensioners challenging each other to a battle of wits over chess, cats sunning themselves on the wide-open green fields, and families enjoying a day out together. It's a lovely atmosphere that's impossible not to fall in love with!
What to do there: Gorky Park is a great place to visit if you're running low on Moscow vacation ideas, no matter what time of year you travel. Visiting Moscow in winter? Enjoy one of the city's biggest ice-skating rinks. Summer presents you with lots of options too. Yoga and fitness classes, volleyball, and boat rentals are just some of the fun activities on offer! And a leisurely stroll isn't the only way to get around the park. Use the wide paths to cycle, rollerblade, skateboard, and Segway! Also, don't miss the open-air movie theatre, the perfect place to catch a film under the stars.
#4 – The Moscow Metro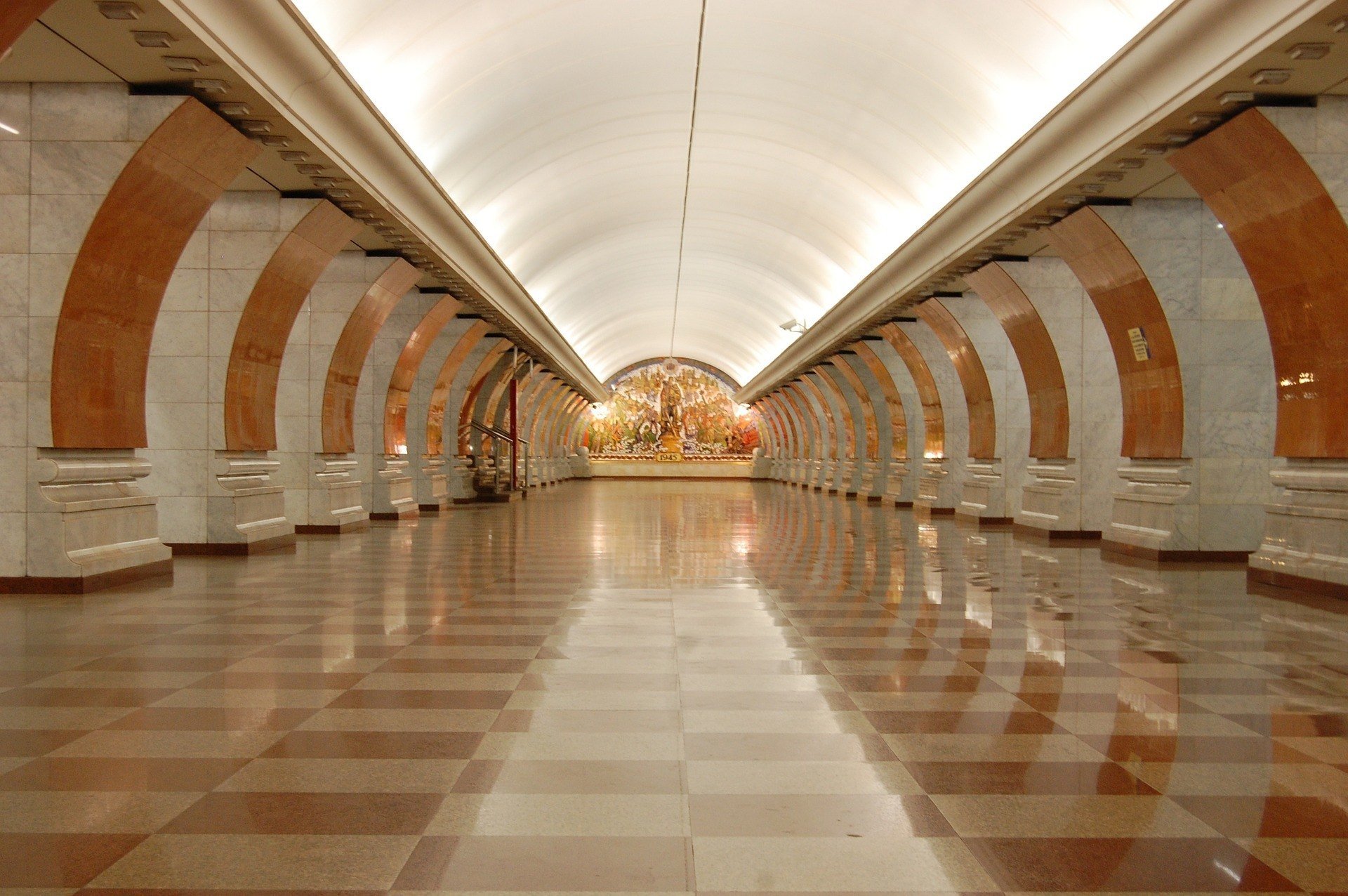 Visit some of the world's most beautiful metro stations
Enjoy its museum-like quality trains on the Red Line
Learn about the world's largest urban transit system at the metro museum
Why it's awesome: You probably think there's not that much do to in Moscow and we've run out of ideas after 3 great attractions. But hold your horses! You've probably considered the metro when thinking about how to see Moscow, but did you have any idea how amazing it is?! Rather than your standard dark and dingy underground stations, Moscow's are like luxurious great halls. And every single one is different! Statues, paintings, mosaics and dramatic archways are just some of the things to keep an eye for when exploring the Russian capital.
What to do there: It sounds crazy but there's so much to look out for on the Moscow Metro. In addition to the beautiful stations, some of the cars themselves are works of art. If you're travelling on the red line, keep an eye out for the Aquarelle train. Translated to the 'watercolour' train, it looks like a painting in motion when it passes you! There's also a public metro museum, and a statue dedicated to a stray dog that used to ride every day. The Moscow Metro might just be the most bizarre yet interesting public transport system in the world!
What is the One Item Every Traveller NEEDS???
There is one item every traveller NEEDS. Some travellers don't even know they need it, but those travellers need it more than anyone.
What is this forgotten essential of the backpacker-life? SPOILERS! Guess you'll just have to click the button to find out. 😉
Find Out What It Is!
#5 – Golosov Ravine – A beautiful and scenic place to check out in Moscow!
Take a stroll in one of Moscow's largest green spaces
Learn about Golosov Ravine's time-travel mist
Meditate in sacred Russian orthodox springs
Why it's awesome: Golosov Ravine is a fascinating place. It may not seem that much at first glance, but this verdant green space is 15% larger than New York's Central Park! It scythes right through the middle of Kolomenskoye Park and was a former royal estate. The most interesting thing about Golosov Ravine is the mysteries that surround it. In fact, it's one of the best places in Moscow to experience tall tales, myths, and legends.
What to do there: If you feel brave enough to take a walk in the Golosov Ravine, there's every chance that you may be transported to another dimension. That is of course if you believe the stories about the place. Some claim that there is a mist that descends on the ravine that traps you for an inordinate amount of time. When you get back to civilisation, up to 50 years could have passed! There are also legends of large, hairy, Bigfoot-type creatures in the ravine. Whatever your thoughts on the stories, it's a Moscow must see if you want to get some fresh air in a delightful green space!
#6 – Izmailovo Kremlin – Quite the quirky place in Moscow
Check out this wooden cultural centre and marketplace
Visit a load of single-subject museums dedicated to vodka, folk art, and bread among others.
Get off the beaten track and really explore Moscow!
Why it's awesome: Yes, the Kremlin is clearly one of the best places to visit in Moscow. However, it's not the only one! The Izmailovo Kremlin was only completed in 2008, yet it looks like it comes from deep in the past. That's partly because it was modelled on fairy tales set in Old Russia! Although it's only been around for just over 10 years, a visit to the Izamilovo Kremlin is like stepping back in time. Locals and tourists alike have a soft spot for it, and it's a charming place to spend a day out away from the city centre hustle and bustle!
What to do there: Next to this particular Kremlin, you'll find Izmailovo's traditional market, dating back to the 17th century. It's connected by a wooden bridge, and this is the perfect place to pick up some souvenirs and handicrafts for those back home. Artisans come not only from Moscow but all over Russia, so you can get some pretty cool gifts! There are several single-subject museums worth a visit here, about important parts of Russian culture. Head to the replica of the Tsar's summer palace to try some local Moscow delicacies too!
#7 – Sparrow Hills
Admire the views of the Stalinist Skyscrapers
Take a cable car ride
The highest point in Moscow – with a great view over the city
Why it's awesome: Another of Moscow's best-loved green spaces. It may not have the sheer range of activities as Gorky Park, but this is the perfect place to relax, contemplate, and admire the sublime views of Muscovite architecture. The park is named after the nearby village of Vorobyovy, which translates as sparrow in English. It has long been an inspirational spot for poets and writers who came here to get their first view of their final destination: Moscow!
What to do there: You can't visit Sparrow Hills without heading to the observation deck. From here, you can see the whole of Moscow city centre set out in front of you. Look out for the Luzhniki Stadium, the home of Russian football and the 1980 Olympic Games. You should also see the Kremlin churches, the Novodevichy convent, and the 7 sisters. These are a group of 7 Stalinist skyscrapers which are intimidating and imposing in equal measure! The most recognisable of those is the Moscow State University building.
#8 – GUM – A great place in Moscow if you love to shop
Russia's main department store
Shop till you drop at high-end labels and affordable ones too
Houses some of the best places to eat in Moscow
Why it's awesome: Even if you don't like shopping, GUM is a Moscow must-see. Just over the road from the iconic Red Square, this should be your first stop if you're planning a bit of retail therapy at any point during your Moscow travel. The store was built in the 1890s and the architecture is simply sublime. It's been added too since then, and the glass-roofed arcade is a stunning place to walk through! There are a number of restaurants in GUM too – perfect if walking round Red Square and the Kremlin has built up your appetite!
What to do there: Well, since this is Russia's premier department store, the obvious answer is shop! Boutiques like Cartier, Bvlgari, and Dior all have stores in GUM. However, if you're budget doesn't stretch that far, there are more budget-friendly options like Zara if you've forgotten to pack anything really important! Not only is GUM a shopping centre, but you'll also find plenty of restaurants and cafes here. There's a cinema too, so you should be able to find something to keep the kids quiet for a couple of hours!
#9 – The Pushkin State Museum of Fine Arts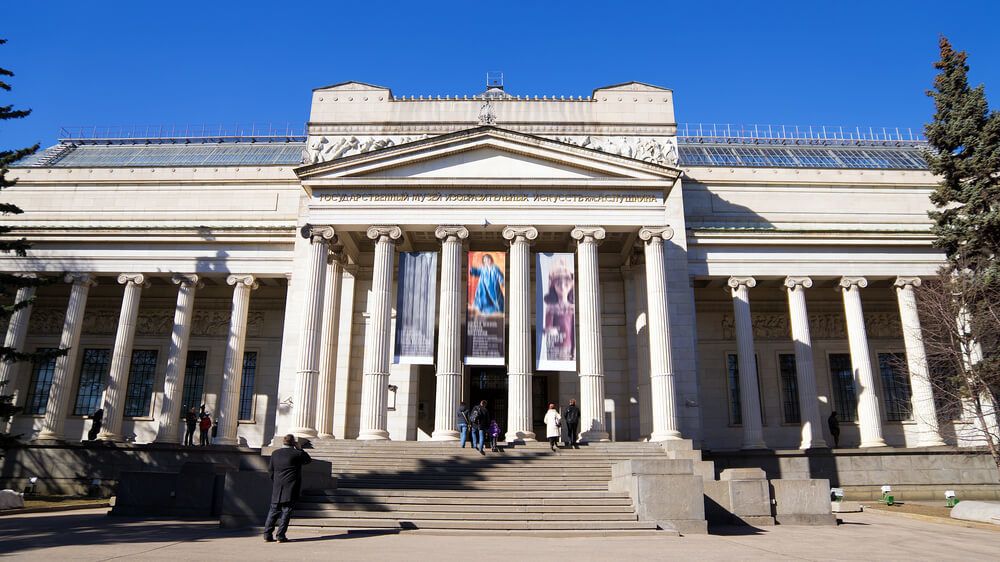 The largest collection of foreign art in Moscow
Holds an international music festival
A Moscow must see for art lovers!
Why it's awesome: Set over three branches, the Pushkin State Museum of Fine Arts has one of the largest collections of European art in Europe. It has impressionist, post-impressionist, and Renaissance masterpieces beyond the imposing entrance hall. Some of the most incredible artwork in the museum belongs to the Golden Age of Dutch art from the 17th century. Works include several Rembrandt's and lots of other important European artists! As well as paintings, you can enjoy the Ancient Civilisation exhibits too. These include Egyptian weaponry, jewellery, and ritual items!
What to do there: This stunning art gallery is split into a few different sections, and if you plan to spend a whole day at the museum taking in the exhibits, you should have time to get around all of it. The main building holds the Renaissance masterpieces and eastern antiquities, so it's best to start here! The Gallery holds most of the impressionist and post-impressionist artworks, largely by French artists. Don't miss picking up a souvenir of your day at the gift shop!
Is This the Best Daypack EVER???
#10 – Museum of Soviet Arcade Games – Easily one of the most fun places to check out in Moscow!
Play on over 50 arcade games for the days of the USSR
See what constituted as entertainment behind the Iron Curtain
Without a doubt one of the most unusual things to do in Moscow!
Why it's awesome: A museum dedicated to arcade games that you can actually play? That sounds pretty awesome, right! However, there's a little more to it than just a cool amusement arcade with games from the past. The museum is actually in the basement of a technical school, and students have preserved the games. They include pinball, video games, and collaborative hockey foosball. The games were built in secret in the 80s and many of them have sat for a long time just waiting for someone to enjoy them!
What to do there: Pay the entry fee of around $8 USD and get some kopek coins. Yes, they do come with a hammer and a sickle on them! Then, put them in whichever arcade game you desire. It may be a bit overwhelming at first when you realise they're in Russian, but most of the games are pretty easy to work out. For example, in Tankodrome, you shoot at enemies in a tank (who'd have thought it?!). This isn't on many Moscow itineraries but put it on yours and you're guaranteed a fun time!
#11 – Ostankino TV Tower
Speed up the tallest freestanding building in Europe
Get panoramic views of the whole of Moscow
Test your fear of heights with the observation deck's glass floor!
Why it's awesome: We mentioned earlier that Sparrow Hills was the highest point in Moscow. And that's true if we're not including buildings. However, the Ostankino TV Tower dwarves the 85m hill. In fact, it was the world's tallest freestanding building when it was constructed in 1967, at 540 metres tall! When the antenna is fully extended, it's still the tallest building in Europe and the 11th tallest in the world! You'll have to be content to explore Moscow views from the observation deck, at 337 metres.
What to do there: Well, being so high up you can't miss an opportunity to snap some unforgettable photos of Moscow! Tours are hourly and a great way to see the city from above while learning about its history. The lifts are super quick and will whisk you up to the observation deck, 340m above ground, in a matter of seconds. This probably isn't the best idea for travellers who are afraid of heights, unfortunately. Especially when you take into consideration that the floor of the observation deck is made of glass. It's a long way down, but totally worth it for some stunning Moscow snapshots!
Get insured for your trip to Moscow!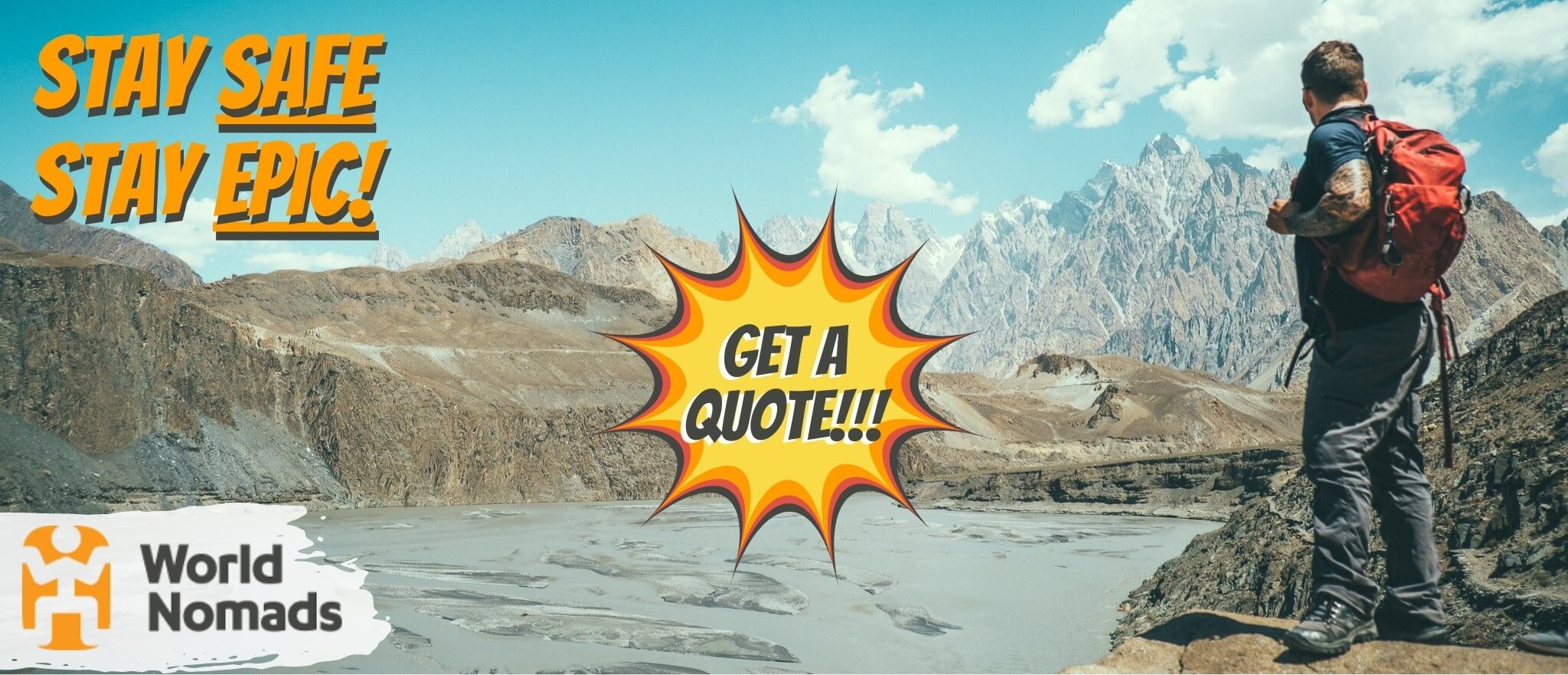 It's good to get lost sometimes, but it's also good not to get too lost. There are people that want you home in one piece.
There's one travel insurance provider The Broke Backpacker trusts for all his wildest shenanigans… World Nomads!
Click the button below to get a quote on your insurance or read our in-depth review of World Nomads' coverage. And then… let the shenanigans begin. 😉
FAQ on the Best Places to Visit in Moscow
Find out what people want to know about the best places to visit in Moscow
Final Thoughts
So, that concludes our list of the best places to visit in Moscow. Ideally, you'll have found this list informative and useful when planning your break in the Russian capital. Not only will you have found some cool spots to visit but found the coolest and best neighbourhoods in Moscow to stay in too!
Whatever you want from a city break, you should be able to find it when you travel to Moscow. World-class museums, fine art, stunning architecture, and gorgeous green spaces are all just waiting for you to discover!
This guide doesn't just show you the best places in Moscow but should help you to enjoy some local attractions too. We've mixed the Moscow must-sees with places that aren't in the guidebook, giving you a comprehensive guide of how to make the most of the Russian capital. All that's left now is for you to book your accommodation, flights, and have a great time!
---
Thanks for reading – that was fun! 😀
We bring you epic FREE content!
Find out how YOU can help support us.
We're a big site with a big team and this job isn't always easy. But we do it because we love it – we love providing epic and free content. We love the knowledge that our content keeps you adventuring. We don't ask for money, but if you'd like to find out how you can help the site in more organic ways, click the button below.
Thank you for your support 🙂
---
Bye for now, but not forever!
If you want MORE top-tier Broke Backpacker content like this, then sign up for our weekly newsletter below to get the latest and greatest!
And for transparency's sake, please know that some of the links in our content are affiliate links. That means that if you book your accommodation, buy your gear, or sort your insurance through our link, we earn a small commission (at no extra cost to you). That said, we only link to the gear we trust and never recommend services we don't believe are up to scratch. Again, thank you!