Hoping to indulge in some snow sports this winter? Great! Ski and snowboarding are great ways to take in some of the most beautiful views in the world, as well as get the adrenaline pumping. It is important, however, that you wear the right gear.
Snow jackets, helmets, and skis all go without saying – but many people leave ski goggles as an afterthought. We want to let you know that they are actually one of the most important pieces of equipment. Sunlight reflects off the snow, so it's important to protect your eyes when skiing. Given the high altitudes, even cloudier days can result in blinding sunlight levels on the piste. Ever gone snow blind? It sucks big time.
Finding the best set of goggles can be tricky if you aren't aware of what to look for. There's a lot of jargon when considering what features are important, and conflicting information around what each pair of goggles offers.
Thankfully, we've got your back! We've got our top five best ski goggles on this list – plus seven other fantastic picks if you really want to make a considered choice. We also have a little guide below to help you demystify the process.
So, let's just glide right in!
Quick Answer: These are the Best Ski Goggles of 2022
BEST CHEAP OVER THE GLASSES SKI GOGGLES
BEST INTERCHANGEABLE LENS GOGGLES
BEST PHOTOCHROMIC SKI GOGGLES
Best Ski Goggles of 2022 – TOP PICKS

Do You Want to Travel FOREVER??
Pop your email in below to get a FREE copy of 'How to Travel the World on $10 a Day!'.
Smith Squad ChromaPop Snow Goggles is our top pick for the best ski goggles overall
Specs
UV protection: 100%
Frame Size: Medium
Light Transmission: 12%
Polarized: No
Helmet Compatible: Yes
These ski goggles are our top overall pick thanks to the balance between price and quality! While they aren't by any means the cheapest on the market, they are still somewhat affordable – and perfect for beginners. Many online retailers (including REI) apply heavy discounts on these goggles, so make sure to look out for a bargain (like in summer time!).
The medium frame size gives you a reasonable field of vision, and for those starting out on the slopes, you will have no problem on the piste. They're also great for those that simply want them for everyday usage throughout the winter in a city with heavy snowfall. The design might be basic, but it is comfortable enough for prolonged use.
ChromaPop Technology ensures you have a clear view through the goggles. There are also anti-fog features, and the ventilation system stops them from overheating. Perhaps best of all, Smith provides a lifetime warranty on all their goggles – so you know these will last for years to come.
Our only gripe is that the lenses can be a little tricky to change. This isn't a huge issue for beginners that likely won't need to change lenses often – but if you are a regular user, this can get irritating. Nevertheless, spare lenses are included to save you more cash down the line, as well as a microfiber storage pouch to keep them safe.
Pros
Great for beginners
Reasonable price point
Long-lasting material
ChromaPop Technology
Cons
Basic design
Lenses harder to change
Meet the cheap ski goggles: Smith Cascade Classic Snow Goggles
Specs
UV protection: 100%
Frame Size: Medium
Light Transmission: 36-84%
Polarized: No
Helmet Compatible: Yes
If you're on a super tight budget, these bargain goggles are the pair for you! These are very basic, but they make a great option if this is for your first trip to the slopes. Like the Smith Squad Goggles, they are also fantastic for everyday use in snowy conditions. The lenses aren't heavily tinted, meaning they can also be used in lower light.
Smith Cascade also has a somewhat basic design, but the classic styling ensures they are a comfortable fit. The foam is designed with hypoallergenic materials – so those with strong allergies don't need to worry about these goggles. 
There are three different varieties available – all at the same excellent price! The main difference is the light transmission, so we recommend going with the CLEAR for use in low light conditions, and the RC36 if you only need to use it during brighter conditions.
As the cheapest goggles in this guide, the quality is somewhat compromised; if you become a regular skier, you will have to replace them eventually. That being said, this is a great starter set that won't hit your wallet hard.
Pros
Very affordable
Comfortable fit
Wide fit
Hypoallergenic
Cons
Very basic design
Narrow field of view
Smith Knowledge OTG Snow Goggles is one of the best cheap over the glasses ski goggles
Specs
UV protection: 100%
Frame Size: Large
Light Transmission: 35-36%
Polarized: No
Helmet Compatible: Yes
Don't worry, glasses wearers – we haven't forgotten about you! Over The Glasses goggles tend to be more expensive, but the Smith Knowledge aren't too heavy an investment. Where these goggles truly excel is with their fog prevention. This is important in ensuring that the goggles don't fog up and your glasses remain completely clear.
These goggles also come with Tapered Lens Technology. This is to prevent warped vision due to the way light filters through both the goggles and your glasses. The air vents are adjustable, so if you do experience some slight fogging of your glasses, this can be easily remedied.
The strap is comfortable and easily adjusted, meaning it can easily fit most head sizes. Due to the size required to accommodate glasses, these goggles have a wide field of vision. For those on a budget that want to enjoy maximum peripheral vision, these are a good pick – even if you don't wear glasses.
These goggles don't come with replacement lenses, but for most beginners, it will be a while before you need to find one. They can also be tricky to replace when you do source them. All things considered, however, these are a great compromise if you are sticking to a tight budget.
Pros
Affordable
Wide field of view
Great fog prevention
Made for glasses wearers
Cons
Basic design
No replacement lenses
Our top pick for the best interchangeable lens goggles is Smith Squad XL ChromaPop Snow Goggles
Specs
UV protection: 100%
Frame Size: Large
Light Transmission: 18%
Polarized: No
Helmet Compatible: Yes
These goggles are a larger version of our overall best pick. While the regular Smith Squad Goggles are known for having lenses that are hard to change, the larger size of the XL model overcomes this obstacle, making them a great alternative if you're happy to spend a little extra.
If you previously got a cheap pair of goggles but are looking for an upgrade, we prefer these to the regular-sized model. Not only are they easier to change, but they also provide a wider frame of view. This is important if you're starting to venture out to trickier slopes.
The large size does mean that people with smaller faces might find them too much, though they should fit most head sizes. We don't necessarily recommend these if you just need something for going out in the snow, but if you have them already, they provide excellent coverage and UV protection.
Just like the smaller version, these goggles come with a lifetime warranty; this is another example of why they are a fantastic upgrade option.
Pros
Wide frame of view
Great upgrade option
Lifetime warranty
ChromaPop Technology
Cons
Too large for smaller faces
Basic design
Zeal Hatchet RLS Snow Goggles is one of the best photochromic ski goggles
Specs
UV protection: 100%
Frame Size: Large
Light Transmission: 18-38%
Polarized: Yes (on some models)
Helmet Compatible: Yes
We've gone into more detail about what photochromic means in the 'How to Choose the Best Ski Goggles' section, but generally speaking, it means the tint level changes based on how bright the sun is. These kinds of goggles are great if you expect conditions to change throughout your ski sessions. They ensure that you are always protected from the sun's UV rays, without compromising the clarity of your sight.
Only the Auto+GB model of these goggles comes with photochromic lenses, so make sure to select this option if that's important to you. This model also enjoys polarized lenses, helping to reduce glare from the snow. Overall, we recommend these goggles for more advanced users.
Lenses aside, these goggles also have one of the best anti-fog features! The triple layer of padding is designed to let enough air out to prevent condensation, while also protecting the user from external wind. The thicker padding makes these goggles one of the comfier options on the market.
The photochromic model is definitely expensive, but totally worth it if you plan on using these regularly. It also gives the goggles a stylish finish. If you have the budget, these are our favorite of the more expensive options.
Pros
Photochromic Lenses available
Wide field of vision
Low light lens included
Anti Fog technology
Cons
Pricey
Better for regular use
More of the Best Ski Goggles
Specs
UV protection: 100%
Frame Size: Medium
Light Transmission: 17%
Polarized: No
Helmet Compatible: Yes
If you care about how your goggles look, these are the most stylish on the market! The huge frame gives you a wide field of view – ideal for hitting those tougher slopes. We also love the adjustable strap, which is not only comfortable but ensures you look the part while zipping down the mountain.
The lenses are designed to be changed within seconds, and the button press system means you won't have to risk leaving fingerprints on these beautiful frames. The anti-fog system doesn't bother with vents, giving the goggles a more streamlined appearance and lighter feel.
The Spy Legacy Snow Goggles are huge, however. For smaller faces, it's likely these won't fit very well. They are also quite pricey, and given they lack photochromic features and polarisation, this can be off-putting for the pros. If you want peripheral vision close to your regular eyesight, however, these are easily your best bet.
Pros
Great peripheral vision
Easy to change lenses
Anti Fog technology
Extra lenses included
Cons
Better for larger faces
Very pricey
The best present of all… is CONVENIENCE!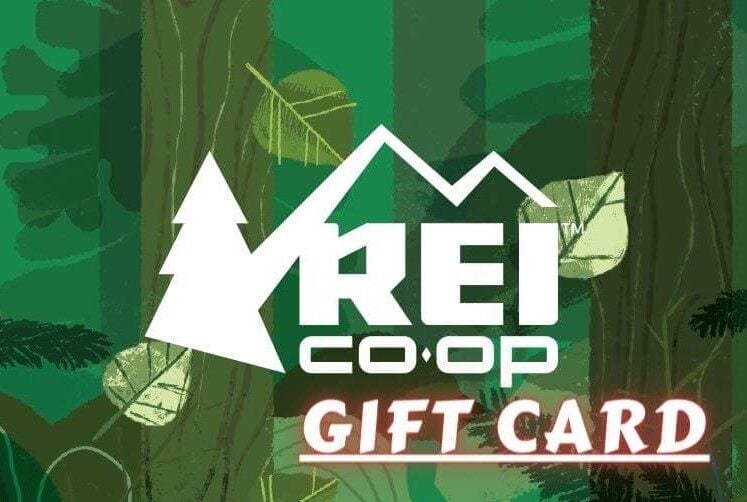 Now, you could spend a fat chunk of $$$ on the WRONG present for someone. Wrong size hiking boots, wrong fit backpack, wrong shape sleeping bag… As any adventurer will tell you, gear is a personal choice.
So give the adventurer in your life the gift of convenience: buy them an REI Co-op gift card! REI is The Broke Backpacker's retailer of choice for ALL things outdoors, and an REI gift card is the perfect present you can buy from them. And then you won't have to keep the receipt. 😉
Buy on REI!
Specs
UV protection: 100%
Frame Size: Medium
Light Transmission: Unknown
Polarized: No
Helmet Compatible: Yes
If you prefer spherical lens goggles, the Oakley Flight Deck XM are a fantastic pair! They are contoured to fit snugly around your face, ensuring the most secure fit possible. They are also very reasonably priced if you opt for the basic model – though the more expensive options offer excellent additional protection in all light levels.
The peripheral vision available with these goggles is fantastic, and the special anti-fog coating ensures both the inside and outside of the lens remain clear. There is a contrast boosting coating as well, giving you some added definition in the snowy landscapes.
The basic model is great for non-snowsports purposes if you plan on using them regularly throughout the winter months. While these aren't the best option for low light levels, the pricier models are adequate for most conditions during the day. The lenses are also super quick to change thanks to the patented Ridgelock System that keeps them secure.
Pros
Wide field of vision
Anti Fog technology
Great definition
Cons
Not great in low light conditions
Some models are pricey
Specs
UV protection: 100%
Frame Size: Large
Light Transmission: 18%
Polarized: No
Helmet Compatible: Yes
Where these goggles truly shine is with the color enhancing Prizm Technology! This helps you differentiate between different surfaces more easily, giving you a picture-perfect view of the slope ahead of you. The anti-fog coating is high quality and adds a scratch-resistant layer to the lens.
The lens is easy to remove using a magnetic style attachment. This is secure and reduces fingerprint contact with the lens. The rigid fit of the glasses keeps them sturdy – though this does limit their adjustability.
The price point is quite high, but still reasonable when compared to other lenses. Oakley Airbrake XL are known for the high-quality materials used during production. The sleek design also gives this set of goggles a stylish edge.
There aren't any additional lenses included; however, replacements are affordable. These goggles would make an excellent upgrade for those wanting to up their game on the piste.
Pros
Anti Fog Coating
Sturdy design
High definition
Lenses easy to change
Cons
Pricey
No additional lenses included
Specs
UV protection: 100%
Frame Size: Medium
Light Transmission: 36%
Polarized: No
Helmet Compatible: Yes
Most of the goggles on this list are unisex; however, these ones are specifically designed for women! They are a little bit smaller than some of the other goggles on offer, but they are also one of the cheapest pairs available. These are also often on sale, so if you can afford to wait a little longer, make sure to keep an eye on the price.
The anti-condensation lining fits snugly to the face, meaning it also protects you from the wind. The back strap is designed so it has endless fit options – ensuring you get them to sit perfectly on your face. There is a filter inside the goggles that balances the air pressure, maximizing your comfort and giving you improved sight.
As mentioned, these are better for smaller faces – so do keep that in mind if you usually find yourself needing wider goggles. The design is simple, but the rose-tinted front lens gives these a stylish finish that will have you looking the part on the slope.
Pros
Designed for women
Anti-condensation technology
Microfiber bag included
Budget-friendly
Cons
Better for smaller faces
Basic design
Specs
UV protection: 100%
Frame Size: Medium
Light Transmission: 9-50% (depending on model)
Polarized: No
Helmet Compatible: Yes
Another great option with ChromaPop lenses, these goggles are designed to fit those with a low nose bridge! They are quite a large pair, so the peripheral vision available is excellent. The sizing on these is a little bit smaller than other standard models, so we do suggest checking out the measurements before you commit to buying them.
The goggles are specially designed to fit well with Smith helmets, making these a fantastic pick for those that need something with ultimate compatibility. They will also fit other helmets, though possibly not as snugly. 
The lenses are fitted with a two-part locking system. This is easy to use, while still ensuring optimum security. There is also a fantastic ventilation system, optimizing your comfort and vision while on the slopes.
These are quite a pricey pair of goggles, but if you already own a Smith helmet and want a sturdy upgrade, you can't go wrong with the Smith I/O Mag goggles. There are two models available – one with a wider light transmission range. These are also stylishly designed.
Pros
Great for lower nose bridge
ChromaPop Technology
Quick lens change
Anti-fog ventilation
Cons
Pricey
Double-check sizing before buying
Specs
UV protection: 100%
Frame Size: Medium
Light Transmission: Unknown
Polarized: No
Helmet Compatible: Yes
The Spy Ace Snow Goggles are a great mid-range option for those seeking a bit of an upgrade! The stylish headband comes with a camouflage design, and the tinted lens ensures optimum usage in most light levels. It also provides a high definition image to users, giving you perfect detail while you make your way down the piste.
Though these goggles are designed for adults, they're also an excellent option for older kids and teenagers that enjoy regular snowsports! They fit securely to most helmets and come with a separate storage bag to keep them safe when not in use. The seal also ensures it will fit most head sizes.
These aren't the sturdiest, so you will need to take a little extra care of them. Nevertheless, they provide some premium features at a mid-range price, making them a great compromise if you aren't scared of a little upkeep. The lenses aren't easy to change, but these are also cheaper than replacement lenses with other models.
Pros
High visibility in all conditions
Reasonable price
Extra secure helmet fitting
Great upgrade option
Cons
Not as durable as other brands
Difficult to swap lenses
Specs
UV protection: 100%
Frame Size: Medium
Light Transmission: 12%
Polarized: No
Helmet Compatible: Yes
While these aren't our top pick for budget goggles, they are certainly a great option if you want something a little more stylish! The sleek design will have you looking cool whatever snowsport you are enjoying. It also ensures an ergonomic fit – meaning it is shaped to compliment the contours of your face.
Speaking of fit, like the Spy Ace Snow Goggles, we also recommend these for kids and teenagers! They are a little bit smaller, so they will also sit fine on younger kids' faces. The budget price point also means you don't have to invest as much – great if you just need them for a family holiday or one-off event.
The strap that fits around the head is designed with silicone. This gives it a little extra grip, so you won't feel the need to adjust it throughout the day. The great fit, combined with trendy design, means these are also good for everyday wear if you need them for walking around a snowy city.
Like the Spy Ace Snow Goggles, these aren't the sturdiest – but given the low price point, these should be treated as an introductory piece of gear anyway. Those with larger heads should also consider another model on this list as they can fit quite tightly to the face.
Pros
Affordable
Great introductory set
Stylish design
Ergonomic fit
Cons
Small fit
Hard to change lenses
How to Choose the Best Ski Goggles
There are a number of important factors to consider when choosing ski goggles, many of which we have already discussed in the reviews above. Ski goggles can be a bit of an investment, so we totally understand that you want to make sure you get it right before purchasing.
In general, we recommend considering your other equipment and how often you plan on using the goggles before you look into anything else. For those that are only skiing once every few years, it might not be worth forking out on an expensive pair with all the features. On the other hand, if this is something you do regularly, then it's essential to find the optimal pair.
We hope the guides above have helped you narrow down your options – but we get that the jargon can seem a little confusing. Here is a breakdown of all the critical factors to consider when choosing the best set of ski goggles for you:
Fit and Sizing
Regardless of your budget and skiing experience, it's important that you find the right size for your face! It's just a fact of life that some of us are born with bigger heads than others, so we do recommend taking some measurements and comparing them with the goggles listed. Most of the pairs on this guide will fit the average head size, though we have specified when we think extra caution should be taken.
Another vital factor in fit is whether or not the strap is adjustable. Most adult goggles have at least a few settings, but do look out for this as a few aren't adjustable at all. If you are opting for a kid's pair, these tend to not be adjustable and should only be used for smaller children. Older kids and teenagers will fare better with a small pair of adult goggles.
Most importantly, fit will impact how all the features function on your goggles. There's no point opting for the best anti-fogging and ventilation options if your goggles are going to be too loose on your face! Likewise, goggles that are too tight will hurt and leave marks. There's also a real chance they could impact your eyesight.
Value
In general, if this is your first time trying out snowsports – or you only need them once a year – we recommend going with a cheaper model. The cost of the gear can add up, and unless you are a committed skier, you likely won't need the more advanced options.
That being said, if you ski or snowboard regularly, then opting for a midrange pair is a worthy upgrade. These tend to come with all the features you require for casual snowsports and will be a little bit sturdier. Anything in the $100 range is still reasonable but will have a noticeably improved quality compared to the goggles half that price. These are also great for day to day use in snowy towns and cities.
Now, if you're going for a more professional pair, it is absolutely worth looking in the higher budget range. These usually come with more features – but make sure you know exactly what you're looking for before venturing into the $150+ territory. A high price doesn't always mean better quality, so don't be fooled, and always double-check the reviews.
We also absolutely recommend not opting for the expensive pair just so you can show them off! Most people won't notice what brand of goggles you're wearing, so have a genuine think about how often you're likely to use them. It's better to have a basic design that works well and more money in your pocket for apres-ski activities than to have blown your whole budget on gear.
Ventilation and Fogging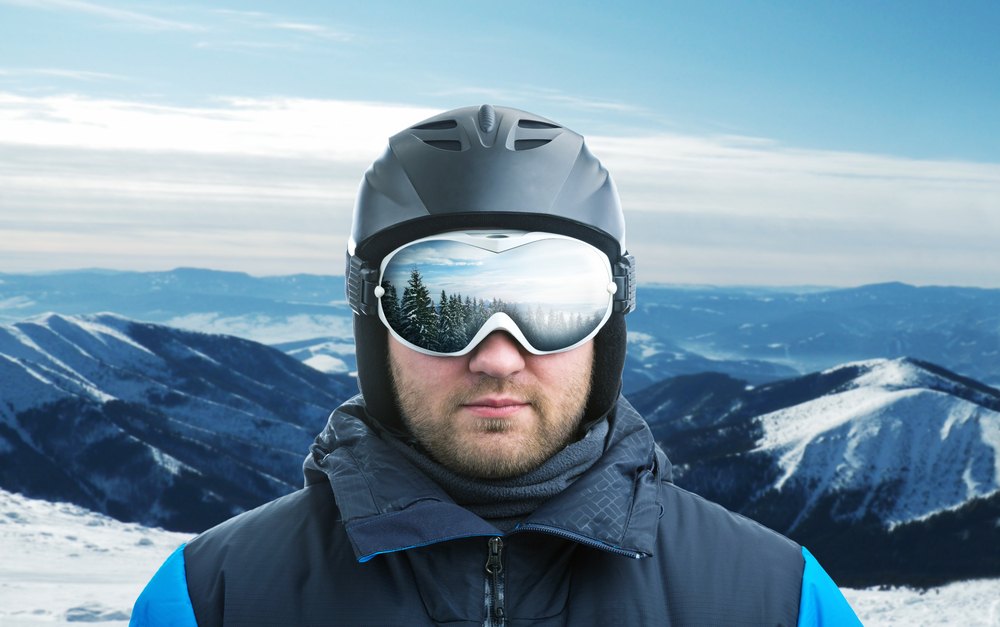 If you've ever worn glasses on a cold day, you'll know they have a tendency to fog up as soon as you move from the outside to inside or vice versa. This is because the change in temperature, paired with the temperature of the human body, impacts the condensation on the glass. This also applies to snow goggles.
Since it's a common concern, most modern goggles have anti-fog coatings. This is simply a chemical applied to the glass that deters condensation. Some cheaper models won't have this – but you can buy the coating separately and apply it for yourself.
One thing we will say: it is always worth investing in double-layered lenses! Even without coatings, these will take much longer to fog up. Think about the difference between double glazed and single glazed windows in the winter. The double glazed windows are way less likely to collect moisture. This is exactly how double-layered lenses work.
Vents and fans can also be incorporated to prevent fogging, as well as improve general comfort. Cheaper models will likely have vents – but the trade-off here is that you will definitely feel the cold on your face. They also aren't ideal in windy conditions. Fans are a bit more high-tech but mean you get to enjoy ventilation without having to worry about the wind.
Comfort
Comfort will generally be impacted by all the other features we've mentioned. As noted above, certain types of ventilation will impact how the cold and windy conditions feel on your face. Fit, helmet compatibility, and the quality of the lens will also have a significant impact on how comfortable you feel using them.
One particular feature that will impact comfort is the padding used. This foam seal will be held tight against your face for at least a couple of hours at a time, so you want to make sure it doesn't dig in. The thicker the foam, the more comfortable it will be to wear.
If you opt for a more expensive model, we recommend picking a set that comes with multiple layers of foam rather than one thick layer. This ensures comfort without compromising the ventilation. It also means you are less likely to notice the outside cold and wind than you otherwise would on goggles with larger vents.
Lens Shape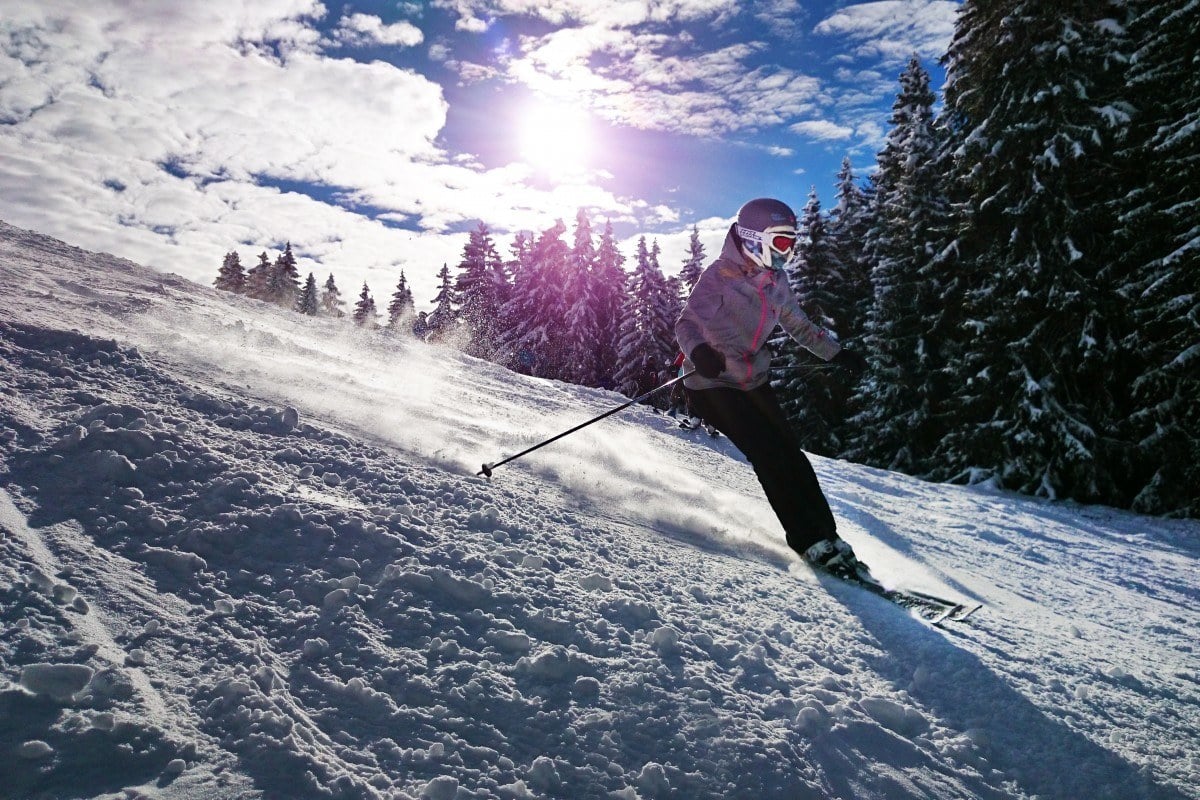 This is a feature many people overlook when purchasing goggles, but it actually has a huge impact on how they work! There are two main types of lenses – cylindrical and spherical. In general, cylindrical lenses are cheaper, but this isn't always the case.
Cylindrical lenses curve from one side of the face to the other; however, they are flat from the top of the head to the nose. This gives a flatter image, hence why they are usually cheaper. If you are a beginner, then this isn't too big a compromise. You just need to be aware that cylindrical goggles have a higher glare and lower peripheral vision range.
Spherical lenses curve in both directions – just like a sphere! This increases your vision range, reduces glare, and makes your view less distorted. These lenses are much more expensive to make, so you definitely won't find these in the budget section.
That being said, some cylindrical lenses are expensive; however, the other features are given to justify the price range. If there is one feature to really invest in – especially for regular use – then we recommend considering the lens shape.
Finally, also take into account that some manufacturers have a different definition when it comes to spherical. We trust REI, but as always, be sure to double-check the reviews as these will give you a clearer picture.
Optical Quality
This really does go without saying, but there's no point protecting your eyesight if the view you are given is distorted! It's surprising how many goggles there are on the market that impact your ability to see through them – and the reviews are definitely the place to go for this. Never go for a pair of goggles with lower than 80% of the available score.
While optical quality increases with price, there are still a fair few budget options. The cheaper goggles we have included on this list might compromise in terms of glare and field of vision, but all of them are more than adequate for casual users.
Visible Light Transmission (known as VLT) will also impact how well you are able to see. Though you might be tempted to go for the higher number here, this isn't always the best choice. For lighter conditions, you want a darker tint (brown or grey) to reduce glare and improve comfort. For darker conditions, opt for lighter tints (such as yellow, green, or pink). At night, you should always use clear lenses.
By far, the most important feature in terms of optical quality is UV protection. Ultimately, the whole point of ski goggles is to protect your eyes from UVA, UVB, and UVC rays, so all the models featured in this guide come with 100% UV ray protection. 
If you do venture further, though, be aware that some older models have lower protection levels. If you're buying from a country that has a certification standard (such as the kitemark in the UK), then it should come with this. All United States brands will state the UV protection percentage in their product information.
Interchangeable Lenses
The top ski brands have interchangeable lenses – though some are easier to change than others. General wear and tear means that, with regular usage, your goggles will experience scratching at some point. If possible, opt for a pair that comes with a replacement lens to ensure you will get longer out of them.
Magnetic lenses are the gold standard for interchangeable lenses. These are easy to put on and remove and are just as secured as the other fittings. They also require fewer fingerprints, meaning you can simply clip on and go.
We actually don't consider this a complete necessity if you only need these for infrequent usage, but it is a nice feature to have. Some goggles with interchangeable lenses will also let you change to a different type of lens. This means you can adjust depending on the light conditions outside. In this case, you absolutely want goggles that are easy to change.
Mirrored, Polarized, and Photochromic Lenses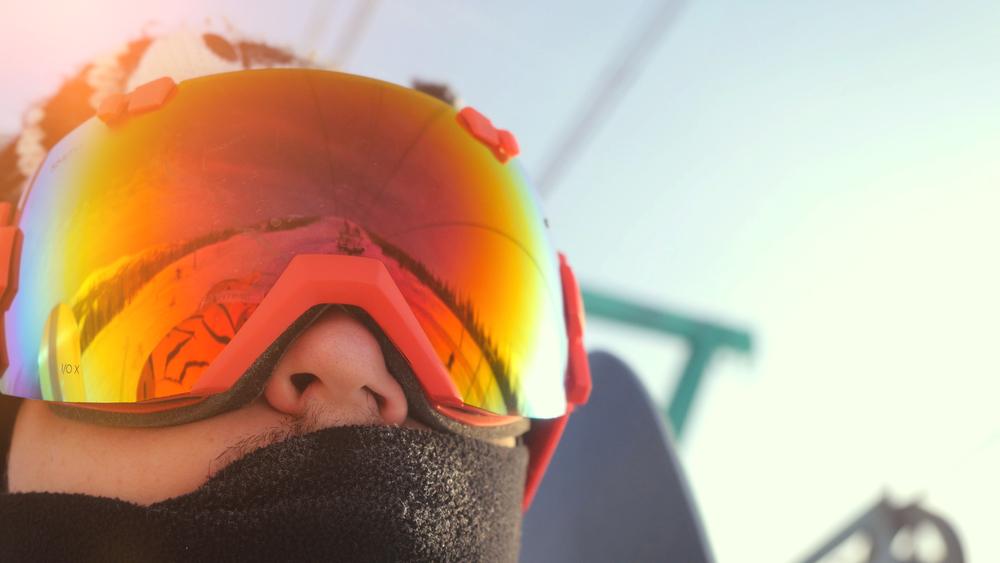 These all impact your ability to see clearly using the goggles, though in many cases, they aren't important. If you're on a budget, you can opt for a decent pair of goggles without any of these – just make sure you check the UV rating.
Mirrored lenses do exactly as they say: they create a mirror effect on the outside. This means they reflect light, which reduces how much reaches your eyes. The coating can wear off on cheaper goggles, but there are ways you can look after them to prevent this. We also believe they look the coolest.
Photochromic lenses are something you'll hear a lot about as you research ski goggles; it essentially just means the tint changes based on the light level outside. The lighter it is outside, the darker the lenses become – again, reducing the amount of light that reaches your eyes. If you have transition glasses, these are an example of photochromic lenses. If you expect to find yourself in changing light conditions often, this is a worthwhile investment.
Finally, polarized lenses are designed to reduce glare. Snow and water reflect a lot of light, which in turn can impact your ability to see well. As long as your goggles are tinted, this won't be a big deal, but glare can catch you off guard and impact your instincts. Most sunglasses are polarized, so we would say try to make sure your ski goggles are too – but it isn't the end of the world if you're on a tight budget.
Over the Glasses Ski Goggles
Whether or not it is worth investing in Over the Glasses (OTG) goggles will depend on how much you rely on glasses in your day to day life. Given that snowsports usually require quick reactions, we would suggest that all glasses users should get OTG goggles – but you can use your judgment here.
Over the Glasses lenses are bigger, so the bad news is that they are always more expensive. At their cheapest, OTG goggles sit within the mid-range bracket – and if you want all the other add-ons, many of them exceed the $200 mark.
If you use contact lenses, you will already be aware of how they can react in cold conditions. If the goggles are well ventilated in a way that retains heat, you can get away with some of the cheaper models.
Over the Glasses Goggles also generally don't come with replacement lenses, so keep this in mind if you plan on using them regularly. Often, replacement lenses can be bought separately. If in doubt, get in touch with the manufacturer.
Helmet Compatibility
Last but not least, helmet compatibility is of the utmost importance when choosing the perfect pair of ski goggles. Goggles and a helmet are necessary for most snowsports, and if you want them to both work effectively, then they should be easy to wear together.
In this guide, we have listed whether goggles are advertised as compatible, but this also requires some extra caution from the buyer. If possible, we recommend getting goggles that are the same brand as the helmet you have bought. This will ensure you get only the best fit possible.
If you can't, however, then most modern models that are advertised as helmet-compatible are forgiving. Customer reviews can help you in this regard – but always double-check they both fit well together as soon as you have them in your hands.
FAQ about the Best Ski Goggles
Still have some questions? No problem! We've listed and answered the most commonly asked questions below. Here's what people usually want to know:

Unlock the The Broke Backpacker's GREATEST Travel Secrets!
You pop your email here, and we promise to send you only travel content that's actually relevant — sounds like a pretty good deal to us!
Final Thoughts on the Best Ski Goggles
Goggles are a necessary piece of safety equipment when hitting the slopes, but are often overlooked. Given all the advice above, we hope you've managed to find the perfect pair for you.
If you're in a hurry and just want something for a single trip, the Smith Cascade Classic Snow Goggles are perfect for skiing on a budget. The low price point also means that, should you decide you want to upgrade, you won't have too many regrets about it.
We also love the Smith Squad ChromaPop Goggles! These are larger, giving you a better field of view. They certainly aren't the cheapest, but the mid-range price isn't too much of a hit. The smaller Smith Squad model is also a great pick if you're looking for casual use.
Either way, we hope you have a fantastic time on the ski slopes with your great new pair of goggles.
What's next? Check out our guide to the best ski jackets to complete your kit.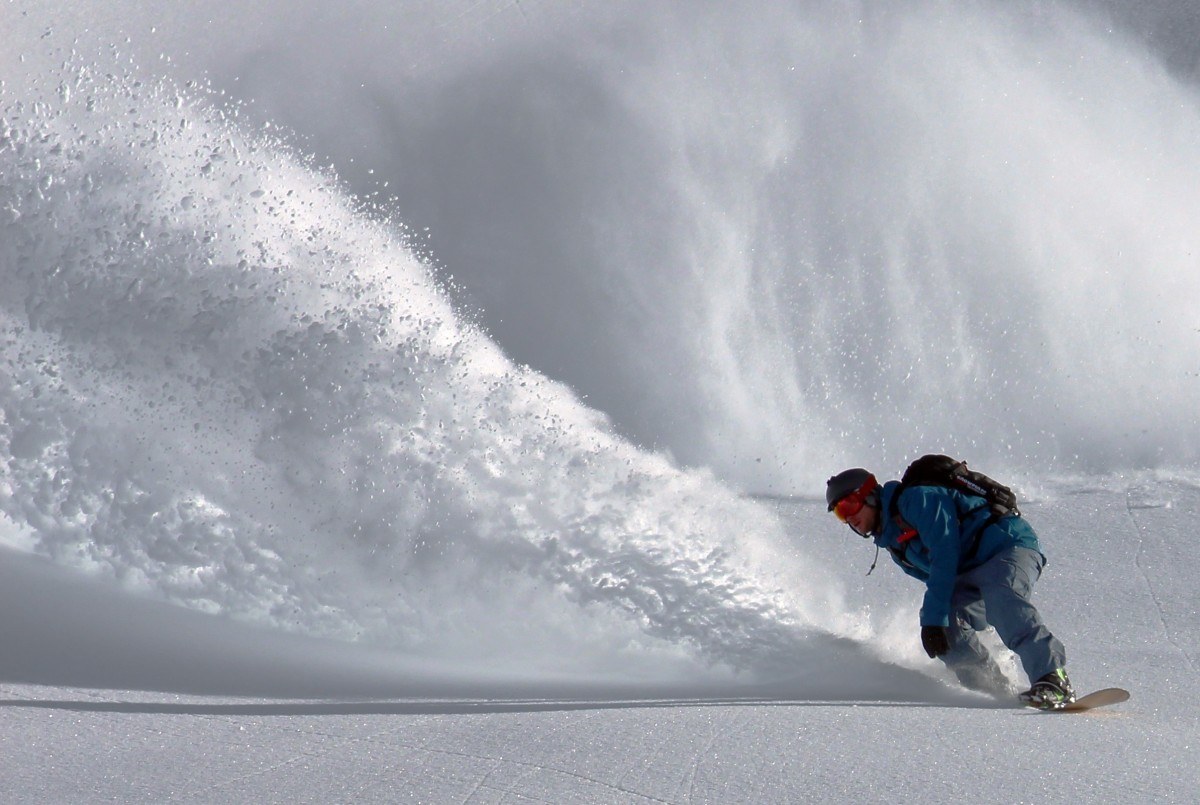 ---
Thanks for reading – that was fun! 😀
We bring you epic FREE content!
Find out how YOU can help support us.
We're a big site with a big team and this job isn't always easy. But we do it because we love it – we love providing epic and free content. We love the knowledge that our content keeps you adventuring. We don't ask for money, but if you'd like to find out how you can help the site in more organic ways, click the button below.
Thank you for your support 🙂
---
Bye for now, but not forever!
If you want MORE top-tier Broke Backpacker content like this, then sign up for our weekly newsletter below to get the latest and greatest!
And for transparency's sake, please know that some of the links in our content are affiliate links. That means that if you book your accommodation, buy your gear, or sort your insurance through our link, we earn a small commission (at no extra cost to you). That said, we only link to the gear we trust and never recommend services we don't believe are up to scratch. Again, thank you!