The first evidence of surfing dates back to 12th century Polynesia, when seafarers would ride waves using planks of wood as surfboards. The sport started as a religious ritual and played a big part in ceremonies that served to protect the ocean and its gods. The Polynesians brought the activity to Hawaii, where the sport spiraled into the viral lifestyle phenomenon we know today.
After being publicized in the writings of famous literates Mark Twain, Jack London, and even in the diary of the iconic explorer James Cook, surfing took the world by storm. Today, there are few coastal locations that have not yet caught onto the surfing trend (I mean, they even surf in Ireland!), which has influenced an entire sector of tourism across tropical and colder waters alike.
While surfing has been around for centuries, it wasn't until very recently that the sport developed into the multi-million dollar industry that it is today. Surf clubs and surf schools are taking over our beaches, with children who aren't yet able to walk learning to surf – and we love to see it!
Whether you grew up surfing the odd swell or are interested in seeing what the rave is about for yourself, understanding what equipment you need to use is the most important place to start. In this article, I'm going to run through how to choose the best surfboard for beginners to intermediate surfers, detailing eight of the top standard surfboards on the market.
I'll then dive into a bit about how boards are made and what makes one board more suitable for someone than another, taking volume, size, and material into account.
Choosing the Best Surfboards to Hit the Waves in 2023
With the advancement of surfing, surfboards have come a long way from local wood carved into rounded planks. In fact, surfboards are an everchanging phenomenon that is continually designed to keep up with rising talent.
As an example, just a few decades ago, the most progressive surfboards were retro boards with lots of volumes, designed to allow surfers to cruise and carve over waves. Today, many of the world's top surfers are launching off waves into the sky and doing more and more air maneuvers. Surfboard designers (we call them shapers) have worked to accommodate the changing surf trends and designed ultra-light surfboards for these types of tricks.
However, as a beginner surfer in 2023, there are some foundational principles that have remained the same since the dawn of time. These include wanting a board with enough volume to get you into waves and enough stability to allow you to confidently stand up on a wave. After all, without this, there is no surfing!
Most of the best surfers order customized surfboards from their loyal shapers, who know their surfing abilities and needs in order to design personalized equipment according to their body weight, height, and the type of waves they want to ride.
However, for the average surfer or beginner, purchasing the best surfboard off-the-rack (as we say) is the best way to start. Of course, once you've got the hang of the sport and start surfing more advanced waves, it is possible to progress from one board to another. Once you're at this stage, you might start to build up a 'quiver' of your favorite boards, one for every type of condition or mood!
So, let's get you ready for your Hawaii backpacking trip with the perfect board to rip …
Quick Answers – The Best Surfboards
Falcon PU Surfboard
Length > 7ft
Width > 21.5in
Thickness > 2.81in
Volume > 47L
Material > PU constriction
Price > $475 – $595
Fun Guy Soft Surfboard
Length > 8ft
Width > 22in
Thickness > 3in
Volume > 61L
Material > Epoxy soft construction, wood, PE deck
Price > $495 – $625
The Best Surfboards that Money Can Buy
Now that you have more of an idea of what type of board to look for, here is a list of eight of the best surfboards for those starting out in the sport.

Do You Want to Travel FOREVER??
Pop your email in below to get a FREE copy of 'How to Travel the World on $10 a Day!'.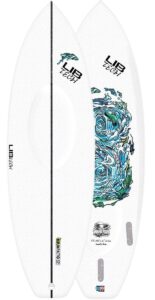 Specs
Length – 5ft 4in
Width – 18.8in
Thickness – 2.1in
Volume – 23L
Material – Ecoimpact
Price – $850
Designed specifically for river waves and man-made waves, the Lib Technologies Whirlpool Board is ideal for those who live inland. Built with a durable construction that is both environmentally friendly and strong enough to withstand wave force, you don't have to worry about getting dings and bashes when taking this into a concrete-bottom wave pool.
The board has a pointed nose that helps with speed and maneuverability and a square tail to help increase stability on critical sections of the wave. Suitable for intermediate to advanced surfers, it also has a chined rail edge that doesn't catch the moving water and allows for more aggressive turns and carves.
As one of the best surfboards for travel, this board holds a high-performance shape with a rockered profile and short length making it a great option for wake surfing or skurfing behind a boat, too.
Specs
Length – 6ft 8in
Width – 21.25in
Thickness – 2.63in
Volume – 41L
Material – Polyester foam construction
Price – $475
The Salt Gypsy is a daily driver fun surfboard specifically designed for beginner female surfers. Between the polystyrene foam material that it is made from and the high volume of 41L, this board offers all the stability needed to progress from a longer board to a shorter one.
The rounded rails provide a stable base to do slow turns but can also be manipulated into more sleek turns once you have a good feel for the board. It's also super floaty and easy to paddle through waves, ideal for keeping your confidence up as you cruise through the lineup.
The semi-pointed tip offers the confidence to progress onto a shorter board while still maintaining the balance and safety of a round nose. The board also comes in a 6ft 4in, 7ft, and 7ft 4in size.
Specs
Length – 5ft 10in
Width – 21in
Thickness – 2.56in
Volume – 36L
Material – Carbon Fiber, Composite, Resin
Price – $850 – $930
Created for small waves, the Lib Tech X Lost Puddle Jumper is designed for high-performance surfers who need a little bit of extra power in small conditions. The shape was pioneered and tested by Matt Biolos, one of the world's most famous surfboard shapers.
As one of the best surfboards, the board is short yet wide and buoyant, offering tons of paddle power to help you get into small waves. Once up and standing, you'll feel how the shortened and pulled-in nose helps increase agility and allows for quick moves.
The board has foiled rails and a deep V tail cut, which provides ultimate stability at high speeds or in critical sections of the wave.
When it comes to materials, the board is made using a magnesium basalt carbon construction, combining the most desirable characteristics of epoxy with the performance and flex of polyester.
Let's be honest, this thing looks slick too, you'll be the talk of your surf hostel in Bali with this bad boy under your arm!
Specs
Length – 7ft 2in
Volume – 60L
Material – EPS Foam Core
Price – $280 – $315
The perfect board to learn to surf on, the Legacy Soft Surfboard Foamie is an affordable option for anyone who is eager to commit to learning to surf. The board is available in four sizes depending on your weight and level of expertise and is sold as a full package, including a leash, fins, and a block of surf wax.
With 60 liters of volume, the board is incredibly floaty, which helps push through waves when paddling out, catching waves, and with stability when you do catch a wave.
A high-quality foam material deck provides top-notch grip and cushy protection if you fall, keeping you and those around you safe in the water.
The best present of all… is CONVENIENCE!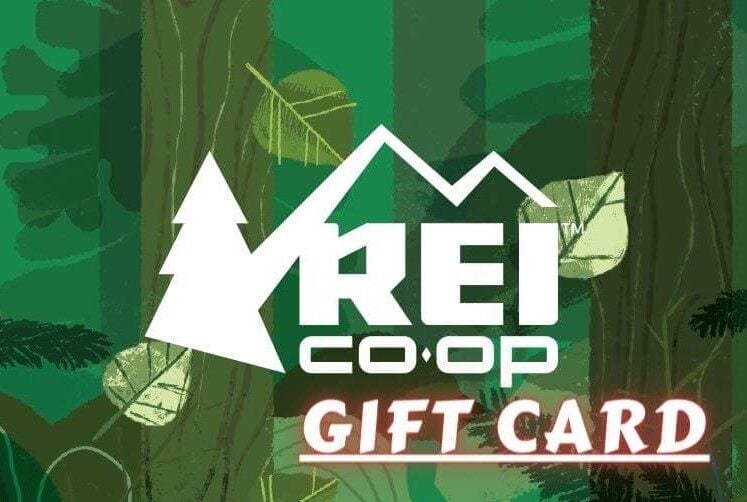 Now, you could spend a fat chunk of $$$ on the WRONG present for someone. Wrong size hiking boots, wrong fit backpack, wrong shape sleeping bag… As any adventurer will tell you, gear is a personal choice.
So give the adventurer in your life the gift of convenience: buy them an REI Co-op gift card! REI is The Broke Backpacker's retailer of choice for ALL things outdoors, and an REI gift card is the perfect present you can buy from them. And then you won't have to keep the receipt. 😉
Buy on REI!
Specs
Length – 5ft 6in
Width – 21in
Thickness – 2.87in
Volume – 42L
Material – Foam, HDPE core
Price – $350
The Odysea Skipper Tri-Johnny R is the ideal combination of a high-performance shortboard and a foam board, suitable for everybody from beginners progressing to a shortboard to advanced surfers looking for a cruisy board.
It is shaped like a progressive surfboard, with a broad nose and a fishtail (otherwise known as a swallowtail) for ultimate paddle power and maneuverability. However, as one of the best surfboards for beginners, the foam material composition gives the board tons of float and volume to help you get into waves and stay afloat while getting the feel of riding a smaller board.
The Tri comes with a classic tri-fin setup and is sold with fins included in the overall price.
Specs
Length – 6ft 8in
Width – 22in
Thickness – 2.5in
Volume – 55L
Material – EPS Core, foam top
Price – $245 – $295
Combining elements of a fishtail and a rounded longboard nose, the Hot Surf 69 offers the necessary stability and paddle power while allowing for more maneuverability compared with most soft top boards. The fishtail enables water to flow through specific angles under the board's surface, making it easier to turn using your back foot.
The entire top deck is lined with a chameleon grip pad, which ensures you won't have to worry about sliding across the deck (even without wax). The waterproof core increases the board's lifespan, ensuring it retains its strength and flexibility over time. With its low relative price, this is a no-brainer investment for new surfers.
Perfect for beginners with a knack for board sports (or good balance in general), this board includes a free leash, board bag, and an FCS fin setup.
Specs
Length – 6ft
Width – 21.5in
Thickness – 3in
Volume – 48L
Material – HDPE, foam
Price – $400
The Odysea Skipper is one of the best boards to help you transition from a longboard or a foamboard to a shortboard. With three inches of thickness and 48 liters of volume, it's super buoyant and easy to get into waves and paddle through the lineup.
The top deck is also made from a foam material, which means you won't have to worry about hitting your head or riding into other surfers. Which is pretty critical when it comes to picking the best surfboard for beginners!
However, with a shorter length, and a fishtail shape, this surfboard is a lot easier to turn compared with a traditional foam board. The board comes with a thruster fin set up (three fins), which provides support and stability when surfing on a wave without being too rigid.
This thing also has flames on it, so when you rock up to your Surfers Paradise hostel, everyone will know you mean business!
Specs
Length – 7ft
Width – 21.5in
Thickness – 2.81in
Volume – 47L
Material – PU constriction
Price – $475 – $595
Everybody should have a fun board in their quiver. These boards are as good for those transitioning from a longboard to a more progressive shape as they are for advanced surfers who want a bit of extra volume for a small cruisy day.
The Falcon PU Fun Board is made using traditional materials of polyurethane inner with a fiberglass coat, giving it the strength, lightweight maneuverability, and flex of a high-performance surfboard. The rounded rocker beneath the board increases speed and digs into steep sections of the wave, ensuring you can ride stably even on a vertical section.
However, the board has more volume than a traditional shortboard, ensuring you'll catch enough waves and pop up confidently, having the most fun as you progress from a longboard to a shortboard!
Specs
Length – 8ft
Width – 22in
Thickness – 3in
Volume – 61L
Material – Epoxy soft construction, wood, PE deck
Price – $495 – $625
The Fun Guy Soft Surfboard is ideal for beginner to intermediate surfers, ranging in size from 7 to 9ft 1in. Built with an epoxy base and soft top deck, and a low rocker, beginners will be able to cruise through choppy water and waves and flow into turns with confidence.
To make things even easier, the generous width at both the nose and tail, combined with the abundance of volume, make this one of the most buoyant and best surfboards on the novice market. It's perfect for small waves, with a vee to double concave, providing extra speed and control when transitioning from rail to rail.
How to Choose the Best Surfboard for You
Choosing the best surfboard hinges on multiple moving factors, from your body weight and height to your surfing ability to the waves and conditions you plan to surf. There is no simple formula here, and no single surfboard is perfect for two people.
Whether you're surfing in Sri Lanka, battling the cold in the brutal waters of Iceland or learning the ropes in a wave pool, there's one solid bit of advice:
The worst thing you can do for your confidence is to get ahead of yourself and buy a board that is too advanced for your skill level.
There is a lot to consider when it comes to choosing the right board, so let's take a look at some of the main factors, broken down according to skill level:
Volume
The volume of a surfboard refers to how much water your board will displace when it is in water and is typically described in liters. The more volume, the easier it is to catch waves. The general rule is that extra volume benefits not only beginners but also advanced surfers riding big waves.
Your weight affects the volume you'll need. The heavier you are, the more volume you will need to keep you afloat. Finding the right volume for you is tricky and can come down to trial and error. This is why I always prefer renting, demo-ing, or borrowing boards to try out different sizes and volumes before investing a lot of money in a new board.
As a beginner, volume is key. It helps you to float above the water and makes it easier to paddle through breaking waves as well as into waves to catch them. The best beginner surfboards are also more stable when catching a wave, offering a reasonably flat surface to practice on. An eight or 9-foot foam board will generally have enough volume for the average-sized person to learn on.
Once you're confident with paddling through breaking waves and catching waves, you might want to progress to a board with less volume. An intermediate surfer will begin to turn the surfboard and ride the wave with more control, and too much volume can hinder this movement.
Once you reach advanced status, you will start surfing bigger waves that need to be duck dived to get to the backline, a board with too much volume will be difficult to maneuver and get through the breakers. At this stage, you'll start surfing more advanced waves with critical take-off sections and steep lines. You'll want to have as much control over your board as possible to maneuver through the waves, doing exciting turns and tricks like cutbacks and top turns.
Material
Soft tops are the most traditional board for beginners to learn on. The top deck is made from a polystyrene foam which is excellent for falling and if you happen to ride into someone else (which is more common than you think at this stage)… you won't kill them! Soft tops are voluminous and floaty, which makes paddling and catching small waves easier.
Intermediate and advanced surfers will want to progress to a board with less buoyancy. At this stage, you'll want a more responsive surfboard that can be turned and maneuvered quickly. The classic surfboard uses a lightweight foam covered with a mix of resin and fiberglass. There are also other progressive materials on the market, made from wood and epoxy, but these are less common and more expensive.
Nose Shape
The best surfboards for beginners typically have a rounded nose shape. Not only does this offer more contact with the water, making it easier to paddle through waves, but it is also a lot less dangerous in the case of a collision.
That said, longboards have rounded noses, too, which is not to suggest that they are also designed for beginners. In fact, some of the world's best longboarders surf highly progressive longboards with rounded noses.
Intermediate to advanced surfers will want a bit more speed and maneuverability. For this, you could make the significant step from a longboard / foam-top or mini-mal to a high-performance shortboard. These boards have pointed noses with less volume at the nose of the board. This is great for surfers who want to catch steep waves, ride fast, and do impressive tricks and turns.
Leashes
A leash is a long cord connecting your leg to the back of your board. Whether you ride with a natural or goofy stance, you will connect your leash to your back ankle (longboarders connect to just below their knees since their boards are heavier and can cause ankle injuries).
Beginners should source a leash that is as long as your board, which gives a safe distance between your body and board in case you wipe out.
Intermediate and advanced surfers will want a shorter leash to reduce the drag of the leash in the water behind you as you surf. Leashes even come in various thicknesses, with thicker leashes designed for large waves and thinner ones designed for competitive surfing in smaller waves.
Traction
Otherwise known as a grip or grip pad, traction pads offer maximum grip on your board.
The best surfboards for beginners won't typically need a traction pad, as you won't need to grip your foot onto your board to do turns or get through critical sections of the wave. Soft tops are naturally pretty grippy, but a bit of wax will do the trick if you're learning on a regular board.
Intermediate and advanced surfers riding smaller boards will require more control over their trusty steed. In this case, a traction pad helps keep your feet in the correct position on the board.
When we surf, we maneuver our boards using our back foot as the primary source of power, digging the back of the board into the water to gain momentum. This is why most traction pads are only stuck on the back of a board and why they have a raised ridge that we use to push the side of our back foot up against.
Price
Surfboards don't come cheap, but for what you get and how long they can last, they are well worth the expense. Whether you buy a board brand new, off the rack, or second-hand, the price of a soft top board is around $200 – $300.
Once you progress to an epoxy or polyurethane (resin and glass) board, you'll need to spend upwards of $600 for a brand-new longboard (and even up to $1100). Shortboards are cheaper, but brands come at a price too, and a high-performance shortboard is priced between $500 and $900 brand new.
Remember, if you're travelling with your board you'll also want a good surfboard bag too.
Best Surfboards

| Name | Length | Width | Thickness | Volume | Material | Price |
| --- | --- | --- | --- | --- | --- | --- |
| Lib Technologies Whirlpool Board | 5ft 4in | 18.8in | 2.1in | 23L | Ecoimpact | $850 |
| Salt Gypsy Mid Tide Surfboard | 6ft 8in | 21.25in | 2.63in | 41L | Polyester foam construction | $475 |
| Lib Tech x Lost Puddle Jumper HP Surfboard | 5ft 10in | 21in | 2.56in | 36L | Carbon Fiber, Composite, Resin | $850 – $930 |
| 7ft 2in Soft Surfboard Foamie Beginner Board Fins | 7ft 2in | – | – | 60L | EPS Foam Core | $280 – $315 |
| Odysea Skipper Tri-Johnny R Surfboard | 5ft 6in | 21in | 2.87in | 42L | Foam, HDPE core | $350 |
| Hot Surf 69 Softboard Bunyip Bandit | 6ft 8in | 22in | 2.5in | 55L | EPS Core, foam top | $245 – $295 |
| Odysea Skipper KostonXGonz Surfboard | 6ft | 21.5in | 3in | 48L | HDPE, foam | $400 |
| Falcon PU Surfboard | 7ft | 21.5in | 2.81in | 47L | PU constriction | $475 – $595 |
| Fun Guy Soft Surfboard | 8ft | 22in | 3in | 61L | Epoxy soft construction, wood, PE deck | $495 – $625 |

Our GREATEST Travel Secrets…
Pop your email here & get the original Broke Backpacker Bible for FREE.
Final Thoughts on Choosing the Best Surfboard
Surfing has taken the world by storm, offering an active outlet and an incredible lifestyle for those who fall into its beautiful and addictive web. The community, friends, and health benefits of the sport are unrivaled, and those who know the feeling of catching the perfect wave hardly ever lose their passion for the sport.
If you're starting out in the water or are an intermediate surfer wondering how to advance your skill level, the equipment you ride plays an important role. There are different boards for all types of waves, body types, and surfing styles, and no one surfboard fits the model for all surfers.
Finding the best surfboard for your skill level, wave conditions, and body type will likely fall on trial and error, and once you do find and buy the perfect board, it will only be a matter of time before you want to advance to new equipment.
Happy surfing!
---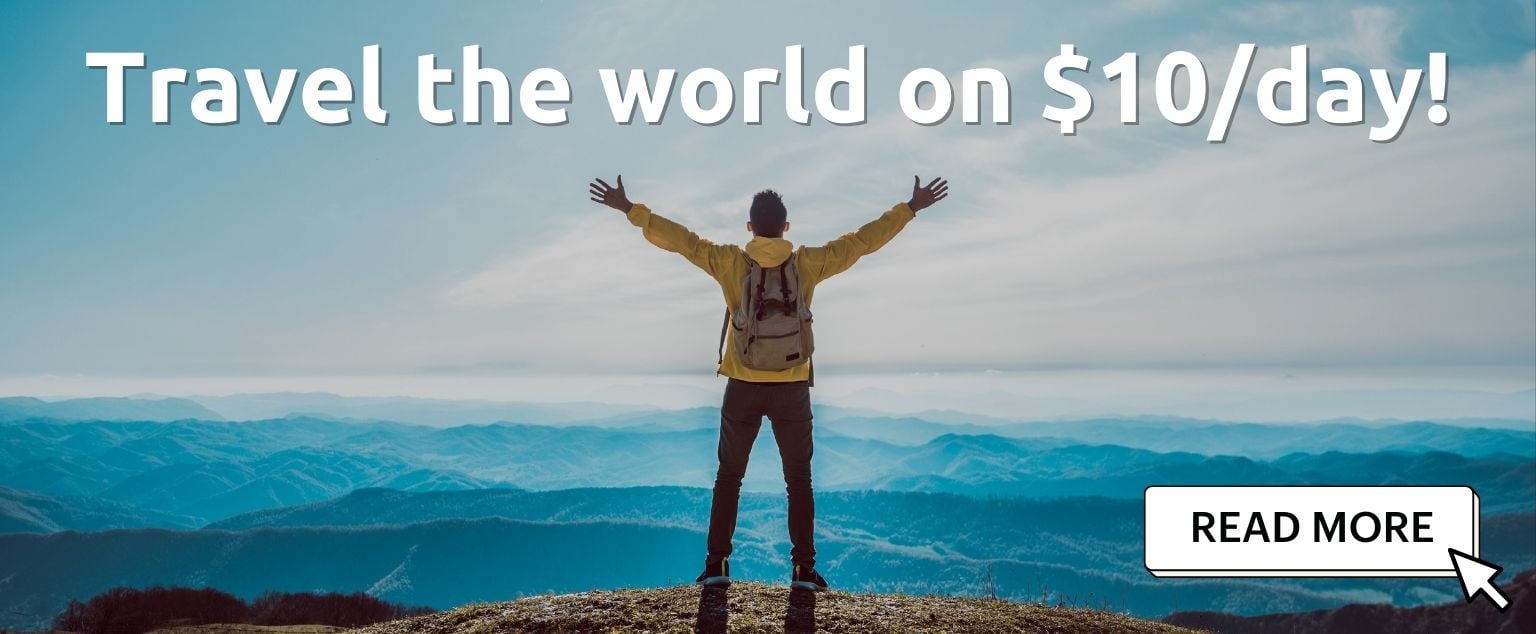 And for transparency's sake, please know that some of the links in our content are affiliate links. That means that if you book your accommodation, buy your gear, or sort your insurance through our link, we earn a small commission (at no extra cost to you). That said, we only link to the gear we trust and never recommend services we don't believe are up to scratch. Again, thank you!