Yangon, formerly Rangoon (meaning end of strife) is the capital of the Burma region of Myanmar. It was also the capital of the whole country until 2006 when the government moved the capital to the soulless, custom built Naypyidaw. Yangon remains Burma's most populous city (estimated up to 7 million inhabitants) as well as its commercial hub and transport hub; in short, it pretty much remains the unofficial capital!
If you are visiting Myanmar, there is a very good chance you will pass through Yangon as it remains the country's major transport hub. Whilst you may be tempted to get straight out off the city to go and explore the Myanmar's true treasures such as majestic Bagan, the steaming jungles or Mandalay, you should still set aside a few days to explore Yangon and feel the beating pulse of modern day Myanmar.
As George Orwell said in his "Burmese Days" novel, "Beauty is meaningless until it is shared". With this in mind, we're sharing Yangon's epic beauty with you dear readers so without any further ado, here is our guide of the best things to see, do and eat in Yangon!
Shwedagon Paya
The spectacular Shwedagon Pagoda is one of Buddhism's most sacred sites and by far the holiest place in Myanmar. Buddhist legend dictates that the site was made holy at the time of creation and some kind of shrine has occupied the spot ever since. The towering stupa is opulently decorated with 32 metric tons of gold leaf and contains relics from another of transcended Buddha's. What is most striking (and Instagramble) is the forest of spires shooting up around the sight not to mention the showbiz-esque light show which illuminates the sacred spot after nightfall. Other notable spots around the Paya are the 8 day shrines (one for each of their 8 days of the week…), the statue of Wa Thon Da Ray (Buddhist Guardian of the earth) and a very, very big bell!!
Sacred Sites
There are a number of other stupas, pagodas, and temples in Yangon including, Rule Pagoda, Botataung Pagoda, Chaukhtatgyi Buddha Temple, Kyauktawgyi Buddha Temple, Kaba Aye Pagoda, Maha Wizaya Pagoda, Ye Le Pagoda. Whilst those short on time may wish to stick to Shwedagon, the other sites are well worth visiting if you have an extra day. Sule Paya is particularly interesting as it now occupies a traffic island thus personifying Yangon's unique melding of the sacred with the mundane.
What makes all of these sights truly special is that unlike in the rest of SEA, observant robed monks vastly outnumber selfie seeking tourists meaning that Buddhism in Yangon is alive and well as a day to day way of life rather than a mere instagrammable relic. With this in mind please be considerate and dress modestly (covering legs and shoulders) and behave respectfully.
Temple of The Last Mughal Empire
The grave of Bahadur Shah Zafar is located on Zi Wa Ka Street. Considered a Saint in the Sufi tradition, Zafar was exiled to Myanmar by the British where he died in 1862. Even though the Mughals gave the world its most famous and elaborate Mausoleum (the Taj Mahal) the resting place of Shah Zafar is actually very humble showing how far the Mughal's had fallen by the time of his death.
What is the One Item Every Traveller NEEDS???
There is one item every traveller NEEDS. Some travellers don't even know they need it, but those travellers need it more than anyone.
What is this forgotten essential of the backpacker-life? SPOILERS! Guess you'll just have to click the button to find out. 😉
Find Out What It Is!
Colonial Centre
Downtown Yangon was built by British boasting the most remaining Colonial-era buildings in all of South East Asia. Many of the architectural treasures are fast falling into decay and disrepair; whether this is borne of a lack of resource or the Military Junta's deliberate attempt to eradicate remaining traces of Colonialism is debatable. The streets are also lined with food, market stalls, and book vendors so you can feed your stomach and your mind whilst taking a stroll. Our pick of the buildings here are Custom House and The Strand Hotel (does it get any more British?!) which is jam-packed with expats sipping cocktails like Kipling and Orwell before them.
Kandawgyi Lake
If the racing chaos of modern Yangon gets a bit too much for you then head to Kandawgyi Lake for some peace, tranquility, and respite. The site is a man-made reservoir built by the British which now serves as a popular haunt for locals. The lake is best visited at sunset when local's come on dates or with their families. The lake's northern shore also hosts the weird "Utopia Tower", a tower housing an art gallery (well worth a visit) and several massage parlors (best skipped…)
Ride the Circular Train
I'm a big fan of riding a city's transport infrastructure as this offers a unique and genuine insight into a city's fabric. Yangon's Circular Train offers a whirlwind tour of modern the cities innermost being. The route does a loop of Yangon departing from the impressive Colonial Train Station and hurtling across the outer city through suburbs and rural areas. Expect to see Yangon-ees sat in their homes, vegetable sellers at work and lots and lots of rice fields!
Small Pack Problems? 😉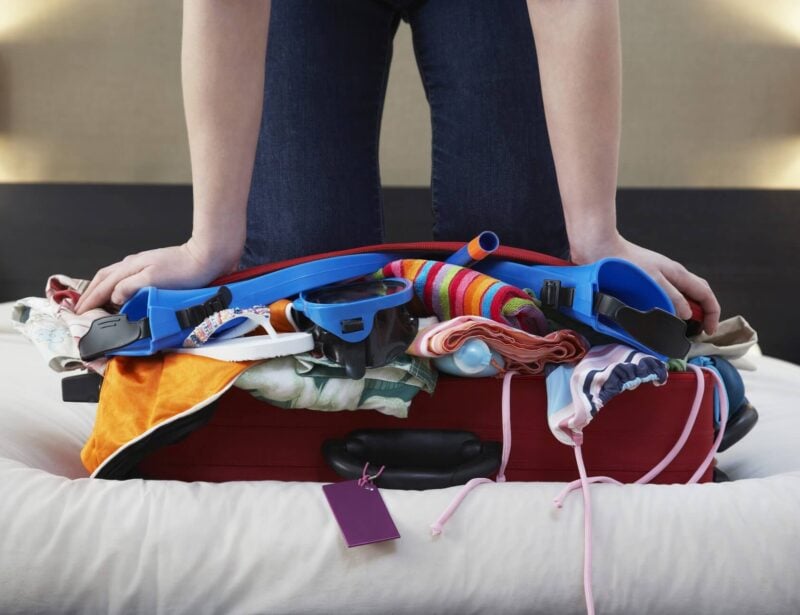 My missus travels with all her clothes in ziplock bags: don't be like my missus. UP YOUR PACKING GAME!
Packing cubes for the globetrotters and compression sacks for the real adventurers – these babies are a traveller's best kept secret. They organise yo' packing and minimise its volume too so you can pack MORE.
Or, y'know… you can stick to ziplock bags.
View Our Fave Cubes
Or Check Out the Sacks!
The Dallah Ferry
The village of Dallah sits just across the river from Yangon and represents a more serene and traditional slice of Burmese life. What is most remarkable though is the short ferry ride which offers all of the charm and chaos of a Burmese ferry ride! This will also give you a great chance to rub shoulders with bemused locals. Dallah itself can be taken in in less than an afternoon so make sure you make a note of the return ferry time.
Street Food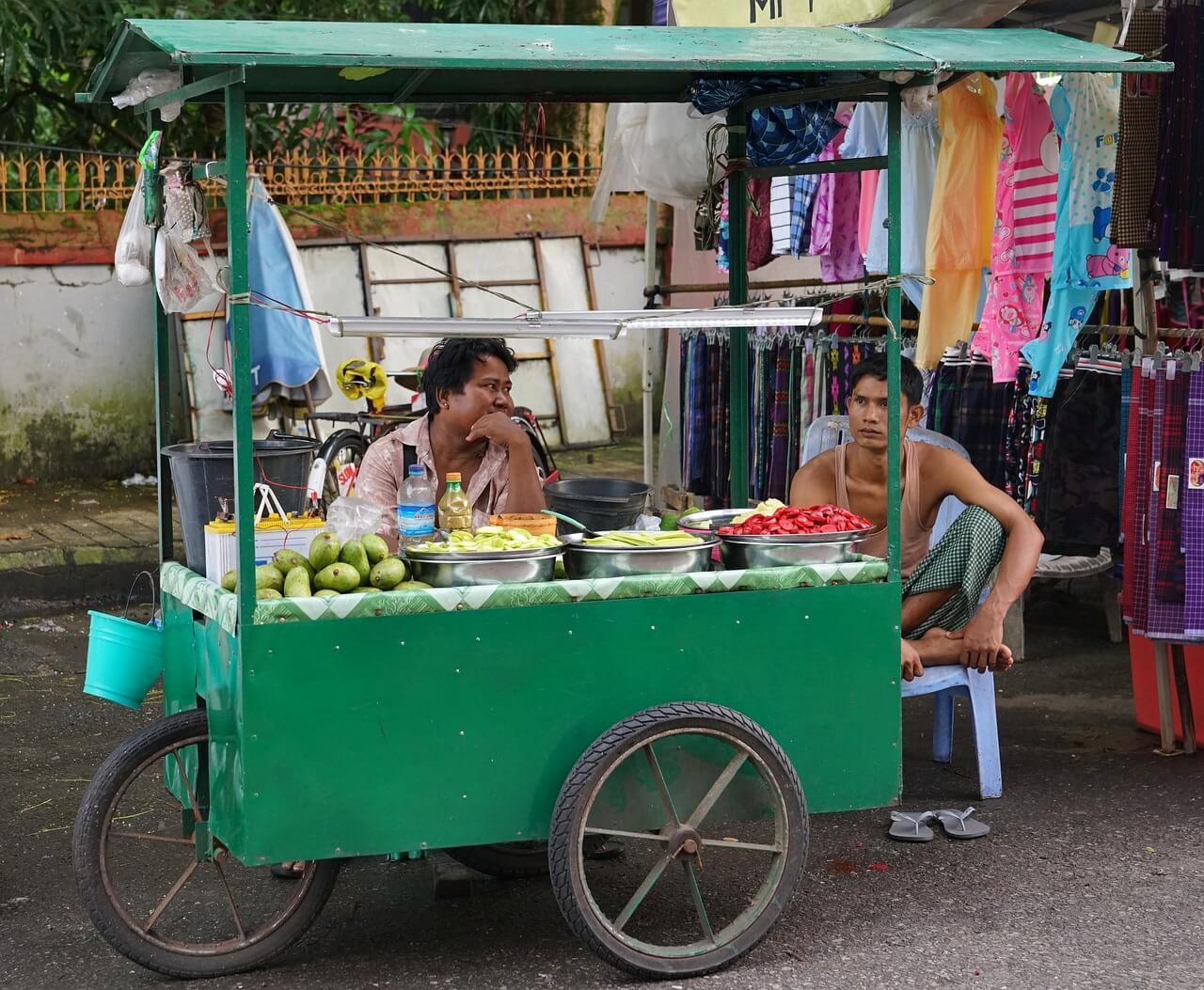 South East Asia boasts a legendary embarrassment of first-rate street food and Yangon holds its own. Walk the streets to find a bounty of cheap snacks including meat on skewers, bowls of Mohinga (noodle soup) and Bein Moun (crispy pancakes). The aforementioned Downtown area has a plethora of stalls as does Anawrahta or Mahabandoola Rds. Just be mindful that there is a lot of dust in the air which may somewhat spoil the flavor of your lunch!
If you fancy a more formal lunch as well as the chance to sit and rest your weary legs, Yangon also has a fast developing restaurant scene!
Quench your thirst
Yangonee's may seem shy and reserved but actually, love to meet and talk with foreigners. One of the surefire ways to do this is by sharing a tipple with them. Beer drinkers should head for one of the beer stations where you can get a pint of refreshing local lager for next to nothing. These are male orientated environments although westerns of both genders are more than welcome. If you're staying on the wagon in Burma then simply head to one of the tea shacks and sip Burmese tea whilst watching European Football!
Like any cool city, Yangon also has a hip underground scene where you can party until the wee hours!
Aung San houses
Aung San is considered the founding father of modern-day Myanmar although he was assassinated just 6 months before the country gained its independence from Britain. His youngest daughter, Aung San Suu Kyi, spent 20 years under house arrest and won the Nobel peace prize in 1991 for her non-violent protests against the ruling Junta. Aung San Snr's house is open for visitors and has been preserved for posterity. Suu Kyi's house, however, is one for the hardcore fans only as there is not much worth seeing now that the surrounding prison has been demolished.
Abandoned Theme Park
Sitting nonchalantly beside the Zoo is Yangon's eerie and haunting abandoned theme park! This is not exactly a legitimate attraction and is one only for urban explorers. Accessing the site is easy enough and doesn't appear to bother the authorities. The rides and attractions are rusting and nature is taking over. This one is a highlight for those who like things big macabre! Bring lots of mozzy repellents as the bloodsuckers are out in force here.
National Museum
The National Museum in Yangon is not the best presented, maintained or curated collection in the region but my God does it boast one hell of a collection of treasures! Here you can find relics of Myanmar's colonial past along with royal and religious relics from its ancient kingdoms. Some of the architecture and interior design also sets new standards for bad taste and is widely derided.
Htwe Oo traditional puppet theatre
Do you know that before the days of Netflix, people used to crowd around little box theatres and watch Puppet Shows? Well, they did. Myanmar was particularly reticent to embrace many aspects of 20th-century life and was consequently the tradition of puppet theatres is still, just about, alive in the country. Take your seat and watch traditional folk tales of men and gods, heroes and demons and good vs evil played out by some of the best made crafted puppets in the whole of South East Asia. The stories are also explained in English you won't feel too lost.
FAQ on Things to Do in Yangon
Here are some quick answers to common questions about what to do and see in Yangon.
That's the highlights of Yangon. Once you've checked them out then I guess it's time to board your train and explore the rest of Myanmar which remains our favorite country in all of South East Asia!
---
Thanks for reading – that was fun! 😀
We bring you epic FREE content!
Find out how YOU can help support us.
We're a big site with a big team and this job isn't always easy. But we do it because we love it – we love providing epic and free content. We love the knowledge that our content keeps you adventuring. We don't ask for money, but if you'd like to find out how you can help the site in more organic ways, click the button below.
Thank you for your support 🙂
---
Bye for now, but not forever!
If you want MORE top-tier Broke Backpacker content like this, then sign up for our weekly newsletter below to get the latest and greatest!
And for transparency's sake, please know that some of the links in our content are affiliate links. That means that if you book your accommodation, buy your gear, or sort your insurance through our link, we earn a small commission (at no extra cost to you). That said, we only link to the gear we trust and never recommend services we don't believe are up to scratch. Again, thank you!