I travelled throughout Asia with an 8-pound yoga mat, and saying it was a struggle is an understatement. My yoga mat was heavy, bulky, old, didn't fit my suitcase, but man I loved it. The grip was perfect, which is why I was love-blind enough to carry this heavy piece of rubber around with me. I eventually had to leave it behind in an ashram in India. Mat (me) and Yoga Mat's adventures had to come to an end, as heartbreaking as it was. However, a huge weight was lifted off my shoulders (pun intended).
"But Mat, why on earth would you bring your yoga mat on vacation?" I hear you ask. Well… because if I don't practice yoga, the anxious and fidgety kid in me- commonly referred to as Princess Tornado by my friends- takes over and is outta control. You don't want this. I don't want this. No one wants this. We all much prefer the zen, wise, and mindful Mat who reaches equanimity and levitates during her morning meditation, don't we?
Travelling can really trigger Princess Tornado – from jet lag to cancelled/delayed flights, bus tire explosions (yep, that happened to me on a highway in El Salvador), unreliable Google Maps and omnipresent creepy men – maintaining my personal yoga practice whilst on the road is key to my mental health and well-being. The issue though and the reason why I am writing this article, is how to find the best travel yoga mat that is 1) compact 2) lightweight 3) affordable and 4) robust enough to survive the trip.
Well, friends, stay tuned – I've got a list of the best travel yoga mats in 2022 out there for you ?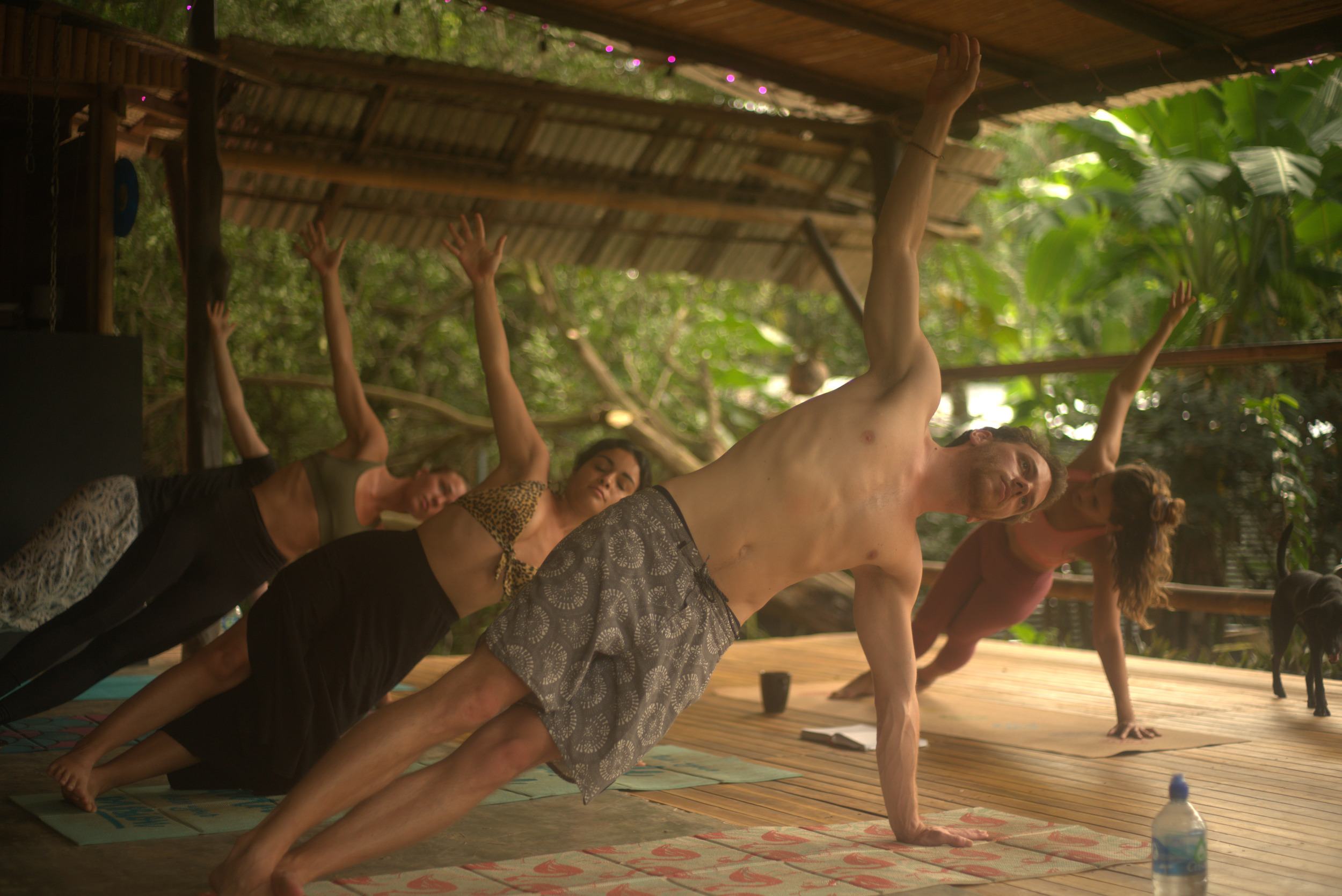 Quick Answer: What are the best travel yoga mats of 2022?
#5) Liforme Travel Yoga Mat – Best Travel Yoga Mat for Proper Alignment
How to Pick the Best Travel Yoga Mat For Your Travels
travel yoga mat

| Name | Weight | Length | Material | Price |
| --- | --- | --- | --- | --- |
| Manduka eKO Superlite Travel Yoga Mat | 2.2 pounds | ?68 inches | Natural tree rubber | $44 |
| Lululemon Yoga (Un) Mat | 2 pounds, 3 ounces | 71 inches | Natural rubber | $48-$58 |
| Gaiam Travel Yoga Mat | 1.8 pounds | 68 inches | Polyvinyl Chloride | $15.99 |
| Jade Voyager Yoga Mat | 3.5 pounds | 68 inches and 74 inches | Natural tree rubber | $39.95 |
| Liforme Travel Yoga Mat | 4.63 pounds | 70.8 inches | Rubber | $124.95 |
| Yogo Ultralight Travel Mat | 2 pounds | 68 inches | ?Polyurethane, Rubber | $62 |
Okay, it's a tricky question because there are a bunch of sexy yoga mats out there, but sometimes they're just like that terrible high school crush you had. They're initially everything you've been dreaming of but turn out to be misleading, suck, and make you wish you never met them.
A good rule of thumb is to pick a yoga mat based on the following features:
1. Lightness
You really don't want to end up like me and my 8-pound yoga mat. Carrying a heavy yoga mat around also means that you will face extra luggage fees at the airport, that your shoulders will constantly be in pain (kinda feels like carrying an awkward backpack) and that you'll develop a love-hate relationship with it, which isn't what yoga is about. 
The perfect weight for a travel yoga mat (don't ask me how I know this) would be from 2 to 4 pounds. In general though, the lighter, the better.
2. Portability
There are two things to consider here. For one, you want a yoga mat that doesn't take too much space. If you're one of those travellers that pack their life in numerous bags (from backpacks to suitcases and Aldi bags), you really want a yoga mat that is compact enough for you to slip it in your main bag. 
The second thing is that most yoga mats are stored rolled up. However, there also are some foldable yoga mats nowadays that revolutionize the way you can travel as a yogi. I highly recommend going for a foldable yoga mat.
3. Texture and material
Ever fell on your face during downward-facing dog because your hands slid in your own sweat? If you've experienced this awkward and lonely moment, chances are that your mat had a bad grip (and not because you're a sweaty mess).  
Pick a texture that's hard enough that you won't slide during your yoga practice, but also not so hard that you end up with blistered toes and hands. You can decide on the levels of grip based on where you're travelling. Will it be humid? Will it be hot? Are you going to sweat a lot?
There are a lot of different yoga mats out there made from different materials, from earth-friendly options including natural tree rubber, jute, organic cotton to less-earth-friendly options including microfibers, polymer environmental resin or polyurethane or vinyl. Check their pros and cons, and pick the best travel yoga mat for you based on your needs.
4. Thickness
The beginner mistake is to swap a heavy yoga mat to a very slim, light yoga mat. Whilst yes, you may have a lighter yoga mat to carry around, your Savasana will literally be the most uncomfortable pose out of your practice. 
Make sure that you don't compromise comfort for lightness – there are heaps of yoga mats out there that are both comfortable and light. Also, keep in mind that light is good to carry your travel yoga mat around or to fold it, but not the best to do headstands or for savasana. There's a spectrum from light and uncomfortable to heavy and comfortable, and everyone's sweet spot will be different. 
Also, remember that there's always the option to snag a thicker mat underneath your travel yoga mat – especially if you're going to yoga studios.
5. Durability
Travelling can get rough and dirty, depending on the type of traveller you are. If you're resort hopping during your time abroad, then durability isn't too much of a concern. Most likely, there will be yoga mats available there that you can snag underneath yours to keep it nice and clean.
However, if you're planning to go off the beaten path and for an adventure, practice yoga on top of a mountain, on the beach, or in a dodgy hostel hall, then I highly recommend considering durability as a key factor. For example, some mats aren't meant to go in the sun. If morning Surya Namaskar sesh on the beach is your thing, then those won't last long.
6. Eco-friendliness
Yogis hold the tenet of ahimsa – meaning non-violence and non-harm in Sanskrit. As a yogi, you may want to opt for a yoga mat that's earth-friendly just to give back to Pachamama. Those are typically made from recycled rubber or may include natural materials like organic cotton or jute. 
You can also check out what the company is doing to give back to the community and decide what brand to go with. Remember, karma always pays back!
7. Style
Your yoga mat will become both your best friend and your lover at once – supporting you whenever you need it, following you wherever you go and help you get better and stronger. Pick it wisely and love it unconditionally 🙂
The best travel yoga mats in 2022
Alright, now that we've covered the basics of how to choose the best yoga mat for you, here's my list of the best travel yoga mats in 2022.

Do You Want to Travel FOREVER??
Pop your email in below to get a FREE copy of 'How to Travel the World on $10 a Day!'.
This Manduka yoga mat is ideal for fellow yogi travellers. Manduka is a very well-known and established brand in the market and there's a reason for that. From quality to design and convenience, Manduka yoga mats are dope. 
Price: US$44.00
Overall rating: 9/10
Pros: 
The Manduka eKO Superlite travel yoga mat is only 2.2 pounds, which makes it one of the lightest travel yoga mats out there. 
The texture is smooth and sticky: it has an amazingly firm grip so you can enjoy your yoga practice, yet won't hurt yourself. Score.
The Manduka eKO Superlite travel yoga is foldable making it super convenient to travel with. Fold it in a small square like a Tshirt and you're good to go. 
The Manduka eKO Superlite travel yoga mat is environmentally-friendly and biodegradable. It is made out of sustainably harvested natural tree rubber. There's no PVC, harmful dyes or toxic plasticizers used to make it. Score again.
Cons: 
Some people complain about the rubber smell. If it really bothers you, though, give it a good wash with a solution of 50/50 organic cider vinegar and water. 
This Manduka yoga mat is very thin (1.5 mm), which can be tough on your knees. It, therefore, might not be the best option for those with knee issues. You can always buy a very cheap yoga mat to place underneath the Manduka eKO Superlite Yoga Travel Mat.
This reversible (Un) mat lightweight travel mat is specifically designed for people who commute or travel a lot. Sounds like it was made for us, doesn't it? What makes it perfect for travel is that it is a thinner version of the Lululemon original mat design. It's easily foldable and can fit in your suitcase or carry on.
Price: $48.00 – 58.00 USD
Overall rating: 8.5/10
Pros: 
This Lululemon yoga travel mat is only 1.5mm thick and only weighs 2 pounds, three ounces.
This Lululemon travel yoga mat is pretty cheap too. It only costs $48.
Lululemon is probably the most established brand in the yoga market, so you can be sure that the quality will meet your standards.
The reversible (un)mat has two sides – one that's more grippy than the other for a sweaty practice. The other side is slicker and the sweat dripping on the mat beads up, making it easy to wipe the excess water.
Cons: 
Some people complain that the reversible un(mat) has a lingering, strong rubber smell. However, the smell fades away over time if you clean your mat once a week – it'll also help preserve the antimicrobial additives.
Because it's so thin, it's not the most comfortable mat out there. You can, as always, use a blanket or towel under your knees or hips though.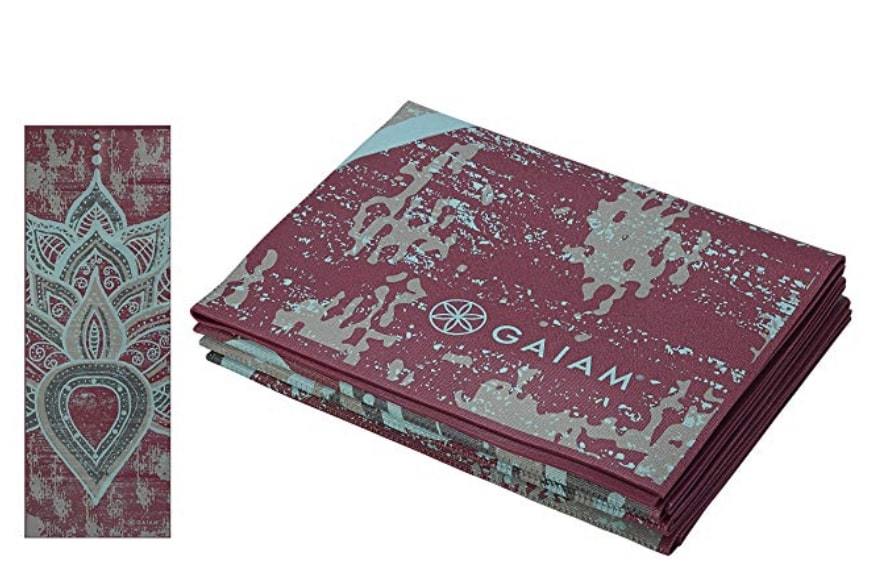 Gaiam offers affordable yoga travel mat without compromising on the quality. The Gaiam travel yoga mat was created specifically for travellers, so expect its features to suit your travel needs and conditions.
Price: $15.99
Overall rating: 8.5/10
Pros: 
The Gaiam travel mat is worth looking into as it can be folded into a 10 x 12 inches rectangle and tossed in your bag. It's super compact. 
At 1.8 pounds, the Gaiam travel yoga mat won't bother you or add much weight to your suitcase when on the road. 
Its design is varied and dope looking. There are a lot of different designs to choose from. 
The Gaiam 2mm thickness and sticky texture so you won't slip during your asana practice. 
The Gaiam travel yoga mat is affordable and comes with a lifetime guarantee in case of manufacturing defects in material and workmanship (does not cover wear and tear). 
Cons: 
The Gaiam yoga travel mat is perforated to be easily folded. This may bother you during your yoga practice.
The Gaiam yoga travel mat is made of PVC, which isn't the most environmentally-friendly material. However, it's free of DEHP, DBP, BBP, DINP, DIDP and DNOP phthalates. 
This yoga mat shouldn't go too long in the sun, so it is not the best idea to bring it to the beach for a lovely yoga practice by the ocean. Or if you do so, stay in the shade.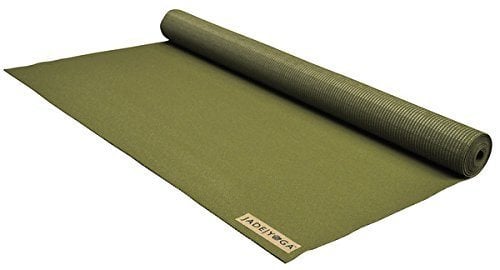 The Jade Voyager Yoga Mat is another very popular option amongst travellers and for many reasons. This jade travel yoga mat ticks a lot of boxes for fellow yogi globetrotters.
Price: $39.95
Overall rating: 9.2/10
Pros:
The Jade Voyager Yoga Mat folds up to a compact package, making it easy to transport.
Jade is a sustainable company. For every yoga mat purchased, they plant a tree. Also, the Jade yoga mats are made out of natural tree rubber and don't contain PVC, EVA or other synthetic rubber.
The anti-slip feature means that your sweat won't affect your practice too much. Happy days!
The Jade Voyager Yoga Mat is pretty thick. At 3.2 mm, it gives additional support to your joints.
The Jade Voyager Yoga Mat is available in two sizes: 68 inches and 74 inches. Long-legged humans, they've got you covered too.
Cons:
The Jade Voyager Yoga Mat isn't the cheapest one – it costs around $40.
The Jade Voyager Yoga Mat weighs 3.5 pounds, which is slightly heavier than other travel yoga mats.
Jade is high maintenance – you can't clean her with normal mat spray. What the company recommends is to wash her with a mixture of water, white vinegar and dishwashing soap. Also, don't put her in the sun. Jade doesn't like the sun.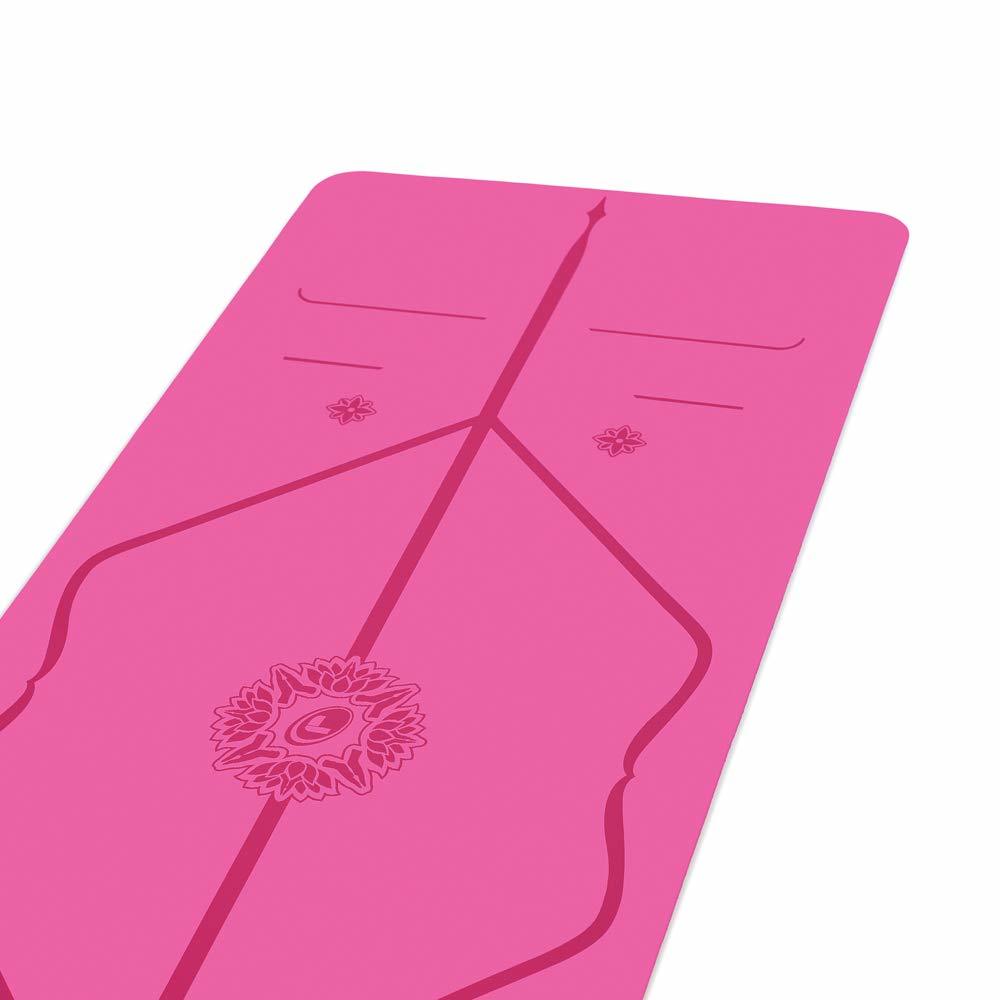 What I really love about the Liforme travel yoga mat is that it was created with alignment in mind. There are alignment markers embedded on the mat itself so you know exactly where to place your hands and feet. Perfect Warrior 2, here we come!
Price: $124.95
Overall rating: 9.2/10
Pros:
Smoooooth surface. The Liforme Travel Yoga Mat is so soft you just want to be in child pose to rest your forehead on it.
The Liforme Travel Yoga mat also has an excellent grip.
This travel yoga mat is longer and wider than most travel yoga mats. It is 70.8 long x 25.6 wide, which is perfect for bigger human beings out there.
Liforme is an environmentally-friendly company. The yoga mats are free of PVC and don't contain any toxic materials. Also, this Liforme Travel Yoga Mat is biodegradable and decomposes within 3 – 5 years in a landfill.
Cons:
The Liforme Travel Yoga Mat is heavy. It weighs 4.63 pounds, so if your suitcase already is heavy, this might not be the best option for you. You don't want to pay the airline extra fees because of your mat, do you?
The Liforme is not foldable – it can only be rolled. You can still attach it to your backpack or try and fit it in your suitcase, but it's definitely a little more inconvenient.
Whilst it's definitely worth it, the Liforme Travel Yoga Mat is pretty expensive (around $125)
The folding Yogo Ultralight Travel yoga mat is super easy to fold and to carry around. You can really take this eco-friendly mat with you and practise your downward-facing dog all around the world.
Price: $62
Overall rating: 9.6/10
Pros: 
The Yogo Ultralight Travel mat is Incredibly compact and can be folded to the size of a newspaper. Also, it comes with an attached carrying built-in strap and handles.
The yoga travel mat has a folding system designed for the bottom of the mat to never touch the top, ticking the sanitary box. Kiss goodbye to those forehead germs when you rest in child's pose.
Eco-friendly. The Yogo Ultralight travel mat is made from renewable natural tree rubber. Also, just like the Jade yoga mat, Yogo company plants a tree each time a mat is purchased.
It's pretty thick. At 1.6mm, it won't be too tough on your knees and back.
The Yogo Ultralight Travel mat has an exceptionally grippy texture.
You can wash this travel yoga mat in the shower. The material does not absorb the water. Hang your mat through its built-in loops and let it dry when it's your turn to shower.
Cons: 
The Yogo Ultralight Travel mat isn't the lightest travel mat out there. At 2 pounds, it's slightly heavier than other mats.
The Yogo Ultralight Travel mat also isn't the cheapest (around $60).
The best present of all… is CONVENIENCE!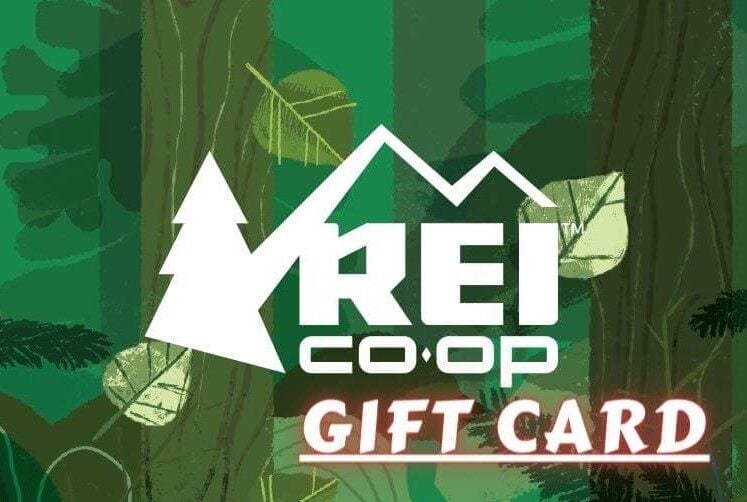 Now, you could spend a fat chunk of $$$ on the WRONG present for someone. Wrong size hiking boots, wrong fit backpack, wrong shape sleeping bag… As any adventurer will tell you, gear is a personal choice.
So give the adventurer in your life the gift of convenience: buy them an REI Co-op gift card! REI is The Broke Backpacker's retailer of choice for ALL things outdoors, and an REI gift card is the perfect present you can buy from them. And then you won't have to keep the receipt. 😉
Buy on REI!
Verdict: what is the best travel yoga mat out there?
All in all, my top choice for the best travel yoga mat is the Yogo Ultralight Travel Mat. I personally love it for different reasons as stated above: it's portable, easy to clean, made out of plant-based materials and has an awesome grip. Also, you know your money is going into a good cause and changing someone's life: YOGO company provides a food-bearing tree and agriculture training for disadvantaged families with every yoga mat purchased. 
I've however just picked the best of the best in this article, so no matter what travel yoga mat you'll end up choosing, I am sure you'll end up happy with it.
Extra accessories for our Travel Yoga Mat
#1: Yoga Travel Bag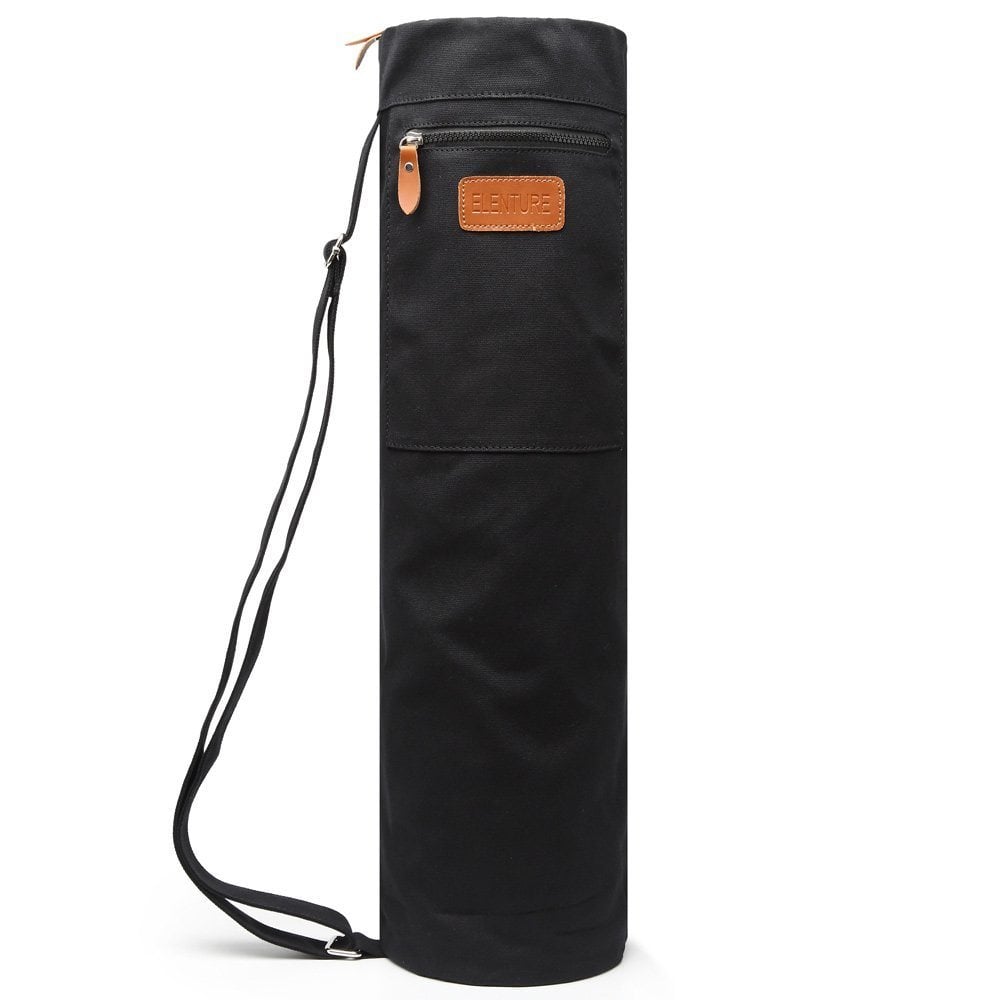 Germ freaks: invest in a yoga travel bag. Seriously, it'll make your life easier. Think of all the planes you're catching, the dirty taxi cabs you're hopping in and out, all the street dogs licking your mat at the bus station… You're putting your face on your mat, so might want to keep it germ-free.
I like the ELENTURE Full-Zip Exercise Yoga Mat Carry Bag because it has lots of different pockets where you can store all your goodies from yoga mat cleaner to hair ties and stay organized. 
#2: Yoga Mat Cleaner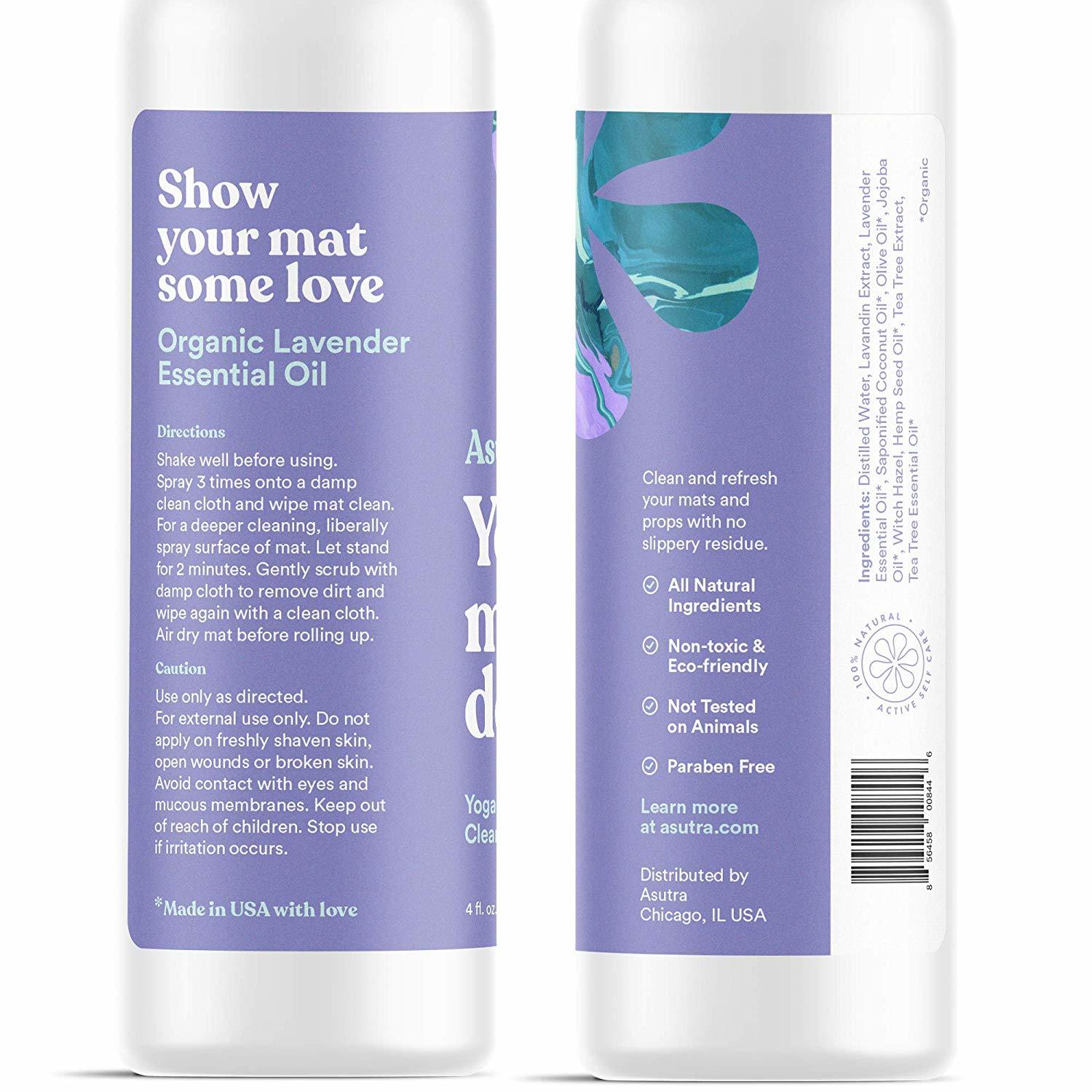 Still on the topic of sanitation, carrying a small bottle of yoga mat cleaner is a good option to keep your yoga mat (and your face*) clean. 
Some yogis opt for a DIY mat cleaner by mixing vinegar and water together. However, if you're worried your yoga mat will smell like a homemade Italian dressing, look no further. My favourite cleaner is the Asutra Natural & Organic Yoga Mat Cleaner because it's made out of only natural ingredients. You're welcome Pacha Mama.
* Just to make sure I am not responsible for someone's face rash, it's not to be used on your face but on your yoga mat only. This, in turn, will mean your face will be in contact with a clean surface. Clean yoga mat = clean face.
#3: Yoga Travel Towel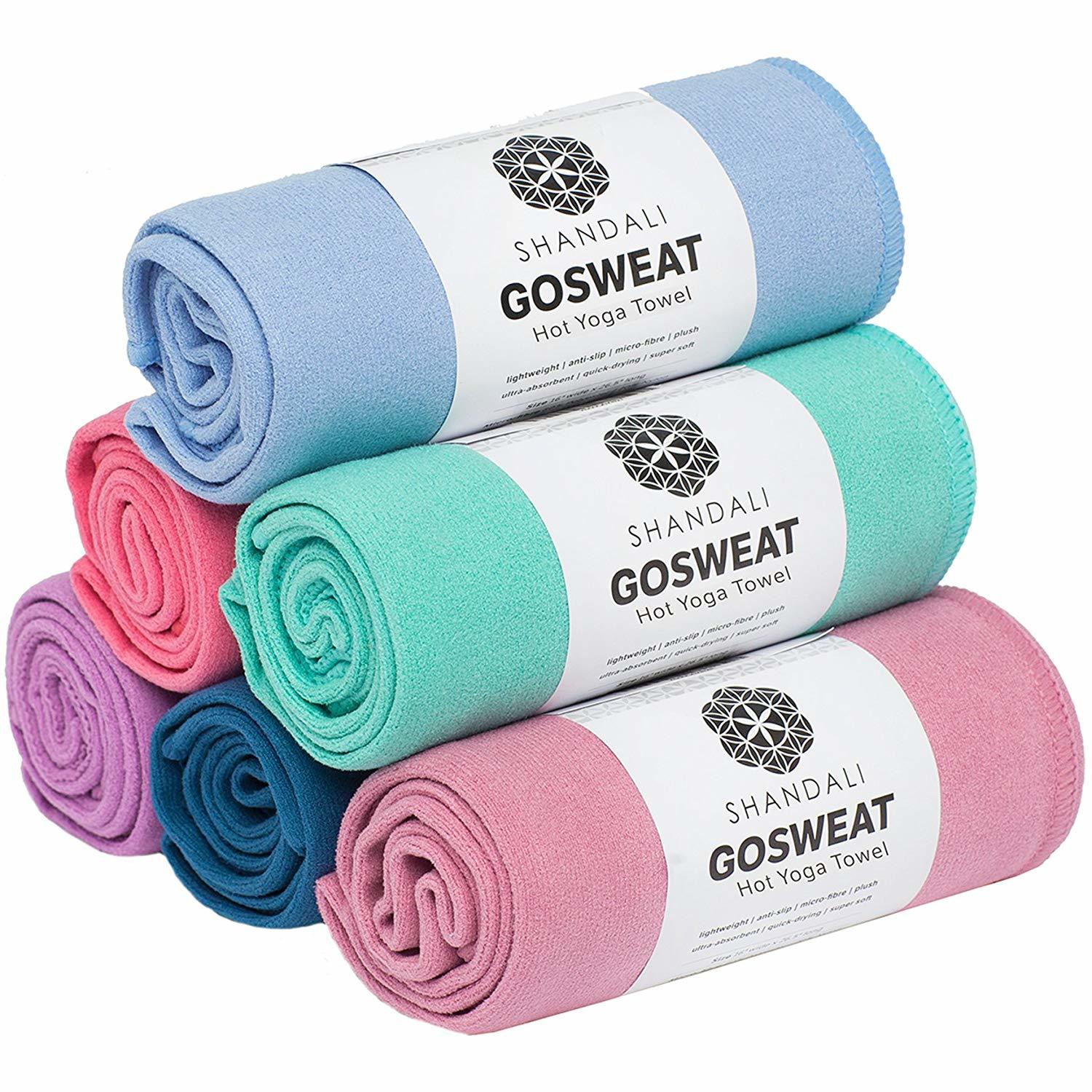 We all are well aware that yoga comes with A LOT of sweat. Surely I am not the only one who uses my T-shirt, sports bra or leggings in the middle of the class to dry my hands or to stop that sweat drop from entering my eye? Or worse, ever had a sweat drop entering your nose during downward facing dog and giving you a brain freeze? The first time it happened to me I thought I was having a stroke. Not fun.
ANYWAY. Towels are good, towels are your friends. A good travel towel is the Shandali yoga towel. It's perfectly sized for a yoga mat and super absorbent.
#4: Resistance Band
Resistance bands are truly awesome and have many benefits. I use them in during layovers, just to stretch my body before it goes back to the folded plane/bus position for another x hours. It gives me the feeling that I've got new legs or that my legs are light as air. Also, they're super portable and don't take too much space. 
I recommend the Super Exercise Band not only because it's super affordable but also because of its heavy strength.
#5: Knee Pads
As covered earlier in the article, some travel yoga mats may be very thin which can be tough on your knees. Also, you may just have sensitive knees. Knee pads can alleviate the pain and prevent you from getting injured while you're travelling. No one wants to go on that strenuous hike without you, trust me.
My fave knee pads are the SukhaMat knee pads. The main reason for it is that it's made out of high-density NBR foam, thus respecting the environment. I rate this. 
#6: Bolsters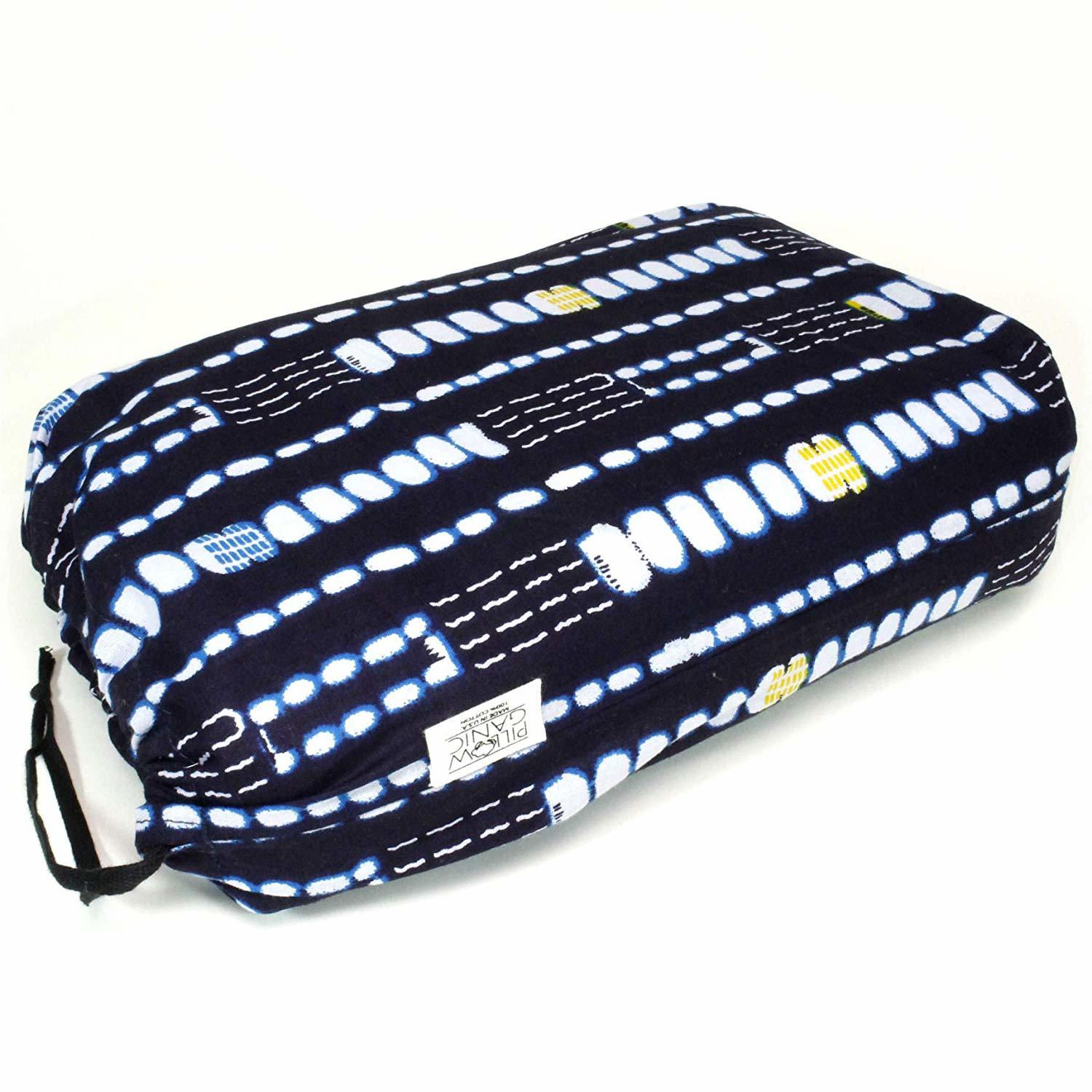 Bolsters are super helpful to support your back, stomach, hamstrings and chest, especially when on the road. Also, it's just giving this little extra comfort and relaxation for your final savasana. Put it underneath your legs and you'll be in heaven.
I suggest going with the Compact Yoga Pillow Bolster from Pillowganic. What makes it stand out from other bolsters is that it is firm and lightweight, making it portable enough for your travels.
FAQ about the Best Travel Yoga Mat
Still have some questions? No problem! We've listed and answered the most commonly asked questions below. Here's what people usually want to know:

Do You Want to Travel FOREVER??
Pop your email in below to get a FREE copy of 'How to Travel the World on $10 a Day!'.
Final Thoughts on Best Travel Yoga Mat
There you have it, yogis. My list of the best travel yoga mats out there. Whether you're a fully dedicated yogi that literally practices on a daily basis or a newbie who just wants to stay in shape whilst travelling, investing in a good travel yoga mat is a wise idea. 
Not only will it give you the opportunity to workout and alleviate travel muscular tension your body is accumulating over time, but it will also keep you in shape both physically and emotionally. Travelling can be demanding and challenging, as you're constantly stepping out of your comfort zone and readjusting to new environments. For me, practising yoga when travelling helps me find comfort in uncomfortable situations and centre myself in unstable environments. 
After all, we all need an Om away from home, don't we?
If I missed anything, let me know in the comments!
---
Thanks for reading – that was fun! 😀
We bring you epic FREE content!
Find out how YOU can help support us.
We're a big site with a big team and this job isn't always easy. But we do it because we love it – we love providing epic and free content. We love the knowledge that our content keeps you adventuring. We don't ask for money, but if you'd like to find out how you can help the site in more organic ways, click the button below.
Thank you for your support 🙂
---
Bye for now, but not forever!
If you want MORE top-tier Broke Backpacker content like this, then sign up for our weekly newsletter below to get the latest and greatest!
And for transparency's sake, please know that some of the links in our content are affiliate links. That means that if you book your accommodation, buy your gear, or sort your insurance through our link, we earn a small commission (at no extra cost to you). That said, we only link to the gear we trust and never recommend services we don't believe are up to scratch. Again, thank you!