Even with the best pair of waterproof hiking boots, you'll always have the open tops to contend with where water, dirt, stones, or other debris can get in. While it may be mildly annoying to get a rock in your shoe, it can be absolutely miserable if you also happen to be on the side of a mountain in the middle of a rainstorm or trudging through streams just over boot height.
That's where waterproof gaiters come in. Available in ankle or knee-length varieties, waterproof gaiters keep out snow (depending on the gaiter), rain, and mud while you're hiking and out on the trail. While there are certain types that can withstand snowy mountain storms, there are also plenty of lighter options for runners or hikers.
Whether you're a cross-country runner looking for a great pair of waterproof running gaiters, or you're planning a big trek and you don't want to take the risk of getting wet boots, we've got something for you on this list of the top picks for waterproof gaiters.
Here we go…
Quick Answer: These are the Best Waterproof Gaiters for Hiking of 2022
Overall Best Waterproof Gaiters for Hiking
Best Budget Waterproof Gaiters (ankle length)
Best Budget Waterproof Gaiters (knee length)
Best Waterproof Gaiters for Snow Sports and Basic Mountaineering
Best Waterproof Gaiters for Ice Climbing
Best Waterproof Running Gaiters
Best Waterproof Hiking Gaiters for Thru-Hikers
Best Waterproof Gaiters for Hiking
Everyone has a different way of enjoying the great outdoors. That's why we've organized this list by category, so you can find the best waterproof gaiters for hunting, hiking, or other activities. Also, since most gaiters are unisex, as long as you check the sizes, any of these options should work fine for both men and women.
Ladies & Gents, It's Time to Step Your GEAR Game Up. 😉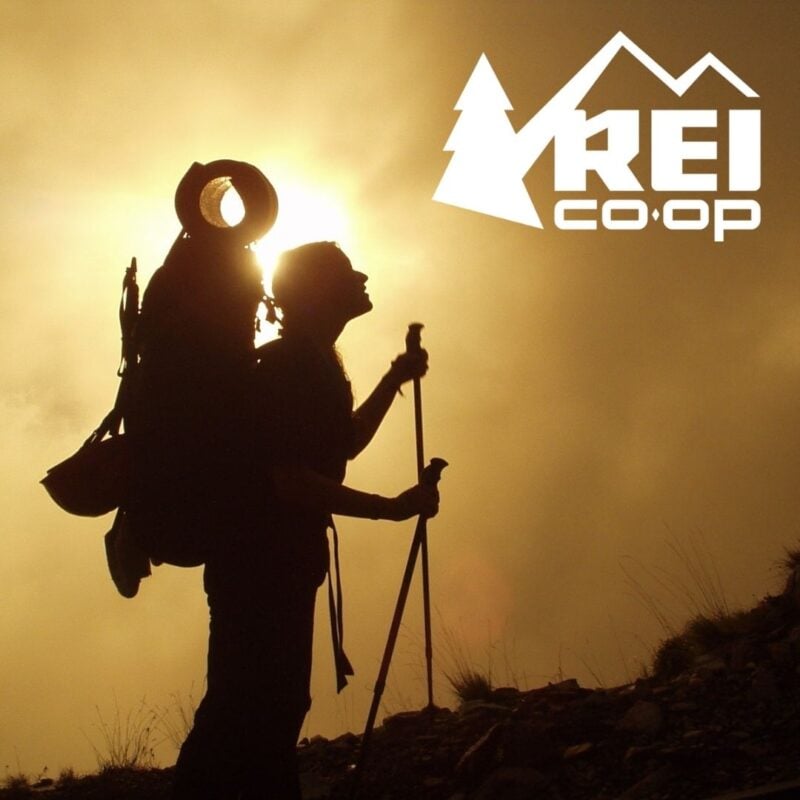 REI is one of America's biggest and most-loved outdoor gear retailers.
Now, for just $30, get a lifetime membership that entitles you to 10% OFF on most items, access to their trade-in scheme and discount rentals.
Join REI Today!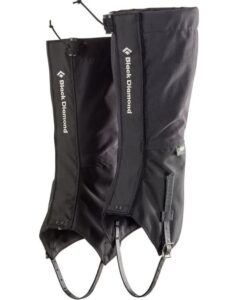 Our pick for overall best waterproof gaiters for hiking
Specs
Best Use: Hiking, ice climbing, snow sports
Weight: 8.9 ounces
Gaiter Height: Knee
Although these gaiters are a bit heavy for hiking in warm climates, they are incredibly durable and can be used for a variety of outdoor activities. The uppers are made from nylon and lined with Gore-Tex, considered one of the best materials because it's waterproof and still breathable.
For mountaineers, you'll be happy to know that the Black Diamond GTX gaiters are compatible with plastic mountaineering boots. They're also strong enough for ice climbing and snow sports where you can expect the gaiters to receive more abrasion.
I've personally used these gaiters in Pakistan many times, both for low and high altitude trekking. For cool or cold climates, they're ideal since they are more heavy duty and will keep your feet warm and snow free.
The only downside is that when temperatures start to climb, the gaiters can become a bit hot. However, they're not unbearable, so if you'll mostly be using them in colder areas and only at times in hot climates, they'll still work well.
Pros
Durable Gore-Tex
Don't ice up
Versatile use
Cons
Pull cord on top can snag
Some buckle rust after 1 snow season
Outdoor Research Rocky Mountain Low Gaiters is our top pick for the best budget waterproof gaiters (ankle length)
Specs
Best Use: Hiking, skiing
Weight: 4.8 ounces
Gaiter Height: Ankle
Still high quality without such a high price tag, the Rocky Mountain Low Gaiters aren't quite as durable as some options. But they'll still hold up to wet or light snowy conditions when hiking or skiing.
The 420-denier nylon is fairly lightweight while still providing reasonable protection for rainy or snowy conditions. Thanks to the elastic top, they're also an easy fit for larger ski boots or hiking shoes.
Although the shorter length means less coverage and protection, this also makes them more breathable and comfortable in hot climates. The combination of comfort and relatively durability make them suitable as a light use 4-season gaiter.
Secured by an instep strap, a bootlace hook, and a Velcro closure on top, it's easy to take them on and off, but there's no issue with them accidentally opening while you're wearing them.
Since these are lighter weight gaiters, they're definitely not meant for heavy duty snow sports, mountaineering, or ice climbing. However, if you're looking for something for moderate hiking or light snow, then these are a perfect budget friendly option.
Pros
Reasonable price
Lightweight
Cons
Not as durable
Sizing runs small
REI Co-op Backpacker Gaiters is our top pick for the best waterproof gaiters (knee length)
Specs
Best Use: Hiking
Weight: 8 ounces
Gaiter Height: Knee
If the Outdoor Research Rocky Mountain Low Gaiters are too short, then turn to REI's Backpacker Gaiters. Still fairly lightweight but offering more coverage, they are an excellent pick for moderate hiking or some light snow.
The nylon and spandex material is waterproof while still being fairly breathable, although it's not going to match the performance of Gore-Tex. Around the ankles the fabric is also a bit thicker, since this is the area that will receive the most abrasion.
Along the front there's a full-length Velcro closure which makes it easy to take the gaiters on and off. There are also hooks at the bottoms of the gaiters, although these don't fit with certain hiking boots with more unusual shoelace configurations.
Both the webbing instep strap and the webbing strap around your calves are adjustable. The strap around the calf is secured with a quick-release buckle which can make it a bit more difficult to fasten securely, but there's also no issue with it snagging like can sometimes happen with pull strings.
Pros
Reasonably priced
Breathable
Easy to take on and off
Cons
Not as durable
Top sometimes doesn't cinch down enough
Meet the best waterproof gaiters for snow sports and basic mountaineering: Outdoor Research Crocodile Gaiters Mens
Specs
Best Use: Mountaineering, winter hiking, skiing
Weight: 10.2 ounces
Gaiter Height: Knee
If you need something more heavy duty for hiking on windy, icy mountain peaks, then the Outdoor Research Crocodile Gaiters are a good pick. Made out of Gore-Tex, like the Black Diamond Gaiters but a bit heavier and thicker, the Crocodile Gaiters were made to withstand snow and ice abrasion.
The instep straps on the Crocodile Gaiters are replaceable, which is a huge bonus when you'll be using them in harsh conditions where they're more likely to get worn out. They'll also fit a variety of boot sizes and have an adjustable 2-inch wide velcro closure on top.
Due to the tapered fit around the ankles, the Crocodile Gaiters will stay in place much better than other gaiter options. However, you'll want to pay extra close attention to sizes to make sure the gaiters are big enough for your boots, but also won't slide around.
Pros
Durable Gore-Tex material
Replaceable instep strap
Sturdy, snug fit
Cons
More expensive
Sizing can be difficult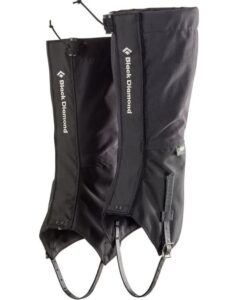 Black Diamond GTX Frontpoint Gaiters is one of the best waterproof gaiters for ice climbing
Specs
Best Use: Ice climbing
Weight: 8.9 ounces
Gaiter Height: Knee
We're back to our top pick for the best waterproof gaiters for hiking! This time however, we'll be highlighting what makes the Black Diamond GTX a great option for ice climbers.
As already mentioned, the durable Gore-Tex and nylon material make these gaiters strong, waterproof, and also breathable. They're also made to fit many types of mountaineering boots and telemark boots without buckles.
A huge plus for the Black Diamond GTX gaiters in terms of ice climbing is that there's almost no issue with them icing up at the bottom, a fairly common issue among many models of ice climbing gaiters.
The instep strap is made out of a neoprene material, which is heavier duty than most instep straps to accommodate for the extra abrasion while climbing rough ice walls. With multiple adjustment points on the front entry, instep strap, and upper closure, they're also compatible with a variety of boots.
Pros
Durable Gore-Tex material
Doesn't ice up
Adjustable neoprene instep strap
Cons
Buckle can rust after 1 season of snow use
More expensive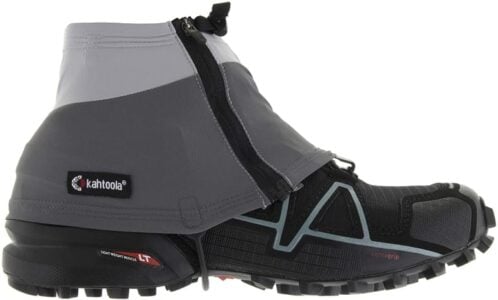 Our pick for best waterproof running gaiters is Kahtoola Instagaiter Low Gaiters
Specs
Best Use: Running, hiking
Weight: 1.73 ounces (large), 1.59 ounces (small/medium)
Gaiter Height: Ankle
Tough enough to withstand the rigors of the trail, but still lightweight enough to not drag you down, these excellent low gaiters are perfect for both urban and trail runners. The stretch woven nylon is treated with a durable water repellent (DWR) finish, so although they aren't quite as thoroughly waterproof as some gaiters, a light rain or splashing in a few puddles won't be an issue.
Instead of a velcro close, these gaiters have a zipper which is designed to flex with your shoes so it doesn't rub against your ankles. Since the material is very breathable, you also won't have to deal with hot sweaty feet when running in warm climates.
Due to the zipper, these gaiters do require a bit more maintenance, especially in dusty or muddy conditions to keep the zipper clean and functioning smoothly. However, any piece of gear is going to require proper care, so for the benefits of keeping debris, dust, and water outside of your shoes, it's worth it.
Pros
Lightweight and breathable
Adjustable instep strap
Moves and flexes with your shoe
Cons
Not as durable or waterproof
Short

Do You Want to Travel FOREVER??
Pop your email in below to get a FREE copy of 'How to Travel the World on $10 a Day!'.
Outdoor Research Bugout Ferrosi Thru Gaiters is our top pick for the best waterproof hiking gaiters for thru-hikers
Specs
Best Use: Hiking, running
Weight: 1.9 ounces
Gaiter Height: Over the ankle
Protecting your shoes on a long thru-hike can make your experience a lot more fun and enjoyable. In light rain, muddy conditions, or dusty trails, these gaiters will keep debris outside your shoes so your feet stay comfortable and you don't have to deal with wet, muddy hiking boots the next day.
They're very lightweight and breathable, so your feet won't overheat or feel dragged down while you're on the trail. The UPF 50+ protection makes them perfect for hot and sunny climates as well.
The ripstop nylon fabric is durable, although it certainly doesn't compare with some of the tougher gaiters we have on this list. Even though they won't do much to protect you in a downpour, for keeping twigs and dirt out of your shoes while on the trail, they're ideal.
Pros
Lightweight and breathable
UPF 50+ protection
Budget friendly
Cons
Not thoroughly waterproof
Too short for bushwhacking
Outdoor Research Verglas Gaiters Mens is one of the best gaiters for hunting
Specs
Best Use: Hunting, mountaineering
Weight: 7.3 ounces
Gaiter Height: Knee
From duck hunting to deer season, the Verglas Gaiters will keep rocks, mud, and water out of your shoes while you're out in the woods hunting. Still relatively lightweight for a knee-length gaiter, they also won't weigh you down too much.
The lower parts of the gaiters are reinforced with 500-denier Cordura nylon, which is snow and rain resistant. To prevent snow or dirt from sneaking in underneath the gaiters, the bottom edges are slightly curved to fit your boots without any gaps.
The upper parts are made from a more breathable 3-layer Pertex Shield nylon, which is still waterproof, but also helps keep your feet from getting hot and sweaty. Along the front there's a velcro closure which can be adjusted depending on the size of your boots.
There's a durable Hypalon instep strap and double-riveted boot lace hooks to keep the gaiters securely in place so they don't slide around when you're hiking or hunting. Although these gaiters are listed as "men's," they'll also work just fine for women, but be sure to double check the sizes and measurements so you get the right pair.
Pros
Durable and good for cold weather
Buckles and straps don't flap around
Breathable and comfortable
Cons
Top can be a bit loose
More expensive
Best of the Rest
Still haven't found the perfect pair of waterproof gaiters for hiking? Here are some other options that didn't quite make the cut for the top picks, but still offer high quality to fit a variety of outdoor adventuring lifestyles.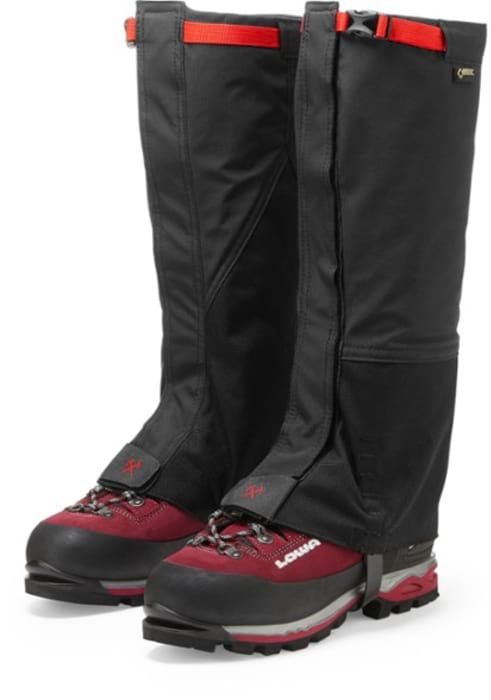 Although these gaiters are on the more expensive end, they're also very sturdy and meant to withstand more abrasion than other options. However, keep in mind that while they are "mountaineering" gaiters, they're not meant for extreme high altitudes and cold weather.
For moderate mountain hiking, where you'll be encountering muddy trails, snow, and scree, you can count on your boots staying free of debris and water. The Gore-Tex fabric is both breathable and waterproof, and the material around the ankles is thicker to accommodate for rough rocky slopes.
There's a full length velcro opening, as well as adjustable webbing straps on the instep and around your calves. Keep in mind that sizes tend to run a little small, so make sure you double check measurements and consider how big of a boot you'll be wearing while hiking.
Combining a lightweight and 4-season appropriate hiking gatier, the Levagaiters offer Gore-Tex fabric protection all the way up to your knee. Of course, the high quality also comes with a higher price tag, but if you're a serious hiker and looking for something lightweight and durable, then the investment can be worth it.
Instead of a velcro opening, the Levagaiters have an Aquaguard zipper which will still keep out water, but also provide more mobility while not rubbing against your ankles. Since the gaiters pack down to a smaller size, they're a good pick for backpackers and travelers.
Unfortunately, the drawstring cord on the top of the gaiters has a bit of an issue with dangling and becoming snagged on twigs or brush especially when going off trail. They also have a snug fit, which some hikers prefer, while other people like something with a bit more room.
These gaiters aren't as rugged as other options on this list, but for buggy conditions and humid weather they're an excellent lightweight option. They also have an EPA-registered Insect Shield to help prevent getting bites from mosquitoes, ticks, and other bugs.
The gaiters are made from a lightweight and breathable nylon material, so they're easy to pack along on hiking trips or backpacking adventures. For up to 70 washings, the insect shield repellent will still be intact, which helps in case you're on a muddy or dusty trail.
Keep in mind these gaiters are not designed for heavy rain and definitely not for snow. If you want something that's 4-season appropriate, these are far too lightweight, but if you're only planning on visiting hot, humid, and buggy climates, then the OR Bugout Gaiters are a great pick.
Super budget-friendly and incredibly lightweight, these gaiters are a great pick for runners or backpackers looking for a minimal extra protection option while on the trail. They won't provide any protection from heavy rain or splashing in big puddles, but they will help keep out small bits of debris and dust.
Unlike most gaiters, they also don't have an insolve strap. This makes them slightly less stable, but also allows you to change your socks and shoes without taking the gaitors off.
Both the upper and lower portions of the gaiters are made from nylon, which is fast drying, but not totally waterproof. If you want something that's more reliable to keep your feet dry, then you probably want to look elsewhere, but for an ultralight and low cost gaiter for running, these may be the perfect fit.
The best present of all… is CONVENIENCE!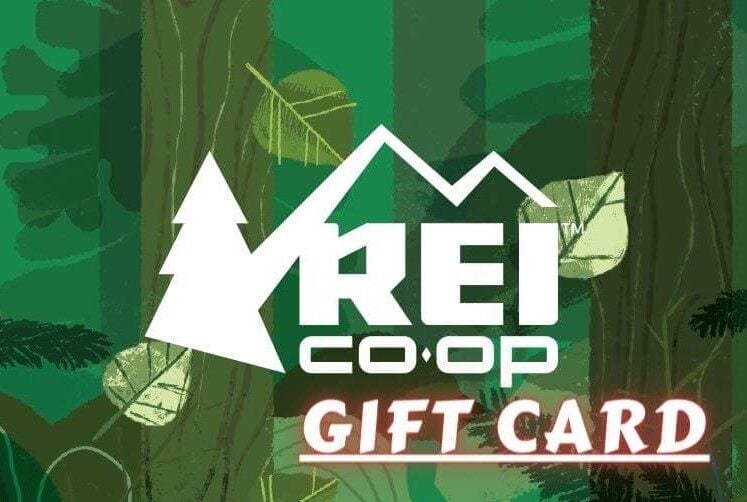 Now, you could spend a fat chunk of $$$ on the WRONG present for someone. Wrong size hiking boots, wrong fit backpack, wrong shape sleeping bag… As any adventurer will tell you, gear is a personal choice.
So give the adventurer in your life the gift of convenience: buy them an REI Co-op gift card! REI is The Broke Backpacker's retailer of choice for ALL things outdoors, and an REI gift card is the perfect present you can buy from them. And then you won't have to keep the receipt. 😉
Buy on REI!
How to Choose the Best Waterproof Gaiters for Hiking
As you can see from the selections on this list, there's a lot of variety in the best gaiters, and what might be perfect for one hiker won't work at all for another. Now that you've seen your options, here's an overview of the most important things to pay attention to when selecting the best waterproof gaiters for your adventure style.
Length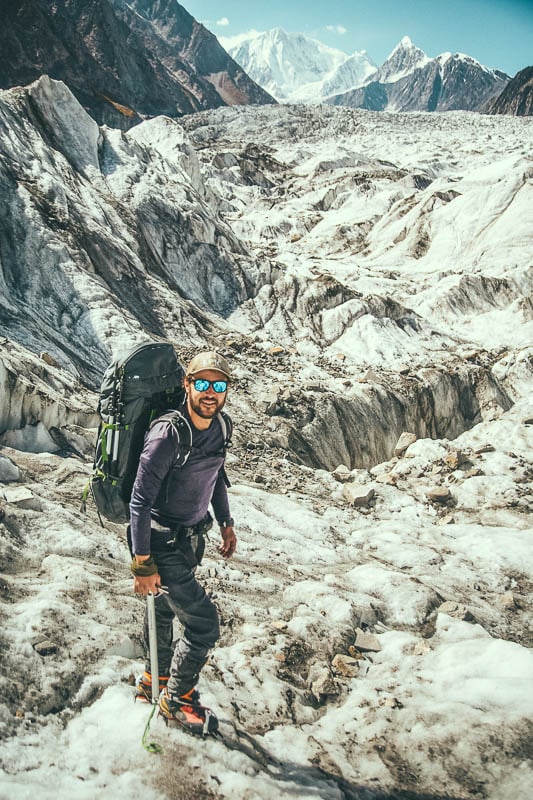 Gaiters range in length from just covering the ankle to all the way up to your knee. Each has their benefits and drawbacks, and are better suited for specific types of outdoor activities.
For runners and hiking in hot climates, low gaiters offer a lot more breathability and ease of motion. Since they're usually lighter weight and pack down to a smaller size, they're a good pick for travelers who want gaiters that won't be bulky or add unnecessary weight.
On the other hand, for snow sports, high altitude hiking, or going off-trail in dense vegetation, knee-length gaiters are definitely required. These are heavier, but also provide more protection and are often made of stronger and more durable material.
Because of the toughness of the material, knee length gaiters are typically a bit more expensive. However, for rugged mountaineering and ice climbing, you're much better off investing in a great pair of knee-length waterproof gaiters, rather than trying to save money and regretting it while you're out combating wintery weather.
Weight
What qualifies as being "too heavy" depends on how you intend to use your gaiters. Long distance hikers, backpackers, and runners certainly won't want any more weight than necessary, so a low gaiter made out of a lightweight nylon material is going to be best.
For winter sports or ice climbing, staying dry is more important than weight. In these harsh weather conditions, it's better off to have something that's a little heavier but actually keeps your feet dry than something lightweight but is soaked through in the first 15 minutes.
High-quality material like Gore-Tex, which is both lightweight and waterproof, makes for more desirable gaiters, but also more expensive ones. If you're already a seasoned climber, going with a higher quality product that will deliver the performance you are looking for is probably worth it. If you're just trying out hiking, you'll likely be fine picking a less expensive and more comfortable lightweight option at least, to begin with.
Best Use
As we've touched on already, how you plan on using a pair of gaiters should be at the forefront of your decision-making process for which ones to purchase.
There's a huge list of outdoor activities where a person could benefit from having gaiters. Hiking and mountaineering may be some of the most common uses, but runners, bikers, birders, ice climbers, skiers, and more could also desire a pair of gaiters.
If you hope to use gaiters for multiple purposes, you may need to compromise on features like weight and length. For example, if you're a trail runner in the summer and a skier in the winter, you probably won't want the lightest weight option since this won't function as well in winter even though it might be ideal for running.
Other features to keep an eye out for include the type of closure (velcro or zipper), whether straps are adjustable, and whether the gaiters are designed to be 3-season or 4-season. These characteristics can also affect whether the gaiters will work for your intended use.
Breathability
This feature is something that summer hikers or people visiting hot and humid climates will want to pay attention to. Although some gaiters may be super durable and offer a lot of protection, they can turn your feet into mini furnaces one temperatures start to climb.
Having breathable gaiters is a lifesaver when you're jungle trekking or on a long thru-hike on a sandy coastal path. In these situations, you'll want something that offers protection, but that also doesn't condemn your feet to becoming a sweaty nightmare.
Keep in mind that usually (although not 100% of the time) the more breathable the fabric is, the less waterproof it will be. Depending on what climates and weather you anticipate encountering, you may have to sacrifice a little on one or the other in order to get suitable gaiters.
Toughness
Whether it's rocky crevices, coarse sand, or prickly blackberry bushes, gaiters will come into contact with a lot of rough terrain. Since the whole purpose of having gaiters in the first place is to protect your shoes and feet, you'll want a pair that can withstand some abrasion.
Exactly how durable you need your gaiters to be goes back to your intended use. An ice climber is going to want the toughest material while someone who enjoys going on light weekend trail runs won't need to worry about getting something with super tough material.
As you probably already guessed, the more heavy duty and abrasion resistant the material is, the more expensive it's going to be. If your only intent is to use your gaiters for light hiking, it's not worth spending the money on the toughest gear. For winter camping trips on a mountain slope, the extra cost up front will completely pay off when you're out on the trail trudging through snow.
FAQ about the Best Waterproof Gaiters
Still have some questions? No problem! We've listed and answered the most commonly asked questions below. Here's what people usually want to know:

Our GREATEST Travel Secrets…
Pop your email here & get the original Broke Backpacker Bible for FREE.
Final Thoughts on the Best Waterproof Gaiters
Great waterproof gaiters can serve all sorts of outdoor adventures. In rugged ice climbing conditions you might want our top pick, the Black Diamond GTX Frontpoint, or for something to simply keep the rocks out of your shoes while going for a run, a lightweight option like the Kahtoola Instagaiters are probably better.
Just like any piece of equipment, it's important to put some thought into selecting the right product. Hopefully, our guide to the best waterproof hiking gaiters has helped you narrow down your options and settle on the perfect choice for your next big trek or ice climbing endeavor.
Happy adventuring guys! Stay dry out there.
---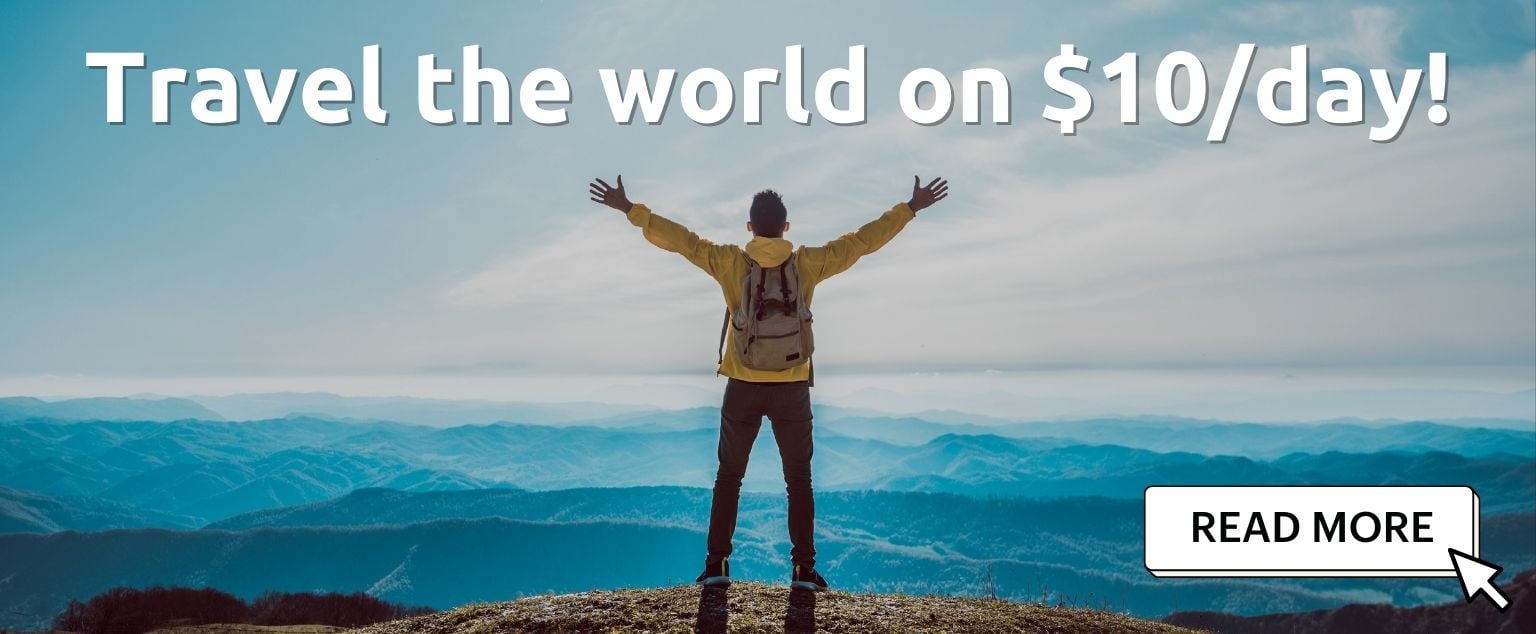 And for transparency's sake, please know that some of the links in our content are affiliate links. That means that if you book your accommodation, buy your gear, or sort your insurance through our link, we earn a small commission (at no extra cost to you). That said, we only link to the gear we trust and never recommend services we don't believe are up to scratch. Again, thank you!