Recently, I bumped into Carey and Dao in the blogosphere, I was  really enthused by how excited they were about travelling (even though they have been going for ages!) and the fact that they can actually write. We got chatting and Carey mentioned 'ghost hunting'…. it was at this point that I knew these night-loving adventurers needed to be interviewed!
My name is Carey, and with my wife Dao, we are self-proclaimed adventure aficionados! About 10 years ago we went on a ghost hunt for 2 months across the U.S and came to the conclusion that work sucks… we need to hit the road more often! It took us a few years to get all our finances in order, but we rented out our home, my wife quit her teaching job, I sold my business and 7 years later, here we are!
It was a huge lifestyle commitment and was completely scary at times, but we definitely have no regrets.  At the moment, we don't do much in terms of paid work as we sustain much of our travels through savings, smart budgeting and being part of awesome programs like WWOOF.  We're also not shy about shacking up with friends and eating street food almost exclusively; it's a better way to find out more about the country you are visiting.
Where in the world are you right now and what's planned next?
At the moment we're doing the family thing in San Diego after 9 months cruising through North America.  Normally we stop by for 3-4 months of the year to touch base and share our travels.  On our most recent trip, we went out to Alaska, made our way across Canada and came back through the U.S. We're huge campers, so we also spent as much time as we were allowed out in the National Parks and the backcountry.  In a couple months we'll be crossing overland into Mexico and afterwards, in what can only be described as "unnecessarily complicated", we'll find a way to get our butts over to India for some WWOOFing.  We don't have any definitive itineraries yet, but that's part of the spontaneity.
So, being on the road for 9 months, you must have had some pretty great experiences?
Bears, bears, and more bears. For the most part traveling through Canada and the U.S is fairly predictable, but out in the backcountry it's a never-ending adventure. From Denali National Park, Yellowstone to Yosemite, we had some pretty crazy wildlife encounters.  Sightings became less frequent as the weather became colder, but crossing paths with a wild Grizzly about 300ft away definitely gets the heart pumping.  Other than the backcountry, believe it or not, some of our best experiences was visiting the small towns, and getting to know the amazingly generous folks who live there.  Small town hospitality is alive and well.
But, as all experienced backpackers know, your bound to have a couple of hair-raising tales?
Very true.  There's certainly never a shortage of moments where you look back and think,  "damn, that was a close call".  One moment I'll never forget is when we hitched a ride from the Perfume Pagoda back to Hanoi. I'm certainly against random hitchhiking in most cases, but we were a bit desperate. It was late, regular transportation was no longer available and we were miles out from Hanoi. We were pretty relieved when we finally managed to wave down a car, but as the ride progressed it started to get down right odd.  We thought we were being kidnapped! In retrospect I couldn't confirm if this was the case, but with a combination of sketchy calls from a second cell phone, the language barrier, and taking a route we were unfamiliar with, it all became pretty intense quickly.  Long story short, we convinced him to stop somewhere to use the washroom, and we just left walking the last 5 hours back to Hanoi in the night.
What would you say is the most adventurous thing you've done?
A hard question as I'm one of those over-enthusiastic individuals who thinks everything new is an awesome adventure story waiting to be shared. But aside from things like cliff diving, and climbing through the windows of haunted houses, I would have to say one of my most memorable events happened while WWOOFing in Italy.  I had to wrangle a 600 lb Moroccan bull sheep, who went by the befittingly masculine moniker Mor-roc. Apparently my host was ambushed a few times by the highly territorial male Bull sheep and sadly decided to put him down. I'll spare you the gory details, but it was an amazing athletic display of screaming and running.  I'll probably never think of sheep as cute and cuddly again.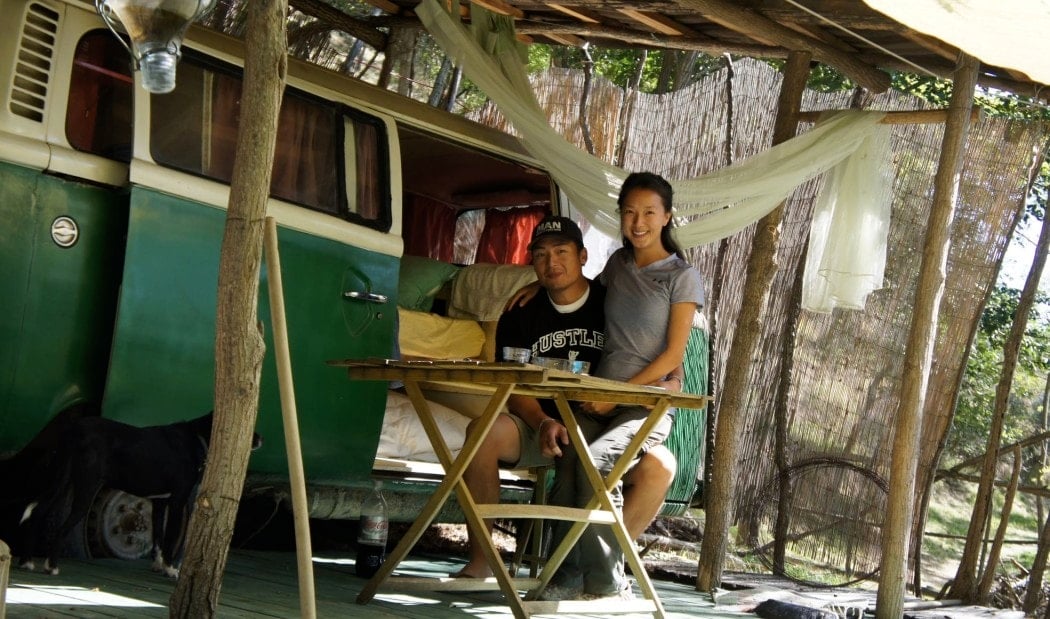 Have you got any tips for those wanting to quit their jobs and hit the road?
Commit to traveling and don't look back.  Make sure you have some savings to get you started, and know that it will get harder before it gets easier.  You'll need to give yourself time to find your groove.  You'll be amazed how, by just being open minded and social, opportunities to generate income or trade services will appear.  Take advantage of volunteering programs like couchsurfing and WWOOF and get your TEFL certificate when you can.  Most importantly, don't be shy, get out there, meet lots of friends, and hone those bartering skills!
How do you fund your adventures?
We were fortunate to start off with some savings, and rental income, but we discovered early on that staying on the road long-term would require some budgeting, discipline and creativity.  We are huge proponents of couchsurfing and we are also on a mission to bring bartering back into style. Another great way we offset the cost is by participating in programs like WWOOF (World Wide Opportunities on Organic Farms) that trade hard work for food and accommodations.  It's a great way to dig into the culture, meet lifelong friends, do something incredibly memorable and of course save money.  Later this year we'll be doing some WWOOFing in India too.  In the future, we hope to find some opportunities either to teach classes or even become tour guides.
What are the three things you would never travel without?
I'm not sure if this qualifies, but travel insurance is definitely on the top of my list.  Accidents do happen while out on the road and, at a minimum, I always have emergency medical.  I have had to call upon the insurance in the past, and believe me when I say it was a lifesaver. Not to mention how it saved me thousands of dollars.  Next will have to be a dependable, comfortable backpack.  I know I'm going to be putting it through some punishment for the next 9 months, so having your pack tear or fall apart is not an option. My last piece of essential gear has got to be the Bandana. It's great as a head cover, a face cover, a scarf, a makeshift tie-down, and even as a towel when needed.
So, why did you start Blaze Your Adventure?
Truthfully, starting the blog was our way to commit to living a life of travel.  Until we started Blaze Your Adventure, it always felt like just an extended vacation with an open back door.  There weren't any real barriers stopping us from throwing in the towel if things got tough.  So seven years into being on the road we finally decided," Lets throw it all in, lets make traveling our profession".  We recruited our friend Joanie, pledged to share our failures and successes, and provide actionable advice to our readers.  We wanted to create a site that empowered and impassioned others to get out there and see the world.  And with that we launched our blog.
Do you have any Survival Tips fir those finding themselves in a harrowing situation?
Probably the most important piece of advice is to keep a level head.  Adrenaline fueled panic makes it incredibly difficult to make good decisive decisions and feeds into your growing fear.  It's the whole biological fight or flight thing.  Stay calm, take deep breaths and think your options through.  You'll find that there's always a solution.  A calm demeanor is your best weapon to diffuse a potentially explosive situation.
You mentioned something about ghost hunting, what's that about? 
Haha, I'm glad you asked.  Ghost hunting is my second lifelong passion and is what started the whole ball rolling so to speak.  Ghost hunting became a natural evolution for us to work into our travels.  We did find, as an added bonus, that it was an awesome way to meet locals and other travelers while creating opportunities to really dig into the nooks and crannies of wherever we were. By listing to the mythologies and superstitions, I was given a rare insight into the culture.  You'll be amazed how virtually everyone has a ghost story to share!
About Carey: I am an aspiring scuba diver, novice spelunker, ghost hunter and avid adventurer.  I have a penchant for always getting lost along with an established track record for always choosing the worst places to eat. With a healthy aversion to staying in one place for too long, I am the ceaseless wanderer and explorer. I traded in the suit for a backpack, and am now pursuing to live a life of travel. I travel to learn, I travel to live and I travel in search of the epic adventure. I've been fortunate to be able to share my wanderlust with my wife, as she is my biggest supporter, as I am hers.  She keeps me grounded, and on budget! From camping, backpacking, to adventure travel I hope to leave my shoes well worn, with no stone unturned, all while meeting new friends in the process! You can check out our website at www.blazeyouradventure.com and follow us on Facebook, Twitter and Instagram.