The first 6 months of 2019 have been a whirlwind of awesome activity! In this post I'll give you some of the highlights of the last few months as well as bringing you up to speed with some of the exciting new projects I am currently working on!
I kicked off the year by spending a couple of months exploring Colombia (again) where I was quickly reminded just how much I love this amazing country.
Colombia has always been kind of a special place for me because it was here, in Medellin, where I made my first $100 blogging way back in January 2015. Back in those days, I was still learning to touch type, I didn't know what SEO even stood for and I was unfamiliar with the concept, or potential, of passive income. But I remember being damn happy – I had just made one hundred bucks by writing shit on the internet! And so my journey officially began. I now knew it was possible…
To look back on this milestone and to see how far the blog has come since then, and how much my life has changed, is honestly humbling. Not a day goes by where I don't thank my lucky stars for finding my passion for writing and entrepreneurship.
Growing the blog and finding my passion
I first started my blog whilst backpacking in India, I wrote all the posts on an iPod Touch (I didn't travel with a phone and I didn't own a laptop) and I used to upload them at internet cafes. I had been vagabonding, hustling and living on the road since I was nineteen. I knew I got a ton of personal growth and value out of being on the road and that was enough – I didn't feel that I really needed a life plan and, in all honesty, I expected I would probably get myself killed on one of my adventures. I was fine with it.
I effectively was able to forget about any long-term planning. Whilst I was happy and whilst I did feel driven to push myself physically and emotionally in my quest for personal growth, I didn't feel that I really had a PURPOSE.
Running and growing this site and finding my passion as an entrepreneur has given me the most incredible sense of fulfilment and purpose. I wake up every day excited to live my life and to work on my projects. I am now involved in a total of nine projects which between them bring in six figures a month – a massive sum which I'm investing wisely into my health, fitness, the people I care about and of course, into growing my new ventures aggressively. I'm particularly excited to take the hostel world by storm when we get our first Tribal Hostel open in Bali later this year…
To be running The Broke Backpacker is honestly a dream come true for me – I have an amazing team of people, we now provide full-time employment for over a dozen broke backpackers who have joined our ranks, we're providing job opportunities for amazing people in Pakistan (and soon Bali), we continue to be the bleeding tip of the spear when it comes to experimentation and innovation in the travel niche and we're investing mad amounts of money, time and passion into improving and growing the site. And growth is going pretty damn well…
Balancing work and play in Colombia
Normally, I work anything from 30 – 50 hours a week. Since expanding my team, I no longer have to work 80 – 100 hours a week, which is great. I was pretty determined to NOT work the whole time I was in Colombia but I did need to put in 3 – 5 hours every day.
In January, I was focussed on building out two new affiliate sites and as is always the way when you start a new project, there was a lot of strategy and elbow grease that was needed to get them off the ground – screenshots below show how those sites have been growing since we started working on them.
To be honest, working every day whilst in Colombia suited me just fine (I love my work) and I quickly settled into a work-party-work lifestyle which I enjoyed very much. Ditch Your Desk co-founder Aaron Radcliffe was also in Medellin and together we enjoyed many gin-soaked shenanigans.
I was staying in a pretty insane apartment complete with jacuzzi and epic sunset views so it was a very different style of travel to what I'm used to. Honestly though, after working my ass off for the last couple of years I just wanted to go nuts and spend some money – something I haven't been in a position to do until very recently. I gotta say, it was fun.
Whilst in Medellin, I met the newest member of our team (my now apprentice), Art whom I pretty much hired on the spot over a few drinks and later flew out to join me in Bali where I am now teaching him everything I know with the goal of expanding my management team so that I can start – you guessed it – more ventures! Huzzah for never-ending ventures!
I spent my 30th birthday in a very relaxed style – choosing to begin the day with a gin and tonic and a nice fat joint in the bath. I did a bit of work, visited the local Crossfit box to get my pump on, got a massage, reflected on the year just gone and looked forward to the years ahead, I spoke to my love on the phone and then had an early night – honestly, it was a beautiful birthday.
After spending a few weeks working and partying in Medellin, I left for the Caribbean coast where I spent some time exploring Minca, Tayrona and the dusty frontier town of Santa Marta. Whilst there I had a mini run-in with the police (it had been a while so was probably about time), which you can read about in my fun post on 8 things I learnt in Colombia.
During this trip to Colombia, I fell in love with a game where one throws metal disks into a metal frogs mouth. Art's first task as my apprentice was to build this game and haul it over to Bali where it now lives in my garden. Soon, it'll be coming to a Tribal Hostel near you. 😉
Adventures over the last 6 months
From Colombia, I headed to Sri Lanka where I was reunited with Nina. We spent our first week enjoying a super chill and, honestly, super amazing yoga retreat and I took the chance to give Nina a proper engagement ring, which I had designed myself and had made specially in the UK. She was pretty darn stoked.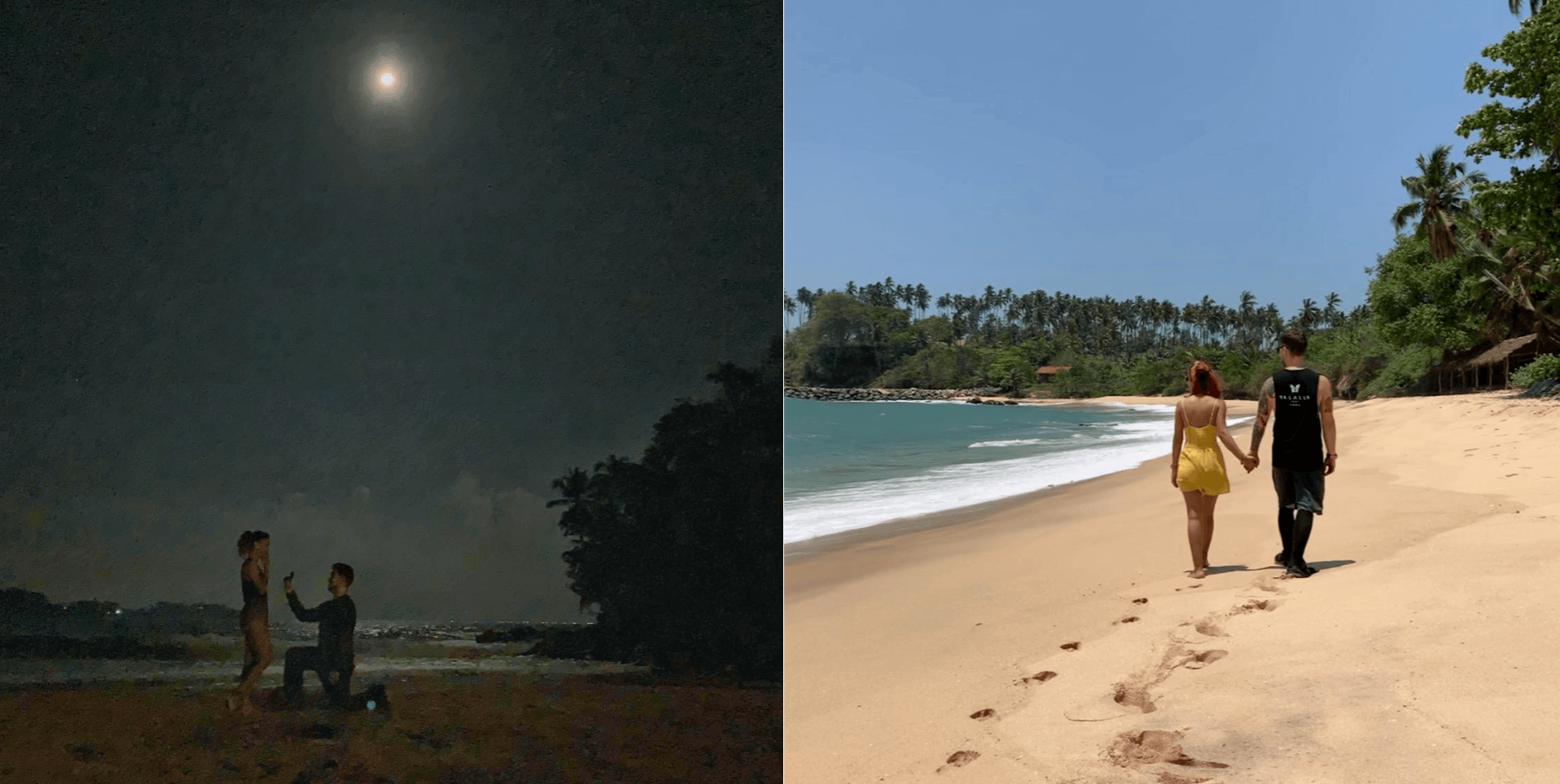 We spent a further month gallivanting in Sri Lanka before swinging over to Thailand where we enjoyed an alcohol (and filthy water) soaked Songkran – hands down one of my favourite festivals of all time.
We then headed over to Koh Tao where we got our PADI diving qualifications – holy shit, it was amazing. This was my first time ever diving… More recently we went diving around Sipadan island in Borneo and it was absolutely breathtaking. If you've never dived, make sure you give it a go!
From Koh Tao, we headed back to Bali where we were reunited with our dog, Chimigi! We had placed her with a foster home for a couple of months whilst we were out of Bali but it was so good to get her back. 🙂 She frequently sneaks into the bed for cuddles and even brought me a dead chicken as a gift once, best dog ever? I think so, look how she has grown!
We then had a whirlwind month where we were visited by a lot of the people we are working with. I got to spend some quality hammock time with Active Roots co-founder DJ. Despite working together for the last two years it was the first time we had actually met and it was a really awesome productive time, I'm very excited for the future of Active Roots as we have some game-changing products in the works – more on that later!
A couple of weeks later, about half of my crew all ended up being in the same part of the world at once so I flew everybody out to Bali, rented out a MASSIVE incredible villa and we had five days of brainstorming, workshops, partying, drinking and…. well, a lot of drinking.
It was great to have so many of my favourite people all under one roof. There was Nina, my partner in crime, life and crushing it. There was Clair, my PA. My new apprentice, Art. Ditch Your Desk co-founder, Aaron. Creative editor and social media whizz, Ana. Epic Backpacker Tour co-founder, Chris. Master of experimentation, Ralph. Rhenz, the head of our VA team and Bernadetth, second in command of our VA team. Whilst I would have loved to have had all twenty or so people I'm working with present, it was awesome to get a few of us under one roof… Many epic ideas were discussed and we came up with plenty of plans. 😉
It was an awesome experience for me to be able to give back to my team and reward everyone for their hard work with plenty of adventure activities, chill massages, top-notch cuisine and cocktails over several days of fun – I'm looking forward to our next team retreat!
Once the gang had left, it was time to get settled into a healthy fitness / work / play based lifestyle. I've really enjoyed the last few months of hard hustle, tough Crossfit workouts and daily dog walks, it's been nice to have a home again for a bit. I've signed on a house in Bali for a year from September and imagine I'll spend around 8 / 9 months of next year living here whilst I get the first Tribal Hostel pumping…
After that, I have some pretty amazing travel plans lined up but I'll tell you more about that once OPERATION PERSIAN PHOENIX (seriously) has been completed.
Projects I am working on at the moment
As well as The Broke Backpacker, Tribal Hostels and the two mystery projects from earlier on in the post, which I can't share the names of as I want to protect the low competition of the niche, I am actively growing…
Epic Backpacker Tours – There's exciting growth on the horizon for Epic Backpacker Tours! Right now, Chris and Ralph are both up in the mountains of Pakistan leading tours and scouting out a new itinerary around the K2 Basecamp Trek (not for the faint-hearted). I'm heading back to Pakistan myself in a couple of weeks for a motorcycling adventure with my buddy Matt, keep an eye on my Instagram for some awesome adventures…
Recently, the Epic Backpacker Tours team spent a month exploring Kyrgyzstan and putting together an EPIC adventure itinerary. We've also been working on a new Iran itinerary. This year, we will have run a total of SEVEN adventure tours, next year we plan to run twelve. If you're keen to come, be sure to sign up to the mailing list over at the EBT site – spots go very fast and usually new itineraries sell out as soon as we announce them.
Active Roots – I'm really stoked with how well Active Roots has been growing. In June, we hit sales of $10,000 worth of products on Amazon plus more on our website. There's been some hard lessons with Active Roots but we are now well placed to explode this business by 1000% over the next two years.
Active Roots HAS been a difficult project to grow and is probably the most complex venture I am involved in. We had to learn a whole new set of skills and we were hamstrung a few times by unreliable suppliers and shipping companies. We've been working on this project for two years now and it is finally turning a half-decent profit. Crucially, the lessons we've learned now enable us to move towards doing something much bigger, and more meaningful, in scope… Creating products that change the world!
We are currently working on producing our own range of products sourced from recycled ocean plastic materials. I can't give you details on the products yet (because it's top-secret) but we are moving along nicely and the plan is to do a crowdfunding campaign to jumpstart sales once the products are ready. I'm excited about this as Crowdfunding is an element of online entrepreneurship I've always found fascinating. We are STOKED to be moving towards creating products that do good for the planet.
Responsible travel is something we are really passionate about and I personally am especially passionate about reducing the impact of single-use plastics on our incredible planet. Plastic is literally poison, if you don't believe me – watch Plastic Ocean on Netflix.
Here at The Broke Backpacker we've written about the plastic problem quite a lot and are actively trying to do our part to inform and educate the traveller community on how to travel in a way that is less damaging to the planet. Check out this guide on how to travel plastic-free if you haven't already.
Wherever possible I am now keen to actively turn trash into treasure. Not only will we be creating products out of recycled plastics but the plan is to use recycled plastics as key components in the construction of our Tribal Hostels. I'm very excited to go on this journey with Active Roots and to do something good for the planet.
Ditch Your Desk – Admittedly myself and Aaron have been a bit slow recently at putting out content on Ditch Your Desk and this is because we've been so busy with our money-projects that this passion project has ended up taking a bit of a sideline. We are committed to our pledge to help 100 people earn their first thousand dollars online and will be picking up the pace a bit later this year as we continue to share free informative resources to help aspiring entrepreneurs streamline their processes, unlock their potential and apply next-level strategies to their businesses…
Recently, Aaron spent a ton of time putting together a FREE eCourse on how to start your first website – it's simple and it's god damn free, so if you're looking to start; check it out.
If you're looking for even more top-level hacks, check out this podcast interview I did recently, I drop some damn tasty knowledge bombs…
Other projects in the works – I'm involved in two other projects which are in the opening stages at the moment. I can't tell you about them yet but one is in the fitness space and is based in Bali, the other is in the physical gear space. Both are due to launch early next year.
See you on the road!
And that's the last 6 months roundup friends! I will do another one at the end of the year where I will certainly have some fun updates for you!
Hustle on, travel well, love often, drink water (it's good for you), be epic.
View this post on Instagram