Are you being lured to the Peach State of Georgia? I honestly can't blame you. It is, after all, very hard to resist the state's scrumptious pecans, the exhilarating waterfall hikes, the heavenly bowl of shrimps and grits, the breathtaking landscapes, the shimmering lakes, and just endless wilderness.
Georgia makes for an insanely memorable destination that allows you to retreat in the mountains in style and comfort, away from the commotion and upheaval of city life.
To experience the full extent of Georgia's natural beauty, you have to dwell in the woods, next to a creek, where you can wake up every day to the sight of the magnificent Appalachian Mountain Range and start your day with a refreshing swim in the lake. And the only way to do that is by choosing a magical cabin in Georgia.
The state is known for its outdoor adventures and there are lots of cabins to be found in the wilderness. The range can boggle your mind and delay your planning, so to narrow down your options and filter out the best of the best, I have prepared a list of the best cabins in Georgia, USA for you!
Without further ado, let's get started.
In a Hurry? Here's Where to Stay in Georgia for One Night
FIRST TIME IN GEORGIA
Lake Chatuge Cabin
Imagine being able to sleep and eat in a rustic and cozy cabin with the finest furniture and décor, and then walking out of the door to enjoy hiking, hunting, skiing, fishing – without paying a fortune for it. With Lake Chatuge Cabin as your holiday dwelling, you get the best value for money!
NEARBY ATTRACTIONS:
Lake Chatuge
Georgia Mountain Fairgrounds
Atlanta
Is this amazing Georgia Cabin booked for your dates? We've got your back with our other favorite properties below!

Unlock Our GREATEST Travel Secrets!
Sign up for our newsletter and get the best travel tips delivered right to your inbox.
Staying in a Cabin in Georgia
Georgia's natural wonders are made to venture deep into it, and that's why most cabins in this state are found smack in the middle of the woods, in secluded areas, often in the trees or right by the lake, rather than in the big cities.
That's the only way to have a hypnotic adventurous trip, where every moment feels like a dream. Speaking of which, cabins in Georgia are built like dream dwellings, even the ones you find at an economical rate. That cozy and snuggly aesthetic is found in all the cabins, often with a fire-pit outside along with outdoor furniture so that you interact with nature as much as possible.
When choosing your cabin for the trip, go with the ones with numerous hiking trails nearby, if those trails lead to waterfalls, even better. If you are looking for lots of water activities, finding cabins near the lakes, even private lakes, is not hard at all.
What to Look For in a Cabin
Before you can choose a cabin in Georgia, you need to first consider your location. There are many epic things to do in Atlanta, however, if you're planning a rural cabin stay, you need to understand there might not find that many attractions near you. The biggest attractions near cabins are the hiking trails, lakes for fishing or boating, and generally being outdoors. Cabins are often in the woods, at least an hour from the nearest town, and making your way into civilization every day for meals defeats the purpose of a natural retreat.
You should also look at the cabin's facilities. For extremely comfortable stays in the cabins of Georgia, make sure you choose the one with a fully stocked kitchen. For backpackers and budget travelers, even a kitchenette would do.
Some other important things to look for in a cabin are heaters or indoor fireplaces and an air conditioner. Georgia can be very hot in the summer, and freezing cold in the winter, so choosing a place with heating and air conditioning depending on the time of year is a must. If you plan on spending a lot of time on the patio, a fire pit would be handy too.
Remember, cabins are rural, and while there will most likely be WiFi, I cannot guarantee how strong it would be. It's a good idea to check guest reviews to see what other people are saying about the strength of the WiFi is this is a dealbreaker for you.
As you can see, there are a lot of things to consider when booking accommodation. That's why I have specifically chosen cabins that come with all the basic amenities you would need while dwelling in nature, plus some extra perks too.
If you want to go on an even more adventurous trip to test your endurance in the wild, check out Vrbo for more options.
OVERALL BEST VALUE CABIN IN GEORGIA
OVERALL BEST VALUE CABIN IN GEORGIA
Lake Chatuge Cabin
> $$
> 6 Guests
> Outdoor dining area
> Lakefront with mountain views
BEST BUDGET CABIN IN GEORGIA
BEST BUDGET CABIN IN GEORGIA
The Pine Cabin
> $
> 2 Guests
> Firepit
> Firepit Wineries and waterfalls nearby
BEST CABIN FOR COUPLES
BEST CABIN FOR COUPLES
Tree Cabin
> $$
> 2 Guests
> Hot tub
> Lakefront
BEST CABIN FOR A GROUP OF FRIENDS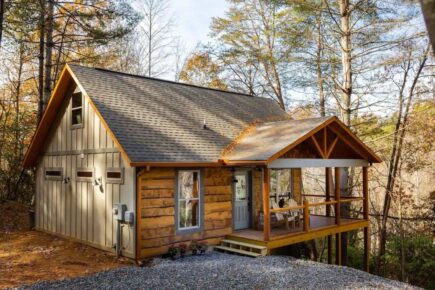 BEST CABIN FOR A GROUP OF FRIENDS
Tranquility Ridge
> $$$
> 4 Guests
> Hot tub
> Ranked # 1 Cabin by a National Review Website
OVER-THE-TOP LUXURY CABIN
OVER-THE-TOP LUXURY CABIN
Creekside Cabin
> $$$$
> 10 Guests
> Indoor fireplace
> Creekside
BEST CABIN FOR FAMILIES VISITING GEORGIA
BEST CABIN FOR FAMILIES VISITING GEORGIA
Shady Grove Cabin
> $$
> 8 Guests
> Hot water
> Mountain top cabin
BEST CABIN FOR BACKPACKERS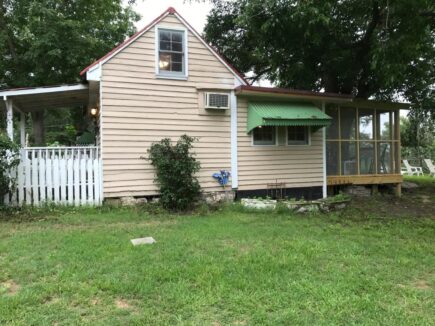 BEST CABIN FOR BACKPACKERS
Cabin on a Farm
> $
> 3 Guests
> Kitchenette
> Located on a farm
The Top 10 Cabins in Georgia
Now that you know what to expect from a cabin in Georgia, it's time to wake up to the sight of Georgian mountains or breathe in the ocean breeze from one of these lovely cabins.
My assorted list is wide-ranging and I'm sure you'll find a cabin that calls to the adventurer in you, so let's get started!
Overall Best Value Cabin in Georgia – Lake Chatuge Cabin
$$
6 Guests
Outdoor dining area
Lakefront with mountain views
Lake Chatuge Cabin promises an exquisite experience with its wall-to-wall windows, lake access, and secluded location. Not to mention the absolute dreamy décor that makes you want to never put an end to the vacation.
The beautiful cabin features two bedrooms and a loft, with room to sleep more than six guests. Families and friends can book this cabin for one of the most memorable trips ever. The cabin comes with a Jacuzzi tub and a breathtaking view of the lake through its glass walls. Add in a stone fireplace and a fire pit, and your dream vacation of cozy and toasty nights with your favorite people will come to life.
As far as days go, you can occupy them with hiking, white water rafting, fishing, horseback riding, wineries, breweries, and some wind-down time by the beautiful Lake Chatuge.
Best Budget Cabin in Georgia – The Pine Cabin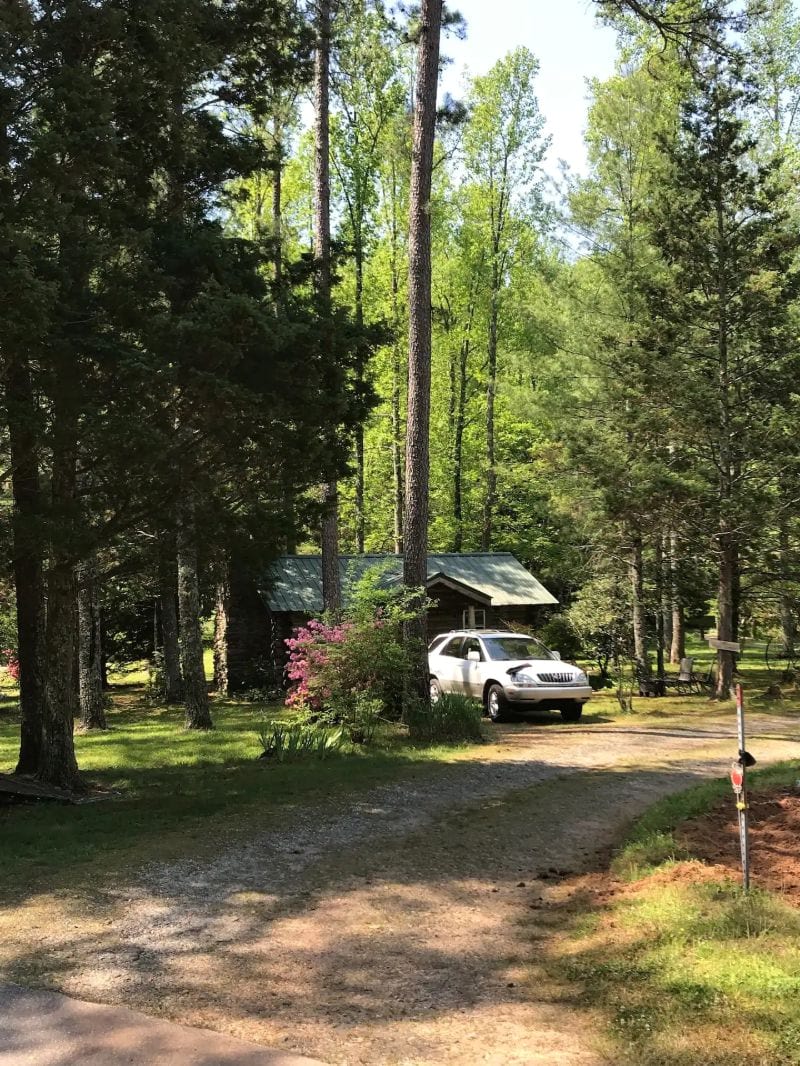 $
2 Guests
Firepit
Wineries and waterfalls nearby
This vacation rental in Georgia is for all the traveling fellas who wish to enjoy the secluded aesthetics of a rustic cabin found in the wilderness, right by a creek – but don't have the budget for it. For once, you don't need a lot of money to make your dreams come true.
The Pine Cabin is a small retreat with one bedroom and has all the features that make cabins so beloved. The cozy accommodation even has a kitchenette that is handy for preparing a quick meal.
The warm and cozy cabin is situated in a quiet setting with a beautiful yard and a running creek nearby. This budget-friendly cabin will fill your days with joy and relaxation as you lounge around the cabin or head over to the mountain cove for a two-mile hike.
Best Cabin for Couples – Tree Cabin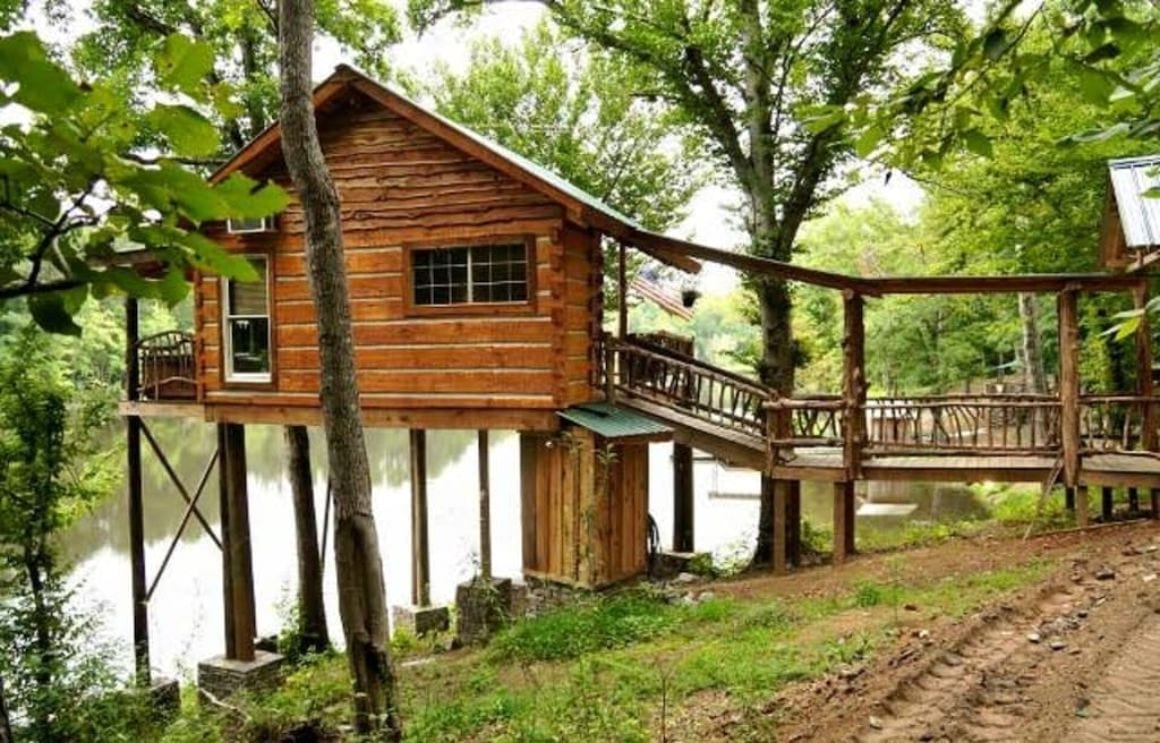 $$
2 Guests
Hot tub
Lakefront
Couples celebrating their anniversaries or just wanting to spend some good time together away from the daily grind will fall in love with this Tree Cabin by the Lake.
This accommodation has everything a couple needs to laze away and unwind. The cabin provides private access to the lake where you can use the two boats, canoe, and paddle boats to spend hours in the water without any restrictions. You get the entire lake to yourself without anyone hassling you! If that's not a dream vacation, we don't know what is!
The cabin itself is on stilts, right above the lake with a deck leading to the water. You can prepare your meals in the outdoor kitchen and breakfast in the alfresco dining area, or on the boat. The cabin also features a hot tub. If you love seafood, then there are bass, crappie, catfish, and yellow perch in the lake for you to fish.
Best Cabin for a Group of Friends – Tranquility Ridge
$$$
4 Guests
Hot tub
Ranked # 1 Cabin by a National Review Website
If you are planning a vacation in Georgia, surrounded by nature, to bond with your best friends, then this cabin is ideal for it. The cozy cabin features one bedroom with a king-sized bed and two single beds, allowing you to have a night of games, good conversations, and midnight snacks!
You aren't entirely alone here, there are a bunch of cabins at a distance, making it a sweet mountain community to spend your time in, and even make some new friends.
The cabin is situated just minutes from downtown, allowing you to find lots of activities and eateries. Some fun nearby outdoor activities include water rafting, tubing, horseback riding, zip-lining, waterfalls, hiking, and much more.
Is This the Best Backpack EVER???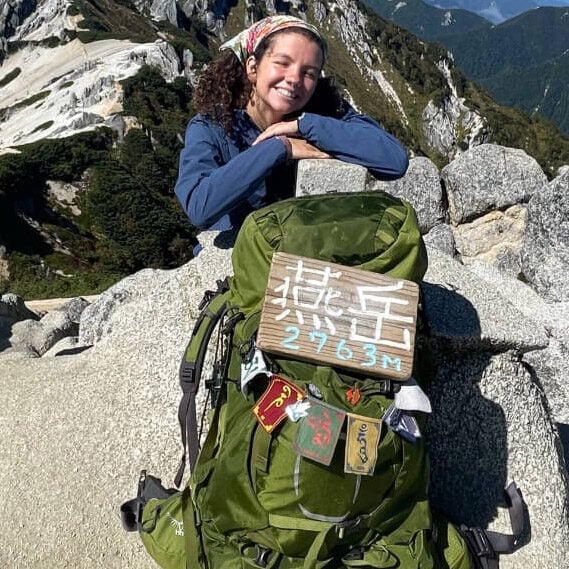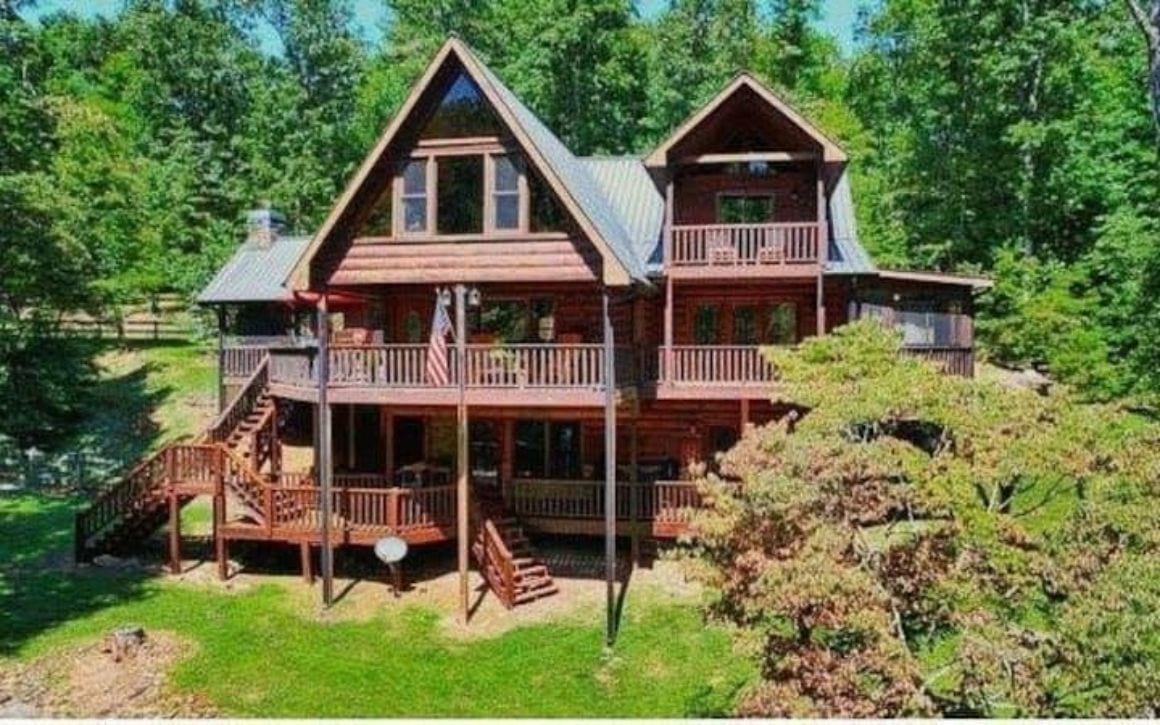 $$$$
10 Guests
Indoor fireplace
Creekside
Cabins usually involve a small, secluded wooden dwelling in the middle of a forest or atop a mountain. But what do you do when there's no constraint on money or imagination? If you are looking for an upscale, over-the-top luxurious cabin in Georgia that has it all, this Creekside cabin in Blue Ridge fits the bill.
A cabin fit for a king, this castle-like accommodation sleeps 10 and has every modern amenity you could need to feel at home, away from home. The three-story cabin features three bedrooms and three baths.
You also get an enormous kitchen, deck with outdoor seating, and more than one living room. From this cabin, you get access to the creek where you can enjoy water activities or immerse yourself into the exquisite outdoor experience Blue Ridge is known for.
Best Cabin for Families Visiting Georgia – Shady Grove Cabin
$$
8 Guests
Hot water
Mountain top cabin
This property in Georgia is a rare find, and why wouldn't it be? This cabin allows you to provide your family with the comfiest and the most beautiful cabin on a mountain top, at a super-economical rate. If you end up finding this cabin available on your travel dates, don't let it go! There are plenty of family activities to do in the area.
The Benton MacKaye Trail is just a short walk away, or you can take a 15-minute drive to the mystical Downtown Blue Ridge for numerous family-friendly events and venues.
However, if you wish to stay in the cabin, we wouldn't blame you. The three levels of mountain views from the cabin do make it difficult to be anywhere else. The wrap-around porch, the screened dining area, the living room with the fireplace, and the warm and homey bedrooms make it a wonderful accommodation for a family retreat.
$
3 Guests
Kitchenette
Located on a farm
Backpackers looking for warm and cozy accommodations in Georgia have just landed a gem with this cabin on the farm. The clean cabin with all the basic amenities you will need is not only cheap but can house three guests. So, if you have some fellow backpackers with you, the price goes down even lower. Nearby attractions include Augusta, Clark Hill Lake, and Wildwood park.
The best thing about this cabin is that despite being so budget-friendly, you are getting quality accommodation. Unlike most accommodations for backpackers, which involve a bed to sleep in a dingy surrounding, this cabin comes with a bath, two beds, and a kitchenette (stocked with fresh eggs, butter, milk, coffee, and popcorn).
Moreover, you get access to the swimming pool, fire pit, rear porch, and the yard which gives you a beautiful view of the green farm and the animals occupying it.
Most Traditional Cabin in Georgia – Lakefront Cabin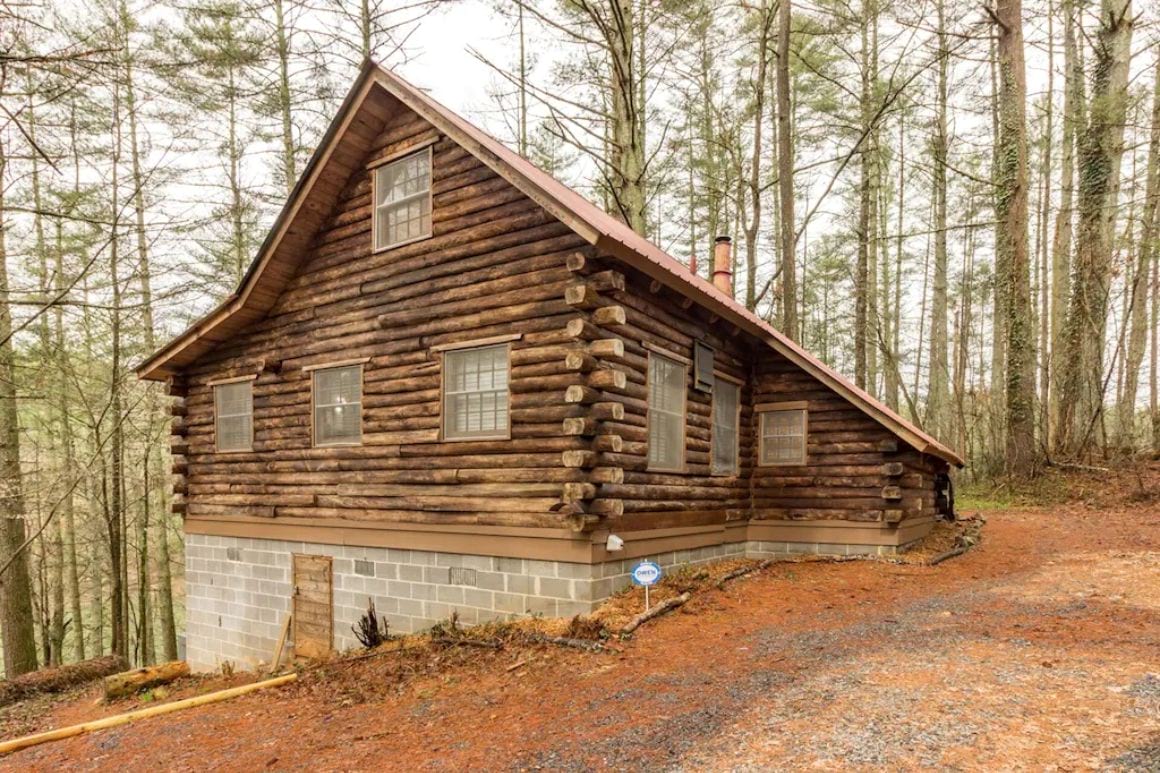 $$
7 Guests
Boat and canoe
Lakefront
Before the cabin became a unique accommodation for traveling and good times, it used to be an accommodation made out of necessity with readily available tree logs. This cabin took the traditional road with an exterior similar to that of original cabins.
With room for seven guests, the cozy cabin is perfect for family reunions or some quality time with friends. It features two bedrooms, a full kitchen, a massive living room, and a deck that has outdoor furniture, a hammock, and a firepit.
Once you have enjoyed the warmth and comfort of this cabin, you can head out and take a short walk to the lake to fish with your best friends or you can hike through one of the many trails in the area.
$$
2 Guests
Kitchen with all the appliances
Located in the woods next to a creek
Newly married couples honeymooning in Georgia need to experience the magic of this adorable cabin by the creek. Mystic Moonlight Cabin is situated in the woods, surrounded by beautiful hardwoods, and some of the greenest, most beautiful plant life.
If the surrounding nature lures you outdoors, there's plenty you can do in the nearby attractions that include Helen, Unicoi State Park, Anna Ruby Falls, Smithgall Woods State Park, Hardman Farms, and numerous wineries.
However, if you don't wish to leave the cabin, there's a fully-stocked kitchen for your culinary needs, a 50" flat screen TV for binging, and a double lounge hot tub on the rear deck for chilly days.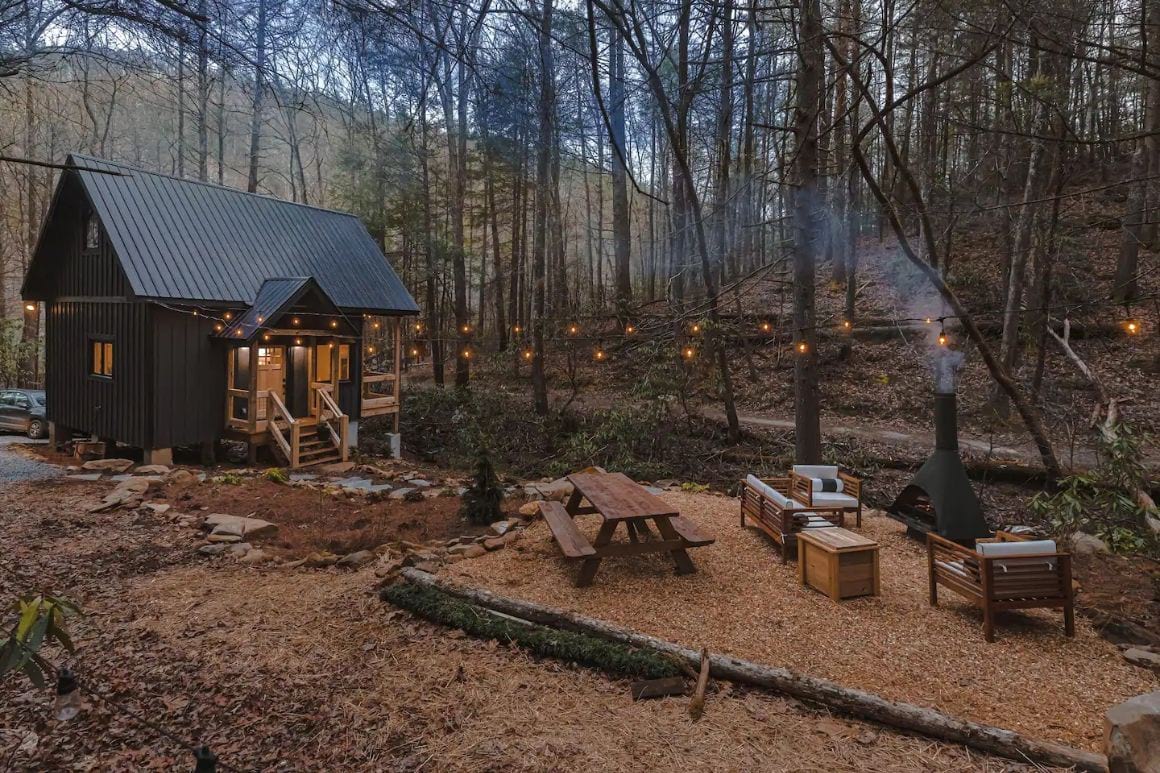 $$
2 Guests
Breakfast provided
Located Creekside in the wilderness
Friends, couples, or a family of two looking for a cozy and nature-centered dreamy retreat; look no further. This charming Creekside Cottage in Cherry Log will simply blow your mind!
The cottage is located in one of the most beautiful forests of Georgia, where you can enjoy a wholesome experience away from the noisy and chaotic city life, with days of hiking, cycling, and relaxing by the creek. There's a waterfall right beside the property and magnificent mountain views beyond the forest.
The cottage comes with one bedroom, a living room, and a fully-stocked kitchen so that you can prepare your meals while surrounded by the wilderness. In winters you can enjoy the toasty indoor fireplace or you can light up a fire on the patio near the water.
Don't Forget Your Georgia Travel Insurance
ALWAYS sort out your backpacker insurance before your trip. There's plenty to choose from in that department, but a good place to start is Safety Wing.
They offer month-to-month payments, no lock-in contracts, and require absolutely no itineraries: that's the exact kind of insurance long-term travellers and digital nomads need.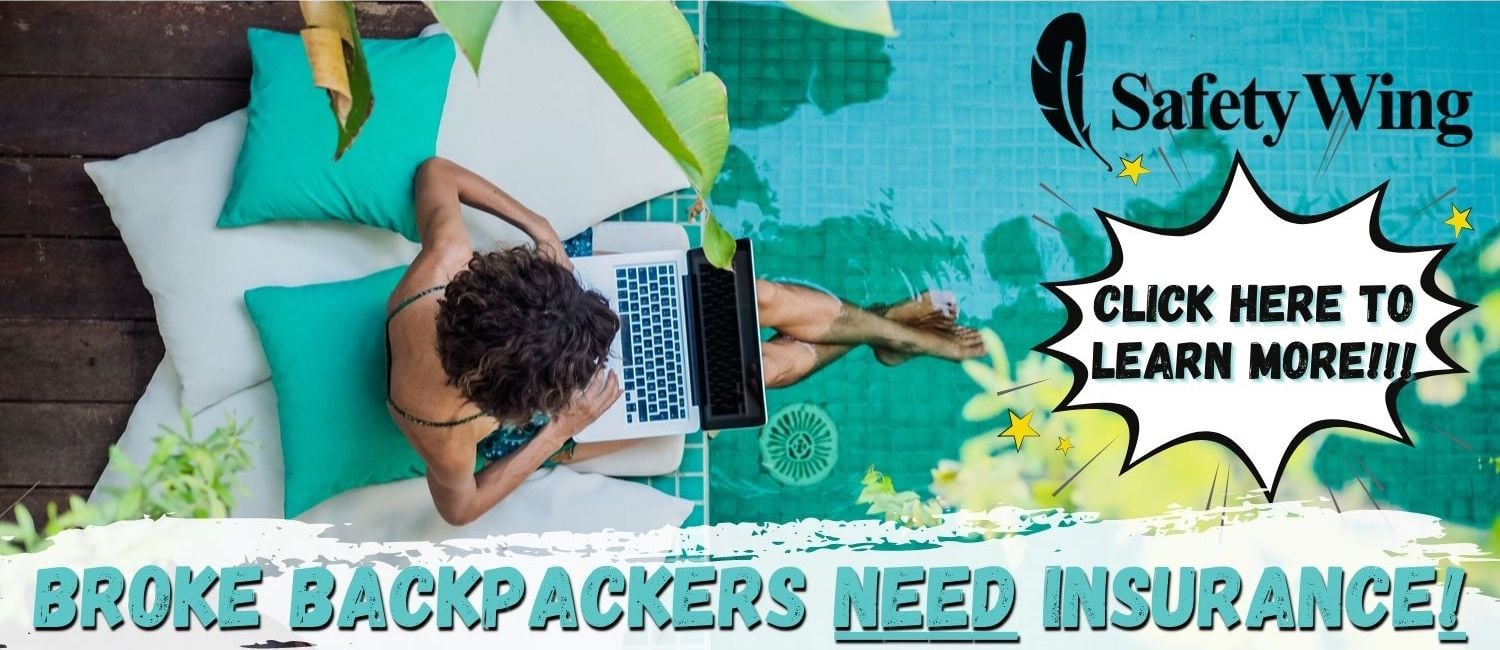 SafetyWing is cheap, easy, and admin-free: just sign up lickety-split so you can get back to it!
Click the button below to learn more about SafetyWing's setup or read our insider review for the full tasty scoop.
Final Thoughts on Cabins in Georgia
The Peach State has its share of delectable food, ancient culture, rich history, and tons of entertainment, but beyond all that, Georgia is the state of the great outdoors.
When you've had your fill of the hustle and bustle of city life, it is only the unique accommodations in Georgia surrounded by unspoiled beauty that will lift your spirits and help you connect with nature once again.
The list above is a handpicked compilation of some of the best cabins in Georgia, where you are sure to make marvelous memories. Choosing any one of these rustic cabins would make your trip an adventure you'll never forget.
If you are a traveler from outside the country, stay prepared for the unpredictability of outdoor adventures by considering travel insurance. Knowing that you are protected against travel risks will give you the confidence and peace of mind to explore the great outdoors to your heart's content.
---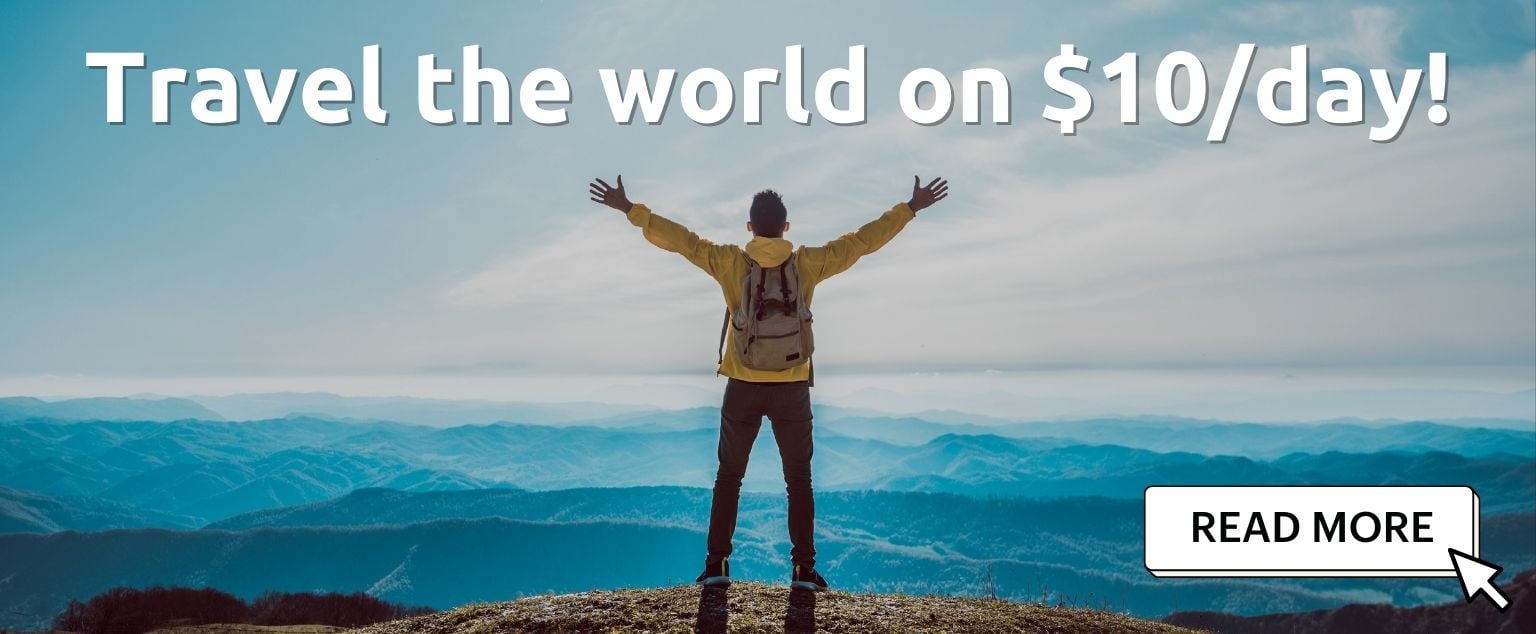 And for transparency's sake, please know that some of the links in our content are affiliate links. That means that if you book your accommodation, buy your gear, or sort your insurance through our link, we earn a small commission (at no extra cost to you). That said, we only link to the gear we trust and never recommend services we don't believe are up to scratch. Again, thank you!