Indiana is one mysterious state and you never know what you are going to find. One moment, it's a dune and the next an ancient burial ground. From ski slopes to lakeside beaches, there are no ends to the surprises here, which pretty much makes it one of the best places to vacation for thrill-seeking adventures.
Don't be fooled though, this destination isn't just for high-octane travelers. People seeking some relaxing seclusion deep into the woods or are planning to spend evenings around a bonfire under the clear skies will also find their slice of heaven in this state.
If you're a nature lover looking to stumble upon a meadow, a quiet beach, or a path that seems no one has ever set foot on, then staying in a hotel room just won't cut it for your accommodation choice.
The best way to truly experience the natural beauty of this state, is to opt for a unique accommodation option such as a cabin in Indiana.
Cabins allow you to experience what you can't quite get from staying in a resort or a hotel. It is only in a cabin that you get to watch wildlife peeking through your windows, prepare your favorite meals to the sounds of birds chirping, and enjoy a magical evenings on the porch with mountain views and the sound of a rushing river, and much more.
If that sounds like a divine vacation to you, then allow me to help you plan a mind-blowing trip by selecting one of the best cabins in Indiana below. Let's take a look…
In a Hurry? Here's Where to Stay in Indiana for One Night
FIRST TIME IN INDIANA
Peaceful Pines Cabin
One step into this double-cabin extravaganza and you'd go gaga over it. Owned by a super friendly host, kept speckless clean, and with a dream interior, this is one of the best cabins on Airbnb in Indiana. It is simply a one-of-a-kind cabin and a rare find!
NEARBY ATTRACTIONS:
Downtown Terre Haute
Hawthorn Park
Sundown Mountain Resort
Is this amazing Indiana Cabin booked for your dates? We've got your back with our other favorite properties below!

Unlock Our GREATEST Travel Secrets!
Sign up for our newsletter and get the best travel tips delivered right to your inbox.
Staying in a Cabin in Indiana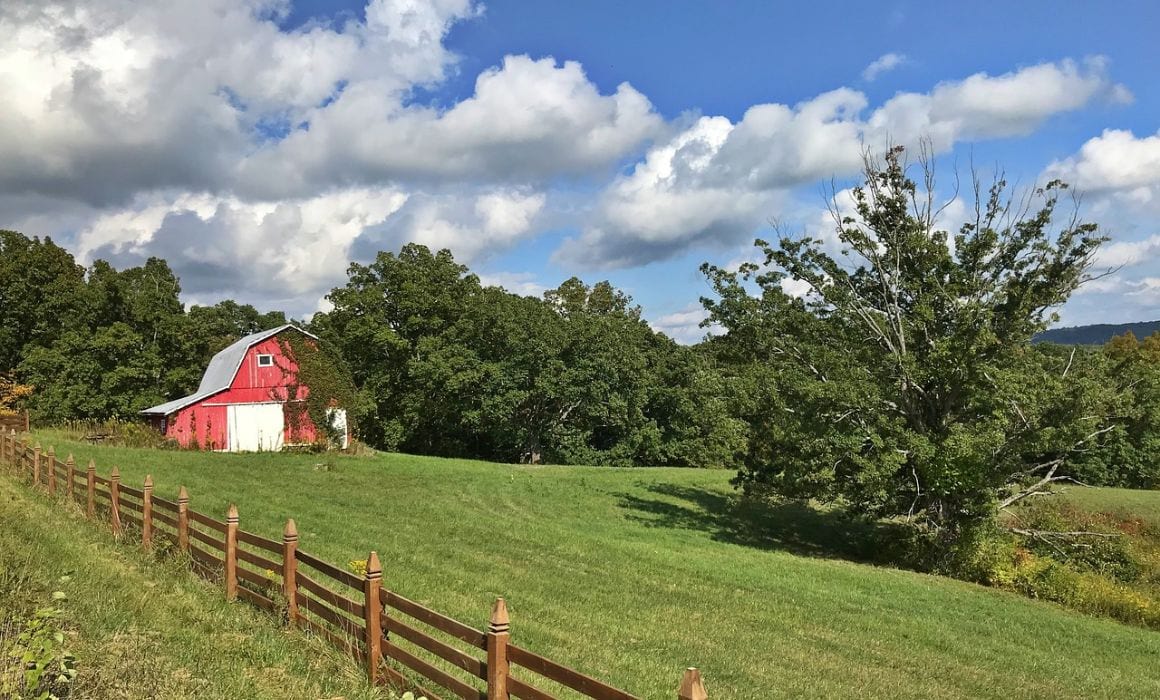 Indiana takes a unique accommodation like a cabin very seriously. No matter how big or small, budget or luxury, every one of them adheres to the style of traditional cabins. The rustic, wooden décor, stone fireplaces, and open floor-plan are a running theme in most cabins in Indiana.
The majority of the cabin owners in Indiana are aware that going completely off-the-grid isn't a popular choice amongst travelers, but seclusion and privacy are. Hence, all the cabins are situated on huge acres of property just minutes from towns and cities. Wildlife is also quite a common sight around cabins in Indiana. 
If your purpose in traveling to Indiana is to seek some quiet relaxation, cabins can give it to you. It is also an excellent choice if you are looking to spend some quality time with your family, loved one, or even by yourself. Hotels and resorts don't make you want to put your phones away, but cabins and their surrounding natural beauty make you forget all about the online world when the real world is so beautiful, and it's right on your doorstep. 
What to look for in a Cabin
The purpose of staying in cabins is to feel at home, away from home. When you book an entire cabin in Indiana, look out for amenities that make you feel comfortable. Fortunately, most cabins in Indiana feature fully-stocked kitchens, laundry facilities, and comfy beds. And then, some unique facilities such as a fireplace, heated floors, floor to ceiling windows, which make it even cozier in the winter.
Since cabins are usually in remote locations, you should choose to stay somewhere that is accessible by car – some are down dirt tracks that only a 4×4 vehicle can access, and we don't all drive Jeeps, right? You should also check for parking, which is pretty standard with cabins in Indiana.  
Because they are so rural, you will nearly always have WiFi, but cell service might be spotty. It's a good idea to read former guest reviews to see what people are saying about this before you book your accommodation.
Nearly all cabins come with fully equipped kitchens these days, but if you do want to stay somewhere more remote, make sure to bring plenty of food with you so you don't have to drive into town too often. It might also be a good idea to see if there's a backup generator, you know, in case the power goes out. This might not always be stated on the listing, but if you are searching on Airbnb, you can contact the host before booking to ask about this.
If you are renting a cabin for a quiet retreat by the lake, ensure that you get access to boats, jet skis, and safe swimming areas. When traveling with family, look out for cabins that are designed to be child-proof, contain plenty of children's entertainment material, and house an extra room specially designed to make little guests feel comfortable and at home. You can also request cots and high chairs if you are traveling with very little ones.
Indiana is quite on top of the cabin-living culture, some of which even dates back 100-years or so. The choices are endless, and if you wish to look at some more options before you make the final decision, browse Vrbo and its diverse collection of cabins in Indiana.
OVERALL BEST VALUE CABIN IN INDIANA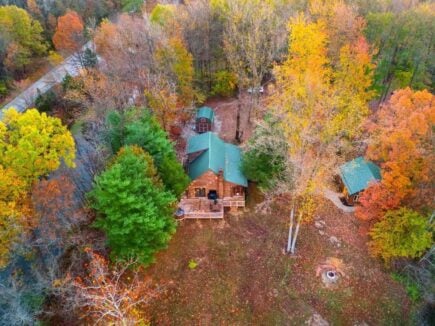 OVERALL BEST VALUE CABIN IN INDIANA
Peaceful Pines Cabin
> $$
> 6 Guests
> Private hot tub
> A log cabin along with a guest cabin on a pond
BEST BUDGET CABIN IN INDIANA
BEST BUDGET CABIN IN INDIANA
The Scout Cabin
> $
> 2 Guests
> Pets allowed
> Overlooks the Goose Pond
BEST CABIN FOR COUPLES
BEST CABIN FOR COUPLES
The Sequel
> $$
> 2 Guests
> Exercise equipment
> Romantic outdoor dining area
BEST CABIN FOR A GROUP OF FRIENDS
BEST CABIN FOR A GROUP OF FRIENDS
Dogwood Hills
> $$
> 6 Guests
> Private pool
> Spacious backyard for games
CABIN WITH AN EPIC LOCATION
CABIN WITH AN EPIC LOCATION
Cabin on the Ridge
> $$
> 2 Guests
> TV with Apple TV, Netflix, Hulu, Disney+, HBO Max
> Ideal location for nature retreat as well as visiting downtown
OVER-THE-TOP LUXURY CABIN
OVER-THE-TOP LUXURY CABIN
A Hidden Treasure Log Cabin
> $$$$
> 10 Guests
> Private hot tub
> Wildlife all around
BEST CABIN FOR FAMILIES VISITING INDIANA
BEST CABIN FOR FAMILIES VISITING INDIANA
Townsend Lodge
> $$
> 14 Guests
> Pets allowed
> A cozy and modern décor
The Top 10 Cabins in Indiana
Now you know what to expect from cabins in my favorite getaway destination! So, let's take a look at my options for the best cabins in Indiana, from quaint woodland cabins to colossal riverside structures.
Travelers of all kinds will find a sanctuary in this Midwest state to unwind for a few days. Dive into my list and check out our top picks for your epic vacation. 
$$
6 Guests
Private hot tub
A log cabin along with a guest cabin on a pond
This absolute treat of accommodation in Terre Haute offers an excellent value for your hard-earned money. With Peaceful Pines cabin in Indiana, you get access to 8 acres of property along with, not one, but two cabins!
Not to mention, the pond that comes along with it! This accommodation is perfect for two families traveling together, or if you are hosting guests of your own. A large group of friends too can plan a wonderful vacation here with privacy. The main cabin is a work of art, carrying the theme of a classic cozy cabin with all the modern amenities.
Just like traditional cabins, this one too has an open concept along with a loft and a wrap-around deck. The entire cabin has heated flooring. The guest cabin is just as luxurious, and a bit more contemporary in design. The pond on the property allows you to fish while the others roast marshmallows on the fire pit nearby.
$
2 Guests
Pets allowed
Overlooks the Goose Pond
This small cozy cabin in Lyons, Indiana, on a quail preserve, is a phenomenal option for budget travelers backpacking the USA. The cabin features a private bedroom, a kitchenette, and a bathroom with heated flooring. Outside, you'll find a propane grill too.
The peaceful cabin overlooks a fully stocked Goose Pond and is surrounded by 50-acres of wildlife preserve. All around the cabin are quail, dove, deer, and other wildlife roaming about, giving the surrounding a serene yet exciting aesthetic.
Walk a short path from the cabin and you'll find yourself in an open meadow called the Indian Village.  The cabin has a clean and cozy vibe to it, making it a homey place to stay for some downtime.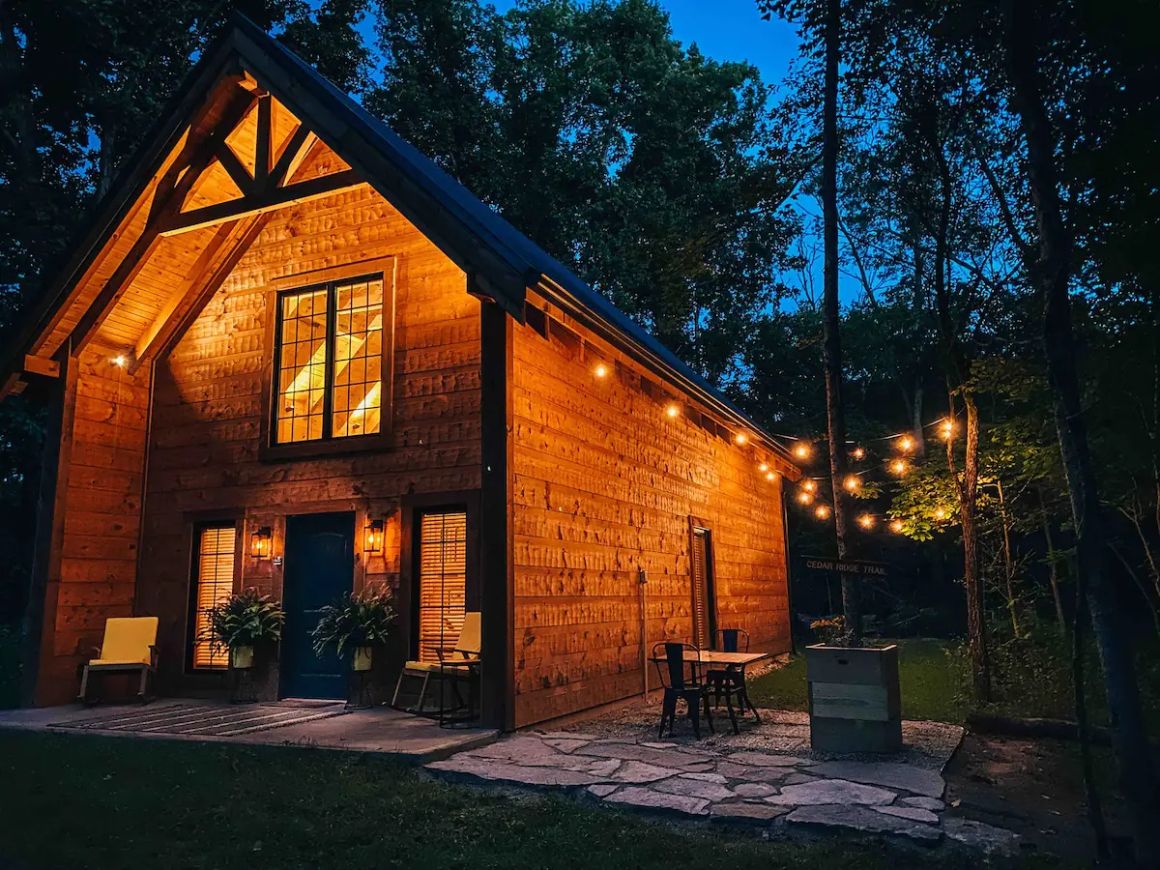 $$
2 Guests
Exercise equipment
Romantic outdoor dining area
Just 20 minutes from the prettiest small town in the Midwest, Maddison, get swept away by The Sequel, a romantic little cabin in the Amish country.
Cradled by the woods, the cabin allows you privacy and seclusion, but at the same time keeps you close to a range of opportunities to explore and enjoy. You can head off to Historic Downtown Madison or hike towards the breathtaking waterfalls at Clifty Falls State Park.
The cabin itself is cozy with a spacious balcony to enjoy a drink with a view, and a fireplace to curb by at night and enjoy a movie. The charming cabin opens up to a large floor plan where the tall windows greet you with the world outside and fill you with warm giddy excitement.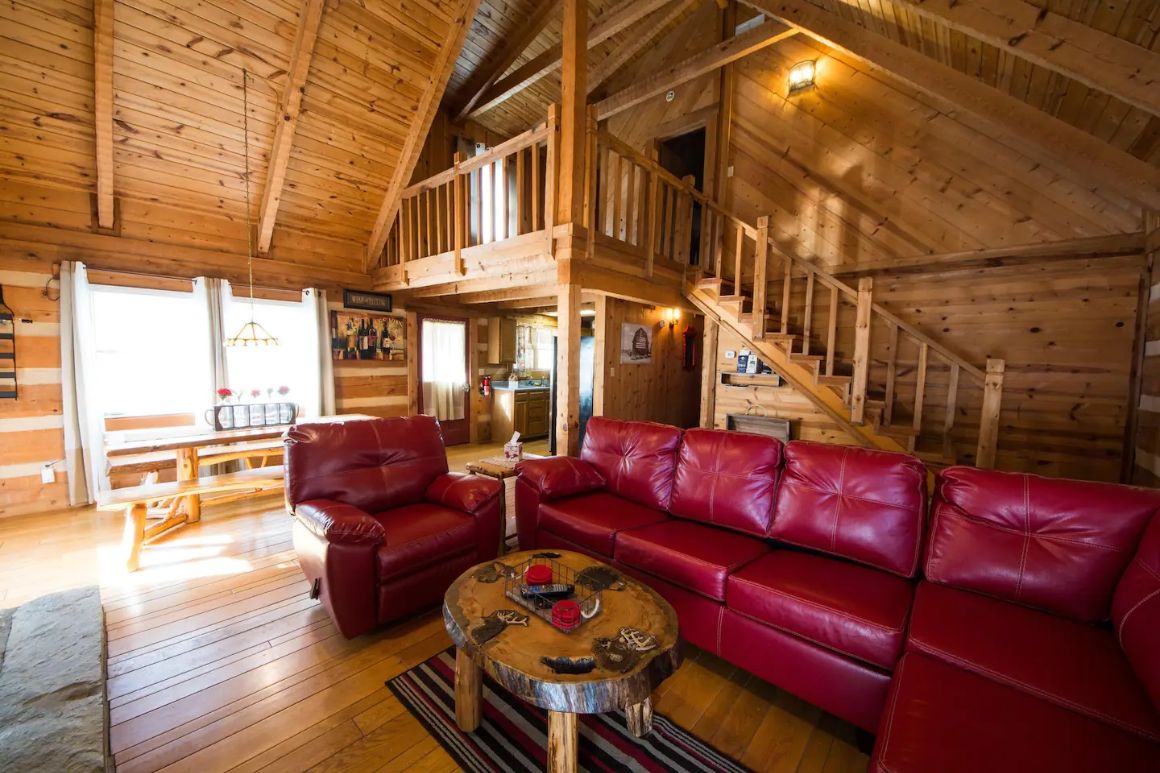 $$
6 Guests
Private pool
Spacious backyard for games
This modern cabin with a rustic décor is perfect for a group of friends to spend some amazing and worry-free time together.
The quaint cabin is just minutes from Nashville and Brown County State Park, expanding your options of outdoor activities and fine dining. The cabin itself features a huge backyard where you can play many games, sit around the fire pit, or splash around in your private pool.
The cabin comes with a full coffee cart to satisfy your caffeine cravings along with a fully-stocked kitchen for some home-cooked meals. The hot tubs allow you to unwind some more and spend some of your most relaxing days together. 
Is This the Best Travel Pack EVER???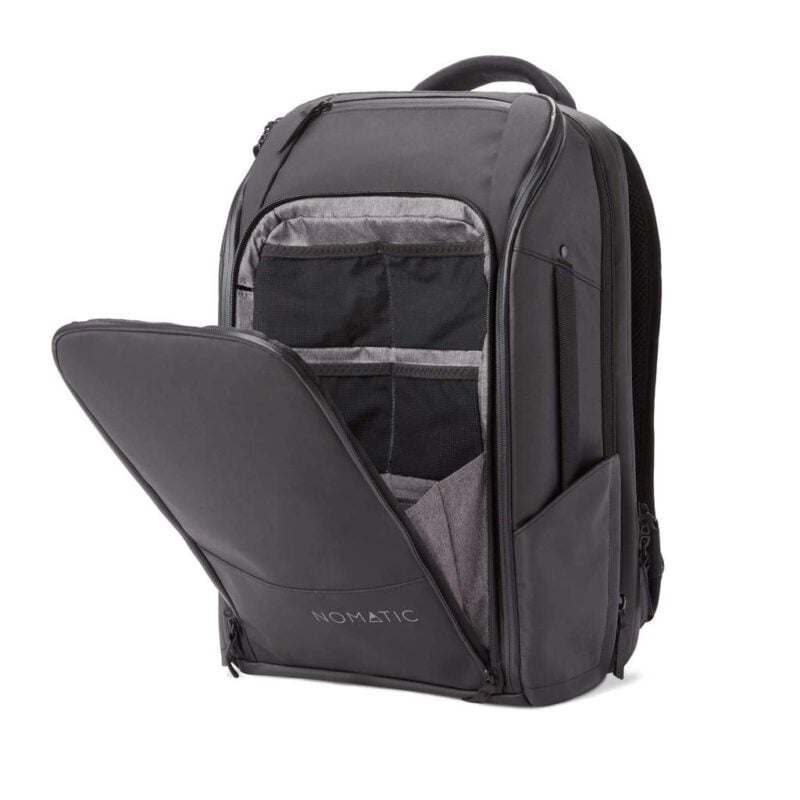 $$
2 Guests
TV with Apple TV, Netflix, Hulu, Disney+, HBO Max
Ideal location for nature retreat as well as visiting downtown
Friends, families, and couples looking for a stress-evaporating vacation will love this cabin on the ridge in Madison.
The charming cabin with a neat décor gives you the impression of living in seclusion surrounded by wildlife, however, it has all the modern amenities and is only 20-minutes from the prettiest small town in Midwest.
You can chill at the cabin, prepare your meals in the fully-equipped kitchen, or hang out around the electric fireplace and enjoy movies, shows, books, or board games. Or you can head out towards the town and explore its many nooks and corners. The cabin can host up to 4 people with extra fees.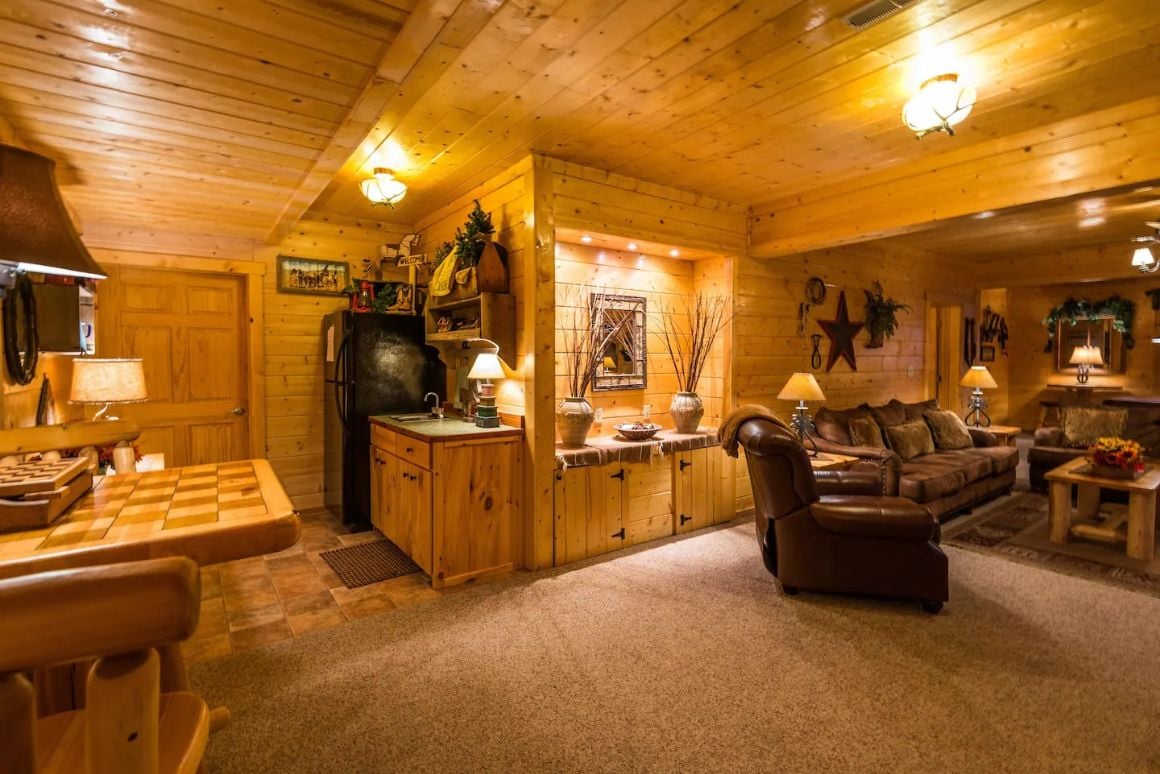 $$$$
10 Guests
Private hot tub
Wildlife all around
This three-story top-of-the-line cabin features 5 suites, each with a different theme. Just minutes from the Nashville area, the cabin puts the guests close to the fine-dining options, beautiful antique shops, to Bloomington and the vibrant University of Indiana.
At the same time, the opulent cabin is surrounded by more than 5 acres of private property which is further surrounded by acres of natural surroundings, secluded from the chaos of the city life.  You can hike or bike through one of the many trailheads around the cabin.
The fancy lodge itself is quite a cozy treat, with a stone fireplace, rustic décor, cathedral ceilings, and tons of entertainment options to keep you all occupied as you unwind and unplug.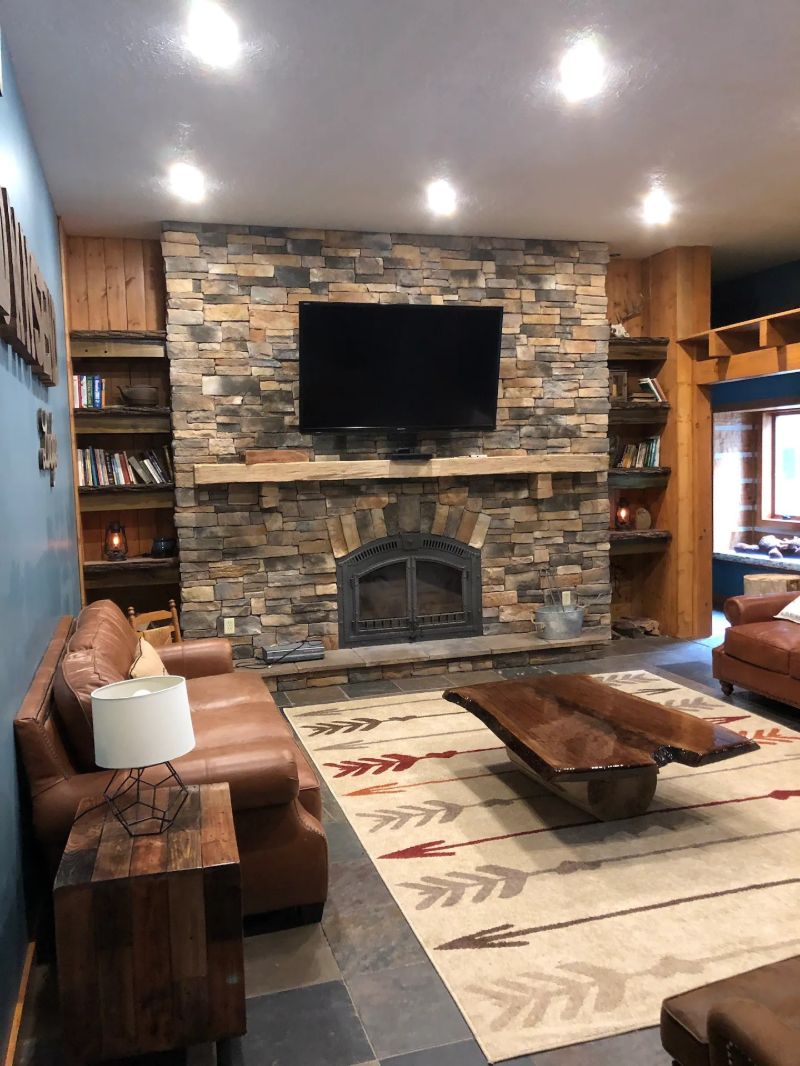 $$
14 Guests
Pets allowed
A cozy and modern décor
Located amid woodland in Crawfordsville, this family-friendly cabin will leave the kids and the adults in the family feeling giddy with excitement.
Step out from the cabin and you'll have hiking trails, garden ponds, and chirping birds of various kinds to greet you. Since you are traveling with family, you likely want all the shops, restaurants, and city entertainment nearby. If you need to entertain your little ones, all the best things to do in Indianapolis are just a short drive away, as well as Lafayette and Crawfordsville.
Many outdoor activities such as boating and kayaking in the lake, zipline tours, and state parks are just a short distance away, too. The cabin itself features 3 bedrooms, 2 with king beds and one with 5 beds of various sizes hidden in wooden alcoves, something the children will love. 
$
2 Guests
Breakfast available
In a wonderful neighborhood
This cabin in Carmel is an absolute steal and backpackers will love to have so many amenities at their disposal without spending more than they want to.
You get access to the bedroom for two, along with a shared bathroom and a full bathroom. You also get a flat-screen TV and a workspace. If you happen to befriend other backpackers along the way, the cabin has other rooms to rent out too.
You are also allowed to use the dining area and the kitchen to prepare a quick meal. The cabin is in a posh neighborhood with big beautiful estate homes. There are lots of bike paths around the cabin and the host is generous enough to provide new bikes too for the duration of your stay. 
$$
6 Guests
Paddle Boat and rowboat
Located on a pond
Staying in this 200-years old cabin is a one-of-a-kind experience, where everything, from the indoors to the outdoors, promises an unforgettable vacation in Indiana.
The traditional cabin sprawls over 1800 sq ft and sits on a 9-acre property, providing complete seclusion and privacy, and yet you are only 30 minutes drive away from downtown Indianapolis, which makes it the ultimate place to stay in Indianapolis to experience the best of city and rural life. The interior of the cabin carries a retro vibe with its old-fangled furniture and an antique décor that makes you feel as if you have stepped back in time.
The cabin has everything you will need to make your stay comfortable and pleasant. The cabin overlooks the pond and provides a breathtaking panorama from its massive windows. You can fish from the pond, watch birds, or even pitch a tent by the pond if you enjoy camping. 
$$$
13 Guests
Whirlpool spa
A gorgeous cabin with beautiful décor.
Wish to overwhelm your senses with beauty all around you, in the best way? Book this cabin in Indiana and your eyes and soul will have a treat.
This getaway cabin is located just minutes from the Kentucky border near Louisville, giving you the convenience of shopping and eating in a city, but spending your nights under the clear night skies surrounded by nature and beauty all around.
The luxurious cabin sprawls across over 2500-square-ft of property that can be accessed through a huge wrought-iron gate. This cabin is perfect for big reunions, family getaways, or a couple's retreat. The cabin is furnished with high-end amenities and modern décor including a gorgeous stone fireplace, floor-to-ceiling marble baths, hot tub, jetted tub, a two-tiered gazebo right next to the waterfall, and much more.
Nearby are several hiking trails and 5-minutes away is the Fuzzy Zoeller golf course. If you decide to stay indoors, you'll have a movie library, WiFi, books, and complimentary coffee to keep you occupied. 
Don't Forget Your Indiana Travel Insurance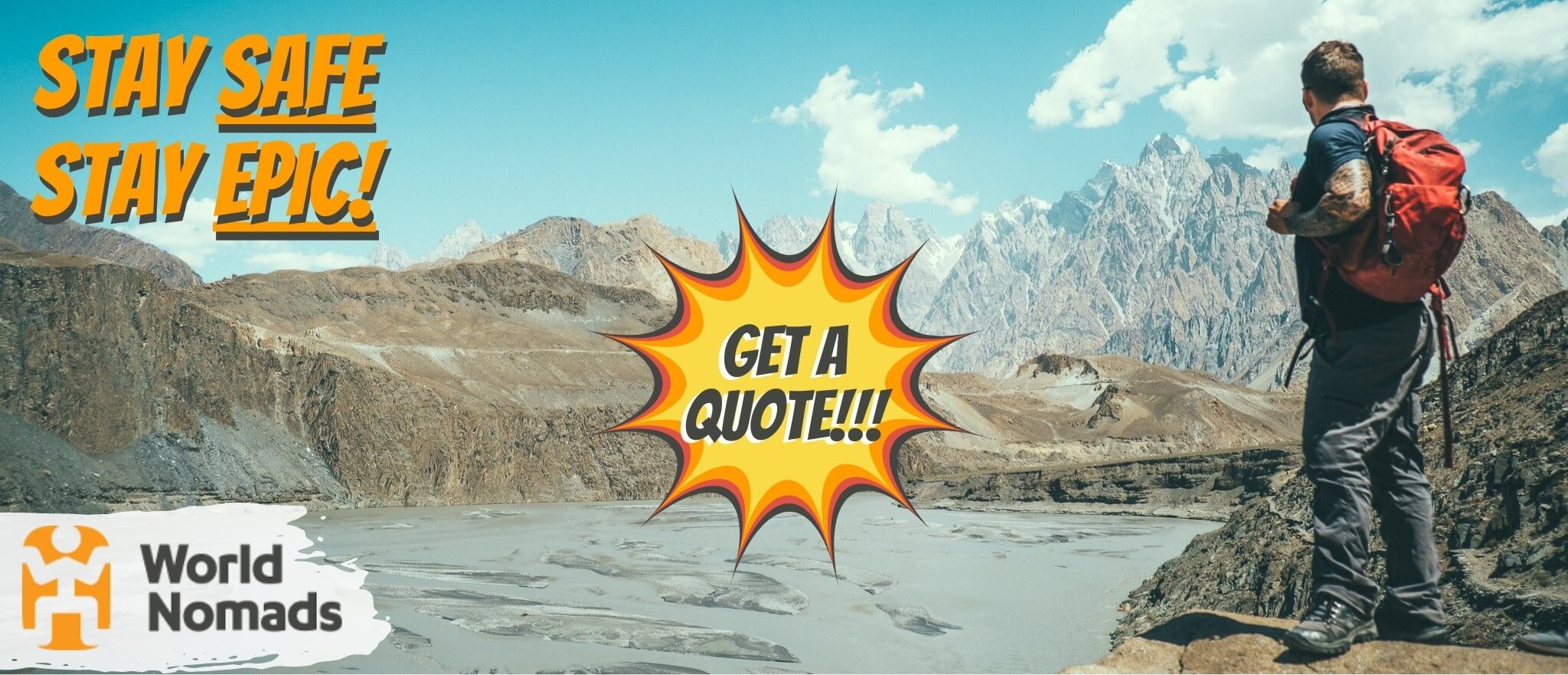 World Nomads' mission is to support and encourage travellers to explore their boundaries. They offer simple & flexible travel insurance, and safety advice to help you travel confidently.
They've been doing it since 2002 – protecting, connecting, and inspiring independent travellers just like you.
Get a quote below or read our in-depth review!
World Nomads provides travel insurance for travelers in over 100 countries. As an affiliate, we receive a fee when you get a quote from World Nomads using this link. We do not represent World Nomads. This is information only and not a recommendation to buy travel insurance.
Final Thoughts on Indiana Cabins
Whether you are heading off to the Midwest for a stress-relieving romantic trip, a family-filled fun vacation or a solo trip for self-discovery, either way, the best cabins in Indiana are designed to suit the style of any traveler on any budget.
I am certain that from my list, you'll be able to find a calm and quiet little slice of paradise for one of the most memorable trips of your lifetime.
That's not all. If your purpose of a vacation is to partake in as many outdoor recreations as possible then a unique accommodation in Indiana such as a cabin will place you in the right spot too. 
If you are traveling from out of the country during these uncertain times, consider securing your belongings and your wellbeing with travel insurance. You never need it, until you don't have it.
---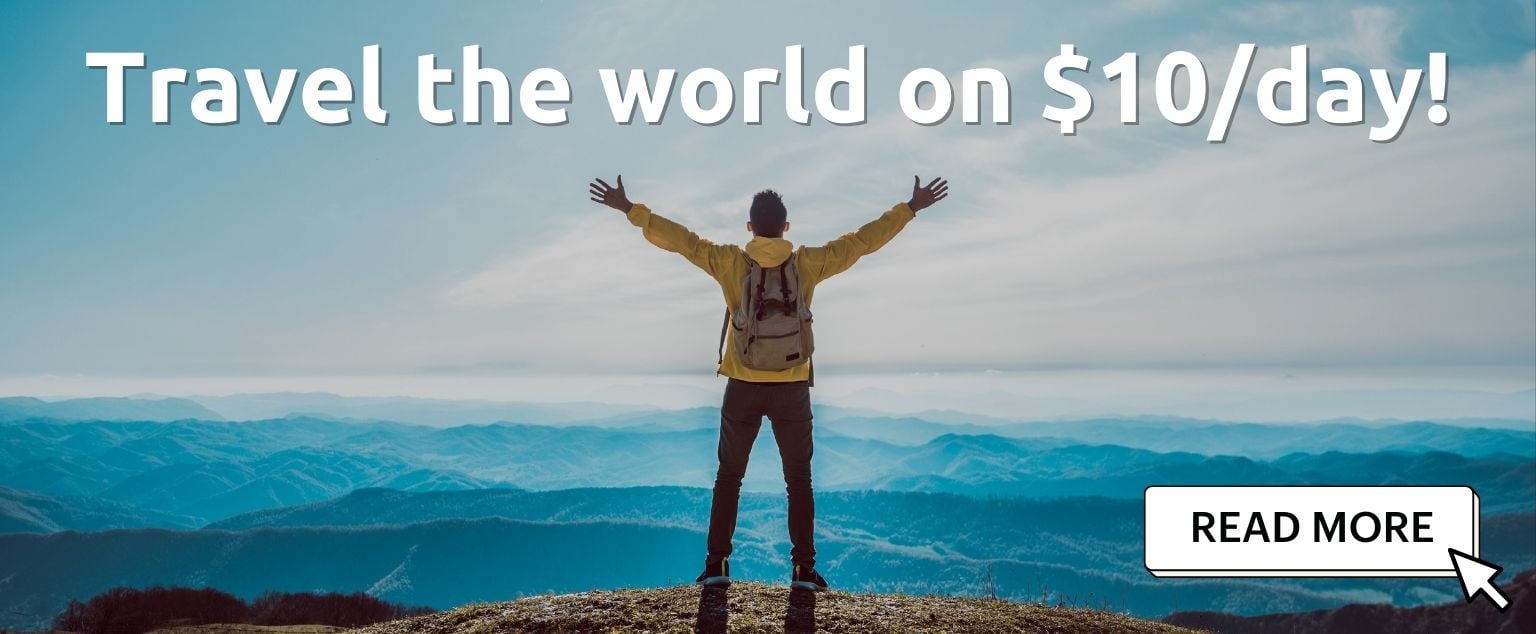 And for transparency's sake, please know that some of the links in our content are affiliate links. That means that if you book your accommodation, buy your gear, or sort your insurance through our link, we earn a small commission (at no extra cost to you). That said, we only link to the gear we trust and never recommend services we don't believe are up to scratch. Again, thank you!