Nestled on the borders between the U.S. and Canada, the North Star State of Minnesota if gifted with natural beauty that leaves its spectators in awe. From shimmering crystal lakes to deep mysterious forests, the outdoorsy traveler will be spoiled in this state.
Whether your looking for a cosy retreat in a secluded cabin in nature, or having endless hiking trails and water bodies within reach to feed the daredevil in you – Minnesota has it all!
If you are headed off to the Land of 10,000 Lakes for your next adventure, you're going to need a place to stay that matches the excitement of the area. With all that nature and natural beauty, a hotel room just won't cut the biscuit, so I highly recommend checking out a cabin in Minnesota.
Staying in an authentic cabin means being on the shores of sparkling blue lakes, being surrounded by numerous wildlife sightings, and having endless tranquility that can't be matched.
So, if that all sounds good to you, read on to find out the best cabins in Minnesota!
In a Hurry? Here's Where to Stay in Minnesota for One Night
FIRST TIME IN MINNESOTA
Star-Gazer Cabin
Located in the small town of Upsala, this treehouse cabin is just isolated enough to make you feel as if you are staying in the countryside. The cabin is gorgeous with an ideal location, and all the amenities to give you complete value for money.
NEARBY ATTRACTIONS:
Lindbergh State Park
Lake Maria State Park
Crane Meadows National Wildlife Refuge
Is this amazing Minnesota Cabin booked for your dates? We've got your back with our other favorite properties below!

Unlock Our GREATEST Travel Secrets!
Sign up for our newsletter and get the best travel tips delivered right to your inbox.
Staying in a Cabin in Minnesota
Cabins in Minnesota are surrounded by such spellbinding and serene nature that it makes for a perfect accommodation for family reunions, friends' getaways, couple's retreats, and solo adventures. These cabins are situated all over the state, in various locations, giving you the choice to find a base that sets you closer to your favorite attractions, be it a lake, the woods, or Minnesota's famous culture's hub.
Most cabins in Minnesota are located in a way that provides you the best of both worlds; on one hand, you can walk down to a lake and start your day with a morning boat ride, and in the evenings, you can head off to Minnesota's famed county fairs, getting lost in the traditions and diversity of the North Star state.
Minnesota's top appeal is the access to endless boating, sighting Bald and Golden eagles and Loons, ice skating, fishing, golf, and miles of tracks for snowmobiling, and cross-country skiing in the winter.
What to look for in a Cabin
A running theme you'll find in all cabins in Minnesota is traditional, cozy, and rustic décor paired with modern amenities. A cabin without access to Wi-Fi is rare, and so are accommodations without a premise for parking, perfect for those on a USA road trip. However, some cabins tend to be more remote and so the cellular network can be spotty – it's a good idea to read former guest reviews to see what other people say about this before booking.
A large number of cabins in Minnesota are lakeside, which is perfect since the lakes in Minnesota are the biggest draw for tourists and locals alike. Cabins are specially designed and equipped to give you a few days of absolute comfort and delight as you sit by the lake around a fire pit, grilling BBQ, fishing, taking long boat rides, or kayaking in the lake. If you're looking for a lakeside cabin, check whether it comes with equipment such as kayaks and paddleboards so you can really enjoy the lake.
Hiking trails are also found abundantly near the cabins. And guess what? Since lakeside vacations are quite popular, you might also stumble upon some shops and cafés on the lake shores. Not all cabins have shops and cafes within close proximity though, so it's a good idea to check how remote you are going to be and whether you need to stock up on supplies.
If you wish to look at some more cabins the lovely state has to offer, check out VRBO for their versatile collection of cabins. But if that sounds like too much work for you, don't worry, because I've listed the best of the best below.
OVERALL BEST VALUE CABIN IN MINNESOTA
OVERALL BEST VALUE CABIN IN MINNESOTA
Star-Gazer Cabin
> $$
> 5 Guests
> LOTR themed sauna
> A cabin built like a treehouse
BEST BUDGET CABIN IN MINNESOTA
BEST BUDGET CABIN IN MINNESOTA
River Cabin
> $
> 2 Guests
> Fully equipped kitchen
> Waterfront accommodation with lake access
BEST CABIN FOR COUPLES
BEST CABIN FOR COUPLES
Cabin in Paradise
> $$
> 2 Guests
> Private hot tub
> Waterfront property
BEST CABIN FOR A GROUP OF FRIENDS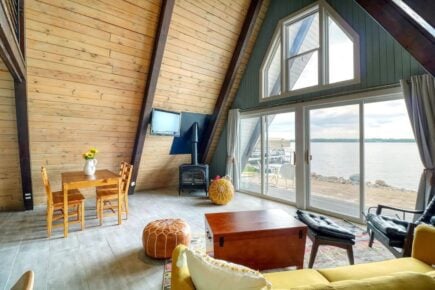 BEST CABIN FOR A GROUP OF FRIENDS
A-Frame Cabin on Big Cormorant Lake
> $$
> 5 Guests
> Ping pong table
> Beachfront
OVER-THE-TOP LUXURY CABIN
OVER-THE-TOP LUXURY CABIN
Gull Lakes Cabin
> $$$$
> 16 Guests
> Paddleboards and kayaks
> Beachfront
BEST CABIN FOR FAMILIES VISITING MINNESOTA
BEST CABIN FOR FAMILIES VISITING MINNESOTA
Rustic Cabin on Long Lake
> $$
> 6 Guests
> Washer
> Waterfront
BEST CABIN FOR BACKPACKERS
BEST CABIN FOR BACKPACKERS
The Maynard Cabin
> $
> 4 Guests
> BBQ Grill
> A Civil War Era Cabin
The Top 10 Cabins in Minnesota
Now you know what to expect from cabins in Minnesota, it's time to look at my all-time favorite Midwest cabins, from cozy and rustic, to cavernous and deluxe log cabins. Let's take a look!
Overall Best Value Cabin in Minnesota – Star-Gazer Cabin
$$
5 Guests
LOTR themed sauna
A cabin built like a treehouse
A place far from the crowd, a spellbinding view of the sky, a perch on the deck for stargazing, and green as far as your eyes can see – sign me up!
I'm not describing your dream, that magical feeling can be your reality with a stay in this gorgeous treehouse cabin in Upsala, and guess what, it wouldn't cost you an arm and a leg.
The cabin's décor is modern and sleek and comes with unique features such as a shared hot tub, a four-person sauna, and a fully-equipped kitchen.
And when you manage to peel yourself out of the comfort of this cabin, the local lake is only three miles away where you can enjoy boating and fishing. Or you can embark on the Soo Line Trail for hiking, biking, snowmobiling, and much more!
$
2 Guests
Fully equipped kitchen
Waterfront accommodation with lake access
Just because you are traveling on a budget in Minnesota, doesn't mean you have to miss out on the full experience of a quiet riverside vacation.
This cozy, isolated cabin is located in Dunrobin Retreat Center, right next to the scenic National Riverway of the St. Croix River. The cabin truly allows you a get-away far from everything, and close to nature all around.
The cabin is surrounded by tall beautiful trees and well-maintained yards, along with a picnic bench. The cozy bedroom alone has multiple windows, making you feel like you are camping with the magnificent views so up-close. The cabin also features a living room, a fully-equipped kitchen, and a deck for access to the water.
Best Cabin in Minnesota for Couples – Cabin in Paradise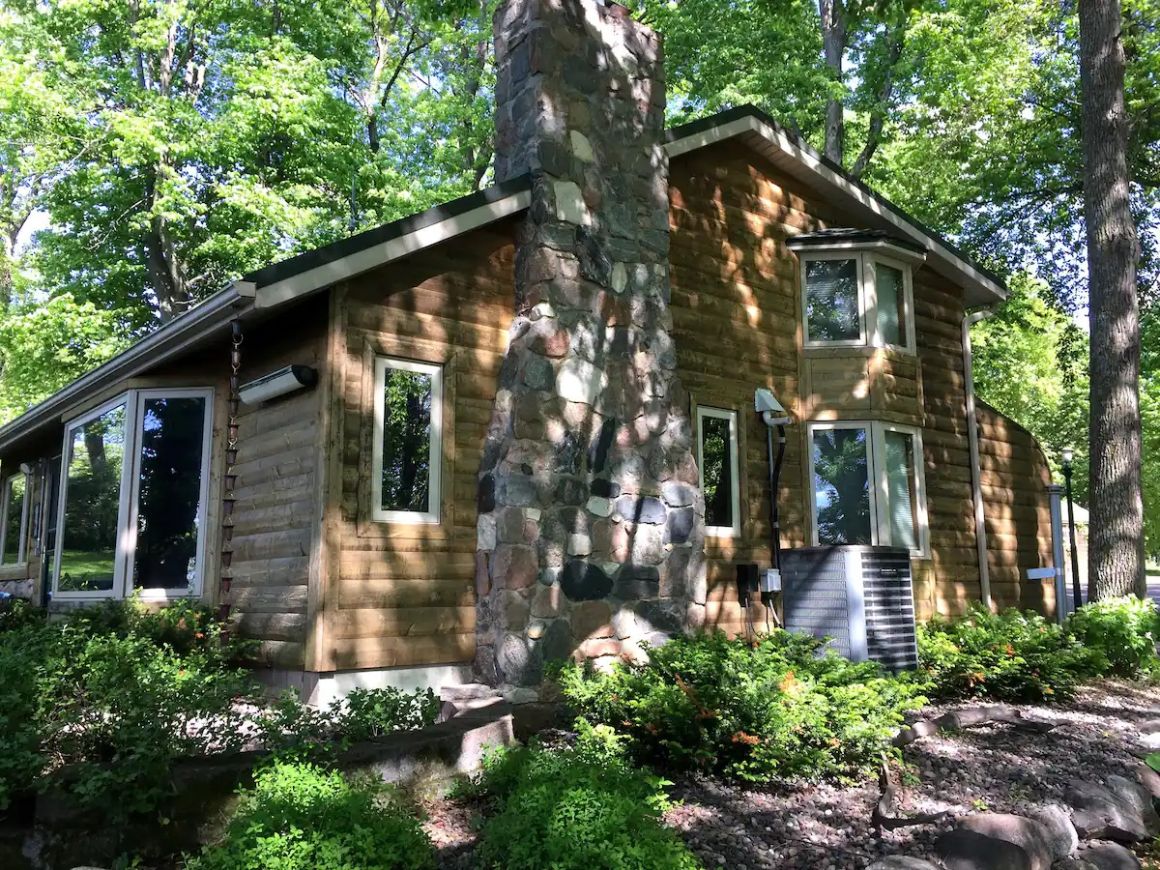 $$
2 Guests
Private hot tub
Waterfront property
Nothing can come close to a romantic retreat in a cabin, which adds its magical charm with the rustic and cozy aesthetics. And when that cabin is surrounded by nature so pretty and serene, you know you are going to have the time of your life.
This cabin in Atwater has just the right amount of everything to make it one of the most romantic cabins to take your significant other. The gazebo, the shimmering Diamond Lake a few steps away, the hot tub, and all the vibes are just the solution for the cabin fever.
You can also partake in all the outdoor activities nearby including walking and hiking the cross-country trails and visiting the adventure-filled Sibley State Park and Prairie Woods Environmental Center just a few miles away.
$$
5 Guests
Ping pong table
Beachfront
Nothing comes close to a fun-filled lakeside vacation with friends, and this cabin has everything to elevate that experience.
The boho and chic A-frame cabin in Audubon is facing the lake, allows you to catch up with your friends over a drink on the porch, it features a propane fireplace, heated floors, and a ping-pong table along with board games for those long wintry nights in the cabin.
You also get a big yard for games in the summers, a Wi-Fi connection for movie nights, and a grill and fire pit for smores and BBQs. The house can easily accommodate five friends with three-single beds in the loft and a bedroom with a queen bed.
Is This the Best Backpack EVER???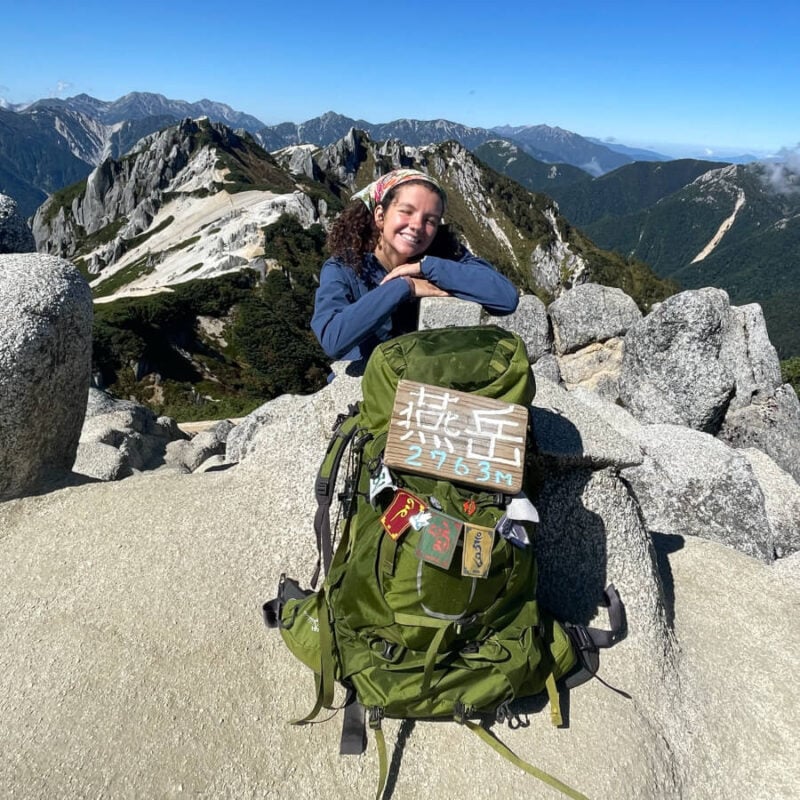 Over-the-Top Luxury Cabin in Minnesota – Gull Lakes Cabin
$$$$
16 Guests
Paddleboards and kayaks
Beachfront
Want to spend your vacations like kings and queens? This beachfront, deluxe, and massive cabin in Lake Shore will treat you like royalty! With no expenses spared, you'd only get the premium of everything in this accommodation.
Even the linens are luxurious and the spa towels, wait for it, Turkish!! This cabin is one of the finest you'd find in Minnesota with décor that nods to the age-old cabin theme mixed in with luxury.
From your door, you can walk right up to the beach and make use of the boats and kayaks, or you can plan a lakeside get-together around the fire pit after sundown. There's also an arcade-style game room in the cabin for some indoor entertainment.
$$
6 Guests
Washer
Waterfront
Want to create some of the fondest memories with family? This rustic traditional cabin that dates back to 1858, is just the place for it!
The renovated cabin in Grove City is surrounded by woods and wildlife and faces the pristine Long Lake. The cabin features three bedrooms, one specifically for kids with bunk beds. The cabin also gives you access to canoes and kayaks that you can use whenever you want.
There are lifejackets too to keep you and your family safe. The fireplace, charcoal grill, and fully-equipped kitchen allow you to spend some precious moments with family; cooking, eating, and playing games. Plus, you'll only be an hour's drive from the city of Minneapolis, so it's easy to take trips into the city too. This is the ultimate place to stay in Minneapolis if you want to retreat out into nature.
Best Cabin in Minnesota for Large Groups – Lazy Pines Cabin
$$$
9 Guests
Water sports gear provided
Lakefront
Located right on the shores of Lake O'Brien, Lazy Pines Cabin is the real deal! Highly rated and a rare find, this cabin is made for families looking to create some forever memories by the lake.
The cabin is lux and cozy with rich décor that makes you want to snuggle by the fire with a warm drink in your hand in the open plan main room. It also features a built-in game table on the lower levels for some fun family games, a surround-sound system, and an HDTV.
The house has room for nine family members including a children's room with bunk beds. For some outdoor fun, all you have to do is cross through the neat and well-maintained front yard and access the lake for tons of watersports.
$
4 Guests
BBQ Grill
A Civil War Era Cabin
An off-the-grid cabin from the civil war era owned by a super host and available at an unbelievably economical rate? The Maynard Cabin is right up every backpacker in the USA's alley who wants to go unplugged in Minnesota. No more staying in cheap B&Bs in Minnesota!
The cabin features a full-functioning kitchen, two antique beds, bathroom, and outhouses, and is situated on 40-acres of beautiful woods and meadows. To top it all off, this is an original cabin from 150-years ago. A cabin experience doesn't get any more authentic than this.
For fun, you can explore and hike through all the woods around you, and perhaps you'll discover that clear little stream nearby. Located in Long Prairie, you'll be within an hours drive from Minneapolis and all the fun things to do there.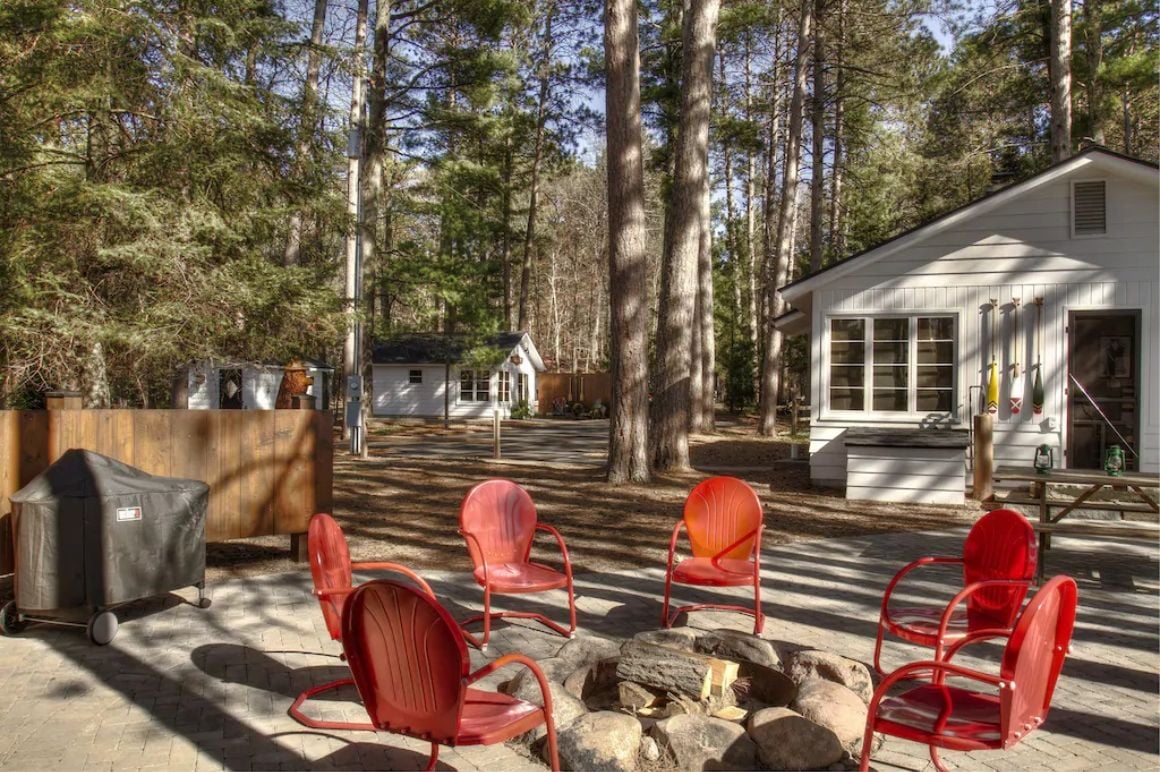 $$$
6 Guests
Sauna
Classic 1950s Cabin
Situated on a quiet township road, this Vintage White Cabin on Lake O'Brien is a sight to behold! Where deluxe cabins are known for their behemoth structures and cathedral ceilings, this one is little and classic and yet all the more luxe for it.
This charming white cabin was renovated and decorated with a vintage theme, as a nod to its 1950s origins. With room for six people, this chic cabin is for all those who are passionate followers of Instagram's and Pinterest's 'cozy aesthetics' accounts. The lake that sleeps before this cabin is one of the cleanest and clearest in the region.
Here, you can partake in several recreational activities including, fishing, skiing, wakeboarding, canoeing, kayaking, paddle boarding and even floating on an air mattress! Here's a tip, head out to its deck and sit on the chair facing the lake, the view will leave you breathless!
Best Cabin for a Weekend in Minnesota – Lakeside Log Cabin
$$
10 Guests
Barrel Sauna by the lake
Waterfront
When your vacation is only weekend-long and you wish to make the most of it, this gorgeous log cabin got your back. Situated on the pristine water of Lake Burntside, it will allow you to experience the famous lakeside life in Minnesota, complete with a sauna by the lake and access to canoes, kayaks, and boats.
However, the cabin is also just nine miles from the small town of Ely and just minutes from the magnificent Boundary Waters Canoe Area Wilderness, consisting of millions of acres of protected forest, and miles of canoe routes all linked by rivers, lakes, and portages. Along your magical canoe ride, you'll also witness several wooded islands.
Don't Forget Your Minnesota Travel Insurance
ALWAYS sort out your backpacker insurance before your trip. There's plenty to choose from in that department, but a good place to start is Safety Wing.
They offer month-to-month payments, no lock-in contracts, and require absolutely no itineraries: that's the exact kind of insurance long-term travellers and digital nomads need.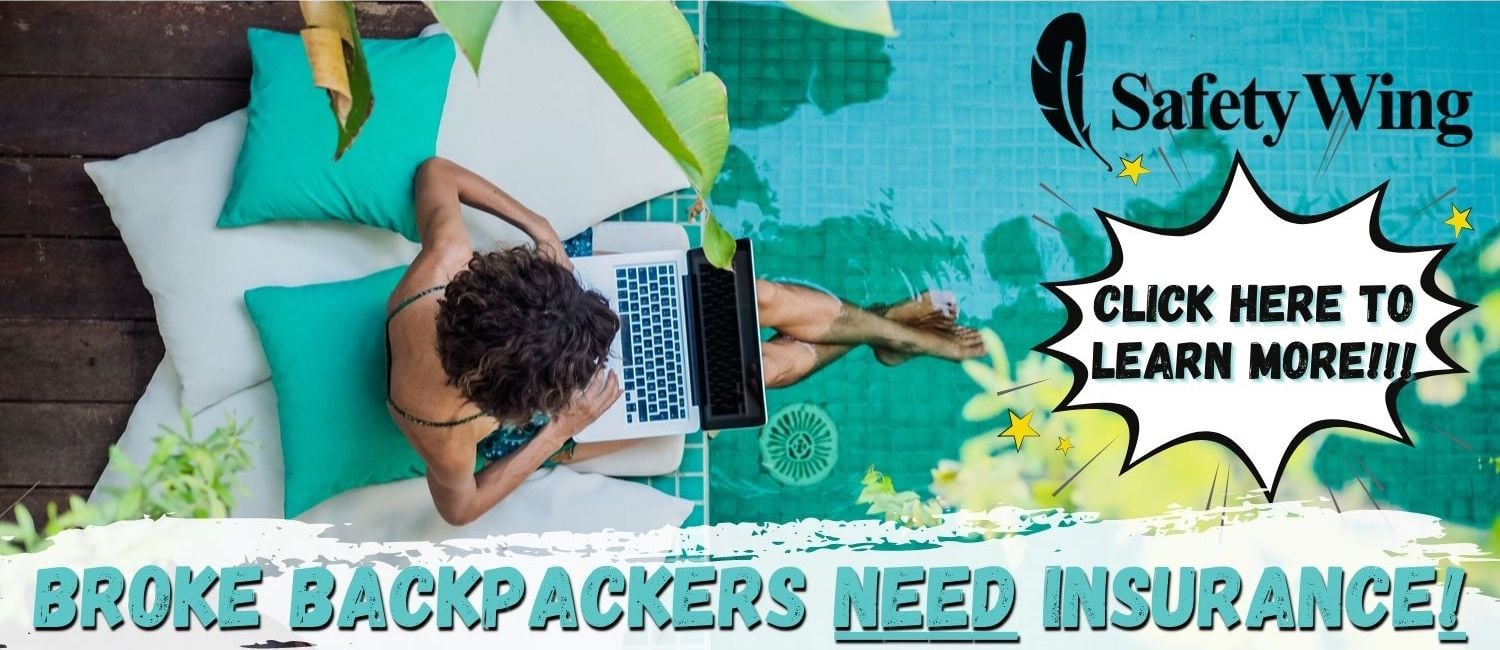 SafetyWing is cheap, easy, and admin-free: just sign up lickety-split so you can get back to it!
Click the button below to learn more about SafetyWing's setup or read our insider review for the full tasty scoop.
Final Thoughts on Cabins in Minnesota
Minnesota is just the place to go for sweeping views of lakes and forests, for moments that will forever be etched in your memory, and for much-needed escape into the wilderness when life gets a little too overwhelming.
One way to ensure that you can enjoy every aspect of Minnesota's beauty is by choosing the right accommodation for yourself. The best thing is, unique accommodations in Minnesota are diverse and eclectic, and you have tons of options to choose from. Make a list of all that you want in your accommodation, and you'd find the best cabins in Minnesota, that check all boxes.
If you're on the fence, we suggest following your heart and going with a cabin that just calls out to you. Minnesota as a place won't disappoint. However, living in a cabin while in Minnesota, now that is going to be an experience not soon forgotten!
Top Tip: If this is your first time traveling to the country, make sure you are prepared for everything that comes your way by considering travel insurance.
---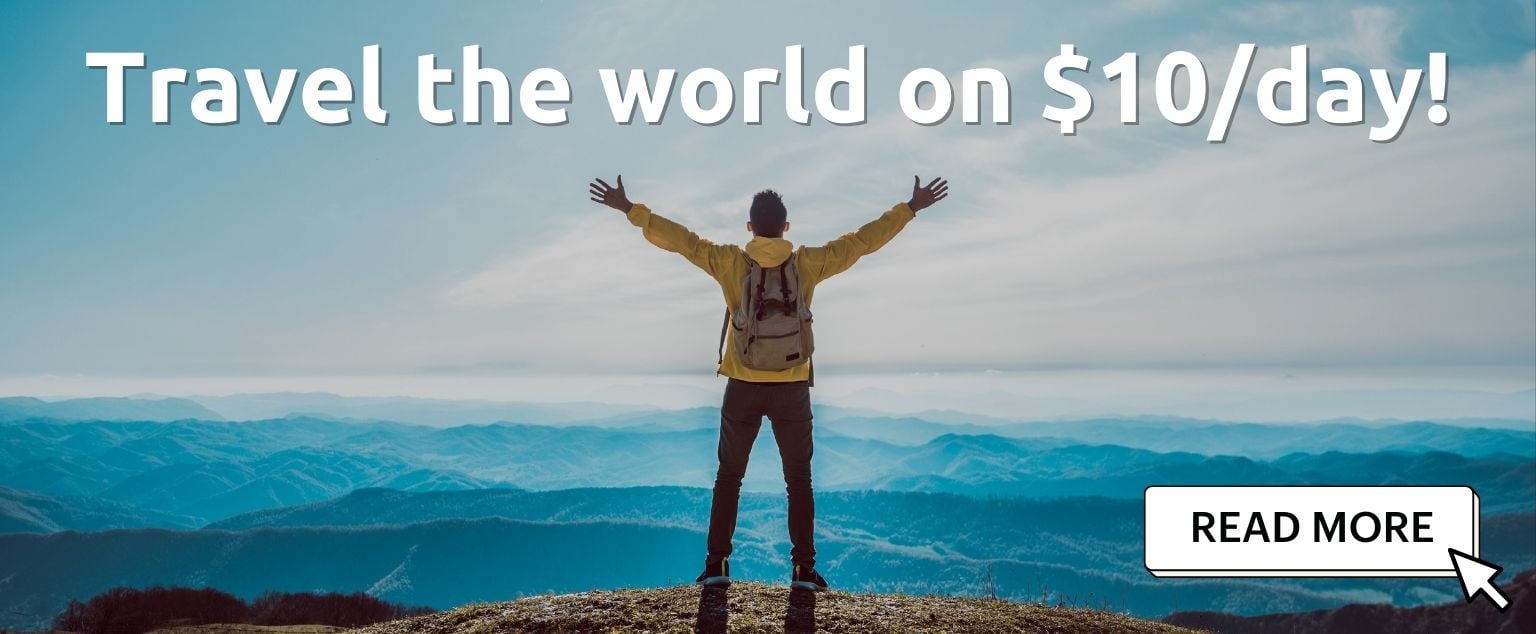 And for transparency's sake, please know that some of the links in our content are affiliate links. That means that if you book your accommodation, buy your gear, or sort your insurance through our link, we earn a small commission (at no extra cost to you). That said, we only link to the gear we trust and never recommend services we don't believe are up to scratch. Again, thank you!