With over a hundred sandy beaches, incredible coastal cliffs, and charming fishing villages, it's no wonder Cornwall is such a popular travel destination! The southern peninsula of the United Kingdom is full of beautiful scenery and charm waiting to welcome backpackers, photographers, and family vacationers alike.
While you're planning your trip, you might want to consider finding unique accommodation in Cornwall. Instead of staying at some stuffy hotel, why not pick a place that's not only budget-friendly but also allows you to appreciate the local character of the area.
To help you in your search, we've put together this list of our top picks for the best cottages in Cornwall. From secluded woodland holiday homes in North Cornwall to cottages perched near cliffs with stunning views of the sea, we've got plenty of options for every traveler to choose from! you'll just love these Cornwall holiday cottages!
In a Hurry? Here's Where to Stay in Cornwall for One Night
FIRST TIME IN CORNWALL
Idyllic Cornish Cottage
Surrounded by woodlands and charming Cornish lanes, you'll be staying in a postcard-worthy setting at this perfect holiday cottage. It's close to St. Ives, so you can easily reach the top attractions before coming back and enjoying a cosy wood fire at the end of the day. You can't beat staying in a cute and cosy holiday accommodation, this spot is one of the most wonderful Cornish cottages on offer and you can't beat staying so close to an area of outstanding natural beauty like this.
Places to visit:
Tate St. Ives
Porthmeor Beach
Barbara Hepworth Museum and Sculpture Garden
Is this amazing Cornwall Cottage booked for your dates? We've got your back with our best holiday cottages in Cornwall!
Staying at a Cottage in Cornwall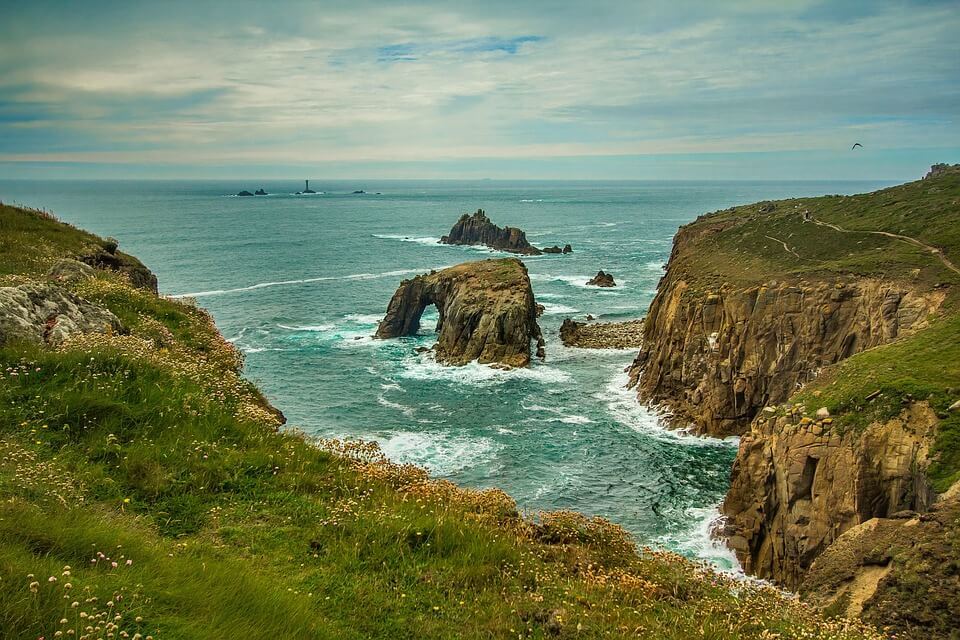 If the thought of Cornwall brings to mind images of harbour villages and pleasant woodland scenes, then you'll understand why staying at one of the Cornish cottages here fits perfectly into this setting. Lots of the properties are also historic buildings and they were once used as farmhouses or fishing huts. These Cornwall holiday cottages still maintain this rustic charm and provide a unique experience on the South coast of England.
However, when you stay at one of the best cottages in Cornwall, you won't miss out on any creature comforts. In most cases, you'll be renting the entire property, so you'll have lots of privacy – or in some cases, you can rent a single room, sort of like a bed and breakfast. It's a great way to spend your Cornish holiday.
Since so many Cornwall cottages are located close to beaches or have great views of villages or cliffs, you can get some sightseeing in without even leaving the property! Many holiday homes also feature outdoor seating areas and patios to enjoy the view of the South coast.
If you're having a hard time deciding on a place to stay, it can help to compare your options using search platforms like Airbnb and Booking.com. This way, you can check on the prices and narrow your search based on your personal preferences.
What to Look for in Cornwall Cottages
If you're not familiar with looking for unique accommodation while travelling, you can rest assured that cottages in Cornwall still provide plenty of modern comforts. You can count on having heating for the winter, comfy hotel-quality rooms, and often great sea views.
Depending on what you're interested in seeing in Cornwall, there are great holiday cottages spread out around the entire peninsula. If you're staying closer to town centres, you can usually get around fine using public transportation, but for more remote Cornwall holiday cottages, it's recommended to have your own vehicle.
Since cottages vary in size, you can find properties suitable for families, solo travellers, or couples. Some holiday homes also allow for pets if arrangements are made prior to your arrival, so if you're travelling with your dog, it's usually fairly easy to find a place to stay.
Cornwall is a popular destination year-round, but during the peak tourist season in summer it can get very busy. As a result, some holiday cottages have minimum booking requirements, especially over weekends. Sometimes there are also discounts for long-term stays at certain holiday homes!
THE OVERALL BEST COTTAGE IN CORNWALL
THE OVERALL BEST COTTAGE IN CORNWALL
Idyllic Cornish Cottage
> $$
> 2 Guests
> Wood-burning stove
> Countryside location
THE BEST BUDGET COTTAGE IN CORNWALL
THE BEST BUDGET COTTAGE IN CORNWALL
Listed Fisherman's Cottage with Sea Views!
> $
> 4 Guests
> Coffee maker
> Summer house for storage
THE BEST COTTAGE FOR COUPLES
THE BEST COTTAGE FOR COUPLES
River Cottage at Carbis Mill
> $$
> 2 Guests
> Queen bed
> Private garden
THE BEST COTTAGE FOR A GROUP OF FRIENDS
THE BEST COTTAGE FOR A GROUP OF FRIENDS
Charming Cottage in Madron
> $$
> 7 Guests
> Games and entertainment
> Beautiful conservatory
OVER-THE-TOP LUXURY COTTAGE
OVER-THE-TOP LUXURY COTTAGE
Hillside Stone Cottage with Stunning Ocean Views
> $$$$
> 4 Guests
> Private patio
> Amazing views
THE BEST COTTAGE FOR FAMILIES VISITING CORNWALL
THE BEST COTTAGE FOR FAMILIES VISITING CORNWALL
Sea View Cottage at Gunwalloe
> $$
> 6 Guests
> Equipped kitchen
> Games and books
THE BEST COTTAGE FOR BACKPACKERS
THE BEST COTTAGE FOR BACKPACKERS
Perranporth Countryside Cottage
> $
> 2 Guests
> Ensuite bathroom
> BBQ grill
The Top 15 Cottages in Cornwall
Alright! Now that you have an idea about what to expect when staying at one of the best holiday cottages in Cornwall, check out these cool options for accommodation. Get ready to enjoy a trip in true Cornish style at one of these picturesque Cornish cottages.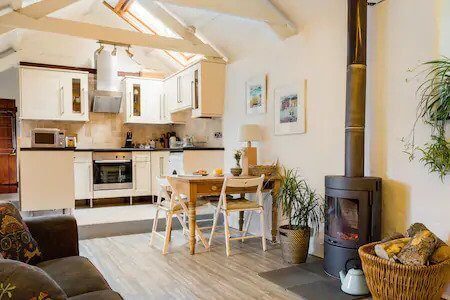 $$
2 Guests
Wood-burning stove
Countryside location
If you've ever visualised the perfect retreat in the Cornish countryside, this cottage probably fits right in with it! The stone-work cottage is about a 20-minute walk from St. Ives on the North Cornwall coast in an area of outstanding natural beauty. This self-catering accommodation is close enough to shops and restaurants, yet far enough away for a completely peaceful environment.
This holiday accommodation comes equipped with modern amenities, but also maintains a rustic charm thanks to the cosy wood-burning fireplace. When the weather is pleasant, you can also sit at the outdoor picnic area, which makes it one of the best holiday cottages in the country to enjoy your afternoon tea while appreciating the landscapes.
What is the One Item Every Traveller NEEDS???
There is one item every traveller NEEDS. Some travellers don't even know they need it, but those travellers need it more than anyone.
What is this forgotten essential of the backpacker-life? SPOILERS! Guess you'll just have to click the button to find out. 😉
Find Out What It Is!
$
4 Guests
Coffee maker
Summer house for storage
Contemporary comfort meets rustic charm at this 1700's fisherman's cottage converted into vacation accommodation. You'll be less than 10 minutes on foot from cool local pubs as well as the harbour, and from the windows, you'll have ocean views.
After a day of adventure sports or walking around Mevagissey Harbour, you can come back and relax or enjoy dinner using the outdoor furniture. It's the perfect spot for couples, small groups and families wanting to stay at the heart of some of the most stunning areas of Cornwall.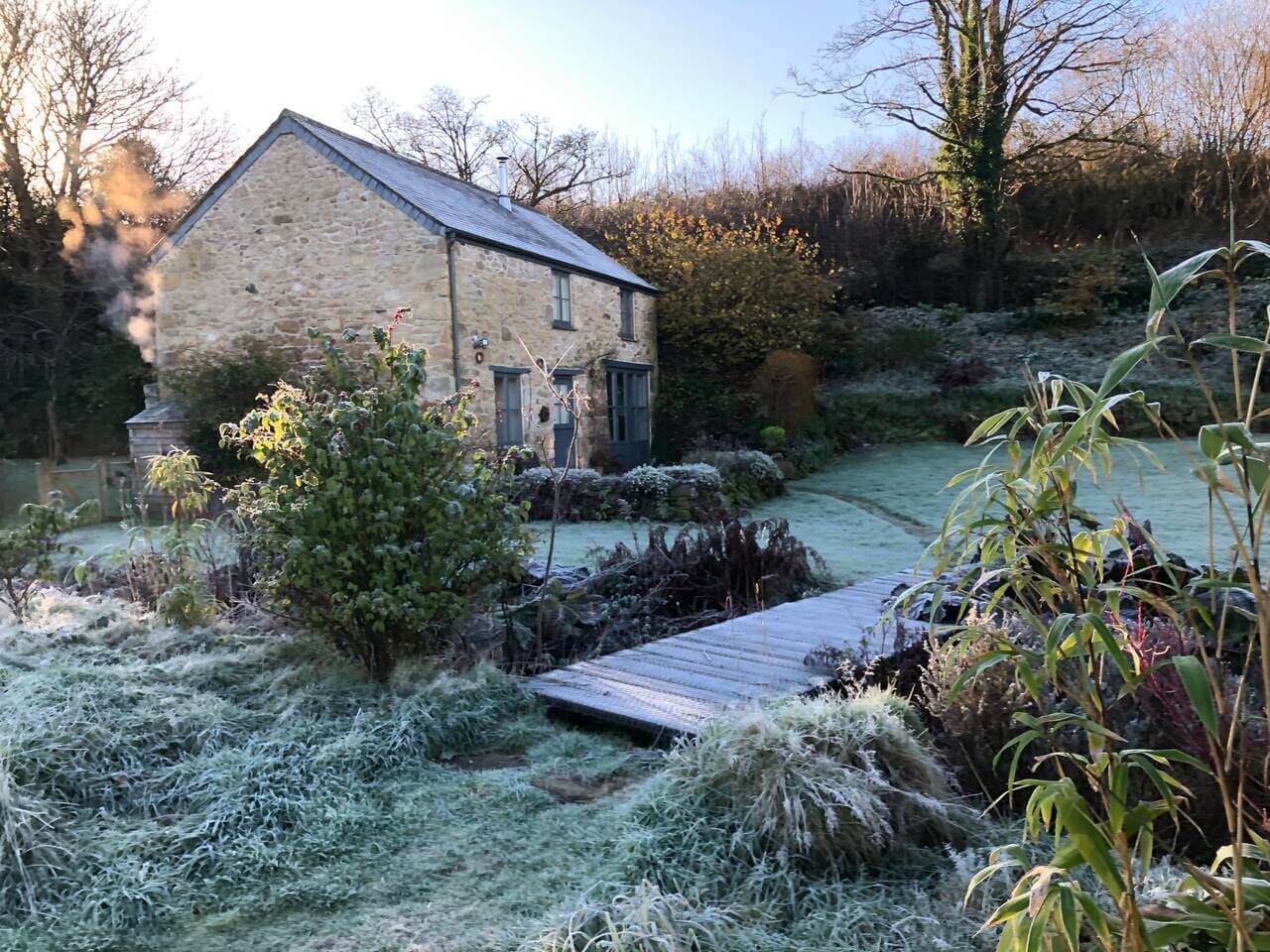 $$
2 Guests
Queen bed
Private garden
Once a cart shed and stable building by the Carbis Mill, this charming dog-friendly cottage now provides the perfect stay for a romantic vacation in Cornwall. You'll have a private garden where you can enjoy the river views, and an outdoor sitting area so you can dine al fresco in good weather.
You'll feel totally secluded, but it's still just a 15-minute walk into the village of St. Erth in South Cornwall, where there are pubs and shops. With a car, you can reach the top beaches of Cornwall in just 10 minutes and there's also a locked shed if you're travelling on a bicycle. This is one of the most charming Cornwall cottages for sure.
$$
7 Guests
Games and entertainment
Beautiful conservatory
The highlight of this coastal cottage in Cornwall is the all-season conservatory with underfloor heating and incredible views of St. Michaels Mount. If you get tired of sightseeing from the dog friendly cottage, Penzance in West Cornwall is just 15 minutes away on foot. There, you'll find a train station to help you explore further afield where you can get to places like The Eden Project.
Just a stone's throw away from the cottage you'll find plenty of scenic walks leading through the countryside. On rainy days, you can relax in the comfy lounge and watch TV or play board games. Upon arrival, you'll also be greeted with a welcome pack of food essentials like tea and coffee, as well as some traditional Cornish treats!
Is This the Best Travel Pack EVER???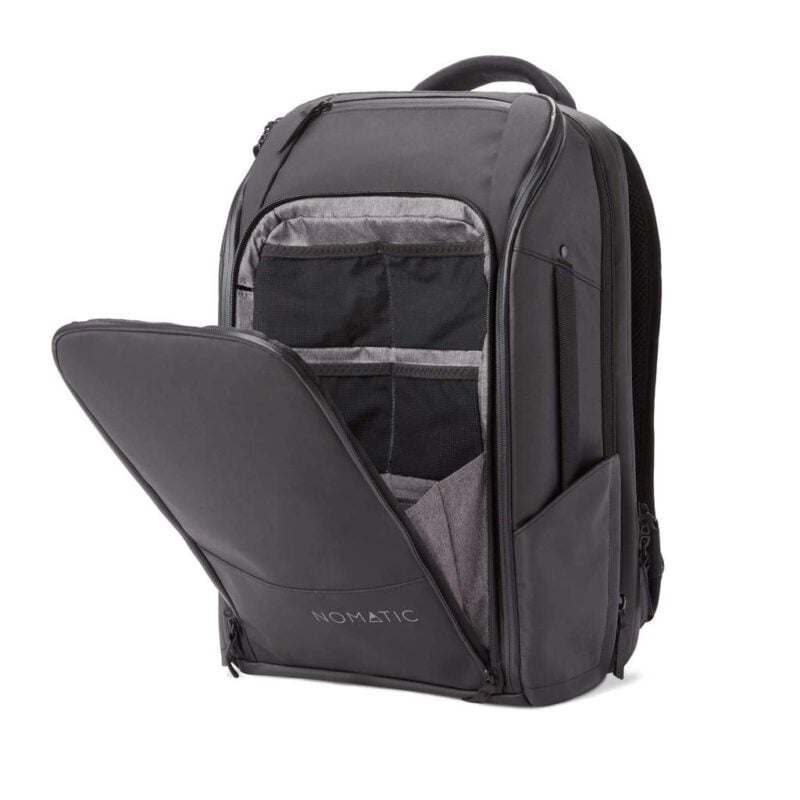 $$$$
4 Guests
Private patio
Amazing views
Perched on the West Cornwall coast, you'll have excellent sea views of the South coast of England, and a private deck and garden where you can enjoy it all. Top beaches like Carne and Pendower are less than A 10-minute drive away, so you can get photographs of the iconic sites of Cornwall.
This self-catering accommodation is perfectly equipped for couples or families alike, thanks to the two bedrooms with plenty of natural light and great views. You can park your own vehicle on site so you can easily get out and do more sightseeing beyond the panoramic views at the cottage! It's one of the best holiday cottages in Cornwall for groups and families for sure.
$$
6 Guests
Equipped kitchen
Games and books
Your entire family will be well accommodated at this cute Cornish holiday rental by the sea. The master bedroom on the ground floor has its own bathroom, and there's a second family bedroom and a fully stocked kitchen so you can prepare meals for picky eaters.
The local pub is less than a 15-minute walk away, and the beach is practically right outside the front door, so kids can play in the sand all day. If you get stuck inside due to bad weather, there are lots of board games, books, and a TV, so everyone can stay entertained at this South Cornwall, dog-friendly cottage!
$$
4 Guests
Hot tub
Welcome basket with essentials
You'll find the comforts of a high-end hotel at this self-catering accommodation, it's one of the best holiday cottages in Cornwall for your whole family. In addition to the homey touches like a wood fireplace and a terrace with a great view, there's even a hot tub to relax and unwind at the end of the day!
Just a short drive and you'll reach the top beaches of North Cornwall, as well as village attractions of Saint Newlyn East. Some of the best surfing spots in Cornwall are also nearby, and there are plenty of nature trails near the cottage where your family can explore.
$
2 Guests
Ensuite bathroom
BBQ grill
Just a ten-minute walk from Perranporth town and beach, you'll have a quiet countryside setting while still being close to shops and restaurants. Taxis, trains, and bus services are available to get to farther destinations, and parking is also available if you have your own vehicle. Located in North Cornwall you're a short drive from the Eden Project as well as come of the best beaches on the South coast of England.
A self-service breakfast is provided each morning, and you're welcome to use the communal spaces of the cottage, including the kitchen, garden, and living room. If you're used to crowded hostel rooms, this great budget Cornwall cottage is a perfect upgrade during your trip!
$
2 Guests
Pets Allowed
Free Parking
Experience local Cornish hospitality and charm at this cottage located on the Cape of Cornwall. From your door, you're within walking distance of the Cape, and the cottage itself is one of the oldest buildings in the area!
Each morning you can start your day with breakfast before heading out to explore this area of West Cornwall. There are some great walking paths nearby, and you'll find a bus stop about a mile away. The town of St. Just is home to many great pubs, restaurants, and local shops, and there's no doubt that you'll have an awesome time here.
$$
2 Guests
Hot tub
Nature trails
Enjoy your own private cottage just outside of St. Ives for your honeymoon in Cornwall! You'll be surrounded by peaceful countryside and can go hiking on coastal paths or in the Steeple Nature Reserve, which has incredible views. It's one of the most stunning holiday cottages in Cornwall and offers some incredible sea views from the property.
When you get back from exploring the beaches, you can use a private wood-fired hot tub at a nearby site to unwind and relax. There's also a wood fireplace at the cottage for cosy evenings and your first batch of firewood is provided free of charge!
$$
2 Guests
Open fireplace
Vintage feel
Named as one of the top 50 holiday cottages in the UK by The Guardian, you're in for a real romantic treat at this vintage thatched cottage in Cornwall. The hotel-quality amenities even go as far as to include fluffy bathrobes and an open fireplace. This has got to be one of the cutest holiday cottages in North Cornwall and it offers a real slice of English culture.
There are plenty of famous Cornish beaches and cliff sides with epic sea views nearby. Just a few a minutes walk away, you'll be in the village of Mithian, which has local pubs like The Tap House and Canteen Cornwall. You'll have complete privacy and a self-check-in, so you won't have to be disturbed at all during your stay.
$$
3 Guests
Cooking essentials
Patio and outdoor seating
If you're planning on spending an extended amount of time in Cornwall, this peaceful and well-equipped cottage is a perfect home base. In addition to the essentials such as a kitchen and laundry, there's also underfloor heating to keep this South Cornwall cottage cosy even during the colder months.
You can either travel by bus or park your own vehicle on the property if you have one. There are also lots of countryside walks and beaches within walking distance, or you can just relax and unwind at the cottage and enjoy the view from the private garden patio.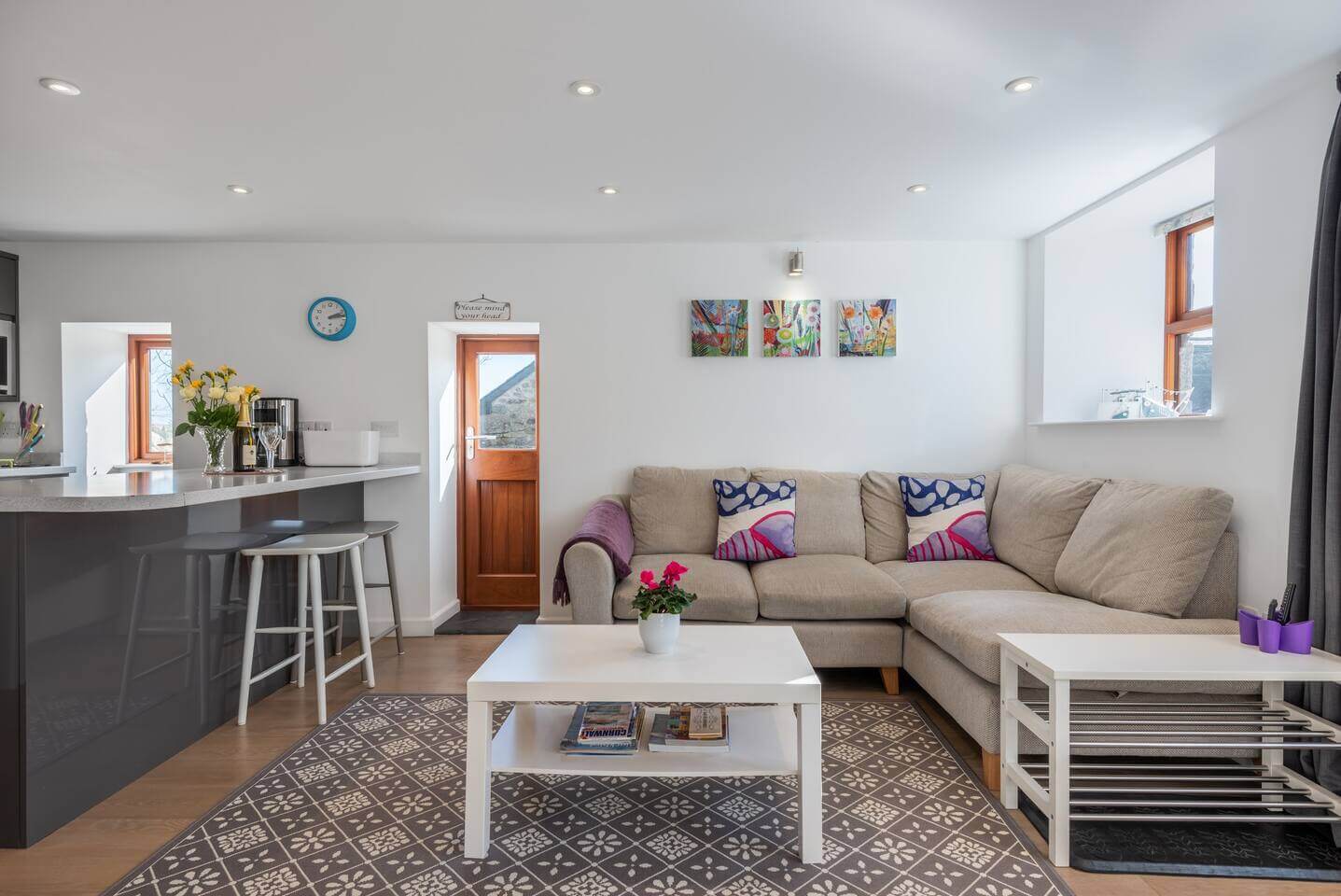 $
4 Guests
Underfloor heating
Private patio
Located on the grounds of an old Cornish farm, this charming cottage is right between the famous Praa Sands beach and the village of Porthleven. You'll have total privacy at the cottage, and you can enjoy the view from the patio with picnic furniture for al fresco dining.
In just a few minutes, you can drive to Porthleven to check out the famous Rick Stein restaurant and other local shops. Nearby, there are also plenty of walking trails, so you can enjoy the beaches and appreciate the scenic coastline of Cornwall.
$$$
2 Guests
25-acre woodland
Private hot tub
Once an old farm workshop building, this cottage has all the luxuries of modern comfort, but with a peaceful and rustic vibe. Wildlife visitors like Roe deer, foxes, and owls often come by and during warmer months, there are always plenty of songbirds in the garden.
Although the cottage has a secluded feel, it's just one mile to the nearest village, which has a shop and a few pubs. At the end of a day exploring the beaches and towns of Cornwall, you can come back and relax in your own private hot tub with views of the forest.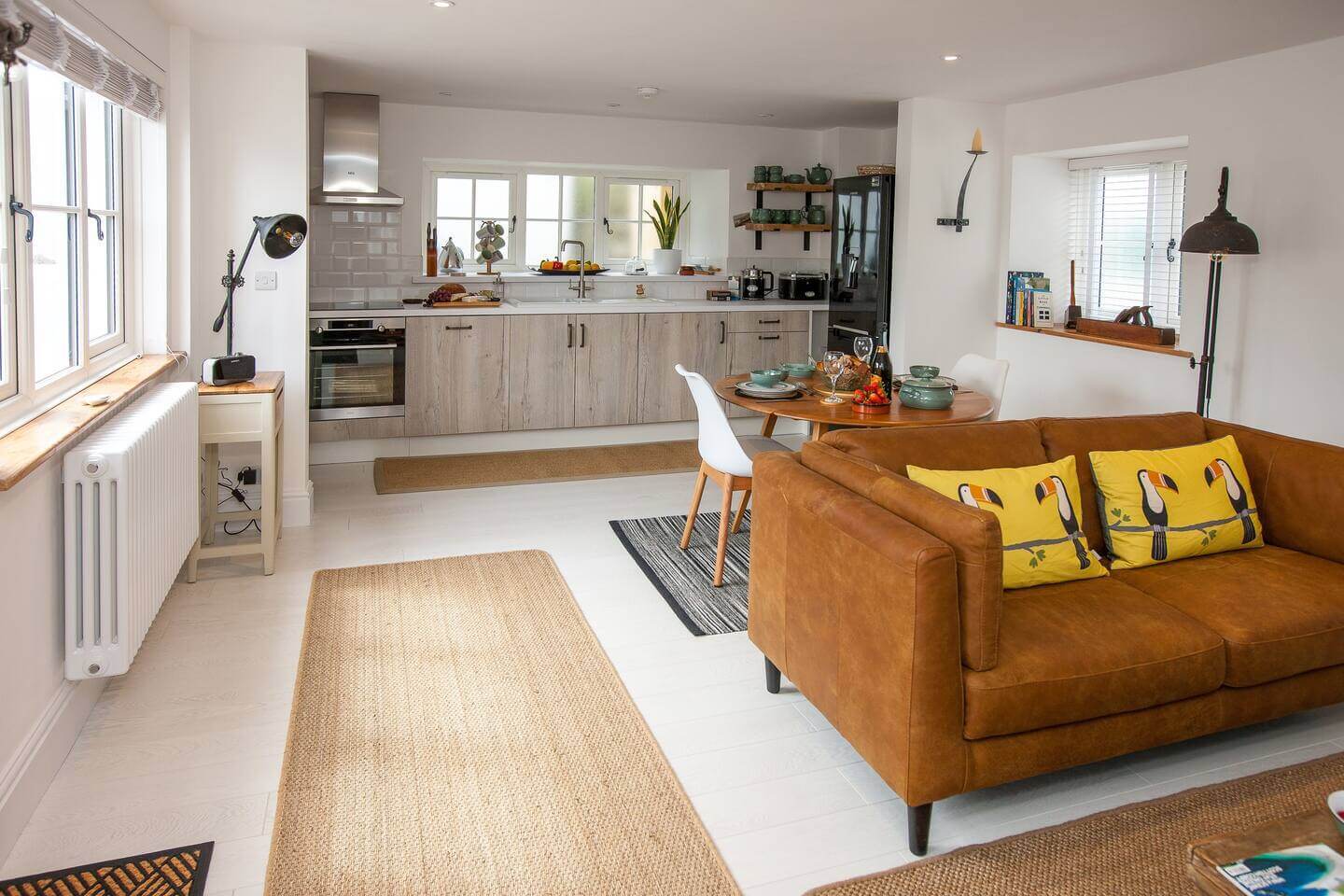 $$
2 Guests
Indoor fireplace
Fishing village
Located in the heart of the historic village of Coverack, Ye Old Carpenters Shop captures the best of the iconic aspects of Cornwall. There's a cosy log fireplace to keep warm in the winter, and it's just a short walk to great beaches.
Local shops, pubs, and restaurants are all just a few minutes away on foot. From the front door, you'll have access to coastal walking paths to take in the fantastic scenery of the harbour and shoreline.
Check out these other great resources
We have loads more information to help you plan your trip.
FAQ about Cottages in Cornwall
Here's what people usually ask us when they look for vacation homes in Cornwall.
Don't Forget Your Cornwall Travel Insurance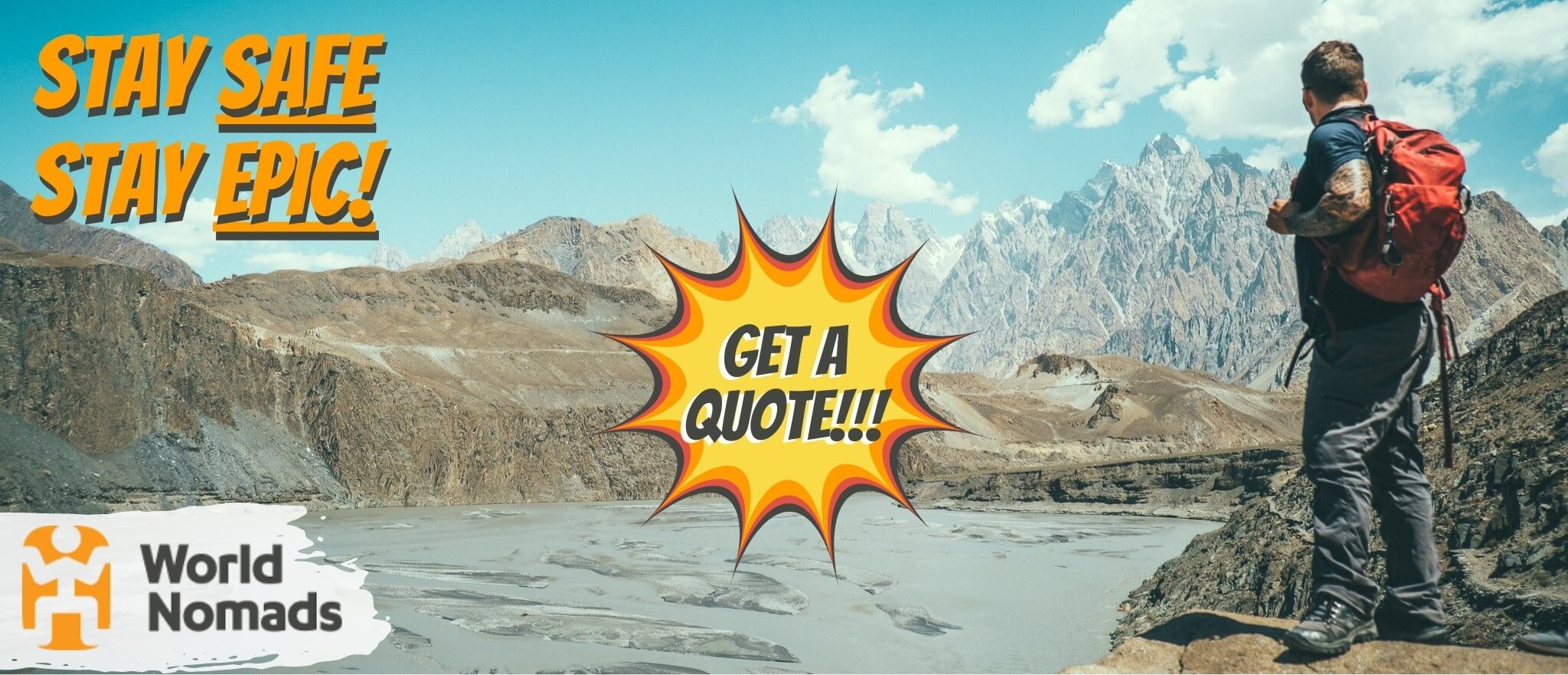 It's good to get lost sometimes, but it's also good not to get too lost. There are people that want you home in one piece.
There's one travel insurance provider The Broke Backpacker trusts for all his wildest shenanigans… World Nomads!
Click the button below to get a quote on your insurance or read our in-depth review of World Nomads' coverage. And then… let the shenanigans begin. 😉
Final Thoughts on Cottages in Cornwall
Add an extra special touch to your vacation by finding unique accommodation in Cornwall. Whether you're an adventurous backpacker or on a romantic honeymoon, there are plenty of fun and budget-friendly options for you to choose from.
After looking through our list, hopefully, you've been able to pick out the best cottage in Cornwall for you. It's an excellent opportunity to blend hotel-quality comforts with local charm in a private setting, so you can relax and focus on enjoying your time travelling.
An essential part of trip planning also includes travel insurance, especially for international travellers. Even in a place as safe as Cornwall, the unexpected still sometimes happens; it's best to have a good backup plan in place before you set out on your adventure!
---
Thanks for reading – that was fun! 😀
We bring you epic FREE content!
Find out how YOU can help support us.
We're a big site with a big team and this job isn't always easy. But we do it because we love it – we love providing epic and free content. We love the knowledge that our content keeps you adventuring. We don't ask for money, but if you'd like to find out how you can help the site in more organic ways, click the button below.
Thank you for your support 🙂
---
Bye for now, but not forever!
If you want MORE top-tier Broke Backpacker content like this, then sign up for our weekly newsletter below to get the latest and greatest!
And for transparency's sake, please know that some of the links in our content are affiliate links. That means that if you book your accommodation, buy your gear, or sort your insurance through our link, we earn a small commission (at no extra cost to you). That said, we only link to the gear we trust and never recommend services we don't believe are up to scratch. Again, thank you!