Finland is fascinating. From the grand capital of Helsinki to the far reaches of rugged Lappland, this oft-overlooked Nordic jewel is a realm of forests and fens, saunas and style. The traditional melds with the contemporary here, making for a place that feels as timeless as it is cutting edge.
With the current global health crisis putting travel plans in a spin, we have created this in-depth guide to Finland's COVID entry requirements. Our article will include helpful information such as who can fly to Finland, who needs to test or quarantine, and what restrictions are now in place.
This guide has everything YOU NEED TO KNOW if you're travelling to Finland in 2020.
A message from Will, the OG Broke Backpacker
Amigos, let's face the facts: travel isn't what it was. Things have changed.
We strive at The Broke Backpacker to be the best source of up-to-date and relevant information in the travel-sphere. All the information here was sourced, checked, double-checked, and published on 10/12/2020. While the information was correct then—and we will outline any changes and updates that we do make in the future—it's important to respect the immense changeability of this topic.
If you're going to be travelling amongst the coronavirus world, you need to, do your own research and do it hard. No one blog or website is a sufficient source, and even if it was, it might all just go tits up anyway.
This information changes more often than I fart in a day. Tread with caution.
And if you do see some misinformation, please leave a (constructive) comment so that we can patch it up! We really do appreciate your support and input in these weirdest of times.
Who Can Travel to Finland Right Now?
Finland is currently operating a traffic light system for travel into its borders. This is based on epidemiological evaluation of the COVID-19 pandemic in countries that are permitted to travel to Finland. Red indicates the highest risk, whereas Green indicates low risk.
As of 25th November, the list of countries on Finland's fly list, as arranged according to the traffic light system, is as follows:
Green:
Australia
Hong Kong (China)
Japan
New Zealand
Rwanda
Singapore
South Korea
Thailand
Uruguay
Vatican City
Red: 
Austria
Belgium
Bulgaria
Croatia
Cyprus
Czech Republic
Denmark
Estonia
France
Germany
Greece
Hungary
Iceland
Ireland
Italy
Latvia
Liechtenstein
Lithuania
Luxembourg
Malta
Netherlands
Norway
Poland
Portugal
Romania
Slovakia
Slovenia
Spain
Sweden
Switzerland
United Kingdom
All countries not listed above are currently not permitted to travel to Finland for tourism purposes and are banned subject to external EU border restrictions.
There are exemptions, however, for essential travel, such as for humanitarian purposes, visiting family, work and education-related travel. Any inquiries can be made here.
The traffic light system is updated every two weeks; for a country to be in the Red category, the rate of infection of COVID-19 is more than 25 cases per 100,000 inhabitants per 14 days.
Finland's current entry restrictions are scheduled to be reviewed on 13th December.
Can Americans travel to Finland?
American tourists are currently not permitted to travel to Finland.
Some U.S. citizens may be permitted to travel to Finland, provided they meet requirements for essential travel. These include those with residence permits in Finland, and whose family members are Finnish nationals. For more information, see here.
Alas, it's hard days for the Americanos, but have no fear! We've put together a couple of sexy COVID-proof travel guides that may just help you plan your travels through the Ragnarok times:
What are the COVID-19 Entry Requirements for Finland?
Finland's traffic light system of entry means there are different restrictions and entry requirements for each risk-assessed category. These are designed to reflect risk levels as determined by epidemiological evaluation of countries which are currently permitted to fly to Finland.
Finland Travel Restrictions – On the Ground in Finland
As with many countries around the world, Finland currently has in place many regulations and guidelines designed to prevent the spread of COVID-19. While visitors should observe all of these rules, the most essential government advisories for citizens and travellers include:
Avoiding physical contact
Maintaining a distance from other people (1-2 metres)
Observing good hygiene (washing hands; sneezing/coughing into tissues/sleeves)
Wearing a mask is not mandatory in Finland, but it is recommended. Circumstances where mask-wearing is advised include public transport in areas with a high number of COVID-19 cases in the past 14 days, and in places where social distance cannot be safely maintained.
Masks are also recommended for those awaiting the results of a COVID-19 test, as well as for those travelling from high-risk areas and transiting from their point of arrival to their place of quarantine.
Further recommendations for mask wearing can be made at a local level by regional state officials. Mask wearing is strongly recommended at Finland's airports and ports.
Individuals who suspect they may have COVID-19 should use the government's official symptom checker. This can connect you with healthcare services 24 hours a day. You may also contact the National Medical Helpline by telephone: 116?117.
Wondering where to stay on a trip to Finland? Check out our area guides!
What Tourist Services Have Reopened in Finland?
Many services that may be used by tourists have reopened in Finland, albeit in a limited capacity and with shorter business hours. These are also many changes in how certain services operate with regards to social distancing guidelines and hygiene measures.
Services currently open include the following:
Retail services
National Parks
Bars and cafes
Hotels, guesthouses, etc.
Restaurants
Nightclubs
Museums and heritage sights
National parks
New Normal limitations include restaurant capacity (only three-quarters of the normal capacity); all customers must be seated in bars, cafes and restaurants; places serving primarily alcoholic beverages must close by 1 a.m. Establishments that do not serve alcohol may stay open 24 hours.
Opening times vary in different regions, depending on COVID-19 infection rate; for example, in Southwest Finland, all establishments serving alcohol must stop service at 10 p.m. and close by 11 p.m.
Now, while travel insurance is not a mandatory entry requirement for Finland, that doesn't mean you shouldn't have it. You really shouldn't ever be travelling without insurance, and that goes double for the pandemic!
Keeping yourself covered against coronavirus mishaps is a complex subject, however, Americans get it easy. Our favourite insurance provider World Nomads just got favourite-r! They're covering against COVID-related incidents and will also count for countries where corona coverage is a requirement.
Is there a backup option? Sure is—SafetyWing Travel Insurance! SafetWing is the cheap, long-term insurance for cheap, long-term travellers. And now, they've stepped up to the plate covering travellers and digital nomads against the scourge… at a bargain!
And if neither of those two choices are right for you? Well, in that case, I strongly, strongly, strongly recommend doing your own research on the top travel insurance companies and finding one right for your trip.
The BEST Travel Backpack?!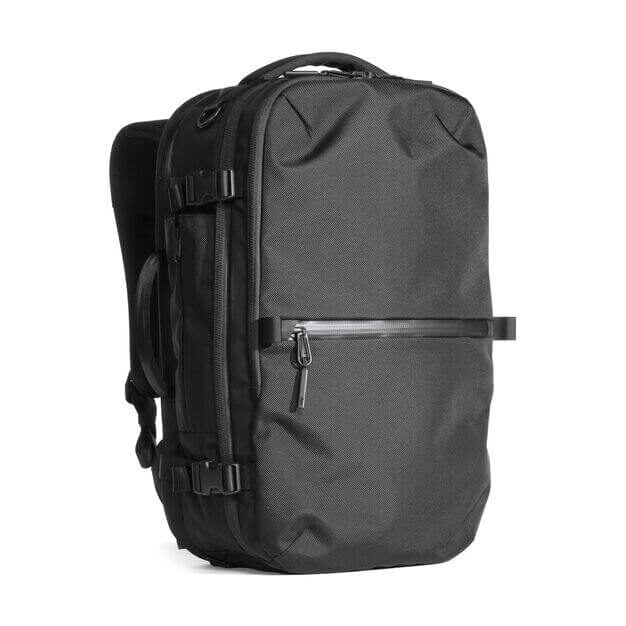 Pssssst! Not picked the perfect travel backpack yet? The Broke Backpacker team has tried out over thirty backpacks this year! Our favourite travel backpack is the Aer Travel Pack 2.
View on AER
And Keep Smiling
All the delights of Finland will still be there when this pandemic finally blows over. For now, though, there are some restrictions, but it is still possible to enjoy many parts of this Nordic nation.
That's if you can travel to Finland right now. Its travel restrictions may currently be stopping you in your tracks, or you may not be able to apply for a visa. But things will change in the future.
For now, whether Finland is open for you or not, you could still plan a trip to Finland! It may be a while until you actually arrive, but it's never too early to have the perfect itinerary ready to go.