Peru is a mad mad adventure! This magnificent country is cradled by the mighty Andes, it has deep canyons, sprawling deserts, stunning beaches, majestic ruins and dense Amazonian rainforests. Its safe to say that Peru has something for everybody…
But seeing the best of Peru if you're short on time can be tough. Enter Free and Easy Traveler – a company aiming to connect likeminded adventurers on the journey of a lifetime!
Allow me to introduce myself – my name is Ankita, Broke Backpacker ambassador and blogger at MonkeyInc. A few months ago, I had the incredible opportunity to represent The Broke Backpacker blog on the trip of a lifetime – a Peruvian adventure with Free and Easy Traveler.
Free and Easy are a super chill Canadian company that run 20 day trips around Peru. The reps know how to party hard while exploring the hell out of a place. Here is a quick recap of the FnEZ Peruvian adventure…
Lima
Lima is the super busy capital city of Peru and the place to be in, in Lima is Miraflores. So once we landed in the Lima airport, we all made our way to the House Project Hostel in Lima where there were some chilled beers and a cheeky game of Sociables waiting for us. It was a cool way for us to get to know the group before the official flag off. In the little time we had, we also managed to try some ceviche at the local super market which was yum!
Huacachina Desert
We kicked off our trip in the mesmerizing desert of Huacachina. Huacachina is a huge almost Martian desert that is built around a small natural lake in the desert called the "Oasis of America." You can do some awesome dune bashing in the desert on these Mad Max like beasts. They also take you for sand boarding down the dunes which looks scary as fuck but is so so fun! We thought nothing could top that epic sunset we had just witnessed but then our buggies took us to the middle of this massive sand dune. There was a bonfire waiting for us!! We had a couple litres of (pesky) Pisco sour, a dozen sleeping bags and some delicious barbecue to keep us company that night. As if that weren't enough, the milky way was right above us!
Ballestas Island
Ballestas Islands, popularly known amongst Peruvians as "the poor man's Galapagos" are islands that are home to some species of animals that are endemic to the Galapagos Islands. We took a speed boat tour from the little town of Paracas around the islands and spotted penguins, sea lions while dodging our guano (bird shit) presents from the sea birds. We also spotted a Nazca line on one of the islands which was pretty cool as all of us had decided to skip Nazca lines cause its expensive as shit to fly that helicopter over the lines.
Backpacking Arequipa
Arequipa is a cute little colonial town in Peru. We used it as a pitstop to get to one of the world's deepest canyons- the Colca Canyon. Some of us who were interested in history and museums took a little self guided tour to some museums and cathedrals. We also tried the restaurants at the town square which looked especially gorgeous at night! We called it an early night so we could get some sleep and be ready for the hectic hike down the Canyon the next day.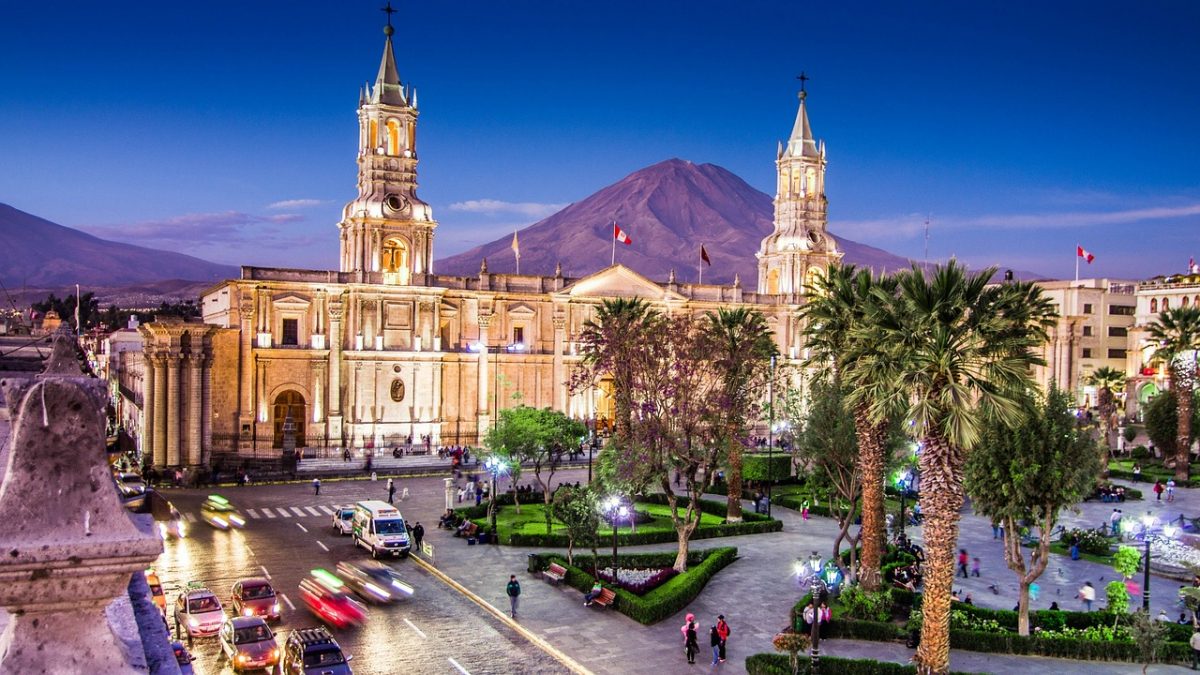 Colca Canyon
The Colca Canyon is one of the deepest places on this planet and the third largest canyon in the world, more than twice as deep as The Grand Canyon. This hike was exhausting and definitely not for the faint of heart. The amount of support we shared between one another was just amazing! The kickass accommodation with the pool was so welcoming that we jumped right in! The place we were staying at had this ridiculous happy hour going so we had a couple drinks to relax our sore muscles. The hike up the canyon was even more exhausting than the way down and those hot springs at the end were much deserved. Our hike was planned in such a way that we actually got there an hour before anyone else and had the hot springs all to ourselves!
Backpacking Cusco
Cusco is hands down the most fascinating city in Peru and one of the most exciting cities in the world. It is rich with immense history, culture and is cradled by magnificent ruins and the stunning Sacred Valley. The vibe of this city was just unparalleled. The main square for instance had ancient Incan walls shared with the most happening clubs and bars. The square was alive at all times – even at 4 in the morning. We could really feel the culture and history running through these cobblestone streets. Being away from home didn't hold us back from celebrating Halloween! We picked out costumes together for a burlesque themed Halloween party at one of the craziest bars I have ever been to – Fallen Angels. What an EPIC night!! The next day we spent jumping to our doom at Action Valley where we bungee jumped and some of us tried the sling shot! Trust us, its NOT fun when you're that hungover!!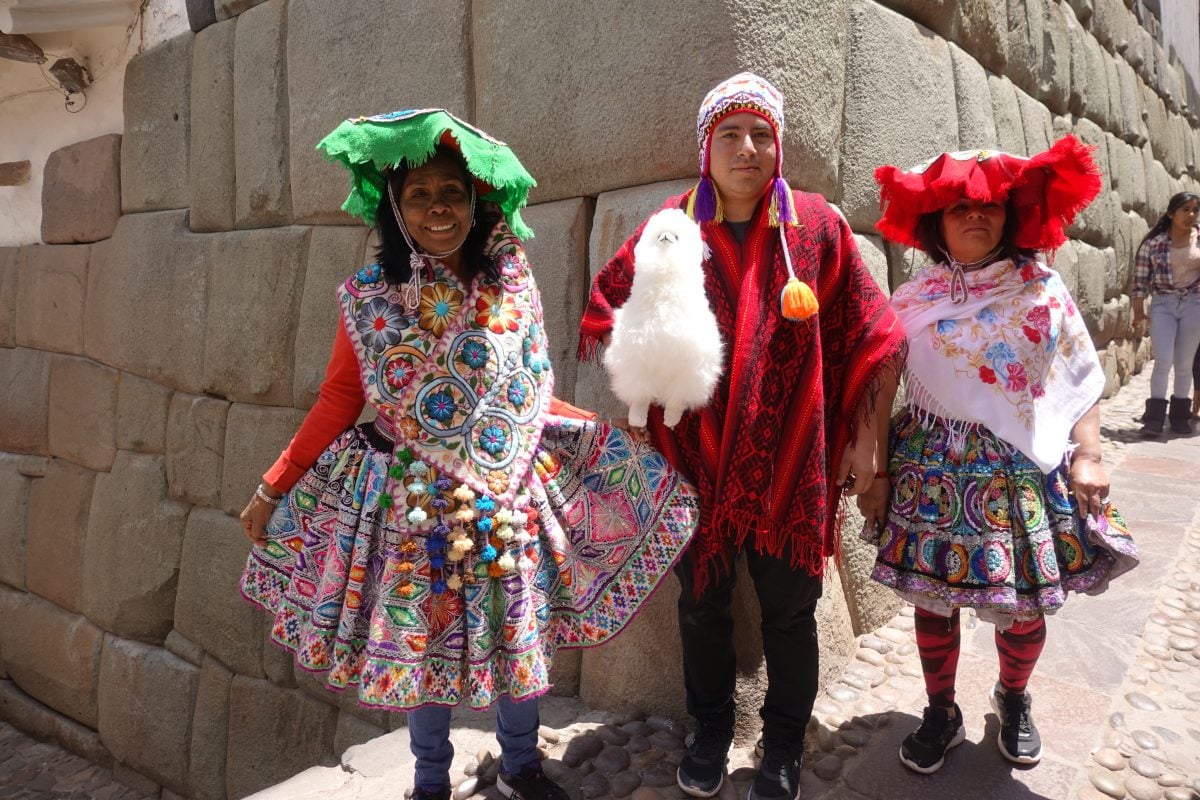 Machu Picchu
Then of course there was the much awaited Machu Picchu! The energy of that place was insane. We took a train to Aguas Calientes – the Machu Picchu town and then started the hike early in the morning. The previous night, our guide Julian came to us and asked us to open ourselves to the energy of the place. And sure enough the next day a lot of us were intensely moved by the energy of Machu Picchu.
After the intense experience we were in for yet another surprise! A crazy Karaoke night at a super shady bar. We sang everything under the sun- from Zombie to Mrs. Robinson to My Humps. We were shit faced and that is an understatement.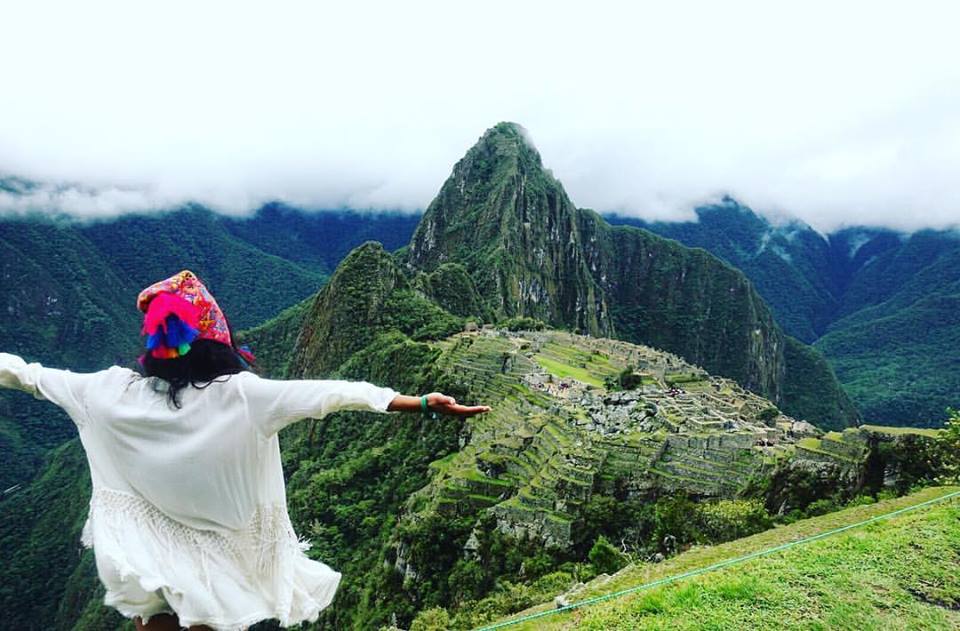 Sacred Valley
After doing such intense treks, we wanted to have some chill time and what better than some peace at the Sacred Valley. We did a really nice yoga class in the middle of the valley. The class was simple and perfect to loosen our sore muscles with all that crazy hiking. The rest of the day was spent chilling and exploring Cusco markets. We also got these really cool hair braids done by a local who used different stones in the braid. He also had some funky jewelry with bird feathers and animal teeth and bones.
Rainbow Mountains
Another EPIC place and one of the most Instagrammable places that we visited in Peru were the range of colourful, vibrant Rainbow mountains. Apparently hardly anyone knew about these mountains till they became an Instagram sensation about two years ago. Now this place is swarming with tourists, indigenous people who pose for photographs with tourists, tour guides with horses and fluffy alpacas from the farms around. This place was really high up and some people needed oxygen up there.
Thankfully the FnEZ team was equipped with tanks and masks. The famous view of the mountains is best seen from the mountain facing them which is at a height of 17,000 feet. Our group started about an hour before other groups did and that was what made ALL the difference! We reached before any other tourists had made it to the top and had the mountains all to ourselves! Hell we even had time to play cards up at 17,000 feet!!
Our last day in Peru was spent cooking up some Peruvian delicacies and grabbing some tattoos, and doing a little souvenir shopping for peeps back home. Together we capped off this amazing journey with our final girls night, guys night dinner where we grabbed a great meal and a few drinks as two groups and ended in a smashing night at La Chupiteria bar that served shots in teapots.
All in all what an absolutely EPIC adventure this was. If you like adventure, good vibes and excellent travel mates, get on this trip! Use the promo-code "BROKEBACKPACKER" while registering for this kickass trip on the FnEZ website and get a special TBB fam discount. 😉