Hey guys! I started writing this post about three weeks ago… before Coronavirus had gotten into full swing and a time where I was super stoked for 2020. I've decided to go ahead and publish this anyway although it seems likely that half my goals will be delayed somewhat. I want to share with you my lessons for 2019, and my hopes for 2020…
2019 was a tumultuous year for many online businesses and in this post I am going to share with you some of the biggest wins and losses across my online portfolio of businesses as well as bring you up to speed on my plans for the future.
There will be an update on Tribal Hostels as well as the first sneak peak of a super secret, super awesome, project I've been working on for months now…
2019 was a big year for me personally, and a big year for The Broke Backpacker.
Let's recap where we are at – The hard hustle I put into 2018 had paid off and in 2019 I had more freedom, and more money, to enjoy a different kind of lifestyle. I'd paid off the $50,000 of credit card debt I had accumulated whilst investing in myself and scaling the site and I was no longer worried about not being able to afford bills, visas or paying my team.
Whilst I had never allowed my actions or strategy to be overly affected by the huge debts I was accruing, I was in fact extremely intimidated. I had focussed on keeping my nerve and pushing through to build something profitable. I felt like success was my only option and I put in the time and energy to keep everything moving forwards despite the doubts and debts dragging me down.
Towards the end of 2019, I finally paid off all my debts and I truly did feel like a weight was lifted off my shoulders when my ventures turned a corner and the risk of going totally bankrupt no longer loomed over me.
I've talked about this before but I'll say again, I had no rich benefactor, no mentor, no idea what I was doing – only elbow grease. It got me somewhere pretty amazing, and I passionately believe that hard work and smart strategy can allow anybody to build the lifestyle of their dreams.
For me – that lifestyle now seems crystal clear – I want a solid base for half the year, and the freedom to travel during the rest of the year without having to work much whilst traveling. I haven't had a home for over a decade and I wanted something I could call my own… It felt like the right time, and so I am now settled in Bali with the plan to base myself here whenever I am not traveling.
For over ten years I spent almost all of my time travelling around the world, living out of a backpack and (more often than not) in a tent. It has been an amazing experience. I met many amazing people, learnt valuable lessons, developed the ability to solve problems quickly, became comfortable with extreme discomfort and was inspired by the raw beauty of this incredible planet and the kindness of people I met along the way, again and again and again.
The hardships and challenges I encountered on my travels have been the most important part of my personal development. If you're reading this and thinking about getting out there yourself, in search of inspiration and personal growth – I highly recommend travelling somewhere offbeat or traveling in an offbeat style – go to Pakistan, Iran, Myanmar, Kyrgyzstan or The Philippines. Hitchhike, Couchsurf, explore by motorbike…
Get away from the tourist crowds, get out of your comfort zone, don't hide behind your phone, focus on exploring your own psyche and learning what makes you tick, what you're passionate about, what you need to work on. It's a truly amazing experience and I treasure my memories of rough and ready travel as a younger man. Sleeping rough, hitchhiking and wild-camping all taught me really valuable skills and I encourage everybody to get out there and give it a go.
Balancing work, travel and self care in 2019
I spent the first half of 2019 working hard on growing my projects. Following three months of travel in Colombia, it was time to get back to the grind. I expected the hostel to open pretty much any day in Bali, and this kept me tied here. In reality, opening such a large hostel is a major undertaking and we were heavily delayed. You can read more about the first half of 2019 here.
In August, I returned once more to my favourite country in the whole world – Pakistan. My very good friend Matt tagged along and together we headed up into the glorious mountains of the Karakoram. We hired motorbikes from my friends at Karakoram Bikers and enjoyed three of the most adventurous weeks of my life exploring dirt tracks leading to isolated villages, stunning scenery and endless cups of chai.
One of our Epic Backpacker Tours to Hunza had just finished so we caught up with EBT co-founder Chris and EBT guide Ralph and together with my very good friend Rehman we spent three days crossing the fabled White Glacier and hiking deep into the mountains to an isolated pass (which I'm not going to name – because it was absolutely perfect) with stunning views of Batura Glacier snaking away into the distance.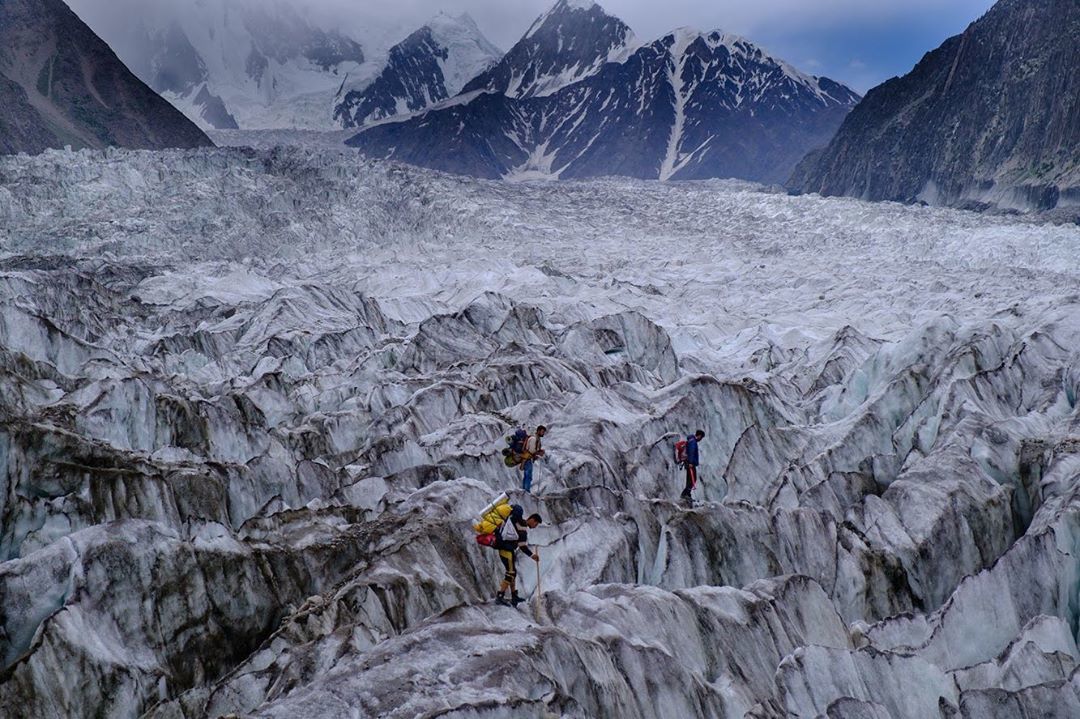 We spent a couple of nights camping up in this truly magical place and learnt from Rehman that foreigners never come up here and, in fact, hardly anybody comes up here but a handful of shepherds every year. Staying up there was one of the highlights of my life, period. We got permission from the local villagers who live in the area, built a basic campsite and are now taking EBT venturers up there as part of our Pakistan tours in 2020.
When we returned to Ghulkin, Rehman had a special surprise – the official opening party of Rehman's Backpacker Hostel. This idea first came into existence as me and Rehman hiked across Batura glacier in 2015. At that time, there were hardly any other tourists in Pakistan. In six weeks I glimpsed only one foreigner, or perhaps an albino Pakistani. Today, things are changing fast and there are now more than enough tourists in the high season to sustain local businesses. This is great news for Pakistan and I am stoked 🙂
Epic Backpacker Tours has been able to employ Rehman, and several others, for three years now and with the regular wages, generous tips from happy guests and a couple of donations from myself, he had finally been able to build the first backpacker hostel in Hunza – if you go to Pakistan, please go say hey 🙂
Being in Rehman's completed hostel was an amazing experience and had a couple of surprises – one minute I was getting stoned with my friends and the next – BOOM! Twenty smiling Pakistanis, cameras and phones everywhere, a huge cake thrust in front of me with Rehman insisting I cut it.
I was beyond honoured; it was a deeply special moment.
Pakistan has been a truly special place for me for a long time and to travel back to the mountains, to forget about work for three weeks, to get a good solid digital detox in – it was something I really needed.
Like I said before, I very rarely do anything on social media but I did make some pretty cool, very raw, videos of my time motorbiking around so check out my IG highlights if you want to get stoked on Pakistan yourself. Also, here's how we crossed rivers. There is room for improvement…
Being in Pakistan gave me a chance to re-assess what I want out of my life, to reconnect with myself and to face some hard facts that had been quietly boiling in the background for years, facts which I had ignored because I was too busy surviving.
Feeling inspired, I made a commitment to work on myself and in September I started to regularly visit a cognitive behavioural psychiatrist to deal with some childhood trauma as well as issues with depression and addiction. I also started a meditation practice and to focus more actively on gratitude – I can truly say that I found both of these exercises pretty powerful. However you look at it – being grateful and mindful works, it's helped me explode my productivity even further and allowed me to be kinder to myself, something I've found hard in the past. I found this video really helpful.
I've had some problems with drugs and drink over the years and I go through periods of being a high-functioning alcoholic for a few months before I force myself to go sober for a bit. For most of 2019, my drinking was out of control. In January this year though, I did 30 days sober which felt pretty refreshing and I plan on drinking less throughout 2020.
At the end of 2019, I found a special place to live and work from in Bali and this is where I plan to spend half my year for the foreseeable future. I'm excited and grateful to be able to craft the lifestyle for myself that I want.
Business challenges in 2019
From a business point of view, 2019 was the best year yet, but it was not without its challenges.
In 2019, we had 9.8 MILLION unique users visit The Broke Backpacker…
This number blows my mind – nearly 10 million people visited my site, got some value and were better able to plan out their adventures because of the awesome resources we work hard to put together.
However, I'm sure you will notice those two massive dips in traffic – one in September and another in November.
Those dips accounted for a loss of about 40% of income from The Broke Backpacker, with Google aggressively changing its algorithm, reshuffling search results and taking nearly half of the site's traffic. These two SEO updates at the end of 2019 came out of nowhere and hit a LOT of travel sites hard.
Google now seems to prefer to display results from Trip Advisor and other old, often out-of-date and out-of-touch, sites – which is a real shame. However, I am confident that ultimately the most honest, most useful, most real content will always win and that this is a temporary, rather than a permanent, reshuffle.
These two traffic dips were the biggest operational challenges we faced in 2019. With a full-time team of over twenty people, and financial commitments to several social projects I am passionate about, our costs are high and losing half our traffic was truly a real blow. It shook me personally as well, and I actually cried for the first time in years.
After 30 minutes or so of moping around feeling sorry for myself, I got to it. I smashed a couple of drinks, took something to help me concentrate and went to work. I spent a frenzied and intense week coordinating a deep dive into the data – trying to UNDERSTAND why the algorithm had reshuffled in the way it had.
I was convinced that there had to be patterns across the types of site that Google had penalised vs advanced. With assistance from my apprentice Art, I put together a database of sites that had been hit and sites that had done well out of the update to try and identify similarities. We found one glaring similarity which allowed us to put together an action plan on how to reverse the hit.
These experiences made me rethink my relationship with work, which I talk about here:
Back to the numbers: We dropped from an all-time high of 308,000 unique visitors in a week (in September 2019) to a low of 141,000 unique visitors in a week (in December 2019). We quickly sprang into action and began analysing the site for quick wins – fixes we could make to the site itself and updates we had been putting off. We put together a strategy and finished implementing it by the end of December, the result was an almost immediate recovery of about 35% of lost rankings (although I am willing to concede that some of this is likely to be seasonal).
Traffic is now holding steady at about 200,000 unique visitors a week (in February) and whilst we DID lose income, I've been able to make up most of the losses with a new income stream which I have been working on over the last 6 months. Although TBB was hit hard, I am still passionate, motivated and thankful. I absolutely believe that TBB is a powerful force for good and ultimately TBB is the engine which funds and fuels all of my other projects… In 2020, I am shifting my energy, money and focus towards affirmative climate action and I am grateful to have TBB in my arsenal of tools.
I shall of course continue to develop TBB but I am actively taking a step back from managing the site now and letting Art, Ralph and Aiden step in and take control over some of our content and SEO strategies. In 2019, we aggressively expanded our team and I can confidently say that I absolutely have the best team in the travel space. I'm honoured and stoked to be working alongside such incredibly talented and passionate people.
I'm determined for TBB to remain at the tip of the spear when it comes to exploring new offbeat destinations and we've hired two new adventure writers to go on assignment to incredible places like Oman, Mauritius, Sri Lanka, Armenia, Iran and Kyrgyzstan. I want to ensure that we continue to explore new places and expand the resources on the site for those looking for travel inspiration, information and advice.
My goal has always been to make travel accessible to everybody. When I was a kid there were no resources for 'broke backpackers' and it seemed like only those with a large disposable income got to travel. I like to think of The Broke Backpacker as a force for good – we create jobs for adventurers, we create jobs for our friends in Pakistan, we frequently donate to climate-related causes and perhaps most important of all – we provide free, experience-driven, guides on how to travel with limited funds. My hope is that these resources inspire the next generation of broke backpackers to hit the road in search of adventure and to explore the world in a respectful manner. If you are new to the site and think 'hey, this site is pretty cool' then please do me a personal favour and read our guide on reducing your plastic footprint whilst traveling.
A big challenge that has already reared its ugly head for 2020 is the Corona Virus currently traveling around the world – this is understandably bad news for everybody but is especially bad news for those working in the travel space. We have certainly seen a huge dip in income – we're down about 90% across everything and sadly we had to cancel several fully booked tours to Iran and Pakistan, send out refunds to our clients and send in financial support for our partners in Pakistan – this has, understandably, completely decimated Epic Backpacker Tours financially but supporting our partners is way more important to us than making money in this business. I am confident that we will be able to get it back on track once travel is no longer restricted but daaaaamn – it hurt to cancel those tours.
Cancelling the tours was however the correct thing to do from an ethical point of view. We have a responsibility to ensure we do not expose the remote mountain communities we stay with to the risk of Corona Virus, these are our Pakistani friends and family – people we really care about, and putting them at risk is just not an option for us. Our guests have mostly been very understanding with some even offering to chip in and add to the financial relief we are sending into the country. You can see more about our take on cancelling the tours in this video we made for our clients (most of whom I have to say responded incredibly admirably).
The travel industry has, understandably, been totally fucked by Corona. I personally predict that we are looking at two years before the industry is back to where it was at in September 2019. I do however think we will start to see some bounce-back in the next few months… I certainly hope so.
Here at The Broke Backpacker, we will continue on. I have placed us, strategy wise, into a holding pattern until the end of May at which time I will reassess how we are doing and what we need to do to move forwards… I am continuing to invest aggressively and plan to move into TWO new niches by the end of June, to diversify my income streams. There's over twenty of us working on TBB and my goal is to keep everybody employed. We will persevere.
To find out more on our thoughts and advice on traveling during the current situation, check out our post – Should I cancel my travel plans because of Corona.
Returning to Bali for my biggest projects yet…
Following my adventures in Pakistan and a brief visit to see my parents in jolly old England, I returned to Bali in January 2020 and moved into my new home. Recently, I adopted another dog – Kiki. Having two dogs playing around my house has truly made it feel like a home and I love having them around.
I had planned to travel a fair bit this year but since it's not currently possible I will be staying in Bali for the foreseeable future. Several members of my team are here, I've built an awesome home gym, I have my dogs, I have food, water, supplies – Bali is my home and I will stay regardless of what happens. Now that I am back in Bali, I will be focussing on two massive projects…
Tribal Hostels – An Update
Another business challenge in 2019 proved to be getting the hostel open. I had quite naively hoped to get it open by September 2019 at the latest. It took a lot longer than we anticipated to get our architectural designs locked down but I am stoked to announce that one week ago (February 2020) we broke ground on the plot. Before we did this, we held a ceremony asking Dewi Sri (the god of the sawah – rice paddy) to kindly relocate to a nearby temple and inviting the business spirits in. Check out the video below to see what I'm talking about.
I really am so stoked to get Tribal Pererenan (the first but definitely not the last Tribal Hostel) open… It's been a lifelong dream of mine to open a hostel. I've imagined the kind of place where one could stay for a day, a week, a month and feel at home. A hostel which has everything you needed… beautiful views, comfortable beds, friendly vibes, damn good coffee, an excellent bar, a pool table (of course), an amazing pool, plentiful greenery, a slackline, delicious food and, crucially, the kind of place where one could work from – I wanted to build the kind of hostel I had always looked for but never found – somewhere I could work my ass off during the day, in peace, and then be assured of a good time in the evening with plenty of social areas. Here's a sneak peek at some of the renders.
Truly, Tribal Hostels will be where you can find your tribe. We aim to open in September 2020 – if you're in Bali, come say hey!
I'll be posting construction updates on my Instagram so keep an eye out.
I've mentioned before but I am absolutely passionate about turning plastic waste into products… somehow. Wouldn't it be amazing if we could take plastic out of the ocean, or stop plastic from entering the ocean, and turn it into a viable product that people WANTED to buy because it had standalone value rather than just the supporting of a noble cause?
There are already people doing great work creating treasure out of trash but a lot of the products that have been made out of recycled ocean plastics are basic – bracelets, maybe a water bottle, tiles – all cool, but I feel like we can do better.
Over the last couple of months, I have been going on a learning journey to try and truly understand the plastic problem and the options available to solve it. I am now working on producing a recycled plastic travel backpack… right now, we are still in the design stage but when we are ready, you will be the first to know.
I'm super excited about this project and to do what I can around Bali to encourage recycling and the reduction of plastic waste entering the ocean. More on this later…
Other projects I am working on at the moment
As well as The Broke Backpacker, Tribal Hostels and Neco, I am also working on several other projects. You guys may remember I was working on two mystery sites at the beginning of 2019. We did a fair bit of work on these sites in the first half of 2019 and then left them to coast for the rest of the year. Check out the screenshots below to see how growth went…
Project A has been pretty frustrating – even though we started this project on an expired domain, with great metrics and a strong backlink profile, it has still taken FOREVER to rank – and that's partly because we've been going after a very lucrative space, we're up against some truly massive companies. We've spent well over $40,000 on it at this point, and whilst the site is starting to crawl up the rankings, it's still – well – pretty darn slow. The site has brought in its first thousand bucks, which is good as it proves we have correctly identified an opportunity.
I expect Project A to get more interesting in 2021… What can I say guys – the game has changed, it's gotten harder than ever to get a site out of the sandbox and to get your content to rank in Google. I'm not a social media guy – I don't like how all-consuming it can become – so we are relying entirely on SEO to drive users to our projects. SEO is great but hell, Google has really screwed with sites over the last four months, and it is taking a lot longer to rank sites. If you are trying to rank your own site and struggling, do not give up, keep working hard, be patient, be smart with what you do invest your time into, you will get there in the end.
Project B has been a lot more fun! My plan is to sell project B towards the end of this year. In February, the site was worth around $160,000 and brings in about $5000 a month – not bad since we bought it for $5500 (we have also invested approximately $20,000 into content on this site). My goal is to get this site to a value of $300,000 and then sell it – this will likely be delayed because of Coronavirus as this site has also taken a 80% hit to its income.
Epic Backpacker Tours: This is a project I am super stoked to be involved with, I'm not in this one for any financial reasons, this is very much a passion project. EBT makes a HUGE difference to my friends in Pakistan with employment opportunities and donations to community projects. I'm stoked to be growing this in 2020 and our goal is to take 100 guests on epic adventures this year. Fancy joining us on the adventure of a lifetime? Use the code EPICsummer2019 for 10% off all tours. Follow this link to explore our adventures.
Unfortunately, as mentioned before – we had to cancel our first planned EBT trip to Iran as well as our April and May trips to Pakistan. This was a real blow to EBT and to our partners in Iran and Pakistan. The next EBT trip to Iran will go later in the year when things have hopefully calmed down. We have trips running to Pakistan from July and currently, we hope and plan to run them.
Ditch Your Desk: Another passion project, I'll hold my hands up and admit that this has slipped from my focus recently, it's a tough project to run because a lot of my best info I simply can't share as it's sure to find its way into the hands of my competitors. I do intend however on writing one new article every 2 months and sharing some real gold along the way so keep your eyes open. Here's my most recent article on how to get under-performing content to rank.
Projects C, D and E: Over the last three months I spent a total of about $15,000 on purchasing three other sites – two working sites and one expired domain. Two of these are sites focussed on one particular location which are already ranking for many keywords and even making some money, my goal is to try and build a location-specific authority site, it's a very competitive but very rewarding space and I definitely did not want to start from scratch so this gives me a springboard to skip the boring as fuck Google sandbox and get straight down to scaling content, ranking pages and making money. The other site was a decent size travel blog (20,000 monthly visitors) which I will scale and sell in the future. I very much believe that whilst Google has been rocking the boat, SEO is far from dead (as some claim) and I want to continue to invest into quality content sites. The way I see it, whilst it's gotten harder that just means that those who persevere have less serious competition to deal with.
Active Roots: Following the dip in traffic across TBB in late 2019 and the newest Corona-related hit, Active Roots was hit hard. This is a project which unfortunately is not yet able to survive without traffic driven via TBB and we have found the space – low priced travel goods – to be extremely competitive. We have continued to produce some pretty awesome and fairly unique products here – like scarves with hidden security pockets – but the current market conditions are very challenging. We are taking a breather on this project for now.
Video content for TBB: We're starting to play around with TBB video content on Youtube for the first time. Ralph Cope, TBB adventurer and content magician, is leading the charge on this and I'm excited to see what we can learn from creating content on Youtube.
UK to PNG – An update
Some of you may remember that over four years ago I began a journey from the UK to Papua New Guinea. The plan was to travel this incredible distance without flying. I did make it as far as India from the UK without flying but along the way I met my partner Nina, fell head over heels in love and things changed, the trip was no longer my priority. Finding a way to stay together was what mattered to me at that point.
I have every intention of finishing UK to PNG, starting in Pakistan again (because I fucking love Pakistan) and making my way to PNG… The plan is to travel overland to Southern Thailand, make my way to my home-base in Bali by ferry and then build a boat out of recycled plastic and attempt to sail to PNG from Bali.
The goal is to raise awareness of the sheer scale of the plastic problem in our oceans (something I am passionate about fixing) as well as to challenge myself in an environment I have little experience in. I feel like I've been building up to this journey most of my life, I first had the idea about seven or eight years ago, and it's important to me that I finish this trip and do it in the way that real adventures are meant to be done – without a laptop, without distractions, just me, the road, the ocean and the unknown.
I am thinking of beginning this trip in 2021, and the thought gives me the good kind of goosebumps…
Before I start this trip though I need to get my businesses to a point where I am no longer needed. I want to do this 8-12 month journey without a laptop and without any work commitments. I want to do it right because it's a real adventure and it will require all of my focus and energy. Watch this space… I'll keep you in the loop.
Planning for 2020
In January, I thought about what is important to me and what I want out of 2020. I'm a big believer in the power of goal-setting and the goals I've set for myself for 2020 are by far my most ambitious to date. I did feel relatively confident about fulfilling all of these but with a 90% hit to my income, travel restrictions galore and a team of 20+ people to keep paid and employed, I will likely have to re-evaluate whether all of this is possible. For now though, I dare to dream.
I want to ensure that I regularly meditate, journal and walk my dogs early every morning. At the moment, I get up at 5:45 every day, meditate, take ma bitches to the beach so they can murder crabs, and then either get a Broga session in (it's like yoga, but better) or workout in my home gym which I built. I'm at my laptop and working by 9. As the hostel moves further along, I'll have to spend more time on-site and I'm really looking forward to it.
In January, I cut down my drug and alcohol consumption pretty drastically although I still enjoy a cheeky smoke here and there and drinks on the weekend. To be honest, the last three weeks have been pretty stressful for me (like everybody else in the world right now) and I've definitely been drinking more than I should.
I have been fighting hard to be the better version of myself and it was going pretty well. The last three weeks though I have been failing fairly consistently – something I choose to admit here because it puts an added source of accountability on me to sort my shit out, keep calm and work on myself.
When I fail, I take a step back and focus on short attainable goals – don't drink for 3 days, meditate just for 10 minutes, get up early – I can usually use the sense of achievement I feel from completing these goals to get myself back on track.
I've been making a point to eat healthy and have started cooking for myself again rather than living off take out – which is just in time when you think about it.
I've narrowed my life down to six basics over the last 2 weeks – things to focus on so I do not find myself floating in an unhealthy sphere of laziness and despair. Here's my basics to keep myself on track, I ensure that no matter what else happens in my day – I always complete at least four of these six things.
Mediate in the mornings
List 5 things I am grateful for
Sweat – maybe some Broga, maybe some gym, just get a sweat on.
Limit phone use – I limit phone use in the day and put my phone away completely at 7pm.
Read for fun – I highly recommend the Adventures of Flashman.
Journal – record my day, vent any frustrations onto paper so that I can let them go and forget about them.
I know many of us are stuck inside at the moment, anxious and uncertain but I feel that if we focus on our mental health at this time then we can come out of this situation stronger, rather than weaker.
I'm not a psychiatrist or a professor or anything like that, but I do constantly experiment with my own optimisation and I know that if I meditate, practise gratitude, sweat, avoid being sucked into my phone and have a none-digital chill out activity – it works wonders for me.
It would be very easy for many of us, myself included, to fall into unhealthy habits of drinking too much, moving too little, and rewiring the brain negatively by watching porn all day. PornHub reported it's largest ever spike in traffic since Coronavirus started. I understand this is a travel blog and even the topic of porn may make you feel uncomfortable – so I apologise if that's the case – but I think it's important to mention this – do not go down the porn rabbit hole whilst you are isolated at home, it will fuck you up. Watching too much porn can ruin your sex life, give you unrealistic expectations of intimacy and damage your energy levels. Next time you're tempted, do 20 pushups.
Let's move on.
So, it's time for me to ask you – what is it you want to get out of this year?
I wholeheartedly encourage you to be ambitious, to pursue your passions and to put yourself through great discomfort in your quest for freedom and personal development. Many people who fail simply aren't hungry enough, they give up rather than put themselves through discomfort. Set some goals, friends – be disciplined, be consistent, be passionate.
Freedom isn't free; it takes hard work and sacrifice. If you want to be free to live your life on your terms, wake up when you want, work on projects you are passionate about, go where you want, when you want, then you need to be willing to sacrifice your comfort.
Here's the thing though, humans are fucking awesome.
I get that we all have doubts, faults and weaknesses. But every time you question yourself and ask 'Can I do this' the answer is always yes. You just need to be disciplined. To push yourself, and to keep on pushing. I believe in you, now get out there and make it happen.
My goals for 2020
I won't share all my goals or strategies here because it would take a while, but here's some of what I am aiming for…
I wrote these in January.
5 business goals for the year…
Get Tribal Pererenan open, throw a huge party.
Launch Neco on Kickstarter.
Sell two sites. Start four sites.
Send 100 awesome adventurers on EBT trips.
Grow traffic on TBB to 1.5 million unique visitors a month.
5 climate action goals for the year…
To plant 50,000 trees by donating to One Tree Planted and other initiatives.
To donate $50,000 to Classroom of Hope through Neco sales.
To fund and organise a hydroelectric project in Rehman's village to bring reliable electricity to Ghulkin.
To incorporate as much recycled materials as possible into the building of Tribal Pererenan.
To figure out how to build roads out of recycled plastic bottles (it has already been done, I just don't personally know how to do it yet but I am reading up on this at the moment).
5 personal action goals for the year…
Become confident in a one handed handstand hold
Get my wreck diving certification
Continue to work on my fitness and health, whilst being patient with the journey
To sleep more (I can function fairly well on 3 hours a night, but it's not ideal)
To meditate consistently and learn to be kinder to myself
Awesome content I want to share with you…
A random collection of some of the best podcasts, Youtube channels and books I've enjoyed recently…
So, what's next?
In this time of admitted uncertainty, there is opportunity. This is a time to strengthen one's mind and body and not to surrender to lethargy and short-lived instant gratification. Find purpose in acts of service, everybody will know somebody who could do with a kind word, a helping hand, a phone call, a Netflix recommendation, a funny cat video to brighten their day – do whatever you can to help keep humanities morale high and to keep yourself busy.
For me personally, I see challenging times ahead with my businesses. I only have so much cash in the bank before we go back into taking on debt, which I want to avoid. I estimate that across all of my online ventures, I may make a loss of $20,000 – $30,000 a month from now as I have a large team to pay and partners to support in Pakistan and Iran. I have a large amount of money tied up in building the Tribal Hostel and I am very much hoping that construction is not delayed too much by current events.
Whilst there are challenging times ahead, I am not daunted. There will be a way to succeed.
To all of my amazing readers, thank you for your support. I know that we don't do much social media and that we may sometimes slip from your mind amongst the chaos of a million travel blogs but we are dedicated to providing the best up-to-date properly research backpacking guides anywhere on the web, free resources for the next generation of broke backpackers looking to challenge themselves and change the world through cultural exchange, responsible travel and mind opening experiences.
Thank you for your support as we continue to push forwards despite challenging conditions. We will never ask for donations like some other bloggers but if you want to continue to support the site, simply use our affiliate links where you can when purchasing things online.
Stay safe out there my friends, look after yourselves and others, stay fit and healthy and dream of the adventures ahead…