The Big Apple is one of the top tourist destinations in the world, no question about it! It's hardly surprising – you've got epic Broadway shows, awesome shopping, and some of the world's most iconic buildings all in one place! It's no wonder this concrete jungle, where dreams are made, is on so many travellers' bucket lists!
There's just one thing that means it can be quite difficult to plan a trip here. New York can be frightfully expensive! However, you can easily cut costs if you try. One of the best ways to do this is through your accommodation, but you don't have to stay in a hostel dorm to save money. How about a homestay in New York? Not only are they kind on the pocket, but they'll ensure you have a local experience and maybe even make new friends.
With that in mind, we've decided to help you out by putting together this list of the top 10 homestays in New York! We've taken into account different travel styles, but more importantly budgets. So, let's jump straight in and check them out!
Our 5 Favorite Homestays in New York
BEST HOMESTAY IN NEW YORK
BEST HOMESTAY IN NEW YORK
Bed-Stuy Gem with Private Entrance
> $
> 2 Guests
> Private entrance
> In room coffee and tea station
BEST VALUE HOMESTAY IN NEW YORK
BEST VALUE HOMESTAY IN NEW YORK
Chillspot with Good Energy Brooklyn
> $
> 2 Guests
> Shared kitchen
> Essentials provided
BEST HOMESTAY FOR DIGITAL NOMADS IN NEW YORK
BEST HOMESTAY FOR DIGITAL NOMADS IN NEW YORK
Sun-drenched 1BD Upper East Side
> $$
> 2 Guests
> Laptop-friendly workspace
> Private bathroom
BEST HOMESTAY FOR FAMILIES IN NEW YORK
BEST HOMESTAY FOR FAMILIES IN NEW YORK
Spacious Room near Times Square
> $$
> 4 Guests
> Fully equipped kitchen
> Wi-Fi
BEST HOMESTAY IN NEW YORK FOR NIGHTLIFE
BEST HOMESTAY IN NEW YORK FOR NIGHTLIFE
Clean Room in Central Manhattan
> $$$
> 2 Guests
> Shared kitchen
> Awesome landmark views
What is a Homestay?
So what exactly do we mean by a homestay? Well, a homestay can be described as a holiday or other period abroad spent staying in the home of a local family. Or, it can simply mean a private house which offers accommodation to paying guests.
These days, some homestays are more "home" than others. In fact, some are so slick and professional that they are closer to guesthouses. It should normally be easy to identify what kind of homestay you are looking at from the listing and from reading the guest reviews. It is important to choose the right one for you, and to decide exactly how much interaction you want with your hosts.
Who Should Take a Homestay in New York?
If you are simply looking for the cheapest possible place to crash, then perhaps think about staying in a hostel. Homestays are great for travellers who want to experience life in a typical house, or who do not want to be surrounded by other travellers all of the time.
Homestays are particularly good for people who are doing some kind of volunteering, work placement or course, as the home offers an oasis of tranquility and becomes a home from home.
Remember The House Rules
When you book a homestay, remember to respect the house rules. Whilst homestay hosts will always try their best to be flexible to your needs, there may occasionally be some ground rules such as no guests, no drugs or even no alcohol.
There may sometimes even be a curfew. It is important to read the listings and check these things before you book your homestay.
Are Homestays Safe?
If you are booking through a reputable platform, they will have vetted and verified the homestay host very carefully. Guest feedback is also very important and any complaints are carefully investigated. Therefore, homestays are every bit as safe and secure as hostels or hotels.
Travel with peace of mind. Travel WITH a security belt.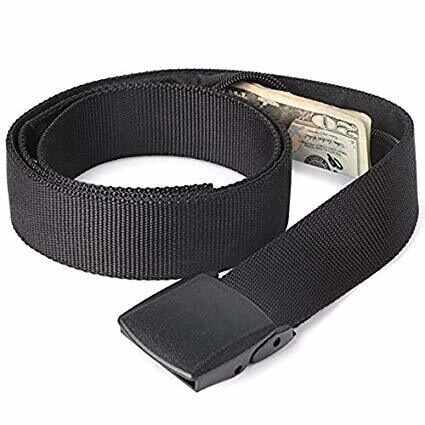 Custom-designed BY the Broke Backpacker FOR broke backpacking, the Active Roots Security Belt will keep your valuables safe no matter where you go.
It looks exactly like a normal belt except for a SECRET interior pocket perfectly designed to hide a wad of cash or a passport copy. Never get caught with your pants down again! (Unless you want to.)
Check on Amazon
Join Homestay.com For More Great Homestays
In this post, we've listed 10 awesome properties handpicked from the 4 corners of the internet! However, in case you don't find what you're looking for here, we recommend signing up for Homestay.com and having a search yourself. They have 1000's of homestay listings in over 100 countries!
The Top 10 Homestays in New York
$
2 Guests
Private entrance
In room coffee and tea station
Let's kick off our list of the best homestays in New York with this awesome spot in Brooklyn – one of New York's best neighbourhoods. Your comfortable private room has its own entrance and two huge windows that let in plenty of light! This warm and characterful homestay is packed with vintage decor, giving an intimate feel.
Your friendly homestay hosts have made sure that there's a coffee and tea station in your room – the perfect morning wake up! You can choose between preparing a meal in the kitchen or making food with the microwave and mini-fridge in your room. Look out for the cats in the communal areas!
$
2 Guests
Shared kitchen
Essentials provided
It can be hard work finding a cheap homestay in New York, but it's not impossible as this Brooklyn room proves. However, you won't be compromising on quality just because you're not breaking the bank to stay here. Keep your costs low by preparing your meals in the shared kitchen and using the essentials provided. This New York homestay is very clean and has a chilled out vibe. It's perfect for someone who is looking to spend on experiences in the city while still having a comfy place to stay.
$$
2 Guests
Incredible location
By Central Park and Times Square
Just what is a traditional homestay in New York? Well, we thought somewhere within walking distance of Times Square and Central Park would give you a good idea of what to expect from the city, so here it is! You'd think in such an incredible location that you'd be kept awake at all hours of the night from the city's hustle and bustle.
However, that's not the case at all! Your homestay host can drop the key at the New York deli on the corner should you arrive when they're working – very helpful if you want to get yourself comfy as soon as you arrive in town!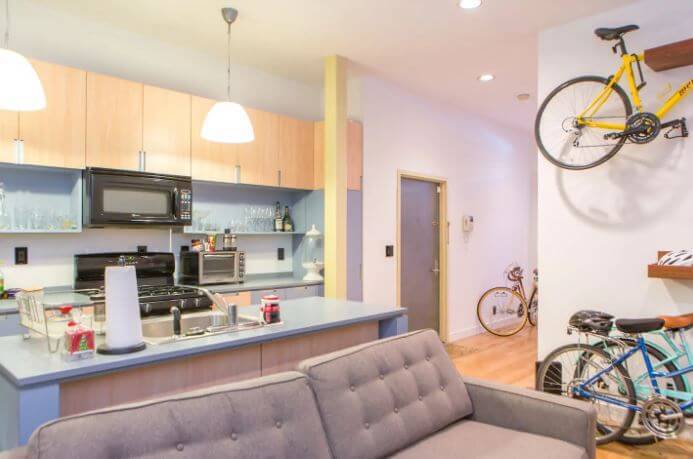 $$
2 Guests
Laptop-friendly workspace
Private bathroom
A laptop-friendly workspace and Wi-Fi are the most important things for a digital nomad. Anything else is a bonus! And at this awesome New York homestay, you'll be happy to hear that there are quite a few bonuses! Most importantly, you've got a private bathroom so you can spend as long as you like freshening up! Also, you've got access to the shared kitchen, living room, and backyard. In said backyard, there's a grill so you can knock up some tasty treats in summer!
Is This the Best Travel Backpack EVER???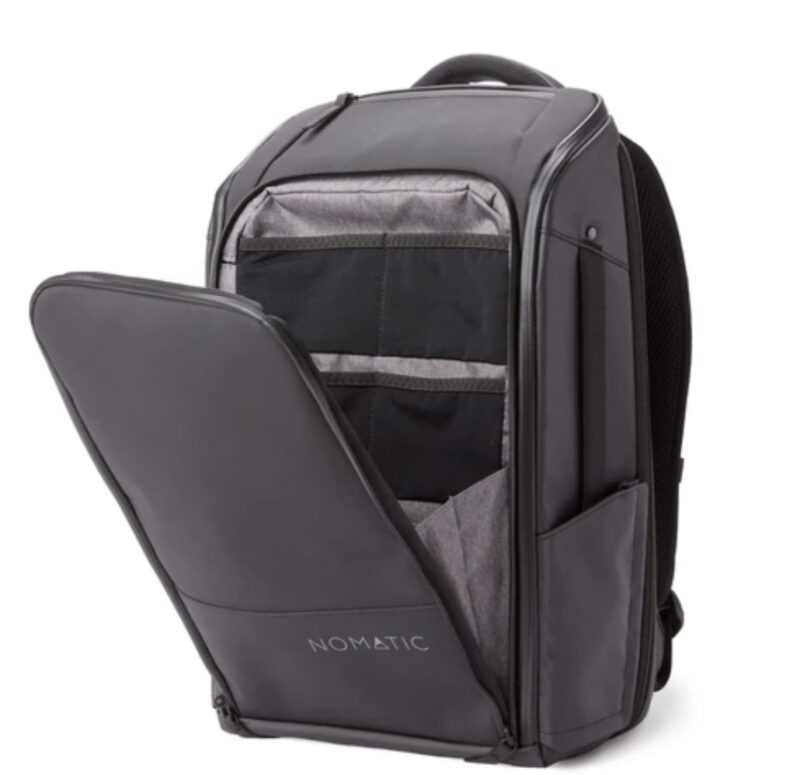 $
2 Guests
Laptop-friendly workspace
Great location
When you're travelling to New York solo, plenty of people will tell you to search for the nearest and best hostel. However, we get that's not for everyone. If you want to save money, you don't need to be in a dorm, instead, you can check out this great New York homestay! It's right by Central Park, so you've got a great place to head out and meet fellow travellers on your doorstep! Your homestay host will greet you and can also give you lots of recommendations for the best things to see and do in the neighbourhood!
$$
3 Guests
Shared living room
Friendly and helpful host
This architect's home in the East Village is really something. There's a queen bed for your comfort, which is rounded off with a mattress topper! So, you're ensured of a great night's sleep, at the very least! Since this New York share house is owned by an architect, the communal areas are really beautiful. And you've got access to them! The kitchen is fully equipped too so it's easy to make a romantic meal for the two of you! To be honest, this place could be in a lot of other sections of our list. It's one of the best places to stay in New York!
$$$
2 Guests
Shared kitchen
Awesome landmark views
In a city like New York, there are loads of places for great nightlife. And it depends on what you want! Do you prefer restaurants and bars, Broadway shows, or cool nightclubs? We've decided to pick somewhere in the East Village as it offers easy access to all of those on foot or by public transport! This charming New York homestay has views of the Freedom Tower and Chrysler Building, and you've got access to the communal areas too. So, you can cook something in the shared kitchen to line your stomach before heading out for cocktails or beers!
$$$
2 Guests
Fully equipped kitchen
Netflix and Hulu
This plant-filled New York share house has New York University pretty much on the doorstep! It's also just around the corner from Washington Square Park, which is a great place to relax after a long day studying or go for your morning run! You're welcome to use your homestay host's coffee machine and beans. Not only that, but you can also watch a movie on their Hulu or Netflix account in the comfy shared living room!
Greenwich Village was famous in the 60's as the home of the New York beat scene and then the folk music scene. What better environment for a student?
$$
2 Guests
Shared common areas
Warm and welcoming hosts
Looking for a friendly host family in New York? We get it. Sometimes that can be the difference between a good stay and a great stay! Your homestay hosts are used to welcoming guests from all over the world, so they know a thing or two about what a traveller wants. Especially after a long journey! You're welcome to share in their common area and they'll happily show you around the neighbourhood and go out for a drink with you!
$$
4 Guests
Fully equipped kitchen
Wi-Fi
Last but not least on our list of the best homestays in New York, here's a great place to stay if you're travelling with your family. It's also suitable for a group of friends! Usually, homestays can accommodate one person or a couple. But in this room, there's space for four on the double bed and airbeds! To keep your costs down further, you can use the fully equipped kitchen to prepare everyone's favourite dish. And, there's Wi-Fi, so everyone can connect to their devices and check out the coolest things to do in New York!
Check out these other great resources
We have loads more information to help you plan your trip.
Need More Homestays?
Personally, I'd stay in any of those lovely homestays! However, in case you didn't quite find what you were after, or just want to see what else is out there then why not sign up for Homestay.com and have a browse for yourself? They have 1000's of homestay listings in over 100 countries!
FAQ about Homestays in New York
Here's what people usually ask us when they look for vacation homes in New York.
Final Thoughts on New York Homestays
So, that's it from our list of the best homestays in New York. Whether you want to stay in an architect's private room, get to know a friendly host family in New York, or simply be close to the city's main attractions, there's a homestay in New York for you!
We just hope you don't feel overwhelmed with choice. After all, there are a lot of great places on our extensive list! If that's the case, just go for our favourite homestay in New York: Bed-Stuy Gem with Private Entrance. It's got that irresistible combination of value for money, friendly hosts, and a cracking location!
So, all that's left now is for us to wish you happy and safe travels to New York.
And don't forget to sort Travel Insurance for your trip! We've put together a roundup of Travel Insurance for backpackers – check it out here, or if you're low on time, get a quote from World Nomads, our favorite travel insurance provider.
Getting an estimate from World Nomads is simple – just click the button or image below, fill out the necessary info, and you're on your way!

---
Find out how YOU can support the site.
We work hard to put out the best backpacker resources on the web for free! It's all about helping out our tribe of awesome backpacker readers (that's you!). Please visit the link to find out how you can help keep the site going 🙂
For the sake of transparency, some of the links in our content are affiliate links. This means that if you book your accommodation, buy a piece of gear, or sort your insurance through our link, we earn a small commission at no extra cost to you. We only link to stuff that members of the Broke Backpacker team has actually used and never endorse products or services that are not up to scratch. Thanks for your support!