It's a man's world right? Well no, not quite…
Marco Polo, Michael Palin and Will Hatton (!!) are all globetrotting vagabonds whose world straddling escapades have rightly passed into legend.  But what about the women adventurers? Well, I am pleased to tell you that gone are the days when a woman's place was in the home because the girls are now picking up their backpacks, casting aside their high heel shoes and heading out to show that anything us boys can do, they can do just as well and maybe even better.
A true adventure is one which follows a road less travelled and that can sometimes mean uncertainty, risk and danger. I don't mind admitting that there have been times out on the road when I have been scared shitless and it is often said that traveling is far more scary and dangerous for women.
So today we are going to take a look at my pick of brave kick ass female adventurer bloggers who are showing and inspiring the world how to have awesome adventures whilst staying safe.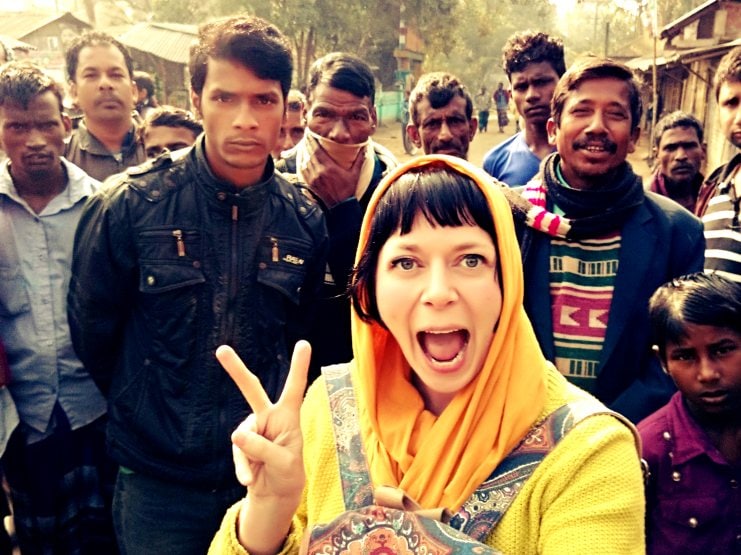 The first of our kick ass female travel bloggers is Teacake (Alice to her parents). Alice has been pushing her boundaries and grabbing fear by the balls for the last six years by motorbiking solo across Vietnam for three months, travelling through Bangladesh ignoring all media warnings and recently studying Jiu Jitsu in China to kick even more ass.
Alice's Tips for Female Travellers.
Trust Your Gut. It's the most powerful weapon you possess. Whatever your head says, let your gut have the final say. If you feel something isn't right, just walk away and leave.
On the other hand,
Don't give into fear. Travelling solo is my way to become a more independent, braver, adventurous and educated woman. If you think you can't do something, at least give yourself the chance to try. Nine times out of ten, you will achieve what you thought you couldn't and be amazed at your own capabilities.
Learn to Defend Yourself.  The world is safe but there are still a handful of people who aren't as nice as you. I've just finished studying a three month intensive Jiu Jitsu course in China and feel it's one of the best gifts I've given myself whilst travelling. Know how to handle yourself if it comes to the crunch.
Crystal has been getting all over the globe on an extreme budget via Couchsurfing, catching locals buses and generally being as stingy as humanely possible. She has stayed on a deserted island with an ex-Soviet soldier, had a guy in Japan try to commit suicide on her train, had to pee in front of an audience in India, had a criminal apprehended on her bus in Cuba and got naked in Public in Japan. The crazier and more mind-opening the travel, the better!
Crystals Tips For Female Travellers.
Crazy travel means I sometimes end up in awkward situations, so to stay safe I always have to have my wits about me.
If I'm feeling unsure about a situation I'll attach myself to a family or woman nearby.
Always take a business card of your hotel in case you need to find or contact them for any reason.
And lastly, don't be scared to make noise. If someone isn't treating you right, make a scene. It will show how strong you are and will probably scare them off!
When she's not downing coffee or eating ludicrous amounts of food, Lucy from Lucy'smilesaway can usually be found trying on silly hats with locals around the globe or searching for spots to hang her hammock. Lucy has been travelling for the last seven years slowly and thoroughly around the world; mingling with Indian royalty and getting mugged and hospitalised in Cambodia… oh, and everything in between! Check her out – she'll definitely make you chuckle.
Lucy's Tips For Female Travellers
Take time to be in the moment. Put down your camera every now and again to experience what's going on. Stop thinking about the next destination or worrying about the future. Enjoy the now.
When arriving at a new destination, smile at everyone – it makes you more appear far more approachable. It's an easy way to meet new people, to learn spots worth checking out and have others to share these moments with.
Have confidence in yourself – if something doesn't feel right, don't be afraid to trust your gut instinct and remove yourself from the situation.
Oh, and to quote Baz Luhrmann – wear sunscreen!
Over 10 years of travel has brought this fearless Irish travel blogger to some of the world's most unusual travel destinations. Janet has hitchhiked to both Detroit and Sudan, almost got attacked by a crocodile in Northern Kenya, and once got stranded on a deserted island on Lake Victoria where there was nothing to eat but fish, pineapples and cannabis. She also celebrated the Millennium twice….seven and a half years apart.
Janet's Tips For Female Travellers.
Talk to everyone. This is one of my best travel tips and has led to some of my craziest adventures as well as some of my best friendships. You never know where a conversation with a stranger will go so forget what your parents and teachers told you go out and talk to as many strangers as possible!
Trust your gut. I've done some crazy, stupid things over the last few years but I have never found myself in a situation where I was genuinely afraid. I believe you should always trust your gut when it comes to going to new places with new people…if something doesn't feel right, give it a miss.
Eat local. Nothing brings people together like good food. Not only is local food usually the most delicious, eating with locals will also lead to interesting conversations and maybe even new friends. If you're alone, just spending a few minutes talking to others can really put a smile on your face and help your mood if you're feeling a bit lonely.
British born Sarah has now been on the road for 5 years and has worked as dive-master and Yoga teacher to support her travels around the world. Her special interest in sampling coffee wherever she goes and she even had a go at making her own whilst in Colombia.
" Some might say quitting my well paid job and leaving my mortgage was the craziest thing I've done – but that was the easy part. 5 years on I've become a shark diver, boarded down a live volcano, dodged the police in Colombia, rode quad bikes through deserts and that's just the start of it! The best thing about travelling to 40 + countries? Doing most of it solo – it is such a fulfilling experience".
Sarah's Tips for Female Travellers
Do YOU. There's a reason you chose to go solo – and I bet a big part of that was so you didn't have anyone else telling you what/where to go. So continue to remember that while on the road. Go the places you want, wake up when you want, and eat what you want. This is your adventure – others can join in along the way, but remember to continue on the journey you chose.
Use social media. Well, obviously you will – we are millennials after all – but use it to your advantage. Not only does it let friends and family know you are safe it allows you to connect to other solo travellers around the world. Reach out to friends on social media and ask if they have any tips or know anyone in the next country you're heading – it's surprising how many people will want to help out.
Have the time of your life.
"Life is not meant to be lived in one place; if it was we would have roots instead of feet"  
The last (but by no means least) of our female travel bloggers is Megan. Meg traded a legal career for a passport and a pair of hiking boots, and has been traveling the world ever since. From mountain biking "death road" in Bolivia, to skydiving over the Swiss Alps, bungee jumping in Costa Rica, boarding the world's largest sand dunes in Peru, fishing for pirhanas in the Amazon, and summiting Mt Kilimanjaro, there is no mountain too high, and no fete too extreme! When she's not snorkeling with sea lions in the Galapagos, or white water rafting in Iceland, you can find her blogging about it at Mapping Megan.
Megans Tips for Female Travelers:
Leave your itinerary with someone you trust. No matter what your age, or how independent you are, never underestimate the importance of letting people know where you are/will be. Post regular updates on social media to let people know back home you're safe.
Don't get drunk abroad. If you're traveling alone, especially as a female, getting wasted abroad can be a recipe for disaster. You're in a foreign country, potentially with little knowledge of the local language, customs and laws, with people you may have only just met. Alcohol dulls your senses and makes you vulnerable.
Try your best to blend in. Avoid wearing flashy jewelry or anything that draws attention to yourself. The more you stand out, the more vulnerable you are to crime.
So there you have it. Now that these kick ass female adventure travel bloggers have shown the rest of us how it's done what's keeping you from ditching your desk, slinging on your rucksack and hitting the road?
Until next time guys, happy trails!