Banff National Park in Canada is hailed as a top travel destination for outdoor enthusiasts. The stunning glacial lakes, snow-capped mountains, and incredible wildlife are something you won't find anywhere else!
To make the most of your trip to Banff, you'll want to find somewhere that allows you to actually appreciate the scenery and landscape up-close. And thankfully, there are plenty of cool options for unique accommodation in Banff so you don't have to be stuck in some stuffy hotel room.
Since planning a trip can be slightly overwhelming, we've taken the first step for you by putting together this list of the best lodges and cabins in Banff. Whether you're a budget backpacker looking for an affordable place to stay or you're planning your honeymoon, there's a spot for you on this list!
In a Hurry? Here's Where to Stay in Banff for One Night
FIRST TIME IN BANFF
Kootenay Park Lodge
Escape the rush of daily life and unwind at this amazing lodge in the heart of Banff! You'll have plenty of chances to spot lots of wildlife, hike along mountain trails, or get some great photographs of glacier rivers.
NEARBY ATTRACTIONS:
Radium Hot Springs
Abbot Pass Refuge Cabin National Historic Site
Marble Canyon
Is this amazing Banff lodge booked for your dates? We've got your back with our other favorite properties below!

Unlock Our GREATEST Travel Secrets!
Sign up for our newsletter and get the best travel tips delivered right to your inbox.
Unique Accommodation in Banff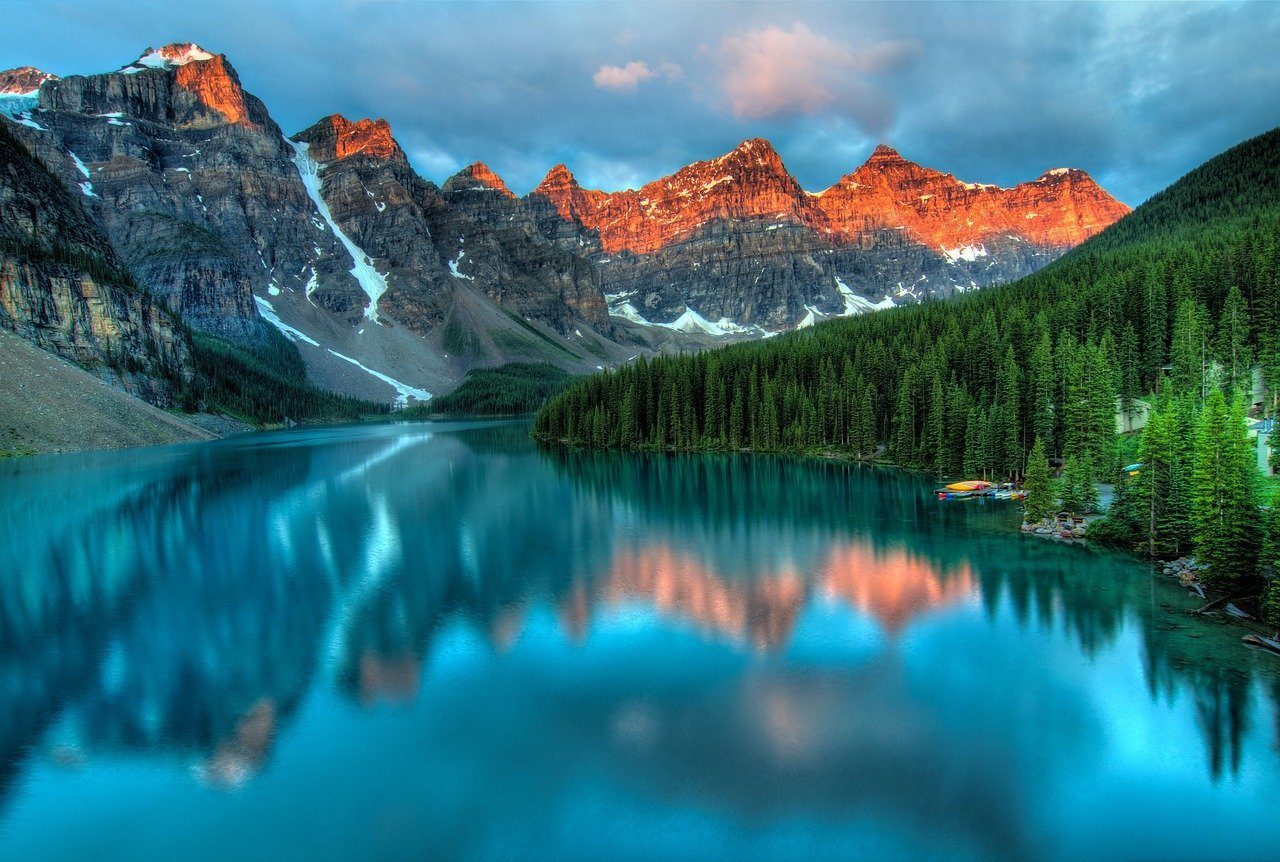 Since experiencing the natural landscapes and amazing wildlife are crucial to any Banff itinerary, finding a place where you can fully appreciate the outdoors is key to a truly memorable vacation!
If you're used to staying at hotels, you'll be glad to know that most lodges and cabins in Banff have the same modern amenities, whilst offering a more peaceful and secluded location. Often, you'll have incredible wilderness views allowing you to begin your sightseeing without even leaving the property.
Opting for a more unique property in Banff gives you the chance to fully immerse yourself in the wilderness, whether that's at a ski lodge, or a tiny, rustic cabin. Either way, you can get up close to nature and leave behind the daily worries and stresses of life. It's time to live each moment of your vacation to the fullest!
If you're having a hard time finding the right lodge or cabin in Banff, it's helpful to use search platforms like Airbnb and Booking.com. This way, you can refine your search based on your travel dates, preferences, and budget.
Staying at a Lodge in Banff
The best lodges in Banff are designed with luxury in mind! It's sort of like a hotel, except a nature-themed focus so the property combines the best of both worlds enabling guests to have access to great modern comforts as well as natural wonders.
Banff is home to some of the best skiing in Canada and since outdoor activities are so popular, many lodges are right next to these slopes, lakes, and hiking trails. Often there are small shops or restaurants onsite so everything you need during your trip will be right on hand.
You can count on having your own private room at a lodge, and just like hotels, these rooms vary in size and comfort depending on your budget. It's possible to find a great spot at a lodge whether you're a solo traveling photographer or a big family taking a mid-winter vacation to hit the ski slopes!
Usually, lodges are fairly close to towns and cities, and parking is available either for free or a small fee. Depending on the location, some properties are close enough for you to use public transportation or a shuttle service might be offered to reach top park attractions or the airport.
Since Banff is a year-round destination, lodges are available during all seasons. Many places have outdoor pools for you to enjoy during the summer, while in winter skiing options are always close at hand. If you're traveling during the holidays, it's a good idea to book a spot at a lodge well in advance since places can fill up quickly.
Staying at a Cabin in Banff
If you're hoping for a bit more privacy and natural scenery, then a cabin might be the perfect option for you! The best cabins in Banff still have modern comforts, but you'll also enjoy an uninterrupted experience of the amazing mountains and wildlife.
Depending on just how disconnected you want to be from the outside world, you can find cabins close to towns or cities whilst there are also a number of incredible spots in more remote locations. Parking is usually free at cabins, so you can easily drive into town or visit other areas of the park during your stay.
Since Canadian winters are freezing cold, some cabins may only be available during the summertime. If you're traveling in the winter, there are still plenty of properties that have indoor heating and fireplaces to keep you warm and cozy on those chilly nights!
Some cabins are small, studio spaces while others are larger house-sized properties, so whether you're traveling solo or with a big group, you can find a cabin to accommodate your needs. Most cabins also have great homey comforts like kitchenettes and living areas as well as outdoorsy touches like picnic furniture and campfires.
Cabins tend to have a rustic charm, and some properties may not have good Wi-Fi or cell service. This can be great if you're wanting a real camping experience, but if you prefer having these amenities, it's good to double-check what's available before making a reservation!
OVERALL BEST LODGE IN BANFF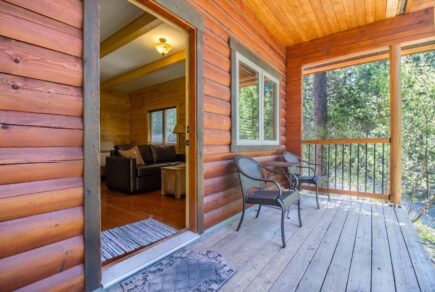 OVERALL BEST LODGE IN BANFF
Kootenay Park Lodge
> $$
> 2 Guests
> Kitchenette
> General store onsite
BEST BUDGET CABIN IN BANFF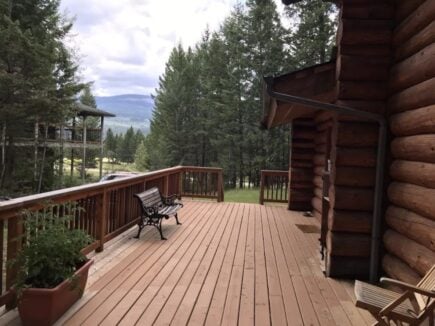 BEST BUDGET CABIN IN BANFF
Radium Hot Springs Log Cabin
> $
> 4 Guests
> Spectacular mountain views
> Indoor fireplace
BEST LODGE FOR COUPLES
BEST LODGE FOR COUPLES
Royal Canadian Lodge
> $$$
> 2 Guests
> Breakfast included
> Spa and fitness center
BEST CABIN FOR COUPLES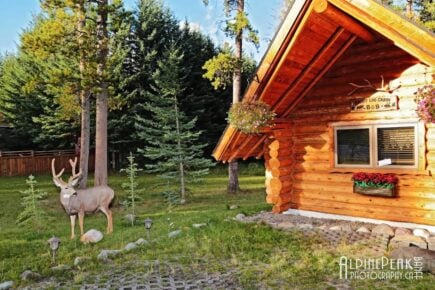 BEST CABIN FOR COUPLES
Banff Log Cabin
> $$
> 2 Guests
> Superb breakfast
> Incredible location
BEST CABIN FOR A GROUP OF FRIENDS
BEST CABIN FOR A GROUP OF FRIENDS
Rocky View Cabin
> $$
> 6 Guests
> Indoor fireplace
> Lakeside property
OVER-THE-TOP LUXURY CABIN
OVER-THE-TOP LUXURY CABIN
Chateau Elise Mountain Home
> $$$$
> 6 Guests
> Hot tub
> Incredible views
BEST CABIN FOR FAMILIES VISITING BANFF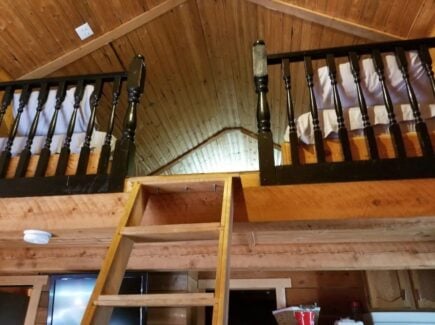 BEST CABIN FOR FAMILIES VISITING BANFF
Spillimacheen Family Cabin
> $
> 7 Guests
> Hot tub
> Large yard
The 13 Top Lodges and Cabins in Banff
Now that you know what to look for in the best lodges and cabins in Banff, start your trip planning here with this list of our top picks! All these places provide a great setting for your adventures in Banff, from skiing down mountain slopes to wild rafting rides on rivers.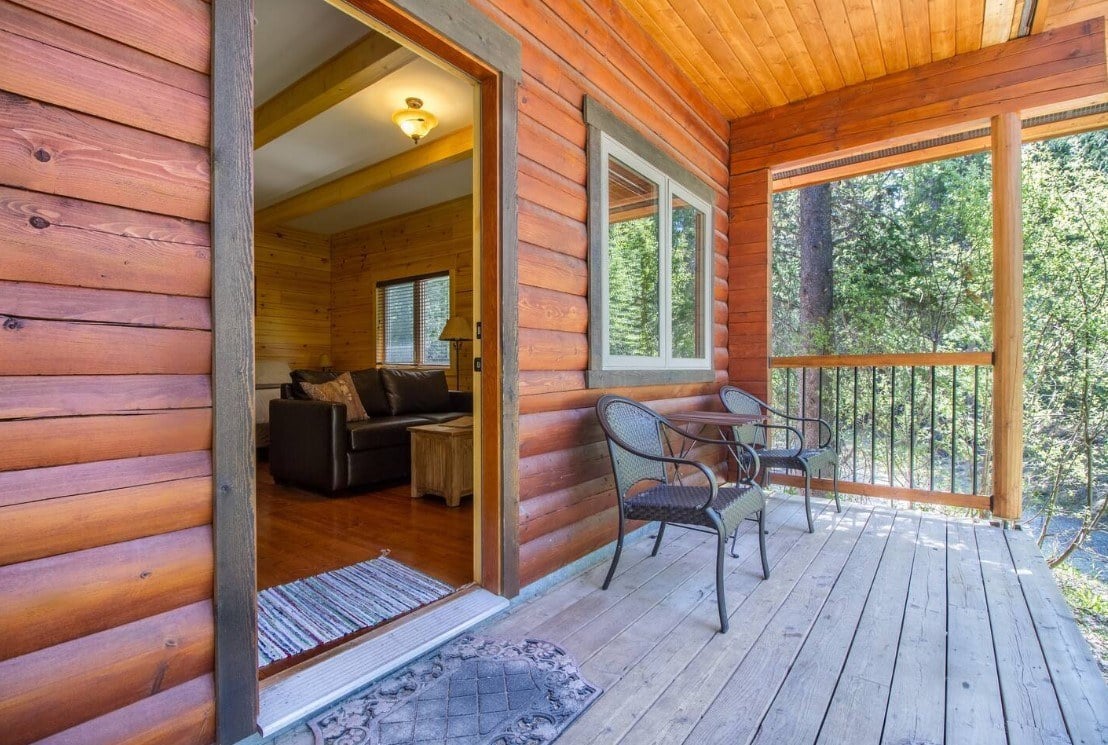 $$
2 Guests
Kitchenette
General store onsite
The beautiful scenery of Banff is yours to enjoy at the Kootenay Park Lodge, with trails onsite that can take you the entire 19 km to Banff! The Main Lodge was originally constructed by the Canadian Railway, giving the entire property a cool, historic touch.
Your studio-style suite has homey comforts like a kitchenette and heating so you can stay cozy in the winter. And, of course, the incredible amazing views don't hurt! For basic needs, you can pick up snacks, breakfast items, and drinks at the General Store or order simple, homemade meals onsite if you don't feel like going out.
$
4 Guests
Spectacular mountain views
Indoor fireplace
Just because you're on a tight budget doesn't mean you need to miss out on all the magical wonders of Banff! You'll have your own private room at this sweet cabin, plus access to the shared kitchen, living space, and beautiful outdoor deck.
From the cabin, you can easily drive to the famous Radium Hot Springs or go hiking along the impressive hiking trails in the Kootenays National Park. It's close to all the top attractions in Banff so you'll never run out of things to do. Back at the cabin, you'll have a great private setting surrounded by trees and wildlife!
$$$
2 Guests
Breakfast included
Spa and fitness center
Couples will love the luxurious style of this lodge located right on the edge of Banff National Park. You can enjoy a meal at the Evergreen Restaurant and Lounge, work out at the fitness center, or take a dip in the indoor mineral swimming pool at the end of the day!
Nearby there are endless opportunities for fun activities such as hiking, skiing, whitewater rafting, and natural hot springs. There are also bikes available for use so you can get out and visit the nearby stores or simply enjoy a day out in the mountains.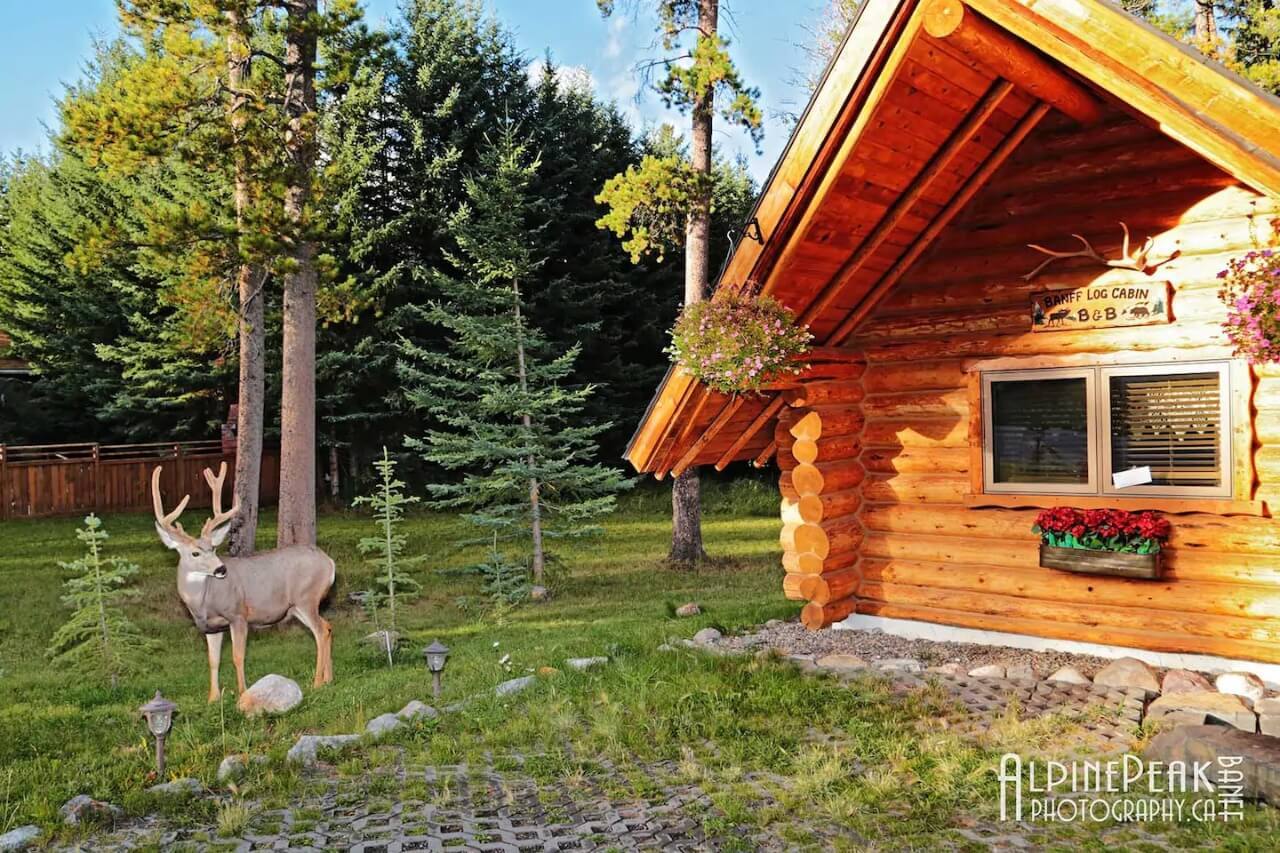 $$
2 Guests
Superb breakfast
Incredible location
This cozy cabin is perfectly designed for couples looking for a romantic escape in Banff. You can easily walk into town or take the bikes to visit the local convenience stores, whilst still enjoying a private and secluded atmosphere back at the cabin.
Breakfast is delivered to your cabin each morning and there's also a simple yet well-equipped kitchenette where you can prepare other meals. Whilst you can park for free onsite, getting to nearby attractions including Lake Louise, Canmore, and Moraine Lake is easy using public transportation.
An Eco-Friendly Traveller NEEDS an Eco-Friendly Backpack!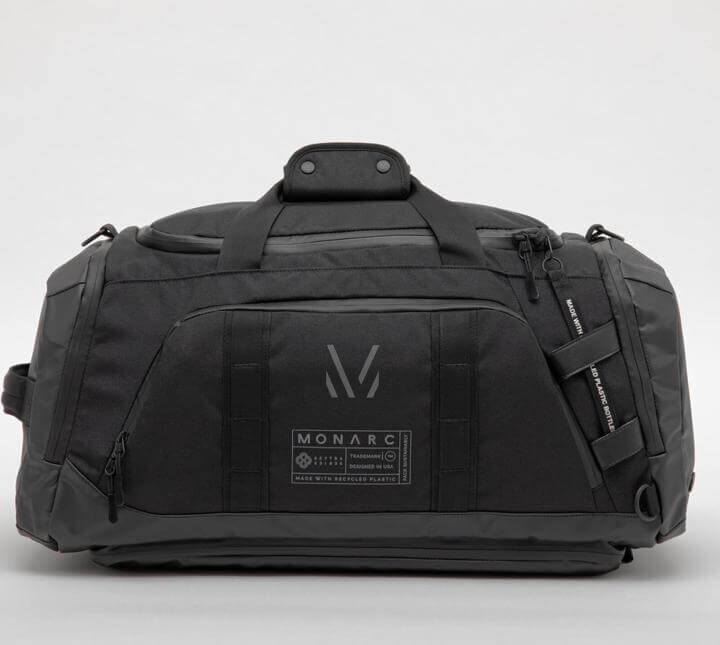 50 recycled plastic bottles – that's what goes into every Monarc Settra: the world's MOST SUSTAINABLE backpack.
Whether you're rocking duffel mode or backpack mode, if you're a traveller that gives a flying hoot about their environmental impact, then there's only one backpack you should consider – the plastic-negative Monarc Settra.
Learn More Now!
Best Cabin for a Group of Friends – Rocky View Cabin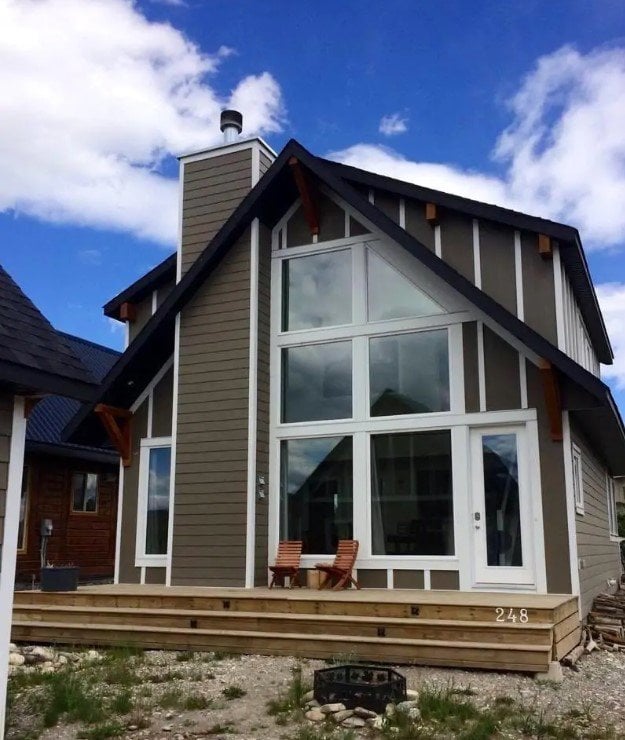 $$
6 Guests
Indoor fireplace
Lakeside property
Right next to a beautiful mountain lake where you can go swimming and fishing in the summer or enjoy the views in the winter, this cabin in Banff is a great retreat for friends at any time of year. There's free parking onsite so you can easily get to Banff, Calaway Park, and other top attractions of the area.
The cabin has a kitchen where you can prepare your own meals and in the main lodge, there's a recreation center where you can use the gym, swimming pool, laundry, and hot tub as well! At the end of the day, you can come back and relax on the porch, admiring the gorgeous views in the distance.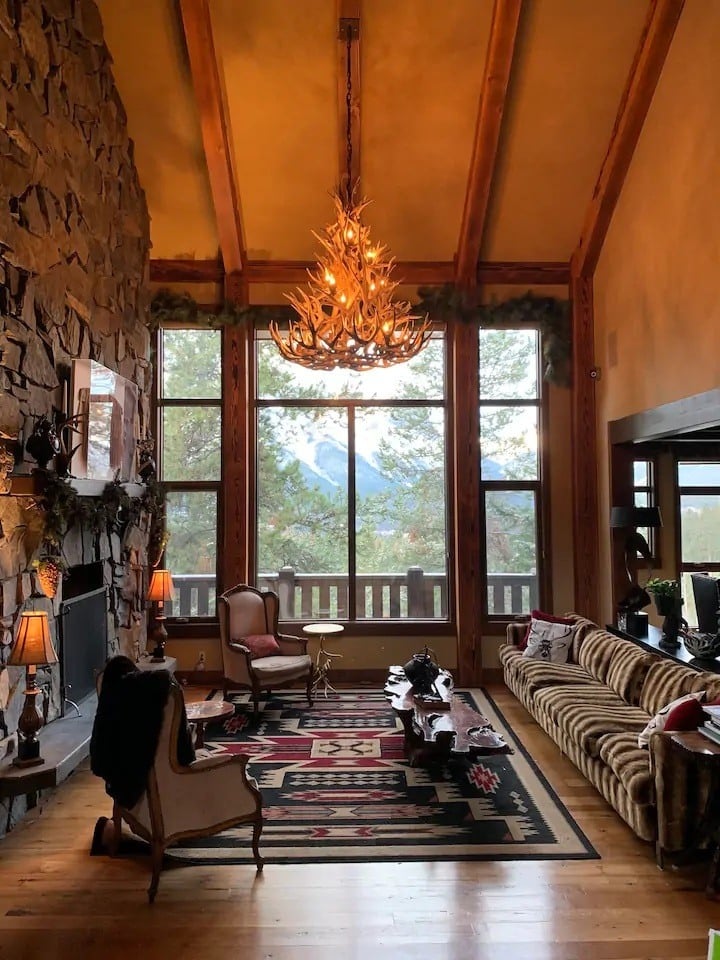 $$$$
6 Guests
Hot tub
Incredible views
Ever dreamed of living in a multi-million dollar home? Well, now you can – at least, during your vacation in Canmore! This extravagant home is everything you could dream of and more, with amazing mountain views, a hot tub, and beautiful stone and woodwork design.
You'll have a direct view of the Silvertip Resort, and there are plenty of ski slopes and hiking trails nearby for you to explore. Of course, it's totally understandable if you just want to stay in and enjoy all the luxuries this beautiful property has to offer during your vacation!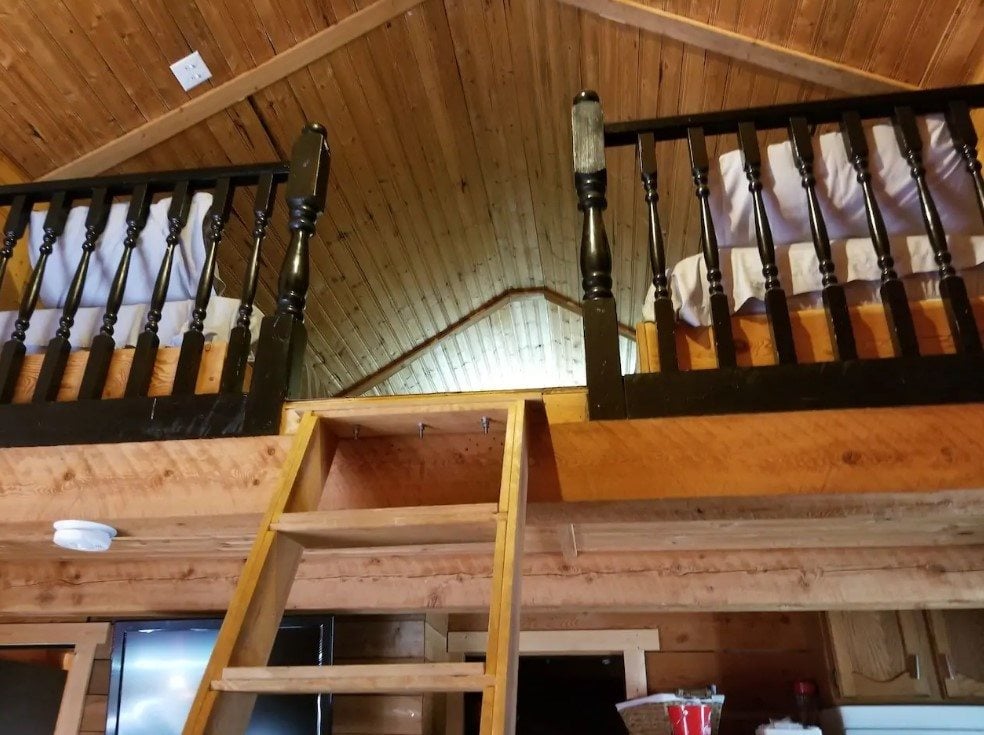 $
7 Guests
Hot tub
Large yard
Finding a suitable spot for a big family can be a challenge, especially if you're on a small budget. Finding a spot with a private hot tub in Banff is even harder. Thankfully, this cabin has everything you need including a full kitchen, laundry, and a living room with a TV. There's even a big yard where the kids can play so you won't have to worry about keeping them entertained.
There are markets, restaurants, and local shops just a stone's throw away from the cabin. A mountain view is yours to enjoy right from the front porch, and there are plenty of outdoor activities from hiking to horseback riding nearby!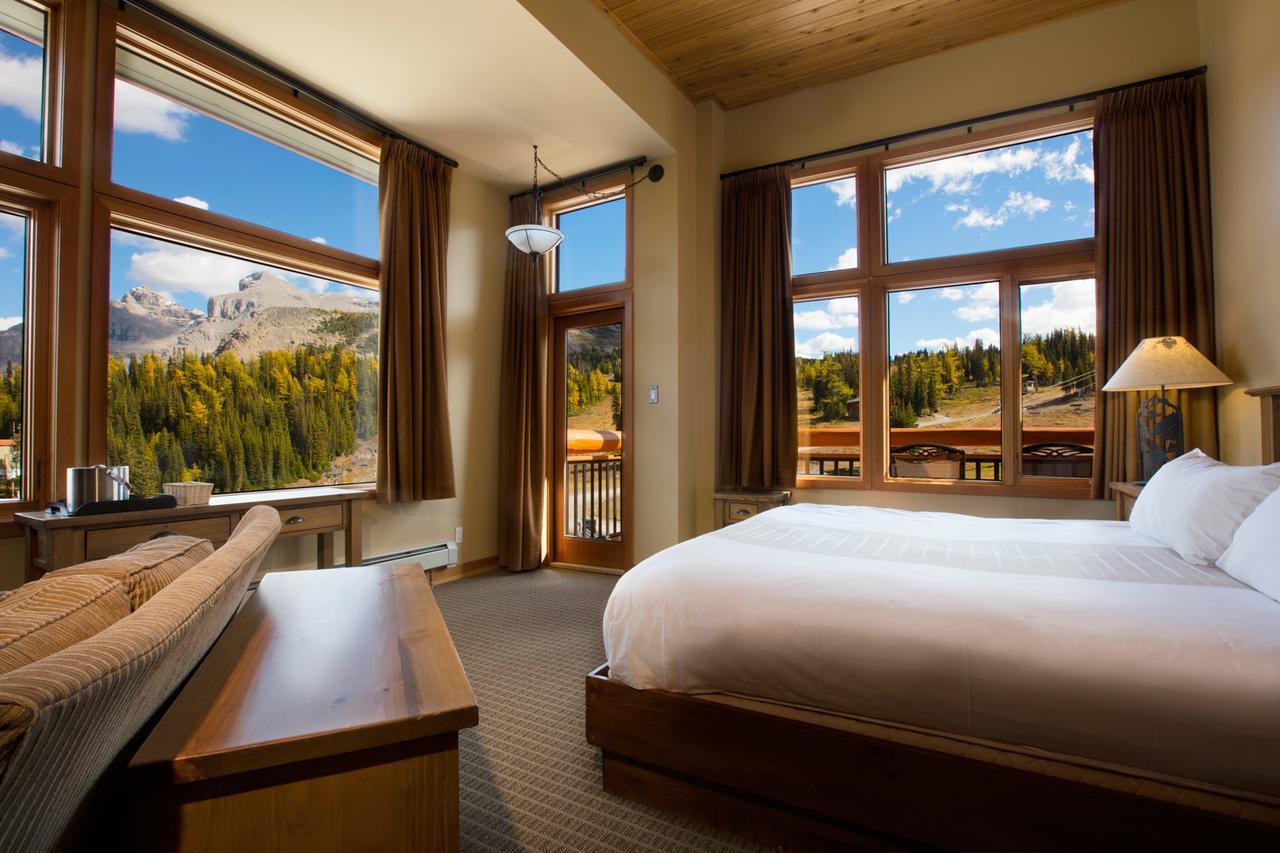 $$$
6 Guests
Swimming pool
Light and airy room
For families looking for a fun-filled and luxury adventure in Banff, Sunshine Mountain Lodge is the place to stay! This ski-in, ski-out lodge gives you the maximum opportunity to enjoy all the best parts of Banff as well as super comfortable amenities like a spa, and swimming pool.
The lodge has scheduled movie nights for families, snowshoe tours, and tobogganing activities! You can park for free onsite and easily visit all of the top attractions like the Banff Museum, hiking trails, lakes. At the end of the day, you can pick from one of the restaurants to enjoy a meal together as a family!
$
4 Guests
Wood burning fireplace
BBQ
This cool, historic cabin has plenty of character, not to mention a super price which backpackers will love, especially if you'd prefer not to stay at one of these hostels in Banff! There's an indoor fireplace and electric heater for winter, and during the summer you can grill on the BBQ or just relax in the outdoor seating area.
There's plenty of parking at the Ghost Station Campground so you can drive to Banff, Calgary, Kananaskis, or other spots. You can go boating on the lake, take horseback riding tours, visit golf courses, or hike along the amazing mountain trails!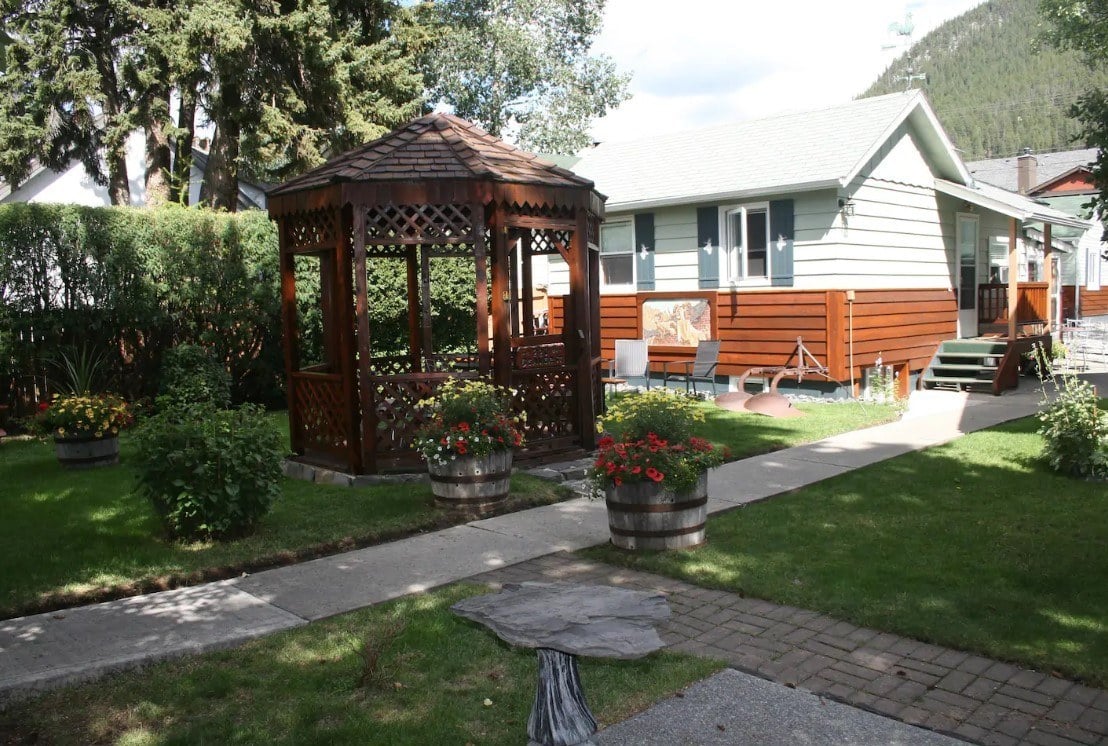 $
2-4 Guests
Kitchenette
Outdoor BBQ
Centrally located in Banff, the Banff Beaver Cabins have several cute little cabins available for rent which can accommodate solo travelers, couples, or small families. The cabins have homey comforts like a kitchenette, TV, heating, and Wi-Fi, plus a shared outdoor BBQ area and picnic seating!
There are so many attractions in Banff, but if you only have a weekend to explore the area, then this property is perfectly situated. You'll be within walking distance from shops and restaurants and close to Lake Louise as well as hiking trails.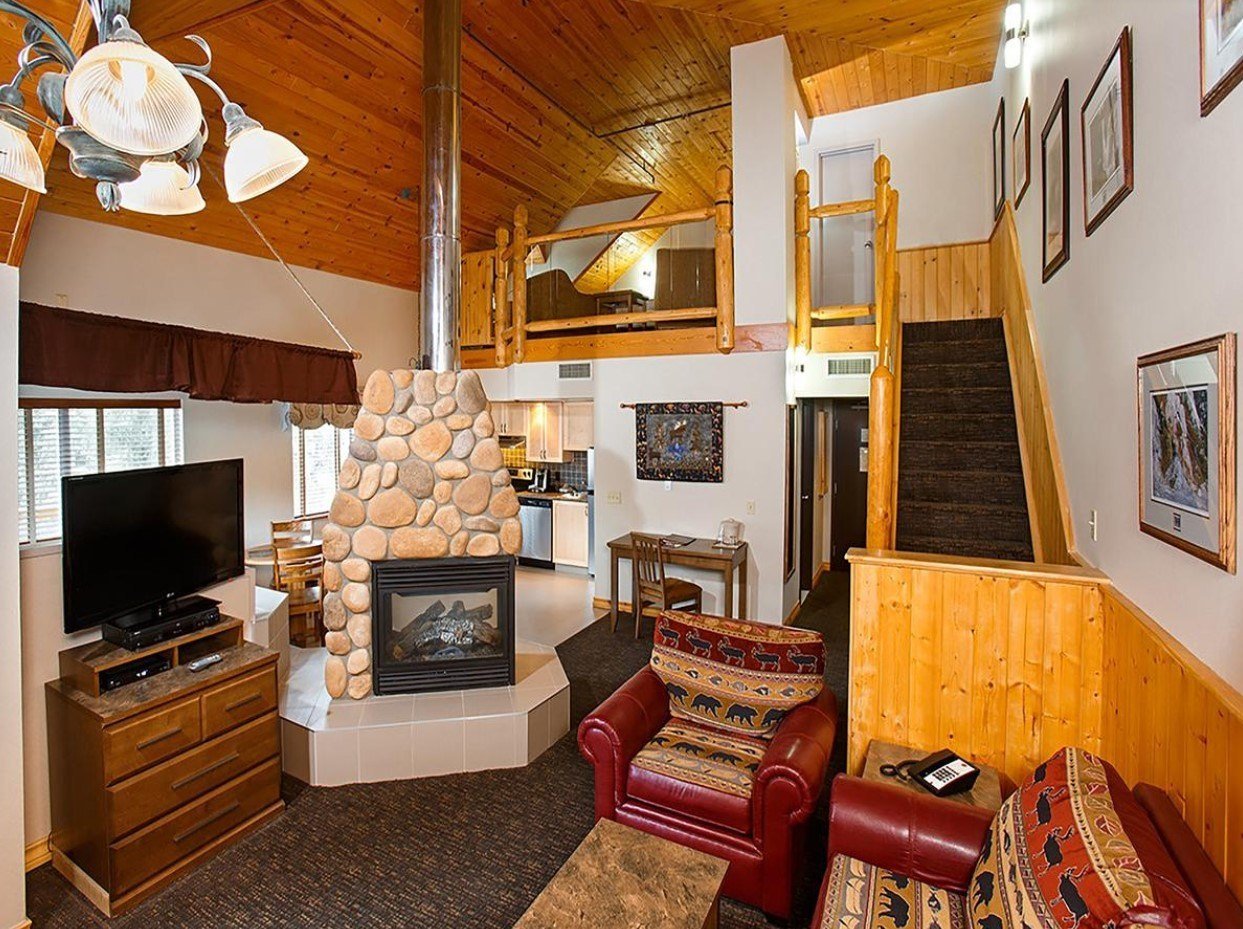 $$$
2 Guests
Swimming pool
Indoor fireplace
Treat yourself to an exceptionally relaxing trip at the Rundlestone Lodge, located just 2 miles away from the Banff Center. Your private room has a refrigerator and coffee maker, large TV, and a comfy seating area.
There's a gym and indoor swimming pool for guests to use, plus a restaurant located onsite which is open for breakfast, lunch, and dinner meals. You can park your own vehicle for free at the lodge, but there's also a bus stop nearby to take you directly to the downtown area of Banff.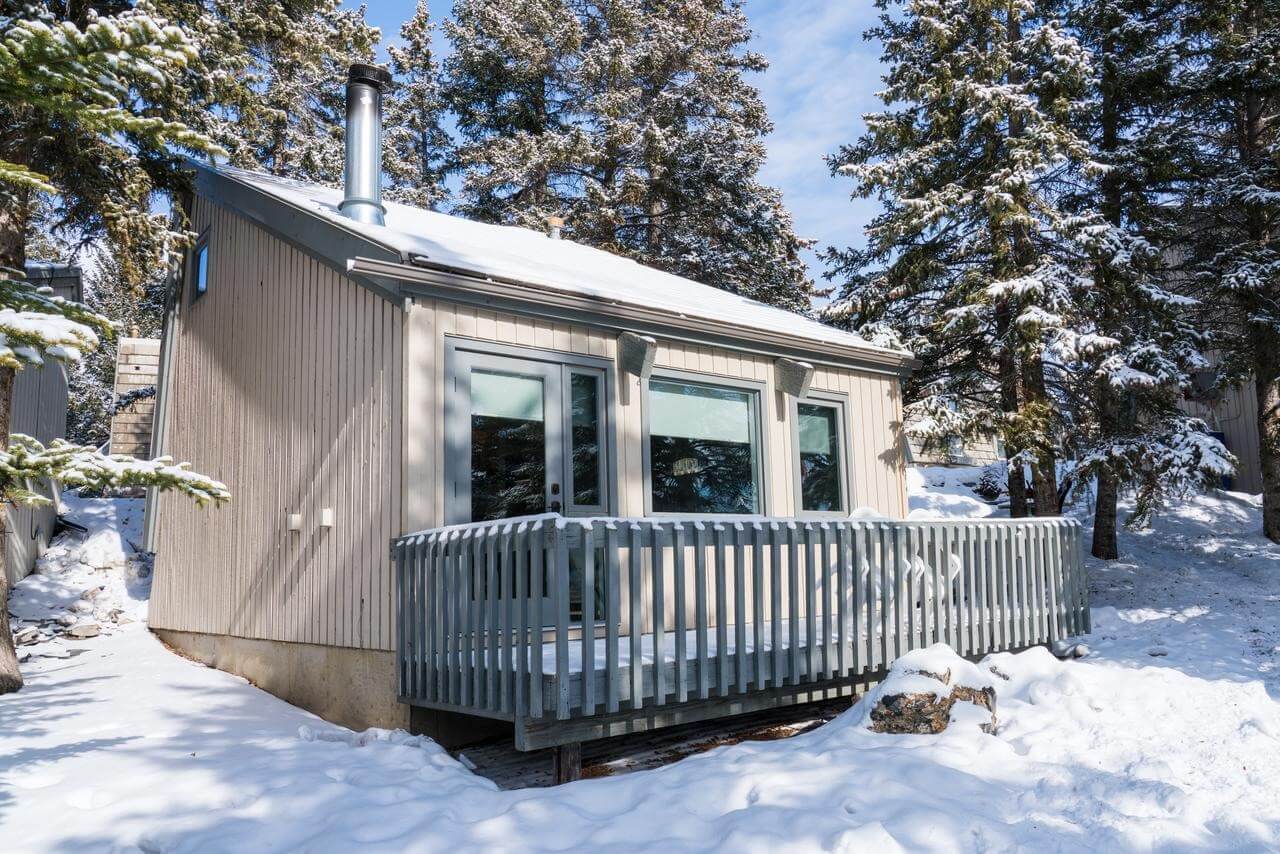 $$$
2 Guests
Indoor pool
Private balcony
If you're traveling to Banff for a romantic honeymoon vacation, then this charming lodge is the perfect place to stay. You can pick from private suites or chalets, each with balconies, kitchenettes, and access to the communal swimming pool, fitness center, and sauna!
Banff Center is within walking distance and you can book an array of tours and activities including horseback riding, rafting, dog sledding, and lake cruises right at the reception. If you'd rather not leave the lodge, you can even arrange for a grocery delivery during your stay!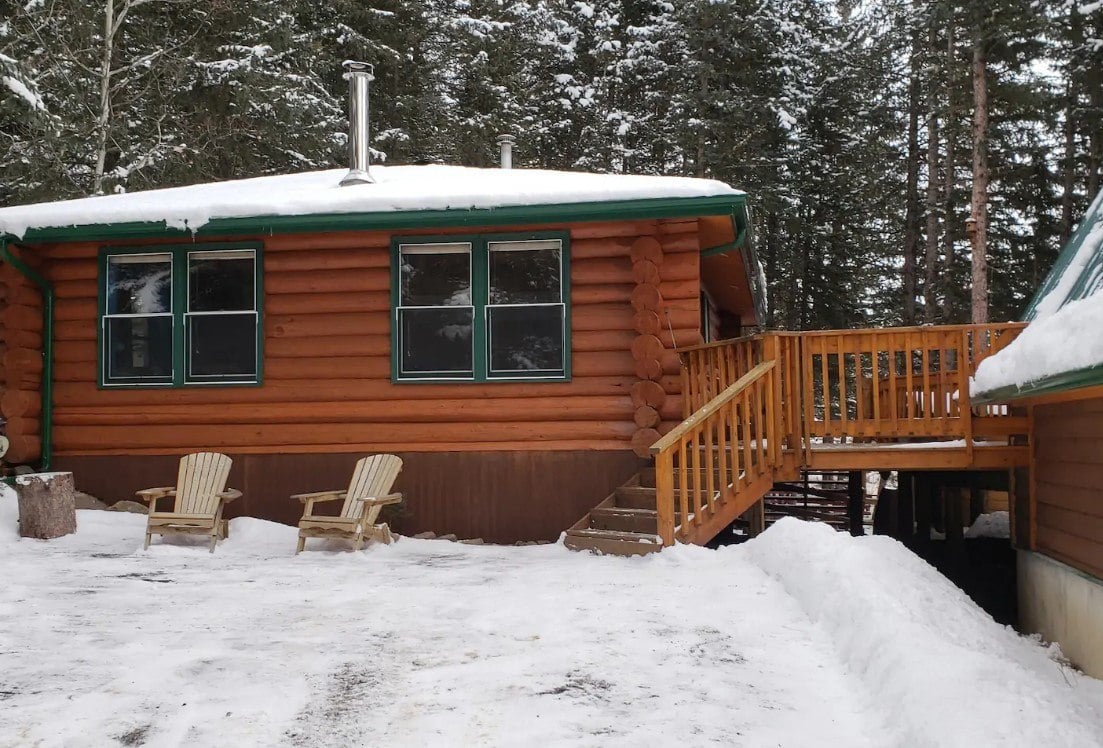 $$
4 Guests
Close to hiking trails
Firepit
The beautiful landscape of the Canadian Rockies is yours to behold at this wilderness cabin! Not only can you visit Banff, but other great attractions of the area including Ghost Wilderness ice climbing, Norquay, Canmore, and Sunshine Village ski resort.
The cabin has a full kitchen for you to prepare your own meals and there's a fire pit with firewood provided for you to roast marshmallows in the evening. You won't have to deal with any pesky neighbors since the cabin is remotely located and it's the perfect spot to really reconnect with nature.
Check out these other great resources
We have loads more information to help you plan your trip.
FAQ about Lodges and Cabins in Banff
Here's what people usually ask us when they look for vacation homes in Banff.
Don't Forget Your Banff Travel Insurance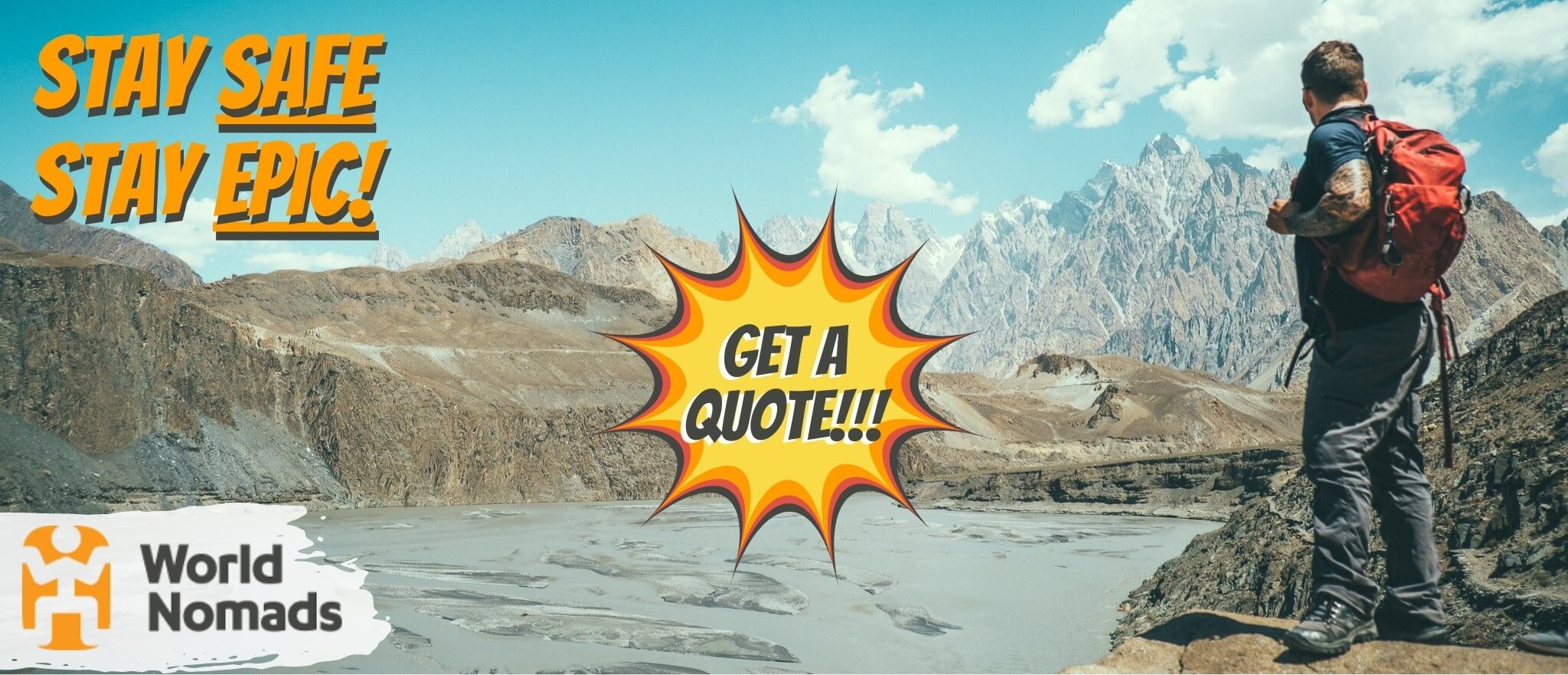 World Nomads' mission is to support and encourage travellers to explore their boundaries. They offer simple & flexible travel insurance, and safety advice to help you travel confidently.
They've been doing it since 2002 – protecting, connecting, and inspiring independent travellers just like you.
Get a quote below or read our in-depth review!
World Nomads provides travel insurance for travelers in over 100 countries. As an affiliate, we receive a fee when you get a quote from World Nomads using this link. We do not represent World Nomads. This is information only and not a recommendation to buy travel insurance.
Final Thoughts about the Best Lodges and Cabins in Banff
From winter skiing adventures to summer hiking expeditions, Banff is the ready-made outdoor enthusiasts' dream come true! And staying at one of the great options for unique accommodation in Banff you'll be right next to all the things that distinguish this place from anywhere else in the world!
Hopefully, after reading this guide to the best lodges and cabins in Banff, you have an idea for a spot just for you. Staying in comfort while still being immersed in nature is something all these places accomplish with style. If you haven't found something suitable from this list, take a look at these charming cottages in Banff for more epic places to stay!
---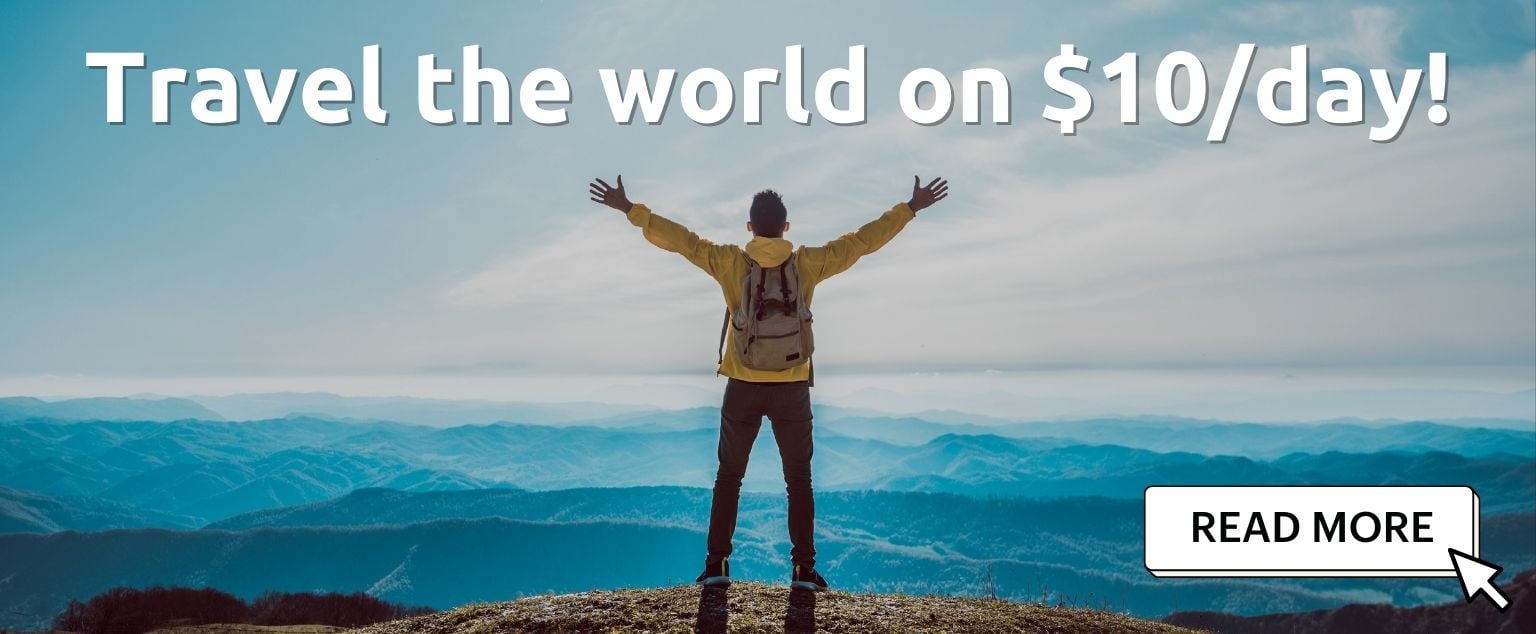 And for transparency's sake, please know that some of the links in our content are affiliate links. That means that if you book your accommodation, buy your gear, or sort your insurance through our link, we earn a small commission (at no extra cost to you). That said, we only link to the gear we trust and never recommend services we don't believe are up to scratch. Again, thank you!