There's something wonderful about spending the festive season in a historic lodge decked out with Christmas lights, holly wreaths, and decorations. Lodges can be found across every region of the UK.
Choose from historical lodges with centuries worth of stories, to romantic retreats with private jacuzzis and spas, to pet-friendly properties, to pub-culture lodges. Whatever your travel desires, think of this article as your 'one-stop shop' when it comes to choosing the best lodges for Christmas in the UK.
For endless outdoor adventures, head to North Wales. This area is tangled with hiking trails and walking paths, all offering breathtaking views. The English Lake District is also a great option for scenery and tranquility. Yorkshire and its expansive moors are a top destination for families.
Lodges for Christmas in the UK
If you're wondering what the differences between a lodge, hotel, inn, and B&B are, well, a lodge is basically 'all of the above' in a rural or remote area. In the UK, lodges can be found in mountainous regions, by pristine lakes, and in small rural towns. Many of these buildings are family-run and have rustic interiors, offering a more authentic and local experience when compared with commercial hotels.
While some lodge guest suites include self-catering facilities, most of the time, guests will enjoy breakfast included in the room rate, and will have an option to dine-in at the lodge for lunch and dinner.
Ideal for couples, small families and groups of friends, you could even choose to rent out a bunch of rooms in a lodge to enjoy a special family gathering with a bit of extra service! We're talking housekeeping and chef services, in a relaxed and intimate setting.
Top 20 Lodges in the UK for Christmas
From historical lodges filled with original antique furniture to rustic timber properties hidden on lake (or Loch) shores, there are some beautiful lodges available in the UK. Great Britain is also one of the top places to spend Christmas in Europe, so stay somewhere cosy over the festive period here.
$$
Curated bedrooms with rustic gardens
2 Guests
Located in Somerset Village
With a beautiful bedroom, lots of space to lounge about across the lodge, and a delicious breakfast included in the rate, this is an epic place to spend Christmas in the UK. The structure itself does well to blend traditional English countryside architecture with a touch of Mediterranean influence.
Each bedroom is tastefully decorated with eclectic furniture and art – no two rooms are the same in this homey lodge. The best part of the bedroom is the wood burner. What better way to wake up on Christmas morning than beside a cozy fire?
Even in the midst of winter, you'll be able to enjoy the gorgeous manicured gardens, in the outdoor seating area kept warm by a wood burner and fire pit.
$$$
Excellent in-house restaurant
3 Guests
On the banks of the lake in Coniston
This 16th Century farmhouse is located between the shore of the lake and the edge of the forest. Surrounded by so much nature, the lodge offers access to walking trails and activities for the whole family.
If adventure in the cold doesn't tickle your fancy, and you prefer spending a chilly day eating delicious food by a warm fire, then you're in luck. This lodge has exceptional chef staff who provide breakfast, lunch, and dinner. It's basically a 'one-stop shop' lodge, perfect for family breaks during Christmas time.
Like many other lodges, this is a family-run business that prides itself on homey service and providing a sociable environment for friends and families to create memories together.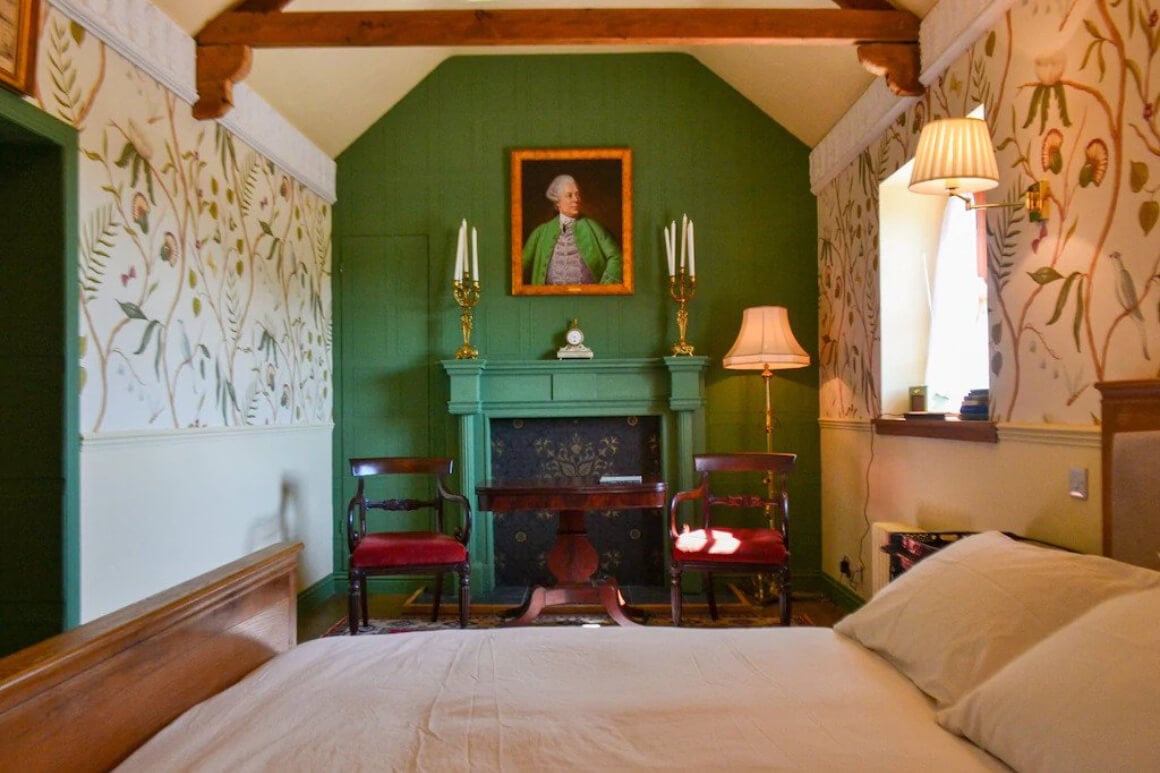 $$
Updated rooms with exquisite wallpapers
2 Guests
Located near Castle Douglas in Scotland
If you have the time (and the budget) to venture further north, your best option for a beautiful lodge for Christmas is a converted old castle. Once inhabited by notable Ladies and Lords, this medieval Buittle Castle will make you feel like ancient royalty from the moment you check in.
The lodge has so much history, some original parts of the structure were built as long back as the 13th century. In fact, the castle is still owned by the same family who built it, 25 generations later!
The bedrooms have been beautifully remodeled with clean finishes and new bathroom fittings, all while retaining the important historical integrity of the castle. Every morning, you'll wake up to the smell of fresh Scottish and American breakfast being served in the dining hall – like we said, just like royalty!

Unlock Our GREATEST Travel Secrets!
Sign up for our newsletter and get the best travel tips delivered right to your inbox.
$
Unique rooms that can sleep up to 5 guests
5 Guests
Located in Dromore, Northern Ireland
Whether you're traveling with a large group or are just looking to save a buck, the UK is dotted with affordable lodges. This spot perfectly blends modern and traditional interiors. The bedrooms have been renovated with clean contemporary interiors, however, the guest lounges and lobby are designed with antique furniture and old artifacts.
The family room is great for a couple with small children. Best of all, the room includes access to a private guest lounge which has a TV, small library, DVDs, board games and even a computer to keep you busy during miserable days. The lodge also has a huge garden and enclosed courtyard, great for young kids to play safely.
Although located in a rural setting, you'll only be a few miles from Lisburn, a large town with various shops, dining options, and pubs to explore.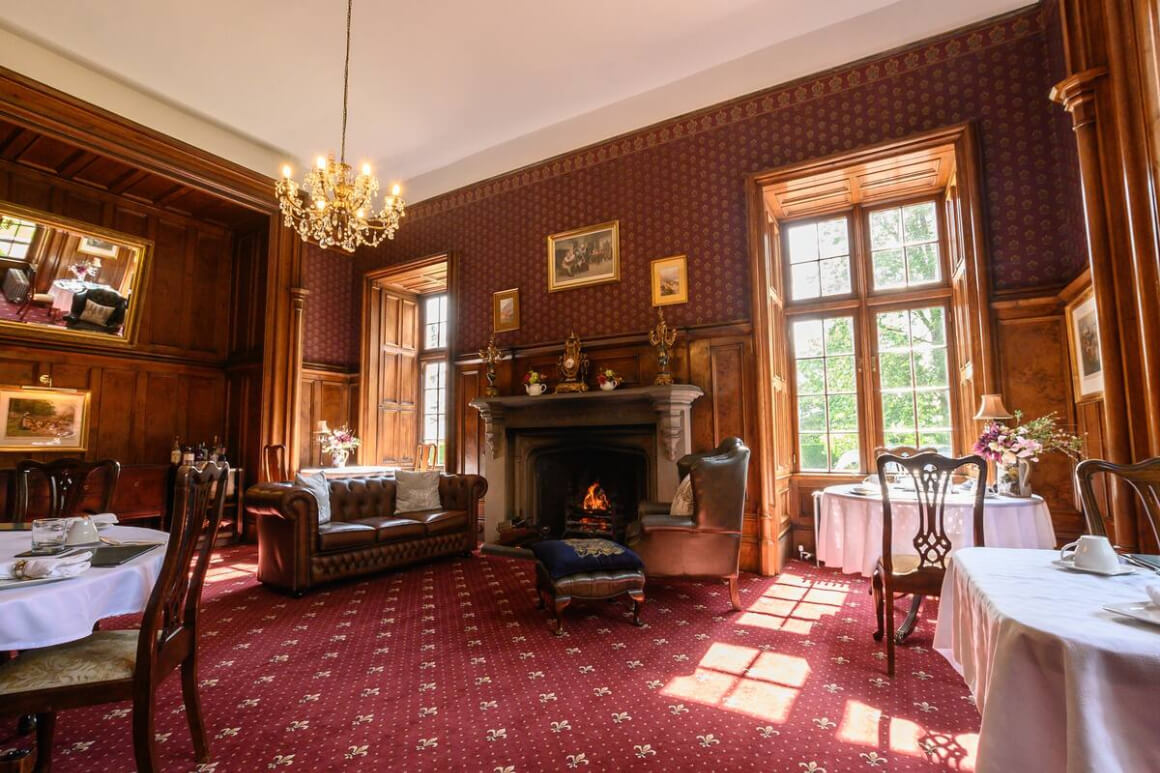 $$$$
Luxurious rooms with four-poster beds
2 Guests
Located in Heads Nook village
This isn't 'just another' lodge designed to make you feel like royalty. It truly is one of the classiest lodges for Christmas in the UK.
While each guest suite is curated with different color schemes and unique furniture, this room is by far the most regal. Picture a hand-carved four-poster bed strung with golden frills and tassels. Original art hangs proudly on the high walls as natural light filters through the grand windows.
This sounds great, right? Well, the common areas are even be more over-the-top, with crystal chandeliers, bay windows, and exquisite wood-carved walls in the dining hall and lounges. Priced to match its beauty, this really is one of the UK's top luxury boutique lodges.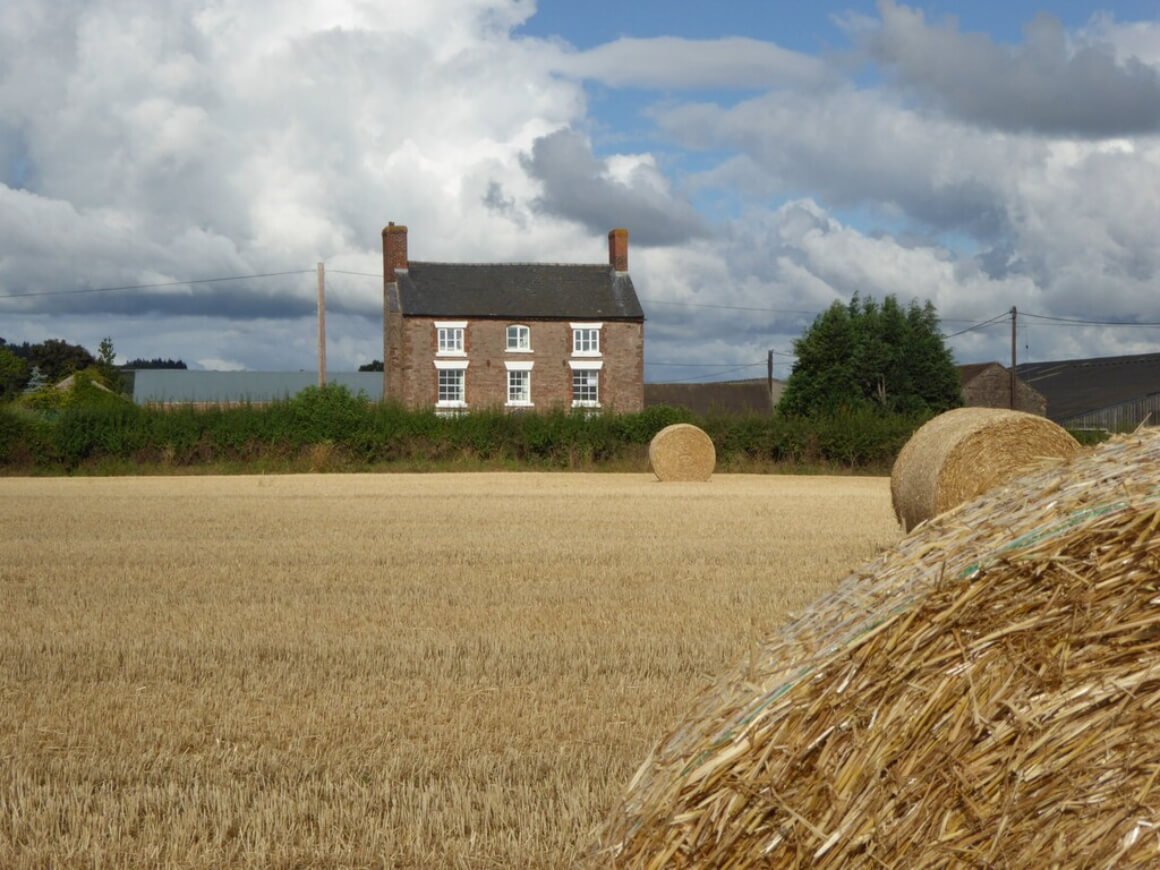 $
Grade II listed 17th-century building with local breakfast
2 Guests
Between the Welch mountains and Shrewsbury
If you're planning a getaway with your best friends during the festive season, you've landed the jackpot. This historical farmhouse is completely secluded and has four rooms that can accommodate ten guests.
Choose to rent out the entire B&B, and you'll even be allowed to host an event with your friends! You won't be staying in Shrewsbury or Wales but you'll be staying really close to both!
In the morning, enjoy a fresh English farm breakfast prepared by your hosts, using only local produce. Spend your day lounging in the lodge, or brave the weather to play a friendly match on the tennis court.
If you would prefer to explore countryside history, Shrewsbury Cathedral and Attingham Park are only a few miles away from the B&B.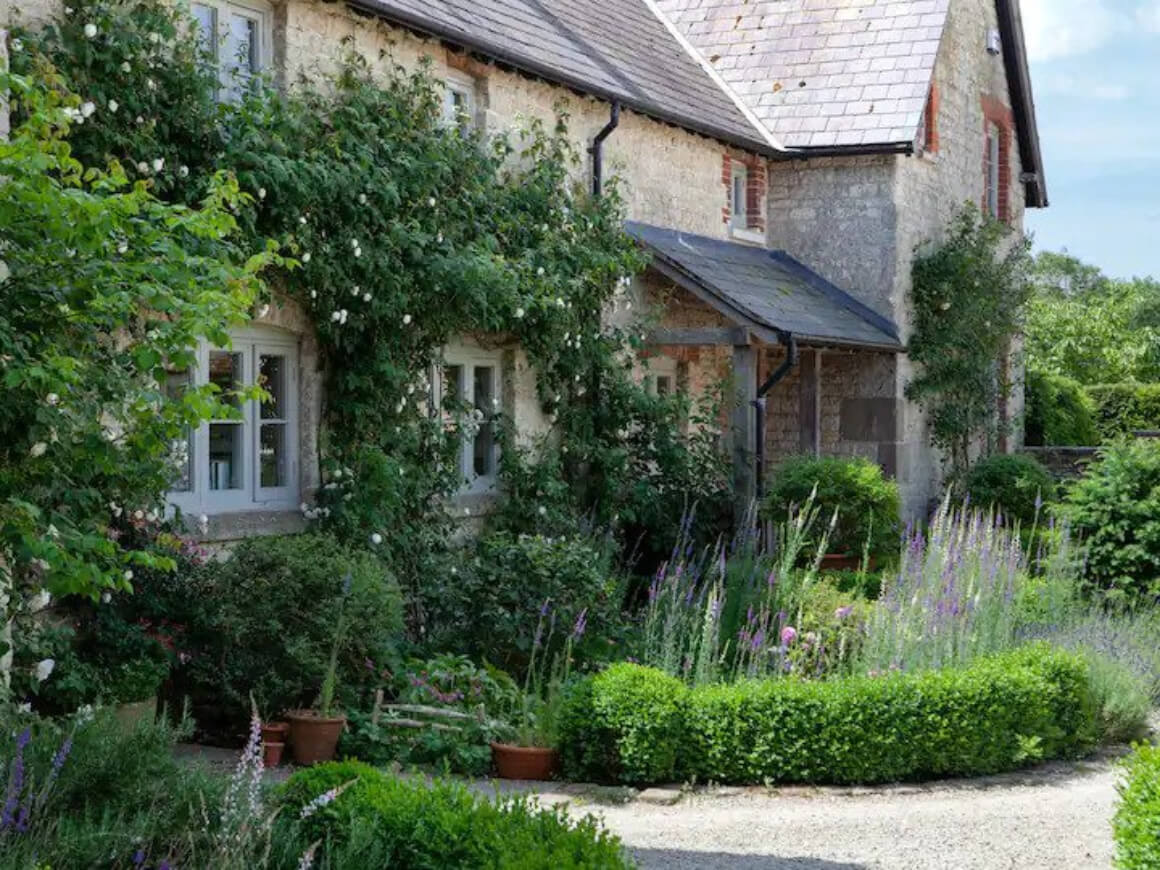 $$$
Bright and cozy lodge with private terrace
2 Guests
Located in Gillingham, Dorset
Whatever season you visit, this countryside lodge will be sure to exceed your expectations. Experience the classic English countryside experience, with a deliciously prepared and local full English breakfast each morning at this top lodge for Christmas.
The rooms are tastefully decorated with luxurious linens, and a mix of contemporary and antique furniture. The bathrooms, on the other hand, have been fully remodeled with marble shower walls and countertops, glass doors, and brand-new fittings.
Make sure to book in advance to reserve a room with a private wood burner. There really is nothing better than falling asleep in the dim light of a roaring fire.
$$
New rooms with manicured lawns and Boulle
2 Guests
In South Dalton, near Michelin restaurant and pub
Vacationers after a tranquil Christmas holiday with a loved one are in for a treat. This old historic Georgian house-turned-lodge is tucked away between trees and surrounded by manicured gardens – perfect for a romantic stroll. There is even a duck pond that freezes over during the winter.
The rooms are decorated with classic furniture and high-quality linens, making you feel right at home in this old historic lodge. However, it's the surrounding attractions that give this lodge an edge. It's right around the corner from the famous St. Marys cathedral.
A short walk down the street, you'll find yourself at a Michelin star restaurant and pub. If you stay for a while, take a day visit to the nearby coast of East Yorkshire or the Yorkshire Wolds.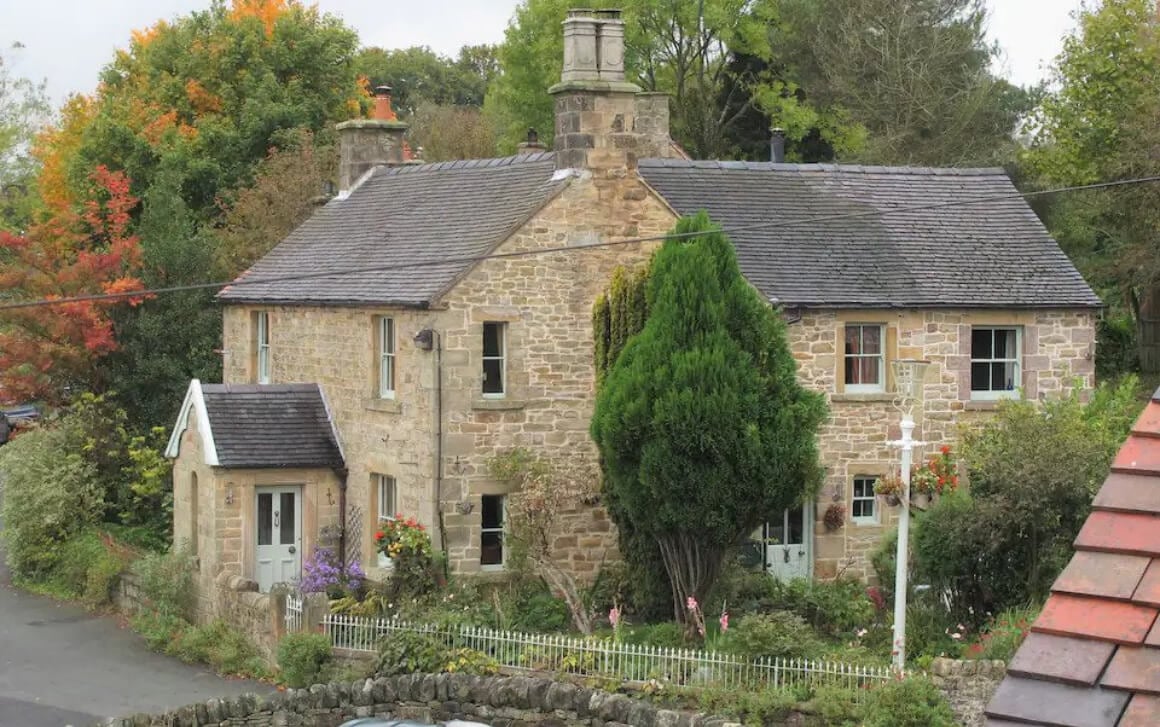 $$
Pops of colorful linen and artwork
2 Guests
In the moorland village of Longnor
The most festive lodge for Christmas is without a doubt the one that gets the most snowfall. This quaint old English manor house sits high in the moorland village of Longnor, and gets more annual snow than many lower-lying regions.
It's a small lodge, with only two private guest suites, meaning you can expect even higher attention to detail and a more intimate service.
The building itself is over 200 years old and oozing with history – if these walls could talk – they would have some incredible stories to tell! The house still includes its original oak beams, stone floors, and fireplaces.
Today, the lodge has been renovated and fitted with modern bathroom facilities – our favorite room has a red claw foot roll-top bath, reminiscent of another era, yet with a modern touch.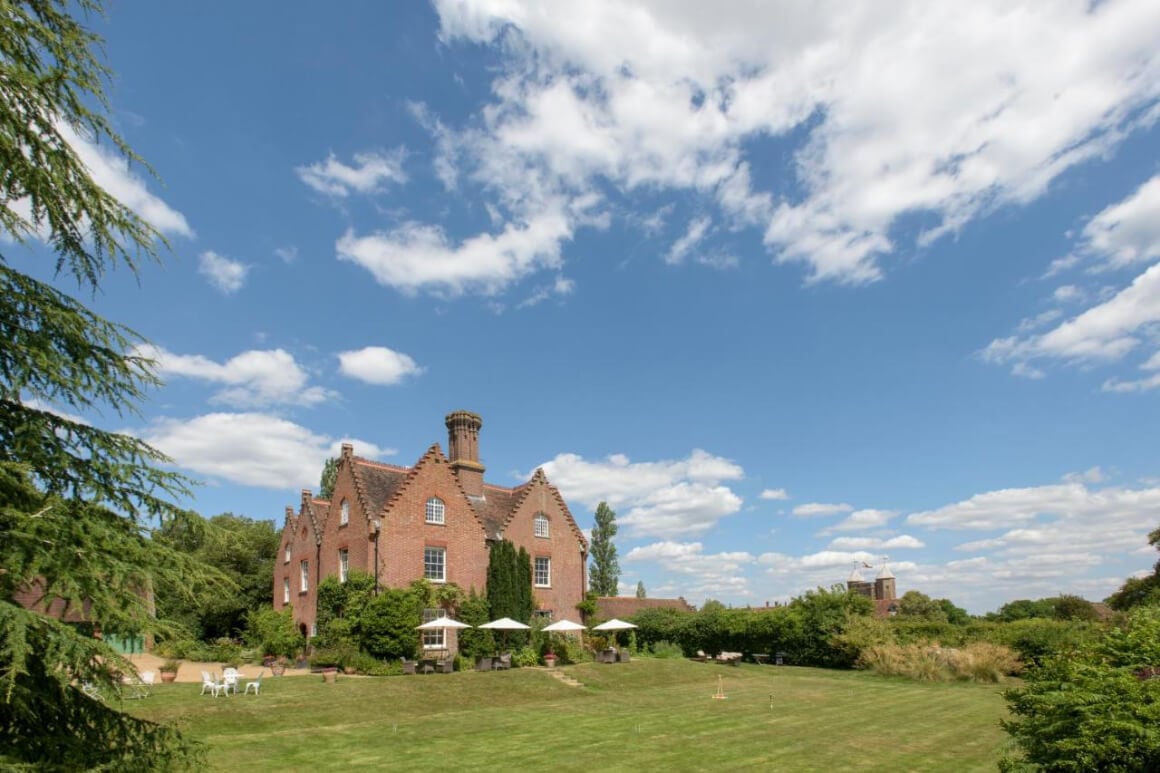 $$
Spacious rooms, wet room, and lift facilities
2 Guests
Located in Sissinghurst
Run by a lovely local couple, this lodge has been designed with care and consideration for wheelchair users and others with accessibility needs. The historic castle farmhouse has been refurbished with a lift and has wide open spaces throughout the building, making it possible for wheelchair users to access even the top floors of this grand structure.
The rooms are elegantly designed in neutral tones, with white linens, warm lighting, and wooden touches. Along with an abundance of natural light filtering through the windows, this gives the spot a really welcoming and homey feel.
The shared lounge and dining hall are equally as beautiful, yet designed with a more eclectic style, with pops of color and texture throughout. The hosts serve a delicious English breakfast plated on decorative bone china, and can even prepare freshly baked scones for high-tea on request – something you must try if visiting from overseas.
Is This the Best Travel Pack EVER???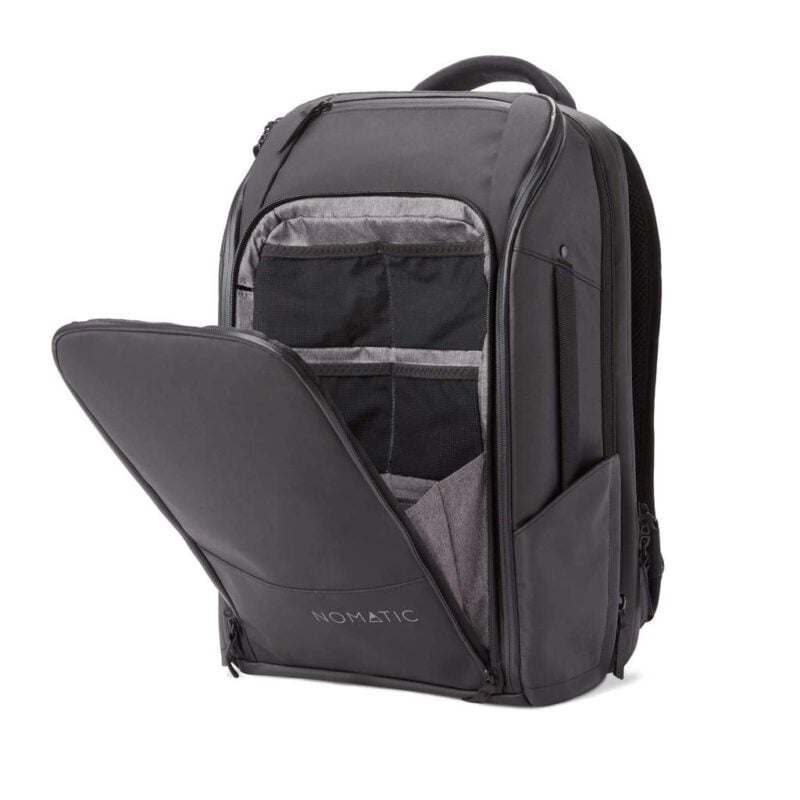 $$
Modern rooms with cathedral views
2 Guests
In the center of Leicester
If the great outdoors don't quite do it for you, it's best you base yourself near a large city or town. We wouldn't go as far as to classify Leicester as a bustling city, but the it does have many options for different restaurants and pubs, commercial and boutique shopping, and cultural and historic attractions.
This central lodge is a wonderful spot to stay with a loved one or a small family. It's right in the center of the city, and boasts views of the cathedral from some of the rooms. The guest suites have been remodeled with all new contemporary furniture and classy finishes.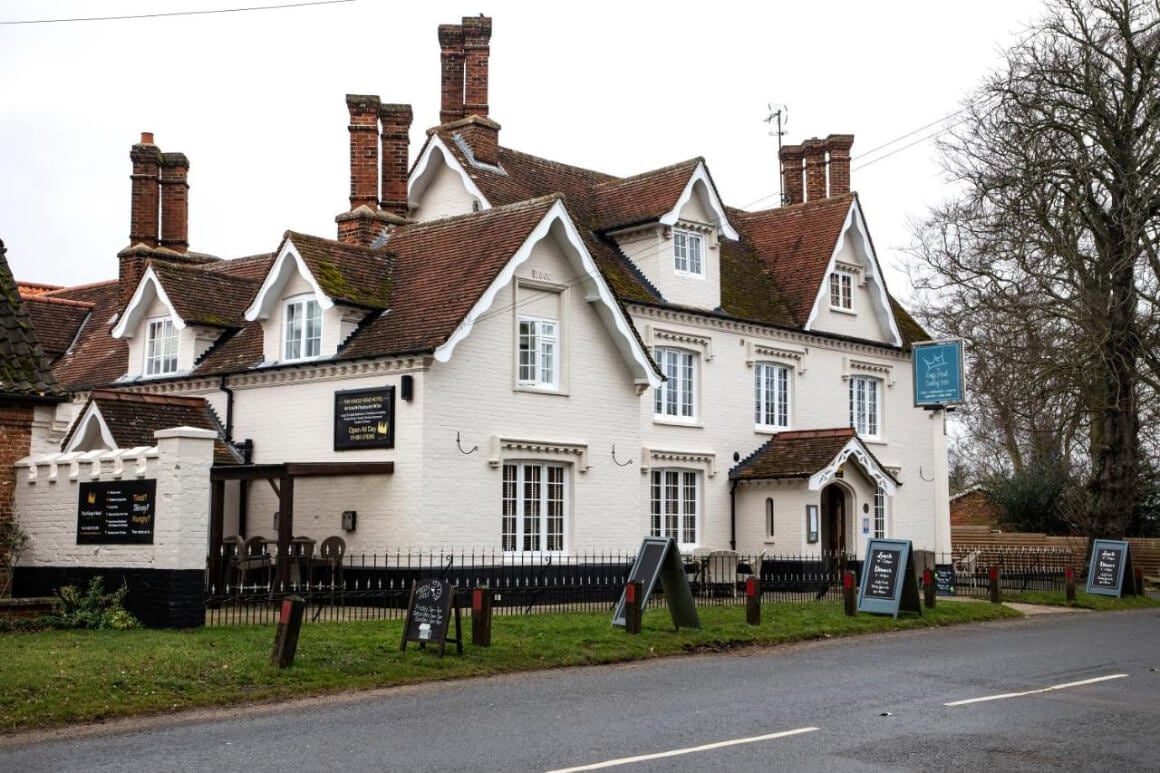 $$$
Contemporary meets antique interiors
2 Guests
Located in Great Bircham, an hour from Norwich
When the weather gets a bit too miserable to venture into town, spending a cozy evening in a lodge's in-house bar and dining room is the way to go. This spot has a classy restaurant with top-notch food, served for breakfast, lunch, and dinner. With no need to layer up and no commute, you'll be able to easily retreat upstairs to your private suite any time you wish.
The rooms in this boutique lodge are filled with simple furnishing in warm color tones. For a unique touch, each room has different decorative wallpapers bringing a fun energy into the space.
Best of all, this lodge is located in a peaceful village with a bunch of eateries, cafes, and pubs to explore.
$$$
Antique furniture and historical charm
2 Guests
On the lake-shore in Cumbria
After a long year, sometimes all you need is a break from the city, and the people who live in it. This beautiful spot is without a doubt one of the top remote lodges for Christmas.
Nestled on two acres of private land between forest trees and rolling lawns in the Buttermere Valley, the lodge only houses three private guest suites and includes a separate cottage up for rent too. This means you'll basically have the spot to yourself, even if the lodge is at full capacity.
Included in your rental rate, you'll be served a delicious home-cooked breakfast. While you'll feel as if you're in the middle of nowhere, the Buttermere village is only a ten-minute walk from the lodge. Here, you'll be treated to different pubs and a cafe.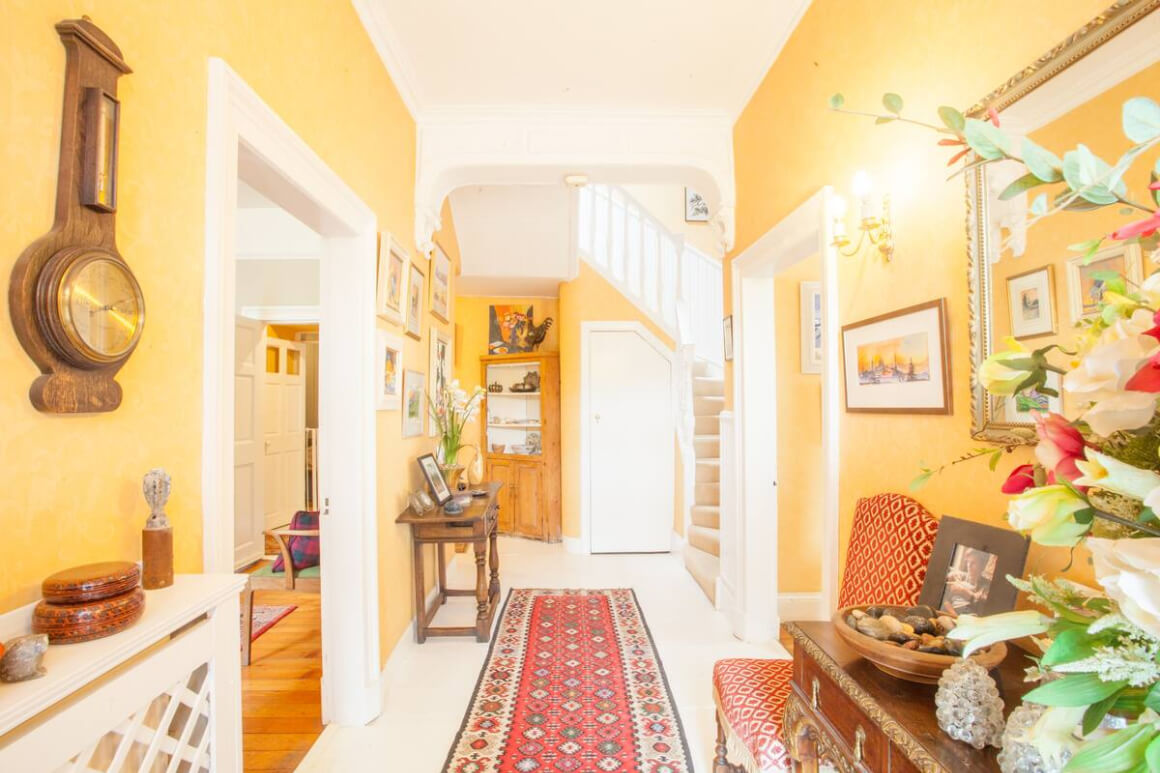 $$
Family-run farmhouse with lots of natural light
2 Guests
Located in Campsie Glen, East Dunbartonshire
Make yourself at home at this festive lodge in the UK. Designed using traditional English country furniture, draped curtains, and pops of color throughout each room, this spot comes to life during the winter season.
While the beds are so comfortable you might struggle to get up in the morning, the real star of this lodge is the common living areas. Shared between guests, these rooms have been carefully curated with luxurious linen furniture, fresh flowers, and antique decor. There is even a library room, where you can pick out a book and settle in by the fireplace.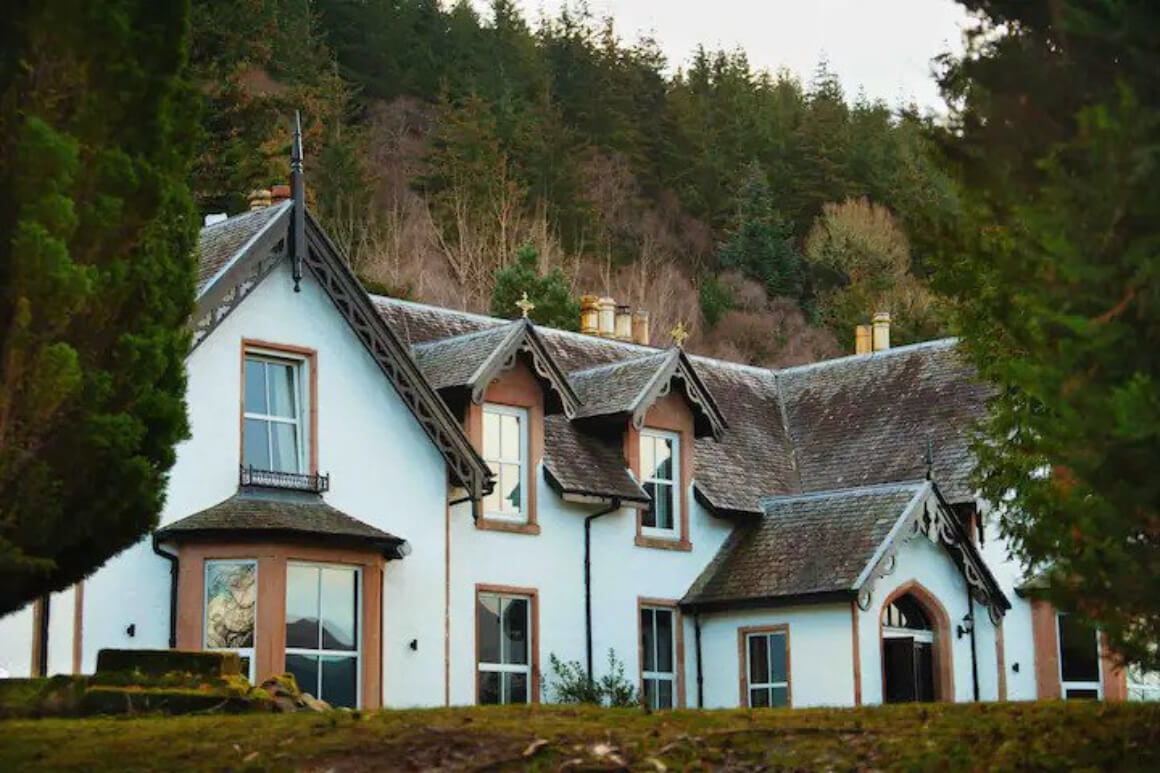 $$$
Newly refurbished rooms with authentic furniture
2 Guests
On the banks of Loch Ness in Scotland
Nestled on the shores of the legendary Loch Ness, this is one of the most historical and mysterious lodges for Christmas. After standing for over 100 years, it has been refurbished to create the boutique up-scale lodge that it is today.
The guest suites and common lounge areas are designed using traditional furniture with a touch of contemporary style. Dark wall colors bring a sense of mystery into this legendary space. Feel free to make use of the Drawing Room bar, which offers tasteful cocktails and local beers.
However, the main selling point is its prestigious location on one of the most talked-about lakes on earth (not to mention, its world-class views). Each guest suite is designed differently, yet all have views of the loch.
$$$
Shared indoor heated pool, jacuzzi, and sauna
2 Guests
Located in Dunholme, Lincoln
Enjoying a swim in a heated pool, or a soak in a bubbling jacuzzi can be a year-round activity, even in the middle of winter. This lodge is located just 10 minutes from the center of the historic city of Lincoln, which is home to a beautiful medieval castle.
Not only does this lodge have a gorgeous indoor pool and sauna, it also has a game rooms, books, and activities. This makes it one of the top lodges for families, both big and small. If you're lucky enough to visit this lodge for Christmas during a snowstorm, the best spot to warm up is under the stars in the jacuzzi.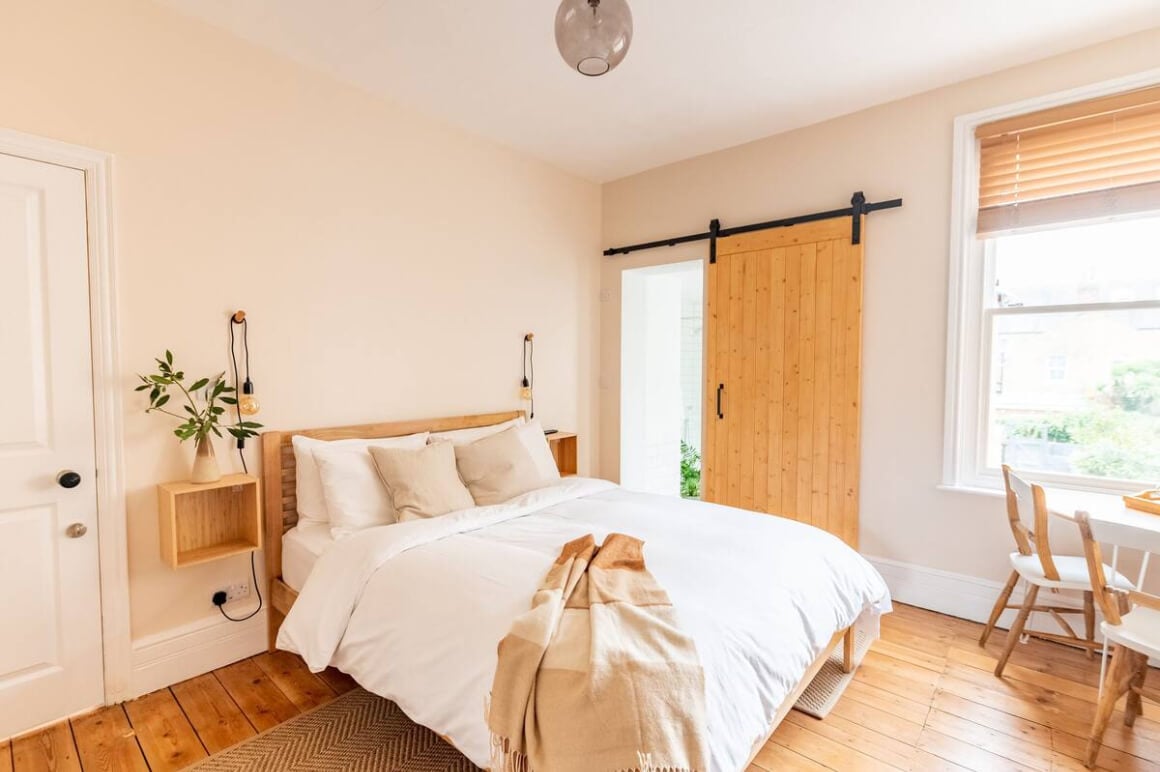 2 Guests
By the beach in Cliftonville, England
This chic lodge is built to resemble a barn, with wooden floors, furniture, and sliding barn-style doors. The rooms are fitted with luxurious bedding and decorated in neutral tones, creating a warm and inviting space for guests to relax in.
Each bathroom has been fully remodeled with clean white tiling and trendy fittings. As soon as you enter the doors, you're sure to get a feeling of tranquility and peace. The hosts have thought of everything to make your stay more comfortable, including supplying cushy dressing gowns and slippers, and a TV equipped with Netflix and Amazon Prime.
With your dog cuddled up on the floor beside you, there will be very little reason to leave this comfortable guest suite.
$$
Beautiful architecture and exposed wooden beams
2 Guests
Located in the forested Lochearnhead
This old croft lodge lives by the words 'old meets new', and you can see why. It's a historic building that has been classically renovated, with absolute care to retain the historical charm and authenticity of the original structure.
While the rooms are cozy enough to make you never want to leave, the best thing about this lodge is the breakfast, which is included in the nightly rate. Choose from spinach and avocado toast with a soft poached egg, a green smoothie, or a bacon and egg sandwich. In fact, you could enjoy all of the above included in your three-course breakfast.
$$
Grade II listed historic building with a bar
2 Guests
At the foothills of Cadair Idris Mountain
History isn't too difficult to find in the English countryside, which is scattered with medieval castles and manor homes of old Earls and Ladies. This lodge sits in a picturesque town in the valley beneath the Welch mountains.
Voted as one of Britain's top country pubs numerous times, the lodge is actually a pub, with rooms located above it. This being said, the rooms are by no means second-rate and are beautifully designed using neutral and warm interiors.
Live like a local at this cozy lodge and enjoy a pint at the pub followed by a hearty meal before you retreat upstairs to bed.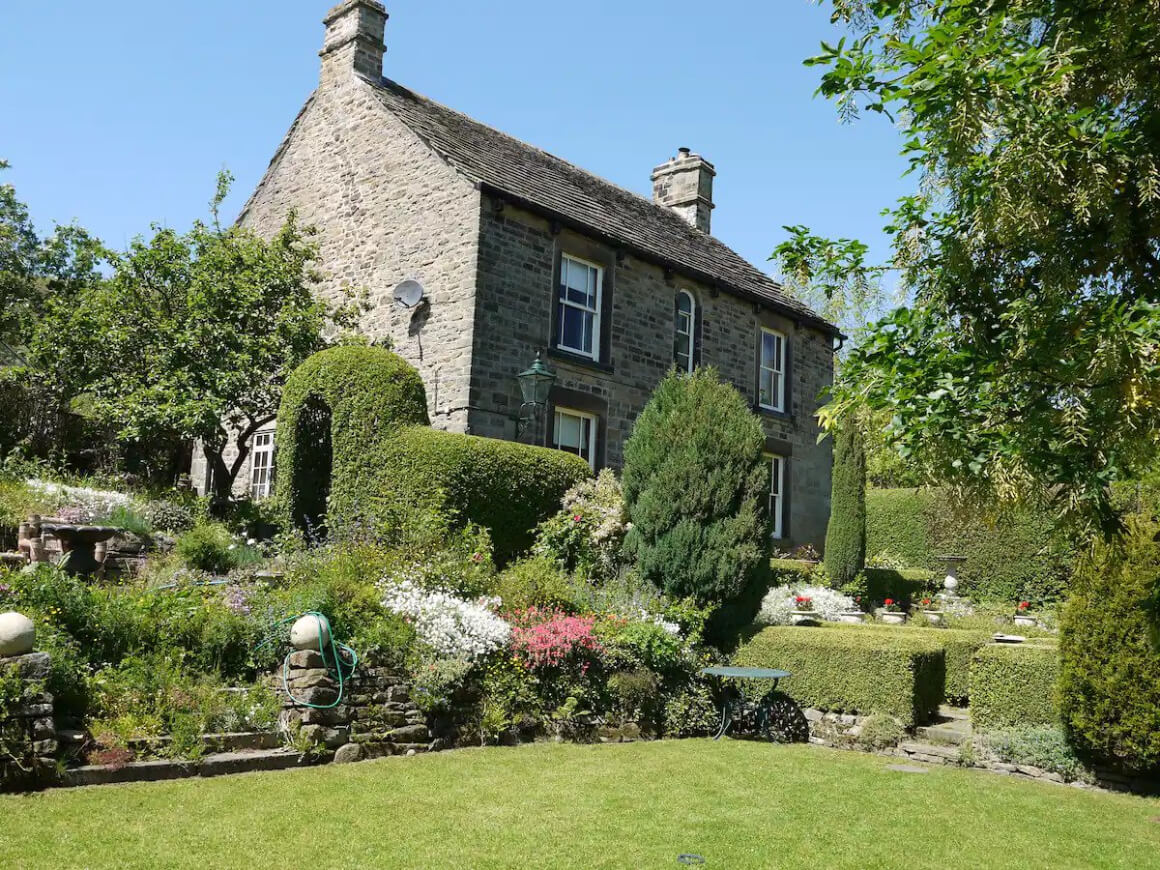 $$
Studio space with antique furniture and artifacts
2 Guests
In the countryside with Peak District views
Even when the ground becomes frosty and the cold air bites, the UK is known to have some of the world's most beautiful gardens. They don't call it an 'English rose' for nothing, do they? Well, this 1800s built lodge sits in the Peak District, surrounded by countryside views as far as the eye can see.
Inside the home, you'll notice a blend of Swiss chalet and traditional English styles, all influenced by the adventures of the family who run the lodge. While the roses might be pruned for winter, you'll still be able to admire the boxed hedges and bushes in the landscape's gardens. Rolling lawns will direct you to hidden Victorian statues and fountains in this peaceful retreat.
Final Thoughts
From quaint countryside villages to Lochside forests, the UK is scattered with lodges. Mostly found in rural areas, these family-run, boutique-style bed and breakfasts are more often than not located in historically significant buildings.
In my opinion, the best spots are those with fireplaces or wood burners in the bedroom. There really is nothing better than a room kept toasty warm by flickering flames. Whether you're after an outdoorsy adventure or are looking forward to diving into a book in front of the fire, you will no doubt find yourself the best lodge for Christmas in the UK.
And have you thought about getting Travel Insurance for your trip? We've put together a roundup of Travel Insurance for backpackers – check it out here, or if you're low on time, get a quote from World Nomads, our favorite travel insurance provider.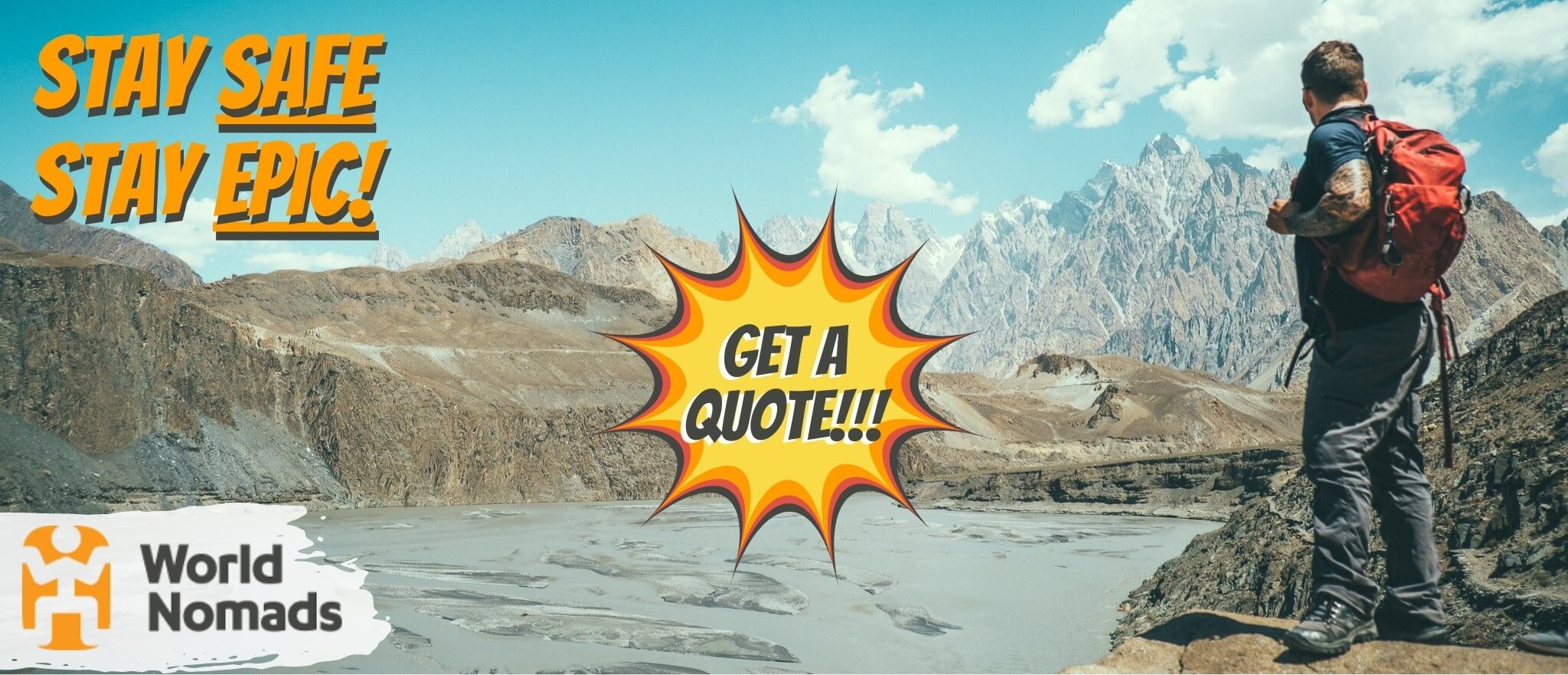 World Nomads' mission is to support and encourage travellers to explore their boundaries. They offer simple & flexible travel insurance, and safety advice to help you travel confidently.
They've been doing it since 2002 – protecting, connecting, and inspiring independent travellers just like you.
Get a quote below or read our in-depth review!
World Nomads provides travel insurance for travelers in over 100 countries. As an affiliate, we receive a fee when you get a quote from World Nomads using this link. We do not represent World Nomads. This is information only and not a recommendation to buy travel insurance.
---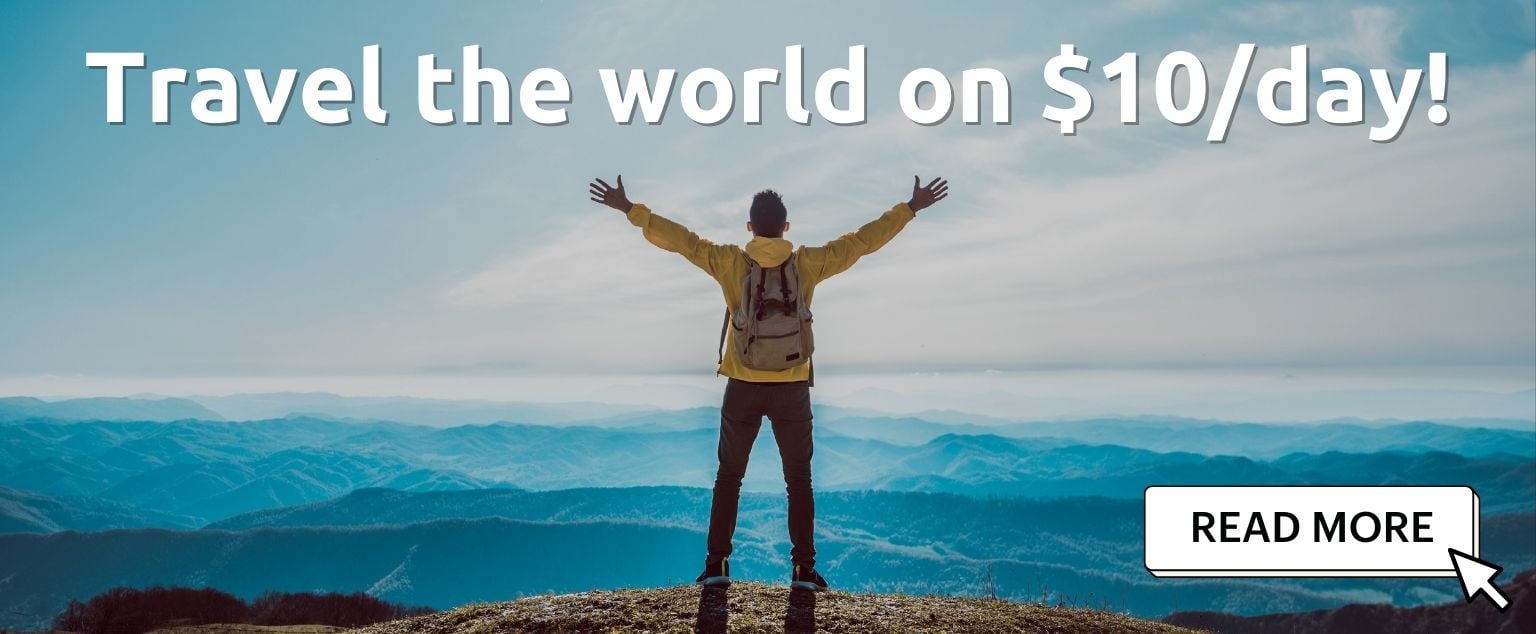 And for transparency's sake, please know that some of the links in our content are affiliate links. That means that if you book your accommodation, buy your gear, or sort your insurance through our link, we earn a small commission (at no extra cost to you). That said, we only link to the gear we trust and never recommend services we don't believe are up to scratch. Again, thank you!