Whether you're here to see some of the city's main tourist attractions, or you've just come to party, Miami's year-round gorgeous weather make it a fantastic place to visit. There are beaches, nightclubs, great food, and of course, the Everglades! So you'll never be short of activities.
Sadly, travel can be an expensive endeavour, so it's always a good idea to try and save money where you can but without compromising your enjoyment and comfort.
That's why when it comes to accommodation in Miami, you should seriously consider steering away from the more expensive resorts and luxury hotels, and book something a bit more affordable, but no less comfortable instead, such as motels.
Motels in Miami are some of the most affordable places to stay, and their locations near main roads mean they are ideally suited to those on a road trip.
If you are looking for a safe, homely, and comfortable place to stay that won't break the bank, whether it be for a night, or much longer family vacation – then take a look at these Miami motels!
In a Hurry? Here's Where to Stay in Miami for One Night
FIRST TIME IN MIAMI
Great Location & Comfortable Accommodation
With its location just a five-minute drive from downtown, the Up Midtown motel offers convenient and excellent, value-for-money accommodation for all types of visitors. When you consider its splendid outdoor patio, its well-appointed amenities – the fact it's a couple of doors down from a Denny's – it's no wonder the Up Midtown takes out our spot for the best motel in Miami!
NEARBY ATTRACTIONS:
Shops At Midtown Miami
Albert Pallot Park
Downtown Miami
Is this amazing Miami Motel booked for your dates? We've got your back with our other favorite properties below

Unlock Our GREATEST Travel Secrets!
Sign up for our newsletter and get the best travel tips delivered right to your inbox.
Staying in a Motel in Miami
If you are visiting Miami and your finances are tight, then it's probably not a good idea to splurge on luxury vacation rentals in the city, especially when there are so many excellent motel options around that offer safe, reliable, and good value-for-money rooms.
In general, many of Miami's best motels are situated near the port of Miami, around the airport, or on the fringes of the city. This is because they are usually aimed at road trippers in Florida or those looking to stop over for one night.
However, some are dotted around the downtown area too, which provides the convenience of placing you right in the heart of all the best attractions, shops, bars, restaurants, and nightlife.
Whilst a stay in a Miami motel will mean you'll have to compromise on such amenities as spa centers, gym facilities, and a champagne bar, they do provide you with a clean, spacious and comfortable base to enjoy your time in the city in a way that won't send you home broke.
Offering much cheaper rates than hotels, motel accommodation in Miami tends to be run by small, independent, or family-run businesses. This means the money you do hand over for the lodgings doesn't go straight to the man!
What to Look for in a Motel in Miami
If you are now convinced that staying in a cheap Miami motel is the way to go for you, it is important to be reasonable in your expectations as to what you might get.
You won't find anything with a private concierge service for the prices they charge, but that doesn't mean you can't find luxury amenities if you want them. Some motels come with pools, hot tubs, and on-site restaurants. But if you want to save money, then look for a motel with more basic amenities. It is common for motels to come with a free breakfast thrown in, but not always.
At the time of booking your Miami motel, it is worth being mindful of your location. If you are about to head off for a cruise, or a flight overseas, then a motel near the Port of Miami, or the airport, is definitely worth considering. Likewise, if you are looking for a place to stay in Miami so you can enjoy all the attractions in the area, or you want to spend a few days lounging on a beach, then try and secure somewhere close to downtown.
Motel rooms in Miami tend to vary in size. As a general rule, most cater for two people, providing either two single beds or a king/queen/double bed to sleep on. However, there usually are rooms designed specifically for larger groups of up five people, as well as those set up to ensure disabled guests are well catered for too.
Most motels offer free Wi-Fi and some even have a 24-hour reception desk, which is great if you plan to arrive there late at night. In addition, you will find free onsite parking is pretty standard across all of these types of accommodation.
Given how many Miami motel options there are, it can be quite tiring comparing places to find the best deal for your particular requirements. Airbnbs in Miami and Booking.com are good places to start your search. However, this comes with some level of stress, so I have listed the 10 best motels in Miami for you below, determined by location, amenities, customer reviews, and of course, price.
OVERALL BEST MOTEL IN MIAMI
OVERALL BEST MOTEL IN MIAMI
Great Location & Comfortable Accommodation
> $$
> 2-4 Guests
> Free Wi-Fi
> Next door to Denny's
MOTEL WITH BEST LOCATION
MOTEL WITH BEST LOCATION
Close to Popular Attractions
> $$
> 2 Guests
> Free Wi-Fi
> Pet Friendly
BEST MOTEL FOR COUPLES
BEST MOTEL FOR COUPLES
Spacious and Comfy Room
> $$
> 2 Guests
> Private Bathroom
> On-site Restaurant
BEST MOTEL FOR DISABLED GUESTS
BEST MOTEL FOR DISABLED GUESTS
An Easy Place to Get Around
> $$
> 2 Guests
> Facilities for disabled guests
> Refridgerator & Microwave
BEST MOTEL FOR FAMILIES IN MIAMI
BEST MOTEL FOR FAMILIES IN MIAMI
Plenty of Room for all!
> $$
> 2-5 Guests
> Air Conditioning
> Complimentary Light Continental Breakfast
MOTEL FOR BACKPACKERS IN MIAMI
MOTEL FOR BACKPACKERS IN MIAMI
Safe, Cheap & Nice Locale
> $
> 1-2 Guests
> Washing Machine & Tumble Dryer
> Free Wi-Fi
BEST MOTEL FOR A WEEKEND IN MIAMI
BEST MOTEL FOR A WEEKEND IN MIAMI
Great Base for a 48 Hour Stay
> $$
> 2 Guests
> Close to Shops & Attractions
> Free Wi-Fi
The Top 10 Motels in Miami
Now you know what to expect from motels in Miami, it's time to take a look at the best of the best!
$$
2-4 Guests
Free Wi-Fi
Next door to Denny's
Prepare to be wowed by this motel! The Up Midtown will exceed all your expectations, offering spacious, cool, and airy accommodation that features clean white walls, marble floors, and white linen.
Rooms are perfectly set up for couples, with one double room king bed, or families, with two queen-size beds in a double room. All non-smoking rooms come with air conditioning, a private bathroom, a refrigerator, and flat-screen TV.
Conveniently located just a five-minute drive from downtown, this Miami motel is also just 10 minutes walking distance to the shops at Midtown Miami and the lovely Albert Pallot Park. If you want to hit the golden sands of Miami Beach, this motel provides you with a great base for doing so.
$$
2 Guests
Free Wi-Fi
Pet Friendly
Conveniently located just 7km from the American Airlines Arena, the Zenmotel Inn puts you very close to some of the best places to visit in Miami.
It's less than a 10-minute drive to the Bayside Market Place and Bayfront Park, whilst the Vizcaya Museum and Miracle Mile Miami can be reached within 20 minutes. So it acts as a perfect base for your sightseeing.
The modern rooms can comfortably accommodate up to four guests. All air-conditioned rooms have a private bathroom, flat-screen TV, and a microwave, which will be handy for when you fancy something to eat. Like most of the best motels in Miami, they also have tea and coffee-making facilities which are great for when you need a caffeine hit!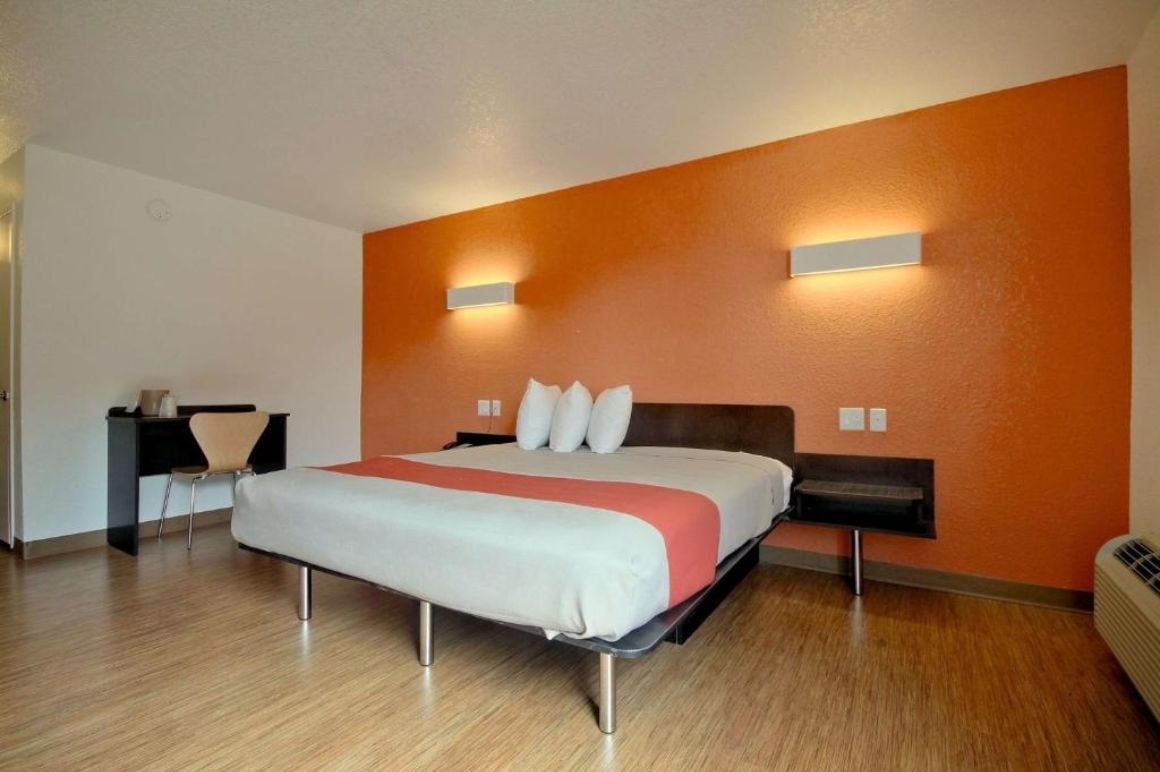 $$
2 Guests
Private Bathroom
On-site Restaurant
Presenting comfortable rooms decorated in a stylish, yet minimalist design the Motel 6 is a lovely base for a romantic getaway!
The non-smoking rooms are equipped with private bathrooms and extra-large double beds which are perfect for snuggling up in as you watch a rom-com on the flat-screen TV.
This Miami motel is also within easy driving distance to a number of malls, as well as the Bayside Market Place, so you can shop till you drop. It is also close to a nice selection of bars, restaurants, clubs, and even a casino if you fancy heading out for a night on the tiles.
Couples who golf will also love the fact that there are four courses not too far from the property.
$$
2 Guests
Facilities for disabled guests
Refrigerator & Microwave
When traveling to Magic City, it can be hard to find Miami accommodation that has facilities for those with limited mobility. So you will be pleased to discover Carl's El Padre Motel!
Located on Biscayne Boulevard, the property offers stylish and well-appointed rooms with lower bathroom sinks and higher-level toilets. In addition, it also has grab rails in the bathroom and wheelchair accessibility throughout the property, all of which should ensure your stay with them is a very comfortable one.
Rooms also have a flat-screen cable TV, so you will be able to watch the ball game or your favorite shows, and a small refrigerator and microwave, which you can use to keep and heat up snacks!
The motel is located less than a 15-minute drive to the Vizcaya Museum and the American Airlines Arena, whilst it also has a 24-hour reception to assist you at any time of the night and day.
Is This the Best Backpack EVER???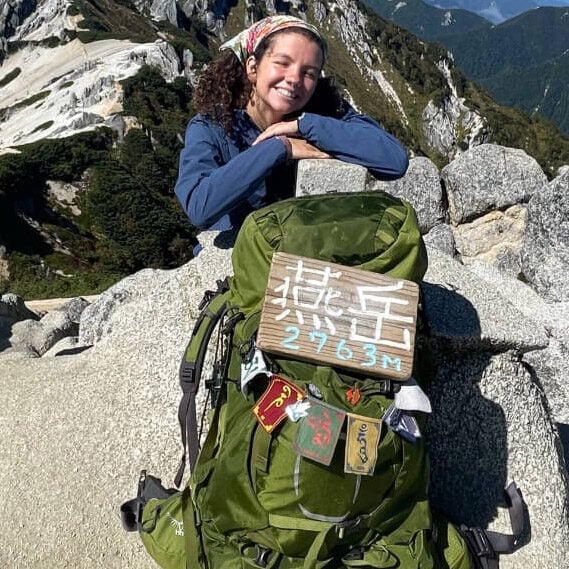 $$
2-5 Guests
Air Conditioning
Complimentary Light Continental Breakfast
The Shalimar Motel is an excellent choice of accommodation for all the family! Its conveniently situated near Miami's Design District, within easy driving reach of a number of things to do in Miami, including shopping malls, parks, playgrounds, museums, a lake, and the beach. The options are endless, so there'll be plenty to keep you all occupied during the day.
At night a terrific selection of local restaurants are easy to get to as well, whilst the flat-screen cable TV and free Wi-Fi will keep you suitably entertained until you are ready to sleep, which you will do on beds that are large and very comfy.
This very popular motel in Miami also offers a complimentary light continental breakfast and is another excellent option for guests who require wheelchair facilities and other disability-related access during their stay.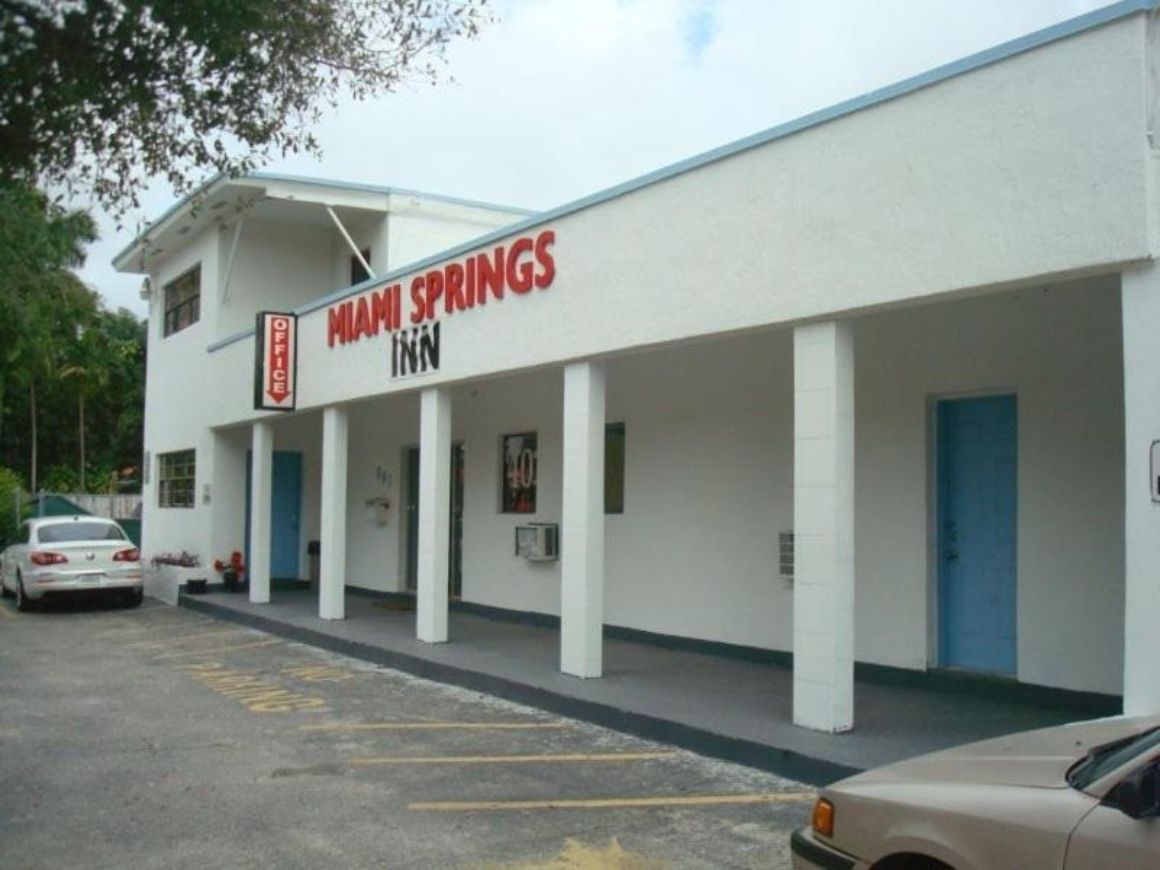 $
1-2 Guests
Washing Machine & Tumble Dryer
Free Wi-Fi
If you are backpacking Miami and looking for somewhere cheap, secure, and in a decent location then the Miami Springs Inn has got you covered!
An excellent budget motel in Miami for single travellers, backpackers, or those wanting to save a few dollars, the property is situated in a nice neighborhood that is just a 10-minute drive from downtown. So it is close to all the main tourist attractions, restaurants, and nightlife venues.
One of the best things about this accommodation is that it has a washing machine and tumble dryer on site, which is perfect for any backpacker who has been on the road for a while!
The rooms have very good showers too, whilst the beds will help you get a very good night's sleep. In addition, the Wi-Fi coverage is pretty good, so you will easily be able to maintain your blog or update your socials whilst you are here.
$$
2 Guests
Close to Shops & Attractions
Free Wi-Fi
If you are only going to be in town for the weekend, then the Gables Inn is a great choice of motel accommodation in Miami.
All of the top Miami attractions like Bayside Market Place, Marlins Park, South Beach, and Ocean Drive are within a 15km drive, so you will easily be able to tour around the main highlights in the short time you've got.
The property itself offers air-conditioned rooms, with tile flooring that is spacious and well-appointed. So the little time you do spend in your room will be in good comfort.
If you want to check out the restaurants and bars, this motel also puts you in close proximity to a nice range of them.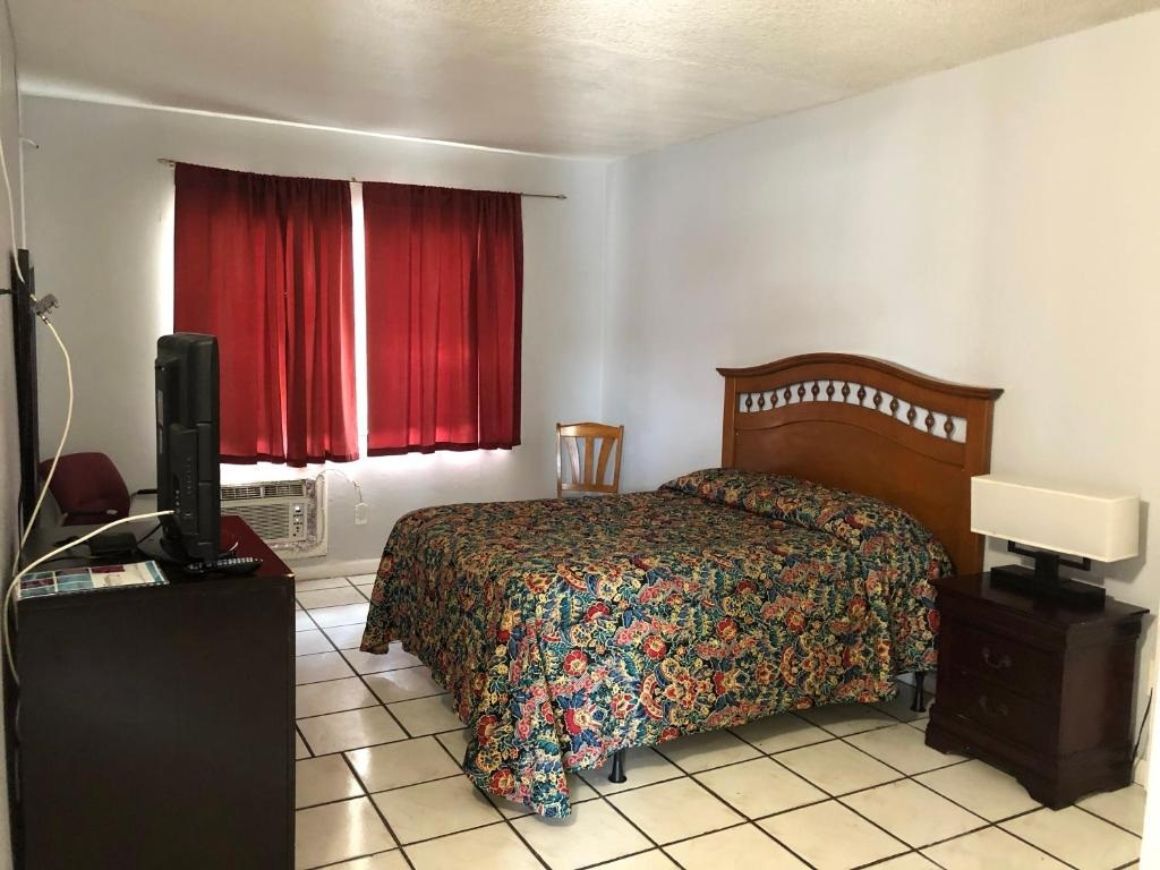 $
2 Guests
Free Wi-Fi
24-Hour Front Desk
Need to be near an airport? Then the Ramona Motel is an excellent motel in Miami near the aiport. Conveniently located just a 10-minute car or taxi ride to Miami International Airport, you'll definitely not miss your flight if you stay here!
Also just a 15-minute drive from the Miami city center and Miami Beach, this property offers a great base to check out the sights and do a bit of sunbathing, should time permit.
Rooms here are very comfortable, and if you are not the best when it comes to managing heat, their wonderful air conditioning system will keep you nice and cool.
The hotel also operates a 24-hour reception, so it doesn't matter what time you check-in, while the Wi-Fi connection will easily enable you to post your current status in a tweet or Instagram update!
$$
2 Guests
24-Hour Front Desk
Microwave & Refridgerator
Sometimes flight times or work commitments mean you can't check in until late in the evening. Thankfully, the Sinbad Motel understands this, which is why they offer a very convenient 24-Hour reception desk.
Located just 12km from both Miami International Airport and the Port of Miami, this fantastic Miami Motel is easy to find on Biscayne Boulevard, on account of its eye-catching, peach coloured exterior.
Rooms are well equipped with air conditioning, comfortable double or king beds, a flat-screen TV, and a refrigerator and microwave. Which represents excellent value-for-money when you take into account its rates.
Should you want to venture out and about for something to eat a number of terrific restaurants including Italian and Cuban are located very near the property. There is also a Starbucks close by too to suit your coffee needs.
$$
2 Guests
Free Transfer to Port of Miami
Free Toiletries
If you have come to Miami to embark on a cruise or take a boat from the port, then you'll definitely want to stay at the Palacio Inn Motel.
The wonderful motel in Miami is less than 10km away from the port and it offers free transfer services to it as well. So you won't have to stress about making it to the cruise vessel on time!
Furnished with a good range of amenities and facilities, each room comes with air conditioning as well as an ensuite bathroom, flat-screen TV, and even an ironing press to help you look your sharpest before you board the boat.
If you have time to head out and about, the main shops, bars, restaurants, and attractions of downtown can be reached in about 15 to 20 minutes by taxi. Also, if you love golf, there are quite a few courses close to the motel where you can sneak in a quick round.
Don't Forget Your Miami Travel Insurance
ALWAYS sort out your backpacker insurance before your trip. There's plenty to choose from in that department, but a good place to start is Safety Wing.
They offer month-to-month payments, no lock-in contracts, and require absolutely no itineraries: that's the exact kind of insurance long-term travellers and digital nomads need.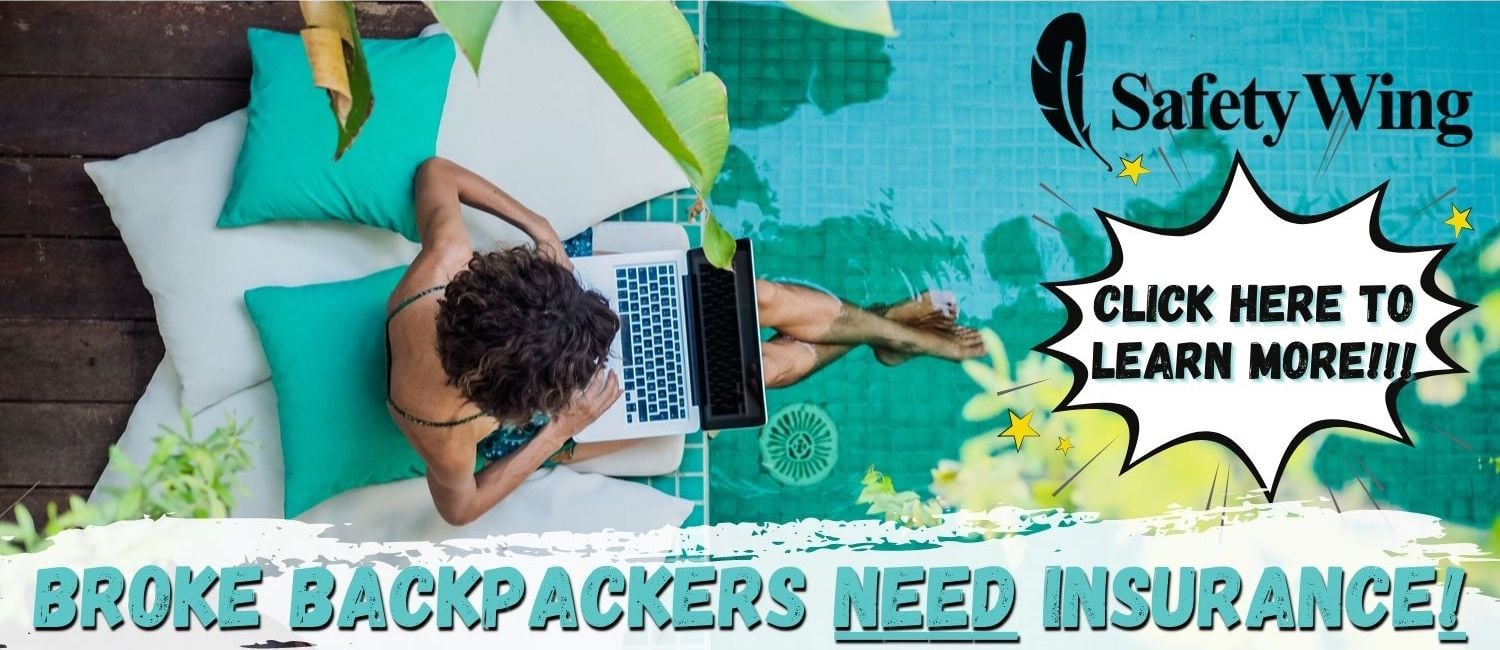 SafetyWing is cheap, easy, and admin-free: just sign up lickety-split so you can get back to it!
Click the button below to learn more about SafetyWing's setup or read our insider review for the full tasty scoop.
Final Thoughts on the Best Motels in Miami
Miami is Florida's most visited city, and given its sunny weather, beautiful landscape, famous tourist attractions, great bars, clubs, and restaurants, it is not hard to see why.
But as more and more visitors come here during the course of the year, the availability of places becomes much sparser, which in turn often sees their price go up.
At this time, it is easy to panic and book the first hotel in Miami you see, but it's always worth remembering that motels provide an attractive alternative.
Besides saving you money, they provide a good standard of service, as well as well maintained and comfortable rooms. So irrespective of whether you are staying in Miami for one night, or two weeks, the option of a motel is one you should always consider.
Lastly, when you are planning your Miami trip, please think about securing travel insurance, especially if you are an international or interstate traveler. It really could save you a lot of time, stress, and hassle.
---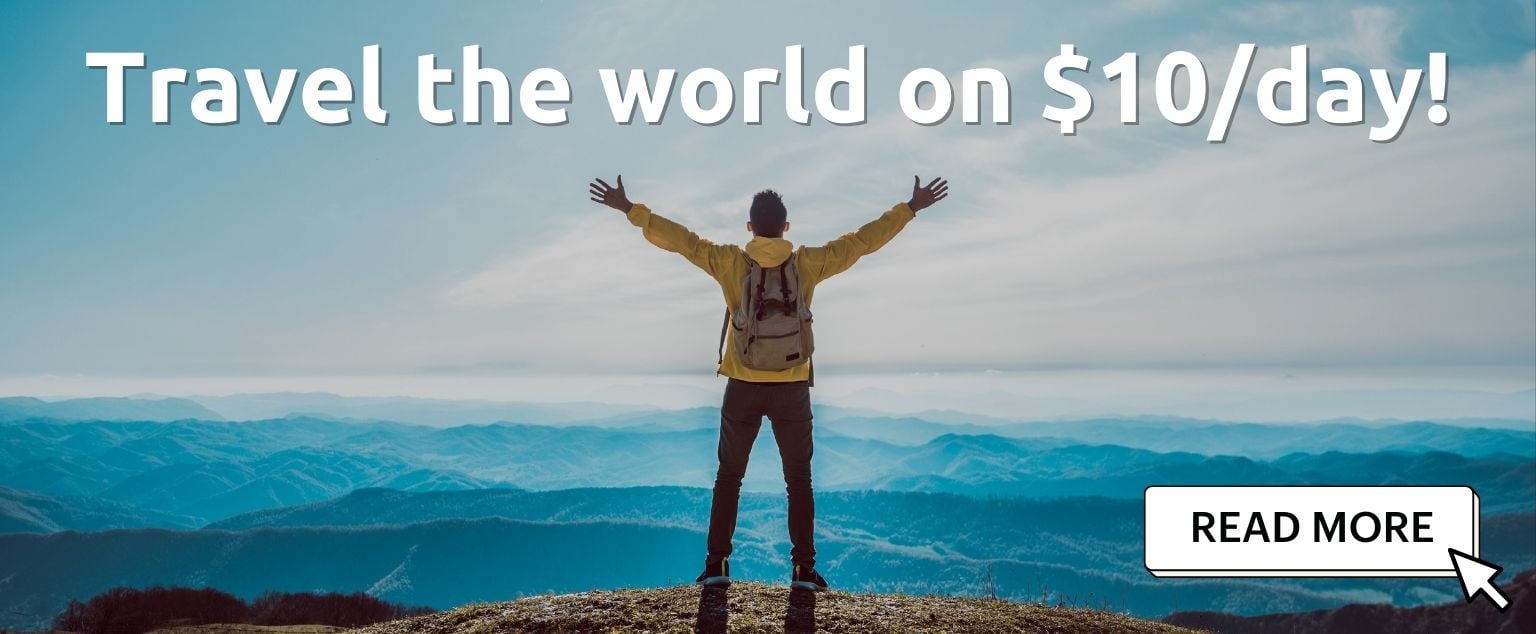 And for transparency's sake, please know that some of the links in our content are affiliate links. That means that if you book your accommodation, buy your gear, or sort your insurance through our link, we earn a small commission (at no extra cost to you). That said, we only link to the gear we trust and never recommend services we don't believe are up to scratch. Again, thank you!