San Diego, 'America's Finest City', is a popular choice for a vacation at any time of the year.
Maybe you're attracted by the major tourist attractions like SeaWorld or San Diego Zoo? Or its magnificent golden beaches? Perhaps its historic old town that intrigues you? Or maybe you are just going to watch a Padres game?
Whatever brings you to the city, there is plenty for you to see and do in this lovely part of California.
However, staying in San Diego isn't cheap. But that doesn't mean you can't have an affordable vacation here. In fact, one of the best ways to keep costs down is to stay in one of the motels in San Diego.
Motels offer a convenient location and decent amenities, usually near the highway, an airport, or the downtown area. On top of that, they are usually very comfortable and have cheaper prices than standard hotels.
As there are so many choices of places to stay in San Diego, choosing one can seem a bit overwhelming at first. But don't worry, I have compiled this list of the best motels in San Diego, so you don't have to stress.
Let's get started…
In a Hurry? Here's Where to Stay in San Diego for One Night
FIRST TIME IN SAN DIEGO
Convenient Downtown Accommodation
For those only able to spend one night in San Diego the Baymont by Wyndham is a superb choice! Located right in the centre of the city, it places you very close to all the best beaches, tourist attractions, shops, bars and restaurants in the area.
NEARBY ATTRACTIONS:
San Diego Zoo
Sea World San Diego
Old Town
Is this amazing San Diego Motel booked for your dates? We've got your back with our other favorite properties below
Staying in a Motel in San Diego
If you are heading to San Diego but your budget is a bit on the low side, then you will have to knock the idea of staying in a deluxe hotel on the head. Instead, it's wise to concentrate on some of the cheaper options available to you across the city, which include a good collection of motels.
San Diego has roughly 24 motels within its city limits, most of which provide spacious, comfortable, and secure accommodation at much more affordable prices than hotels and resorts do.
Many of these motels in San Diego are often situated on the outskirts of town, or close to main transportation hubs like airports and bus stations. You will find some around the downtown area too, near to popular shops, bars, restaurants, nightlife, and attractions in the city, so you'll never be short of things to do in San Diego.
Sadly these motels are unlikely to have concierge services, spa centers, or any of the upscale amenities you will find in a five-star luxury hotel. But it will present to you a clean, affordable and homely place to base yourself whilst you visit the city.
As a general rule motels offer competitive deals and are usually managed by courteous and congenial staff, who are a great source of local knowledge when it comes to things like what restaurants to eat at and what sites to see.
What to Look for in a Motel in San Diego
For anyone considering staying in a motel in San Diego, you will need to temper your expectations as to what you will get.
It's unlikely that a 24-hour private butler service or concierge will be thrown in with the cost of your room accommodation. Likewise, you'll probably not be able to secure a hot tub or Jacuzzi either. But while motels tend to be more basic, they are usually well furnished and looked after so you will still have a comfortable nights' sleep.
If you were to book a San Diego motel, you consider where to stay in San Diego, as the city is quite large, so you'll want to stay near to all the attractions you want to see.
For those on a fleeting visit prior to heading to another destination, a motel located near the highway is probably your best bet. Similarly, if you intend to spend a week or so touring around all the city's main tourist attractions, then it will probably be better for you to find a place near the downtown area.
Overall motel rooms in San Diego do vary when it comes to size. The majority of them cater for two people, providing a double or queen size bed, or two individual single beds. Some rooms though are specifically designed for larger groups, including families of up to four, and sometimes as many as six people. You might even find a small kitchenette in your room, similar to a vacation rental in San Diego.
As an incentive to book, most motels offer free cancellation and free WiFi. Others throw in a complimentary continental breakfast or have a swimming pool or terrace area for you to relax in.
If you are driving to San Diego, you should find that pretty much all motels offer free and secure onsite parking.
Given how many motel options there are in San Diego, it can be difficult comparing properties to find the best fit for your needs. But don't stress, I've done the hard work for you, by putting together a list of the best motels in San Diego, according to a various number of factors including location, guest feedback, amenities, and more.
OVERALL BEST VALUE MOTEL IN SAN DIEGO
OVERALL BEST VALUE MOTEL IN SAN DIEGO
Convenient Downtown Accommodation
> $$
> 2 Guests
> Downtown Location
> Free continental breakfast
BEST BUDGET MOTEL IN SAN DIEGO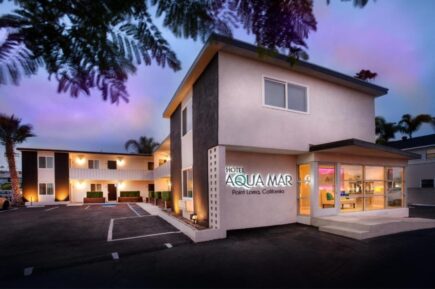 BEST BUDGET MOTEL IN SAN DIEGO
Cheap, Safe & Comfortable
> $
> 2 Guests
> Free Wi-Fi
> Private Bathroom
BEST MOTEL FOR COUPLES
BEST MOTEL FOR COUPLES
Homely Romantic Rooms!
> $$
> 2 Guests
> Outdoor Swimming Pool
> Onsite Casino
BEST MOTEL FOR FAMILIES IN SAN DIEGO
BEST MOTEL FOR FAMILIES IN SAN DIEGO
Rooms for up to 6 people!
> $$
> Up to 6 Guests
> Outdoor Terrace & Garden
> Cable TV with film channels
BEST MOTEL FOR A WEEKEND IN SAN DIEGO
BEST MOTEL FOR A WEEKEND IN SAN DIEGO
Great Location & Rates
> $$
> 2 Guests
> 150 metres from the Beach
> Outdoor Swimming Pool
BEST MOTEL WITH A SWIMMING POOL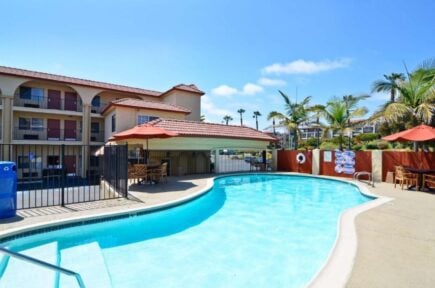 BEST MOTEL WITH A SWIMMING POOL
Pool & Hot Tub Here!
> $$
> 2 Guests
> Outdoor Pool & Hot Tub
> Close to Beach
BEST MOTEL IN THE OLD TOWN
BEST MOTEL IN THE OLD TOWN
Historic Part of Town
> $$
> 2 Guests
> Daily Continental Breakfast
> Tour Desk
The 10 BEST Motels in San Diego
Now you know what you can reasonably expect from motels in San Diego, here is my selection of the best motels based on a variety of criteria that may be relevant to your needs.
$$
2 Guests
Downtown Location
Free continental breakfast
Placing you right in the vibrant heart of downtown the Baymont by Wyndham is a terrific base to explore the city's main sights and attractions.
Just a 15-minute walk from the Gaslamp District, which houses several excellent bars and restaurants, this awesome downtown San Diego motel near all the best places to visit in the city offers rooms with large, or extra-large double beds. These beds are so comfortable, you will struggle to get out of them in the morning!
All rooms also have free wi-fi, so you will be able to jump online whenever you want, as well as a hairdryer, and ironing facilities, to help you look your best before you head out for a night out.
The motel also offers a free continental breakfast which provides a convenient morning option, while guests might also want to take advantage of the onsite laundry services.
What is the One Item Every Traveller NEEDS???
There is one item every traveller NEEDS. Some travellers don't even know they need it, but those travellers need it more than anyone.
What is this forgotten essential of the backpacker-life? SPOILERS! Guess you'll just have to click the button to find out. 😉
Find Out What It Is!
$
2 Guests
Free Wi-Fi
Private Bathroom
If you are looking for an inexpensive, yet good San Diego motel option to stay at during a visit to a Padres ball game, then the Hotel Aqua Mar fits the bill perfectly!
Situated within easy driving distance of both, this charming motel offers boutique-style air-conditioned rooms that have a private bathroom, large double beds, and cable TV. So they will really feel like a home away from home.
Like most motels here, you will get free wi-fi and free onsite parking. There is also wheelchair accessibility for those who require it too.
In terms of dining options, don't worry you won't go hungry. The motel is within a two-minute walk of several eateries and bars, including one of the best seafood restaurants in the city!
$$
2 Guests
Outdoor Swimming Pool
Onsite Casino
There is no better place to stay for a romantic getaway in San Diego than at the Rambler Motel.
Located in the Chula Vista district this fantastic San Diego motel has it all! An on-site restaurant, an outdoor swimming pool, a casino, and even room service. So it has everything you could want to ensure you have a lovely time in the city.
Rooms are stylish and comfortable and have been thoughtfully appointed to create a lovely ambiance. The beds are big and really comfortable, whilst the decor has an element of fun about it which you will absolutely love.
You will also dig the free wi-fi, air conditioning, a private bathroom, and a flat-screen TV. While those who want to venture out to the shops, beach, and restaurants of downtown will be pleased to discover they are not too far away either.
$$
Up to 6 Guests
Outdoor Terrace & Garden
Cable TV with film channels
I know how hard it can be to accommodate larger groups in motel accommodation in San Diego, which is why the Sunrise Inn is a great option for families.
Offering clean and modern rooms with two large double beds, as well as the option of other beds too, the motel is situated just a five-minute drive from Liberty Station. Which is a popular district of fantastic shops, cafes, and restaurants you will love checking out.
Beautifully set up for families, they feature contemporary decor and a range of modern amenities like free Wi-Fi and cable TV with film channels that will entertain you at night.
During the day, the hotel's convenient location will also act as a great base to visit all of the city's main tourist attractions!
Is This the Best Travel Pack EVER???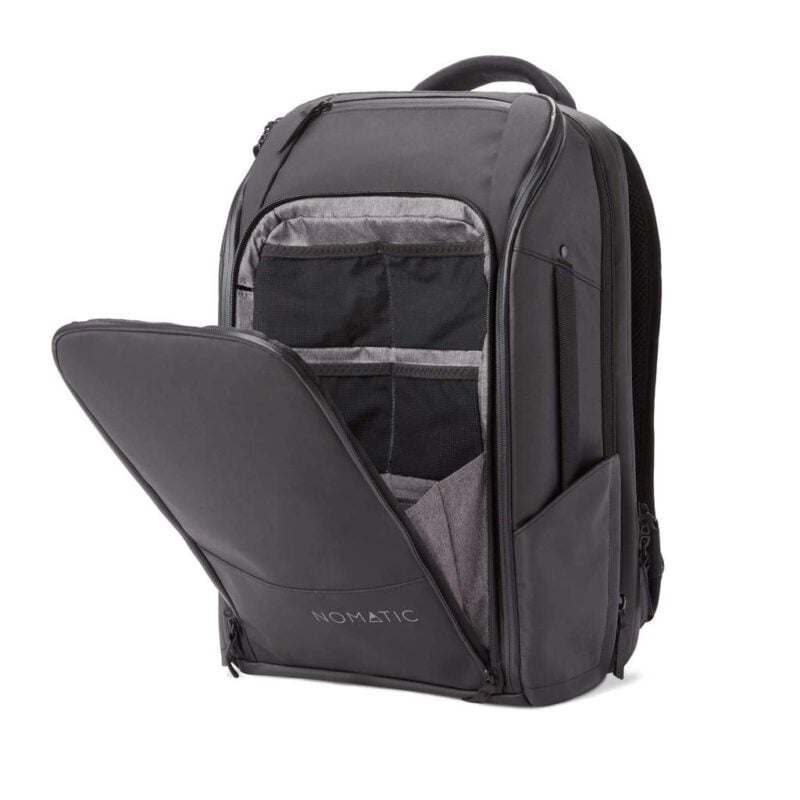 $$
2 Guests
150 metres from the Beach
Outdoor Swimming Pool
So you are only in San Diego for the weekend and want something with a great location and good rates? Well, look no further than the PB Surf Beachside Inn.
For a start, it's only half a block to the magnificent Pacific Beach, which means you'll be able to go for a swim or surf as often as you want. It's also less than a 10-minute drive to SeaWorld and La Jolla Museum, whilst the San Diego Zoo is just 20 minutes away.
One of the best things about this motel near Pacific Beach in San Diego is that it has a wonderful swimming pool as well as BBQ facilities and an outdoor terrace too. So you can really immerse yourself in the famous California lifestyle!
The rooms at the motel are beautifully presented, with air conditioning, a flat-screen TV, and a private bathroom all contributing to a very good level of comfort.
$$
2 Guests
Outdoor Pool & Hot Tub
Close to Beach
San Diego can get very hot! So you might want to choose a motel either near the best beaches in San Diego or with a nice swimming pool that you can enjoy a cooling dip in. Or you can have both at the Best Western Mission Bay motel!
Handily placed within easy walking distance of the beach, the hotel is also just a short drive to Sea World, Mission Bay Park, and the downtown area. So you will be able to easily tour around the city whilst staying here.
This lovely San Diego motel is a pet-friendly establishment that offers comfortable rooms with a coffee maker, microwave, and refrigerator for those who want to prepare drinks and snacks. In addition, they provide a complimentary continental breakfast, as well of course free Wi-Fi to help you stay online.
One of the best aspects of this motel is the staff, who are so congenial and approachable you will soon start to refer to them as friends!
$$
2 Guests
Daily Continental Breakfast
Tour Desk
The old town of San Diego is a fantastic area to stay at and should you want to be based here then you simply can't go past the Old Town Western Inn!
Offering outstanding value-for-money, rooms are simply furnished, yet you will find them very comfortable. Especially the beds, which are designed to give you an awesome night's sleep!
The motel offers free Wi-Fi which will help you stay online for your socials or Netflix. While the daily continental breakfast it serves will set you up nicely for the day's activities. Should you need them, laundry services and a business center are also available for use by guests.
A real gem, this old town San Diego motel is just a short drive to Sea World. It is also situated close to Interstate-5, so it gives you great scope to quickly hit the highway when it's time to go home.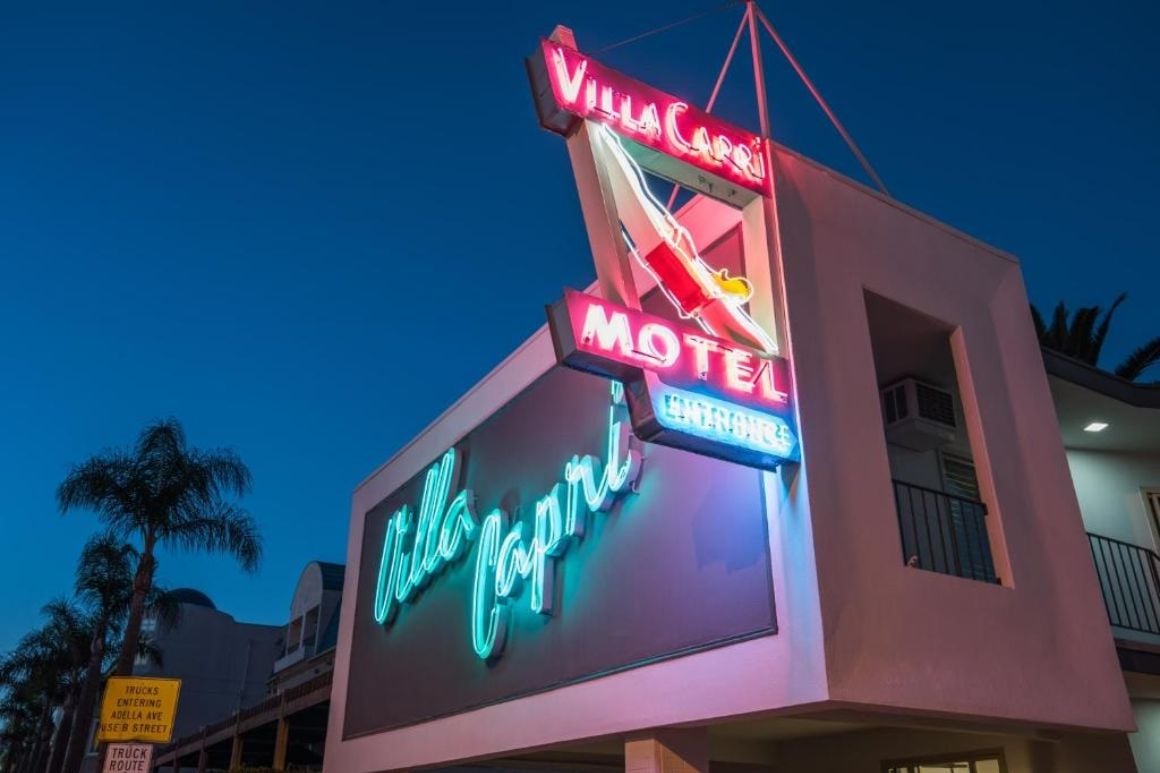 $$
2 Guests
Close to Beach
Tea/coffee maker in all rooms
So you wanna hit the beach huh? Well, there is no better beach motel in San Diego than the Villa Capri by the Sea!
Situated just 300 metres from the ocean, you'll be able to go for a swim, surf, or a walk on the sand as many times as you want during the day. You will also be able to get to the Old Town, San Diego Zoo, Balboa Park, and SeaWorld very easily too, given that they are a short drive away.
The rooms here are spacious, and well equipped with a private bathroom, and a microwave which, is great for heating up popcorn, which you can munch on whilst watching your favourite shows on the flat-screen TV.
If you are feeling energetic, the hotel can hook you up with tennis, golf, fishing, canoeing, and hiking activities. All of which happen off-site.
$
2 Guests
Pets Allowed
Laundry
Your pet is very much part of the family right? Well if that is the case then you should definitely check out the Time Travel Motel.
Undoubtedly the best of all pet-friendly San Diego motels, this property is situated near a number of parks and lakes, which serve as the perfect spot to take your pooch for a family fun day out.
Set on lovely manicured grounds, the motel offers comfortable, modern rooms that are furnished with a small fridge and a microwave, which means you can heat up your own meals. Daily housekeeping will make your bed always feel fresh, whilst the free Wi-Fi will keep you in touch with the wider world, any time you need to be.
If you fancy going for a drink in the evening, the Fall Brewing Company, Helix Brewing Company, and Bolt Brewery are all within a short drive or cab ride away and provide a lovely night out.
$$
2 Guests
40-inch flat-screen TV with over 60 channels
Onsite Laundry Facilities
SeaWorld is one of San Diego's biggest attractions, so if you are looking for a convenient place to stay near there, then the Motel 6 on the Midway-Pacific Highway is a fabulous option.
Just a short 10-minute drive from SeaWorld, this property is also within easy reach of five different beaches. So you will have plenty of opportunities to frolic in the ocean, in-between visits to this major tourist destination.
Another San Diego motel where pets are allowed, rooms here are a pretty good size. The beds are also comfortable too and decorated in quite a refined style. They also boast a 40-inch flat-screen TV with over 60 channels for you to flick between, so you won't be yearning for options of what to watch.
If you like to party, all the best restaurants and bars in the Old Town are just a short cab ride away. Whilst shopaholics will love all the goods on display at the nearby Fashion Valley Mall, which has some amazing stuff!
Don't Forget Your San Diego Travel Insurance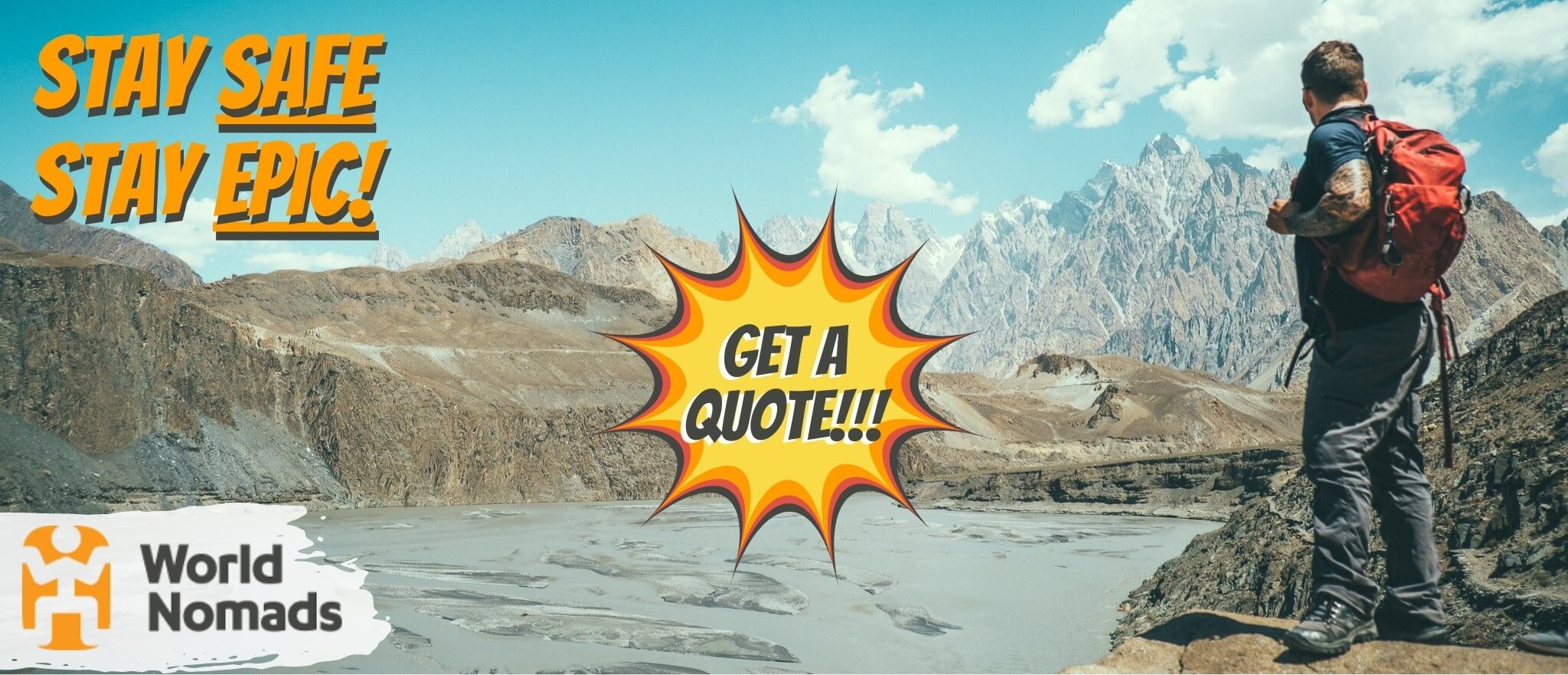 It's good to get lost sometimes, but it's also good not to get too lost. There are people that want you home in one piece.
There's one travel insurance provider The Broke Backpacker trusts for all his wildest shenanigans… World Nomads!
Click the button below to get a quote on your insurance or read our in-depth review of World Nomads' coverage. And then… let the shenanigans begin. 😉
Final Thoughts on Motels in San Diego
San Diego is one of California's most popular city's to visit, and given its sunny climate, major tourist attractions, great nightlife, and delicious food it is easy to see why.
But as tourists flock here all throughout the year, the availability of places to stay can dry up, which in turn can see rates increase.
For this reason, it is easy to fall into the trap of paying exorbitant rates for accommodation in San Diego, particularly if you book a resort or hotel. This, of course, is exactly why the cheaper rates offered by motels are such an attractive option.
Aside from saving you money, motels also afford you a good standard of service, cleanliness, and comfort. So whether you are after an overnight stopover en route to somewhere else, or a prolonged vacation, the option of a motel is one you should always be mindful of.
During the planning stages of your trip to San Diego, please consider taking out travel insurance. This is especially relevant for international travellers, as it could save them a lot of hassle and stress!
---
Thanks for reading – that was fun! 😀
We bring you epic FREE content!
Find out how YOU can help support us.
We're a big site with a big team and this job isn't always easy. But we do it because we love it – we love providing epic and free content. We love the knowledge that our content keeps you adventuring. We don't ask for money, but if you'd like to find out how you can help the site in more organic ways, click the button below.
Thank you for your support 🙂
---
Bye for now, but not forever!
If you want MORE top-tier Broke Backpacker content like this, then sign up for our weekly newsletter below to get the latest and greatest!
And for transparency's sake, please know that some of the links in our content are affiliate links. That means that if you book your accommodation, buy your gear, or sort your insurance through our link, we earn a small commission (at no extra cost to you). That said, we only link to the gear we trust and never recommend services we don't believe are up to scratch. Again, thank you!