Trekking in Myanmar, especially the Chin State was, once upon a time, very much off limits. Until relatively recently, it was only possible to visit if you had an expensive government-issued permit. Foreigners have been visiting this far-flung corner of Myanmar for five years or more now to trek into the steaming forests and meet the local people. Chin is a part of Myanmar unlike any other, this is a place where, deep within the valleys, some tribes still follow Animist beliefs and hunt for tigers in the hills. Parts of Chin have changed forever as phone signal and development has rolled in but hit the trail and trek out of Mindat and you are quickly lost amongst the trees. The people are curious and it's very easy to arrange home stays in the villages as you pass through. I spent six days sleeping on wooden floors, it killed my back and exploring the Chin valleys.
We started this adventure with a long drive from Bagan to Mindat, pausing along the way to enjoy a road-side Chin banquet for $2.
Whilst eating, I was set upon by a drunken and friendly chap in a leather coat, he very much insisted that I drink.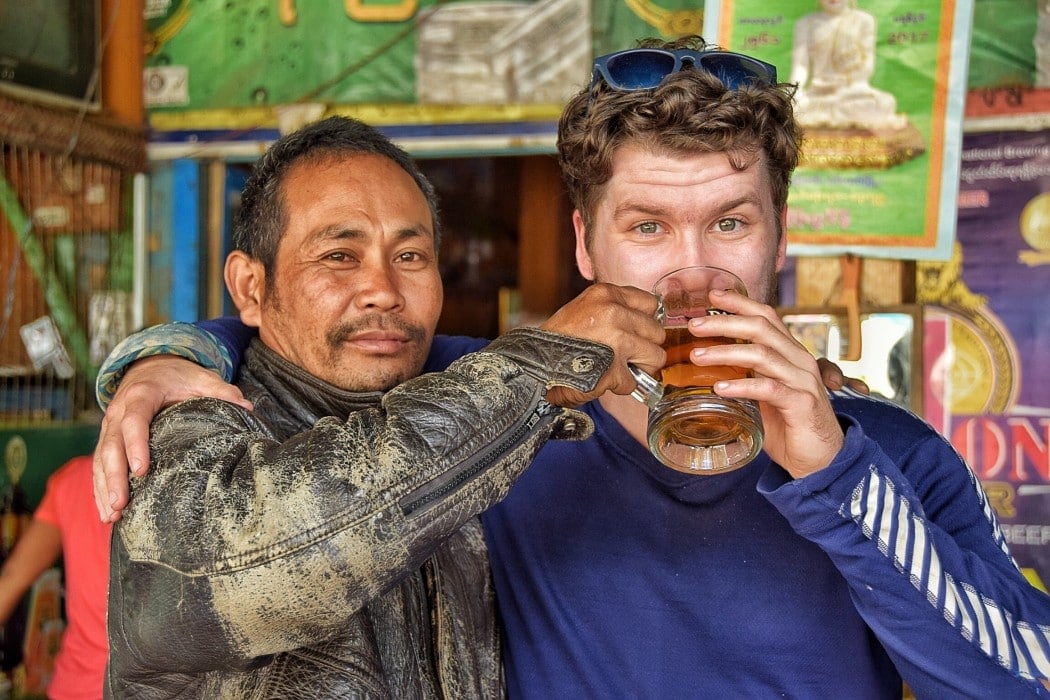 Arriving in Mindat, we hurried to see Yaw Shen, the legendary nose-flutist of Chin, a woman famed for her musical skills and gorgeous facial tattoos.
In Mindat there is a very small museum in one guy's house filled to the brim with tribal artefacts, WWII relics, animal skins and skulls and jewellery that is thought to be a thousand years old.
Hunting has historically been a very important part of daily life in Chin, the people are renowned for eating pretty much everything. It is illegal now to hunt the dwindling population of bears, tigers, leopards and green peafowl ('daung' in Burmese), but with zero government monitoring, it happens anyway. The owner of this small museum showed me the skull of a bear his grandfather had killed with a knife.
In Mindat, the people are used to seeing the occasional foreigner. Children smile shyly and then run at speed away from you when you say hello.
Leaving Mindat, we took to the hills…
Being on the path is an interesting experience as we pass the occasional locals going about their business, bringing supplies to their villages.
The older women of Chin are famed for their facial tattoos, some say these were to discourage kidnappings from rival tribes but others think it was simply the fashion at the time. The practice is now dying out and very few young people have facial tattoos.
A young lad pretending to drive a motorcycle… Chin would be the PERFECT place for backpackers wanting to get off the beaten path and explore Myanmar by motorcycle.
We walked for four days, heading deeper into the valley and staying in more and more remote villages.
Villagers drying fruits and beans in the sun.
Once upon a time, Chin's population followed Animist beliefs, these days most of the villages close to Mindat are Christian. These home-made crosses are used to hold the decapitated heads of cows slaughtered for sacrifice (and a feast!).
Grinding corn into flour
The nights in Chin are incredibly cold, wrap up warm.
Tigers and leopards still roam the hills, unfortunately a lot of the local people shoot them on sight for illegal export to China. I spotted this Leopard skin hanging to dry on a branch. Sometimes travelling can be ugly.
Myanmar's ethnic groups donned tattoos as spiritual protection, signs of social status and antidotes to ward off diseases.
Shy lad and friendly mother.
Who needs an X-box when you have a good old fashioned tire…
A beautiful sunset lording over Chin state.
Trekking in Myanmar is a fantastic way to get off the beaten track and truly get to grips with the most incredible part of Myanmar; the people. There are a lot of different places to go trekking in Myanmar, Kalaw to Inle is probably one of the most popular treks but is insanely touristy. There are so many corners of Myanmar only just beginning to open to tourism that it is possible to get well and truly away from the crowds – especially if you have your own transport! This trek into Chin was made possible through the kind sponsorship of FlyMya who arranged our permits, guide and transport from Bagan to Chin and back again. If you are keen to do some truly amazing adventures trekking in Myanmar and need help sorting out guides or permits, FlyMya should be your first port of call.