Ah, France. The gift that keeps on giving. I mean, we're talking croissants, the Eiffel Tower, ancient cathedrals, and lavender fields…the works! Whether you're there to live out your Parisian fantasies (I'm looking at you, Emily in Paris fans!) or simply want to soak up the southern sun, you'll definitely find something in France with your name on it!
France may immediately bring to mind berets and baguettes, but did you know that the French countryside is also dotted with some pretty amazing parks? From skiing to hiking or even dirt biking and swimming, the national parks in France are filled with diverse activities to please just about every type of traveler!
What are National Parks?
Because they house exceptional wildlife and landscapes, national parks are protected by governmental or private bodies. While these parks are normally set aside to preserve their natural environment, flora, and fauna, they are open to the public under certain conditions. Some national parks are also set aside for scientific or historical interest.
France actually has 11 national parks scattered across the French overseas departments and Metropolitan France. They were all collectively set up to serve as safe spaces for animals, birds, and varying plant species. In addition, the French national parks also help protect heritage sites. While some parks are located in remote areas near the borders, others are (surprisingly enough!) quite close to larger cities and towns.
Guided by the Ministry of Ecological Transition as well as the Ministry of Agriculture and Food, the French parks draw over 8 million visitors per year- so be sure to plan ahead if you wish to avoid the crowds!
National Parks in France
Whether you'd like to backpack France or planning a shorter stay, believe me when I say, you really don't want to miss out on its amazing outdoor activities.
Here are 7 of the best national parks in France that you may wish to add to your itinerary.
Vanoise National Park
Size: 534 km²
Location: Auvergne-Rhône-Alpes
Cost of Entrance: Free (activities charged separately)
Are you looking for the most exciting national parks in France? I'm sure you are! Well, I can totally vouch for Vanoise National Park which just so happens to be among the country's oldest parks- not to mention an absolute hotspot for winter activities!
If you love snow, you'll definitely feel right at home in Vanoise which turns into an absolute wonderland during those colder months, with snowshoeing, skiing, and even ice diving on the menu.
While it's especially known for its winter sports, this park is a year-round destination, offering plenty of other things to do in spring and summer as well.
For instance, hikers will have plenty of scenic trails to explore, including the famous Petit Mont-Blanc. This challenging route kicks off from Pralognan-la-Vanoise and requires nearly 6 hours to complete. For the best views, I would recommend that you explore this trail between May and October.
La Vanoise is also a popular destination for mountaineering since the park is surrounded by several majestic peaks- not to mention the largest ice cap in Europe! More experienced mountaineers can also treat themselves to a tour of the Vanoise glaciers. Bear in mind that this is a super challenging activity that is best performed alongside an experienced guide for your own safety. Glacier tours normally require 5-7 days.
For something tamer, you can always take a stroll through the park's charming villages such as Pralognan-la-Vanoise, a typical French village that's locally known as 'The Pearl of the Alps.' The villages feature plenty of family-owned restaurants where you can warm up with a locally-brewed wine or treat yourself to a French feast after a full day of trekking!
Where to Stay Near Vanoise National Park
Planning a winter vacation in France? Then you'll no doubt feel right at home in this Ski-In/Ski-Out apartment, located less than an hour away. Best of all, the apartment lies in the Val Thorens resort, another skiing hotspot. Perfect for couples, this space features a bedroom and a well-equipped kitchen.
Mercantour National Park
Size: 679 km²
Location: Provence Alpes Côte-d'Azur
Cost of Entrance: Dependent on the activity
It won't take you long to realize that there are heaps of super fun things to do in France's national parks- and Mercantour is no exception!
An absolute treasure trove for history buffs, this park is especially known for its ancient frescoes found in its 15th-century chapels. In addition, Mercantour also features over 30,000 prehistoric carvings. While the park does have some protected areas that are roped off to visitors, you'll still be able to view the prehistoric relics from afar.
With 1700km of biking and hiking trails, this place also offers plenty to nature lovers and thrill seekers! Just remember that the terrains are quite steep and covered in tiny pebbles so you may wish to shoe up adequately. Rest assured that the hiking trails are also open in the winter, so you'll be able to enjoy gorgeous views of the snow-capped peaks.
If you don't have time to explore all the trails, I can recommend the Lac de Vens via the Col du Fer (moderate), Lac du Lauzanier (easy), as well as the Mont Pelat and Encombrette Pass (hard) trails.
In addition, the park is an excellent destination for various types of whitewater activities, including abseiling and canyoning.
Climbers will no doubt find their joy in the many peaks that surround the park! Towering at over 10,000 feet, Gélas, Mercantour's tallest peak, draws heaps of plenty of mountaineers from all around the world. While this experience is only suited to pro climbers, you'll also find easier peaks where you can practice your roping techniques alongside a state-certified mountain guide.
Families traveling with children may wish to check out the Train des Merveilles which translates to The Wonder Train. A fun way of exploring Mercantour, this trail starts off at Nice and takes you across the historic salt trade road, past the Mediterranean coast, and into the French Alps. You'll disembark in Tende which is just a stone's throw from the House of Mercantour landmark. The train runs from June to September and costs around $16 per person.
Where to Stay Near Mercantour National Park
Enjoy an immersive experience surrounded by nature with a stay in this suspended house for five! With two bedrooms and even a kitchen, this quaint space lies just 30 minutes from Nice- perfect for travelers who'd like to catch the Wonder Train to Mercantour!
Month to month payments, no lock-in contracts, and no itineraries required: that's the exact kind of insurance digital nomads and long-term traveller types need. Cover yo' pretty little self while you live the DREAM!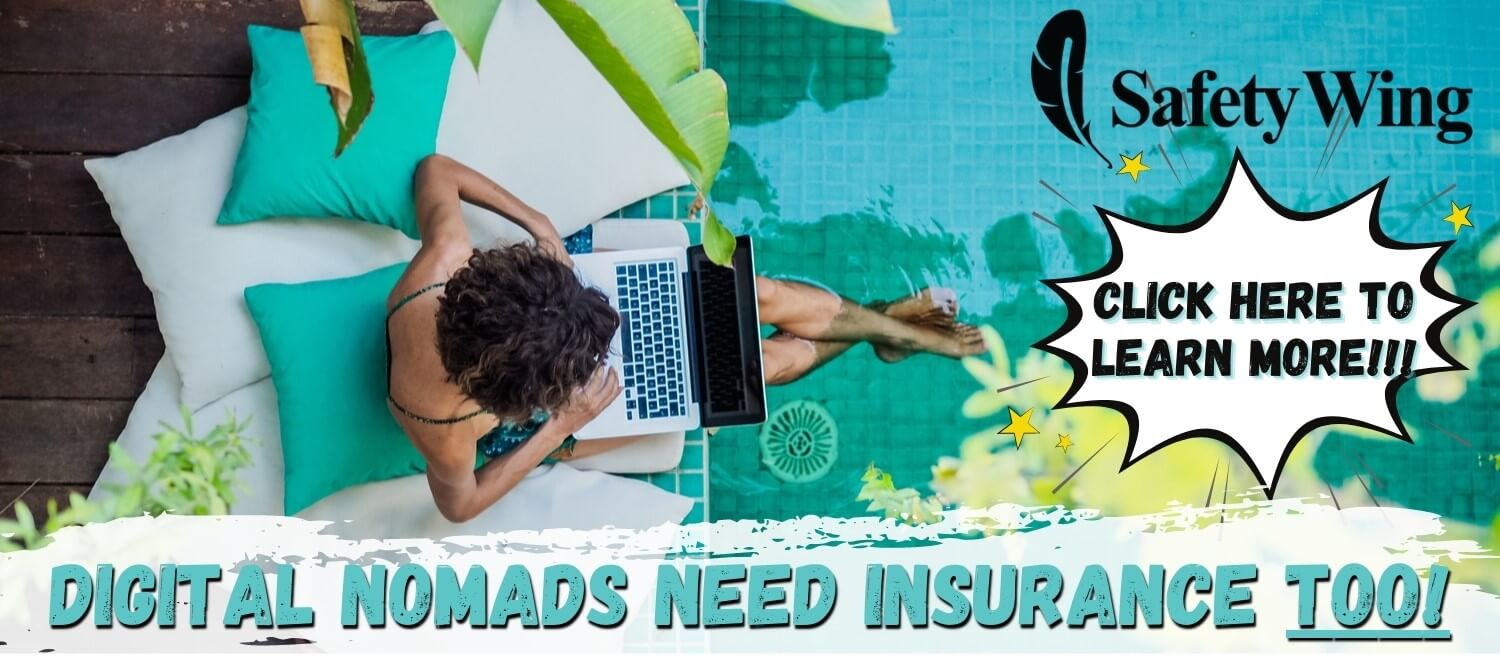 SafetyWing is cheap, easy, and admin-free: just sign up lickety-split so you can get back to work! Click the button below to learn more about SafetyWing's setup or read our insider review for the full tasty scoop.
Ecrins National Park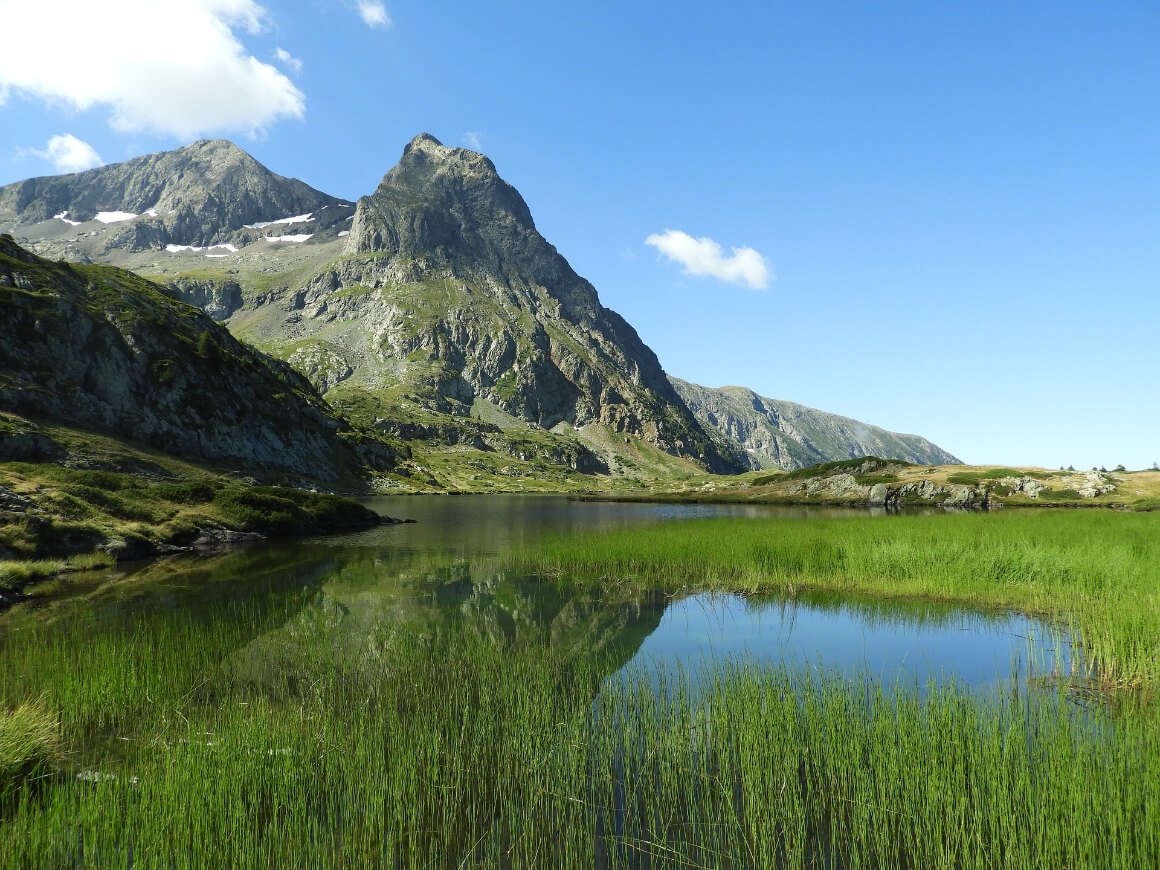 Size: 925 km²
Location: Hautes-Alpes and Isère
Cost of Entrance: Free (activities charged separately)
Not unlike Vanoise, Ecrins National Park is another great France national park for mountaineering fans!
Indeed, this park boasts over 100 mountains, including the Barre des Ecrins which just so happens to be the second-highest peak in the country. Standing at 13,458 feet high, this peak is especially known for its many glaciers.
One of the unique things about this park is that it contains multiple designated natural reserves within its borders, including the Vallée de la Séveraisse, the Vallée de Saint-Pierre, and the Pics du Combeynot. While several of these natural reserves are off-limits to visitors, they're surrounded by 700 kilometers of marked trails. In fact, if you're looking to lose yourself in the wilderness and really connect with nature, you can always opt for one of the longer trails that include overnight camping in the mountains. Keep your eyes peeled for the high-altitude mountain huts where you can get some rest.
If you're looking for something a bit more relaxing, you can always explore the place by car. One of the most scenic drives starts off near Le Bourg d'Oisans and ends at a small mountain outpost known as La Berarde.
In addition, the Ecrins National Park's mountainous landscape is punctuated by fast-flowing rivers that offer the ideal conditions for river running.
If bicycles are more your thing, I would recommend that you head over to the nearby Alpe d'Huez, one of the Tour de France's most popular mountain climb routes. While this area doesn't technically fall within the boundaries of the park, it's located right by the northeastern border.
Where to Stay Near Ecrins National Park
Located less than 20 minutes from Ecrins National Park, this classic chalet features vintage architecture with modern-day comforts. Ideal for families or groups of friends, this space offers 2 bedrooms for 4 guests. As the evening settles in, you can always kick back on the terrace to watch the sunset over the lush surroundings.
Pyrénées National Park
Size: 458 km²
Location: Pyrénées
Cost of Entrance: Free
If you're looking for family-friendly things to do in France's national parks, I can strongly suggest a visit to the Pyrénées National Park.
Nestled by the Spanish border, this park offers plenty of hiking and driving trails alike. Parents traveling with kids can always rent a car to explore the mountain passes. Alternatively, you can always take the cable car from the Lac de Fabrèges to the Pic de la Sagette. From there, you'll enjoy a relaxing 4-hour scenic train ride through the mountains.
One of the park's highlights is no doubt the Cirque de Gavarnie, an absolutely huge circular cliff that overlooks the valley. This area is especially renowned for its waterfall and natural amphitheater. Best of all, the Cirque de Gavarnie lies just a short stroll from Gavarnie village. For more dramatic views, you can always hike over to the Cirque de Troumouse, an even bigger cliff found in a remote area of the park.
Because of its abundant flora and fauna, the Pyrénées National Park is both a biosphere reserve and a UNESCO World Heritage Site. Along with its numerous waterfalls, this area also features river ravines, glacial lakes, and various wildlife like the red fox, brown bear, chamois, red squirrel, and the like. If exploring higher terrains, keep your eyes peeled for the magnificent golden eagle!
Where to Stay Near Pyrénées National Park
Perched right by the edge of a forest, this little cottage offers easy access to Pyrénées National Park and is well-suited to couples or groups of 4. Hikers will be glad to learn that the space lies just 20 minutes from the gorgeous Argelès-Gazost. With a rustic interior, this space also features a well-fitted kitchen.
Forget boring accommodation… book yourself an EPIC STAY!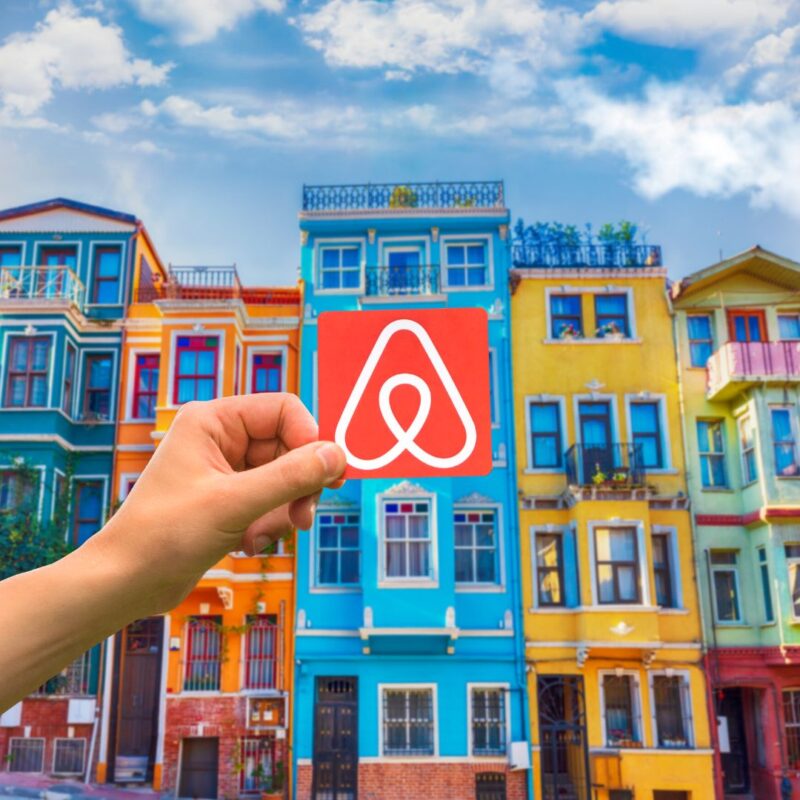 Why stay in a naff hotel when you can stay in a cosy, stylish local house instead? And for half the money too!
Stay somewhere EPIC and save your hard-earned dollars — from houses to barns to castles and caves, there is an Airbnb for every occasion!
Book an EPIC Stay
Calanques National Park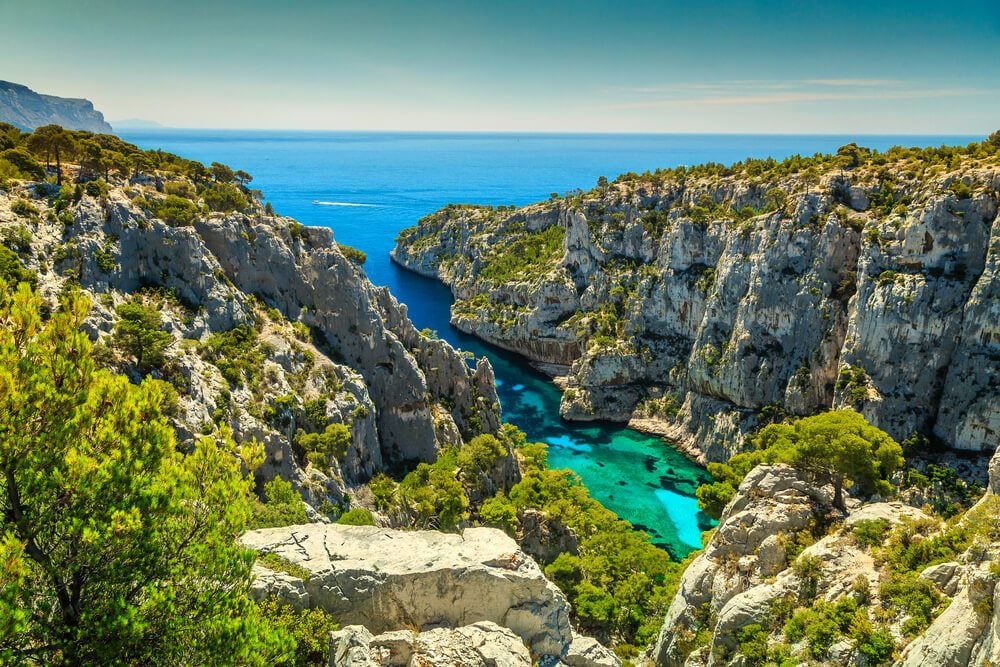 Size: 520 km²
Location: Bouches-du-Rhône
Cost of Entrance: Free
Wondering when's the best time to visit national parks in France? Well, while most parks offer year-round activities, I would recommend that you visit Calanques National Park during spring or summer- especially if you want to soak up the best sights!
Located near Marseille, this park is especially known for its craggy beaches fringed by vivid turquoise lagoons and surrounded by tall canyons. Plenty of secret coves await- perfect for guests who want to escape the crowds!
Of course, it goes without saying that this park is an absolute dream come true for fans of outdoor activities! For snorkeling and swimming, I would recommend that you check out En-Vau, Sugiton, Sormiou, and Saint-Esteve beaches. Parents traveling with kids should be aware that lifeguards are only available on the Saint-Esteve and Sormiou beaches while the rest are unsupervised.
In addition, Calanques is crisscrossed by an intricate network of hiking paths of varying difficulty. Virtually all of them boast spectacular views of the ocean, sea creeks, and cliffs. The park gets super hot in summer and there's not a lot of shade available so remember to carry plenty of water and sunscreen.
Now, there's no denying that Calanques National Park is awash with outdoor adventures, but it's also important to know that the park has a fragile ecosystem. As such, visitors are expected to follow certain rules such as only wearing eco-friendly sunscreen for swimming and snorkeling. When indulging in land activities, remember that smoking and campfires are strictly prohibited.
Where to Stay Near Calanques National Park
Couples, this one is for you! For a romantic retreat tucked away in the French countryside, you can always consider this cute treehouse near Calanques National Park. In addition, the treehouse is fitted with a small fridge as well as an espresso machine so you can wake up to a hot brew in the morning!
Port-Cros National Park
Size: 46 km²
Location: Hyères
Cost of Entrance: Free
Fans of nautical adventures, rejoice! As the only island park in France, Port-Cros is well-suited to travelers who'd like to take advantage of the azure Mediterranean waters.
Because the park lies on Port-Cros island, it's only accessible by boat. Budget around $41 for a boat ride from the Saint-Pierre Marina to Port-Cros National Park.
Bear in mind that while it's teeming with nautical activities, the island was set up to be a safe space for its fauna and flora so there are certain restrictions in place. For instance, swimming and sunbathing are only allowed in specific areas so be sure not to venture from the designated spots. After all, there's nothing quite like being slapped with a hefty fine to ruin a vacation! If visiting in August, don't forget to bring insect repellent since there are plenty of horseflies on the beach.
Port-Cros is entirely devoid of any form of transportation- and yes, that includes biking! With three inland and coastal trails, the island is best explored on foot. Remember to bring your best hiking shoes since some areas can get quite steep. By the same token, some paths aren't suitable for children or strollers.
Where to Stay Near Port-Cros National Park
Located smack bang on the beach, this fisherman's house comfortably sleeps 6. If you haven't had your fill of the sea and sand at Port-Cros, you'll be glad to learn that this Airbnb offers direct access to the beach. There's even a well-equipped kitchen that you can use to put a quick meal together.
Is This the Best Daypack EVER???
Parc National de Forêts
Size: 560 km2
Location: Hyères
Cost of Entrance: Free
This relatively new addition to the family of national parks in France sure packs a punch with acres of lush, verdant woodlands to explore!
Freshly established in 2019, this site differs from traditional French parks: for starters, it's quite accessible from major cities (3 hours from Paris). In addition, this is one of the rare national parks in France that lies far from the ocean or mountains. It also encompasses part of the Champagne and Burgundy areas.
Plenty of manmade trails were set up, allowing visitors to mosey about on a bike or foot. In terms of fauna and flora, you'll most likely spot black storks nesting in centenarian oak trees. The park is home to the exceptionally rare Venus Slipper Orchid flower. It goes without saying that visitors aren't allowed to pick this flower, or they'll be fined nearly $16,000.
Another unusual thing about this park is that it celebrates the local culture just as much as nature. Truffle hunting has always been an integral part of rural France and you can even sign up for a truffle hunt alongside local village people and their experienced truffle hound dogs.
Foodies will also have the opportunity of booking a taste session of local specialties, including honey, goat cheese, and (of course!) truffles.
Where to Stay Near Parc National de Forêts
One day isn't enough to soak up all the sights? Don't worry- you can always spend the night in this authentic hut located right in the Parc National de Forêts! Surrounded by plenty of greenery, this hut can accommodate 3 guests. Enjoy a delightfully rustic experience, complete with a Nordic Bath and gentle outdoor shower.
Final Thoughts
So, what are you waiting for? Time to zip up that suitcase and book your ticket to France!
As you've probably realized by now, each French national park has its own share of awesome things to do, but if you can only spare a few days, I would recommend that you visit Mercantour National Park.
Not only does it provide a fascinating glimpse into the local history, but Mercantour's diverse landscape is also ideal for hiking, biking, or mountain biking. Families also have it made with easy driving routes as well as a scenic train ride through the historic salt trade road and into the French Alps.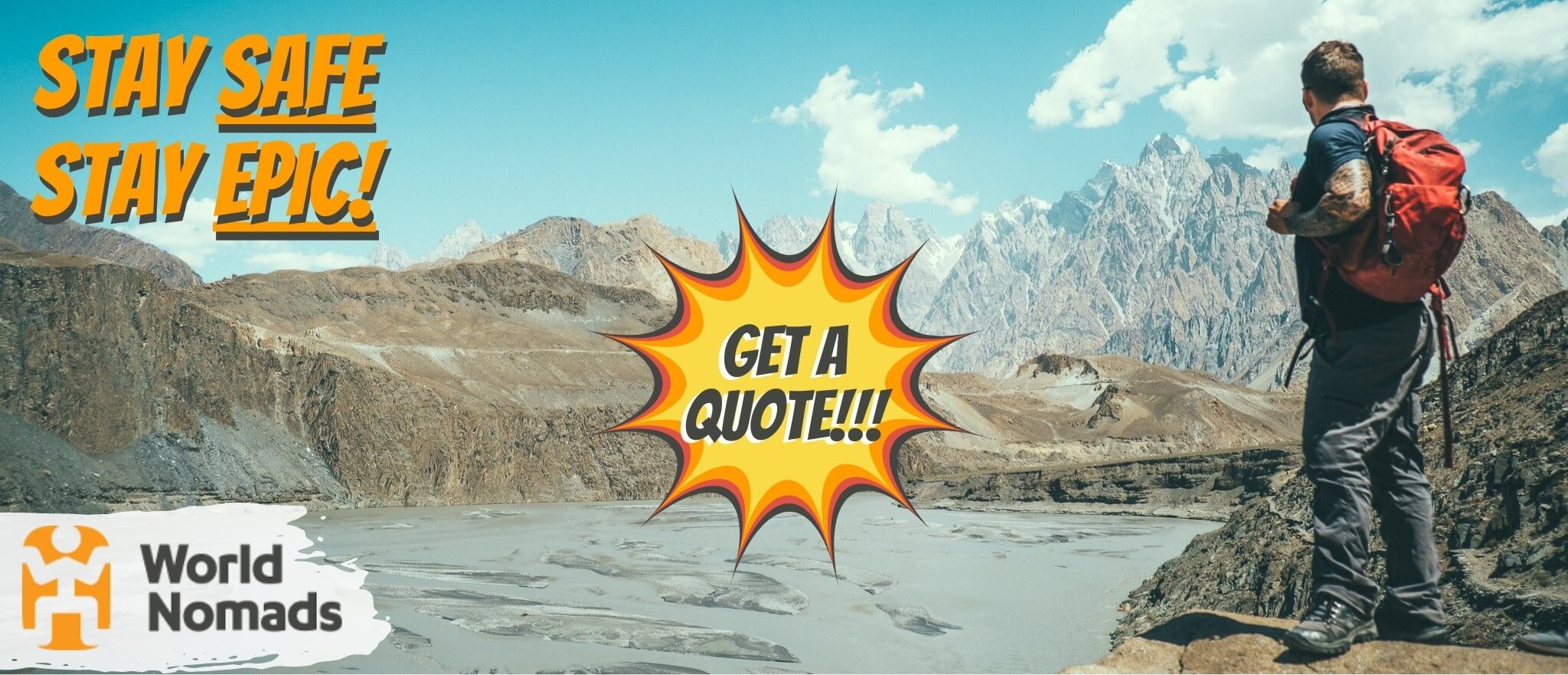 World Nomads' mission is to support and encourage travellers to explore their boundaries. They offer simple & flexible travel insurance, and safety advice to help you travel confidently.
They've been doing it since 2002 – protecting, connecting, and inspiring independent travellers just like you.
Get a quote below or read our in-depth review!
World Nomads provides travel insurance for travelers in over 100 countries. As an affiliate, we receive a fee when you get a quote from World Nomads using this link. We do not represent World Nomads. This is information only and not a recommendation to buy travel insurance.
---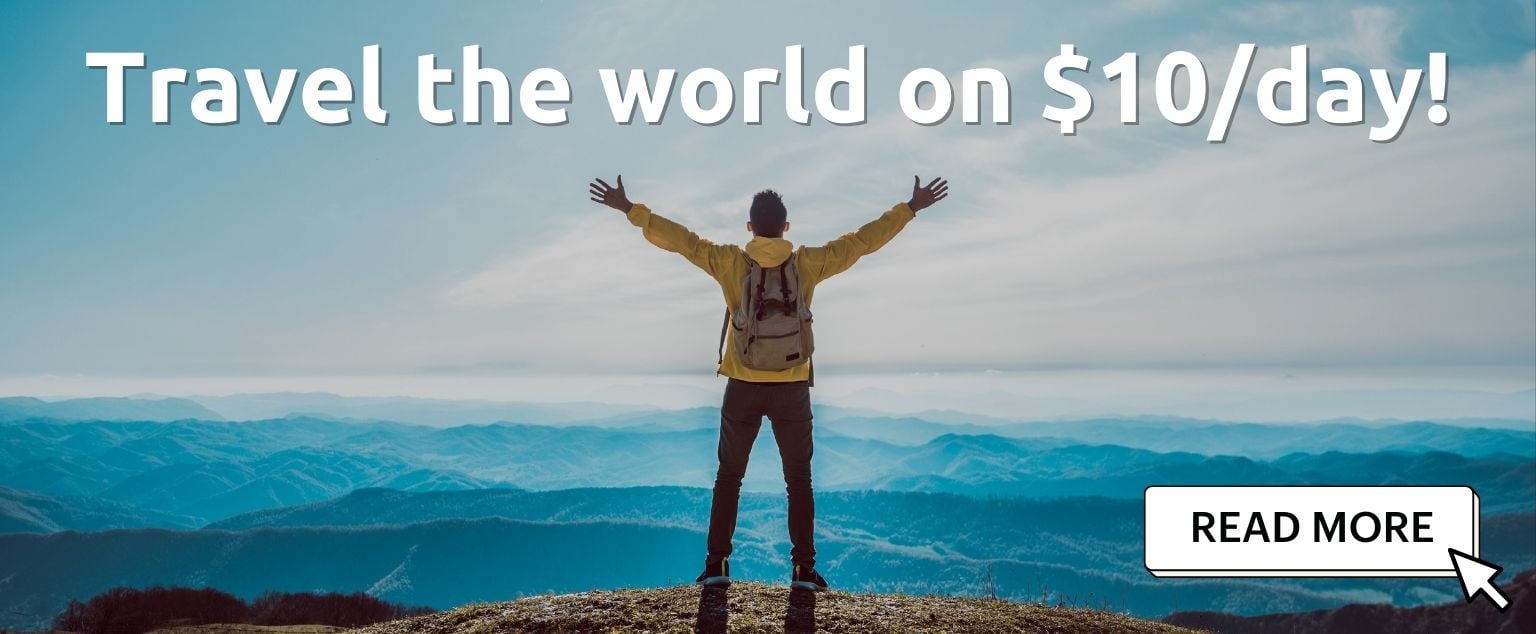 And for transparency's sake, please know that some of the links in our content are affiliate links. That means that if you book your accommodation, buy your gear, or sort your insurance through our link, we earn a small commission (at no extra cost to you). That said, we only link to the gear we trust and never recommend services we don't believe are up to scratch. Again, thank you!