The northern lights, the mystical fjords, the sheer abundance of mesmerizing sights…seriously, what's there not to love about Norway?
It's no secret that the Land of the Midnight Sun is brimming with an abundance of amazing parks that are just waiting to be uncovered. And if you're wondering where Norway gets its nickname from, that's because at least 1/3 of the country merges into the Artic Circle, promising the adventure of a lifetime!
The national parks in Norway each have their own characteristics so there's always going to be plenty to explore. Virtually all parks have well-marked hiking trails, making it a breeze for you to leave your daily grind behind as you embrace the Norwegian wilderness.
So, let's check out 11 of the best national parks in Norway!
What are National Parks?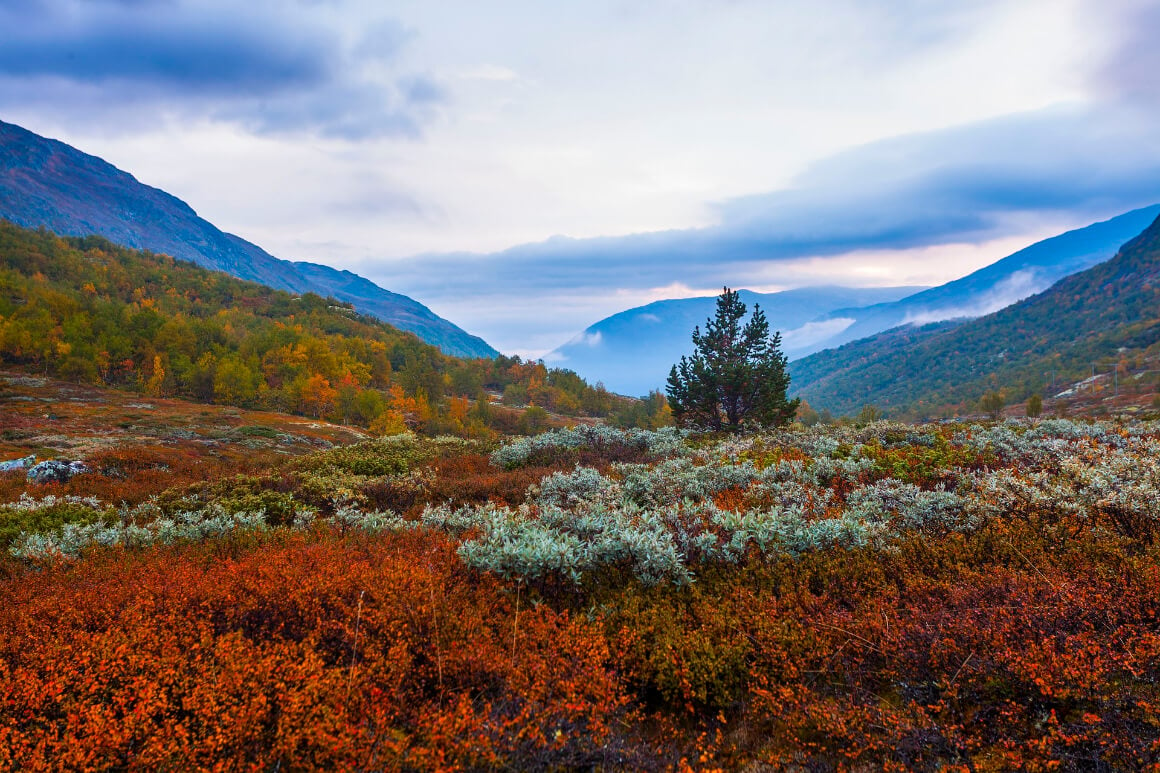 I'm sure you must be wondering how national parks differ from regular ones. Well, unlike regular parks, national ones are often set up by the government or private institutions looking to preserve and protect certain areas. These areas can be on land or in the sea.
In addition, most national parks are renowned for their unparalleled beauty- not to mention their population of endangered flora and fauna.
Norway has a total of 47 national parks. 7 of these are found in Svalbard, while 40 are located on the mainland.
To ensure wildlife conservation, most Norwegian national parks have some pretty strict rules in place. For example, practically all motorized vehicles are forbidden. Activities like camping, skiing, and hiking are allowed provided that you respect the local flora and fauna and clean up after yourself.
It's also important to know that some parks- especially those found in Svalbard- are found in remote areas, far from most accommodation options. The good news is that most parks have small huts dispersed on their longer hiking trails if you'd like to prolong the fun and spend the night!
National Parks in Norway
Whether you're looking for cool photo opportunities, backpacking Norway, or chasing adventures in the Arctic circle, there's no shortage of adventures awaiting in this magnificent country!
Here are a few parks that you can consider for your itinerary.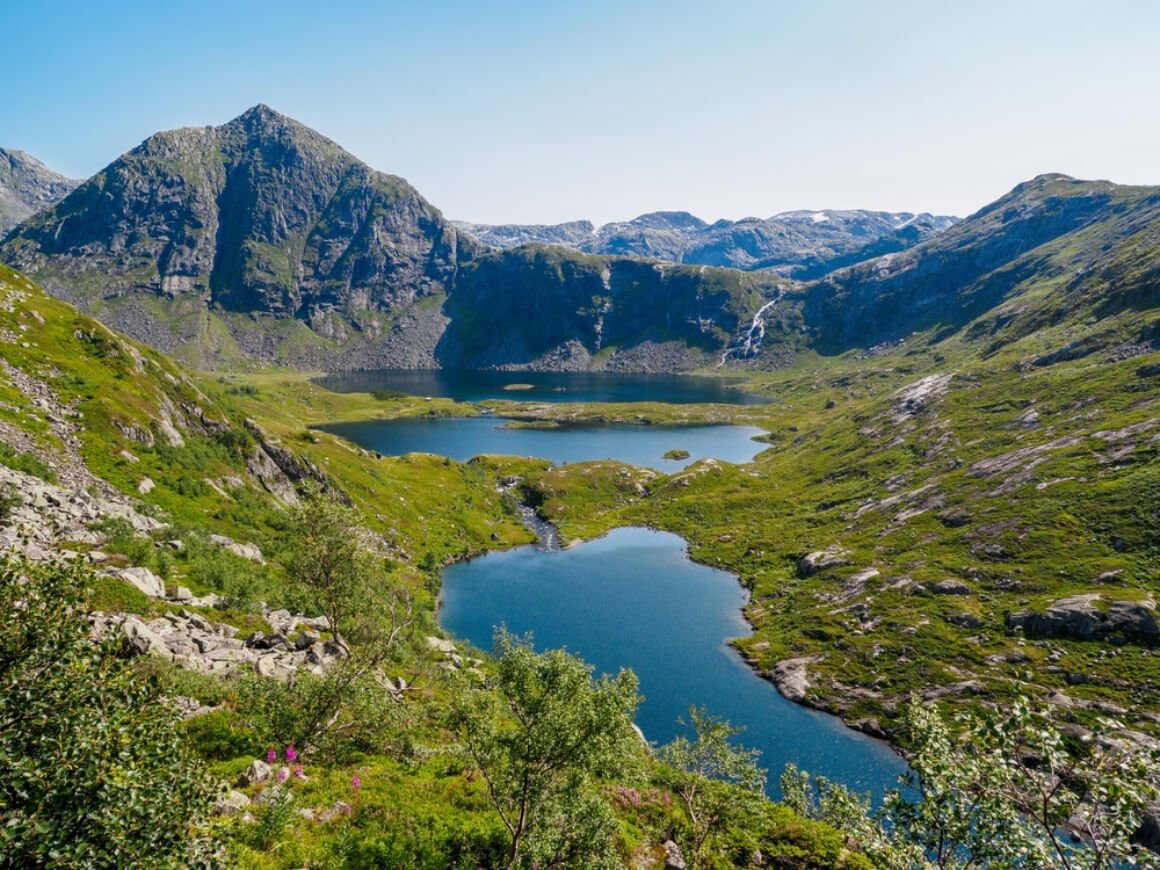 Size: 207 km²
Location: Vestland county
Cost of Entrance: Free (activities charged separately)
Literally translating to 'mass of snow', Folgefonna National Park is often said to be one of the best national parks in Norway- and for good reason!
Stretching along Hardanger Fjord's southern shore, this park totally takes the cake when it comes to thrilling activities. Expect massive icecaps, majestic falls, rapids, glaciers…the works! Sprinkle in some meadows sprinkled with wildflowers and emerald-green lakes, and you've got the perfect setting for the perfect Alpine adventure. The park is also home to the Folgefonn Icecap which just so happens to be the third largest in Norway.
Now I do have to point out that Folgefonna National Park is known for its harsh conditions, so you may wish to visit between May and September when the weather's milder. You'll find plenty of fun things to do by the glacier, including kayaking and hiking.
Scenic hiking trails crisscross across the park, perfect for those who'd like to explore the Folgefonna glacier on foot. Experienced hikers may wish to check out the Fjord-to-Fjord trail which takes you on a two-day journey from Sundal to Odda. There are four self-service cabins in the park where you can stop for the night.
Be sure to check out the historic Herand village, located on the outskirts of the park.
Where to Stay Near Folgefonna National Park
Traveling with a group? Then you may wish to check out this centrally located cabin located in Rosendal! Featuring three bedrooms for up to 10 guests, this space offers easy access to Folgefonna National Park. With a well-outfitted kitchen, this Airbnb also includes the use of two sea kayaks.
Sør-Spitsbergen National Park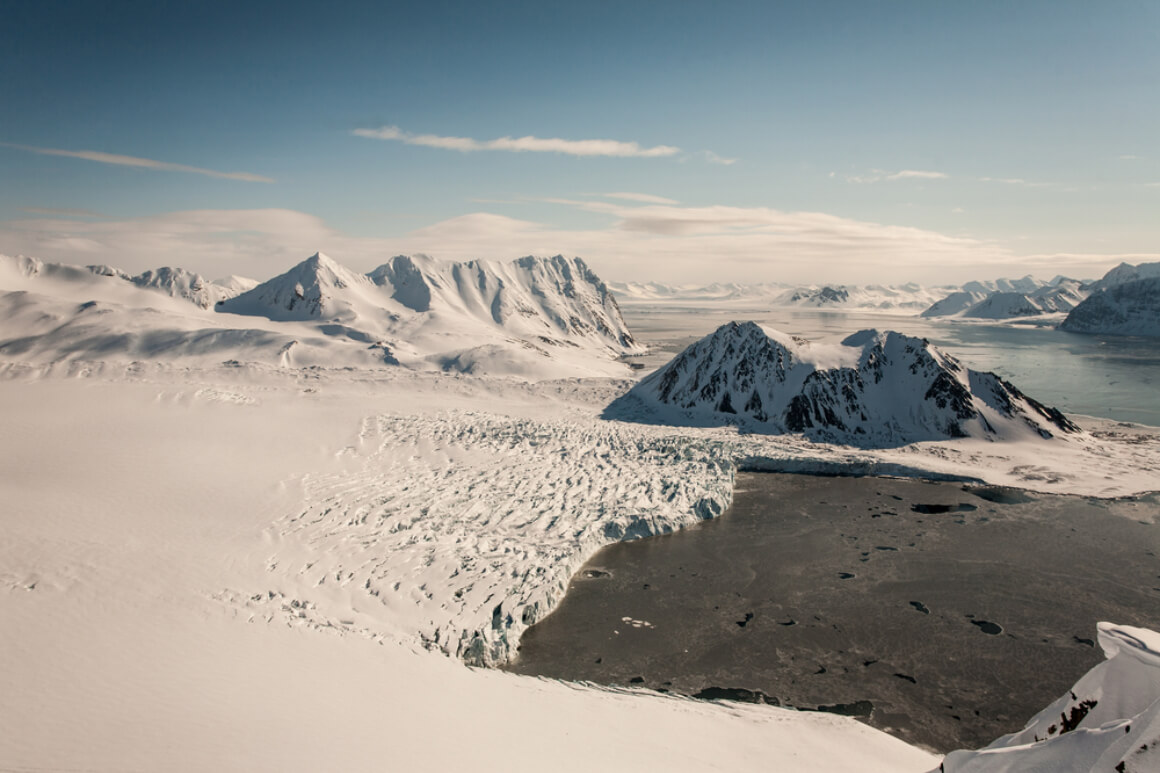 Size: 8,504 km²
Location: Svalbard
Cost of Entrance: Free
Here's a place that totally takes the cake when it comes to Norway national parks!
Just a quick heads-up about this park though: there are no roads that lead into Sør-Spitsbergen, so your only option is to book a boat shuttle. Alternatively, you can also stop by the park as part of an Arctic tour.
In addition, this area is known for its large population of bears, so remember to adopt the usual bear precautions.
Encompassing the southern shores of Spitsbergen Island, Sør-Spitsbergen national park houses more polar bears than humans. The ideal destination for wildlife enthusiasts, this park is also an important bird area with no less than four bird sanctuaries dispersed through its borders.
The Isøyane Bird Sanctuary was even recognized by the Ramsar Convention as a wetland of great international importance.
As the final destination before the North Pole, the Svalbard archipelago is known for its exceptionally cold climate, so remember to bundle up. Winters are seriously harsh with temperatures ranging from -4 to -220F – and that's excluding the chill!
Don't forget that the park is at least 60% ice cap, so you may wish to visit in the summer for better conditions. In fact, summer visitors can book activities like sledding and snowmobiling, or relish in the summer sun.
One of the best things about Sør-Spitsbergen national park is that it offers easy access to other Svalbard Islands parks, including Nordre Isfjorden, Indre Wijdefjorden, and Nordenskiöld Land.
Where to Stay Near Sør-Spitsbergen National Park
Looking for accommodation near Sør-Spitsbergen National Park? You may wish to check out this fabulous hotel located in Longyearbyen. Guests can opt for classic hotel rooms or self-catering apartments fitted with laundry and cooking facilities. On-site amenities include a wine bar, a tour desk, snowmobile safaris, and shuttles.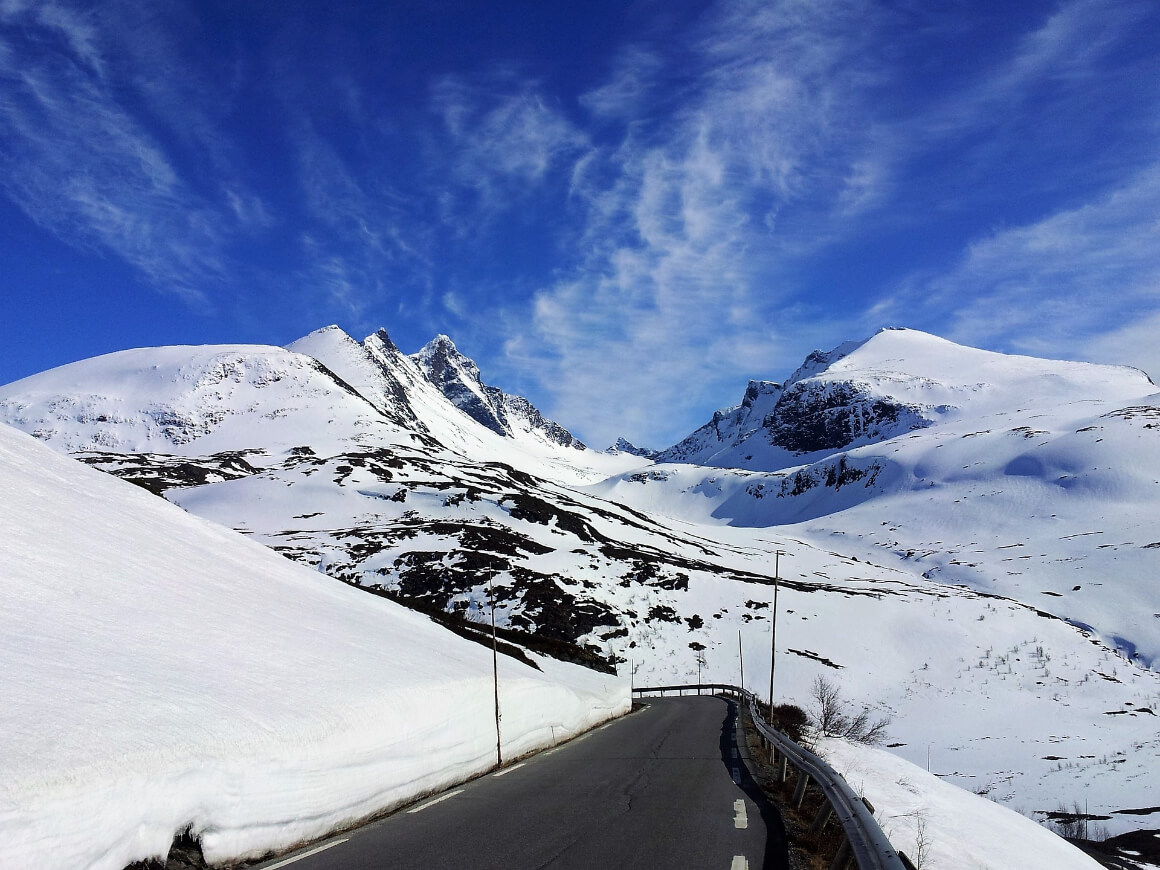 Size: 1,310 km²
Location: Western Fjords.
Cost of Entrance: Free
There's no shortage of thrilling things to do in Norway national parks, and Jostedalsbreen National Park is no exception!
This place is often said to be one of the best places in Norway for spotting glaciers. In fact, the park was initially set up to protect the glacier site with associated geology, fauna, and flora. Various natural environments and landscapes lie close to each other so you can very easily soak up the best sights on the same day.
Located in the Western Fjords, Jostedalsbreen National Park is actually home to the Jostedalsbreen glacier which just so happens to be the hugest ice cap in mainland Europe- so brace yourself for some pretty phenomenal sights!
The Fjærland to Flatbreen hike is especially popular despite its challenging conditions. You'll need around 4 hours to complete this hike which lies at around 1000 meters above sea level.
Contrary to popular belief, the park's landscape isn't merely made of ice. While there's undeniably lots of ice all over the place, first-time visitors are often surprised by the verdant upland valleys dotted with waterfalls and rivers.
Where to Stay Near Jostedalsbreen National Park
Commanding an excellent location 35 mins away from Jostedalsbreen National Park, this wooden cabin is surrounded by some of the most scenic fjords and mountains in Norway. With two bedrooms for 6 guests, this space provides a well-equipped kitchen and a wood-burning fireplace.
Month to month payments, no lock-in contracts, and no itineraries required: that's the exact kind of insurance digital nomads and long-term traveller types need. Cover yo' pretty little self while you live the DREAM!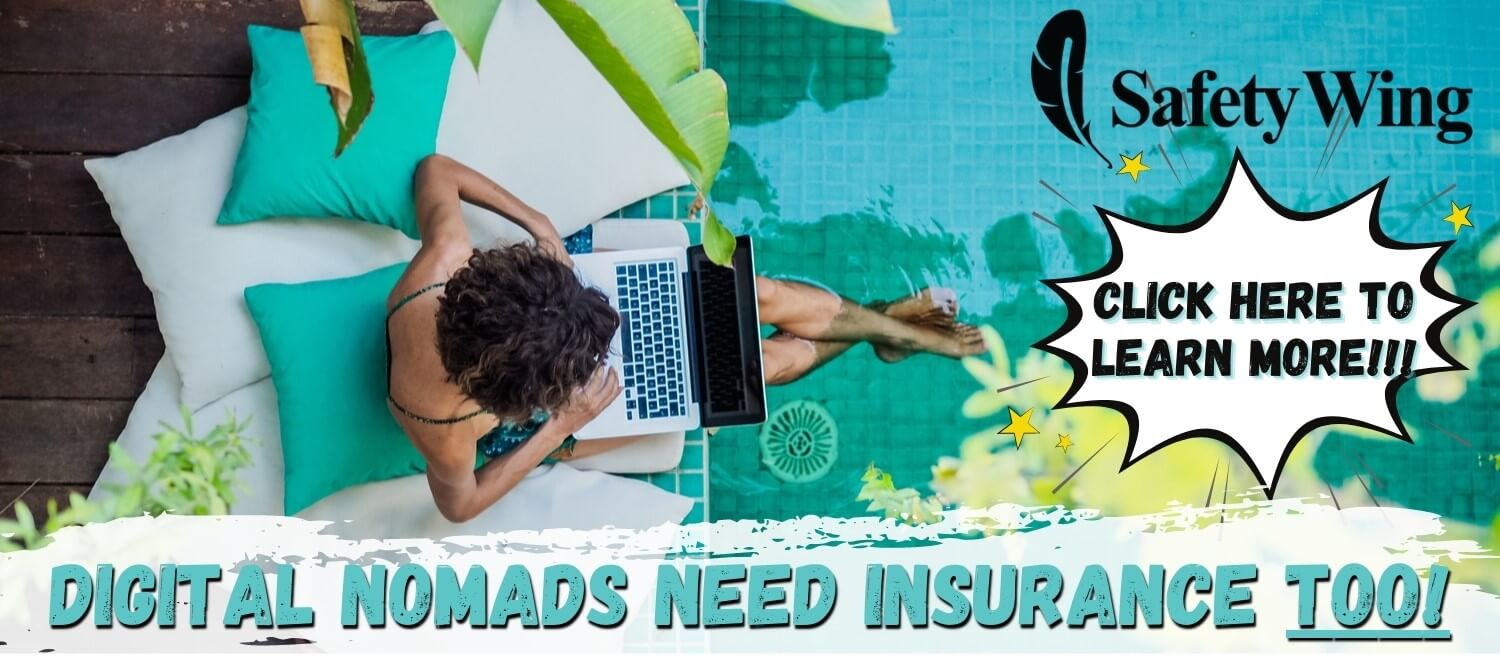 SafetyWing is cheap, easy, and admin-free: just sign up lickety-split so you can get back to work! Click the button below to learn more about SafetyWing's setup or read our insider review for the full tasty scoop.
Size: 3,422 km²
Location: South-Central Norway
Cost of Entrance: Free (Activities charged separately)
Hardangervidda national park may be the biggest park in mainland Norway, but its wild, barren landscape has been compared to a polar expedition- so this definitely isn't a destination for the faint-hearted!
Because of heavy snowfall and harsh winter conditions, visitors are only allowed to hike in summer. Incidentally, July and August happen to be the best time to visit national parks in Norway!
Now if you're looking for something more family-friendly, you can always rent a vehicle and enjoy a drive down the scenic Route 7 which cuts through the park's northern area. I can also recommend a stop by the park's visitor center which features an assortment of interactive exhibits centered around the local flora and fauna.
Owing to its size, this park encompasses the counties of Telemark, Buskerud, and Hordaland so there's definitely plenty to explore. While the west side of the park boasts vast, rocky terrains, the eastern side has a flatter terrain with plenty of vegetation.
Owing to its alpine climate, the park has quite a concentrated population of arctic plants and animals, including around 9,000 wild reindeer. On the eastern side, you'll also find numerous wetlands and lakes- something that's quite unique to mountainous sites in South Norway. While trout fishing is quite popular on the eastern side of Hardangervidda national park, you do need to apply for a permit beforehand.
Hardangervidda national park is prone to drastic weather changes, so be prepared for sudden downpours or drops in temperatures, even in the summer.
Where to Stay Near Hardangervidda National Park
Located smack bang in the heart of Hardangervidda national park, this rustic stone hut features a studio-style layout for 3 guests. The hut lies in an area where motorized traffic is prohibited, ensuring abundant peace and quiet.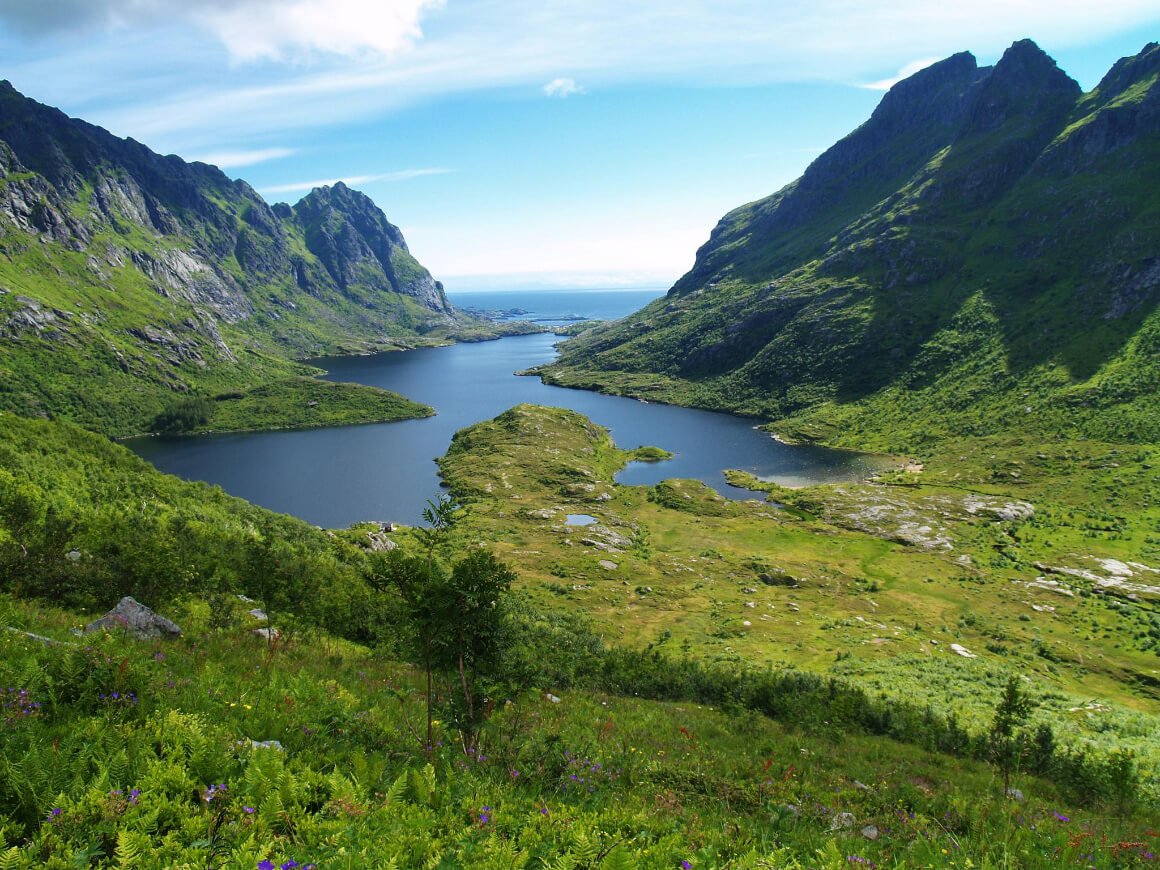 Size: 99 km²
Location: Island of Moskenesøy
Cost of Entrance: Free
Looking for family-friendly things to do in Norway national parks? I can totally vouch for Lofotodden National Park, a site that's especially known for its many camping opportunities!
Located on the island of Moskenesøy, this park is a fairly recent addition to Norway's family of national parks. With brightly painted villages, gnarly mountain peaks, and a delightfully pale shoreline contrasting with the azure shoreline, this place is an absolute Arctic dream come true! In fact, did you know that this park even has a beach where you can burrow your toes in the sand and lounge with majestic mountain peaks in the background?
There's nothing quite like sleeping under the Nordic skies with the waves lapping against the shoreline and while camping is allowed, there are certain regulations in place to protect the park's biodiversity. For example, no campfires are allowed from mid-April to mid-September. In addition, you're not allowed to use any dying or old trees for the bonfires since they're integral to various species of fungi, insects, lichens, and birds.
Speaking of hiking, the park has plenty of great treks like the challenging summit hike to Hermannsdalstinden. With an elevation gain of 2,035m, this trek spans over 20 km and requires over 10 hours to complete. The best time to explore this trail is from May to October.
Parents traveling with kids can always check out the easy Bunessatranda trail which offers more of a leisurely stroll with plenty of bird-spotting opportunities.
Where to Stay Near Lofotodden National Park
Located less than 15 mins from Lofotodden National Park, this tiny cabin totally has my vote if you're looking for something by the sea! Guests can choose from one or two-bedroom cabins, complete with kitchens and terraces.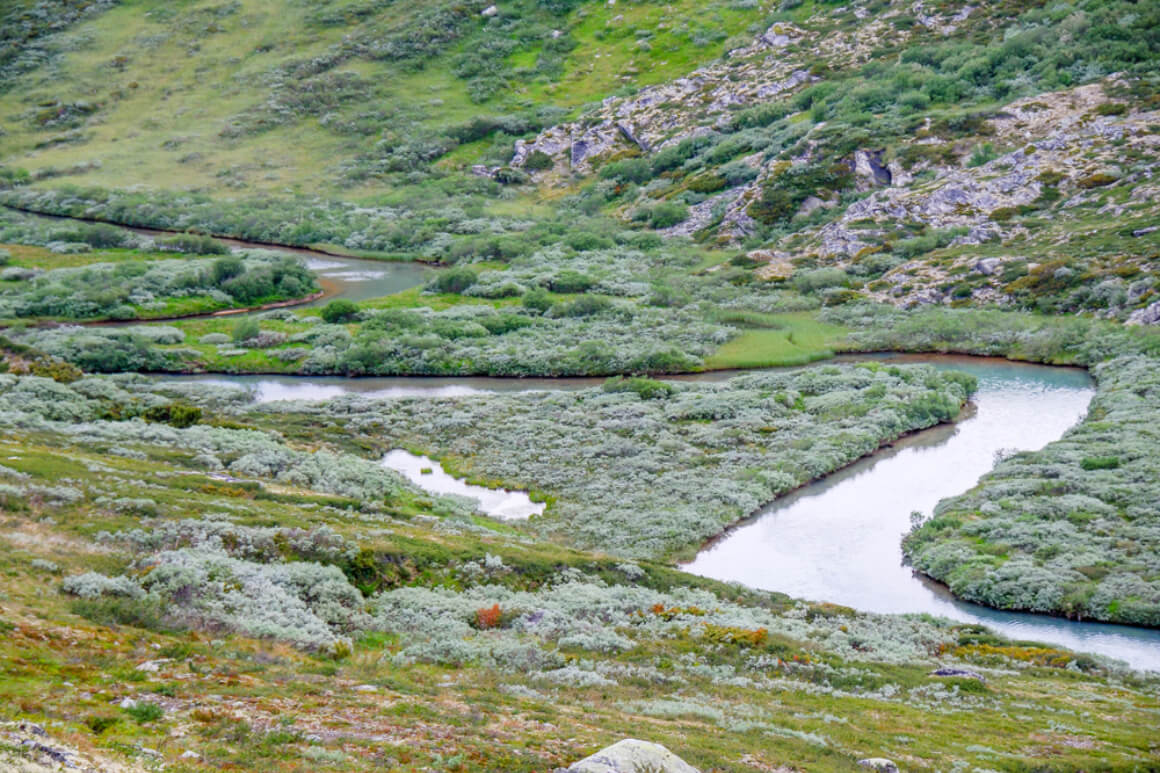 Size: 1,693 km²
Location: Central Norway
Cost of Entrance: Free
Dovrefjell-Sunndalsfjella National Park is often said to be one of the best Norway national parks- and it won't take you long to understand why!
A lush haven that's nearly almost covered in a thick blanket of snow, Dovrefjell-Sunndalsfjella is home to a large herd of musk oxen. Spotting them in the wild isn't exactly easy since these shaggy creatures are experts at hiding. To increase your chances of spotting them from a safe and respectful distance, you may wish to join a summer safari (May to September).
Because of its Alpine landscape, the park also draws plenty of other Arctic creatures like wolverines, golden eagles, wild reindeer, and Arctic foxes.
Fan of hiking? You'll be glad to hear that the park offers around 41 trails for various fitness levels. The park's main draw is undoubtedly Snøhetta mountain. Towering at 7,500 ft, this is the tallest peak in the Dovrefjell mountain range. As you can imagine, the views from the mountain are spectacular but do remember that it's quite a challenging trek to the top and it's always safer to be accompanied by an experienced guide.
Visitors looking for a more moderate trail can check out the Musk Ox Trail which actually includes a network of trails. You can start off from either Grønbakken or Kongsvoll and follow the mountainous route through a picturesque birch forest. If you don't mind deviating off track, you can also check out the Høgsnyta viewpoint which stands at 1320 meters above sea level.
Where to Stay Near Dovrefjell-Sunndalsfjella National Park
A soothing retreat nestled an hour from the national park, this cozy cabin is surrounded by ski tracks and biking paths. Hikers will relish the well-marked trails that surround the cabin. At the end of the day, retreat to the two bedrooms that sleep up to 6 guests.
Forget boring accommodation… book yourself an EPIC STAY!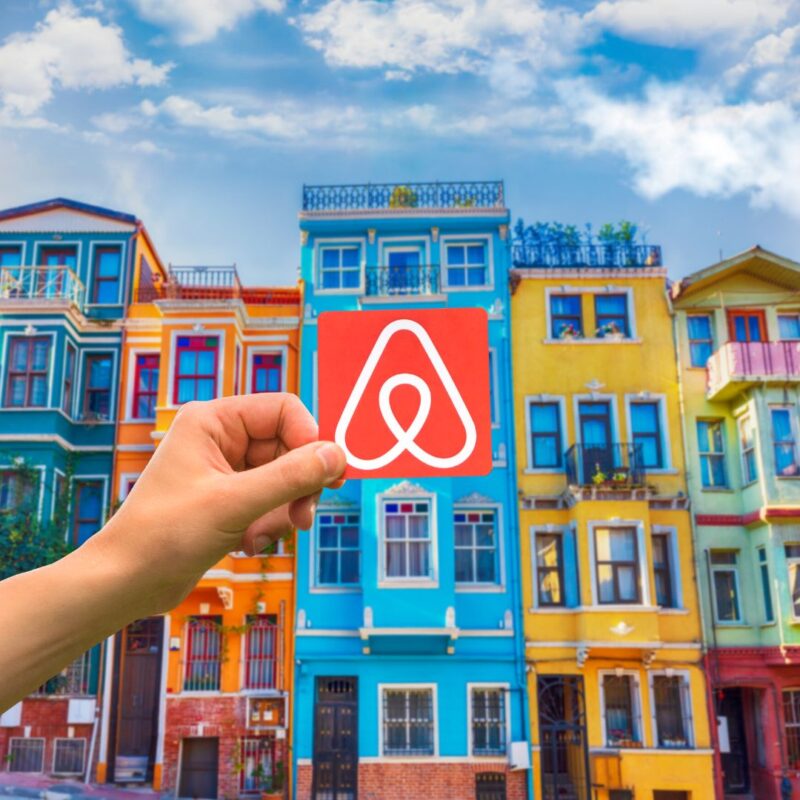 Why stay in a naff hotel when you can stay in a cosy, stylish local house instead? And for half the money too!
Stay somewhere EPIC and save your hard-earned dollars — from houses to barns to castles and caves, there is an Airbnb for every occasion!
Book an EPIC Stay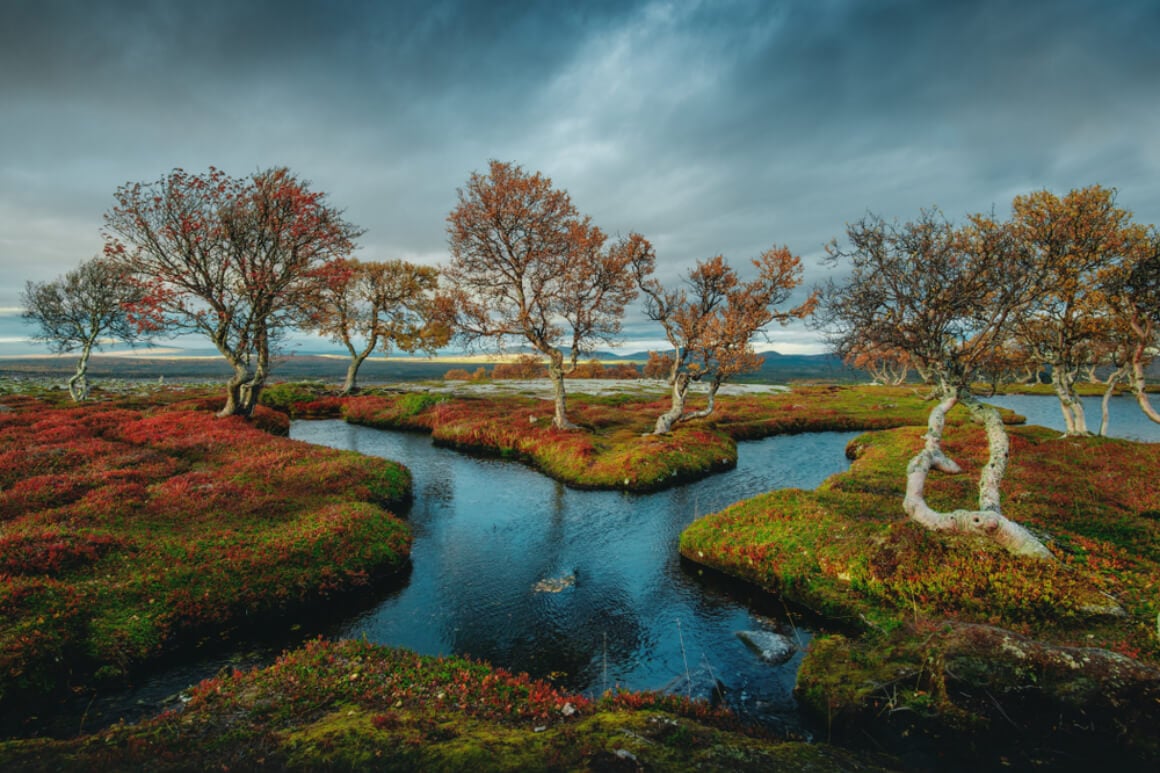 Size: 573 km²
Location: Innlandet and Trøndelag counties
Cost of Entrance: Free
Recognized as one of the best hiking areas in the country by the Norwegian Trekking Association, it should come as no surprise that Femundsmarka is listed among the top national parks in Norway!
With one of the most expansive stretches of continuous wilderness in Southern Scandinavia, this park is found by the Swedish border. Surrounded by thick forests, marshes, shimmering lakes, and tundra, this place offers the perfect setting for connecting with the untamed Norwegian wilderness.
Whether you want to paddle down the waterways or embark on an adrenaline-pumping Norweigan hike, you bet there's something in the park to keep you entertained for the day!
In the mood for a physically demanding adventure? You may wish to check out the 10.1 km out-and-back Elgåhogna trail that requires nearly 5 hours to complete. Even though it's one of the park's most difficult trails, this path is quite popular among bird watchers.
Alternatively, it's possible to hike to the park from Synnervika, a quaint village located north of Femundsmarka National Park. It's important to know that Synnervika doesn't have any stores so be sure to plan ahead.
In terms of wildlife, the park has a rich population of wolves, lynxes, otters, reindeer, moose, and rare brown bears. You'll also find various bird species like Cackling Ptarmigans and Ospreys. If you head down to the Mugga and Roa rivers in summer, you may even be lucky enough to spot a small population of musk oxen but remember to maintain a safe distance since these elusive mammals tend to be quite shy.
Where to Stay Near Femundsmarka National Park
Traveling with the kids? Why don't you check out this generously-sized family cabin for six? Located near Roros, this space offers a cozy lounge area and fireplace. While some of Roros' best eateries lie within easy reach, the cabin does provide a kitchen for when you want to eat at home.
Size: 2,101 km²
Location: Nordland County
Cost of Entrance: Free
Not only is this one of the most remarkable landforms in the country, but Saltfjellet-Svartisen also happens to be one of the most exciting Norway national parks!
With a majestic landscape dominated by the majestic Svartisen icecap, the park encompasses some of the best sights in Norway: thick birch and spruce forests, towering mountain peaks beckon, complete with deep lakes and chalky grounds sprinkled with local flora. Because Saltfjellet-Svartisen National Park houses a varied array of landscapes, it literally has something for everyone! Expect valleys, fjords, mountain ranges, and plateaus…the works!
Owing to its rugged, mountainous landscapes, this park is best suited to experienced hikers who are used to higher altitudes. Because the weather is prone to drastic turns, it's also advisable to venture out with an experienced guide.
One of the park's most popular hiking routes stretches along an old telegraph line from Storvollen to Storvollen. This well-marked trail is undoubtedly on the longer side, but it does provide a cluster of cabins where you can stop for the night.
Where to Stay Near Saltfjellet-Svartisen National Park
Offering plenty of space for groups of six, this two-bedroom cottage is found around an hour from Saltfjellet-Svartisen National Park. Overlooking Ranfjorden, this Airbnb is a nature lover's dream come true! Not only will you enjoy easy access to the forest, but you'll also enjoy a prime position for spotting wildlife.
Size: 963 km²
Location: Innlandet county
Cost of Entrance: Free
A rocky expanse of land nestled between the Atndalen and Gudbrandsdalen valleys, Rondane National Park is Norway's very first national park.
In addition, the park is one of the last European refuges for reindeer- so there are plenty of chances for wildlife spotting!
In winter, Rondane National Park is shrouded in an ethereal azure light, a sight that inspired Norwegian artists like Henrik Ibsen. This playwright actually described the park's terrains as a 'palace piled upon palace' and after seeing this glorious place for myself, I have to say I quite agree with him!
Best of all, the Norwegian Trekking Association set up a series of marked trails to take you through some of the best sights in the park. Experienced climbers may wish to check out the 2138m Storronden and the 2178m Rondslottet summit trails. If you're after something more relaxing, you can hit the path leading up to the Ulafossen falls which is quite a sight to behold as it tumbles 165 feet over a cliff.
Where to Stay Near Rondane National Park
Boasting classic home comforts, this modern, 3-bedroom cabin lies just a short distance from Rondane National Park. After spending the day in the gorgeous Norwegian outdoors, retreat to the cabin to relax by the fireplace.
Is This the Best Daypack EVER???
Size: 1,151 km²
Location: Southern Norway
Cost of Entrance: Free
Established in the 80s, Jotunheimen quickly became one of the most cherished national parks in Norway. With a delightful medley of activities, this park is especially popular among climbers and cyclists in summer while winter draws alpine and cross-country skiers from all over.
Jotunheimen national park boasts over 250 mountains, including the famed Galdhøpiggen peak which towers over the landscape at over 8,000 feet. I'm sure I don't have to tell you that the park is an absolute playground for amateur and experienced alpinists!
With waterfalls and glistening lakes, this park offers awe-inspiring scenery regardless of the season. Historical hiking trails enable you to follow in the footsteps of the greatest pioneers in the local mountaineering history while valley trails are generously sprinkled with hidden gems and incredible sights.
The park also has both calm and wilder rivers for extreme sports like rafting. Be sure to check out the on-site rafting center which offers different options with varying levels of difficulty. Parents also have the possibility of booking a family rafting expedition tailored to accommodate the kids.
Where to Stay Near Jotunheimen National Park
Located less than an hour from the park, this exceptional B&B provides well-appointed Double or Family rooms where you can crash after a full day of adventures. You can also take advantage of the shared lounge, terrace, and garden.
Forlandet National Park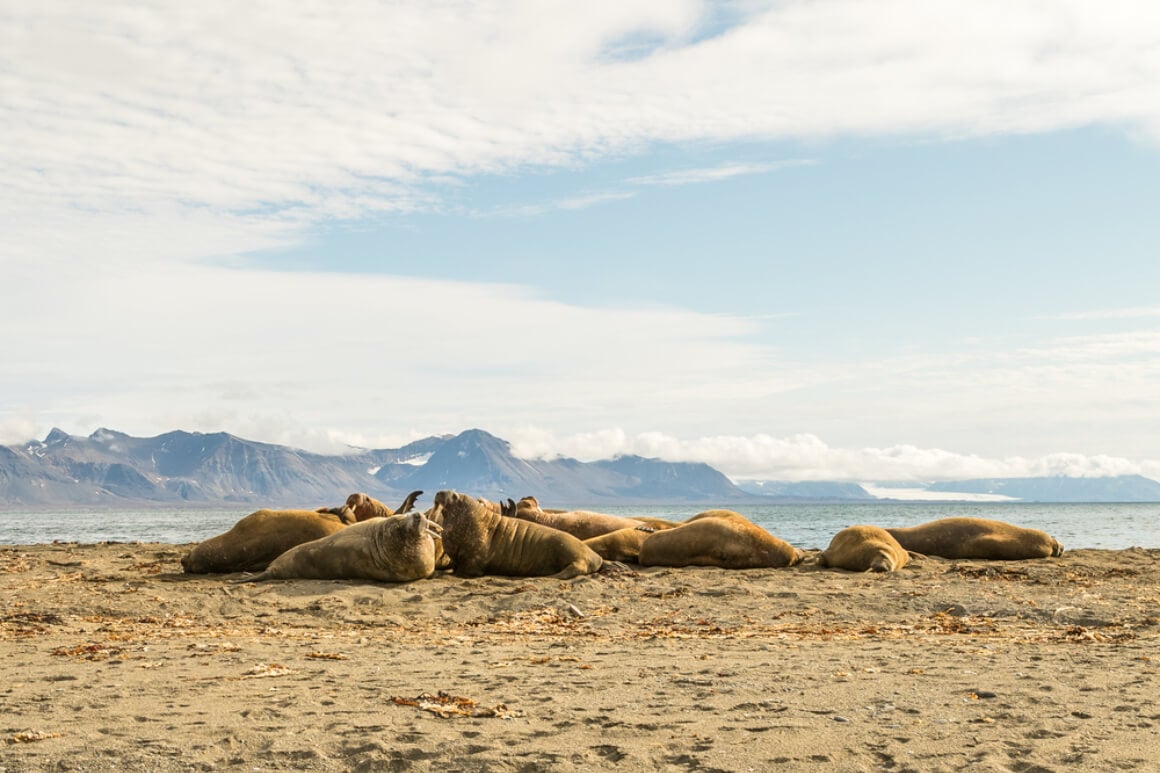 Size: 5.4 km²
Location: Svalbard
Cost of Entrance: Free
Located on the island of Prins Karls Forland, Forlandet National Park isn't exactly easy to reach, but boy oh boy is it worth the trip!
Because it borders Sør-Spitsbergen national park, it may be a good idea to check out both parks on the same visit, since they're both far from civilization.
Especially known for its walrus colony, Forlandet National Park features archeological remains and relics from both Russian and Norwegian whalers. You'll also find the world's most northern population of guillemots.
In terms of landscape, the park's rocky terrain is practically split into two by Forlandssletta, an elevated plain that stands at around 23 feet above sea level. For the best sunsets, head to the west of the park which offers generously sized beach areas while the east side is speckled by wild glaciers that go all the way down to the ocean. The northern side of the park features alpine mountain ranges with jagged peaks.
If you ask me, one of the best ways of soaking up all the sights is by hopping on a boat that'll take you around the island- perfect for admiring the sea cliffs from afar!
Where to Stay Near Forlandet National Park
Guests of Funken Lodge can choose from various room configurations, including solo rooms without the dreaded single supplement! Facilities include a fitness center, bar, airport shuttle, and a restaurant with local and international cuisine.
Final Thoughts
With phenomenal landscapes and an abundance of wildlife, the Norway national parks feature some of the most dramatic vistas in Nordic Europe.
My personal favorite park is no doubt Sør-Spitsbergen which is bursting with the kind of scenery that you just won't find anywhere else on the European continent. Located on the southernmost point of Spitsbergen Island, this park may not be easy to reach, but I can promise you that the sights are entirely worth it!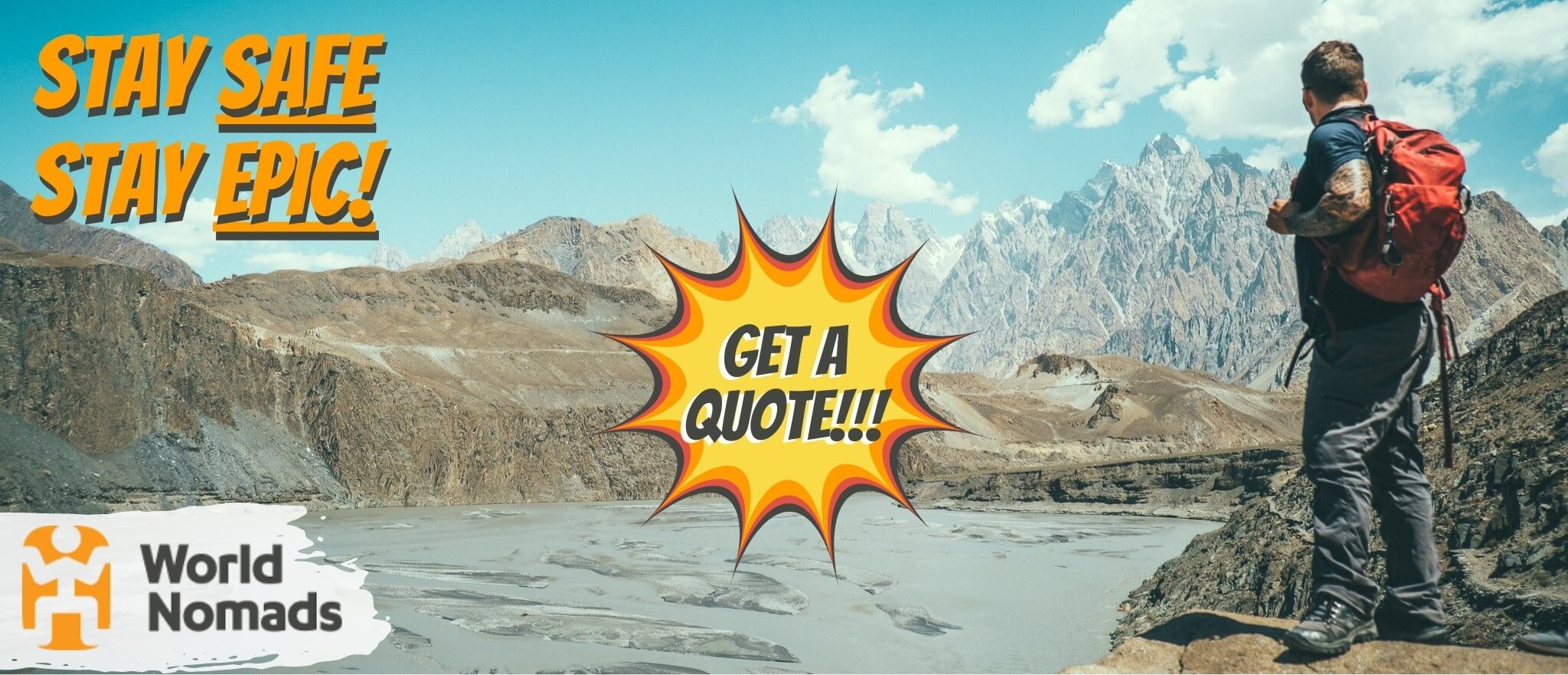 World Nomads' mission is to support and encourage travellers to explore their boundaries. They offer simple & flexible travel insurance, and safety advice to help you travel confidently.
They've been doing it since 2002 – protecting, connecting, and inspiring independent travellers just like you.
Get a quote below or read our in-depth review!
World Nomads provides travel insurance for travelers in over 100 countries. As an affiliate, we receive a fee when you get a quote from World Nomads using this link. We do not represent World Nomads. This is information only and not a recommendation to buy travel insurance.
---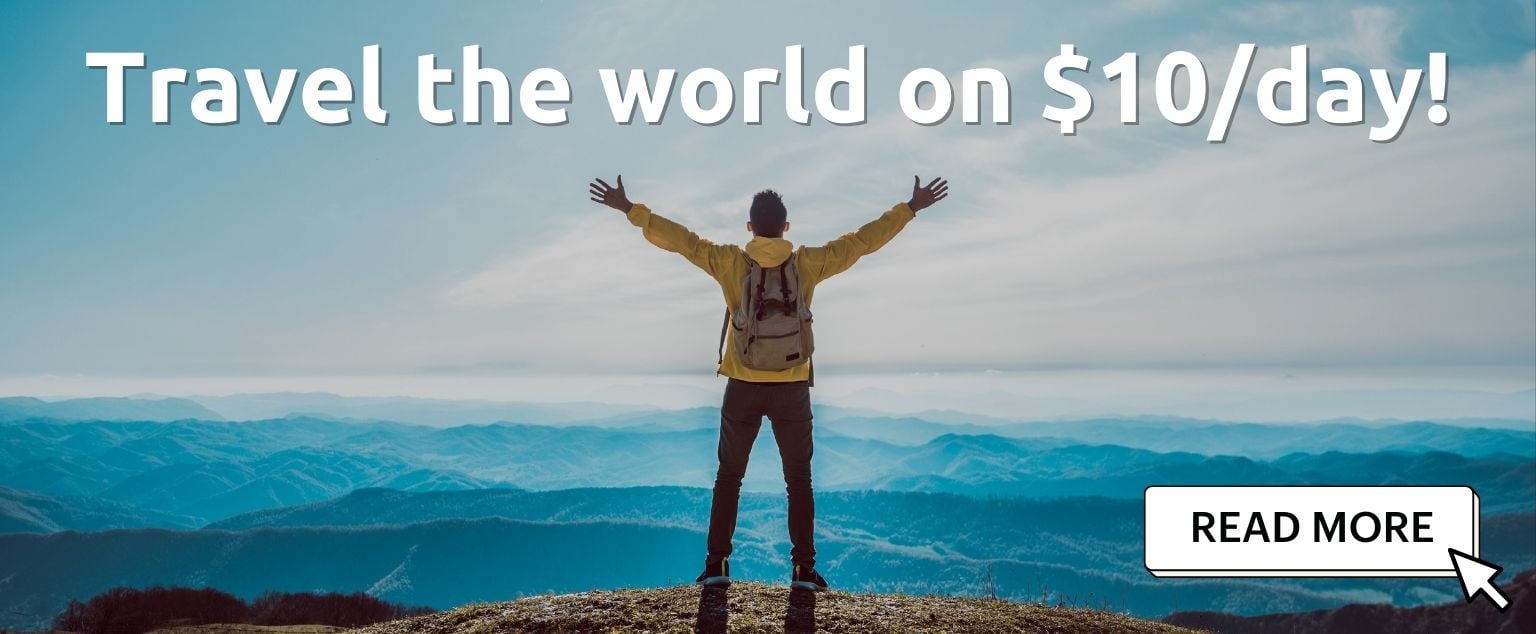 And for transparency's sake, please know that some of the links in our content are affiliate links. That means that if you book your accommodation, buy your gear, or sort your insurance through our link, we earn a small commission (at no extra cost to you). That said, we only link to the gear we trust and never recommend services we don't believe are up to scratch. Again, thank you!