An epic land filled with urban and countryside wonders; the USA draws millions of eager tourists each year – and for good reason! Lush sights beckon everywhere in this vast country that simultaneously houses the world's most famous cities and countryside attractions.
Whether you're after adrenaline-pumping activities or something tamer like a relaxing mountainside stroll, rest assured that the USA national park scene has something for just about everyone!
From deep canyons to gently gurgling streams and towering peaks, I've put together this list of the 11 top national parks that you can add to your itinerary.
What are National Parks?
National parks refer to areas of water or land legally protected by the government for both public enjoyment and wildlife preservation. These parks are also designated for their unique geological formations and diverse ecosystems.
There are over 60 national parks in the U.S, all with protected sites managed by the National Park Service.
Legislatively speaking, every park registered in the National Park System is considered equal. Unlike regular parks, however, national units don't allow hunting or any kind of activity that may affect the flora and fauna. In addition, national parks tend to be larger with a wider range of recreational opportunities.
Best of all, the USA is bursting at the seams with a delightful assortment of national parks scattered across all 50 states. Perfect for marveling at nature's mesmerizing artistry, these sites offer an eclectic blend of activities for families and more daring adventurers alike. They also make perfect places for a camping trip in the spring, summer or fall.
National Parks in the USA
Backpacking across the U.S or planning a road trip? Here are some of the national parks that you may wish to check out during your stay in the States!
Size: 8,991 km²
Location: Western United States
Cost of Entrance: $35/vehicle, free for active military
Let's kick it off with the very first established national parks in the USA!
Drawing over 4 million visitors each year, this park is insanely popular so I would recommend that you visit off-season if you'd like to avoid the crowds.
What makes this park so popular, you ask? Well, it's home to over 10,000 hydrothermal features, including geysers, travertine terraces, hot springs, mud pots, and even fumaroles. Cool, right?
I'm sure you must have seen pictures of those famous sulphury hot pools floating around on social media and if so, you must have read about how dangerous those bubbly waters are. Swimming in any of Yellowstone's thermal features is strictly forbidden since thousands of people suffered severe burns or died after entering the scalding waters.
I would also recommend that you check the current conditions on the park's official website before heading out.
This mesmerizing world of brimstone and fire offers an extensive assortment of exciting things for just about every type of traveler. Families traveling with children may wish to hit the scenic road that runs through the park so they can soak up the best sights in a safe and comfortable manner.
Hikers totally have it made, with an expansive network of trails. Several of them lie 7,000 feet above sea level, so they're best suited to experienced hikers.
Backcountry camping is also available thanks to the 293 designated campsites!
Where to Stay Near Yellowstone National Park
If camping isn't your thing, you can always consider this spacious condo located just a block from Yellowstone's west entrance. With two bedrooms for six guests, this space boasts an indoor swimming pool and two indoor hot tubs.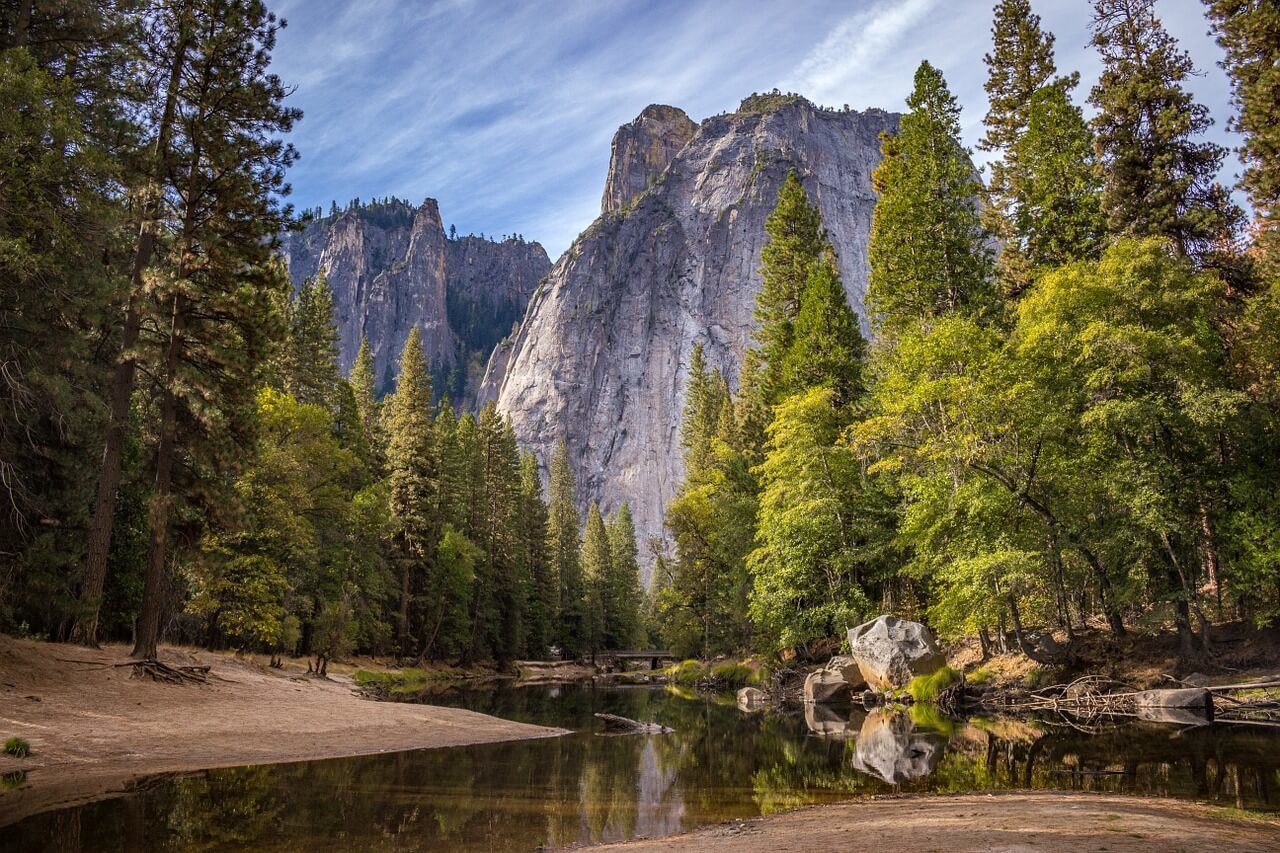 Size: 3,027 km²
Location: Central Sierra Nevada
Cost of Entrance: $15 (individual 7-day pass), $35 (per car)
There are always heaps of exciting things to do in USA national parks – and Yosemite is no exception!
Brimming with unique sights, this park is home to the iconic El Capitan granite formation which is quite a sight to behold as it towers over 900 feet above the park's landscape. Because of its vertical rock face, this formation draws plenty of climbers each year. If you're feeling particularly daring, this is also the most popular place in Yosemite for base jumping.
Of course, the park's most popular feature is its amazing cluster of giant sequoia trees. Standing at over 200 feet tall, these trees are even bigger than a school bus!
Owing to its lush sights, this park lends itself wonderfully well to camping. In peak season, you usually need reservations to set up camp at the Hodgdon Meadow, Wawona, and Cap 4 sites. These campsites are available on a first-come, first-served basis in February.
Plenty of Yosemite hiking trails await those who'd like to explore on foot. The good news is that while the park is super busy in spring and summer, it's quite easy to escape the crowds and lose yourself in the Yosemite wilderness. It's impossible to see it all in one day, but you'll find multiple Yosemite accommodation options dotted all over the place.
Be sure to check out the Horsetail Waterfall which provides quite a mesmerizing spectacle as it's backlit by the setting sun. This phenomenon only appears on clear evenings when the sunset reflects off the water at the right angle, making the waterfall look like it's on fire.
Where to Stay Near Yosemite National Park
Commanding an excellent location in Yosemite Park, this stunning space offers two bedrooms for five guests. Expect classic home comforts like a well-outfitted kitchen. Best of all, you'll be able to enjoy gorgeous forest views from the deck.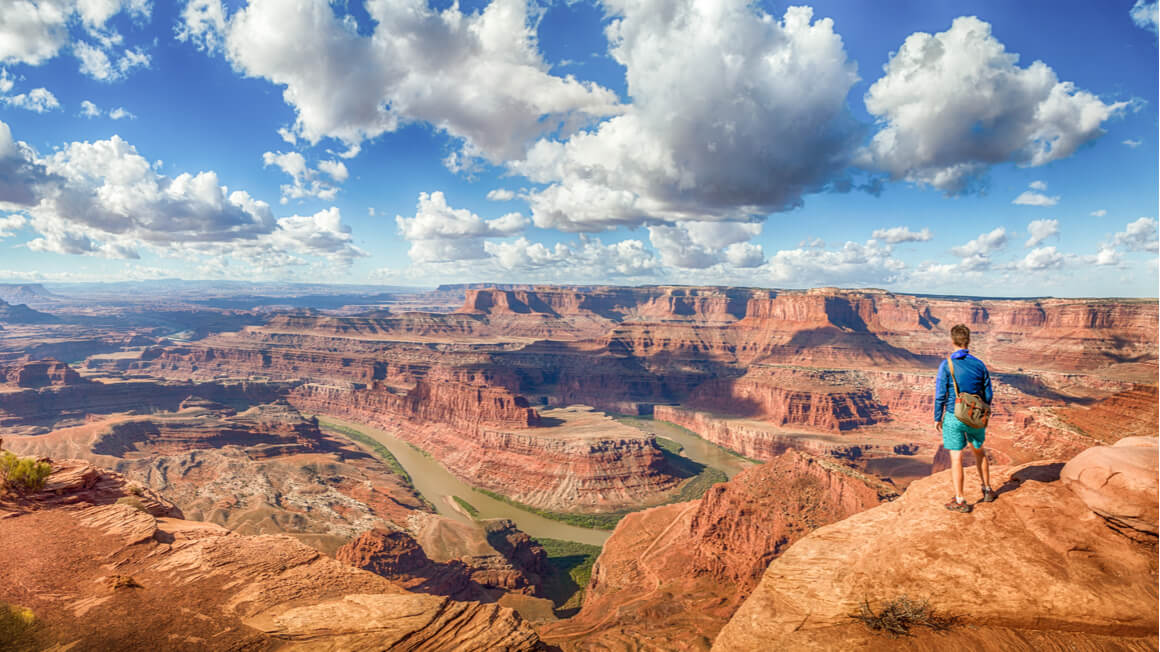 Size: 4,926 km²
Location: Arizona
Cost of Entrance: $20 per person, $35 per vehicle
It goes without saying that the best time to visit national parks in the USA is in spring. But if you'd like to avoid the massive gaggles of overly hyped-up tourists, I'd say that fall is the second best time to soak up all the lovely sights.
What makes the Grand Canyon special is the awe-inspiring collection of geological relics scattered throughout the park. In fact, the South Rim of the canyon is still inhabited by the Havasupai, a Native American tribe who's been inhabiting the park since A.D. 1300.
Boasting mind-blowing scenery coupled with an impressive desert landscape, the park is an absolute playground for outdoor enthusiasts. Plenty of boating, camping, hiking, whitewater rafting, and biking opportunities await, but remember to grab your sunscreen if visiting in spring or summer!
Best of all, shuttle buses are available to take you to some of the most-coveted areas. For instance, the Village (Blue) Route shuttle connects the market plaza, Information Center, and campgrounds. Hikers may wish to hop on the year-round Hiker's Express Shuttle which starts at the Bright Angel Lodge to end at the South Kaibab Trailhead.
Alternatively, you can always hop on the Grand Canyon Railway to the South Rim of the park. The major advantage is that you won't have to deal with summer traffic, entrance lines, or the seemingly impossible task of finding a parking spot!
It's important to know that the South Rim is more popular (hence more crowded). Because the North Rim lies at a higher elevation, it's not always accessible in the winter.
Where to Stay Near Grand Canyon National Park
Enjoy a good night's rest under the stars with a stay in this glamping dome! Located about 20 minutes from the park's South Rim, this off-grid space is ideal for solo travelers or couples who would like to enjoy an immersive experience in nature.
Size: 3,500 km²
Location: California
Cost of Entrance: $20 per person, $35 per vehicle
Sequoia national park is filled with scenic drives, wildlife, diversity, and activities galore! Hiking opportunities are abundant so be sure to grab your best hiking boots to properly explore the rugged terrains that make Sequoia one of the best national parks in the USA.
Of course, it goes without saying that the park is especially known for its massive Sequoia trees. Believe me when I say there's nothing quite like the feeling of standing in the middle of an ancient Sequoia grove and looking up at those gigantic trees towering over you!
Be sure to check out the Crystal Cave, a subterranean structure filled with stalagmites, stalactites, and marble that has been ornately polished by underground streams. The cave is only open in summer so I would recommend that you head there early to avoid long lines. Jackets are recommended and equipment such as flashlights are provided.
Feeling up for a climb? Check out Moro Rock, accessible through a stone and concrete 350-step stairway. From there, you'll be able to take in gorgeous views of the San Joaquin Valley. While handrails are available, the climb can be strenuous because of the thin, high-altitude air.
Parents traveling with children will be glad to learn that the park offers plenty of camping and picnicking opportunities. There's also a Junior Ranger Program where the kids can earn badges after completing a series of activities.
The park contains a series of well-marked hiking trails, but if you don't feel like trudging around in the heat, you can always enjoy a scenic drive across Generals Highway. This drive takes you through major points of interest, including Halstead Meadow, the Kings Canyon Overlook, and the Redwood Mountain Overlook.
Where to Stay Near Sequoia National Park
Offering a great location just 10 minutes from Sequoia, this riverfront cabin is ideal for three guests. With incredible mountain and river views, this space is fitted with all the comforts of home, including a kitchen.
Size: 147 km²
Location: Utah
Cost of Entrance: $20 per person, $35 per vehicle
Okay, Bryce Canyon may be among the smallest USA national parks but it sure as heck packs a punch! Easily recognizable by its vivid flame-colored hoodoo rock formations, this park is especially famous for its iconic landscape.
What's a hoodoo, you ask? Well, they basically refer to those tall pillars of rock that jut out from the canyon. The best place to admire these structures is at the Bryce Amphitheatre, home to the world's greatest concentration of hoodoos.
If you're traveling with a vehicle, you can explore the park's Southern Scenic Drive which covers around 18 miles. This route is perfect for exploring the park's lesser-known features.
You'll also experience a drastic change in elevation the further south you drive because of uneven tectonic forces. Best of all, this drive takes you across various highlights including the Natural Bridge, Agua Canyon, Yovimpa Point, and Rainbow Point.
Cyclists can check out the park's Shared-Use Biking path which connects the shuttle station with various points of interest like Inspiration Point, Sunrise Point, Sunset Point, and the Visitor Center. While there's no mountain biking in the park, you'll be able to use the well-paved surfaces to cycle or skate your way around.
Bryce Canyon is also known for its staggering assortment of microclimates due to the park's varying elevation. As such, the park houses over 1,000 plant species as well as dozens of mammals and reptiles – not to mention over 100 types of birds!
Where to Stay Near Bryce Canyon National Park
This freshly built log cabin lies at the very heart of Bryce Canyon Country, just a quick drive from the park. After a full day of outdoor adventures, you can rustle up a meal in the cottage's well-equipped kitchen before retreating to the cozy bedroom.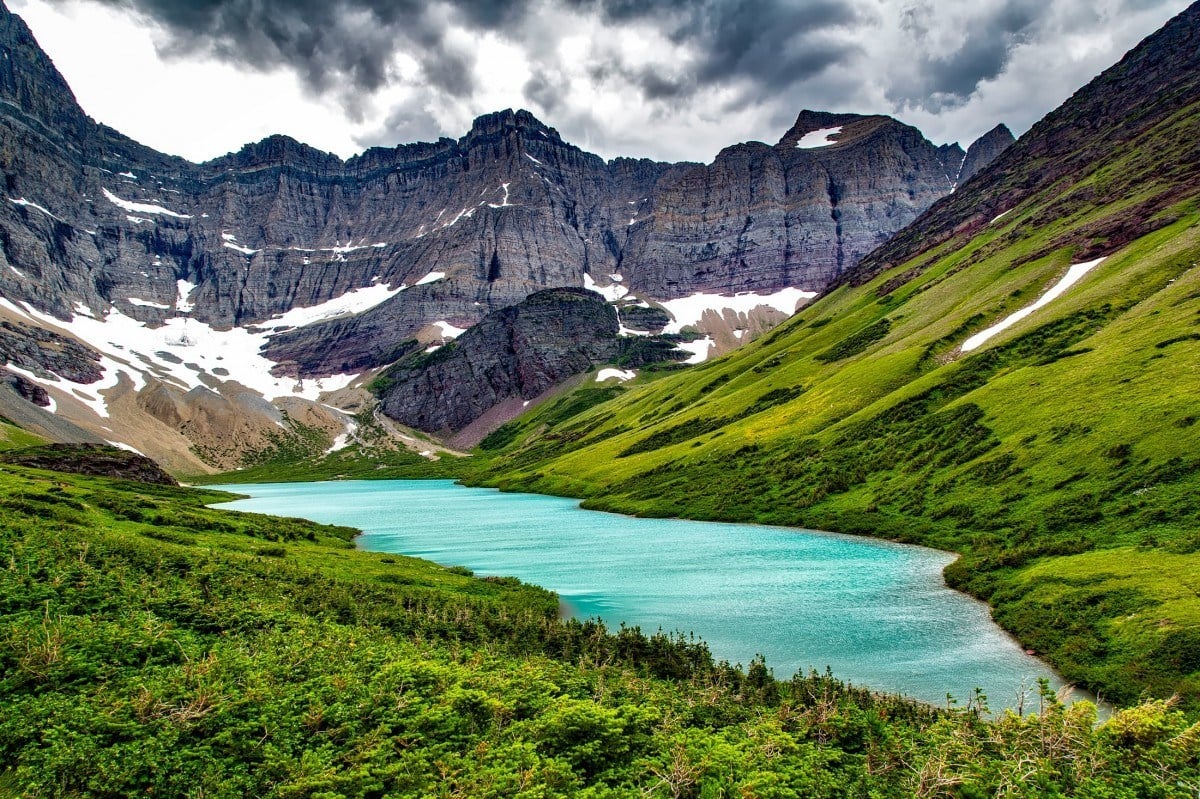 Size: 4,046 km²
Location: Montana
Cost of Entrance: $20 per person, $35 per vehicle
No list of USA national parks would be complete without this incredible gem of a place!
Dubbed the 'Crown of the Continent', Glacier national park is a place of astounding beauty, with hidden gems at every turn.
With remnants of ancient glaciers dating all the way back to the Ice Age, the park straddles the Montana-Canada border. As such, you can expect plenty of excellent hiking opportunities with trails for various levels of fitness. Some of the park's best self-guided hikes include the Running Eagle Falls, Hidden Lake, Forest and Fire, Trail of the Cedars, and the Swiftcurrent Nature paths.
Glacier hikes are available, but it's strongly recommended that you book the services of a park ranger to explore the glaciers.
An important part of glacier visits, the Going-to-the-Sun Road connects the western and eastern areas through the center of the park. This scenic road takes you to the glacier's boundary. It's possible to drive that road, but you do need to register your vehicle ahead of time.
Other than its many geological formations, the park is packed full of history. For instance, most of the pack's on-site hotels, chalets, and lodges are found on the National Register of Historic Places since they were built by the Great Northern Railway in the early 20th century.
Visitors can also check out the Waterton-Glacier International Peace Park, a UNESCO World Heritage Site that spills into the Canadian side of the border. Don't forget your passport if you're planning on crossing through!
Where to Stay Near Glacier National Park
Put your feet up and relax in this tiny cabin for two, located just three miles from the park! With cozy amenities like Pendleton blankets and propane heaters, this cabin offers easy access to a guest kitchen located just a few steps away.
Have you sorted your accommodation yet?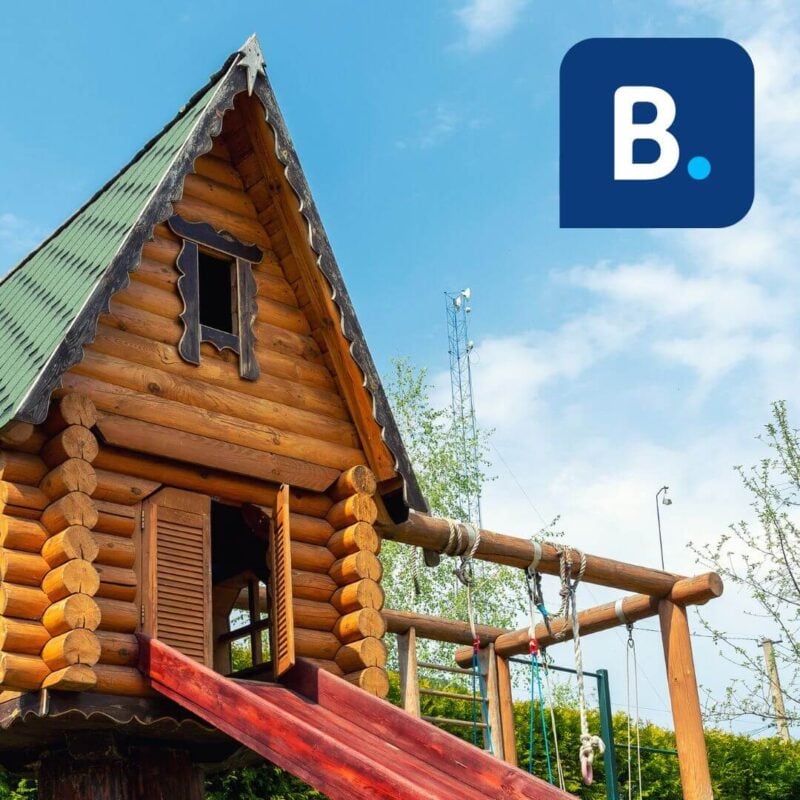 Get 15% OFF when you book through our link — and support the site you love so dearly 😉
Booking.com is quickly becoming our go-to for accommodation. From cheap hostels to stylish homestays and nice hotels, they've got it all!
View on Booking.com
Size: 593.3 km²
Location: Utah
Cost of Entrance: $20 per person, $35 per vehicle
Not only is Zion National Park one of Utah's highlights, but if you ask me, it should absolutely feature on your list of USA national parks to visit! You can also consider hopping on over to the neighboring state of New Mexico which has its own amazing national parks.
There's no denying that one of the best things to do in the west is to embark on a scenic drive through the center of the park.
Now, if you'd rather explore the place on foot, you'll find plenty of short trails and more strenuous hikes like the sandy, high-altitude Hop Valley Trail which starts off at the Kolob Terrace Road and requires around six hours to complete. The trail cuts through private inholdings so remember to maintain a respectful distance.
Three campgrounds are available if you'd like to spend the night. While the South Campground is closed in the winter, the Watchman Campground near Zion Canyon is open all year long. Alternatively, you can also check out the Lava Point Campground (also seasonal), located on Kolob Terrace Road.
Bird watchers will absolutely relish the sheer abundance of bird species who have elected the park as their home. From the American Coot to the Black Chinned Hummingbird, the White Throated Sparrow, and more, the park boasts plenty of bird-watching opportunities throughout the year.
Where to Stay Near Zion National Park
With ample space for up to four guests, this quaint casita features a seasonal pool, two fire pits, and an incredible location just 15 minutes from the park. Plenty of world-class hiking and mountain biking trails beckon nearby- perfect for adventurers!
Size: 1,254 km²
Location: Wyoming
Cost of Entrance: $20 per person, $35 per vehicle
Looking for exciting things to do in USA national parks? Well, I can absolutely recommend a visit to the Grand Teton National Park in Wyoming.
With heaps of incredible photo ops, this lush park is bursting with an assortment of activities for hikers, skiers, and cyclists alike. From soothing rivers to high mountain lakes, the park houses the 13,770-foot Teton mountains which offer incredible skiing opportunities in the winter. In fact, it's one of the best places in the US to visit in December!
In warmer weather, the mountains draw climbers from all over, and as thrilling as this activity is, it can also be quite dangerous. As such, I would strongly advise you to stop by the Jenny Lake Ranger Station and check the weather conditions before heading out. While no permits are required for regular mountaineering, you'll need to apply for a backcountry camping permit if you're planning an overnight stay or climb.
Fan of wildlife? You'll be glad to learn that the park has numerous wildlife viewing areas for observing antelopes, elk, pronghorn, and more. It's important to know that Grand Teton houses a large population of grizzly and black bears, so be sure to adopt the usual bear precautions.
Where to Stay Near Grand Teton National Park
If you want to prolong the fun and spend a few more days at the park, you can always set up camp at this cozy log cabin. Designed to accommodate two to four guests, this space is fitted with a small kitchen and ski-in/ski-out facilities.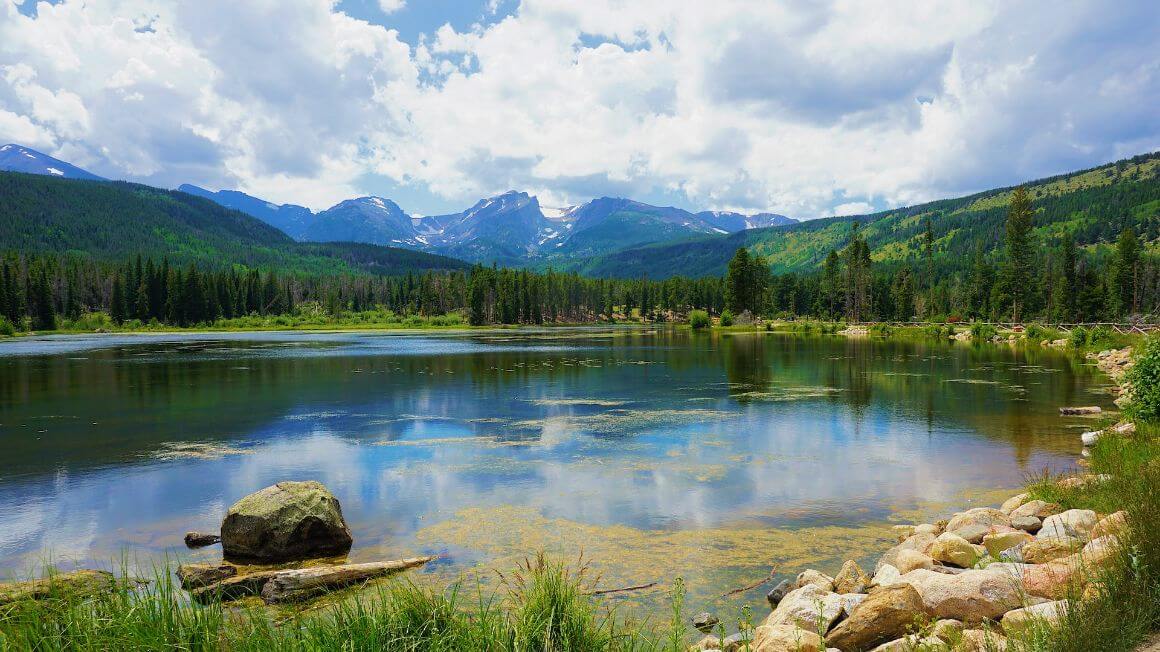 Size: 1,074 km²
Location: Colorado
Cost of Entrance: $15 per person, $30 per vehicle
The Rocky Mountain National Park may not be the most visited or the biggest park in the country, but I can assure you that it's entirely worth the trip – especially if you're into hiking!
Indeed, several scenic trails snake through the spruce and pine forests, offering awe-inspiring views at every turn. I can vouch for the Loch Trail, a moderate hike that covers nearly six miles and takes you to one of Loch Vale's most beautiful lakes.
In the mood for an Al Fresco meal? Why don't you check out one of the park's picnic areas like Hidden Valley and Copeland Lake which allow the use of portable grills? Some picnic areas are also fitted with restrooms. Just remember to dispose of your trash in bear-proof dumpsters and avoid feeding wild animals.
In addition, the park has an excellent road system that provides easy access to the varied ecosystem, fast-flowing rivers, lowland meadows, and subalpine forests.
Where to Stay Near Rocky Mountain National Park
Nestled in the heart of Grand Lake Village, this historic cabin features a studio-style layout that comfortably sleeps two, with a sofabed to accommodate an extra guest. Other on-site amenities include a kitchenette and a quaint courtyard.
Is This the Best Daypack EVER???
Size: 2,114 km²
Location: Tennessee & North Carolina
Cost of Entrance: Free
Not only is the Great Smoky Mountains national park one of the most important USA national parks, but it also happens to be the most visited – something that should come as no surprise since several east coast states offer easy access to this incredible site.
Spanning both North Carolina and Tennessee, the park contains towering mountain ranges that once served as a home to prehistoric Paleo tribes. Nowadays, the park is awash with different types of outdoor activities like fishing, biking, and hiking.
Some of the Great Smoky Mountain's most gorgeous hikes include the trails to the Rainbow and Abrams Falls. Offering a cool and shaded respite from the summer heat, these moderate trails cover around 5 miles. You may wish to pack a picnic to enjoy by the pools at the end of the hike but remember that swimming is strictly prohibited because of the undertow and strong currents.
Where to Stay Near Great Smoky Mountains National Park
With two bedrooms for up to six guests, this romantic cabin offers the allure of a mountain retreat, complete with a fire pit and a hot tub. Guests can also enjoy homely comforts like a well-outfitted kitchen.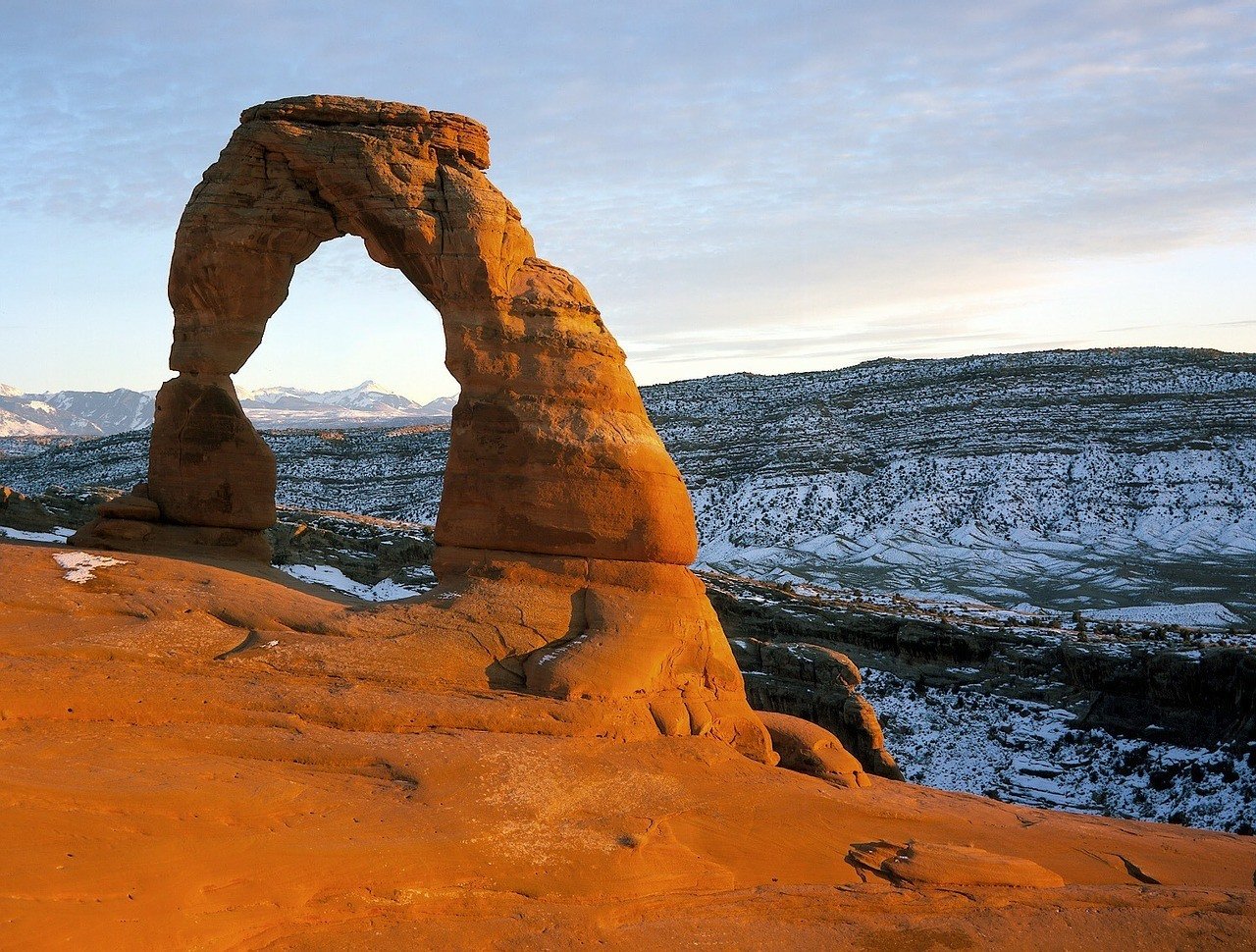 Size: 310 km²
Location: Utah
Cost of Entrance: $15 per person, $30 per vehicle
Whether you'd like to embark on a scenic drive, backpack through the park, or hit those hiking trails, Arches has tons of great activities for all types of travelers!
If you're feeling particularly daring, you can even indulge in a thrilling canyoneering adventure alongside an experienced park ranger. Groups are limited to 6 persons, and you'll need to obtain a canyoneering permit for each route that you'd like to visit.
For a family-friendly activity, you can always check out the short Arches Visitor Center hiking trail, speckled by local desert plants. This 150 feet trail only requires around 10-15 minutes to complete.
Another easy hike is the Balanced Rock Viewpoint and Trail, named after its uniquely-shaped stone structure. Because this loop trail is partly paved, it's largely accessible to wheelchairs. As tempting as the rock formation looks, remember that scaling the Balanced Rock is strictly prohibited!
Where to Stay near Arches National Park
Enjoy a comfortable night's rest under this geodesic glamping dome for four! If visiting in the winter, rest assured that the dome has excellent insulation and heaters to ensure toasty warm evenings. There's also a kitchenette with a French Press.
Final Thoughts
There's no denying that the USA's national park scene is absolutely massive with jaw-droppingly gorgeous sights all over!
The longer your stay, the more parks you can explore but if you've got to choose just one, Yosemite totally has my vote. With magnificent rock formations, giant sequoias, and endless hiking opportunities, this is one of the best USA national parks that absolutely lives up to the hype!
Another tip: Get yourself a prepaid USA sim card before your trip to make sure you're always connected and have access to online maps.
---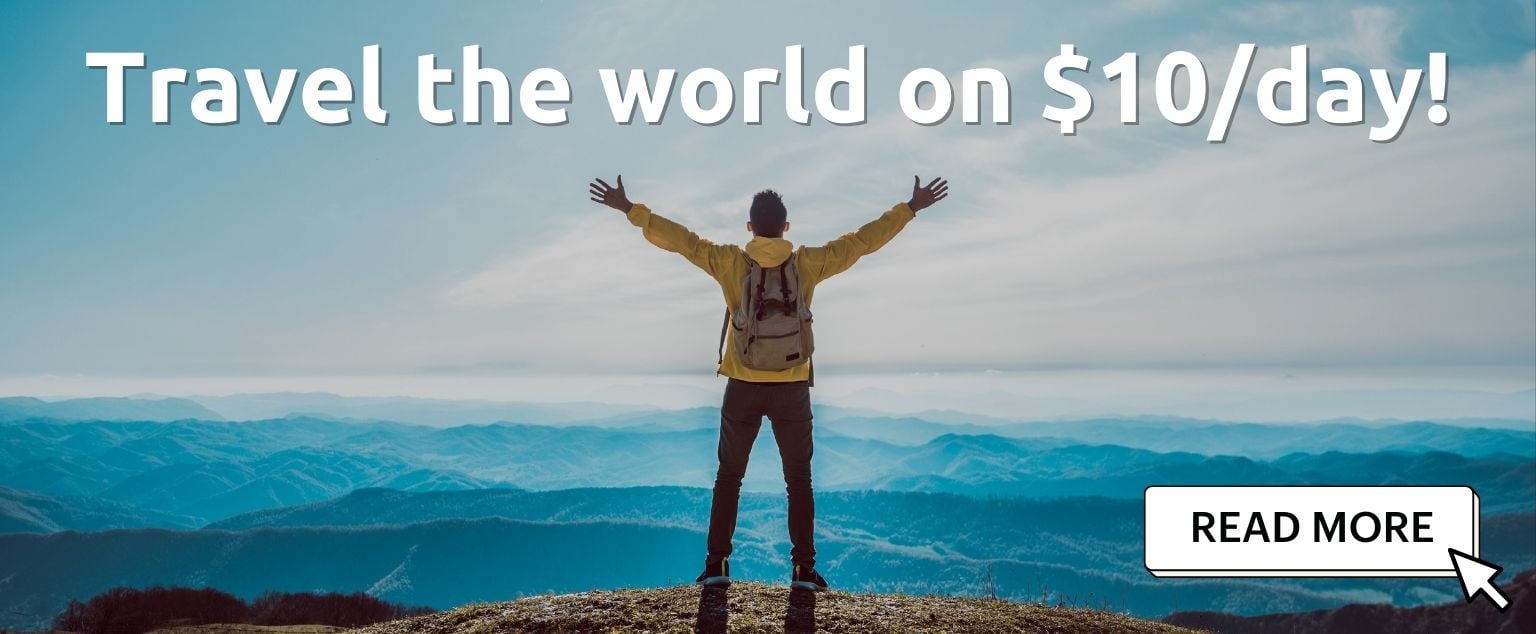 And for transparency's sake, please know that some of the links in our content are affiliate links. That means that if you book your accommodation, buy your gear, or sort your insurance through our link, we earn a small commission (at no extra cost to you). That said, we only link to the gear we trust and never recommend services we don't believe are up to scratch. Again, thank you!