Travel The World Whilst Working as an Online English Teacher
Did you know that your Mother tongue could be the most valuable resource you have? It can even help you to travel the world…
Regular readers of The Broke Backpacker will know by now that getting your hands on a TEFL and working as an English Foreign Language teacher is a great way to travel the world whilst getting paid.
I previously worked my way around the world Teaching English in Colombia as well as Nepal. Other Broke Backpacker staff writers have done it in Spain, Japan and Thailand. Yep, teaching English is the bread and butter of working your way around the world.
But…
But, yeah. There are quite a few big buts and working overseas as an English teacher definitely has its' limitations.
The main one is that eventually you just end up stuck in the same place. You get into the whole TEFL game to travel the world but the next thing you know, you've been in Chiang Mai or Siem Reap for 2 years straight now and the only "travelling" you did was going home to England to see your parents at Christmas.
Yep, before long you are not teaching to travel the world, you are just working in a different country. Whilst this can be fun for a while, it generally gets pretty boring eventually…
Furthermore, working as a TEFL teacher can be an extremely tough gig. The pay can be low, conditions can be hard and the novelty can very quickly wear of.
Also many schools are now looking for long term commitments and will lock you into 1 year contracts. What if you enter into a 1 year contract but then end up hating the job? Or worse, what if you end up hating the COUNTRY you are in? (and believe us, teaching English in China for example can be great, but it absolutely ISN't for everybody).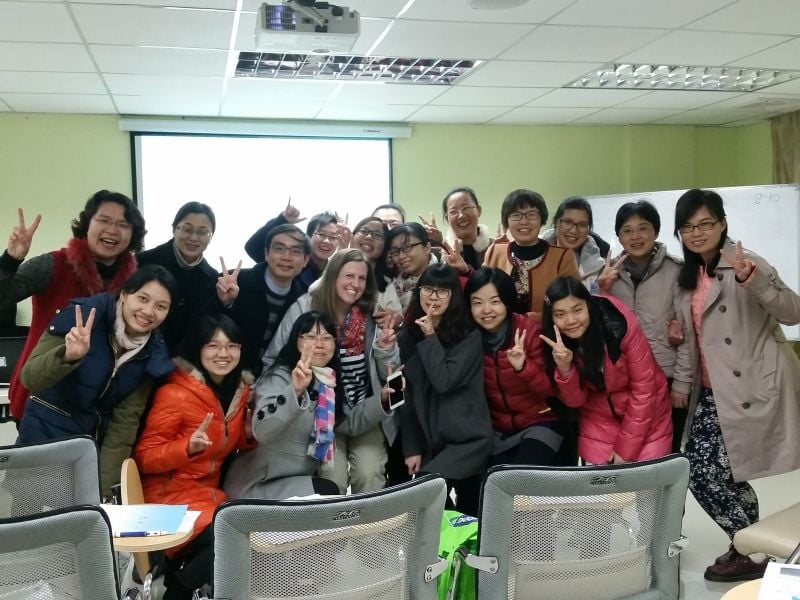 What if there was a better way? What if there was a way to use your language and teaching skills to travel the world without all of the pitfalls of regular TEFL teaching?
Teach English Online
Well, there is a way! And that way is Online English Tutoring.
Online English teaching is exactly how it sounds. You teach English over the internet either on a one on one basis or to a virtual classroom to any number of pupils. You can do this from anywhere in the world as long as you have a computer, a decent internet connection and a passion for teaching.
The main advantage for us travellers is that you get to work from absolutely anywhere in the world. This means that you can do that epic trip around South East Asia and keep on working as you go! One day you do your lesson from your hostel in Bangkok, the next lesson you do from a quiet cafe in Chiang Mai. It well and truly puts the "world" back into the concept of teaching your way across the world.
Of course, there are other advantages of becoming an online English teacher too. The big one is that you largely get to set your own terms. You can teach as little or as often as you like. You can work one hour a day or you can work for 10 hours a day.
Working as an online English teacher isn't only for travellers either. Because you can earn good money from home, the job has also found favour with stay-at-home Mom's, and students who need to make a bit of money to put themselves through university.
Expectations From An Online English Teacher
Of course, you do need to be very mindful of a few things. To teach English online successfully, you need to be honest and upfront with yourself and you need to be disciplined and to be able to self-manage.
I will explain…
Remember that at the end of the internet connection are paying students who have put their faith in you. You therefore owe it to them to do a good job.
Firstly, this means that you need to be online and ready to teach at the appointed time. Therefore, you may wish to avoid staying in that party hostel in Laos. Yes, it will be a lot of of fun for you but are you really going to be able to deliver an English lesson with a game of beer-pong going on behind you?
And speaking of beer-pong, if you overdid it on the booze the previous night, are you really in the right state of mind to be teaching about verbs? Yes, the internet connection will hide your red bleary eyes and the smell of hooch on your breath, but your students will still know that something isn't quite right.
So you need to be organised, focused and as I said, disciplined in order to do the job.
How To Get Started
So how does one go about becoming an Online English teacher?
Well, you can go it alone if you want. You can create yourself a website and try to find pupils yourself. That way you get to control absolutely everything and charge your own rates.  
However, this can be very challenging. Finding students is extremely tough. Even if you do find them, getting paid can sometimes prove difficult and you can end up writing off hours of work when a student goes quiet and doesn't pay you. 
We therefore highly recommended going through an agency. They find the students for you and arrange payment so you get to concentrate on the teaching. There are quite a few different agencies out there at the moment and deciding which one to sign up with can be confusing. Some offer higher rates of pay than others, some offer better support than others whereas some, may pay a little less but can offer you plenty of consistent work.
The one we recommended is Cambly, an innovative English learning platform for students of all ages. Their sister platform, Cambly Kids, is just for children aged 4-12. 
Cambly offers both tutoring and English teaching classes. If you're interested in tutoring adults on spoken English only, you can apply for their Cambly tutors platform, but if you want to teach children, Cambly Kids offers 1-on-4 classroom environments whereby children can learn through their interactive platform that makes learning English fun and exciting.
The rates of pay are really good, especially for Cambly Kids. They pay per minute ($0.17 per minute for adults and $0.20 per minute for kids), which is a little different, but if you're good and you can retain your students interest you can bank a pretty penny. 
This amount goes a long way in many parts of the world so you would only need to work a few hours a day to keep yourself travelling. And of course, because of their flexible working policy, you can dictate your own hours and work as much as you want. They also have a highly supportive community so you can share ideas and experiences, and get advice from your peers.
Classes generally range from 30-50 minutes, depending on the demand. For Cambly Kids, classes are 30 minutes. 
For more information, and to apply, you can access the Cambly website right here.
The recruitment process is also pretty straightforward and fast. You start out by doing the application form and if you're successful, you'll be notified within a week. If you are applying for Cambly Kids, then you will be asked to record a 7 minute teaching demo as well, which you can do without the need of an instructor pretending to be a student (there is nothing more awkward than an adult pretending to be a kid). 
If things go well with your demo, there are background checks and the usual formalities. It is therefore perfectly possible to get started as an online English teacher within just 7 days, sometimes faster if the demand is high.
What you need
You really do not need much to get started as an Online English teacher.
Laptop
First up, you will need a good, dependable laptop. Do not cheap out on this. Look at it as an investment in yourself and your future. If your laptop breaks down or cuts out, then you will lose work. Check out this post to find the best travel laptop.
I would also advise getting good insurance on it so that if it does break down, it gets fixed fast.
VPN
For security purposes, we always recommend a paid VPN subscription. You will be online using public Wi-Fi a lot so you need to ensure your connection is safe.
TEFL
We highly recommend taking the time to do the TEFL World 150+ course. Firstly, having this qualification will bolster your credentials and make it easier for you to either attract students, or get hired by an agency.
Furthermore though, it will teach you some invaluable skills about lesson planning and the basics of teaching. For both of my teaching jobs, the lessons I learned from my TEFL came in truly invaluable.
---
Thanks for reading – that was fun! 😀
We bring you epic FREE content!
Find out how YOU can help support us.
We're a big site with a big team and this job isn't always easy. But we do it because we love it – we love providing epic and free content. We love the knowledge that our content keeps you adventuring. We don't ask for money, but if you'd like to find out how you can help the site in more organic ways, click the button below.
Thank you for your support 🙂
---
Bye for now, but not forever!
If you want MORE top-tier Broke Backpacker content like this, then sign up for our weekly newsletter below to get the latest and greatest!
And for transparency's sake, please know that some of the links in our content are affiliate links. That means that if you book your accommodation, buy your gear, or sort your insurance through our link, we earn a small commission (at no extra cost to you). That said, we only link to the gear we trust and never recommend services we don't believe are up to scratch. Again, thank you!