We're always down for Portugal. This Iberian nation mixes chilled culture, amazing food and drink, beaches, and historic cities so beautiful you need to pinch yourself to realise you're not actually dreaming. Portugal makes an idea destination from which to escape the madness of 2020 – if you can get in that is!
We've written this in-depth guide to Portugal's COVID entry requirements to answer any questions you may have. In this article, we're covering which countries are allowed to visit Portugal, what restrictions are in place, and what tourist services are open for business.
This guide is all YOU NEED TO KNOW for visiting Portugal in 2020.
A message from Will, the OG Broke Backpacker
Amigos, let's face the facts: travel isn't what it was. Things have changed.
We strive at The Broke Backpacker to be the best source of up-to-date and relevant information in the travel-sphere. All the information here was sourced, checked, double-checked, and published on ___. While the information was correct then—and we will outline any changes and updates that we do make in the future—it's important to respect the immense changeability of this topic.
If you're going to be travelling amongst the coronavirus world, you need to, do your own research and do it hard. No one blog or website is a sufficient source, and even if it was, it might all just go tits up anyway.
This information changes more often than I fart in a day. Tread with caution.
And if you do see some misinformation, please leave a (constructive) comment so that we can patch it up! We really do appreciate your support and input in these weirdest of times.
Who Can Travel to Portugal Right Now?
On 15th October, Portugal issued a nationwide "State of Calamity". However, it remains open for tourism from a number of countries. Currently, Portugal's entry restrictions mean only EU member states and Schengen countries may visit, as listed below:
Austria
Belgium
Bulgaria
Croatia
Republic of Cyprus
Czech Republic
Denmark
Estonia
Finland
France
Germany
Greece
Hungary
Iceland
Ireland
Italy
Latvia
Lithuania
Liechtenstein
Luxembourg
Malta
Netherlands
Norway
Poland
Romania
Slovakia
Slovenia
Spain
Sweden
Switzerland
United Kingdom
Australia
Canada
China
Georgia
Japan
New Zealand
Rwanda
South Korea
Thailand
Tunisia
Uruguay
If you are travelling from any one of the above countries, you will be subject to health screenings at your port of entry into Portugal.
In addition, if your intended port of entry into Portugal is Madeira or the Azores archipelago, there are specific measures in place to stop the spread of COVID-19.
Those travelling from countries not on the above list can only travel for essential reasons. These include business, study, family reunion, medical or humanitarian. If this is the case for you, you should first consult the Portuguese immigration authorities before making any travel plans.
Can Americans travel to Portugal?
Currently, no. American citizens may not travel to Portugal for tourism purposes.
Things may change in the future. At present, however, it's still good to know what requirements and regulations you'll need to follow when travel to Portugal is possible.
Alas, it's hard days for the Americanos, but have no fear! We've put together a couple of sexy COVID-proof travel guides that may just help you plan your travels through the Ragnarok times:
What Are the COVID-19 Entry Requirements for Portugal?
Portugal's entry requirements are straightforward for those who are allowed to travel there (EU and Schengen nationals). There are also differing regional restrictions in place for Madeira and the Azores archipelago for those travelling to these destinations. Here are the current details:
Portugal's Travel Restrictions – On the Ground in Portugal
At the moment, the ongoing State of Calamity in place in Portugal means there are restrictions not only to the entry of tourists but for the movement of both visitors and citizens in the country. As with many places around the world, there is a New Normal to get used to in Portugal:
Social distancing of 2 metres
Good hand hygiene (disinfectant/soap)
Avoid travelling on public transport in peak hours
Avoid paying in cash; use cashless where possible
Wearing a mask is mandatory in enclosed spaces (i.e. public transport) and outdoors, where you are unable to maintain a social distance of 2 metres. If you breach this or any New Normal regulations you can be fined up to €500.
In Madeira, use of face masks in all public places is mandatory.
Special measures are in place in these areas: Felgueiras, Lousada, and Paços de Ferreira. These measures include:
Staying at home except for shopping, work, exercise, or school
Shops and other services closing at 10 p.m.
Markets and fairs are also banned https://www.gov.uk/foreign-travel-advice/portugal/entry-requirements
Visitors to continental Portugal should also note that there may be restricted movement between municipalities. For example, this is currently in place between midnight on 30th October and 6 a.m on 3rd November for All Saints/All Souls Day.
Wondering where to stay on a trip to Portugal? Check out our area guides!
What Tourist Services Have Reopened in Portugal?
There may be restrictions on day-to-day life in Portugal, but many services and attractions remain open business – albeit with New Normal guidelines to observe. Some of these are:
Beaches
Restaurants/bars
Cultural venues (museums etc.)
Leisure parks
Shops
It's important to note that social distancing is required, even on beaches. Opening times may vary depending on municipality.
The sale of alcohol is limited in continental Portugal. The sale of alcohol in shops and supermarkets is banned after 8 p.m. There's also a ban on drinking in public places, except on restaurant/cafe terraces. After 8 p.m. all alcohol on sale in outdoors spaces is prohibited, unless served with a meal.
Now, while travel insurance is not a mandatory entry requirement for Portugal, that doesn't mean you shouldn't have it. You really shouldn't ever be travelling without insurance, and that goes double for the pandemic!
Keeping yourself covered against coronavirus mishaps is a complex subject, however, Americans get it easy. Our favourite insurance provider World Nomads just got favourite-r! They're covering against COVID-related incidents and will also count for countries where corona coverage is a requirement.
Is there a backup option? Sure is—SafetyWing Travel Insurance! SafetWing is the cheap, long-term insurance for cheap, long-term travellers. And now, they've stepped up to the plate covering travellers and digital nomads against the scourge… at a bargain!
And if neither of those two choices are right for you? Well, in that case, I strongly, strongly, strongly recommend doing your own research on the top travel insurance companies and finding one right for your trip.
The Best Travel Backpack?!
Pssssst! Not picked the perfect travel backpack yet? The Broke Backpacker team has tried out over thirty backpacks this year! Our favourite carry on backpack is the Nomatic Travel Bag.
Read our full review!
And Keep Smiling
Portugal remains a great place to visit and one of our favourite European destinations. Entry restrictions and New Normal rules may apply, but it's still an awesome place.
If you're dreaming of a time when travel is normal again, you could always get some travel inspiration by planning a future trip to Portugal.
But if your country is on the safe travel list, then count yourself lucky. There's never been a better time for a getaway from everything happening in the world – and Portugal is just the ticket.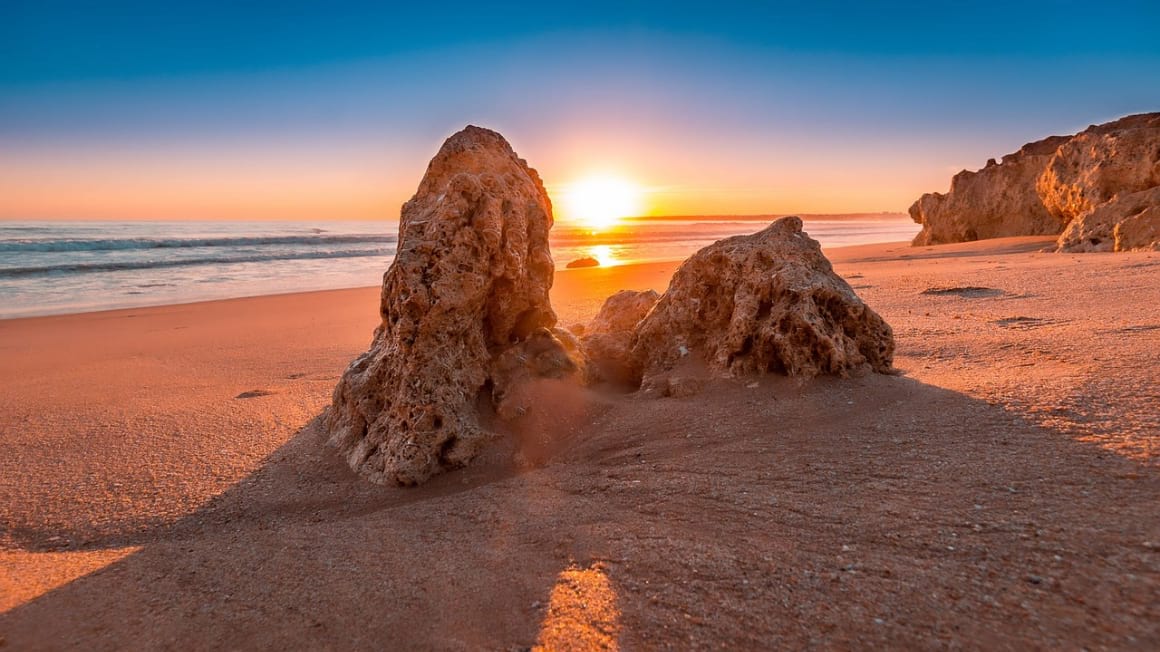 Yay for transparency! Some of the links in this post are affiliate links. This means that if you book your accommodation, buy a book or sort your insurance, I'll earn a small commission at no extra cost to you. I only link to stuff I've actually used and never endorse crap. Your support helps me keep the site going.