Regular followers of this blog will know that our writers and contributors spend a lot of time in the REI store (both the physical store and the online store that is). We genuinely consider them to be the single best retailer of travel and outdoor gear in the US, if not the world, and they also manufacture some of the best value travel and gear too through their REI Co-Op arm.
That is why we have decided to put together a monthly run down of the best gear that we have seen on sale over at REI this month. The post will take in some of the aforementioned REI Co-Op brands latest hits as well as some bargain offerings from the world's best known gear brands too.
Seasonality is very important so you can expect this February round up to feature a steady mix of both winter clearance gear as well as some new for spring lines.
Winter Gear Clearance Sale
Before we go any further, let's talk about the winter gear clearance sale, Afterall, we all love a good sale right?
I know that with the current cold snap and the continuing long nights it still feels very much like the darkest depths of deepest winter (unless you live in SoCal where it's already beach time right?). But, in fact winter is almost done and there are only 6 weeks left before we roll the clocks forward.
With that in mind REI are having a bit of a winter clearance sale and have even slashed some lines by as much as 50%. Of course, as winter is almost gone some of you may well be reluctant to spend money on snow jackets and sub-zero sleeping bags and would prefer to put those pennies towards a new bikini. But remember, winter always comes round again (unless you live in SoCal) so our advice is to plan ahead and get your winter 2023/24 gear NOW at half the price that it will cost you in October.
Not all winter gear at REI is reduced. But the entire REI Co-Op line of snow gear is, as well as selected items from Nordic winter-wonder-stars FjalRaven, the mountaineering chic maker Kuhl as well as the value trekking gear brand Mountain Hardwear.
The Broke Backpackers Monthly REI Round Up
Honestly, between us team Broke Backpacker maybe spends a little bit too much time in REI stores and pawing over their website. Travel and adventure gear is something of a personal vice of mine and I personally own more camping backpacks and outdoor jackets than I care to admit – my back room is full to the breaking point.
Still, despite my personal looming, gear-binge related bankruptcy, at least I can pass on the benefits of our knowledge and share with you the best pieces of outdoor and travel gear this February.
Let's get into it.
Ladies & Gents, It's Time to Step Your GEAR Game Up. 😉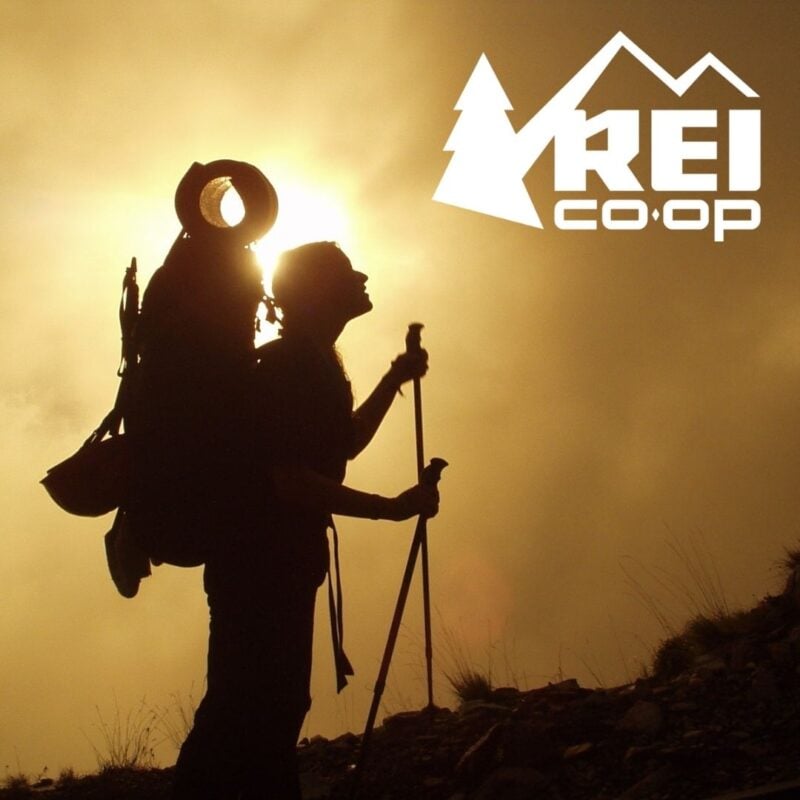 REI is one of America's biggest and most-loved outdoor gear retailers.
Now, for just $30, get a lifetime membership that entitles you to 10% OFF on most items, access to their trade-in scheme and discount rentals.
Join REI Today!
Although I do love to get outside during winter and go for hikes on those crisp and clear days, I (like all sane people) am not one for winter camping. But as the ice begins to thaw once again our minds turn towards notions of roasting marshmallows on open fires singing "kum-by-ya" (Ok so I hate marshmallows and Ihate campfire singalongs too, but you get the point?).
What we have here is an absolute bargain of a 4 person tent from Mountain Summit. Personally I rarely ever need a 4 person tent (2 or 3 is plenty for my needs) but not even I can resist the temptation to add this to my collection at a giveaway budget tent price just over $40. It's a 3 season tent and weighing in at a steady 10 pounds when packed, is perfectly carry-able. The tent body is fashioned from durable polyester with a waterproof coating features and No-See-Um mesh to keep bugs out. Best of all it uses a simple 2-pole design and uses quick clips for easy setup.
REI isn't a bookstore but nevertheless, we absolutely recommended this modern day trekkers bible from National Geographic. Written by renowned backcountry adventurer Andrew Skurka (Named "Adventurer of the Year" by both Outside magazine and National Geographic, as well as "Person of the Year" by Backpacker magazine) this tome contains over 200 pages of insider tips and tricks for thru-hiking in North America.
The book offers valuable insights into what gear you need to carry and wear, offers intel on campsites, foot care and hiking efficiency and is suitable for hardcore dirtbags and weekend warriors alike.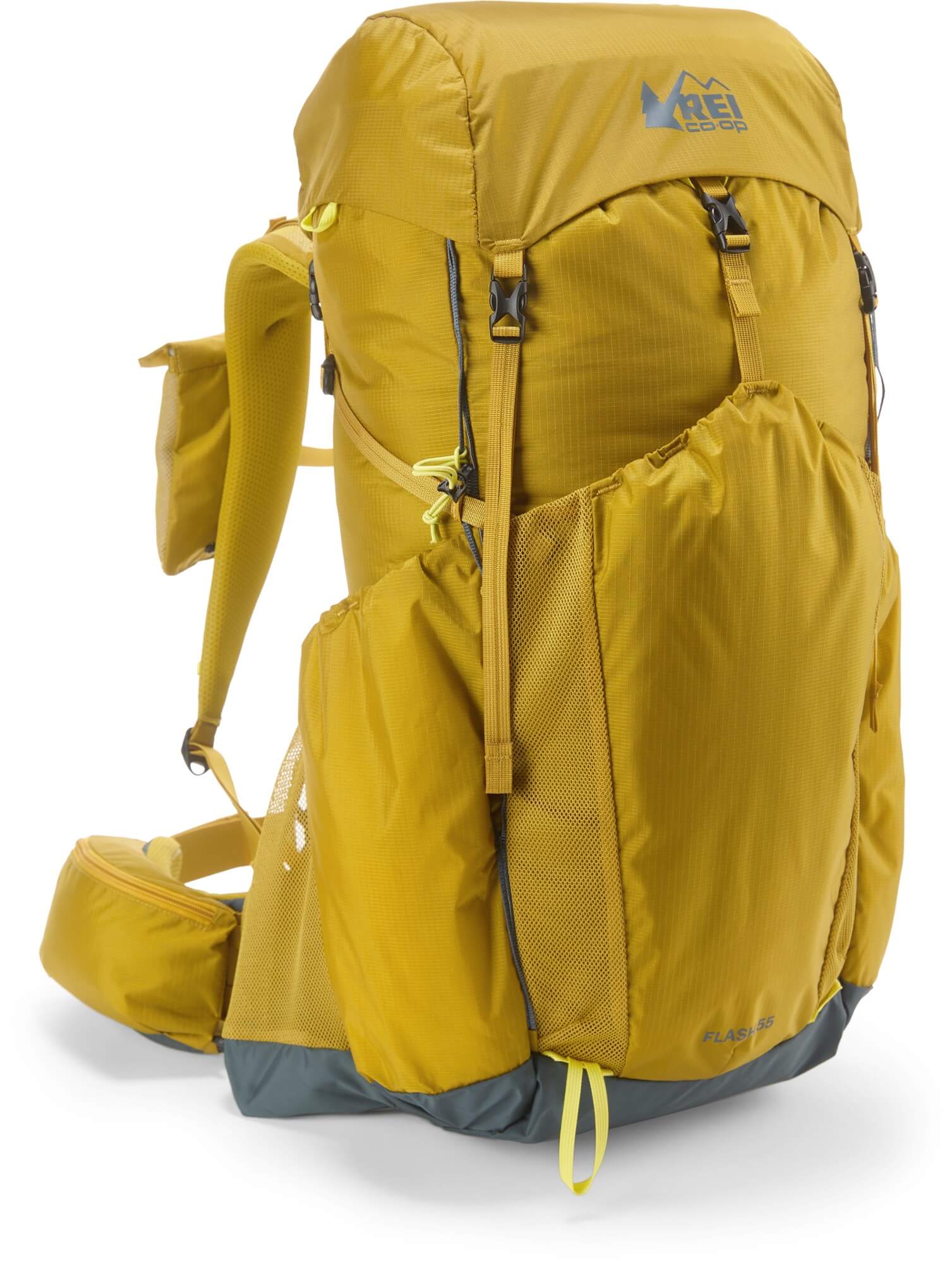 As all backpackers know there's a very distinct difference between a great backpack and a cheap one, for starters, how many expletives you yell out while out on the trail. I have to hand it to REI, they've really been investing a lot of time and research into improving their line of quality backpacks year after year. I have owned REI's Flash 65 Backpack for over 2 years now, and holding this new 55L bag side-by-side with mine showed just how far they're come.
This Just For Members backpack comes in just under the $200 price point, making it one of the more expensive items on out round-up, but for good reason. This thing is packed (no pun intended) full of features, from the adjustable torso to the Packmod straps and pockets, you'll be good to go for a week long trip or weekend getaway. The pack it also made from a recycled ripstop nylon material giving you reassurance you won't lose your load to the first sharp rock you brush up against.

Do You Want to Travel FOREVER??
Pop your email in below to get a FREE copy of 'How to Travel the World on $10 a Day!'.
Okay I'll level with you all, I may have a slight problem (fine, obsession) with jackets. It could be the middle of the summer, if I go into a gear shop there's a decent chance I'm walking out with a hoodie or light jacket. But consider my problem a benefit to you, as I now consider myself well versed in the world of outer wear.
This new jacket from REI is the perfect hiking companion. Aptly named Trailmade, this jacket is a soft-shell mid-layer built to protect you from any wind and light rain you may encounter. The jacket is also thicker than your everyday wind jacket, using stretch double-weave nylon materials and water repellent coating, you'll stand up to the elements a bit better than you average pull-over. With a $99 price tag and bluesign-approved materials, you know your hard earned money goes towards a good cause without breaking the bank.
If you've never had the pleasure of hiking with trekking poles, you really are missing out. While not always necessary, they're essentially and extra pair of legs that can sometimes be the difference in making it 40 miles versus 5 miles in a day. When you're in the backcountry with a 30 plus pound bag on your back, trekking poles can help you maintain a better posture (trust me, your lower back will thank you the next morning) as well as some extra balance on loose terrain.
REI's Trailmade Poles use foam grips, which I've come to prefer over the alternative cork grips in time, giving your hands a comfortable friend along on your journey. Given their lightweight nature and solid construction, the $69.95 price tag is more than reasonable in our opinion. And when you want a break from the poles or are exploring around the city, they can easily break down and can be tossed onto your backpack until you call upon their assistance again.
What's warm, cozy, and sharing a sleeping bag with their loved one? Well, not me because I'm quite single, but that doesn't mean you can't snuggle up down to 20 degrees Fahrenheit on your next adventure!
Mummy sleeping bags are great, and often a necessity for the lightweight backpackers out there, but they're definitely not for everyone. A rectangular bag can give you the room to roll around and stretch out your legs more naturally without constricting you, all the while providing the same level of warmth you'd want while out in the nature. REI's Siesta 20 Double Sleeping Bag is perfect for you and your travel companion (human or pup) to bundle up after a long day of exploring.
For my fellow car campers, I travel and live in my converted van and have found this to be the ultimate companion on those cold nights. This bag unzips entirely into two separate quilts, allowing me to ditch my fair-weather sheets for some serious warmth. It's also a decently compact size given it's temperature rating, allowing me to toss it up in my cargo box over the summer!
Something tells us that 2023 is going to be the year of the bike. Firstly, last years gasoline price crises reminded many Americans that horse-power is still something of a luxury and then the cycling manufacturers themselves have announced that 2023 is going to be the year of the bargain bike buy!
Economics aside, the fact is that cycling is fun, it is healthy and it is a great way to get outside on the evenings or weekends. The CTY 2.1 is a classic entry level, multi purpose bike that is ideal for those who have not cycled for a while, but still want a decent piece of gear.
The CTY 2.1 is a great road bike in its own right REI also offers a first rate after care service that includes adjustments. Heck REI members even get access to free tire changes and 20% other maintenance services.
Need a new jacket to go with that new bike? Basically cycling is safe and fun in many different seasons and weather conditions and I have cycled in torrential rain downpours (just check the tyres and breaks before you start and be sensible). However, if you are out on the bile and it rains you really do wait to have a good waterproof jacket with you.
Now, regular rain jackets are all good and well but many of them tend to get a bit sweaty if you exert yourself while wearing them. The REI Co-Op Cycling Rain Jacket is waterproof, wind proof, breathable and best of all its bright yellow so motorists can easily spot you even in the reduced visibility that rain showers tend to cause.
At $135 it is not cheap but is great value – similar products from top outdoor brands such as Patagonia and Arc'teryx are at least twice the price.
The best present of all… is CONVENIENCE!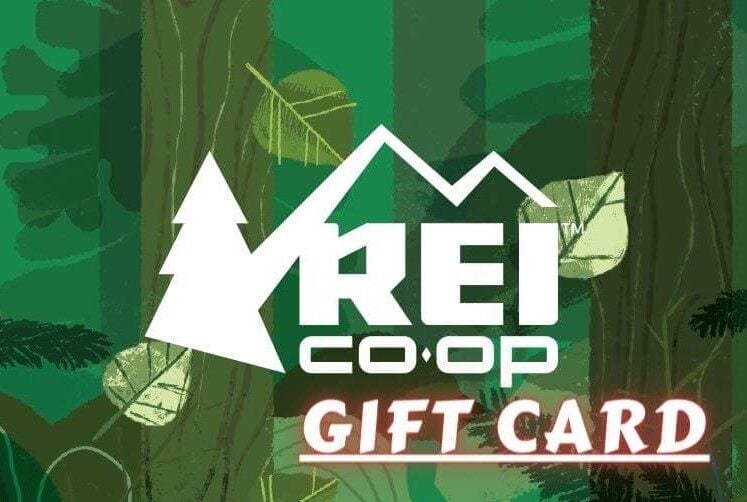 Now, you could spend a fat chunk of $$$ on the WRONG present for someone. Wrong size hiking boots, wrong fit backpack, wrong shape sleeping bag… As any adventurer will tell you, gear is a personal choice.
So give the adventurer in your life the gift of convenience: buy them an REI Co-op gift card! REI is The Broke Backpacker's retailer of choice for ALL things outdoors, and an REI gift card is the perfect present you can buy from them. And then you won't have to keep the receipt. 😉
Buy on REI!
Let's not beat about the bush, many among us spent too much this winter ordering take outs from uber eats and binge watching NetFlix – and that was before Granda forced those extra helpings of Thanksgiving Turkey down us. If you gained a little extra weight this winter and want to lose it before the beach season rolls around, then the best way to get going is to get out and get running.
Running (like most other sustained cardio activity) is incredibly powerful as a fat burning, weight losing form of exercise. Best of all, all you need to get going is a pavement and a pair of road running shoes like these ones from Adidas.
If you are running on roads at night, then it may be worth investing in some high-vis patches and a headlamp. While many city streets are well lit, some are not and if you live in a semi rural area like me some well loved running trails are not all that well lit at all. This headlamp from Ledlenser is not cheap but well worth it when you look at the specs – 1200 lumens of beam (either floor or beam) that project 20 metres ahead and it gives 5 hours of battery. It's also pretty damn light so you'll hardly feel it on your head.
It is primarily designed for use as a running headlamp, but is an insanely versatile and useful piece of kit. The Ledlenser NEO9R also doubles up as a great piece of kit to take camping, trekking, backpacking and even comes in useful during power cuts.

Our GREATEST Travel Secrets…
Pop your email here & get the original Broke Backpacker Bible for FREE.
Final Thoughts on REI This February
This list is just a tiny snippet of the items we saw at the REI recently and while we totally stand by our carefully crafted and curated selection, there are thousands more that we could have included.
Basically whatever you need you will find in REI. Whether you want a backpack, some running boots, a tent, a water bottle, a frisby, a stove or ANY other piece of travel, outdoor and adventure gear that you can even imagine – you will find something that fits your need in the REi store this February.
---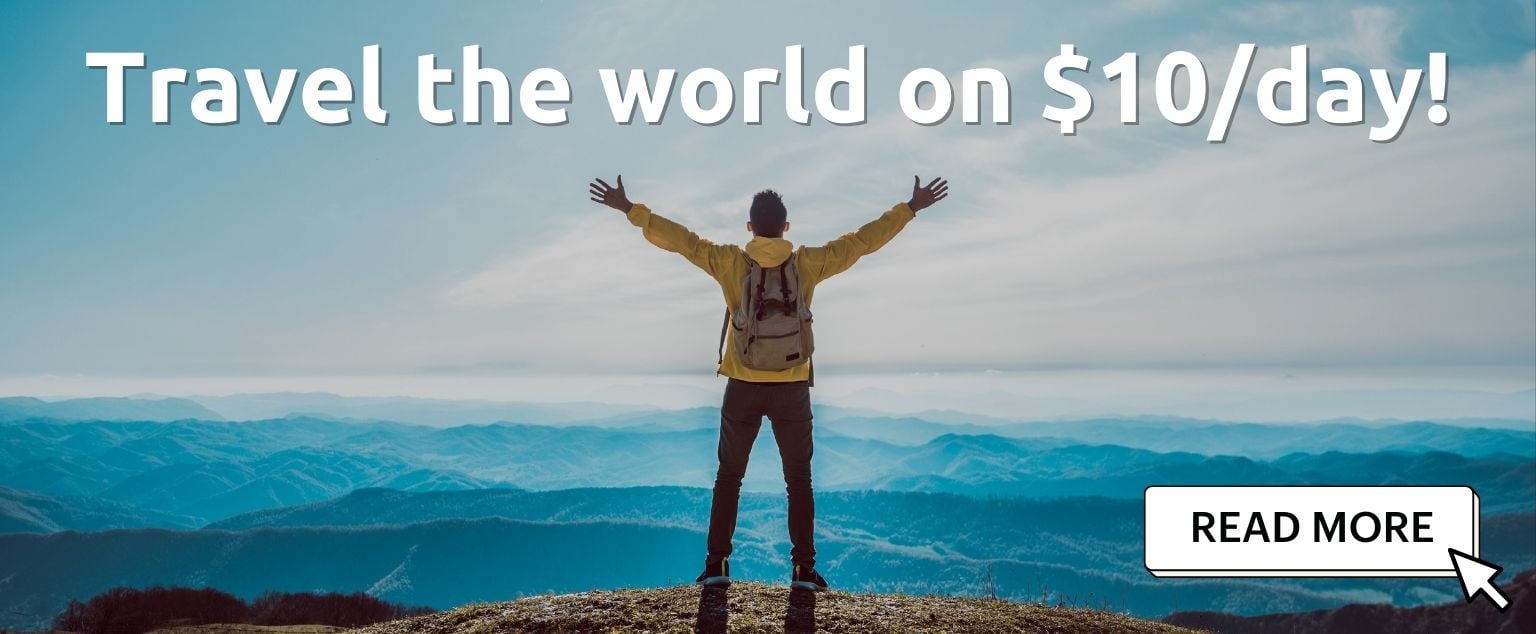 And for transparency's sake, please know that some of the links in our content are affiliate links. That means that if you book your accommodation, buy your gear, or sort your insurance through our link, we earn a small commission (at no extra cost to you). That said, we only link to the gear we trust and never recommend services we don't believe are up to scratch. Again, thank you!