As the nights draw slowly in and the days gradually cool off, those balmy, endless summer nights can feel like they belonged to another lifetime. Yeah, make no bones about it, winter is coming and it's gonna stick around for a while.
But cheer up dear frosty reader, because winter doesn't have to mean doom and gloom. Personally, I love nothing more than a crisp, autumn sunset walk, and is there anything on earth more beautiful than moonlight on freshly fallen snow?! Then there are those warm nights by the fireside and, perhaps best of all, winter means that the Holidays are upon us!
From Thanksgiving to Christmas, the holiday season gives us all the chance to take some time out from our busy schedules and catch up with loved ones. And, we get to show them how much they mean to us by giving the gift of a little something they maybe never even knew they needed.
Lame holiday gifts are all too common and usually amount to little more than landfill. So, to ensure you give the traveler, camper or outdoor enthusiast in your life a gift they will both love and actually use, we have prepared this epic guide to the best outdoor gifts from REI this winter.
Gifts For Travelers, Hikers, Her, Him and Uncle Jim
Ok peeps, so we've broken down this guide into categories to make it easier for those of you sneaking a quick peek on your toilet breaks (we know who you are). But, these categories are by no means absolute, and if you do have the time, we advise fully checking out every item we have suggested. 
For example, we have put the eternally useful Leatherman-Magic-Multi tools under "gifts for travelers" but in truth, hikers, campers, him, her and absolutely everybody needs at least one Leatherman multi-tool in their life (except children! Please don't buy one for your children!).
Without further ado, let's get down to it.  Because the sooner we get the buying out of the way the sooner we can all get started on that holiday gift wrapping.
Quick Answers – In a Hurry? We Got You
Gifts For Everyone
If you're not sure what to get for the outdoor lover in your life and are worrying about buying something lame, then these evergreen classics are for you. These items are useful in some form or another to absolutely everybody.
Do You Want to Travel FOREVER??
Then pop your email address in below and we'll send you a FREE copy of 'How to Travel the World on $10 a Day!' – make travel your LIFE.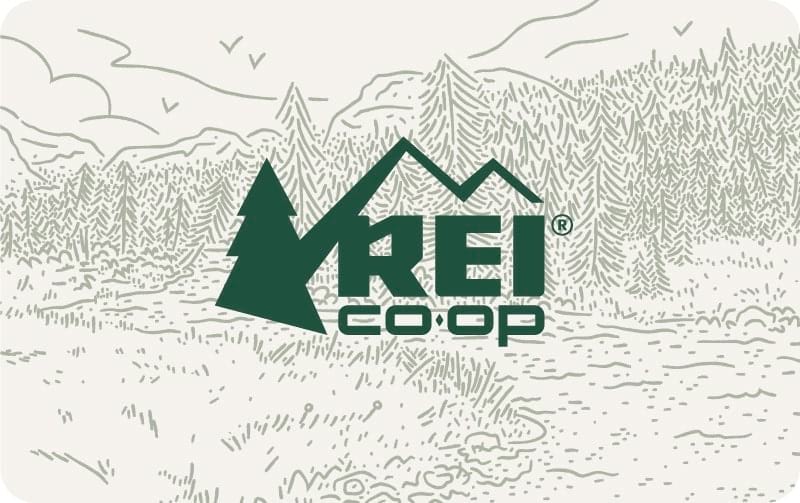 If you're still not sure what to buy for your outdoor-loving pal after reading this guide, then take the easy option and get a gift card. This needs no explanation, you buy a gift card and the lucky recipient can spend $25 on whatever the hell they want at REI.
Maybe they'll use the $25 to buy themselves a lovely camping coffee press, or put it towards a new Big Agnes sleeping bag.
The downside with gift cards is that people know exactly how much money you spent on them, which can sometimes be kinda awkward. Seriously, folks, it can either be a case of "oh, so my friendship is only worth $25 a year to you is it?" (in which case buy them 2 gift cards!). Or, on the other hand, the recipient can go into a panic when they realize you generously spent a whole $25 on them and all they bought you was a $5 bottle of beer. We'll leave you to work that one out.
Everybody loves blankets, so whether you need a gift for Grandma, Grandson, or your dog, a blanket is guaranteed to be appreciated. This blanket range by REI's in-house Co-op brand makes a great accompaniment for camping trips, road trips and backpacking adventures. You can take them out for picnics, for stargazing in your back yard or you can simply throw it over you as you sit watching "It's A Wonderful Life" for the 20th time on Christmas Day.
The blankets come in a range of sizes, materials and designs. Personally, I find the Flannel Fleece one to be the most versatile and it comes with some funky patterns.
For an Elaborate Gift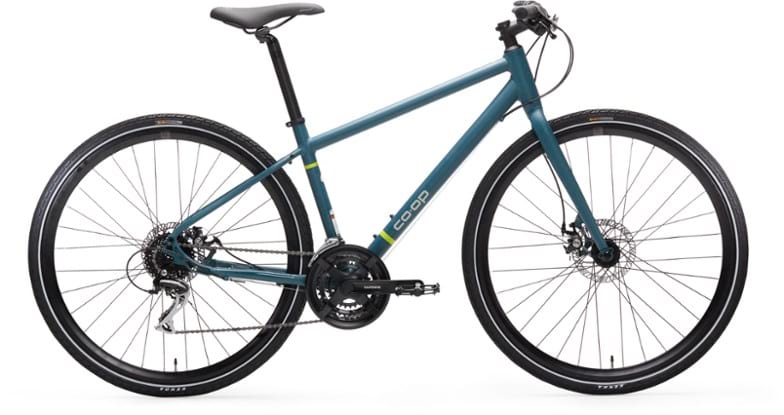 If you're feeling especially generous this holiday season (or you just happen to be rich, big spender) then this makes an absolutely cracking gift.
Did you know that since the COVID-19 pandemic began, cycling has increased by 200%? Yep, the humble bike is making a big comeback, and it's easy to see why. Cycling is healthy, it's green and it's just unparalleled bloody fun.
Sure, there are plenty of used, second hand and cheap bikes out there. But if you want something a little more special, then the CTY 1.1 from REI Co-op is the best buy on two-wheels.
Let's take a closer look. It's a hybrid bike, meaning it's great for both urban and suburban use. So, if you're looking for a work commute or something for a little weekend off-roading, then this can handle both. CTY 1.1 hybrid bike offers rack and fender compatibility, a versatile 3 x 8 drivetrain, an upright ride, and beefy tires.
Note that this bike comes in a variety of frame sizes designed to suit the rider's height, weight and build. So, if you're buying this as a surprise, good luck in inventing a cunning ruse to weigh and measure that lucky somebody! If you want to know more about cycling or choosing bikes, then check out our epic guide to bikepacking bikes.
Gifts For Under $25
For those of us who don't have $600 to drop on a gift (and I'm not even sure I like any of my friends $600 enough), here are some more affordable options. Whilst very affordable, these still make awesome gifts for the outdoor enthusiasts in your life.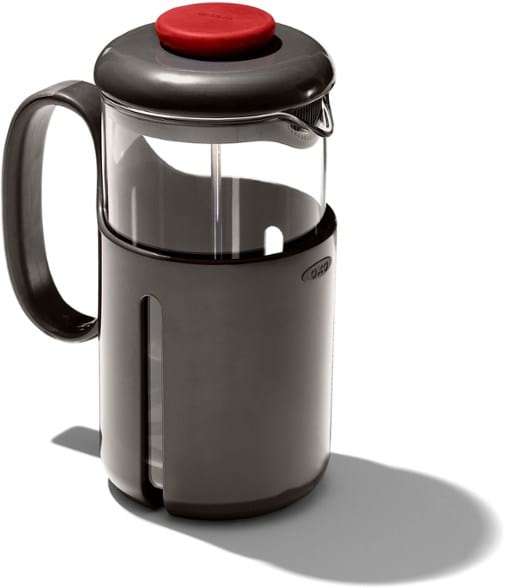 Did you know that an estimated 7 in 10 Americans start their day with a cup of coffee? Coffee is indeed the fuel that keeps the American engine churning and personally, my morning fix is often the highlight of my whole day!
When you go out camping though, getting a hot cup of the good stuff can prove kinda hard (Starbucks haven't quite managed to get an outlet into every last nook of the great outdoors just yet). This is why serious campers, hikers and backpackers need an Outdoor French press coffee maker in their lives!
This french press from OXO can hold a liquid capacity of 0.94 litres meaning there is plenty to go around. It's shatter-resistant and made from recycled resin, has a hard-wearing protective case, and a stainless steel filter.
This is quite possibly the best gift you can buy for any coffee-loving camper or hiker. Whenever they go out camping, they will think of you and raise a mug in your honor each and every morning.
Keeping with the beverage theme, this Camp Mug from REI Co-Op is perhaps the perfect vessel into which to pour that delicious hot joe. 
Aside from its playful, outdoor-themed decor, this camp mug also comes with some excellent features. It boasts Double-wall vacuum insulation that will help keep your drink hot or cold for hours. It's made of high-quality 18/8 stainless steel and comes with a lid to prevent spills while on the move. Plus, the Mug and lid are both BPA-free.
It weighs just 8.4 ounces so will hardly add any trail weight. With space for 0.35 litres, the mug has more than enough room for your morning fix.
A Gift For Him
Any number of the items featured in our run-down will make great gifts for the dude in your life, but this is what I want for Christmas this year if anyone is reading…
It's like this. We all know that the holidays can take a heavy toll on both our wallets and our waistlines, and gaining a little holiday weight is not uncommon. Therefore, the best and easiest thing you can do for health, belt and vanity is to set a New Years resolution to get out running. Whether it's 5km through every night or just a 5-minute jog whenever you get the chance, your BMI will thank you when summer rolls around.
But going out running on a January night is seriously unpleasant. To keep going through the dark, cold, and rain takes a lot of focus – and it also takes the right gear. Luckily, this cold weather running jacket IS the right gear made manifest.
The Swiftland from REI has been custom designed for running in the winter. It has a Nylon shell over the upper chest and shoulders, and a durable water-repellent finish that blocks wind and sheds light rain. Its light stretch insulation provides light technical warmth built for movement.
Note that it doesn't have a hood. This is NOT an omission or oversight because in reality hoods are a pain in the ass on running jackets – the wind either blows them down or into your face so you can't see. If it's raining, just wear a hat – you'll soon dry off once you get home to a hot shower.
A Gift For Her
This is a particularly thoughtful item to buy to help your splendid partner stay warm this winter.
The Flash insulated hoodie by REI Co-op is ideal for hiking, Holiday shopping, carol singing, or whatever you plan to do this fall and winter. Let's look at the specs – it's fashioned from a Lightweight, windproof, bluesign-approved, recycled ripstop nylon shell. The lining fabric has a durable water repellent finish to protect against light rain and stains, ideal for winter days.
Note that this is not intended as a hardcore winter jacket for sub-zero nights, ski trips, or wintering in Alaska. However, it can of course be used as a layer for those extremities. If you've planned on spending Christmas in Europe this year then it will come in handy!
Oh, and it's also available in an assortment of colours.
Gifts For The Kids
Perhaps more than anybody else, the holidays are for the kids. Whilst it may seem all too easy to buy them toys and computer games, we say, why not help to foster a deep love of the outdoors which will remain with them their whole life? Any of these items will help your children to get outside and enjoy themselves this winter.
Ok, so this one is a bit of a no-brainer. A bike is pretty much the quintessential holiday gift for a kid, right? I'm sure many of you remember coming downstairs on Christmas morning and finding that Santa had somehow managed to squeeze your very first two-wheeler down the chimney. Well, now may be time to pass the baton and keep that lineage and tradition going.
A lot of kids' bikes are of seriously low quality, which is kinda fine as they do tend to either break or outgrow them fast. But, if you're looking for a good bike for that child in your life, then the Rev Speed bike from REI is our top pick.
It has 6 gears (kids are obsessed with gears), a light-ish aluminium frame, plus-sized tyres, and disk brakes to give kids the traction, stopping power and confidence to learn the joys of singletrack. Note that it doesn't have any suspension, so if your child is already addicted to adrenaline and off-roading, then maybe go and seek out a mountain bike instead. Otherwise, this be the bike for thee.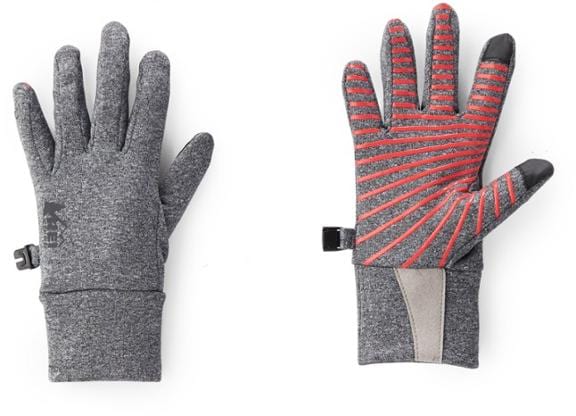 Children don't tend to plan ahead all too well and rarely think to themselves "should I put on some warm gloves before joining that snowball fight?" This is where you come in, my dear responsible adult in the room.
Help keep their precious, tiny hands safe and warm this winter with these all season unisex tech gloves from REI. The conductive material at the thumb and index finger even allows kids to operate touch screens. There's more – the hard-face fleece provides a snug fit, water-repellency, wind resistance and breathability. Finally, the  Silicone pattern on the palms improves grip.
I'll admit, kids won't exactly jump with excitement when they see you bought them gloves for Christmas so maybe chuck in some candy too. But they absolutely will thank you in later life for helping to prevent them from losing fingers to frostbite.
Gifts For All The Family
The Holidays are a time for family, so why not treat the clan to something everyone can use and enjoy? Whilst an even bigger TV would no doubt go down well with everybody, remember the focus here is on outdoor-themed gifts. Let's take a look.
If you are reading this in October, November, or December, then Spring feels like it's a long way off. And it is. But it will come around eventually, and once it does, you'll be itching to get out and get camping.
Poler's 2-person tent is perfect for you, your better half, and small children. Alternatively, you can order two and stick bigger kids in the other one. Granted, some of you may prefer 4 person tents for family trips. My take on it is that 4 is a crowd in any sized tent. Plus, it's better to foster independence and outdoorsman skills in your young 'uns by encouraging them to take charge of their own tent next to yours.
It's a 3 season tent, so I wouldn't use it until Spring unless you live in a warm state. Its packed weight is 6lbs so it's not too heavy to even take hiking. What I really like about this tent is that it's well priced for its quality and comes with a repair kit.
The best present of all… is CONVENIENCE!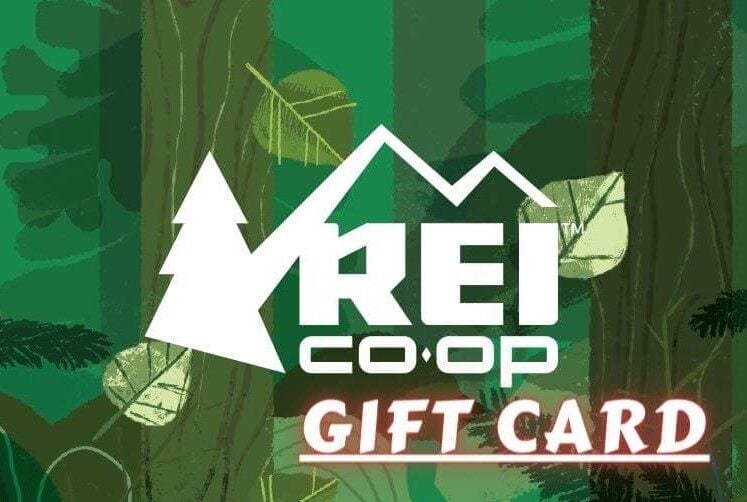 Now, you could spend a fat chunk of $$$ on the WRONG present for someone. Wrong size hiking boots, wrong fit backpack, wrong shape sleeping bag… As any adventurer will tell you, gear is a personal choice.
So give the adventurer in your life the gift of convenience: buy them an REI Co-op gift card! REI is The Broke Backpacker's retailer of choice for ALL things outdoors, and an REI gift card is the perfect present you can buy from them. And then you won't have to keep the receipt. 😉
Buy on REI!
Sticking with the camping theme, there is no greater pleasure than sleeping under the stars and cooking your own food. Sadly, camping can take a heavy environmental toll when disposable and plastic cooking implements are used.
This high quality, reusable bamboo utensil set is not only cool and quirky, but it helps you to camp ecologically. 
And hell, why not eat your Thanksgiving Dinner with this set just to help break it in?
Gifts For The Traveler
Let's be honest, the last few years have been a bit of a disaster for travel. Chances are, your passport, suitcase and backpack have been sitting gathering dust. However, things appear to be steadily improving and there is great optimism that domestic and international travel will be back with a bang in 2022.
Help the adventurer in your life to get ready to get back on the road with any of these great holiday gifts for travelers.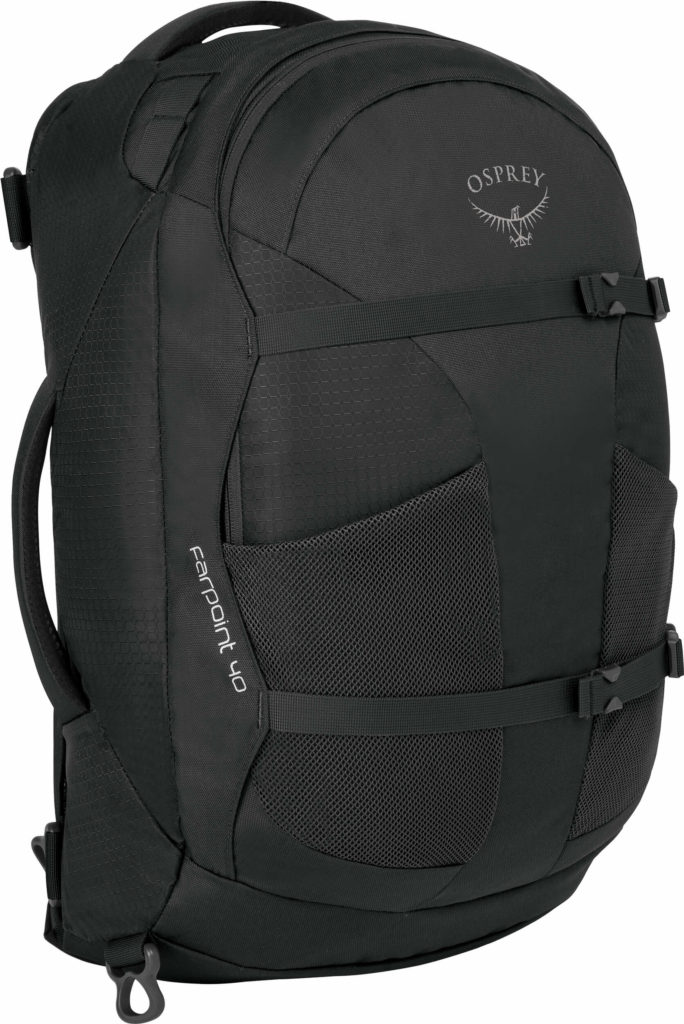 Wow – it's been about 18 months since I've been on an airplane and weirdly I am kinda missing it. I imagine it's been exactly the same for a lot of you out there too. Well, why not welcome back the return of aviation with this awesome, Carry-on friendly, travel backpack from Osprey?
Osprey make the best backpacks on earth, believe us cos we have taken their bags all over the globe. The Farpoint is Lightweight, streamlined and full-featured. This travel pack is for light-packing and fast-moving globetrotters. You can even carry it into the cabin, saving you from checking it in. It can be carried as a duffel, messenger bag or backpack.
With 40 litres of storage, the Farpoint packs enough for any weekend trip, city break, and if you pack light, full-blown holidays. Like all Osprey products, it also comes with a robust lifetime guarantee.
If you need more info, check our Osprey Farpoint Carry On Review.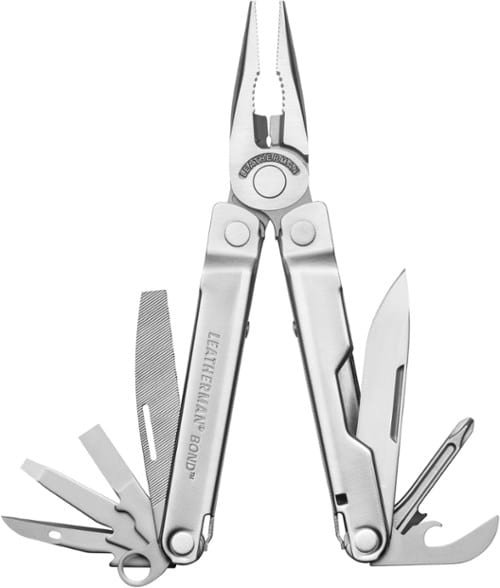 A leatherman multi-tool is essential backpacking gear. The Leatherman Multitool series are pocket-sized, multi-functional devices that include knife blades, screwdrivers, bottle openers and more. Kind of like a Swiss Army knife on steroids, the Leatherman is any traveler or adventurer's best friend.
Which particular multi-tool you decide to go for depends on both needs and budget. The Bond multi-tool is great value for $49.99 and has more than enough for most users. If you want the everything-you-could-ever-need-and-more tool – then plump for the Charge Plus TTi.
Regular subscribers to this blog already know that one item we tell every traveler to buy is a head torch! It's basically a torch you wear on your head, conveniently leaving both hands free. And, it shines its light in whichever direction you look in.  They're awesome for navigating and trekking in the dark and finding your hostel bed without switching the "big light" on and waking up your roommates.
Even if you don't go traveling, they are useful for walking the dog late at night or finding the way around your house in a power cut (so if you have a friend in Texas, you know what to get them).
You can pick up head torches on Amazon for about $19, but please don't as these are cheap and rubbish. Instead, a good head torch like this one from Black Diamond will be bright (unless you turn it down), strong, boast good battery life and will last for years and years.
Gifts For The Camper
If you are reading this REI gift guide then presumably the great outdoors needs no introduction to you. We know that winter doesn't provide too many camping opportunities (except for the truly hardy amongst us). But once Christmas is out of the way, Spring will be coming.
As a human being living on earth, you know that water is a big deal. Our planet is largely covered in it, and we are largely made from it. And yet, relatively few water sources are safe for human consumption and many are downright dangerous! When you are out camping, you can't bring enough water for your whole trip and will need to fill as you go.
The Grayl Geopress water bottle with its built-in purifier lets you fill up from any water source safely without having to worry about getting sick. It's not cheap, but it's a real game-changer that will accompany you over many years of camping, hiking or travel.
Getting a good night's sleep when you're camping can make or break a trip. Other than a decent tent (and a suitable level of tiredness!) The next best thing you can do to ensure a full night's rest is a good sleeping bag.
Take it from me, bad sleeping bags are bad. They are either too hot or too cold and simply too uncomfortable. Fortunately though, Big Agnes only makes high end, top-spec gear and their sleeping bags are some of the best on the market.
The Stoddard 35 is a traditional, "mummy style" sleeping bag with a temperature rating of 35 degrees (F). Its packed trail weight is 2lbs 10oz with a volume that compresses down to 7.41 liters.
Gifts For The Hiker
Whilst most of us won't be doing any camping until Spring, winter hiking can be extremely rewarding if you pick your day and trail well. These gifts for hikers will encourage the recipient to get outside this winter.
I already introduced Osprey so I won't gush over their awesomeness again. The Nebula and Nova (for men and women) is my personal favorite daypack. It's ideal for everyday commutes, gym trips and weekend getaways. The Osprey Nebula daypack features a laptop sleeve, internal and external organizational pockets and a large main compartment.
I also love this as a hiking pack even though that's not its primary intended use. It's not "lightweight", but that's not really a problem as you'll only be carrying a day's worth of stuff inside it. It has 2 side water bottle pockets, waist straps, and can withstand a good lashing from the winter rains. Unless you are doing a technical trek, it's a perfect bag for a day spent walking in the woods.
If somebody gave me this as a gift, this would make my holiday season.
Walking in the winter can obviously mean long spells spent outside in the cold. The way to combat this is by dressing in layers which can be added or removed depending on how bad the weather gets and how much of a sweat you bust.
One great option for the top or mid-layer is a quality down jacket which will help you stay nice and warm all day long. The 650-fill Down jacket range has enough insulation for trail duty, but is also light enough for everyday wear. It's practically guaranteed to get plenty of use.
You can go for a hooded or hoodless version. Personally, I prefer down jackets without a hood as I sometimes like to wear a raincoat over the top. We have reviewed the best winter jackets here.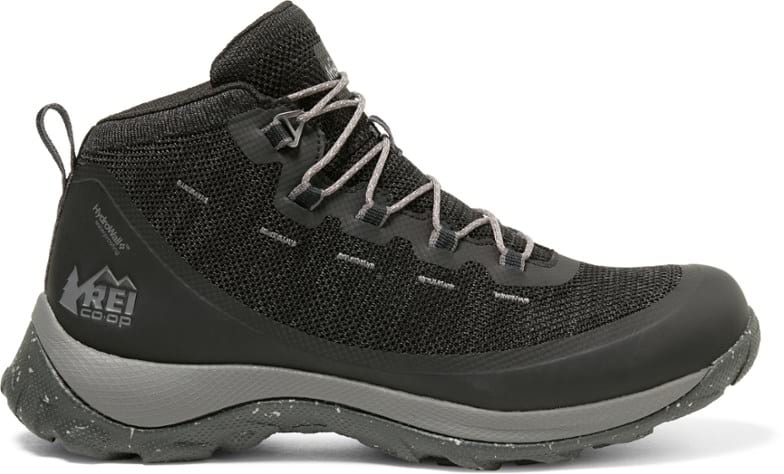 Good quality, proper hiking boots really can make all the difference when you are out on the trail. With bad boots, each step is agony and with good ones, the miles just glide by in ecstatic rapture!
If the outdoor enthusiast in your life is in need of some new fine footwear, then these Flash hiking boots from REI Co-op are an excellent choice. With a lighter footprint than most boots, these are comfy "out of the box" and ready to wear straight away. They are fully waterproof and breathable so will stand in your good stead for both winter rain showers or summer heatwaves.
In case you are looking for a conscientious gift, they are also vegan-friendly and made partially from recycled materials.
A Gift For Those Winter Trips (Treat Yourself)
The holidays can be tiring and by the end of it, you may well find you need a vacation! In case you are lucky enough to get away on a winter jet-away (Aspen is nice in January) then this will make the perfect accompaniment.
When it's cold outside, keep those ears warm by donning a woolly hat! Simple, but comfy and effective, this impressive range of winter head warmers offers something for everybody. There are technical hats, pretty hats for stylistas, and little hats for the tiny heads of children.
Hats always make a great gift because at some point somebody will need one. Hats are also very easy to lose, so your loved ones are probably in need of a replacement right as we speak. They're the perfect gift this holiday season!
Get Your Copy of the Backpacker Bible Totally FREE!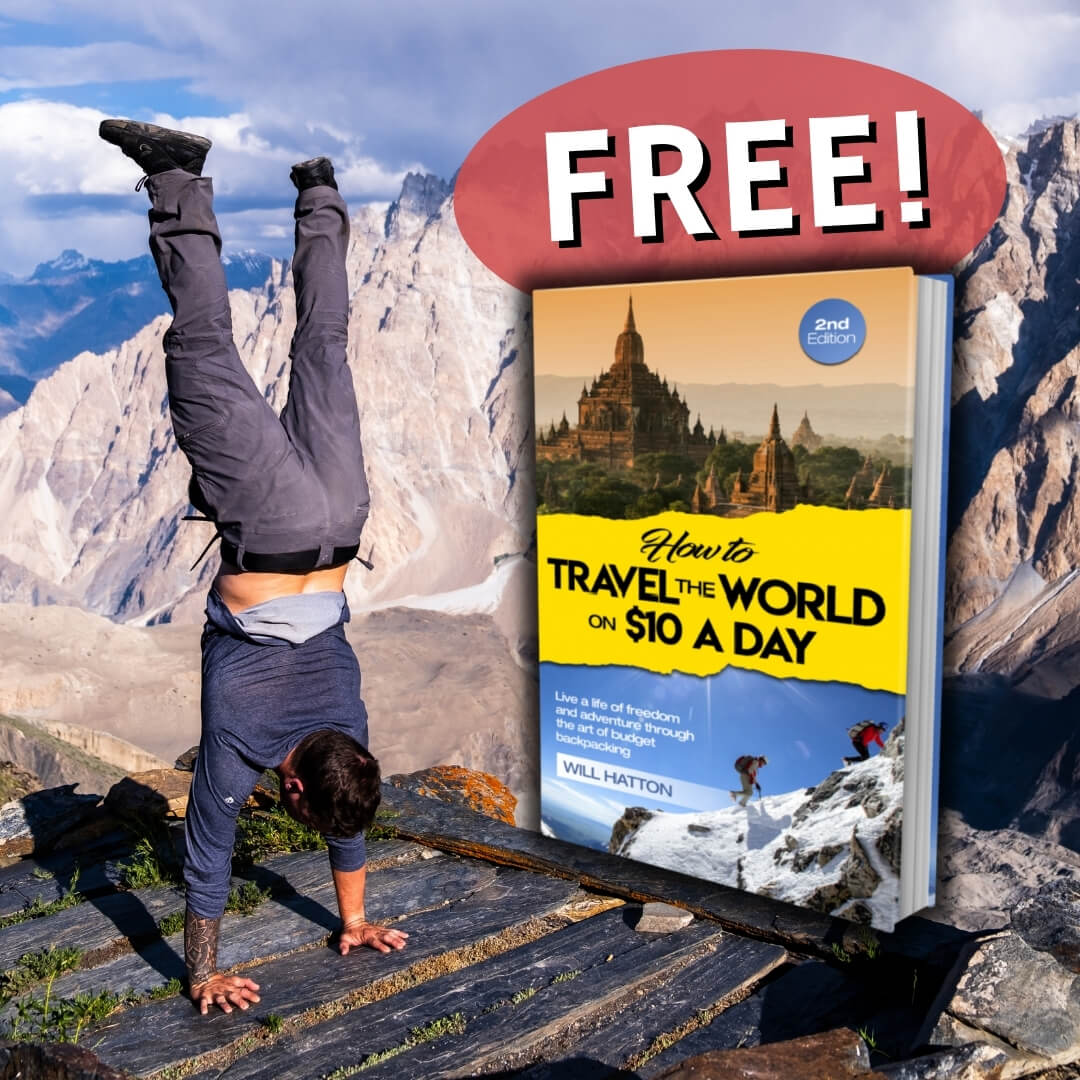 Learn how to travel the world on just $10/day with the Backpacker Bible – Will Hatton's own personal guide to the life of a budget traveller!
This book is the ULTIMATE culmination of more than 10 years of travel experience. It's full of valuable insider hacks and secrets that will help you unlock your full potential as a traveller.
AND… it's also FREE at the moment! All you need to do is click this link (or the sexy image of Will flexing his handstand skillz), provide your email, and we'll email you the ebook lickety-split!
Final Thoughts
We hope you found something useful for someone special in our guide. If not, then I guess I failed in my one job and can expect nothing more than my P45 this holiday season! But you know what, there is so much cool, useful, weird, wonderful but always top-notch outdoor gear on the REI store that you are sure to find something. Why not grab a membership card and click the link below and shop the store yourself?
---
Thanks for reading – that was fun! 😀
We bring you epic FREE content!
Find out how YOU can help support us.
We're a big site with a big team and this job isn't always easy. But we do it because we love it – we love providing epic and free content. We love the knowledge that our content keeps you adventuring. We don't ask for money, but if you'd like to find out how you can help the site in more organic ways, click the button below.
Thank you for your support 🙂
---
Bye for now, but not forever!
If you want MORE top-tier Broke Backpacker content like this, then sign up for our weekly newsletter below to get the latest and greatest!
And for transparency's sake, please know that some of the links in our content are affiliate links. That means that if you book your accommodation, buy your gear, or sort your insurance through our link, we earn a small commission (at no extra cost to you). That said, we only link to the gear we trust and never recommend services we don't believe are up to scratch. Again, thank you!