California's sun-bathed coastline and staggering parks make it an exceptional place for traveling in an RV. The Golden State is packed with epic places to explore!
And there's no better way to see it than on a road trip. Your very own home on wheels, no pressure to be anywhere else, and the open road ahead.
Now, if you're new to RVs, things might be a little frightening. Going through all the dealers claiming to have the best prices, searching for hidden costs, or deciding where to take it for a spin.
That's precisely why we've created this guide to RV rentals in California. By the end of it, you'll be fully prepared to start planning your trip — from where to rent it, to all our favorite destinations in the state, we got you.
So buckle up, sit comfortably, and let's get it poppin'.
Where to Rent an RV in California
Good on you for planning a trip to California, you're in for a real treat! The Golden Coast is perfect for that, but the first thing you need to know is where you can actually get an RV from. 
RV dealers are the obvious choice, but honestly, they don't have the best reputation (in most places, really). Renting from a dealer usually means confusing jargon and hidden costs that you didn't know you were signing up for. It's no fun.
But luckily for you, you can do it all online. On your own terms. The internet is a wonderful place, and a few websites were born that make it all easier.
Outdoorsy – Airbnb for Vanlifers
Outdoorsy takes all the hassle away from renting an RV in California. You can think of it as the Airbnb of the RV world — yes, that's a thing, and it's beautiful! It makes RV renting just as easy booking as an apartment, and our team loves it.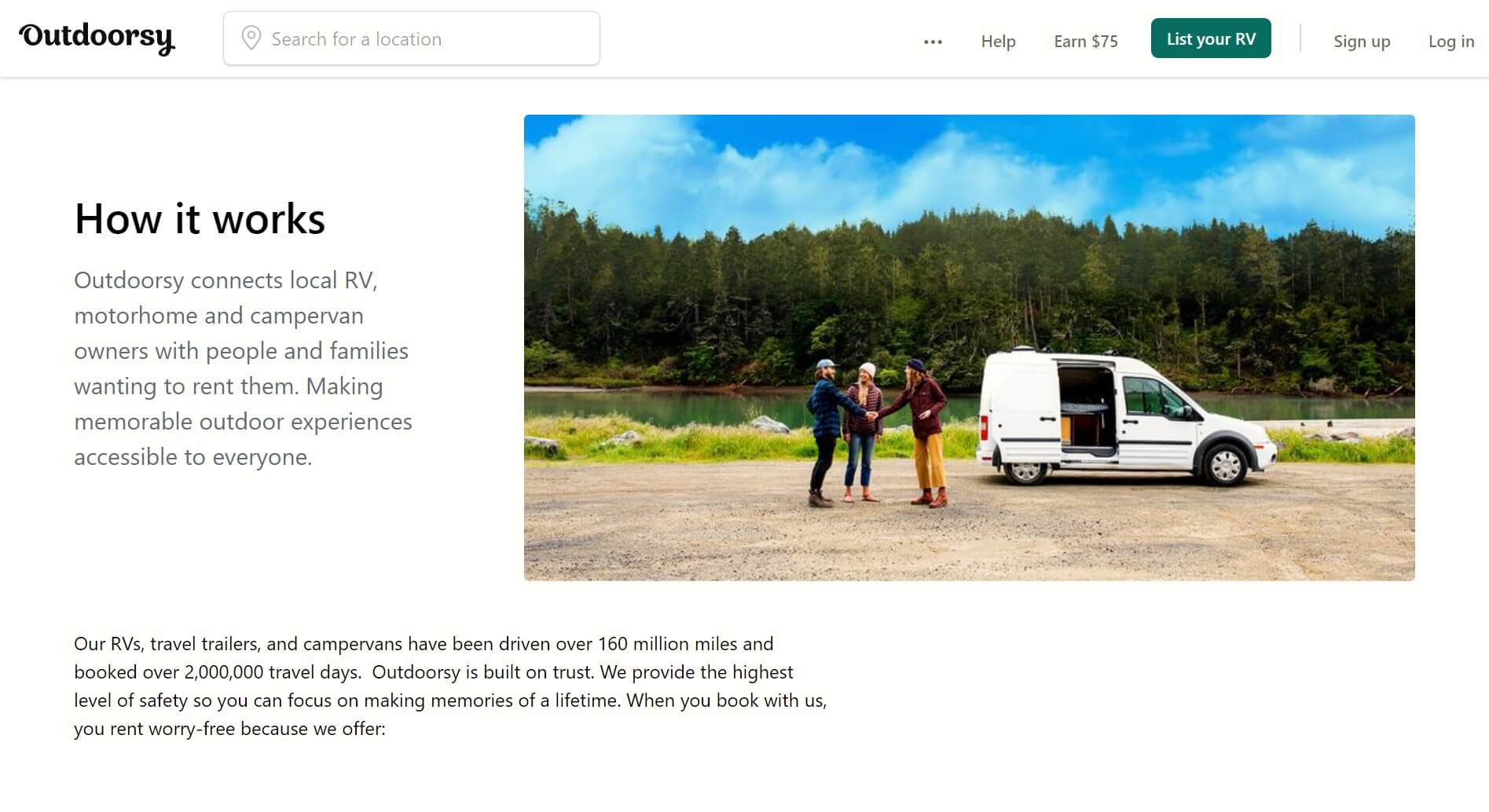 It's laid out in a similar way to Airbnb, so all you need to do is enter your dates, budget, and location, and it will show you all the beautiful RVs that match your search.
Another very useful element of Outdoorsy is the reviews. If an RV has been hired before, you can read the reviews left by previous customers. This allows you to work out if an RV is right for you, by their description of what it feels like and how the exchange went with the owner.
It's pretty much the same as if you were renting a stylish apartment or cute cottage via Airbnb — except on Outdoorsy, you'll be renting somebody's much-loved RV.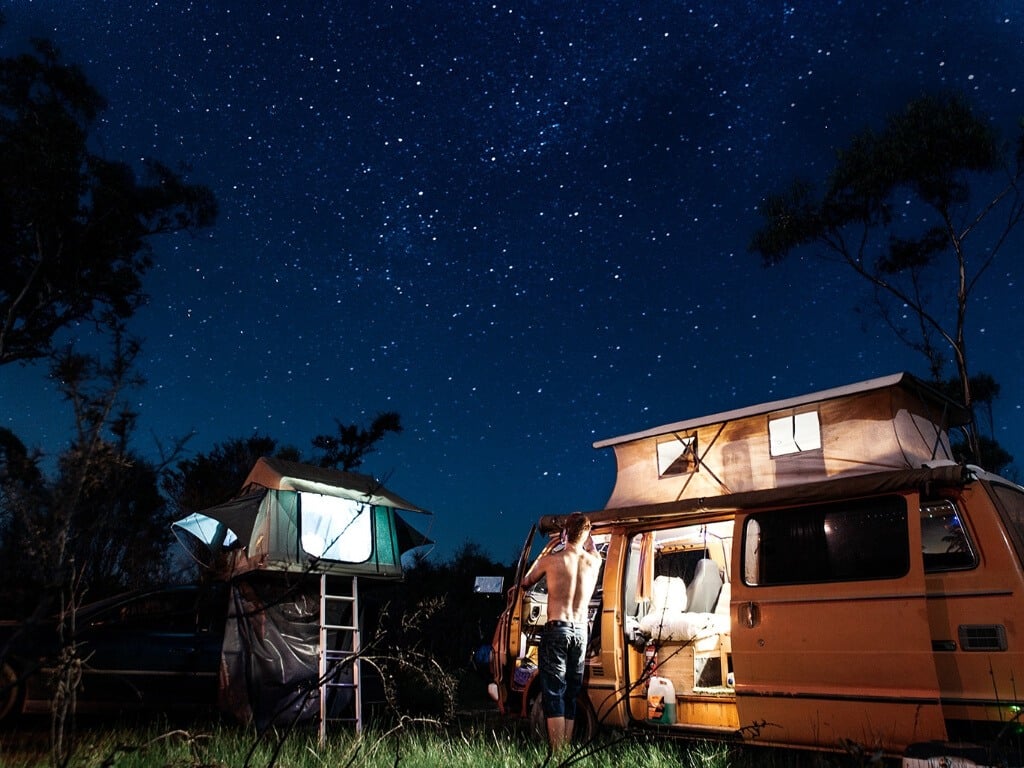 There is no middleman here, no hidden costs. Just the owners you're renting from, who usually take excellent care of their precious and expensive RVs, and who want you to have an awesome time driving 'em around.
Outdoorsy's California RV rental prices are often cheaper when compared to ordinary dealers. So, besides the ultra-convenience it provides, you can even get a better deal than most places.
FYI – If you want an actual Airbnb in California, then there are plenty of them.
Quick Accommodation
Best RV Rental in California – Quick Pick!
The Perfect RV for a California Road Trip
You're bound to have an amazing trip with this baby. Seriously, this California rental RV is where it's at. The RV is fairly compact and easy to drive, and the 24-foot size means it's simple to operate and easy to park. Inside, it's clean and comfortable, with enough room to comfortably sleep four – great for a couple or small family. You can even spend time boondocking, as the water tank holds 45 gallons. There's a compact but fully stocked kitchen, so you can rock up at a campsite and get dinner cooking.
Great for first-timers
Compact size
Enough space to sleep 4
RVshare – More of the Excellent Same
If Outdoorsy already sounded great, there's also RVshare! Another place that offers a similar service, making it easy to find the perfect RV rental in California.
RVshare works in about the same way as Outdoorsy: you add your dates, the whole thing, and the site shows you all the amazing RVs that match.  Everything is privately owned, so you don't need to worry about anything, and just like with Outdoorsy — you're renting it from a verified member.
BUT there is one important difference between the two. RVshare provides an extra pick-up and drop-off service, which means you can get it dropped off at your location. No matter where it's at, no matter where you live.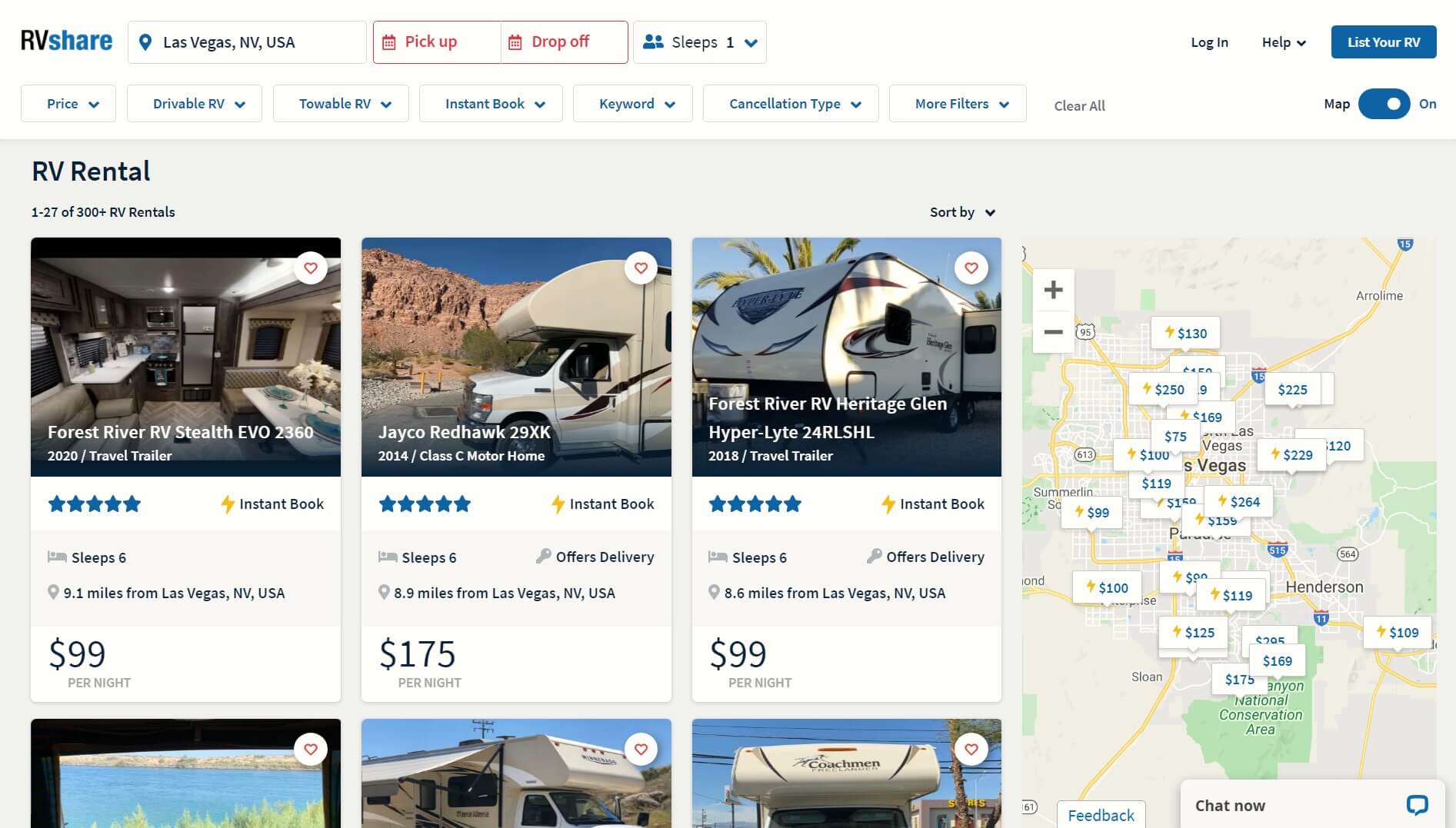 And that also means you have the option to drive across the country and leave the RV there. They handle everything from collection to delivery, so you don't have to worry about returning it.
You may see this service offered on Outdoorsy, but it's up to the owner to decide and handle it. With RVshare, they take care of everything. 
When comparing the range of RVs, Outdoorsy does seem to win in terms of the number of vehicles. It's a bit sleeker and more user-friendly than RVshare, just like Airbnb would be.
Both sites are great and will give you a wide selection of RVs for your California road trip. See what's on offer, and definitely check out RVshare if you're planning a one-way trip.
Top Places to Go With an RV Near California
Now that you're all clued up on where to rent an RV in California, it's time to figure out where to take your new baby for a ride.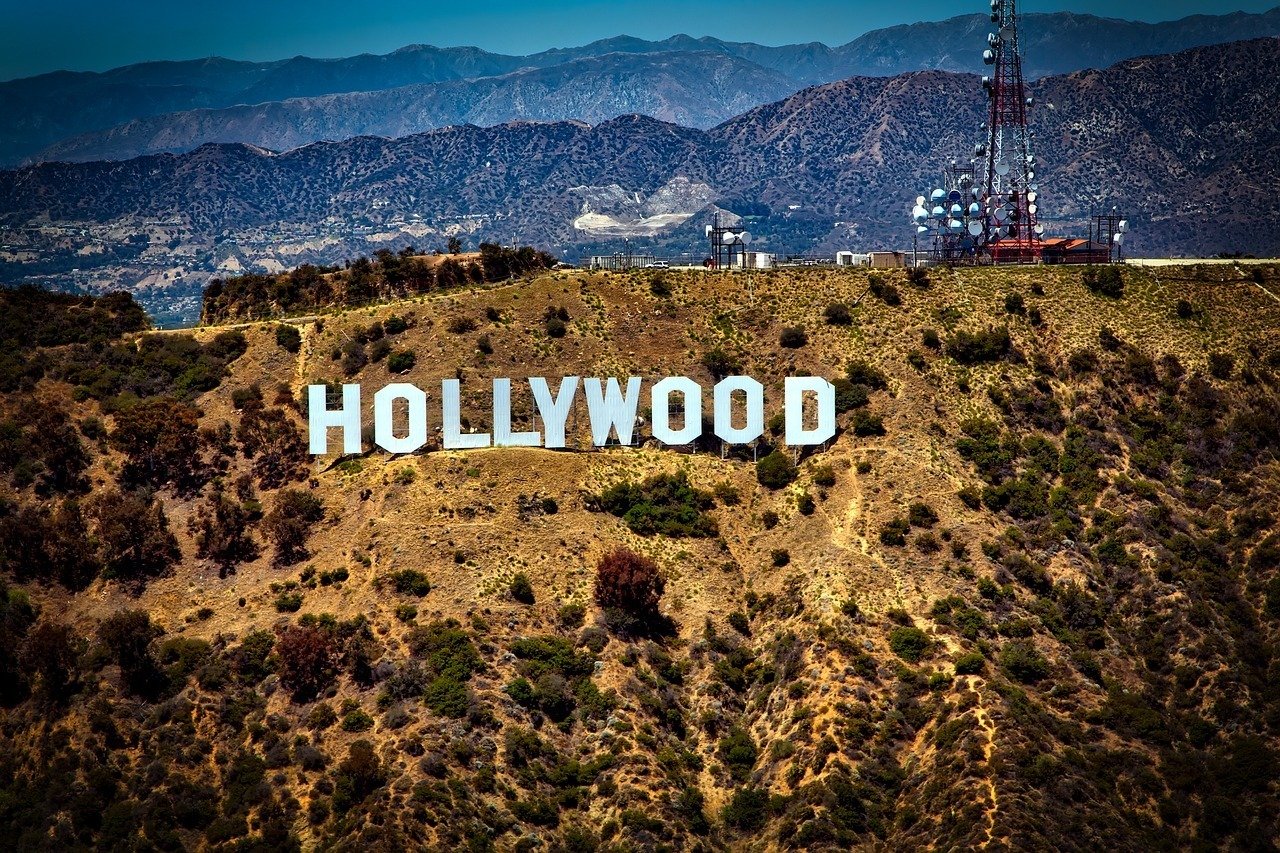 Road trips in California have a certain magic to them. The state is home to some of the most beautiful national parks in the entire country, so let us tell you right now that you've made an excellent choice.
From bubbling volcanic parks to great swathes of forests, deserts dotted with cacti, and so much more, this is your chance to really go deep into California's most precious sights.
What is the One Item Every Traveller NEEDS???
There is one item every traveller NEEDS. Some travellers don't even know they need it, but those travellers need it more than anyone.
What is this forgotten essential of the backpacker-life? SPOILERS! Guess you'll just have to click the button to find out. 😉
Find Out What It Is!
Best National Parks Near California
Californians are blessed when it comes to national parks. With some big hitter names located in the state, California has nine national parks. Yes, nine! That's more than any other state, and each of them is awesome and unique in its own way. 
If you're planning an RV road trip in California, you might be wondering where to start. There is such a thing as too much choice, so here's some advice to help narrow down your options.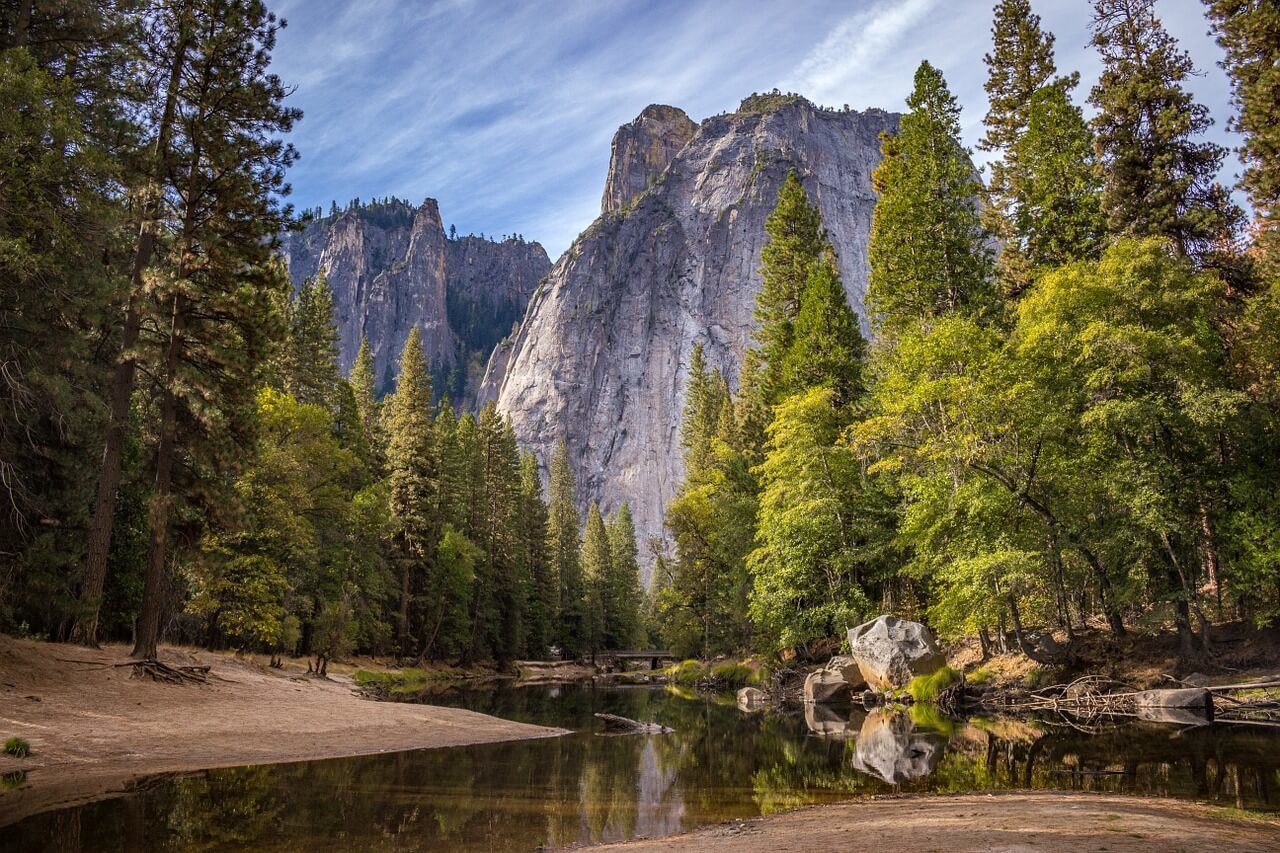 Located in Central California, Yosemite has to be visited at least once. Encompassing a landscape shaped over almost ten million years, here you'll find great valleys, glistening waterfalls, and towering sequoias. The park is a super popular place for exploration, attracting over four million people a year, but with nearly 748,436 acres, there's more than enough room for everyone to enjoy this wonderland.
Almost all the park is designated as wilderness, meaning all the lakes, cliffs, and mountains, are practically untouched and home to a wide array of animal species and rare plant species. There are ten campsites within Yosemite that can accommodate RVs. It's always best to reserve them in advance, especially from April through September when they are usually full.
You can find the beautiful mountains of Pinnacles National Park in Salinas Valley in Central California. The unique landscape of the Pinnacles is the result of multiple volcanic eruptions that occurred around 23 million years ago.
Today, the national park is a hotspot for outdoors enthusiasts, with ample opportunities for rock climbing, wildlife watching, and hiking. Pinnacle is a much quieter place when compared to the more well-known national parks in California, providing space for solitude among nature. Also, unlike some other parks, Pinnacles is best-visited during the cooler months due to soaring summer temperatures, which make summer visits almost unbearable. Camping for RVs is available at Pinnacles Campground, on the east side of the park.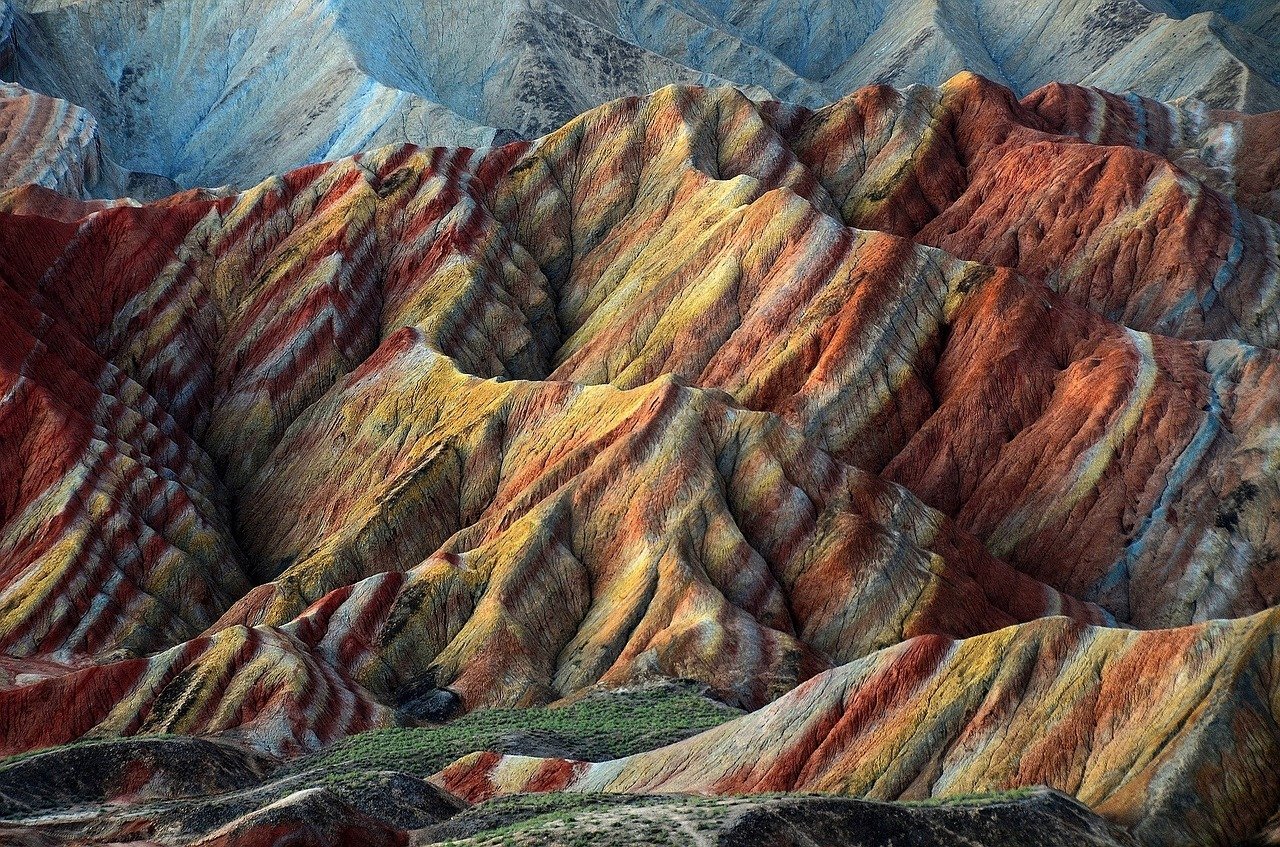 For an unbelievably dazzling place to visit on a road trip, make a beeline for Death Valley National Park. Straddling the east of California and Nevada, Death Valley is actually the largest of all the national parks in the contiguous United States!
It is an otherworldly landscape like no other. Here, in these low-lying lands, expect to find a place of extremes. In the winter, towering peaks get a coating of snow, whereas in the summer, sweltering temperatures are record-breaking. The diverse environments of badlands, deep canyons, salt flats and dunes are incredible to spend time exploring. But because of the extreme temperatures, only a handful of campgrounds are open during the summer. RV camping in the park can be found at Furnace Creek campground (reservations needed).
Sequoia & Kings Canyon National Parks
California road trips are really like nowhere else in the world. And a great destination if you're just getting started exploring the state is Sequoia & Kings Canyon National Parks.
Located an easy 4.5-hour cruise from Los Angeles, the park can easily be reached in a day's drive from the city, as well as other locations around California.
Its UNESCO-recognised landscapes actually comprise two connecting parks, and they pack a whole load of fun outdoor activities for visitors.
This is a great place to go hiking in California. Climbing, mountain biking… you'll find a little bit of everything here. The wildlife is tremendous too, with the parks being home to around 200 species of birds.
The summer months will greet you with plenty of sunshine in the foothills and a chance to cool off in the shade of sequoia groves. Come wintertime, and the scene changes dramatically: snowfall calls for skiing and snowshoeing, but also results in more difficult driving conditions. 
Finding a place to stay a night or two in your RV isn't too difficult, as there are around 14 campgrounds in total. Most of them operate on a first-come, first-served basis, but only two are open year-round — we recommend you give Lodgepole and Dorst Creek a go!
Lassen Volcanic National Park
For this next one, we're heading up past San Fran and cruising all the way to the epic Lassen Volcanic National Park. It'll take you almost 10 hours from LA, so get those sexy playlists working for ya!
You can decide on a couple of different route options, depending on where you're driving from. Starting in LA, you can take the I-9 heading up through Sacramento or Route 395 for some prime road trip scenery.
This second route is tremendously beautiful and historical. It also makes for some great pit stop opportunities, so consider spending a night along the way inside the two-million-acre Inyo National Forest, or take a detour and stay over at Tahoe National Forest for a night or two.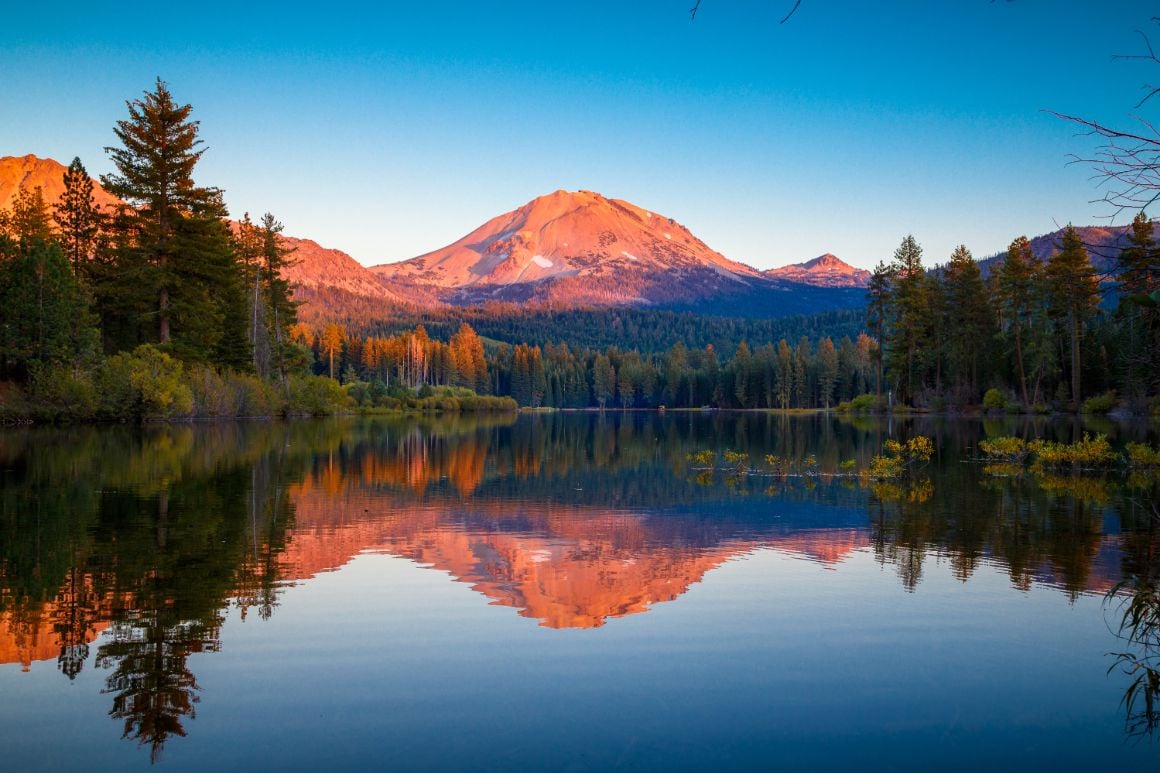 The grand finale is the real attraction, though… the main icon of the park is Lassen Peak itself, and it's considered the largest plug dome volcano in the world. There are four types of volcanoes, so this park is a hotbed of volcanic activity.
But it's not all about lava rocks in here. Lush meadows and rich forest areas abound, as well as numerous gleaming lakes you can enjoy. Much of the park is well connected by a network of trails, which lead up to viewpoints that reveal the true magnificence of Lassen Peak. 
RV campsites are available at ten campgrounds — some require reservations, but most are available on a first-served basis. Check before you come!
2000+ Sites, Unlimited Access, 1 Year of Use – All. Absolutely. FREE!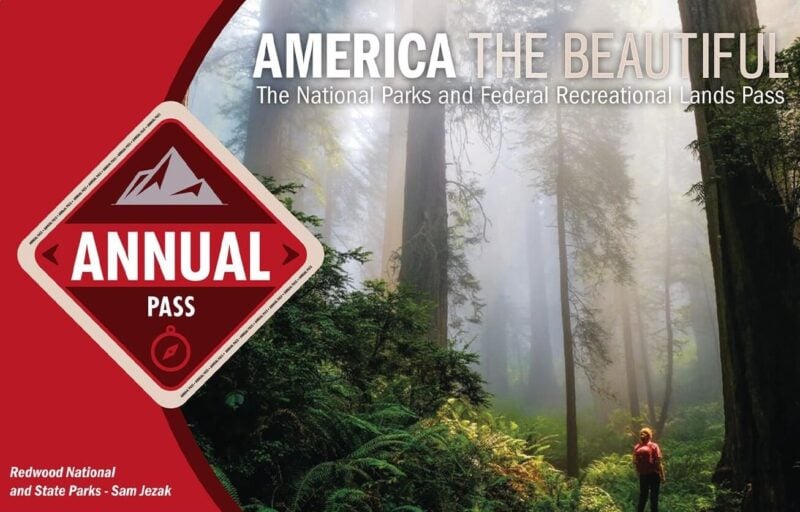 The USA is blisteringly beautiful. It's also blisteringly expensive! Visitng two national parks in day can run you $70+ in entry fees.
Orrrr… you kick those entry fees to the curb, buy an annual 'America the Beautiful Pass' for $79.99, and get unlimited access to ALL 2000+ federally managed sites in the States totally FREE!
You do the math. 😉
Buy the Pass!
Best Places to Visit in the California Area Mega-Map
Want to get your head around all these awesome destinations? Click the map below for some Google Maps magic, and you can start mentally planning your RV wanderings!
Planning Your California RV Road Trip – Tips and Advice
Alright, you have plenty of destination inspiration to start planning already!
Now it's a good idea to figure out how much the whole thing is going to cost. Keep an eye on your dollar and things will certainly run smoother.
But it's not all about the money. Brushing up on the rules of the road for RVs is key to making sure you're ready for your big trip.
Small Pack Problems? 😉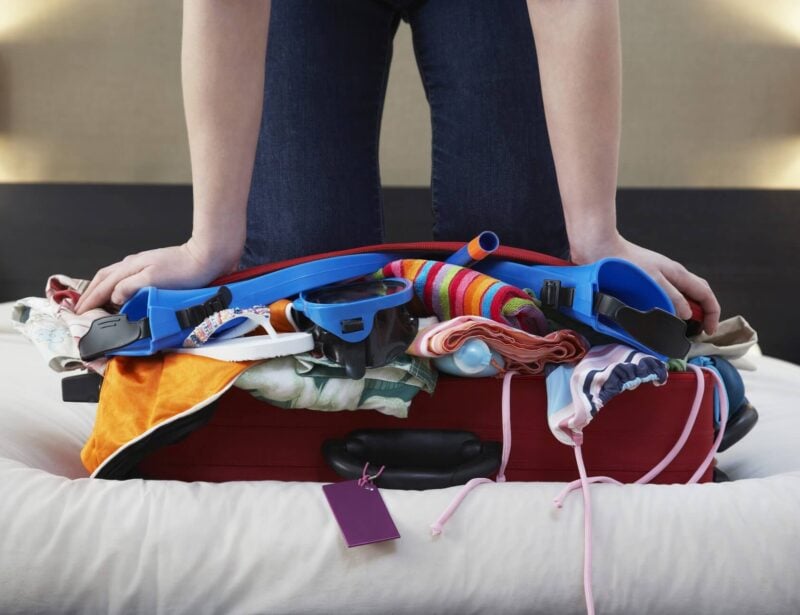 My missus travels with all her clothes in ziplock bags: don't be like my missus. UP YOUR PACKING GAME!
Packing cubes for the globetrotters and compression sacks for the real adventurers – these babies are a traveller's best kept secret. They organise yo' packing and minimise its volume too so you can pack MORE.
Or, y'know… you can stick to ziplock bags.
View Our Fave Cubes
Or Check Out the Sacks!
Planning a Trip Budget: Prices for California's RV Rentals, Parks, and Campsites 
It might seem a bit daunting at first, but understanding RV rental prices is pretty straightforward — just imagine you're renting a car or buying flights. And just like that… 
The time of year you want to hire will change the price. In high season, prices will be higher than off-peak. If you're on a budget, we recommend planning a trip for Spring or Fall. That way, you still get nice weather!
And the size and age of the RV you hire also matter. Newer and bigger luxury RVs will mean splashing some cash, but if that's what you're looking for… why not? For smaller budgets, look for a more compact RV that's a couple of years old. 
RV Rental California

| Range | RV Rental (per day) | Campsite/Park (per night) | Food and Drink for One (per day) |
| --- | --- | --- | --- |
| Budget Holidayer | $80-$130 (Trailers to smaller Class Cs/Bs) | $0-$30 | $10-20 |
| Treat Yo'Self | $130-$280 (Class Cs/Bs to smaller Class As) | $30-$40 | $35-50 |
| Luxury Living | $240-460 (Class As and luxury RVs) | $50-70 | $50+ |
And don't forget to factor rental insurance into your budget either! It may be expensive, however, not all insurance companies are created equal.
RentalCover.com has got your back. Their policies include all the common damages and come out cheaper than what you'll get at the rental desk
Get Your Cover Now
RV Packing List
Packing for an RV trip is something you should take very seriously.
Yours is probably going to come equipped with a lot of goodies that are helpful on the road, but there are a few other items we think are essential for any RV trip you plan to take.
Surge protector
Electrical adapters
Extension cords
Electrical and duct tape
Battery jumper cables
Tire pressure gauge
Levelling blocks
Wheel chocks
Extra cotter pins
Extra motor oil and transmission fluid
Water pressure regulator
Drinking water hose
Toilet chemicals
Sewer kit
RV-friendly toilet paper
Shovel
Flashlight
Fire extinguisher
Emergency road assistance kit
Large zip-close bag for documentation
And as an added bonus, here's some excellent backpacking gear that our Broke Backpacker team adore. Suited for any trip… with or without wheels!
RV Packing List
Packing for a road trip is something you should take very seriously. Especially when an RV is added into the mix!
Yours is probably going to come equipped with a lot of goodies that are helpful on the road, but there are a few other items we think are essential for any RV trip you plan to take.
Surge protector
Electrical adapters
Extension cords
Electrical and duct tape
Battery jumper cables
Tire pressure gauge
Levelling blocks
Wheel chocks
Extra cotter pins
Extra motor oil and transmission fluid
Water pressure regulator
Drinking water hose
Toilet chemicals
Sewer kit
RV-friendly toilet paper
Shovel
Flashlight
Fire extinguisher
Emergency road assistance kit
Large zip-close bag for documentation
And as an added bonus, here's some excellent backpacking gear that our Broke Backpacker team adore. Suited for any trip… with or without wheels!
Never Leave Home Without It!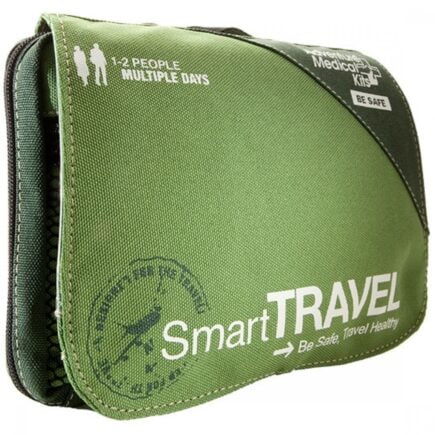 Never Leave Home Without It!
First Aid Kit
Even if you don't plan on doing anything too extreme on your trip, you never know what could happen. Cuts, bruises, scrapes, third-degree sunburn: a first aid kit will be able to handle most of these minor situations.
Keeps Your Brews Hot and Bevvies Cold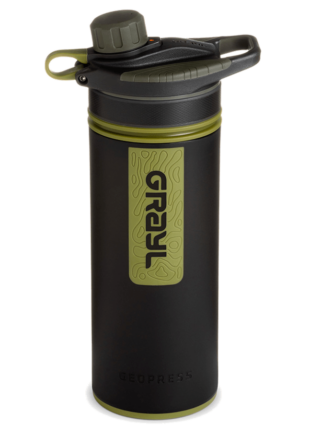 Keeps Your Brews Hot and Bevvies Cold
Grayl Geopress Water Bottle
Always travel with a water bottle! They save you money and reduce your plastic footprint on our planet. The Grayl Geopress acts as a purifier AND temperature regulator – so you can enjoy a cold red bull, or a hot coffee, no matter where you are.
So You Can See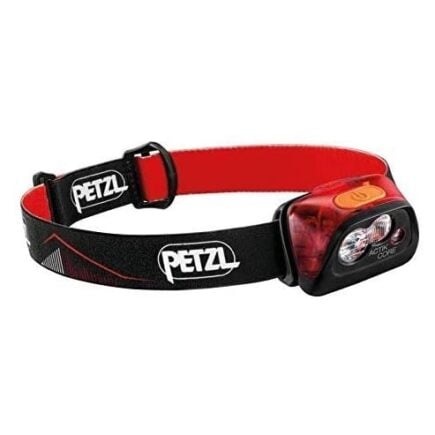 So You Can See
Petzl Actik Core Headlamp
Every traveller should have a head torch! A decent head torch could save your life. When you're camping, RVing, or just heading into the woods, a top-quality headlamp is a MUST. The Petzl Actik Core is an awesome piece of kit because it's USB chargeable—batteries begone!
The Most Massively Useful Thing an Interstellar Hitchhiker Can Have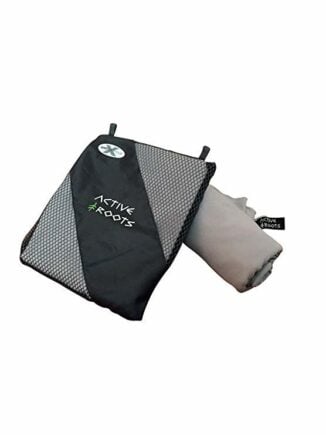 The Most Massively Useful Thing an Interstellar Hitchhiker Can Have
Active Roots Microfibre Towel
I dunno what to tell you—microfibre towels are the tits! They're so compact, they dry lighting fast, and they're just a real multi-purpose tool. Never go adventuring—on or off-world—without one!
Everyone Needs a Hammock
Everyone Needs a Hammock
Active Roots Camping Hammock
Hammocks are always practical: they're lightweight, cheap, strong, sexy (chicks dig hammocks), and allow you to pitch up for the night pretty much anywhere. The Active Roots Camping Hammock is one of the best on the market and most importantly… it's cheap!
In an RV, This is a Game-Changer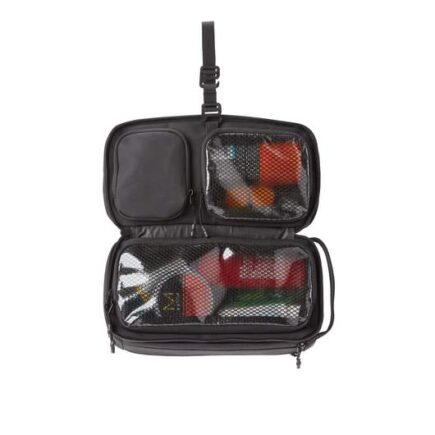 In an RV, This is a Game-Changer
Hanging Toiletry Bag
Oh man, hanging toiletry bags are a ridiculously efficient bit of gear for any travels. They keep all your unmentionables organised and they can be used anywhere—just hang it up and you're good to go! When you start living the RV-life, you'll never look back on the hanging toiletries game.
Tips for Renting an RV in California
Getting behind the wheel of an RV is very different from cruising around in your usual ride, that's for sure. If you've never driven an RV before, or you're feeling a little bit rusty, it's a good idea to brush up on your skills.
To help you out, here's a little more knowledge about what to expect when driving an RV, and some useful tips for rental RVs in California:
Learn the parking rules – When you're driving an RV, different parking rules will apply to you. Make sure you check on the regulations before you park up anywhere, and avoid getting stung with a fine.
Keep away from cities – It's fine to drive in them, but staying for the night? No way. Things can get expensive in cities, head to the countryside where everything is beautiful and cheaper.
Don't forget to make plans – It's fun to wing a trip, we're not gonna lie. But it can save you a lot of hassle to make a rough plan — aka figure out how long each leg of the journey will be. And book campsites in advance! Or you might be left without a place to stay.
Make sure to confirm the booking – There is no feeling worse than planning a trip and getting hyped up about it, only to find there is a problem with a booking. A friendly message or call will do the job.
Practice beforehand– RVs are not all made equal. They have different functions and drive differently. Take it for a spin around the block, get to grips with it, and call the owner up if you need to ask anything.
Pick an RV that suits your style – Don't get carried away when browsing through all the California rental RVs on option. If you don't need a huge bus for your trip, pick a more suitable RV instead.
Be careful of add-ons – Reading the fine print is essential for anything you ever book. Go over the description multiple times if needed, and make sure you know exactly how much and what you are paying for.
Keep in touch – The road can get lonely, but you should always look online for answers if something doesn't seem to be going right. There is also an app for that! RV Trip Wizard is complete with information on everything from gas stations to campsites.
Save $$$ • Save the Planet • Save Your Stomach!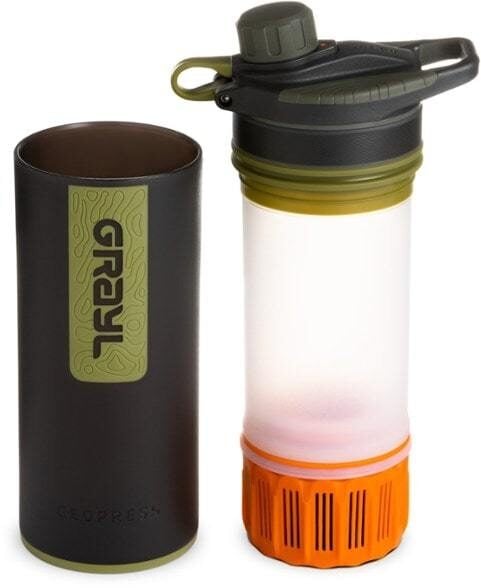 Drink water from ANYWHERE. The Grayl Geopress is the market's leading filtered water bottle protecting your tum from all the waterborne nasties. PLUS, you save money and the environment!
Single-use plastic bottles are a MASSIVE threat to marine life. Be a part of the solution and travel with a filter water bottle.
We've tested the Geopress rigorously from the icy heights of Pakistan to the tropical jungles of Cuba, and the results are in: it WORKS. Buy a Geopress: it's the last water bottle you'll ever buy.
Buy a Geopress!
Read the Review
Staying Safe in Your Rental RV
Driving an RV is different, we've already established that… and it's only a matter of time until you master it. We know you've got this!
But still, it's never a bad idea to play it safe and avoid any bad things happening to you or your rental RV.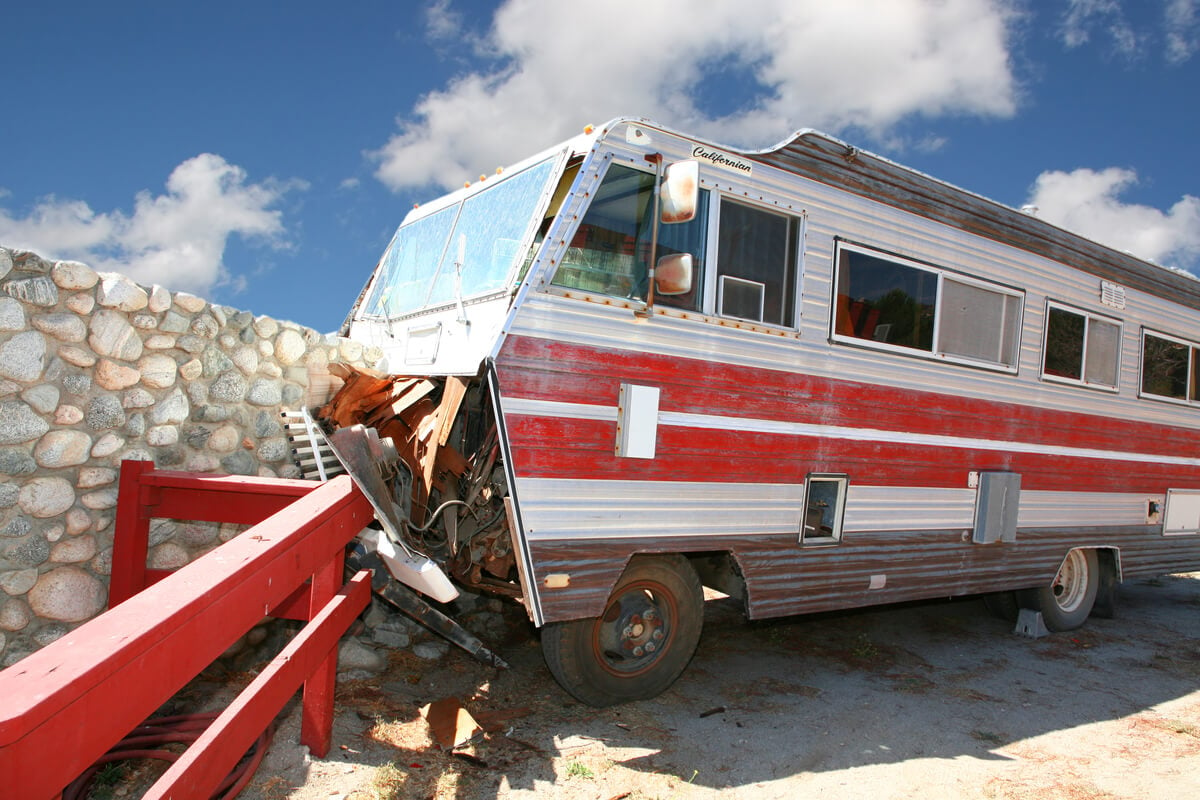 There are a couple of things you can do to make your RV trip to California smoother. One is to key yourself in on how to drive an RV safely. Two is to make sure that it's insured!
Shoutout from Will – The OG Broke Backpacker: Have fun on your backpacking adventure, but please do consider getting insurance—take it from someone who has racked up tens of thousands of bucks on an insurance claim before, you may need it.
Obviously, your RV is going to need insurance, but make sure your person is insured too! Traveling without insurance could be risky. Presenting The Broke Backpacker's go-to Insurer—World Nomads!
Your California RV Rental is Waiting!
That's all there is, folks! All the information, road trip inspiration, and hot tips you need to hop in the RV and start your adventure.
We hope you've found some use to this guide and feel ready to make the move. It might seem like a lot to take in at first, but we promise it's easier than it looks.
This is your chance to truly explore California for yourself. Cruise at your own pace, play some naughty tunes and discover some incredible destinations.
If you're still feeling unsure about where to start this, make sure you head over to Outdoorsy or RVshare, search for California rental RVs, and see what's on offer. Happy camping!
---
Thanks for reading – that was fun! 😀
We bring you epic FREE content!
Find out how YOU can help support us.
We're a big site with a big team and this job isn't always easy. But we do it because we love it – we love providing epic and free content. We love the knowledge that our content keeps you adventuring. We don't ask for money, but if you'd like to find out how you can help the site in more organic ways, click the button below.
Thank you for your support 🙂
---
Bye for now, but not forever!
If you want MORE top-tier Broke Backpacker content like this, then sign up for our weekly newsletter below to get the latest and greatest!
And for transparency's sake, please know that some of the links in our content are affiliate links. That means that if you book your accommodation, buy your gear, or sort your insurance through our link, we earn a small commission (at no extra cost to you). That said, we only link to the gear we trust and never recommend services we don't believe are up to scratch. Again, thank you!