Not many places have the privilege of being as close to such mesmerizing nature as Chicago does. Set on the shores of Lake Michigan, the city itself is a buzz of metropolitan life, but put your feet outside the door for a minute and… The Great Outdoors await!
If you're feeling like it's time to refresh with a little adventure, take yourself away from the sprawl for a while and get RV road trippin'. We know, it's not always easy to find the time to actually take a break. And when you do, where do you even go?
There are so many options for road trips in the area that it can be hard to figure it all out. Not only that, but it can be a pain in the ass to go through all the jargon when renting an RV in Chicago.
Our goal with this guide is for you to stop worrying and get down to planning your escapade immediately. We're gonna break down all the top destinations for you, what is the easiest way to rent an RV, and all the bits and bobs you need to sort out before you hop on the road.
Let's get into it and get out there!
Where to Rent an RV in Chicago
Searching for RVs when you're traveling through Chicago can seem a bit daunting at first. There's a ton of different places claiming to have the best deals, sneaky dealers trying to get an extra dollar out of you, and an array of RV models to choose from. 
Knowing what you want (and what you don't) from an RV is already a good place to start. Have you ever driven a large vehicle before? You should take this into consideration before you choose a ginormous bus for your trip.
On top of that, you have the hidden costs. The extra add-ons, all the RV jargon… but don't be intimidated, there's a way around it.
Get yourself on the webs and check what's available online instead. RV rental sites give you more of a chance to work out the differences between each vehicle, compare costs, and can often get you a much better deal. 
Outdoorsy – Airbnb for Vanlifers
Googling "where to rent an RV in Chicago online" can still bring up a stream of sites and a ton of confusion. And since our goal is to make everything easier for you… meet Outdoorsy!
The Airbnb of the RV rental world. A website that makes securing your wheels super straightforward and a great place to start looking for this trip.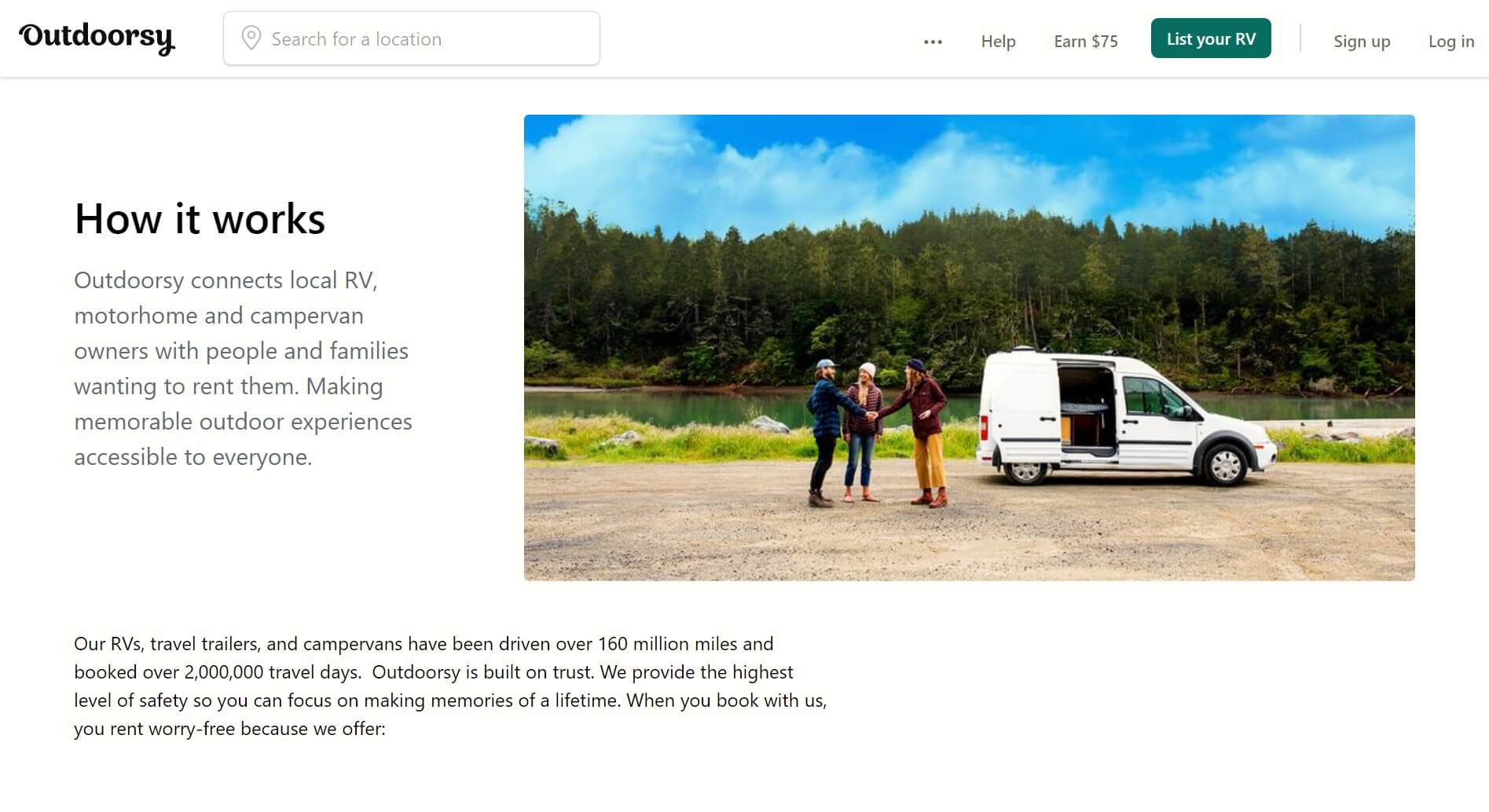 Outdoorsy cuts the dealer crap, simplifies all the confusing jargon, and shows you exactly how much you've gotta pay and what's included.
All you do is add your trip details, your budget, and start scrolling. The site is simple to use — unfussy and sleek — and will have you swiping these RVs left and right in just a matter of seconds!
There's a whole load of RVs to choose from as well. You can find anything from a luxury RV Rental with all the fancy add-ons to insanely cute vintage trailers. 
There are also some gnarly RVs with creative functions: some have projectors for movie nights, others have that tiny-home vibe you might be looking for. Just like Airbnb, you can get whatever you fancy for your trip. Except this time your home away from home is mounted on a set of wheels.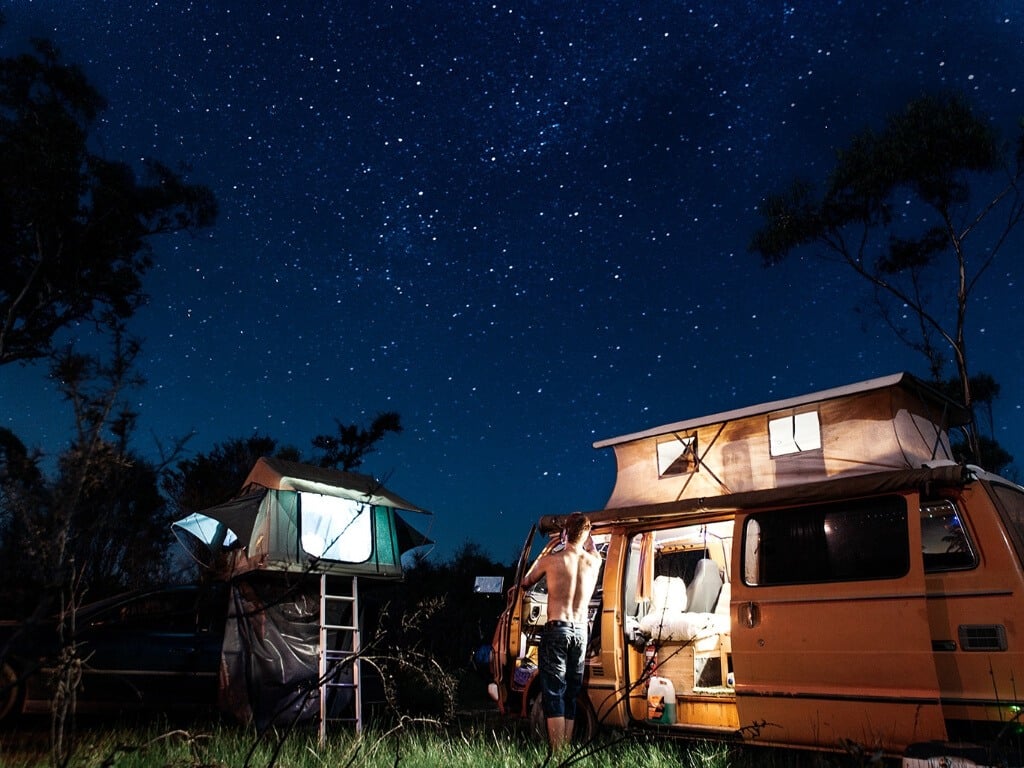 One of the really nice things about Outdoorsy is that the listings on the site are privately owned. When you hire an RV, you'll be hiring somebody's well-loved holiday home. And this means it's probably very well looked after. 
Overall, Outdoorsy takes a lot of the hassle and complication out of renting an RV in Chicago (or anywhere else, for that matter). Less drama, and a better bang for your buck.
Quick Accommodation
Best RV Rental in Chicago – Quick Pick!
Clean and Beautiful RV
With enough room for five people to sleep comfortably, this sweet ride is where it's at when it comes to renting an RV in Chicago — it's ideal for a family vacation or a couple's trip. Inside, the interiors are modern and clean, with stylish furnishing, a well-equipped kitchen, and relaxing seating areas. The owners are super nice and always on hand to help with anything. It also comes with glowing reviews from previous happy road-trippers. Check it out and see for yourself!
Great for first-timers
Modern, well-equipped interiors
New 2018 model
If you need more inspiration about places to stay with your RV rental, check out these motels in Chicago!
RVshare – More of the Excellent Same
Outdoorsy isn't the only site out there vying for your business. RVshare offers a slick service too and is another great place to look for an RV Rental in Chicago. There really isn't too much difference between the two: they essentially offer the same service apart from a few options. 
Much like Outdoorsy, you add your desired dates and your budget range. There is an array of RVs to choose from, and you can start comparing prices and specs right away. It does seem that there are fewer RVs on offer with RVshare when compared to Outdoorsy, though. 
BUT there is a game-changer. RVshare comes with the option for one-way rentals on every listing, which means you can cruise across the country without having to drive back to return it.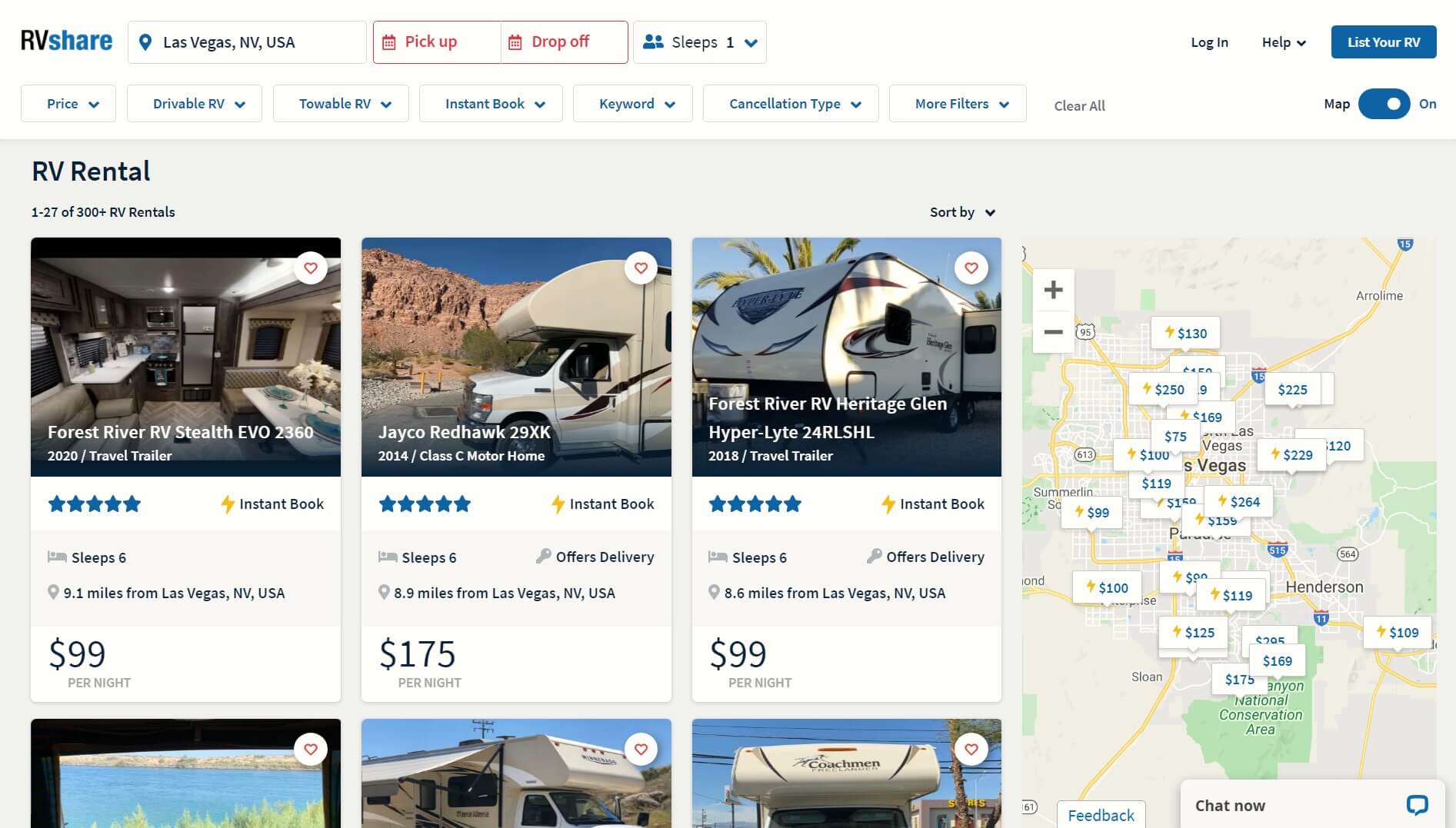 They also provide a drop-off service so you don't have to collect the vehicle in person. Instead, it comes to you. This is also available on Outdoorsy, but it's up to the owners to decide. With RVshare, they take care of the whole thing.
If you're looking for a cooler style and a wider range of choices, we'd say start with Outdoorsy. If comfort is your top priority, have your RV delivered to your door and go for a one-way rental with RVshare!
Top Places to Go With an RV Near Chicago
You're all set on where to rent an RV in Chicago. It's a good start, but now it's time to figure out where you're going to drive that beautiful thing.
Even though there are great places to visit in Chicago, now is the time to take your RV for a spin. The real epic stuff is only a road trip away!
Chicago is blessed with an incredible amount of nature at its doorstep — lakes, gorges, forests, and parks make it a prime location for RV road trips. You're lucky you made this decision, let us tell you that…
What is the One Item Every Traveller NEEDS???
There is one item every traveller NEEDS. Some travellers don't even know they need it, but those travellers need it more than anyone.
What is this forgotten essential of the backpacker-life? SPOILERS! Guess you'll just have to click the button to find out. 😉
Find Out What It Is!
Best National Parks Near Chicago
Away from the city's famous skyline, there are many epic places where you can lose yourself in the natural world. And once you leave the urban sprawl behind, Illinois opens up with incredible national parks, deep forests, and wide-open highways that make it a treat for any weekend getaway. 
Each of the parks is like a playground for adventure enthusiasts. We're talking vast outdoor spaces that are easily reached through a network of driveable highways. The perfect place for all the road-trippin' bucket list experiences you were meaning to have…
Here's a round-up of the top places you should cruise to in your RV!
Just under an eight-hour drive from Chicago, the Apostle Islands National Lakeshore offers some serious sun-soaked scenery. Lapped by Lake Superior on the northern tip of Wisconsin, the park is made up of 21 islands all waiting to be explored, complete with historic lighthouses, enchanting sea caves, and fresh forests. Camping is available on the islands, but there's also one campsite on the mainland and a variety of RV sites in the local area.
Hop in your RV and get on the road as you edge your way along Lake Superior to the wonderland that is Huron-Manistee National Forest. All just a straightforward 3.5-hour drive from Chicago! The National Forest is actually two forests that sit between the shores of Lake Michigan and Lake Huron, comprising nearly one million acres. It's all about peace and quiet here, with days spent walking trails, basking on beaches, and enjoying the awesome sunsets. Plenty of RV camping available too.
Away from the lakes and into another state, this gem of a national park is a six-hour drive from Chicago. The Kentucky park encompasses much of Mammoth Cave, the longest cave system known in the entire world! But not everything is about being underground here: undulating hills, vast river valleys, and a wealth of plant and animal life all add to its label as a UNESCO World Heritage Site and International Biosphere Reserve. RV camping can be found at numerous sites in the area.
Starved Rock State Park
For a first-timer doing RV trips from Chicago, Starved Rock State Park is a fantastic location to add to your itinerary. Located around 1.5 hours from the city, it packs up a ton of activity options to keep you busy on your trip.
The park is situated on the Illinois River. It features iconic deep sandstone canyons and gushing waterfalls in the spring. Hike your way through the towering trees and let go of the modern world for a minute. This is a place to log off and enjoy nature just as it should be.. beautiful and screenless.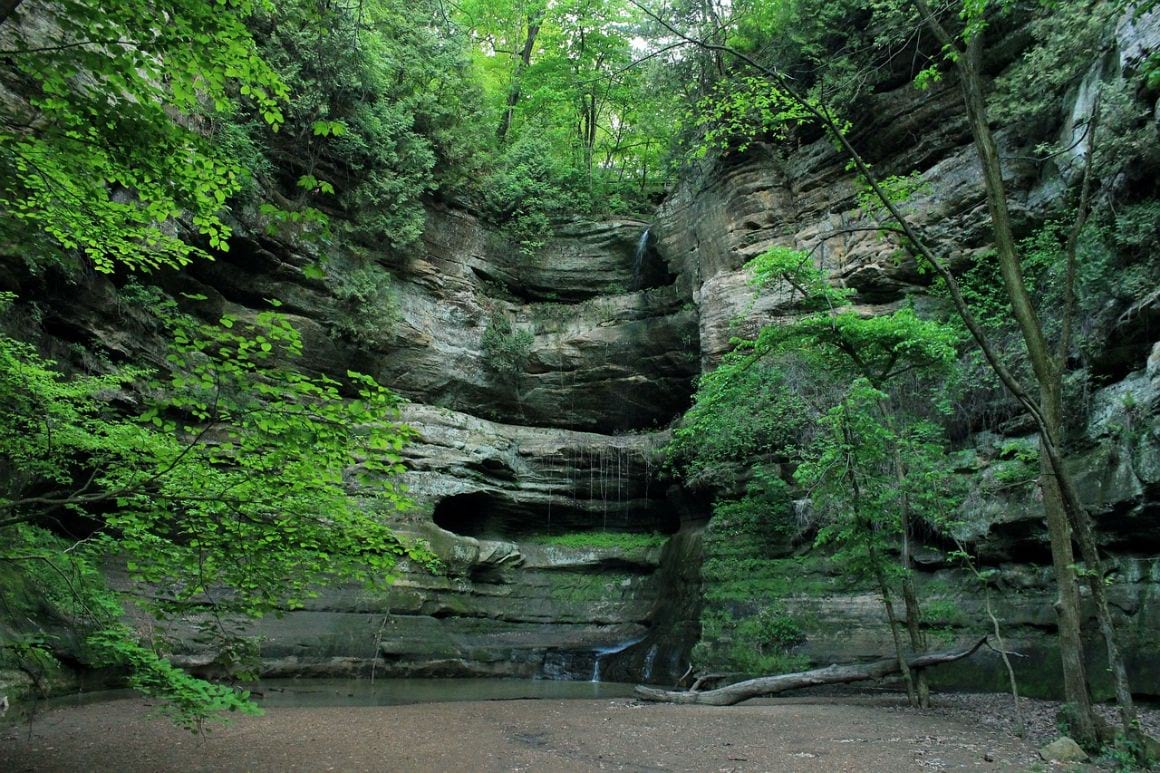 Staying at the park is also low-cost. The Starved Rock State Park Campground is a well-run and looked-after site with all the amenities you need to feel at home, and it won't cost you a kidney.
Nearby, you can also check the lesser-known and quieter Matthiessen State Park. It will show you a whole new world of canyons, waterfalls, and winding streams. And some deer too!
Great Smoky Mountains National Park
Now, for a journey of epic proportions. If your plan for this trip was to do a big roadie, this is the one for you. It takes just over nine hours to get there from Chicago, but it's well worth the effort.
If you want to break up your journey, you can also stretch it out and stop along the way. Your options include an overnight stay at Yellowwood State Forest or Jefferson Memorial Forest… you're in great (and beautiful) hands!
Once you rock up at the Rockies, you're in for a treat. Straddling the border between North Carolina and Tennessee, the Great Smoky Mountains National Park holds a jaw-dropping 522,419 acres of pure beauty.
It comprises some of the highest mountains in North America, and it's home to part of the Appalachian Trail that cuts through en route from Georgia to Maine. The landscape is eclectic and serves up a good mix of waterfalls, thick forests, wildflowers, and soaring peaks.
This is by far the most-visited national park in the US, but you shouldn't worry too much about that. The RV campsites are a breeze here, and you'll find them both in and around the park. 
2000+ Sites, Unlimited Access, 1 Year of Use – All. Absolutely. FREE!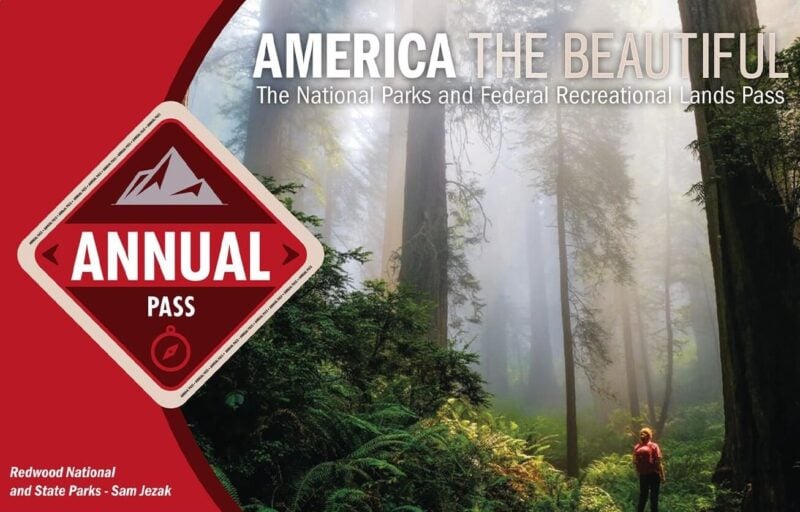 The USA is blisteringly beautiful. It's also blisteringly expensive! Visitng two national parks in day can run you $70+ in entry fees.
Orrrr… you kick those entry fees to the curb, buy an annual 'America the Beautiful Pass' for $79.99, and get unlimited access to ALL 2000+ federally managed sites in the States totally FREE!
You do the math. 😉
Buy the Pass!
Best Places to Visit in the Chicago Area Mega-Map
Want to get your head around all these awesome destinations? Click the map below for some Google Maps magic, and you can start mentally planning your RV wanderings!
Planning Your Chicago RV Road Trip – Tips and Advice
Understanding the costs for your Chicago RV rental and making sure your budget is on point is crucial for making sure your trip runs smoothly.
You should also catch up on some road rules and safety information that will be extremely useful when you're driving an RV in and around Chicago.
Here's all the insider info you'll need before you hit the road. 
Small Pack Problems? 😉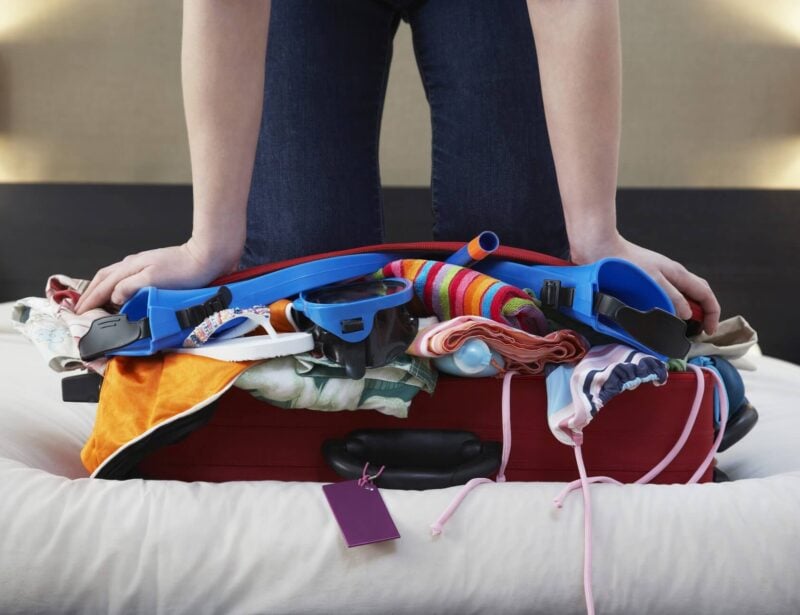 My missus travels with all her clothes in ziplock bags: don't be like my missus. UP YOUR PACKING GAME!
Packing cubes for the globetrotters and compression sacks for the real adventurers – these babies are a traveller's best kept secret. They organise yo' packing and minimise its volume too so you can pack MORE.
Or, y'know… you can stick to ziplock bags.
View Our Fave Cubes
Or Check Out the Sacks!
Planning a Trip Budget: Prices for Chicago's RV Rentals, Parks, and Campsites 
Getting to grips with Chicago RV rental prices isn't too difficult. Like booking hotel accommodation or renting a car anywhere in the world, the costs will vary based on the season you're traveling in. In peak season, usually in the summer months, prices for rental RVs in Chicago are going to be higher.
But it's not only the season that affects the price. The size and age of your RV also have a say in this matter. If you're willing to go for the big bucks, a glamorous RV with a ton of room and high-end amenities will set you back hundreds of dollars a night. But an older and much simpler one is way more budget-friendly. Watch the breakdown:
| Range | RV Rental (per day) | Campsite/Park (per night) | Food and Drink for One (per day) |
| --- | --- | --- | --- |
| Budget Holidayer | $70-$115 (Trailers to smaller Class Cs/Bs) | $0-$28 | $8-25 |
| Treat Yo'Self | $120-$250 (Class Cs/Bs to smaller Class As) | $25-$45 | $30-60 |
| Luxury Living | $260-460 (Class As and luxury RVs) | $50-80 | $50+ |
And don't forget to factor rental insurance into your budget either! It may be expensive, but you will be thankful you got it when the time comes.
RentalCover.com has got your back. Their policies include all the common damages and come out cheaper than what you'll get at the rental desk.
Get Your Cover Now
RV Packing List
Packing for a road trip is something you should take very seriously. Especially when an RV is added into the mix!
Yours is probably going to come equipped with a lot of goodies that are helpful on the road, but there are a few other items we think are essential for any RV trip you plan to take.
Surge protector
Electrical adapters
Extension cords
Electrical and duct tape
Battery jumper cables
Tire pressure gauge
Levelling blocks
Wheel chocks
Extra cotter pins
Extra motor oil and transmission fluid
Water pressure regulator
Drinking water hose
Toilet chemicals
Sewer kit
RV-friendly toilet paper
Shovel
Flashlight
Fire extinguisher
Emergency road assistance kit
Large zip-close bag for documentation
And as an added bonus, here's some excellent backpacking gear that our Broke Backpacker team adore. Suited for any trip… with or without wheels!
RV Packing List
Packing for a road trip is something you should take very seriously. Especially when an RV is added into the mix!
Yours is probably going to come equipped with a lot of goodies that are helpful on the road, but there are a few other items we think are essential for any RV trip you plan to take.
Surge protector
Electrical adapters
Extension cords
Electrical and duct tape
Battery jumper cables
Tire pressure gauge
Levelling blocks
Wheel chocks
Extra cotter pins
Extra motor oil and transmission fluid
Water pressure regulator
Drinking water hose
Toilet chemicals
Sewer kit
RV-friendly toilet paper
Shovel
Flashlight
Fire extinguisher
Emergency road assistance kit
Large zip-close bag for documentation
And as an added bonus, here's some excellent backpacking gear that our Broke Backpacker team adore. Suited for any trip… with or without wheels!
Never Leave Home Without It!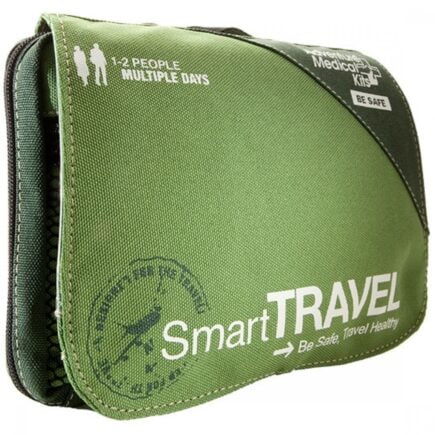 Never Leave Home Without It!
First Aid Kit
Even if you don't plan on doing anything too extreme on your trip, you never know what could happen. Cuts, bruises, scrapes, third-degree sunburn: a first aid kit will be able to handle most of these minor situations.
Keeps Your Brews Hot and Bevvies Cold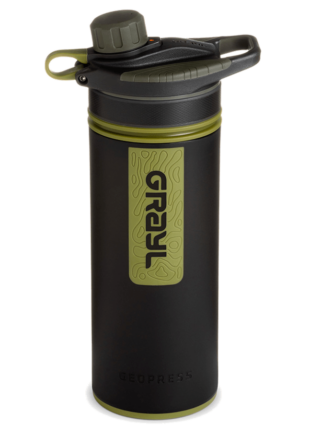 Keeps Your Brews Hot and Bevvies Cold
Grayl Geopress Water Bottle
Always travel with a water bottle! They save you money and reduce your plastic footprint on our planet. The Grayl Geopress acts as a purifier AND temperature regulator – so you can enjoy a cold red bull, or a hot coffee, no matter where you are.
So You Can See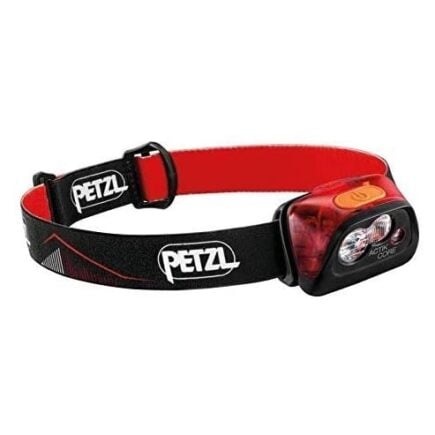 So You Can See
Petzl Actik Core Headlamp
Every traveller should have a head torch! A decent head torch could save your life. When you're camping, RVing, or just heading into the woods, a top-quality headlamp is a MUST. The Petzl Actik Core is an awesome piece of kit because it's USB chargeable—batteries begone!
The Most Massively Useful Thing an Interstellar Hitchhiker Can Have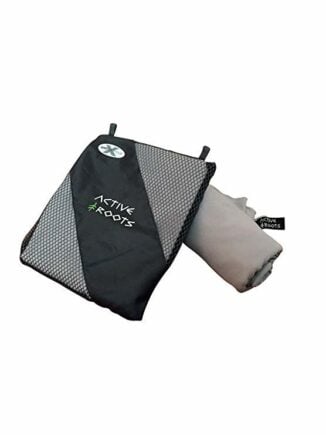 The Most Massively Useful Thing an Interstellar Hitchhiker Can Have
Active Roots Microfibre Towel
I dunno what to tell you—microfibre towels are the tits! They're so compact, they dry lighting fast, and they're just a real multi-purpose tool. Never go adventuring—on or off-world—without one!
Everyone Needs a Hammock
Everyone Needs a Hammock
Active Roots Camping Hammock
Hammocks are always practical: they're lightweight, cheap, strong, sexy (chicks dig hammocks), and allow you to pitch up for the night pretty much anywhere. The Active Roots Camping Hammock is one of the best on the market and most importantly… it's cheap!
In an RV, This is a Game-Changer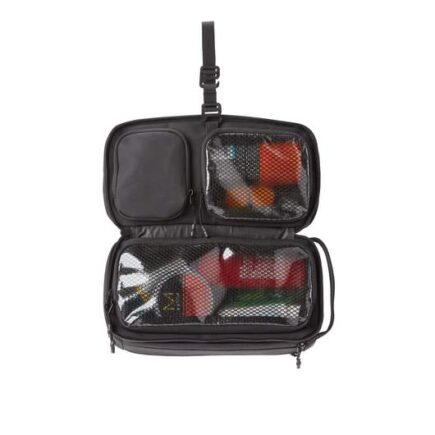 In an RV, This is a Game-Changer
Hanging Toiletry Bag
Oh man, hanging toiletry bags are a ridiculously efficient bit of gear for any travels. They keep all your unmentionables organised and they can be used anywhere—just hang it up and you're good to go! When you start living the RV-life, you'll never look back on the hanging toiletries game.
Tips for Renting an RV in Chicago
We know, driving an RV for the first time can seem a little daunting at first. It might feel a bit like you're driving a bus, but don't sweat it — you're going to be just fine. Here are some tips and pieces of information that prove to be very helpful when renting an RV in Chicago.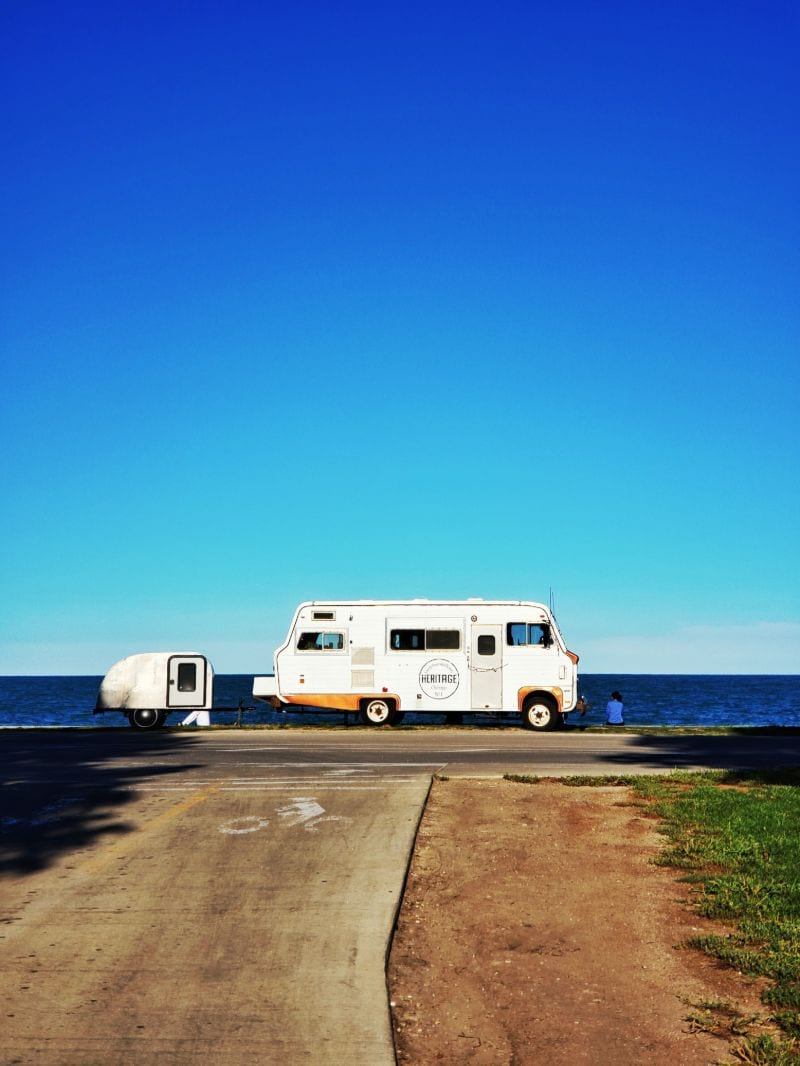 Know the parking rules – For you to park in a Chicago street, your RV has to be under 22 feet in length. You cannot park on business streets and neither on Lake Shore Drive.
Stay out of the city – Besides a major hassle with parking regulations, staying with your RV in cities can get expensive. Do it only if you really have to. If not, avoid it at all costs.
Know what you're paying for – Add-ons and hidden costs are easy to miss when hiring one. Always read every bit of information on the listing. If you have questions (even after you book), keep in touch with the owner!
Don't leave without a plan – It's nice to hit the road without a plan, but you should always have a rough or backup one. That means you won't have to rush to get anywhere before the sun goes down, but most importantly it means you'll be able to book and secure a spot in the RV Camping sites.
Take your time – Make sure you take your time to get used to driving, be careful and don't take any unnecessary risks on the road. Driving an RV is different from driving a car, and even if you've driven one before, each model is going to be different…
Get an RV that suits you – There's a ton of RVs out there, but you should try and find one you feel comfortable with. Or think you will. There's no point in aiming for an enormous ride if driving it will just stress you to exhaustion. Choose your adventure buddy wisely!
Stick to the rules – Camping at the parks is usually a blast, but different sites have different rules for RVs. Avoid getting in trouble with the park authority, and make sure you set up at the right spot and are aware of the rules on campfires and noise levels. 
Save $$$ • Save the Planet • Save Your Stomach!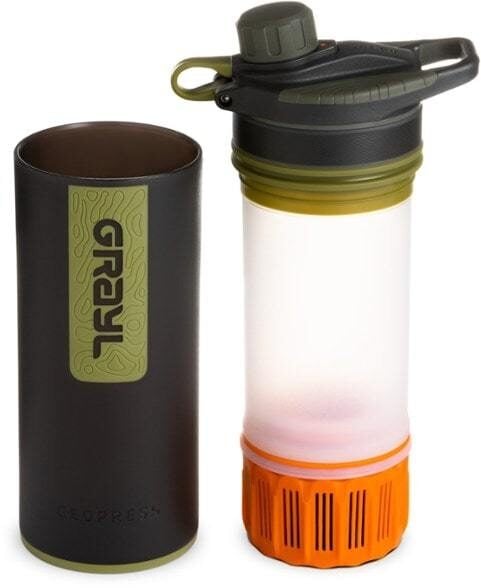 Drink water from ANYWHERE. The Grayl Geopress is the market's leading filtered water bottle protecting your tum from all the waterborne nasties. PLUS, you save money and the environment!
Single-use plastic bottles are a MASSIVE threat to marine life. Be a part of the solution and travel with a filter water bottle.
We've tested the Geopress rigorously from the icy heights of Pakistan to the tropical jungles of Cuba, and the results are in: it WORKS. Buy a Geopress: it's the last water bottle you'll ever buy.
Buy a Geopress!
Read the Review
Staying Safe in Your Rental RV
Driving an RV around can get stressful. If it's your first time doing it, you might be overwhelmed with the size and potency of the beast, and it might take you a bit to get used to it. When renting, it's important to know how to prevent bad things from happening to you and your RV…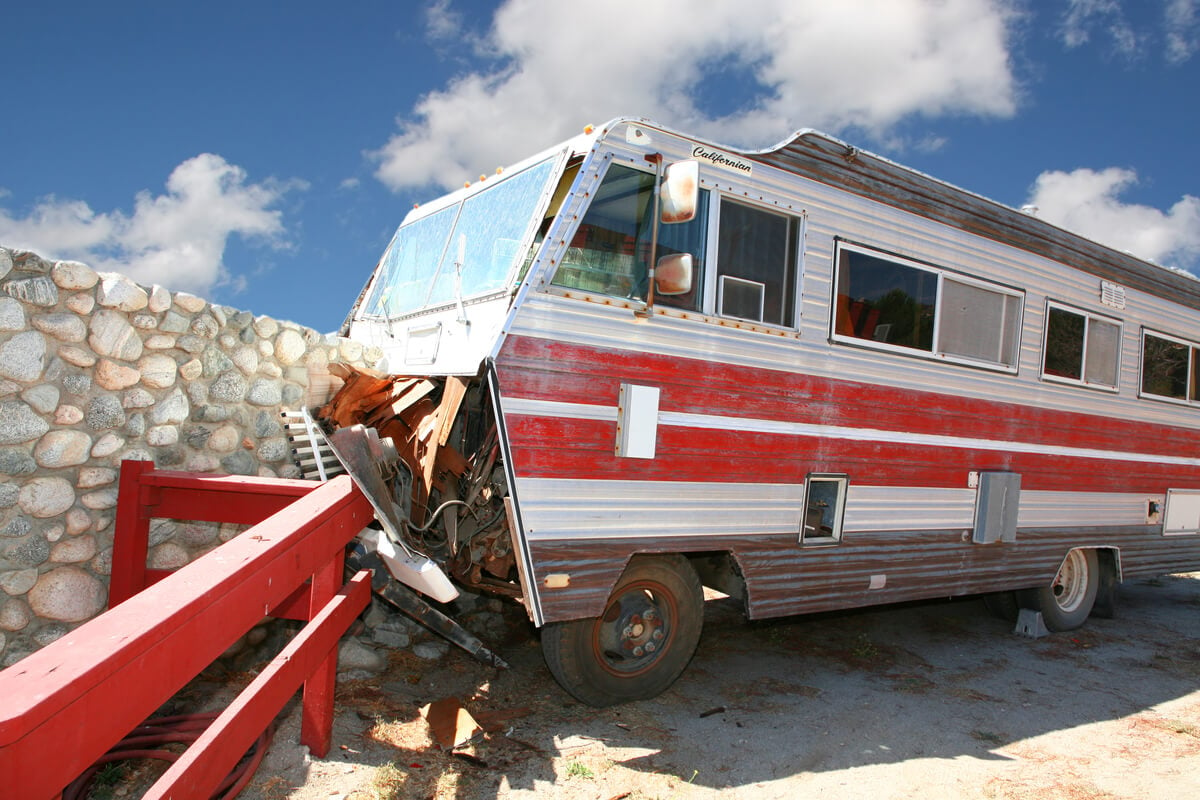 One way is to key yourself in on how to drive an RV safely. The other is to make sure that it's insured!
Shoutout from Will – The OG Broke Backpacker: Have fun on your backpacking adventure, but please do consider getting insurance—take it from someone who has racked up tens of thousands of bucks on an insurance claim before, you may need it.
Obviously, your RV is going to need insurance, but make sure your person is insured too! Traveling without insurance could be risky. Presenting The Broke Backpacker's go-to Insurer—World Nomads!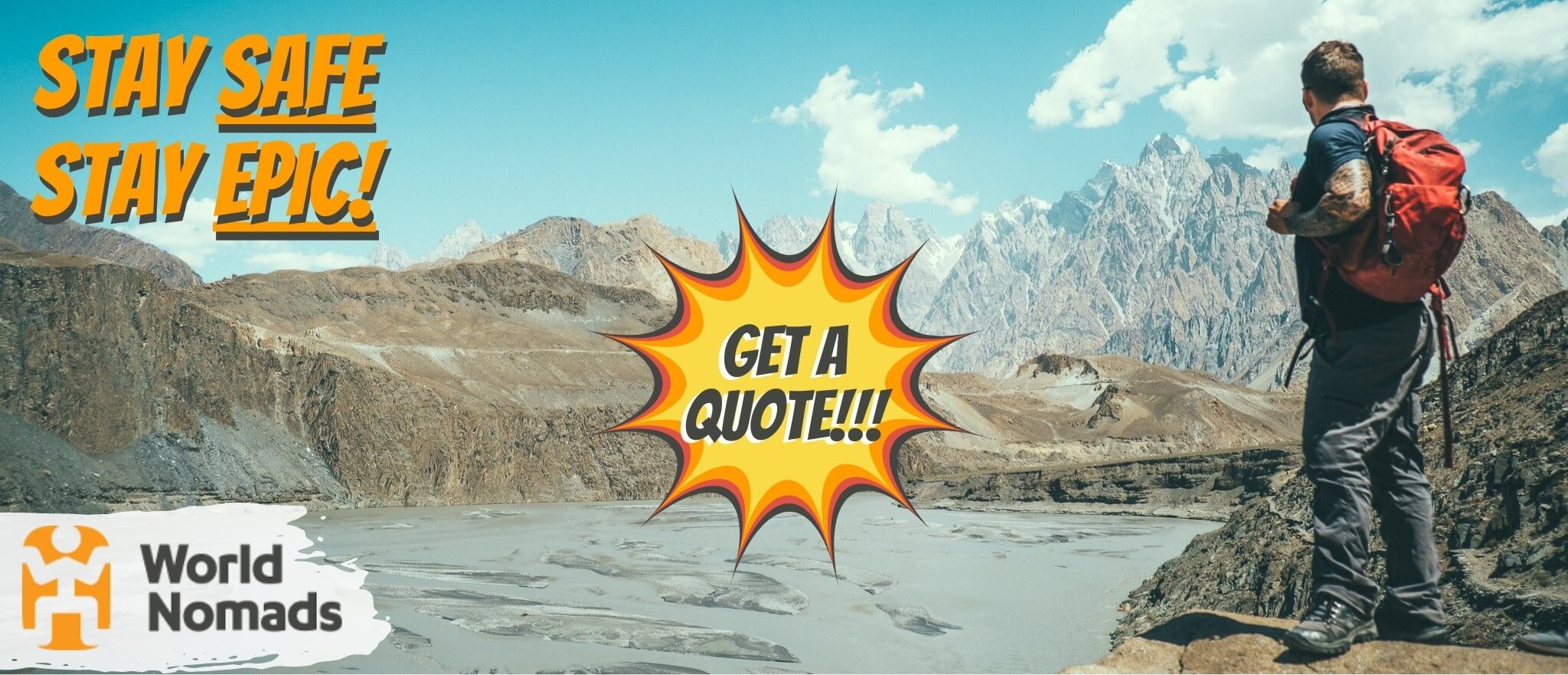 It's good to get lost sometimes, but it's also good not to get too lost. There are people that want you home in one piece.
There's one travel insurance provider The Broke Backpacker trusts for all his wildest shenanigans… World Nomads!
Click the button below to get a quote on your insurance or read our in-depth review of World Nomads' coverage. And then… let the shenanigans begin. 😉
Your Chicago RV Rental is Waiting!
There you have it. We've handed you all the info, the tips, and the tricks you need to know when renting an RV. You're ready to draft up your Chicago itinerary and get on that road of yours.
Doing it an RV means you can spend more time traveling and adventuring at your own pace. No stress, no worries!
And there's never been a better time to take a break from the world and spend a few days out in the wonders of nature. Reboot with the help of Chicago's surrounding landscape and its spectacular parks, forests and unique landscapes.
Now, this RV trip isn't going to plan itself… pick the RV of your dreams (with the help of Outdoorsy and RVshare), lay out a rough plan, and start packing!
---
Thanks for reading – that was fun! 😀
We bring you epic FREE content!
Find out how YOU can help support us.
We're a big site with a big team and this job isn't always easy. But we do it because we love it – we love providing epic and free content. We love the knowledge that our content keeps you adventuring. We don't ask for money, but if you'd like to find out how you can help the site in more organic ways, click the button below.
Thank you for your support 🙂
---
Bye for now, but not forever!
If you want MORE top-tier Broke Backpacker content like this, then sign up for our weekly newsletter below to get the latest and greatest!
And for transparency's sake, please know that some of the links in our content are affiliate links. That means that if you book your accommodation, buy your gear, or sort your insurance through our link, we earn a small commission (at no extra cost to you). That said, we only link to the gear we trust and never recommend services we don't believe are up to scratch. Again, thank you!