Florida packs a punch when it comes to cool stuff to see. The Everglades, the Keys, tons of beaches, and a sparkling shoreline… an absolute killer for anybody who loves cruising the coast.
In fact, Florida boasts an 8,436-mile-long coastline — that's a LOT of coast. And combined with its reputation for sunshine, it makes for some pretty epic road trips.
Renting an RV in Florida to hit up all the best bits is our suggestion for today. You'll get all the freedom of a road trip with the convenience of being able to sleep wherever you feel like.
If you're totally new to the world of RVs, though, or if you're not sure how it would go down in Florida, we highly suggest you read this guide carefully.
This is our blueprint for RV rentals in Florida. From start to finish, we'll walk you through where you should rent your RV from, the best places you can go around Florida, how to stay safe and what to pack.
Time to make your home on wheels dream come true!
Where to Rent an RV in Florida
If you're angling for an RV road trip in Florida, the first thing on your mind is probably how you can get your hands on one of these sexy vehicles. It may seem obvious, but the obvious solutions aren't always the best.
RV dealers, whether in Florida or anywhere across the States, don't exactly have the best reputation. These may be the first port of call for some people, but we don't recommend them. 
Getting talked into some RV you don't really want by a dealer is annoyingly easy, and then there's the struggle of going through all the paperwork and trying to avoid being overcharged with hidden fees.
It doesn't sound so great, does it? Well, that's because it's not. 
Luckily, there are better options. A couple of awesome sites offer the chance to rent an RV in Florida without being hoodwinked or (figuratively) taken for a ride.
We'll quickly run you through our favourites so you can find your dream RV without all the hassle.
Outdoorsy – Airbnb for Vanlifers
Figuring out how to rent an RV in Florida without a dealer can seem daunting, but that ends today. Let us introduce you to Outdoorsy!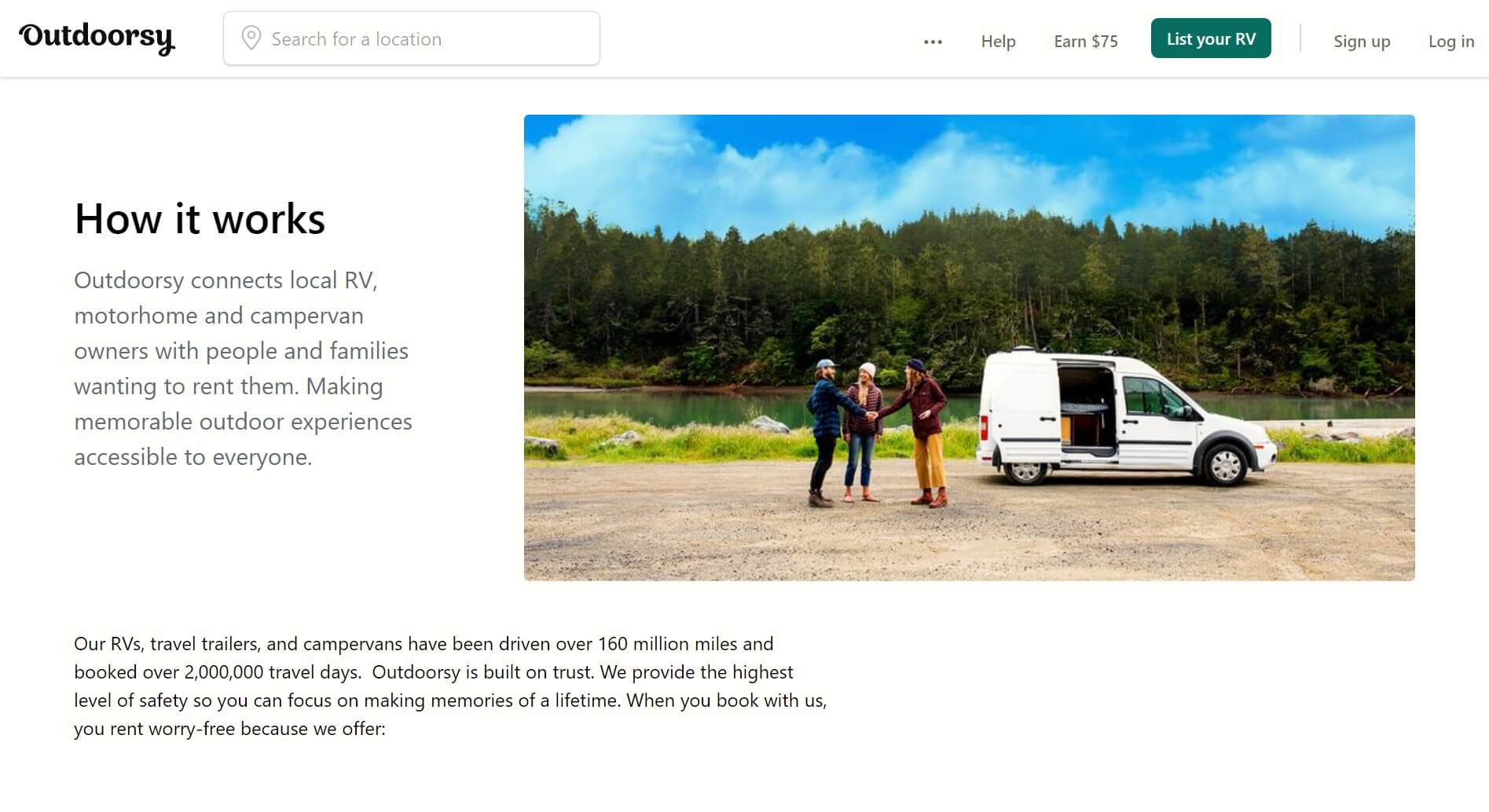 Aka RV rental made easy. No more negotiating with shady RV dealers, no more time spent figuring out the hidden costs you're being charged by your local RV dealer.
To put it in simpler terms, Outdoorsy is the Airbnb of the RV world. They put an end to a problem that many first-timers have which is going through all the different options without a dealer. It's the perfect place to look for a set of wheels for the weekend or a bigger road trip.
All you have to do is set your price range, location, and dates, and you'll be sifting through all the available RVs in Florida before you know it. 
And the best thing about it is that all the listings come from the RV owners themselves. Being privately owned and (usually) a friendly local's holiday home means that the RV was proper looked after and given all the love it deserves!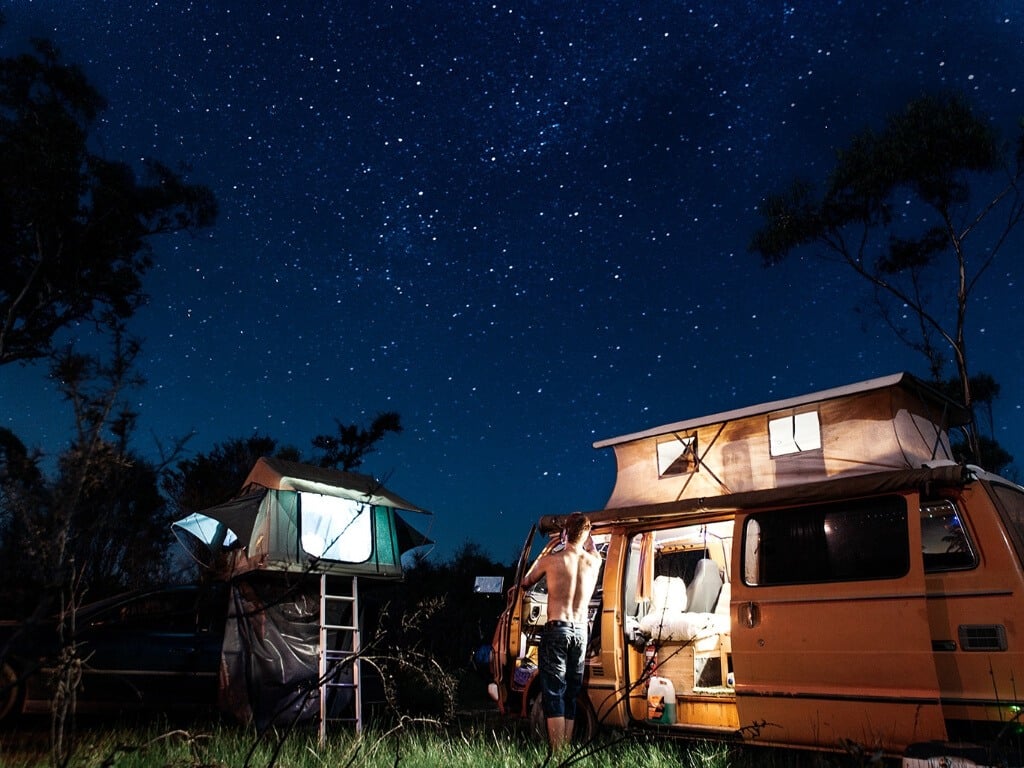 You can check the glowing reviews left by previous renters who have had the pleasure of hiring the RV. There's also the option to get in touch with the owners, so you can ask questions and get information before you decide to book it for a trip. 
On top of the Airbnb-style listings, Outdoorsy's RV rental prices are usually cheaper when compared to hiring an RV through a dealer. The site makes finding the perfect RV simple and stress-free.
Best RV Rental in Florida – Quick Pick!
Slick RV for your Florida Road Trip
RV Camping in Florida doesn't get much better than taking this bad boy for a spin. Packed full of cool mod-cons, there's enough space inside to sleep eight people. It's the perfect type of RV for taking a family trip or getting a few friends together to head out with the wind in your hair. The RV itself is extremely clean, and ready to go as soon as you pick it up. The ideal home away from home, with all of the conveniences of an RV – including air conditioning – but all the fun of camping. The ideal RV for first-timers.
Great for first-timers
Easy to drive, easy to park
Enough space to sleep 8
If you need some more inspiration on accommodation in Florida, check out these motels in Hollywood, Florida, which would make for the perfect starting base for your road trip.
RVshare – More of the Excellent Same
If Outdoorsy sounded pretty cool to you already, let us tell you about this other one! RVshare is just as smooth, and it's shaking up the world of RV rentals in Florida.
There's not a huge difference between them, but it's more about the selection you get. Each of them will give you different choices so you're bound to find the perfect RV to take on your trip.
As with Outdoorsy, you just select your dates and location, and off you go. You're presented with a list of RVs, rented directly from the owners, except with RVshare you can opt for one-way rentals. This is the game changer!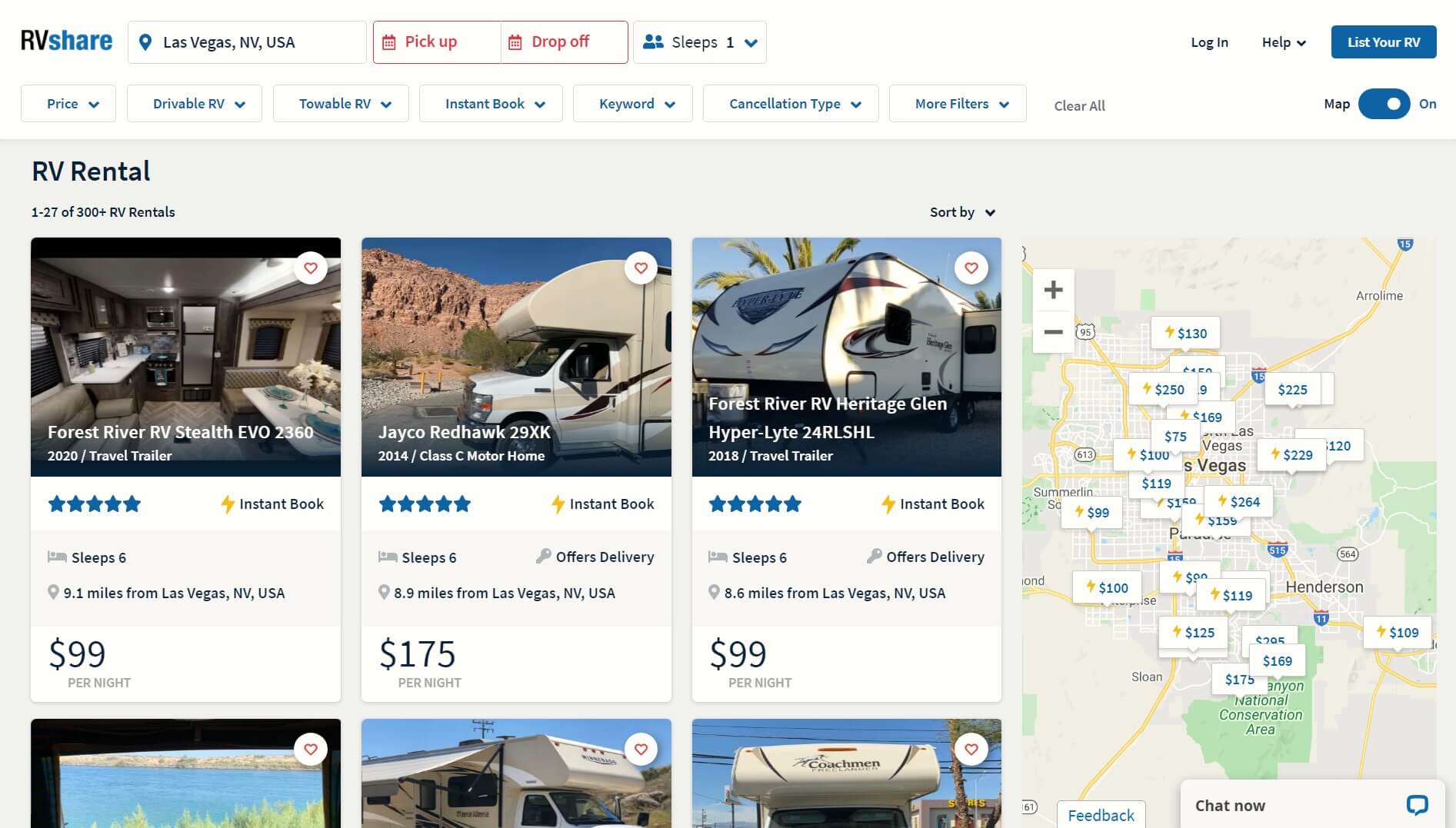 Not everything needs to be a circuit or a loop, right? Sometimes you just want to road trip from one place to another without having to worry about coming back. With RVshare's one-way rentals, you can do that.
They collect the RV and take it back to the owners. You also have the option to have it delivered to your door to start the trip. All you have to do is sit tight and wait for your shiny new RV to arrive. Hassle-free.
Outdoorsy has this option too, but it's up to the owners' discretion. With RVshare, it's a standard on any listing.
All in all, pick one and see where it leads you. Both are a good choice to scout for an RV in Florida and are as easy to use as booking a trip on Airbnb.
Top Places to Go With an RV Near Florida
Now that you've got a clue on where to rent an RV in Florida, you're going to need a destination. Or a magical road that gives you that destination. With no shortage of incredible sights for a road trip, Florida is the perfect stage to bring your RV wet dreams to life.
If you've been dreaming of a road trip for some time now, let us tell that you picked it just right with Florida.
From beachside camping to forest hideaways and remote adventures, driving around in an RV here is excellent.
So whether you're a first-timer or someone who masters the art of the vanlife, read on and get some great tips for your next big adventure… 
What is the One Item Every Traveller NEEDS???
There is one item every traveller NEEDS. Some travellers don't even know they need it, but those travellers need it more than anyone.
What is this forgotten essential of the backpacker-life? SPOILERS! Guess you'll just have to click the button to find out. 😉
Find Out What It Is!
Best National Parks Near Florida
Florida has got some dope nature. It's one of the longest coastlines in the US, plus the islands, waterways, and an amazing amount of wetlands. It's much more than going on a theme park and partying in Miami. The national parks, forests, and shorelines are all waiting to be discovered.
From the Everglades to the far-flung beaches, you'll be spoilt for choice here. But to get your adventure started, we're showing you our favorite natural wonders for some travel inspiration. RVs ready, go!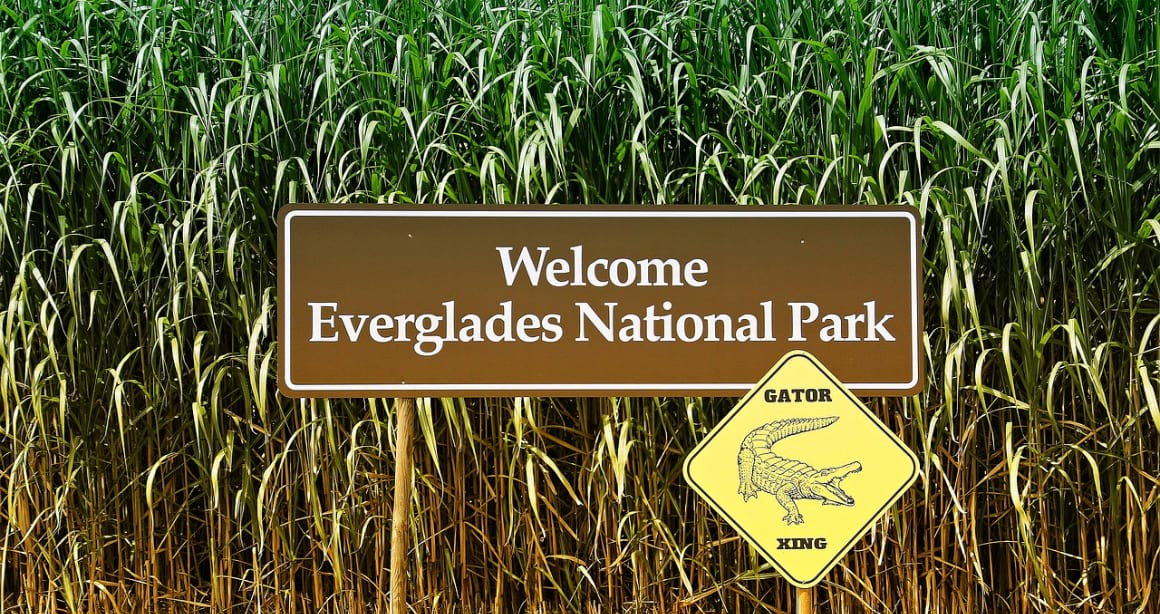 The iconic Everglades National Park is a dream destination for any road trip. The vast wetlands span an amazing 1.5 million acres and comprise grassy marshes, pine forests, and magnificent mangroves. An abundance of wildlife, from the endangered leatherback turtle and West Indian manatee to the rare Florida panther. It's pretty simple to get here (especially from Miami), and the RV parks in Florida don't get much better than this. There's a choice of campgrounds in the park, but two of them – Long Pine Key and Flamingo Campground – offer pitches for RVs of all sizes.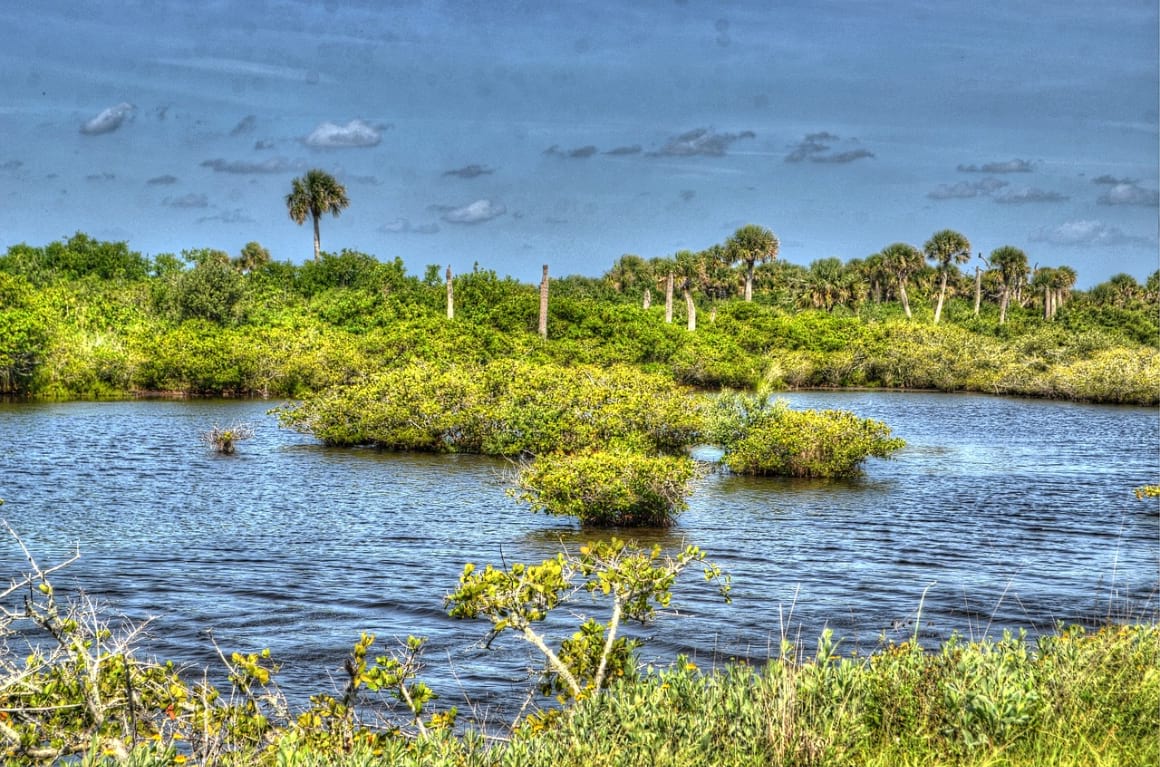 Around 3.5 hours from Miami (but just an hour or so from Orlando) is Canaveral National Seashore. This area shows off Florida's Atlantic coast, featuring barrier islands, beaches, and the blue sea. You get to see rockets being launched thanks to the proximity of the nearby Kennedy Space Center. How is that not an awesome prospect? Plus the history and the hiking trails, and it's a very cool destination. You'll find a handful of RV sites, such as Mosquito Lagoon and the further away Crystal Lake.
For an easy Florida road trip, look no further than the Big Cypress National Preserve. Bordering the prairies of the Everglades National Park in the south, this expanse of nature was one of the first national preserves in the US. Home to lush waterways that support the local marine life, a trip here is the remedy to the stress of urban life. It's a dreamy landscape with wide-open skies reflected in the mirror-like swamps. There are 8 different locations to camp with your RV, but Midway Campground is the only one open all year round for that matter.
Ocala National Forest
If you're renting an RV in Florida to be surrounded by nature, we think Ocala National Forest is a great destination for you. This slice of scenic solitude, just north of Orlando, has nature by the bucket-load. 
It's around a four-hour drive from Miami, and you'll be cruising all the way along the glittering coastline. Ocala's fairly central location means the forest isn't really too far from anywhere else in the state.
If you're coming from Jacksonville, the drive will take less than two hours; from Orlando, it's even quicker, making it an ideal spot for your first Florida RV road trip. 
This is the southernmost forest in the continental US, and with that comes an awesome array of habitants. It's here, among the world's largest contiguous sand pine scrub forest, where black bears, wild boar, alligators, and deer roam. 
There are more than 600 lakes, springs, and rivers, which create interesting swimming spots, especially in the crystal clear springs. Hiking is amazing in the forest, with numerous trails that create a network of paths to explore. One of the most famous, the Yearling Trail, takes walkers past old homesteads and an intriguing sinkhole. 
This is one of the most picturesque spots you can camp with an RV in Florida. Set up for a night or two in one of Ocala's larger developed campgrounds found throughout the forest. The sites come with partial and full hookups, so you can really make yourself at home in nature. 
Key West
Not everywhere you go in this state has to be situated in a national park. Some places are made just for driving, and that's literally the case here. Let's talk about the Overseas Highway! This incredible feat of engineering stretches 113 miles down the coast of Florida, touching down on part of the Florida Keys before finishing up in Key West.
Sea to your left, sea to your right, sea ahead, and sea behind. This is possibly one of the most beautiful places for an RV road trip in Florida.
The Overseas Highway is an extension of Florida's Highway 1. Much of the road wasn't originally intended for cars, but for the Overseas Railway. After being destroyed by the 1935 Labor Day hurricane, construction began anew, this time for automobiles. New sections of the highway were built in the early '80s.
Whether you make Key West your destination or not, driving this road is an attraction in itself. And for a unique driving experience, cross the Seven Mile Bridge connecting Knight's Key and Little Duck Key. If you're a sucker for scenery, you're gonna love that!
It only takes around three hours to drive from Miami to Key West, but you can opt to stop off along the Overseas Highway: try Grassy Key, for example, or swing by the beachside Curry Hammock State Park.
Once you end up in Key West… well, you can take your pick. Visit Ernest Hemingway's old house, stroll around the charming Old Town, or hit the beach.
2000+ Sites, Unlimited Access, 1 Year of Use – All. Absolutely. FREE!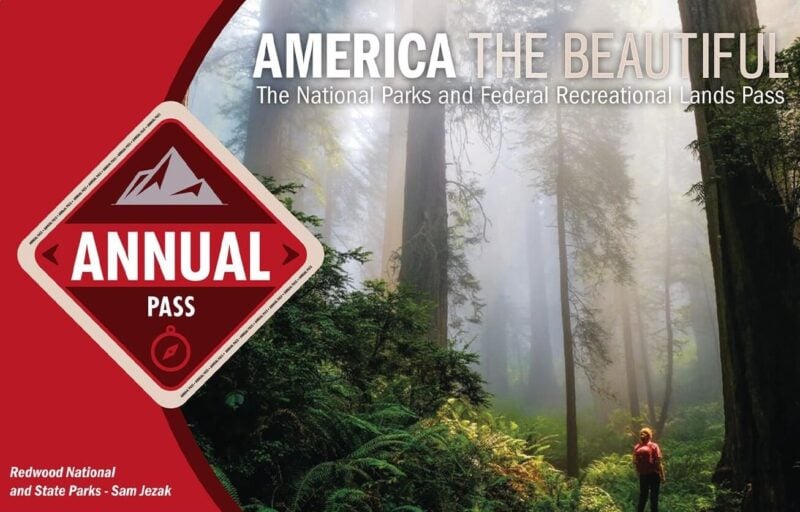 The USA is blisteringly beautiful. It's also blisteringly expensive! Visitng two national parks in day can run you $70+ in entry fees.
Orrrr… you kick those entry fees to the curb, buy an annual 'America the Beautiful Pass' for $79.99, and get unlimited access to ALL 2000+ federally managed sites in the States totally FREE!
You do the math. 😉
Buy the Pass!
Best Places to Visit in the Florida Area Mega-Map
Want to get your head around all these awesome destinations? Click the map below for some Google Maps wizardry, and you can start mentally planning your RV trip!
Planning Your Florida RV Road Trip – Tips and Advice
When renting an RV in Florida, it's important to consider the costs. No matter how much cash you have to spend, keeping an eye on your spending will help a ton in your planning.
It's also a good idea to brush up on the rules of the road for RVs and learn a few tips that are essential for any RV trip in Florida.  Let's break it down.
Small Pack Problems? 😉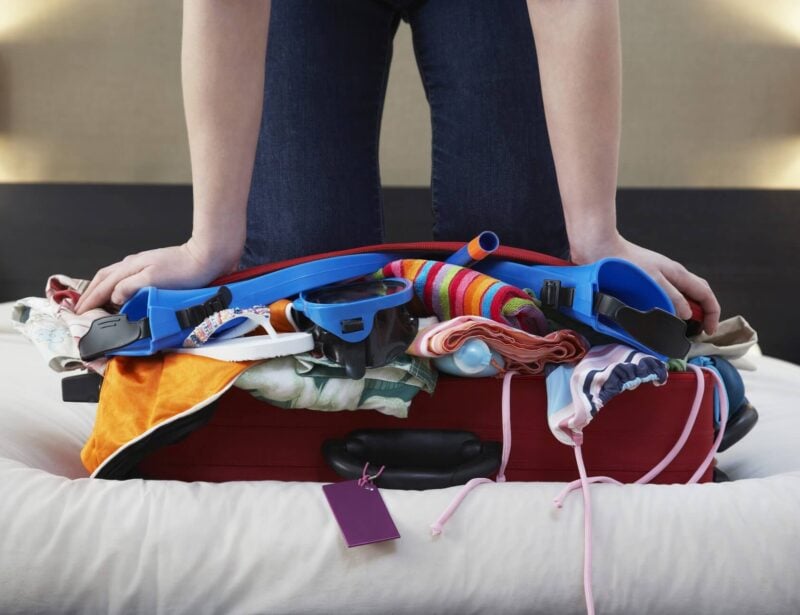 My missus travels with all her clothes in ziplock bags: don't be like my missus. UP YOUR PACKING GAME!
Packing cubes for the globetrotters and compression sacks for the real adventurers – these babies are a traveller's best kept secret. They organise yo' packing and minimise its volume too so you can pack MORE.
Or, y'know… you can stick to ziplock bags.
View Our Fave Cubes
Or Check Out the Sacks!
Planning a Trip Budget: Prices for Florida's RV Rentals, Parks, and Campsites 
For first-timers, the process of renting an RV might have put you off taking a trip in the past, but getting to grips with the Florida RV rental prices doesn't need to be confusing. It's straightforward, and much like renting a car or booking yourself a flight!
The time of year that you are looking to rent an RV will significantly alter the cost: in the height of summer, prices rise as more people want to hit the road for some sunshine. Age and size do matter: older models are usually cheaper, while larger luxury RVs are totally going to mean splashing some cash.
To help you out a little bit more, here's some more in-depth pricing for Florida rental RVs:
RV Rental Florida

| Range | RV Rental (per day) | Campsite/Park (per night) | Food and Drink for One (per day) |
| --- | --- | --- | --- |
| Budget Holidayer | $79-$100 (Trailers to smaller Class Cs/Bs) | $0-$30 | $7-20 |
| Treat Yo'Self | $110-$240 (Class Cs/Bs to smaller Class As) | $30-$40 | $35-45 |
| Luxury Living | $240-450 (Class As and luxury RVs) | $40-70 | $50+ |
And don't forget to factor rental insurance into your budget either! It may be expensive, however, not all insurance companies are created equal.
RentalCover.com has got your back. Their policies include all the common damages and come out cheaper than what you'll get at the rental desk
RV Packing List
Packing for an RV trip is something you need to take very seriously.
Yours is probably going to come equipped with a lot of goodies that are helpful on the road, but there are a few other items we think are essential for any RV trip you plan to take.
Surge protector
Electrical adapters
Extension cords
Electrical and duct tape
Battery jumper cables
Tire pressure gauge
Levelling blocks
Wheel chocks
Extra cotter pins
Extra motor oil and transmission fluid
Water pressure regulator
Drinking water hose
Toilet chemicals
Sewer kit
RV-friendly toilet paper
Shovel
Flashlight
Fire extinguisher
Emergency road assistance kit
Large zip-close bag for documentation
And as an added bonus, here's some excellent backpacking gear that our Broke Backpacker team adore. Suited for any trip… with or without wheels!
RV Packing List
Packing for a road trip is something you should take very seriously. Especially when an RV is added into the mix!
Yours is probably going to come equipped with a lot of goodies that are helpful on the road, but there are a few other items we think are essential for any RV trip you plan to take.
Surge protector
Electrical adapters
Extension cords
Electrical and duct tape
Battery jumper cables
Tire pressure gauge
Levelling blocks
Wheel chocks
Extra cotter pins
Extra motor oil and transmission fluid
Water pressure regulator
Drinking water hose
Toilet chemicals
Sewer kit
RV-friendly toilet paper
Shovel
Flashlight
Fire extinguisher
Emergency road assistance kit
Large zip-close bag for documentation
And as an added bonus, here's some excellent backpacking gear that our Broke Backpacker team adore. Suited for any trip… with or without wheels!
Never Leave Home Without It!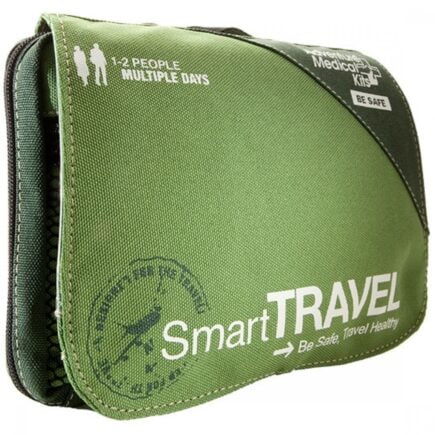 Never Leave Home Without It!
First Aid Kit
Even if you don't plan on doing anything too extreme on your trip, you never know what could happen. Cuts, bruises, scrapes, third-degree sunburn: a first aid kit will be able to handle most of these minor situations.
Keeps Your Brews Hot and Bevvies Cold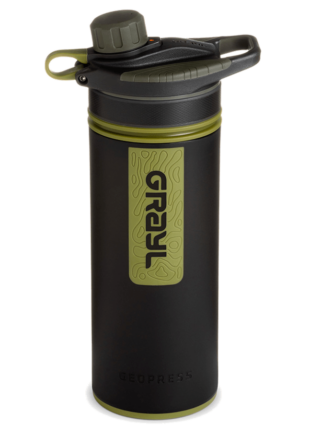 Keeps Your Brews Hot and Bevvies Cold
Grayl Geopress Water Bottle
Always travel with a water bottle! They save you money and reduce your plastic footprint on our planet. The Grayl Geopress acts as a purifier AND temperature regulator – so you can enjoy a cold red bull, or a hot coffee, no matter where you are.
So You Can See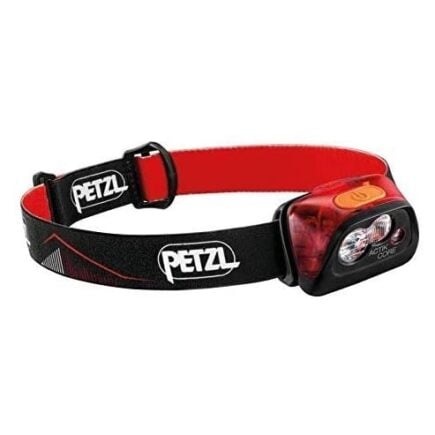 So You Can See
Petzl Actik Core Headlamp
Every traveller should have a head torch! A decent head torch could save your life. When you're camping, RVing, or just heading into the woods, a top-quality headlamp is a MUST. The Petzl Actik Core is an awesome piece of kit because it's USB chargeable—batteries begone!
The Most Massively Useful Thing an Interstellar Hitchhiker Can Have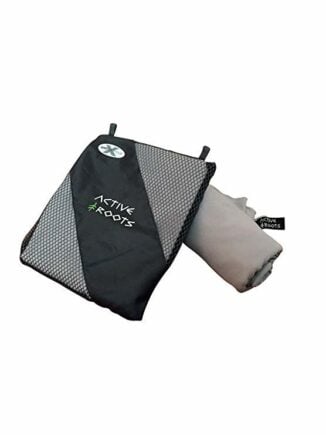 The Most Massively Useful Thing an Interstellar Hitchhiker Can Have
Active Roots Microfibre Towel
I dunno what to tell you—microfibre towels are the tits! They're so compact, they dry lighting fast, and they're just a real multi-purpose tool. Never go adventuring—on or off-world—without one!
Everyone Needs a Hammock
Everyone Needs a Hammock
Active Roots Camping Hammock
Hammocks are always practical: they're lightweight, cheap, strong, sexy (chicks dig hammocks), and allow you to pitch up for the night pretty much anywhere. The Active Roots Camping Hammock is one of the best on the market and most importantly… it's cheap!
In an RV, This is a Game-Changer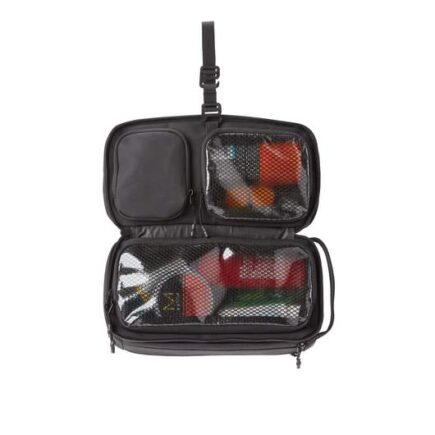 In an RV, This is a Game-Changer
Hanging Toiletry Bag
Oh man, hanging toiletry bags are a ridiculously efficient bit of gear for any travels. They keep all your unmentionables organised and they can be used anywhere—just hang it up and you're good to go! When you start living the RV-life, you'll never look back on the hanging toiletries game.
Tips for Renting an RV in Florida
Driving an RV is a little different from getting behind the wheel of a normal car. If you've never driven a larger vehicle before, or if you haven't driven one for a while, it can be helpful to brush up on your driving skills and get clued-up on rules and regulations.
To help you with that, we've listed a few things that can make your journey that much smoother:
Choose wisely – If you're a first-timer, don't get talked into driving some monster of a vehicle when you don't have any experience — it isn't fun.
Plan ahead – You can leave space to wing a few extra stops, but make a rough plan for your Florida road trip. This includes booking RV parks in advance.
Confirm your bookings – Call up the parks after booking a slot. Even if they say they accept RVs, some campsites have limitations in terms of age and model of the RVs they accept. It would suck to get turned away on arrival!
Don't rush it – Although it's good to plan ahead, having these "must be there by X time" pressures on your trip can only make things stressful and not fun. Just chill and enjoy the ride.
Know the game – Driving an RV comes with its own set of rules. There may be restrictions on larger vehicles parking in certain urban areas in Florida, for example. Always check for local parking regulations before leaving your RV unattended. And be considerate when you're parked up at a campground for the night. Be considerate and respectful to other campers.
Avoid cities – Sometimes they're unavoidable, but if you can help it, you should. Driving around the endless busy blocks is hellish to say the least, and everything is more expensive there.
Stay in lane – This is your big RV moment. Yes, we know it. But you'll appreciate not breaking the bank on your trip. Have a rough idea of what you want to spend per day and plan accordingly. Leave some room for mishaps!
Beware of add-ons – It really pays to know what you're paying for. Look for hidden costs and various add-ons that add unnecessary expense to your rental price. Always read the description on Outdoorsy & RVshare so you don't miss any important information.
Save $$$ • Save the Planet • Save Your Stomach!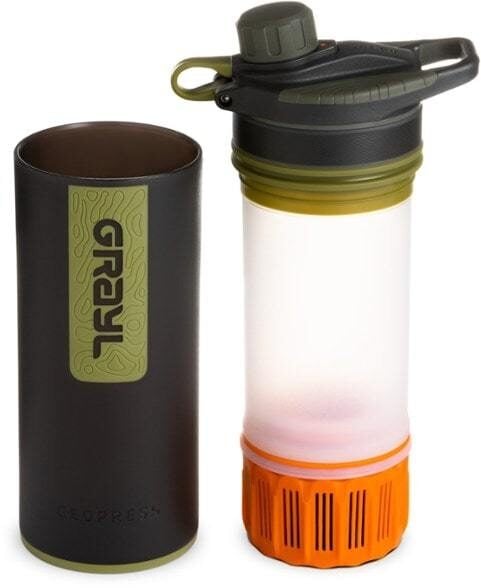 Drink water from ANYWHERE. The Grayl Geopress is the market's leading filtered water bottle protecting your tum from all the waterborne nasties. PLUS, you save money and the environment!
Single-use plastic bottles are a MASSIVE threat to marine life. Be a part of the solution and travel with a filter water bottle.
We've tested the Geopress rigorously from the icy heights of Pakistan to the tropical jungles of Cuba, and the results are in: it WORKS. Buy a Geopress: it's the last water bottle you'll ever buy.
Buy a Geopress!
Read the Review
Staying Safe in Your Rental RV
As I mentioned, driving an RV around is a whole new world of stress and exasperation. Imagine you'd been riding mules your whole life, caravanning across the desert wastes by way of ass. One day, suddenly, a mate asks you to park his woolly mammoth…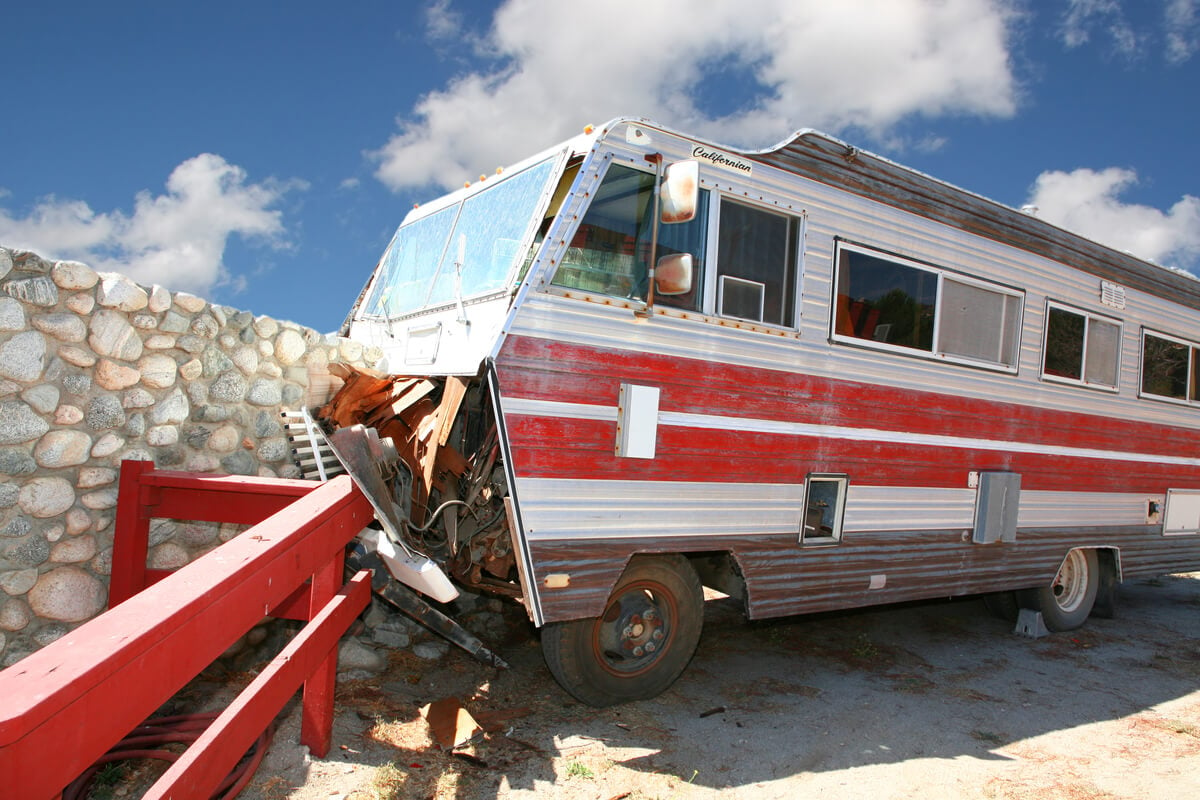 There are a couple of things you can do to make your RV trip to Florida smoother. One is to key yourself in on how to drive an RV safely. Two is to make sure that it's insured!
Shoutout from Will – The OG Broke Backpacker: Have fun on your backpacking adventure, but please do consider getting insurance—take it from someone who has racked up tens of thousands of bucks on an insurance claim before, you may need it.
Obviously, your RV is going to need insurance, but make sure your person is insured too! Travelling without insurance could be risky. Presenting The Broke Backpacker's go-to Insurer—World Nomads!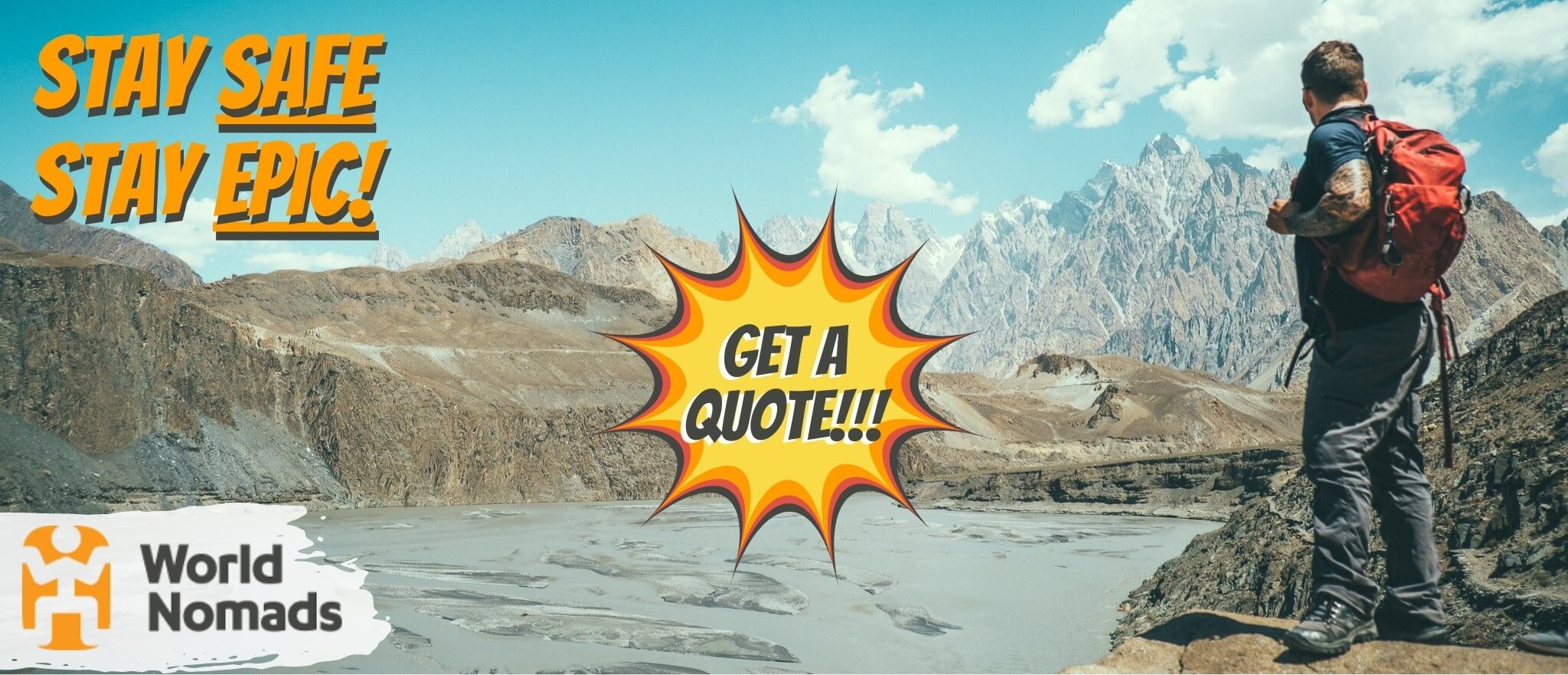 It's good to get lost sometimes, but it's also good not to get too lost. There are people that want you home in one piece.
There's one travel insurance provider The Broke Backpacker trusts for all his wildest shenanigans… World Nomads!
Click the button below to get a quote on your insurance or read our in-depth review of World Nomads' coverage. And then… let the shenanigans begin. 😉
Your Florida RV Rental is Waiting!
There you have it — you've juiced all the insider knowledge you could from our guide, and you're ready to hop on that sexy RV you found on the webs.
Hitting the road on an RV is an unbelievable experience. It's the type of journey that, once you're out there on the open road with your own set of wheels, you'll wonder why you didn't do it sooner.
And along those miles, there are all kinds of awesome RV parks to hit up. Hook yourself to the electricity, get the campfire going, and the beers flowing. 
If you're still feeling a little confused or unsure about renting an RV in Florida, double-check with Outdoorsy and RVshare. A quick search on the site will show you just how easy and straightforward the process is — and you'll soon have the RV of your dreams delivered to your door.
The timing has never been more perfect to go on this trip.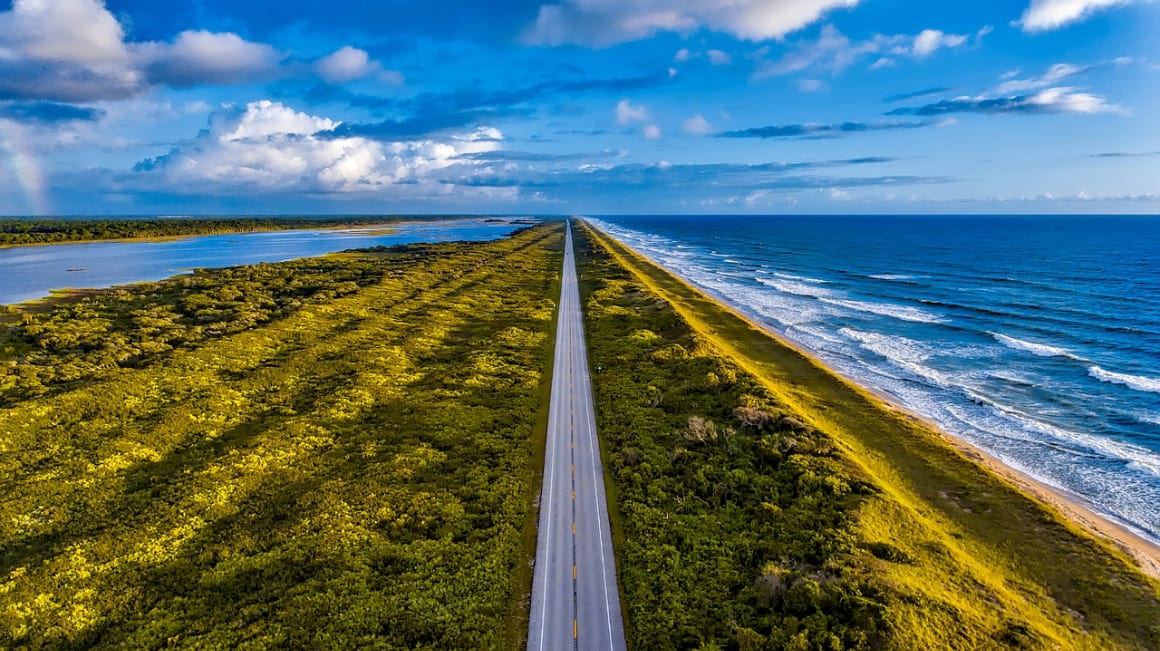 ---
Thanks for reading – that was fun! 😀
We bring you epic FREE content!
Find out how YOU can help support us.
We're a big site with a big team and this job isn't always easy. But we do it because we love it – we love providing epic and free content. We love the knowledge that our content keeps you adventuring. We don't ask for money, but if you'd like to find out how you can help the site in more organic ways, click the button below.
Thank you for your support 🙂
---
Bye for now, but not forever!
If you want MORE top-tier Broke Backpacker content like this, then sign up for our weekly newsletter below to get the latest and greatest!
And for transparency's sake, please know that some of the links in our content are affiliate links. That means that if you book your accommodation, buy your gear, or sort your insurance through our link, we earn a small commission (at no extra cost to you). That said, we only link to the gear we trust and never recommend services we don't believe are up to scratch. Again, thank you!