Houston is an awesome destination by itself. But Houston in road-trip mode is even better. Bagging yourself an RV in this area puts a whole lot of diversity at your fingertips — think giant swamps, beaches lapped by the Gulf, and desert landscapes, all with the Mexican border a stone's throw away.
However, if you know anything about RVs, you'll know that they're not always super straightforward for first-timers. Sifting through expensive rentals to find a good deal can be tiresome, and RV rental dealers aren't exactly known for being uber honest or generous.
Add to this the high-maintenance, hard-to-drive nature of RVs, and you've got yourself a pickle.
But help is at hand! We're here to make sure your road-trippin' days are unmatched in their epicness. Our guide to RV rentals in Houston covers it all: how to plan your trip, where to rent your RV from, awesome places to visit, and heaps more. Let's go!
Where to Rent an RV in Houston
No doubt you'll find a ton of RV dealers in Houston, all looking to sell you that RV dream with a dreamy rental to match. But there's no way of telling that any of them will have what you need — and for a fair price.
That's why we're all about sussing things out online. Online services give you so much more freedom and flexibility when renting an RV in Houston.
Online, there's less dealing with the RV dealers and more savings in your pocket. Plus, you get to book your RV in advance to avoid disappointment.
Outdoorsy – Airbnb for Vanlifers
Outdoorsy is an awesome website to start looking for that perfect rental RV in Houston. If you've never heard of this service before, no biggie. We're big fans, and we're going to tell you all about it.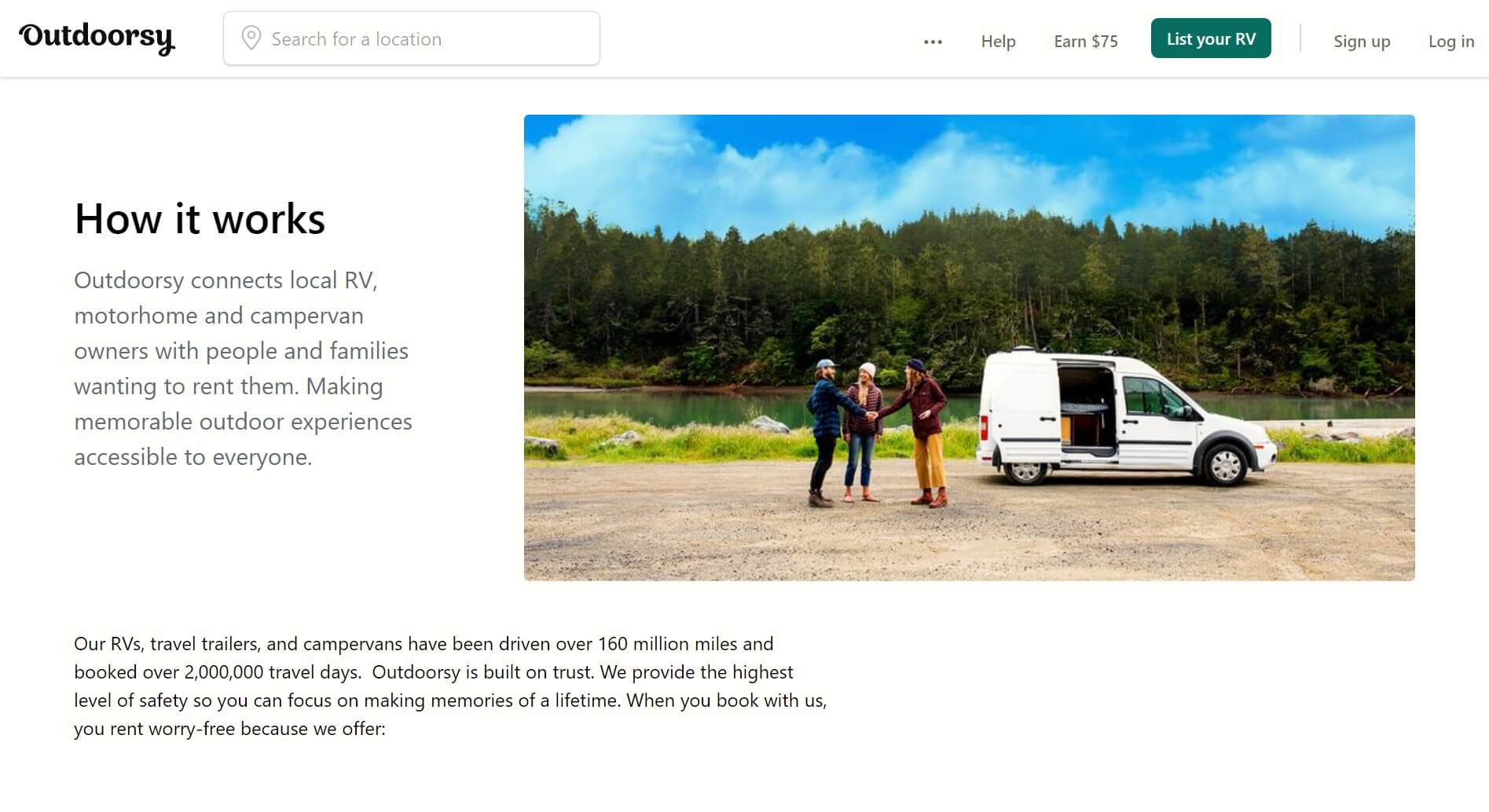 Outdoorsy removes the hassle from renting an RV: with no commitment to buying your own, a simple and straightforward booking process will put you on the road in no time.
It's just like Airbnb, but for homes on wheels. All you do is scroll through the listings, choose the one that suits you best, then see if it's available. Van life made easy.
There's a whole batch of awesome RVs on offer, so you're bound to find something that fits your style. From camping trailers to Airstreams and teardrop campers, they've got you covered.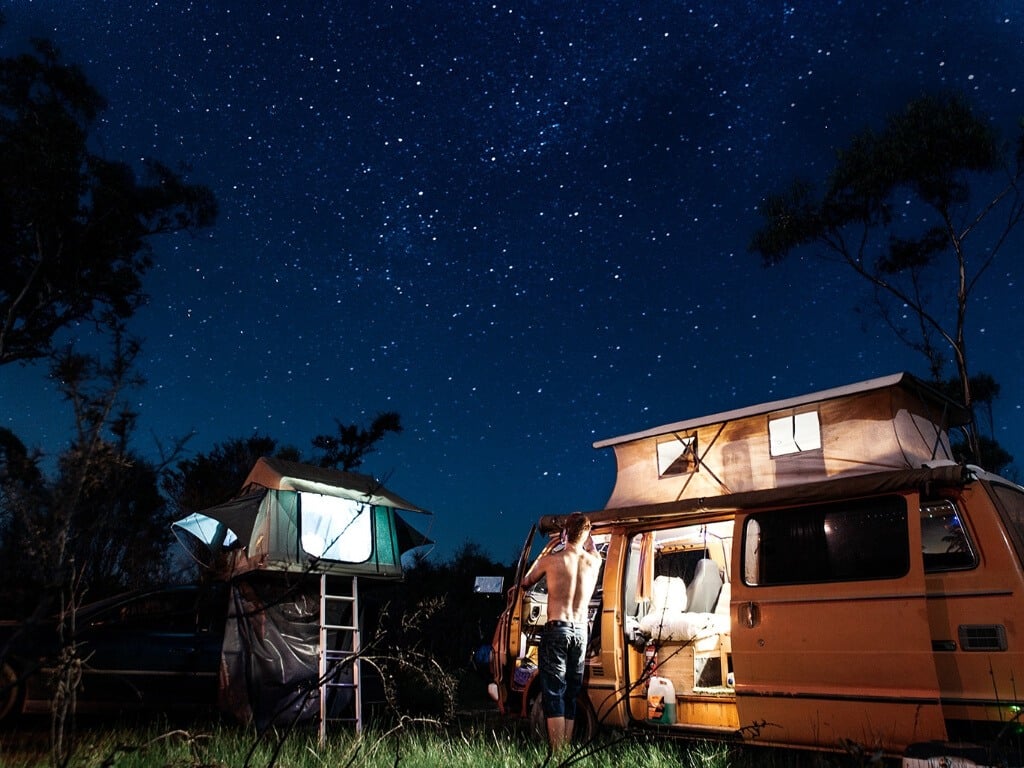 The best part is that you can make sure your RV is exactly what you want by reading the reviews. The site links you up with RV owners renting 'em out, so there's no middleman trying to fleece you. It's just you and another like-minded RV owner!
Using Outdoorsy means you'll have many more options than at your ordinary RV dealer in Houston. Whatever ride you want to explore nature with, you can have it!
Best RV Rental in Houston – Quick Pick!
Your very own shiny new RV
This brand spanking new RV ticks pretty much all the boxes. It's spacious, with enough room to sleep six – perfect for families, friends, and couples alike. It's super clean and it's functional. It even comes with a queen bed and a 40" TV! RV hire in Houston has never been so shiny and smooth.
Easy to drive!
Spacious and well designed.
Tons of add-ons available (e.g. "camping package" with chairs, grill etc.)
RVshare – More of the Excellent Same
When it comes to renting an RV in Houston online, Outdoorsy is just one of options you have. Another great one is RVshare, and it works just about the same way.
You'll be renting an RV from a local owner who takes good care of it, and it'll probably still be cheaper than most IRL deals.
RVshare has less choice than Outdoorsy, but you've got some killer perks to make up for it. Unlike Outdoorsy, RVshare offers one-way rentals for ALL listings.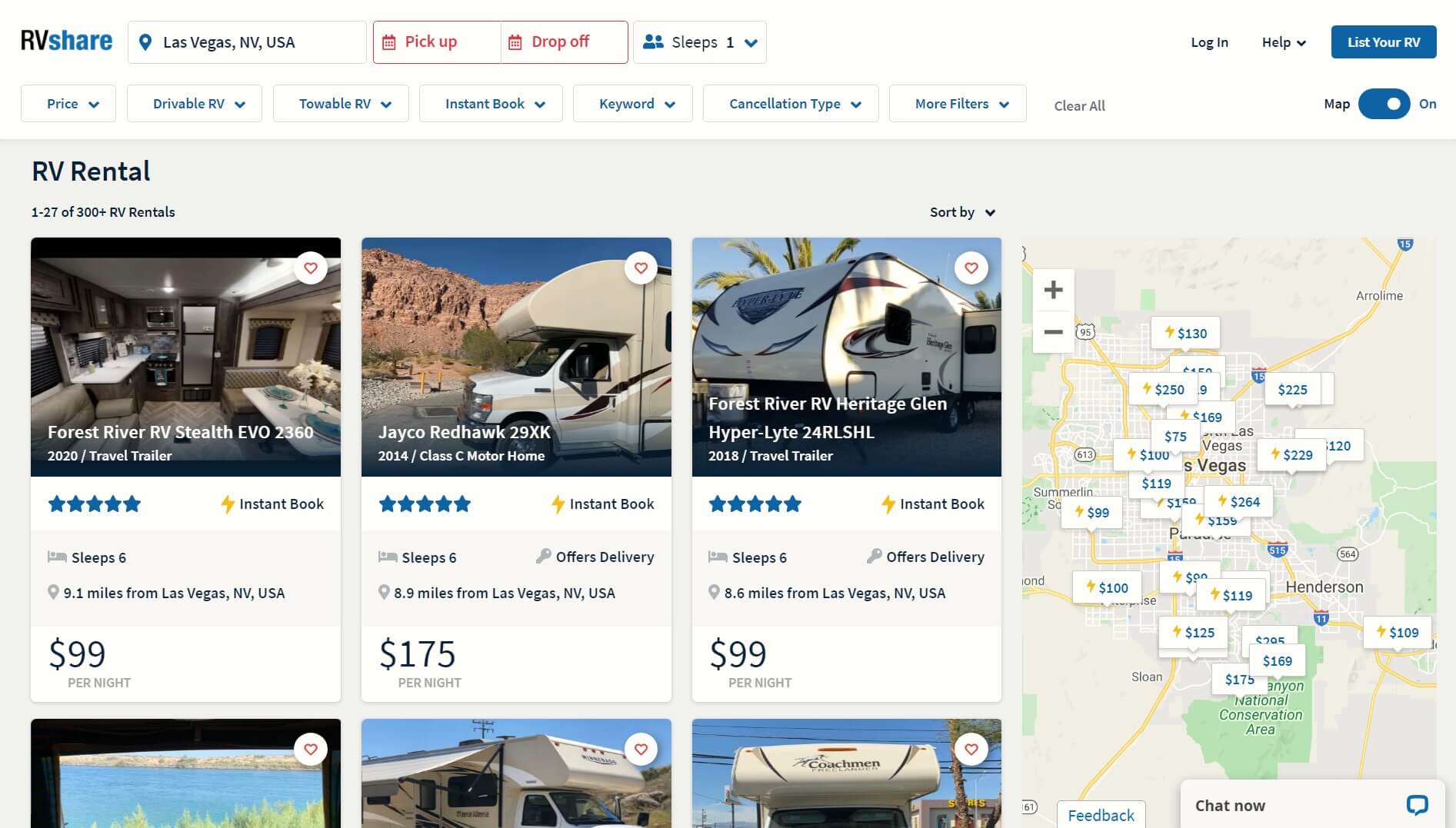 That means if you don't fancy a round-trip, and want to drive cross-country/cross-state with more flexibility, you can. They also deliver the RV right to your door, and that goes for any listing you may have your eyes on.
If you want a solid and classic ride, RVshare is your go-to. But if you're looking for something a little more exquisite, Outdoorsy is where it's at. It's really up to you.
No matter which website you pick to hire an RV in Houston, a trip full of adventures is always guaranteed!
Top Places to Go With an RV Near Houston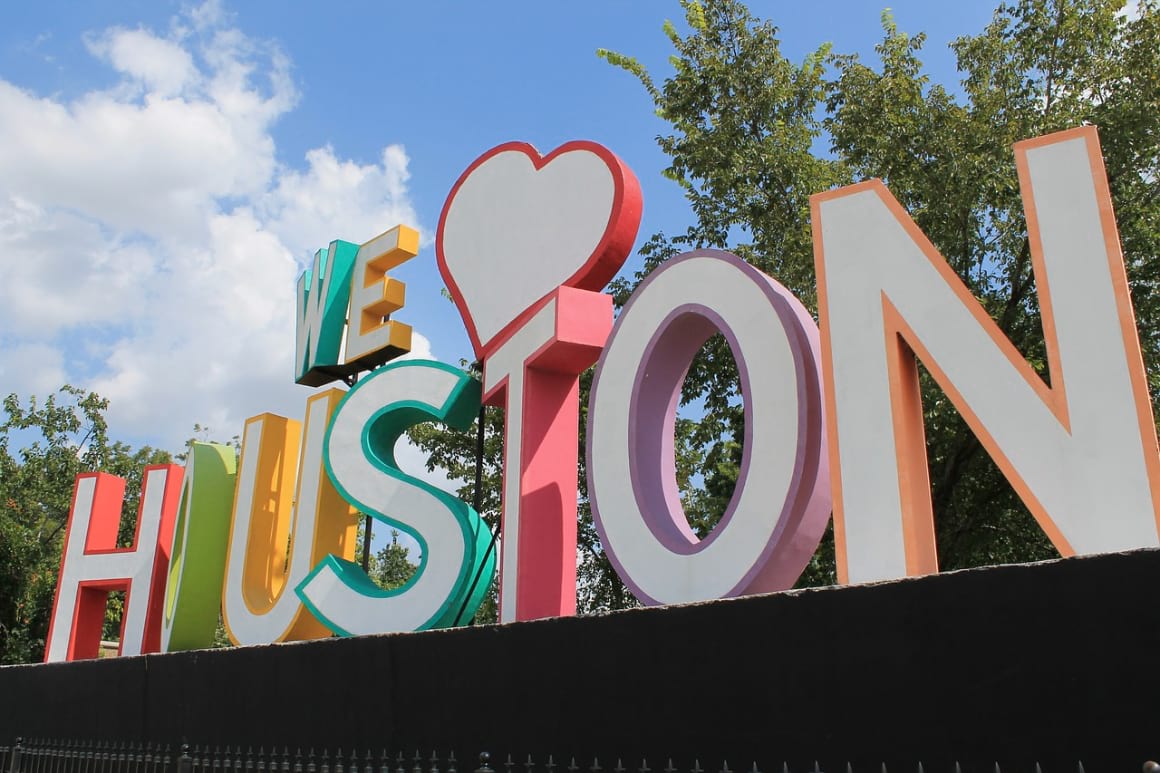 Now that you know all there is to know about RV rentals, it's time to take that baby for a spin. There are a lot of things you can do in Houston itself, but the secret lies in the surrounding area. Our mini guide below covers it all.
Having an RV for some Houston day trips sounds pretty epic. National parks, sprawling desert, rock formations, and far-out destinations… the road is your oyster! 
What is the One Item Every Traveller NEEDS???
There is one item every traveller NEEDS. Some travellers don't even know they need it, but those travellers need it more than anyone.
What is this forgotten essential of the backpacker-life? SPOILERS! Guess you'll just have to click the button to find out. 😉
Find Out What It Is!
Best National Parks Near Houston
You're going to find a ton of nature on your doorstep if you're hiring an RV in the Houston area. No matter which direction you drive in, there's really no wrong path.
There are so many national forests, preserves, and parks to hit up, all connected by epic drives through equally epic landscapes.
We're going to whet your appetite now with a few of our favourite bastions of nature near Houston!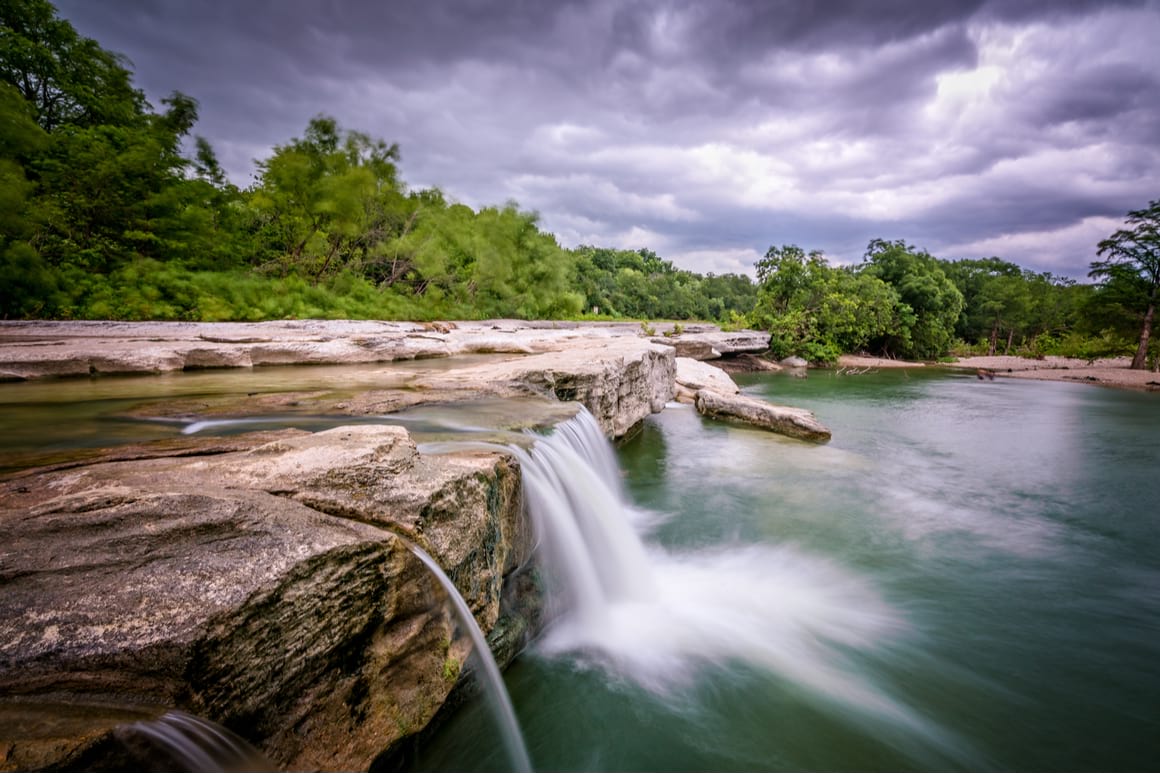 Get that engine running and head out on the highway to McKinney Falls State Park. The cruise here takes around two and a half hours and pretty much takes you all the way to Austin — the Texan capital of weird. But it's not that weird at the state park, don't worry. There are 80 campsites with developed RV plots across 641 acres of natural goodness.
Another option for your new Houston RV rental is Sabine National Forest. Situated 180 miles to the northeast, it should take you around three hours of pedal to the metal action to reach your destination. After the scenic drive, you can expect boardwalk strolls, woodland walkways, solitude, and lakeside sunsets in a sprawling 170,000-acre area.
Amistad National Recreation Area is an oasis in the middle of the desert. The drive there takes you through San Antonio and pretty much all the way to the Mexican border. It'll take you around 5.5 hours. Once you're there, choose from one of three campsites, and kayak your way around this confluence of the Rio Grande, Devil's River and the Pecos River.
Big Thicket Preserve
If you're renting an RV in Houston, Texas, why not see what the rest of the state has to offer? We can tell you it has a lot going on, and it is not short on incredible natural wonders.
One of these is Big Thicket Preserve, a UNESCO Biosphere Reserve set across 113,122 acres. It's sometimes touted as "America's Ark" for the sheer amount of plant and animal species that call this place home.
This patchwork of diversity is right at Houston's doorstep — an hour and 40-minute drive away, to be precise. 
It's best to take your time in this mystical realm. Wander in the woodlands, gawp at the pitcher plants, and marvel at bald cypress trees growing out of swampy waters.
It's like something from a Lord of the Rings set. Start at the visitor centre and friendly staff will help you plan your adventure in this atmospheric wonderland.
Want even more reasons to visit Big Thicket Preserve? The RV campsites here are clean and quiet, making them perfectly poised for a chilled, outdoorsy escape from the city.
Gulf Islands National Seashore
We bet you didn't think you could find somewhere as beautiful as this within a day's drive of Houston. It may be in next-door Louisiana, but still, it's a stunning location only a 6-hour coastal cruise away.
Gulf Islands National Seashore is a prime location to visit with your RV crew. Just pack it all up, hit the road and soon enough you'll have your naked feet on these powdery white sands. 
There's plenty of space to park up your RV, too. And we're pretty sure you won't be moving it anytime soon because this place is an absolute beauty. Days spent here mean chilling on the sand, splashing in the sea, and hopping on a boat tour around the Gulf Islands.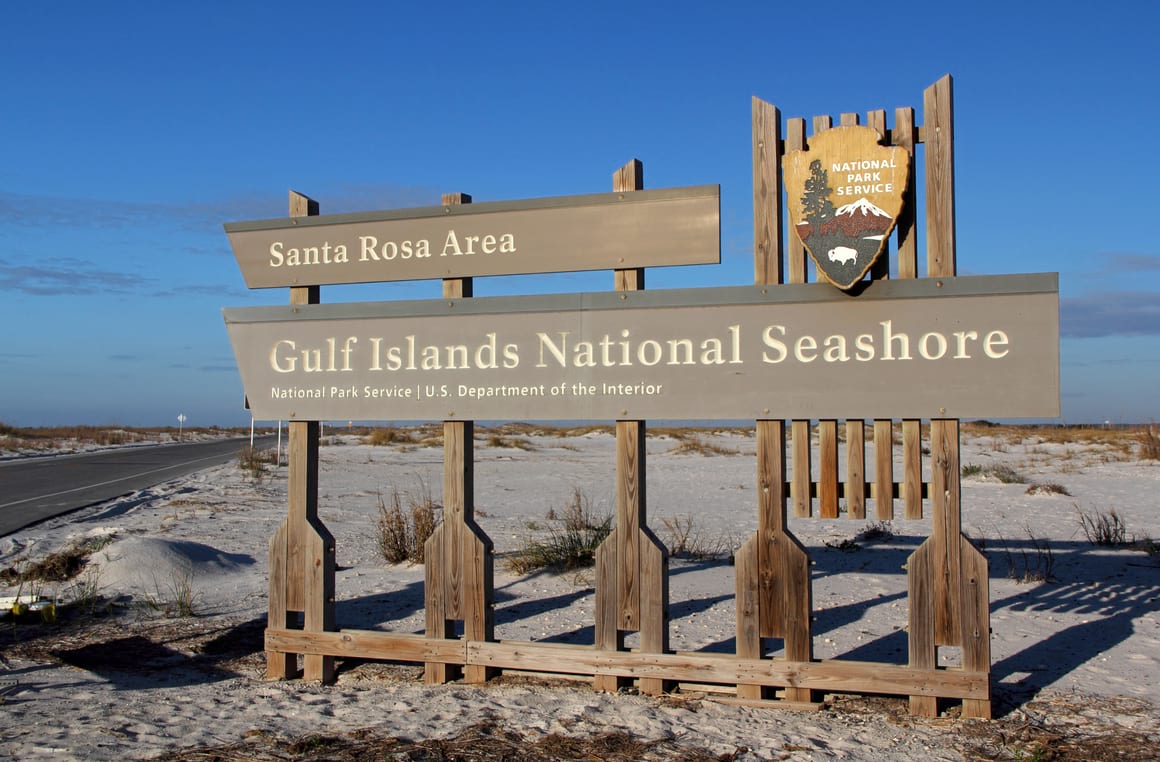 If you're worried that this spot is going to be completely overrun with tourists, don't be; it's unspoilt and secluded, so you're not likely to see many other tourists. 
To make it all even better, the route here actually takes you through New Orleans. Swing by en-route or on your way home for some Cajun and Creole food. What a spot!
2000+ Sites, Unlimited Access, 1 Year of Use – All. Absolutely. FREE!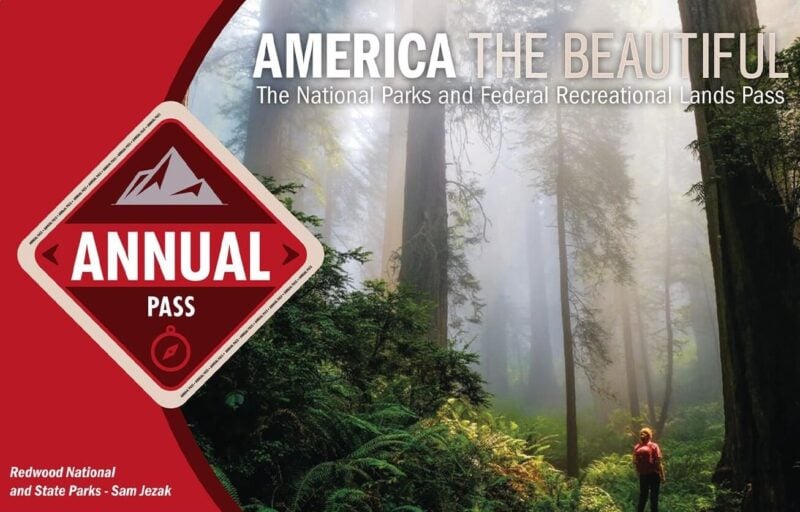 The USA is blisteringly beautiful. It's also blisteringly expensive! Visitng two national parks in day can run you $70+ in entry fees.
Orrrr… you kick those entry fees to the curb, buy an annual 'America the Beautiful Pass' for $79.99, and get unlimited access to ALL 2000+ federally managed sites in the States totally FREE!
You do the math. 😉
Buy the Pass!
Best Places to Visit in the Houston Area Mega-Map
Want to get your head around all these awesome destinations? Click the map below for some Google Maps magic, and you can start mentally planning your RV wanderings!
Planning Your Houston RV Road Trip – Tips and Advice
Now that you're suitably pumped with all those road trips in Texas and nature you can explore, it's time to bring you down to Earth for some crucial information.
It's important to keep in mind all "boring" stuff when renting an RV in Houston. We're talking budgets, laws you can't break, and how to keep you and your rental safe. Let's hop right to it!
Small Pack Problems? 😉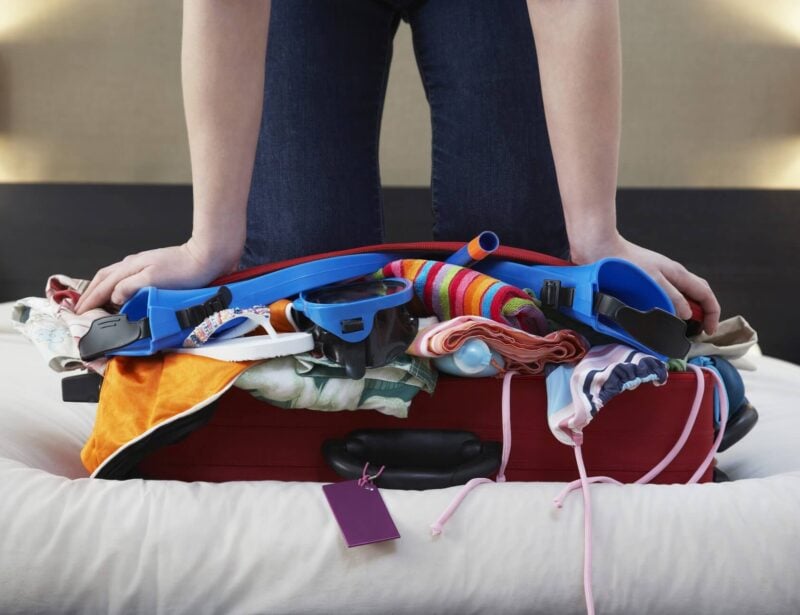 My missus travels with all her clothes in ziplock bags: don't be like my missus. UP YOUR PACKING GAME!
Packing cubes for the globetrotters and compression sacks for the real adventurers – these babies are a traveller's best kept secret. They organise yo' packing and minimise its volume too so you can pack MORE.
Or, y'know… you can stick to ziplock bags.
View Our Fave Cubes
Or Check Out the Sacks!
Planning a Trip Budget: Prices for Houston's RV Rentals, Parks, and Campsites 
The price of your RV is going to differ based on a few factors. Prices in peak season can be higher and the age, miles, and model of your RV might also alter the price. We've put together a neat overview to give you a rough idea of what your spending will look like:
| Range | RV Rental (per day) | Campsite/Park (per night) | Food and Drink for One (per day) |
| --- | --- | --- | --- |
| Budget Holidayer | $80-$110 (Trailers to smaller Class Cs/Bs) | $0-$30 | $10-30 |
| Treat Yo'Self | $120-$210 (Class Cs/Bs to smaller Class As) | $30-$50 | $30-50 |
| Luxury Living | $220-380 (Class As and luxury RVs) | $50-80 | $50+ |
And don't forget to factor rental insurance into your budget either! It may be expensive, but you will be thankful you got it when the time comes.
RentalCover.com has got your back. Their policies include all the common damages and come out cheaper than what you'll get at the rental desk.
Get Your Cover Now
RV Packing List
Packing for an RV trip is something you need to take very seriously.
Yours is probably going to come equipped with a lot of goodies that are helpful on the road, but there are a few other items we think are essential for any RV trip you plan to take.
Surge protector
Electrical adapters
Extension cords
Electrical and duct tape
Battery jumper cables
Tire pressure gauge
Levelling blocks
Wheel chocks
Extra cotter pins
Extra motor oil and transmission fluid
Water pressure regulator
Drinking water hose
Toilet chemicals
Sewer kit
RV-friendly toilet paper
Shovel
Flashlight
Fire extinguisher
Emergency road assistance kit
Large zip-close bag for documentation
And as an added bonus, here's some excellent backpacking gear that our Broke Backpacker team adore. Suited for any trip… with or without wheels!
RV Packing List
Packing for a road trip is something you should take very seriously. Especially when an RV is added into the mix!
Yours is probably going to come equipped with a lot of goodies that are helpful on the road, but there are a few other items we think are essential for any RV trip you plan to take.
Surge protector
Electrical adapters
Extension cords
Electrical and duct tape
Battery jumper cables
Tire pressure gauge
Levelling blocks
Wheel chocks
Extra cotter pins
Extra motor oil and transmission fluid
Water pressure regulator
Drinking water hose
Toilet chemicals
Sewer kit
RV-friendly toilet paper
Shovel
Flashlight
Fire extinguisher
Emergency road assistance kit
Large zip-close bag for documentation
And as an added bonus, here's some excellent backpacking gear that our Broke Backpacker team adore. Suited for any trip… with or without wheels!
Never Leave Home Without It!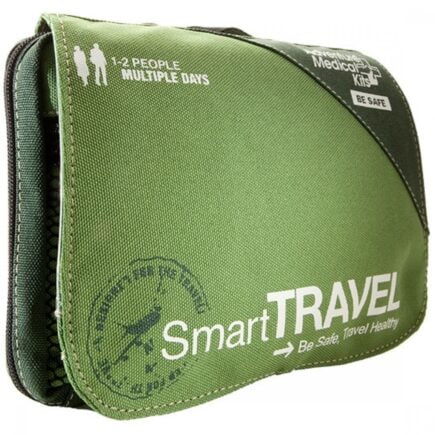 Never Leave Home Without It!
First Aid Kit
Even if you don't plan on doing anything too extreme on your trip, you never know what could happen. Cuts, bruises, scrapes, third-degree sunburn: a first aid kit will be able to handle most of these minor situations.
Keeps Your Brews Hot and Bevvies Cold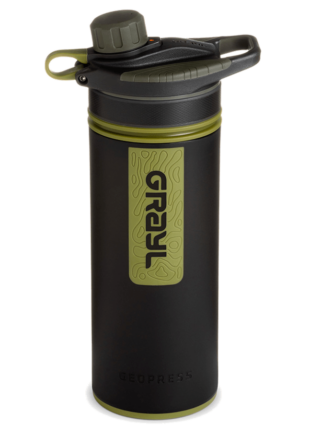 Keeps Your Brews Hot and Bevvies Cold
Grayl Geopress Water Bottle
Always travel with a water bottle! They save you money and reduce your plastic footprint on our planet. The Grayl Geopress acts as a purifier AND temperature regulator – so you can enjoy a cold red bull, or a hot coffee, no matter where you are.
So You Can See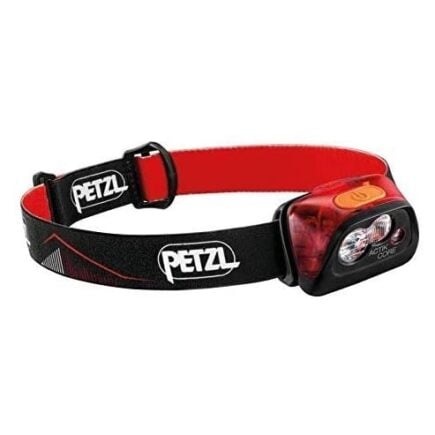 So You Can See
Petzl Actik Core Headlamp
Every traveller should have a head torch! A decent head torch could save your life. When you're camping, RVing, or just heading into the woods, a top-quality headlamp is a MUST. The Petzl Actik Core is an awesome piece of kit because it's USB chargeable—batteries begone!
The Most Massively Useful Thing an Interstellar Hitchhiker Can Have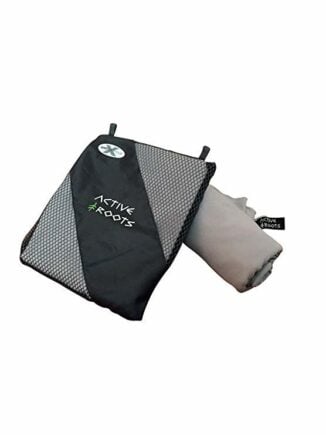 The Most Massively Useful Thing an Interstellar Hitchhiker Can Have
Active Roots Microfibre Towel
I dunno what to tell you—microfibre towels are the tits! They're so compact, they dry lighting fast, and they're just a real multi-purpose tool. Never go adventuring—on or off-world—without one!
Everyone Needs a Hammock
Everyone Needs a Hammock
Active Roots Camping Hammock
Hammocks are always practical: they're lightweight, cheap, strong, sexy (chicks dig hammocks), and allow you to pitch up for the night pretty much anywhere. The Active Roots Camping Hammock is one of the best on the market and most importantly… it's cheap!
In an RV, This is a Game-Changer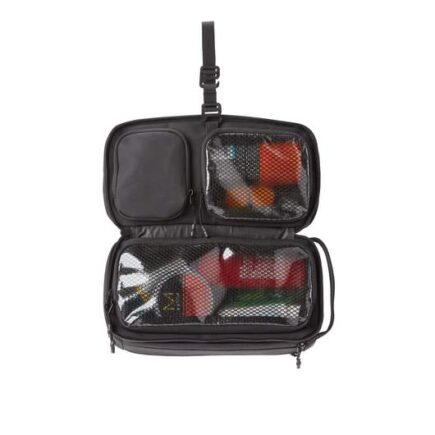 In an RV, This is a Game-Changer
Hanging Toiletry Bag
Oh man, hanging toiletry bags are a ridiculously efficient bit of gear for any travels. They keep all your unmentionables organised and they can be used anywhere—just hang it up and you're good to go! When you start living the RV-life, you'll never look back on the hanging toiletries game.
Tips for Renting an RV in Houston
If you've never driven an RV before, you'll probably be better off with some tips. Driving a car is one thing, but driving something that's basically three cars stuck together takes some learnin'. Plus, these behemoths literally have different rules to your regular four-wheeled beasts. 
Here are some must-knows…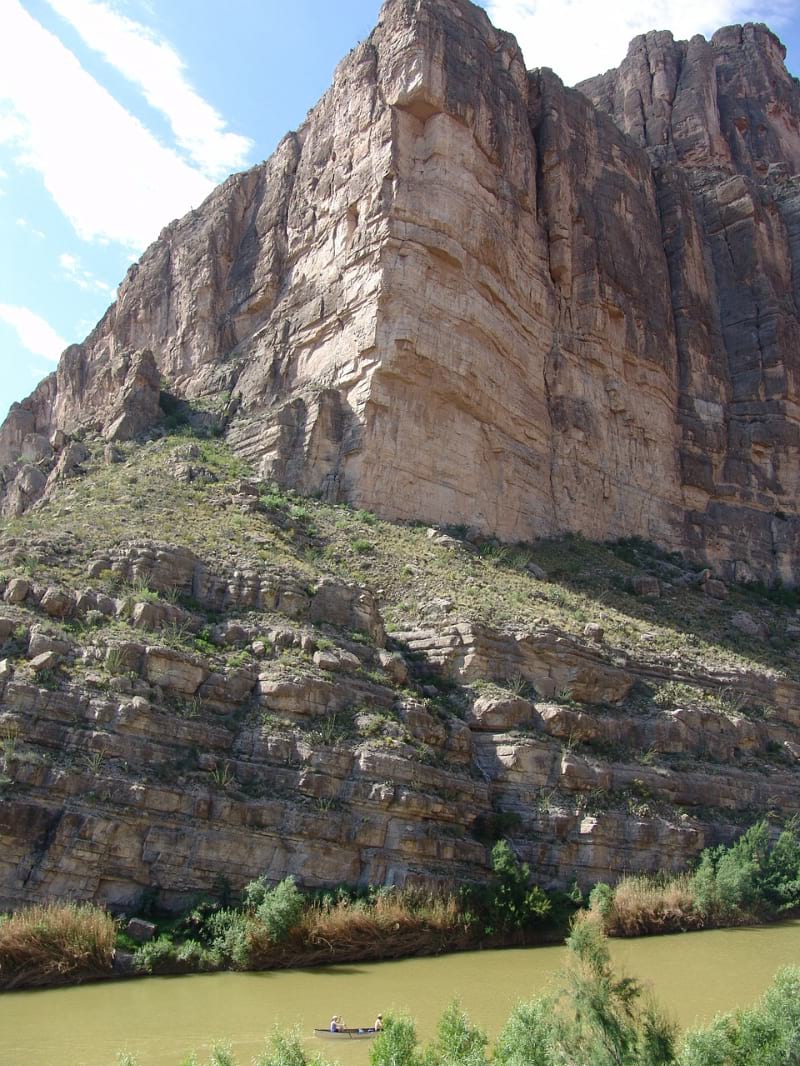 Know Your RV Parking Rules – Let's start at the beginning. Houston's RV parking rules are pretty straightforward. You cannot park your freshly rented RV on a public street in any residential area. You can park on a residential lot, but for no longer than 72 hours at a time. And only for cleaning, loading, trip-prepping – not for overnighting!
Don't Stay In Cities – Cities are just expensive. Head to the countryside and experience a more budget-friendly adventure. Plus, if you rent an RV from Houston, why the heck would you stay in Houston anyway?
Plan Your Trip – Stay ahead of the game and never be stuck driving around in the night looking for somewhere to crash. RV parks can fill up quickly, so it's best to reserve your spot. Plus, having somewhere to aim for rather than aimlessly looking for a place in the dark is just… better. Miles better.
Confirm Your Booking –  It's always good to follow up your booking with a call. "Hi, I'm X, and I have X RV, I'm calling to confirm my booking…" Some RV parks can be tricksy and turn away certain RV sizes and ages. A casual call is all it takes to find out if that's the case.
Rent An RV That Suits YOU – There are literally a ton of different RVs out there, so no matter what you're looking for, you're gonna find it. Want a big-ass bus? Sure thing. Something small and vintage? Not a problem. But it's no good following the advice of someone who isn't you – you don't want to be stuck driving in some gigantic vehicle that was great for them, but too much for what you need.
Get Your Finances Down – Budgeting is super important. It's easy to think that RVing is automatically cheaper, but let's face it: a road-trip is still a vacay. Chowing down at local diners, per-night costs at RV parks and national park entrance fees add up. Keep track of your moolah, and chances are it'll go further. 
Read The Fine Print – Some RV rentals, even online, can come with a whole bunch of extras to consider. Some of them may not reflect the price they're advertised with, so read carefully and always ask questions if you're not sure. Paying for something you didn't know you were supposed to leaves a bad taste.
Your Phone Can Help You – A ton of other people vanlife it in RVs across the nation, so it's no wonder really that there are a whole host of awesome apps to really amp up the experience. One of these is RV Trip Wizard, which will point you in the right direction for just about everything – from gas stations to places to hit up along the way.
Save $$$ • Save the Planet • Save Your Stomach!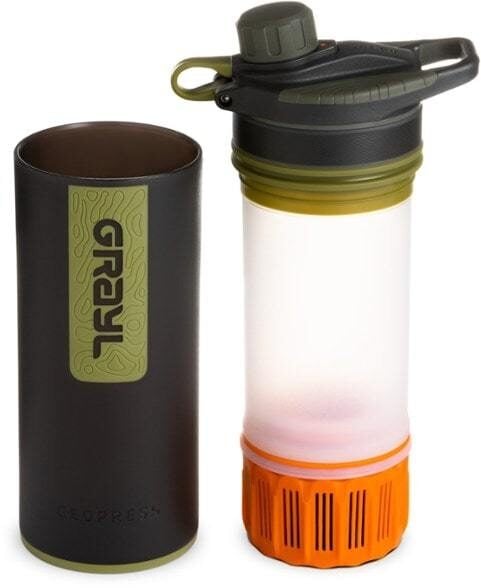 Drink water from ANYWHERE. The Grayl Geopress is the market's leading filtered water bottle protecting your tum from all the waterborne nasties. PLUS, you save money and the environment!
Single-use plastic bottles are a MASSIVE threat to marine life. Be a part of the solution and travel with a filter water bottle.
We've tested the Geopress rigorously from the icy heights of Pakistan to the tropical jungles of Cuba, and the results are in: it WORKS. Buy a Geopress: it's the last water bottle you'll ever buy.
Buy a Geopress!
Read the Review
Staying Safe in Your Rental RV
As I mentioned, driving an RV around can mean a whole new world of stress and exasperation. Imagine you'd been riding mules your whole life, caravanning across the desert wastes by way of ass. One day, suddenly, a mate asks you to park his woolly mammoth…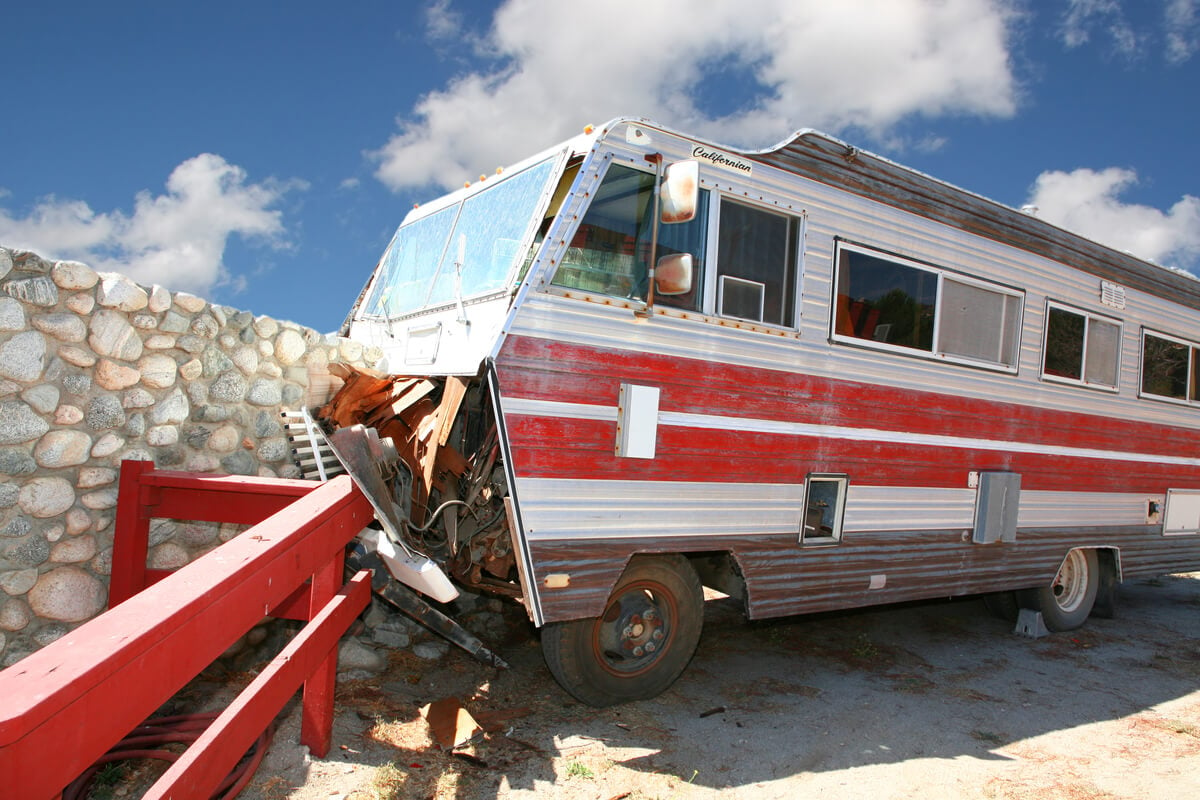 There are a couple of things you can do to make your RV trip to Houston smoother. One is to key yourself in on how to drive an RV safely. Two is to make sure that it's insured!
Obviously, your RV is going to need insurance, but make sure your person is insured too! Travelling without insurance could be risky. Presenting The Broke Backpacker's go-to Insurer—World Nomads!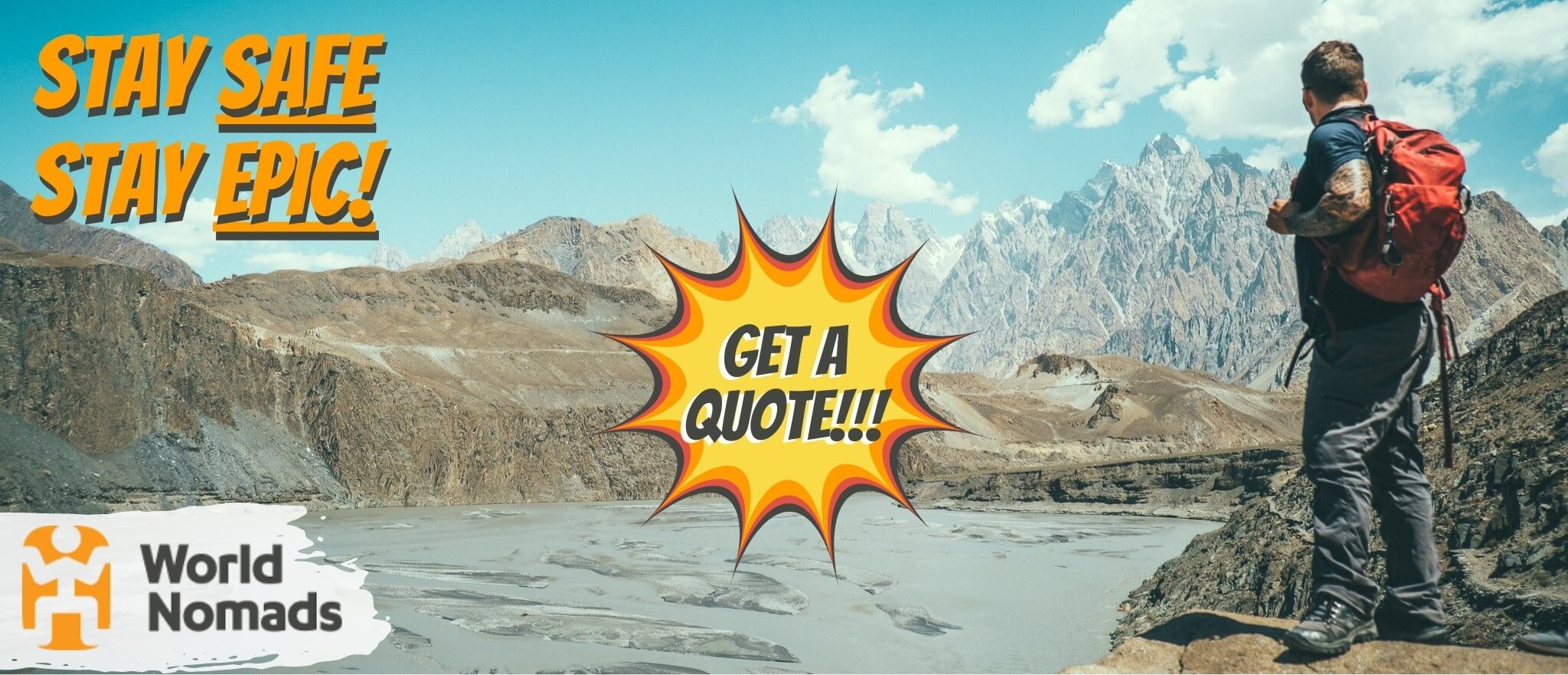 It's good to get lost sometimes, but it's also good not to get too lost. There are people that want you home in one piece.
There's one travel insurance provider The Broke Backpacker trusts for all his wildest shenanigans… World Nomads!
Click the button below to get a quote on your insurance or read our in-depth review of World Nomads' coverage. And then… let the shenanigans begin. 😉
Your Houston RV Rental is Waiting!
Congratulations, you've reached the end of our guide to renting an RV in Houston. By now, you should be totally clued up and ready for an awesome trip. Houston is waiting for you!
Not only does this Texan city have a ton of different RVs for you to choose from, but there are some awesome destinations to drive 'em to as well! We're stoked just thinking about these places, so you're gonna be extra stoked planning your road-trip here!
Just remember: you don't have to rent from IRL RV dealers! With awesome sites like Outdoorsy and RVshare giving RVs the Airbnb treatment, vanlife has never been so easy.
---
Thanks for reading – that was fun! 😀
We bring you epic FREE content!
Find out how YOU can help support us.
We're a big site with a big team and this job isn't always easy. But we do it because we love it – we love providing epic and free content. We love the knowledge that our content keeps you adventuring. We don't ask for money, but if you'd like to find out how you can help the site in more organic ways, click the button below.
Thank you for your support 🙂
---
Bye for now, but not forever!
If you want MORE top-tier Broke Backpacker content like this, then sign up for our weekly newsletter below to get the latest and greatest!
And for transparency's sake, please know that some of the links in our content are affiliate links. That means that if you book your accommodation, buy your gear, or sort your insurance through our link, we earn a small commission (at no extra cost to you). That said, we only link to the gear we trust and never recommend services we don't believe are up to scratch. Again, thank you!