When it comes to nature, Michigan's got it down like few other states do. It's made up of two separate peninsulas, and boasts shorelines from Lake Erie and Lake Huron, to Lake Michigan and Lake Superior.
It's suitably called the "Great Lakes State", and it's a great one for exploring them, as well as all the beaches and forests in the area.
And the best way to take yourself on a Great Lakes adventure in Michigan is by hitting the road in an RV. The freedom and convenience are truly unrivalled…
But if the world of RVs is totally new to you, things can get scary. Where do you even go? And how do you find one?
The purpose of this article is to provide you with an in-depth guide on everything you need to know to rent an RV in Michigan. How to avoid being tricked by an RV dealer, how to stay safe and where to take it for a ride.
Come along, 'cause it's time to hit the road!
Where to Rent an RV in Michigan
For your first RV road trip in Michigan, you might be wondering where to get one and which model is right for your trip.
Let's be honest. The number of RV dealers and websites claiming to have the best deal isn't making things any easier for you.
The first thing you should think about is what you need from your RV. Working out the size and features will make your search efforts a lot more straightforward. But even if you know the type of RV you want, the confusing jargon and hidden add-ons can still be a bitch…
Things don't have to be that way, though. We're here to show you the best way to rent an RV in Michigan online. How to cut all the middleman crap, do it in your own time, and get the best deal possible. Chop chop!
Outdoorsy – Airbnb for Vanlifers
When you google "RV rentals in Michigan", it's easy to see why the choice is overwhelming. But the days of scrolling through countless providers and dodgy dealers are over…
Outdoorsy is here to save the day! Much like Airbnb, but for RVs, the site is extremely easy to use and will have you scrolling through some sweet rides in just a matter of seconds.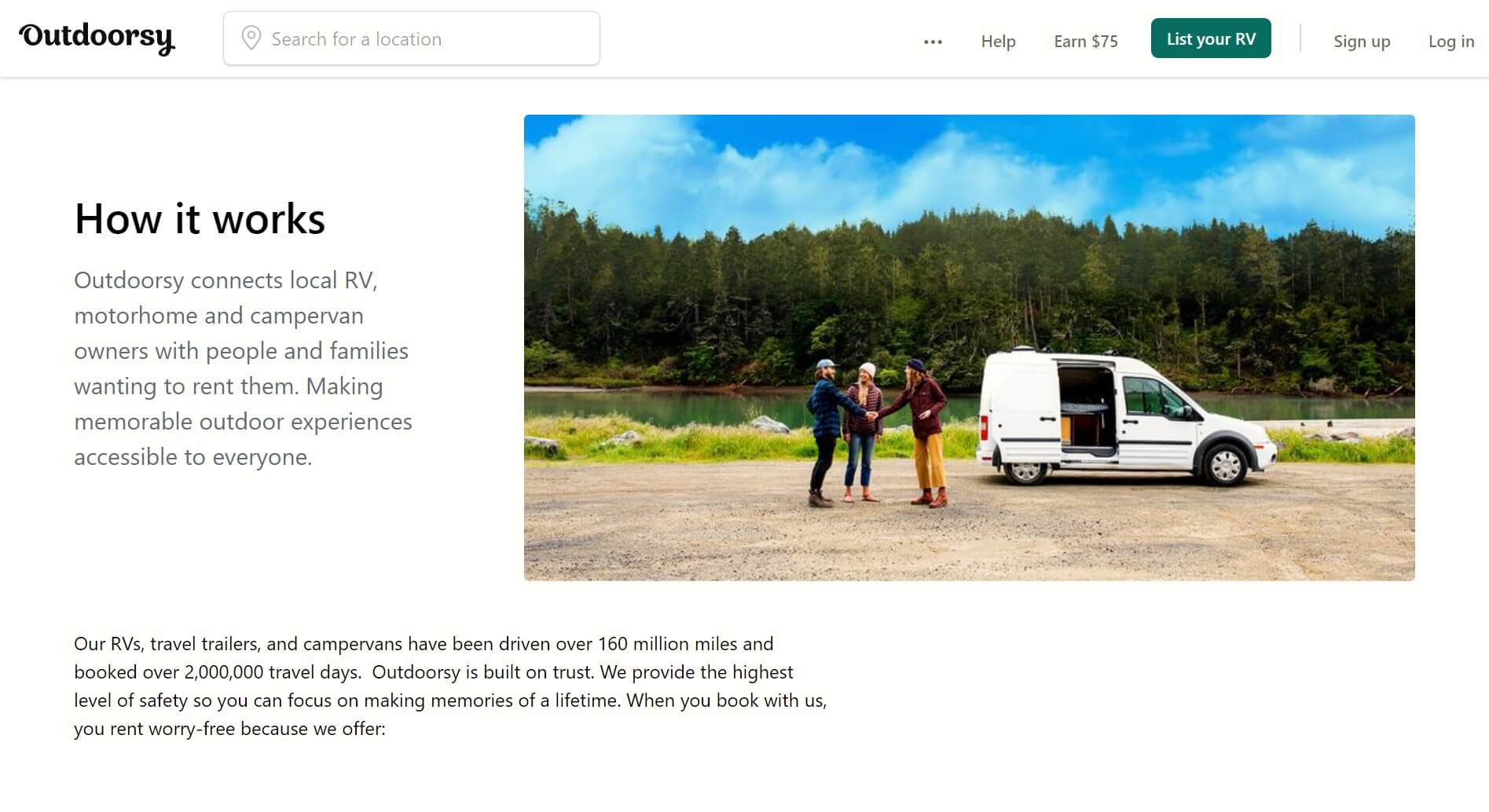 Outdoorsy connects RV owners with cool kids like you. And just as your usual Airbnb setup, all you have to do is add your days, budget, and see what options are on offer.
The coolest thing about it is that you get in touch with the owners directly. And besides friendly, they usually take excellent care of their RV.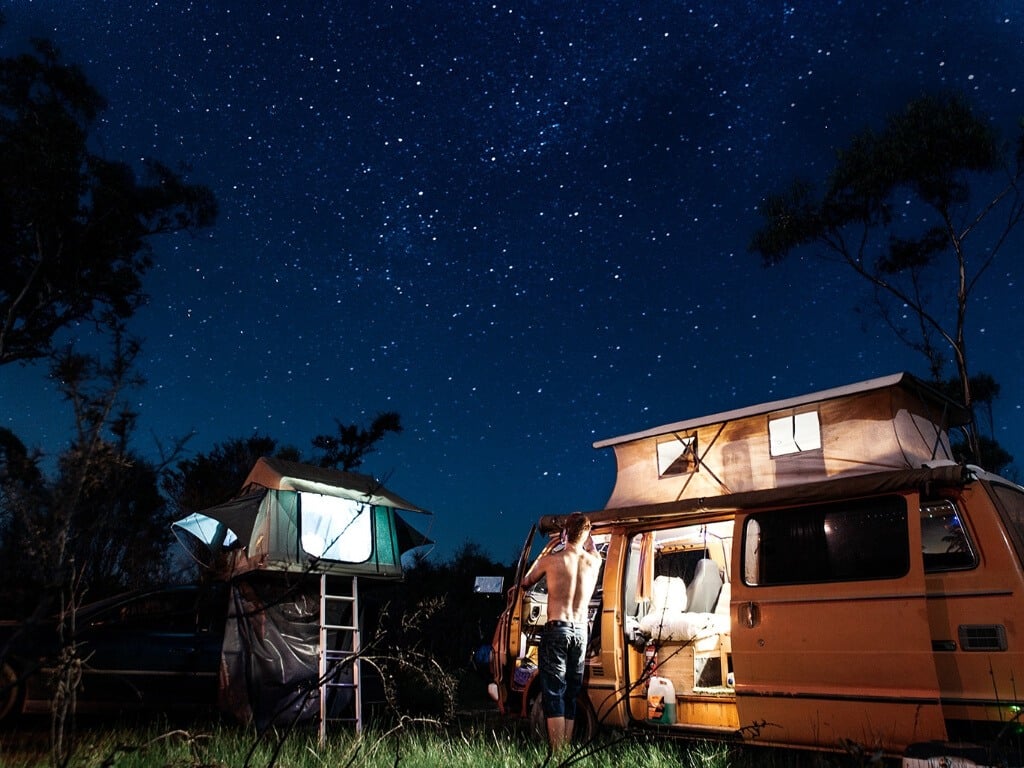 There's a ton of different RVs on the site, so you can really dig deep to find the make and model that suits your style. Some of them are awesome vintage vans, while others will feel more like small homes. If you're going for a little bit more of luxury for your trip, it's also there.
No matter what type of RV you end up going for, chances are you will find it on Outdoorsy. Plus, you'll be renting somebody's much loved holiday home. Check out the reviews left by past renters to get a deeper insight into who the owners are, read the fine print, and ask away!
Best RV Rental in Michigan – Quick Pick!
Your Cool New Home on the Road
If you're looking to rent an RV in Michigan, this sleek ride could be the one for you. A brand new mode with enough room to sleep 6 people. Loaded with a fully equipped kitchen and a pull-out entertainment center for when you want a movie night. Not only does it look cool, but the turbo-diesel engine has enough power to get you along mountain roads (and maneuvers like a dream). This is the ideal model for a first-timer who wants to go adventuring on a weekend away or even a cross-country road trip.
Great for first-timers
Entertainment center for music and movies
Fully Wifi enabled
RVshare – More of the Excellent Same
Outdoorsy isn't the only online service out there killing it with an Airbnb-style platform for RVs. Meet another team fave: RVshare.
It does pretty much the same as Outdoorsy, but they do differ on a few levels. You start similarly, by putting in your dates, where you want to go, and what your budget is.
But here's where things get really interesting: RVshare offers the option for one-way rentals. That means you can road trip from A to B without having to worry about looping back just to return the RV. And you can get it delivered to your door with their drop-off service!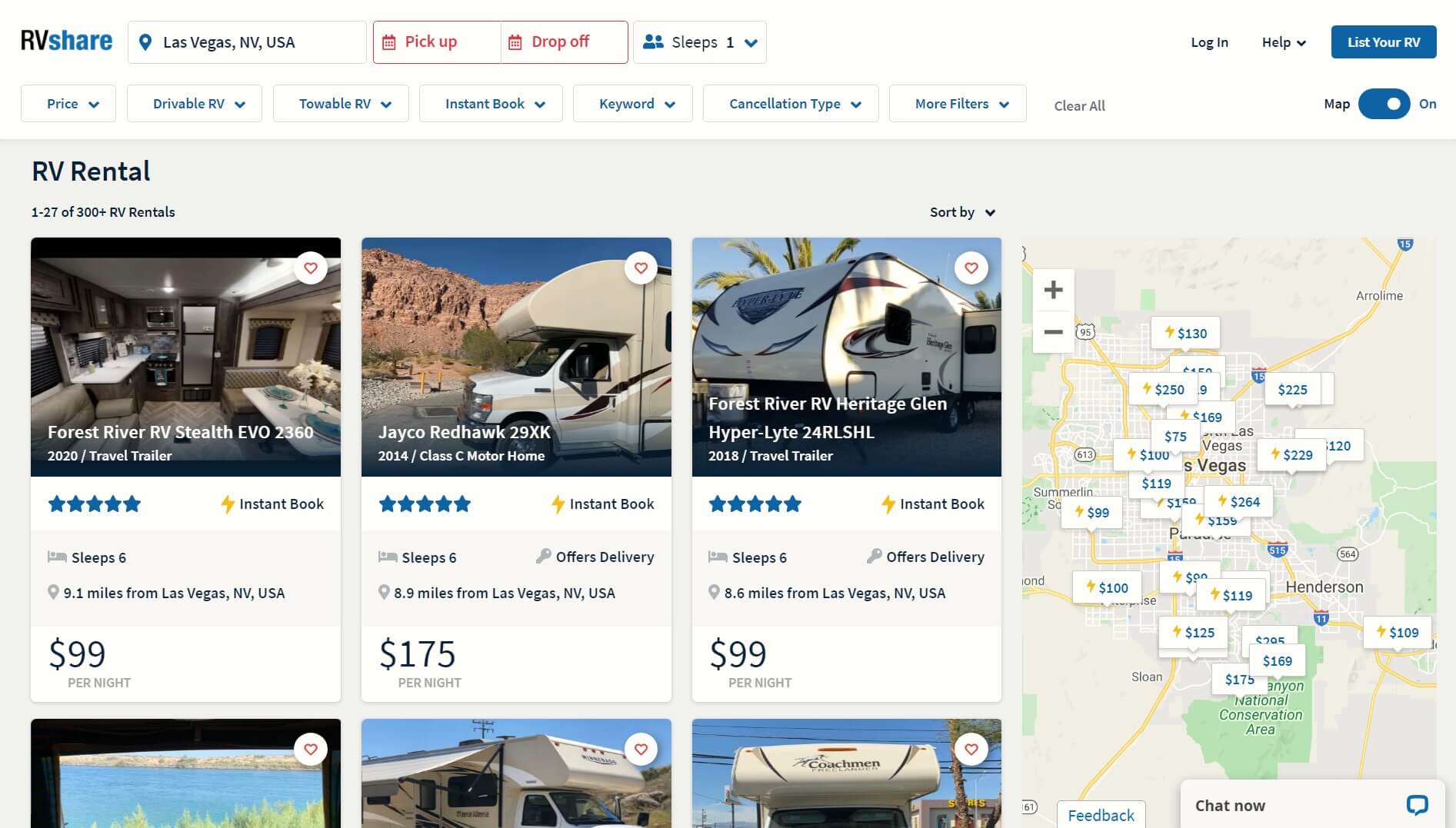 Outdoorsy offers the same drop-off service, but only at the owner's discretion, whereas RVshare has it available for every listing. They handle both the drop-offs and the pickups for when you take it one-way.
It's pretty evident that Outdoorsy has a wider and more varied choice, but if you're not looking for anything super fancy, RVshare will still do the job.
RVshare also takes the lead in terms of convenient perks, so it really depends on what you're going for. Either will easily score you an RV rental in Michigan.
Top Places to Go With an RV Near Michigan
So, now that you know the best way to rent an RV in Michigan, it's time we jump into the next stage. Where should you take that bad boy for a spin?
Road trips on the East Coast have a lot of awesome nature to explore, especially in Michigan! If you're completely new to the idea of road tripping through the Great Lakes, we've listed a few places to whet your appetite.
What is the One Item Every Traveller NEEDS???
There is one item every traveller NEEDS. Some travellers don't even know they need it, but those travellers need it more than anyone.
What is this forgotten essential of the backpacker-life? SPOILERS! Guess you'll just have to click the button to find out. 😉
Find Out What It Is!
Best National Parks Near Michigan
Ahhhh, The Great Lakes State. There are over 3,200 miles of freshwater coastline here, comprising four out of the five Great Lakes themselves. Travelling to Michigan might mean staying in Detroit for most, but when it comes to nature, this state is a full-on watery wonderland.
There are a number of national parks and forests that protect all of this natural goodness. From coastal getaways to dense forest expeditions, prepare for some of the best lakeside adventures of your life!
Sitting on Michigan's scenic Upper Peninsula, and less than a 5-hour cruise from Detroit, is Hiawatha National Forest. A dream of a road trip destination! Lose yourself in time and space at this jaw-dropping 894,836-acre forest, walk its numerous trails, and kick back on a beach before you explore the islands. RV camping here can be done on a number of locations all around the forest.
Just over 4 hours from Detroit is Wilderness State Park. Located at the tip of Michigan's Lower Peninsula, this aptly-named slice of natural wonderland comprises 10,000 acres and 26 miles of coastline. Beaches and sand dunes criss-crossed by hiking trails, sunny mornings, and insane night skies. Wilderness was designated as an official "dark sky preserve", so you can image what expects you on a clear night in the park… RV sites are fairly ample as well.
This dreamily picturesque place is where you'll find some of the best RV camping Michigan has to offer. You'll find Sleeping Bear Dunes on Michigan's Lower Peninsula, along the northeast shore of Lake Michigan. You can camp in the lush forest, explore the towering sand dunes, and walk on winding trails through historic farmsteads. All just a straightforward 4.5-hour drive from the hustle and bustle of Detroit!
Huron-Manistee National Forest
Just a 3-hour cruise from Detroit, Huron-Manistee National Forest makes for a definitive destination for the quintessential RV road trip in Michigan.
This national forest comprises almost a million acres of pine forests and wetlands… forests and wetlands that will make you go bananas. It's made up of two main ones, Huron and Manistee, and lies between the shores of Lake Huron and Lake Michigan.
You'll find dunes, sand prairies, and oak savannahs. Countless rare ecosystems that are just waiting to be explored in this beast of a national forest — and enough to satisfy your outdoor cravings for days on end.
At Huron-Manistee National Forest, days are spent hiking, biking, paddling, or simply just chilling out on a sandy beach to soak all the tranquility in.
Thankfully, there are a couple of nice RV campsites around — the Au Sable River area has a fair few, and you'll find plenty on the M-37 too, between White Cloud to Baldwin. Pick away.
And the lakes in the national forest provide thousands of opportunities for watery activities. Do not miss it if you're a water sports enthusiast!
Ottawa National Forest
For those of you who are looking for Michigan rental RVs so that you can take on a really epic trip, this is the destination for you. Spanning massively over almost 1 million acres, Ottawa National Forest is located on Michigan's Upper Peninsula and is stacked full of things for outdoor-lovers.
Stretching from the south shores of Lake Superior all to the way to the border with Wisconsin, the forest is pitted with lakes, gushing waterfalls, rapid rivers, undulating hills and an abundance of wildlife. 
If you're travelling from Detroit, it will be around 9 hours through route 75. You'll be cutting up through the mitten and perhaps stop off somewhere beautiful for the night — we recommend Houghton Lake State Forest Park. 
Once you arrive at Ottawa National Forest, you'll be greeted by a selection of RV camping options. There are 22 campgrounds around the forest and there's even space for 50-60 feet monster RVs. Most are booked on a first-come, first-served basis, so choose wisely and book in advance if you can. 
2000+ Sites, Unlimited Access, 1 Year of Use – All. Absolutely. FREE!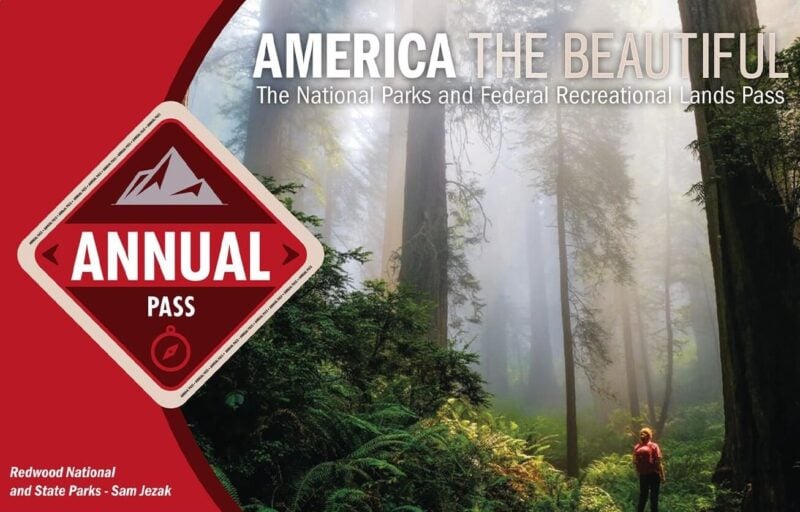 The USA is blisteringly beautiful. It's also blisteringly expensive! Visitng two national parks in day can run you $70+ in entry fees.
Orrrr… you kick those entry fees to the curb, buy an annual 'America the Beautiful Pass' for $79.99, and get unlimited access to ALL 2000+ federally managed sites in the States totally FREE!
You do the math. 😉
Buy the Pass!
Best Places to Visit in the Michigan Area Mega-Map
Want to get your head around all these awesome destinations? Click the map below for some Google Maps magic, and you can start mentally planning your RV wanderings!
Planning Your Michigan RV Road Trip – Tips and Advice
Getting to grips with the costs for Michigan rental RVs is crucial to make sure your trip runs smoothly.
You should also get reading on some road rules and safety tips before you're good to go. Here's all the insider info that you need to know…
Small Pack Problems? 😉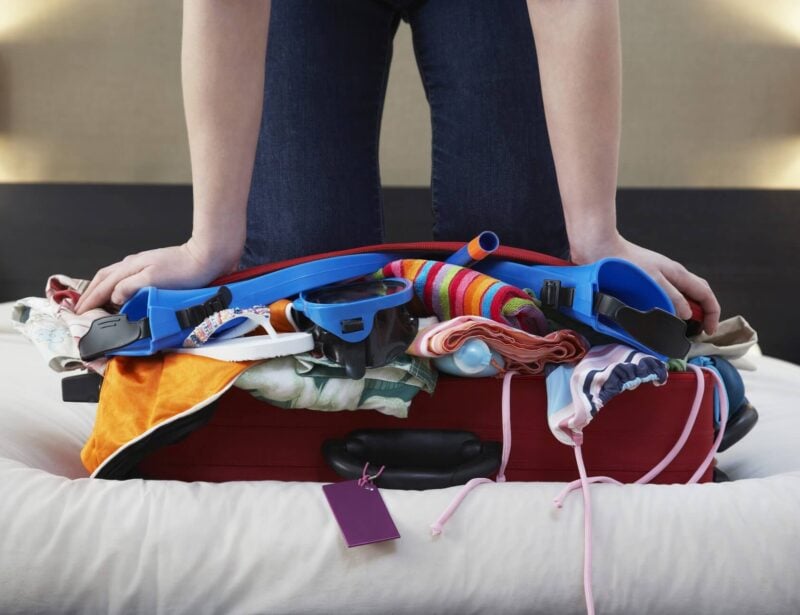 My missus travels with all her clothes in ziplock bags: don't be like my missus. UP YOUR PACKING GAME!
Packing cubes for the globetrotters and compression sacks for the real adventurers – these babies are a traveller's best kept secret. They organise yo' packing and minimise its volume too so you can pack MORE.
Or, y'know… you can stick to ziplock bags.
View Our Fave Cubes
Or Check Out the Sacks!
Planning a Trip Budget: Prices for Michigan's RV Rentals, Parks, and Campsites 
Michigan RV rental prices can seem like a headache for first-timers, but they are as straightforward as it gets. Much like renting a car or booking yourself a room, they vary depending on the season. Peak summer months spike prices and travelling off-peak will save you the most money.
Another factor to consider when looking to rent an RV is the age, make and model. The newer the vehicle, the more it's probably going to cost. That goes the same way for larger RVs and more luxury models too, but something a little bit older and smaller will save you a LOT of cash.
Here's a more in-depth look into it so you can get a better insight:
RV Rental Michigan

| Range | RV Rental (per day) | Campsite/Park (per night) | Food and Drink for One (per day) |
| --- | --- | --- | --- |
| Budget Holidayer | $55-$100 (Trailers to smaller Class Cs/Bs) | $0-$28 | $8-25 |
| Treat Yo'Self | $110-$260 (Class Cs/Bs to smaller Class As) | $25-$45 | $30-60 |
| Luxury Living | $260-470 (Class As and luxury RVs) | $50-80 | $50+ |
And don't forget to factor rental insurance into your budget either! It may be expensive, however, not all insurance companies are created equal.
RentalCover.com has got your back. Their policies include all the common damages and come out cheaper than what you'll get at the rental desk
RV Packing List
Packing for an RV trip is something you need to take very seriously.
Yours is probably going to come equipped with a lot of goodies that are helpful on the road, but there are a few other items we think are essential for any RV trip you plan to take.
Surge protector
Electrical adapters
Extension cords
Electrical and duct tape
Battery jumper cables
Tire pressure gauge
Levelling blocks
Wheel chocks
Extra cotter pins
Extra motor oil and transmission fluid
Water pressure regulator
Drinking water hose
Toilet chemicals
Sewer kit
RV-friendly toilet paper
Shovel
Flashlight
Fire extinguisher
Emergency road assistance kit
Large zip-close bag for documentation
And as an added bonus, here's some excellent backpacking gear that our Broke Backpacker team adore. Suited for any trip… with or without wheels!
RV Packing List
Packing for a road trip is something you should take very seriously. Especially when an RV is added into the mix!
Yours is probably going to come equipped with a lot of goodies that are helpful on the road, but there are a few other items we think are essential for any RV trip you plan to take.
Surge protector
Electrical adapters
Extension cords
Electrical and duct tape
Battery jumper cables
Tire pressure gauge
Levelling blocks
Wheel chocks
Extra cotter pins
Extra motor oil and transmission fluid
Water pressure regulator
Drinking water hose
Toilet chemicals
Sewer kit
RV-friendly toilet paper
Shovel
Flashlight
Fire extinguisher
Emergency road assistance kit
Large zip-close bag for documentation
And as an added bonus, here's some excellent backpacking gear that our Broke Backpacker team adore. Suited for any trip… with or without wheels!
Never Leave Home Without It!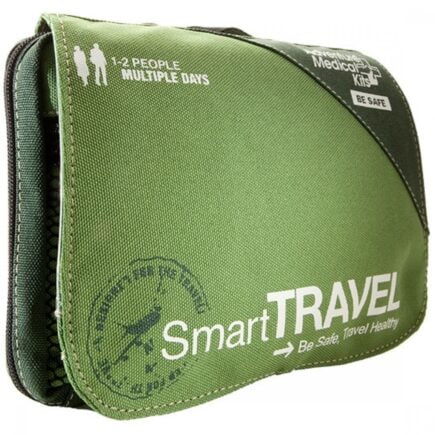 Never Leave Home Without It!
First Aid Kit
Even if you don't plan on doing anything too extreme on your trip, you never know what could happen. Cuts, bruises, scrapes, third-degree sunburn: a first aid kit will be able to handle most of these minor situations.
Keeps Your Brews Hot and Bevvies Cold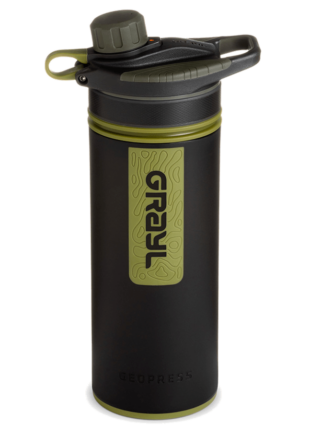 Keeps Your Brews Hot and Bevvies Cold
Grayl Geopress Water Bottle
Always travel with a water bottle! They save you money and reduce your plastic footprint on our planet. The Grayl Geopress acts as a purifier AND temperature regulator – so you can enjoy a cold red bull, or a hot coffee, no matter where you are.
So You Can See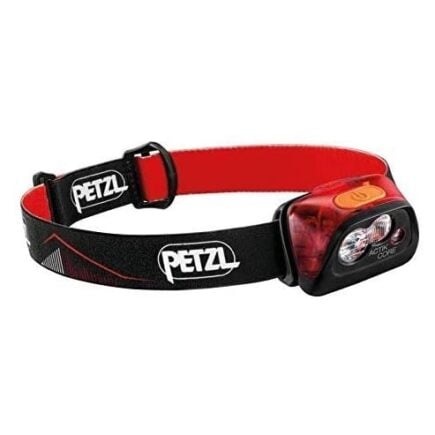 So You Can See
Petzl Actik Core Headlamp
Every traveller should have a head torch! A decent head torch could save your life. When you're camping, RVing, or just heading into the woods, a top-quality headlamp is a MUST. The Petzl Actik Core is an awesome piece of kit because it's USB chargeable—batteries begone!
The Most Massively Useful Thing an Interstellar Hitchhiker Can Have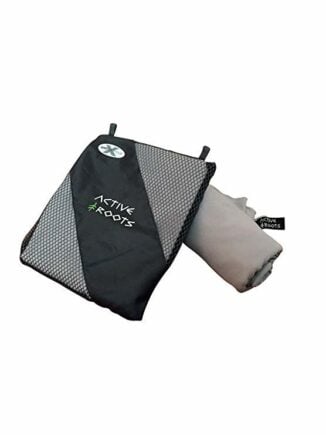 The Most Massively Useful Thing an Interstellar Hitchhiker Can Have
Active Roots Microfibre Towel
I dunno what to tell you—microfibre towels are the tits! They're so compact, they dry lighting fast, and they're just a real multi-purpose tool. Never go adventuring—on or off-world—without one!
Everyone Needs a Hammock
Everyone Needs a Hammock
Active Roots Camping Hammock
Hammocks are always practical: they're lightweight, cheap, strong, sexy (chicks dig hammocks), and allow you to pitch up for the night pretty much anywhere. The Active Roots Camping Hammock is one of the best on the market and most importantly… it's cheap!
In an RV, This is a Game-Changer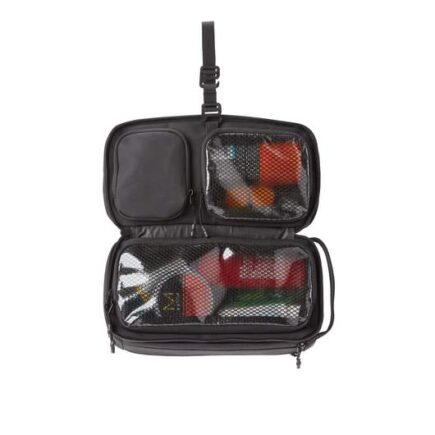 In an RV, This is a Game-Changer
Hanging Toiletry Bag
Oh man, hanging toiletry bags are a ridiculously efficient bit of gear for any travels. They keep all your unmentionables organised and they can be used anywhere—just hang it up and you're good to go! When you start living the RV-life, you'll never look back on the hanging toiletries game.
Tips for Renting an RV in Michigan
Driving an RV can be tricky — especially if you've never done it before. Either way, it's good to get some practice before you hit the road. And before you do anything, here are some tips to consider before you and your RV start tearing it up through Michigan.
Get it right – We're talking RVs. Big, beautiful rides. But there's no point in getting some monster of a vehicle if you've never driven one before. Do your research and pick wisely.
Read the fine print – Hidden costs are easy to miss when renting an RV in Michigan. It's boring, we know, but make sure you read the listing description carefully and message the owner if you have any questions (or if anything happens on the trip).
Plan, plan, and then plan some more – Hitting the road with no worries at all is a romantic idea, but it's not feasible every time. Avoid mishaps and disappointment by booking RV camping sites ahead of time.
Call ahead – Though sites say they accept RVs, the sizes, models, and sometimes even the age of the RVs they accept can vary. The solution? Call ahead and ask, it will save you a lot of hassle.
Don't get carried away – Having a budget might sound lame, but it can make or break a trip. Blowing everything on a crazy RV, but then being stuck without cash to enjoy the good life in it? Uh-uh. Set some cash aside so you can treat yo'self to a decent meal and fun activities on the road. 
Escape from the city – This one is kind of a no-brainer, but keep things as cheap and as hassle-free as possible. Stay away from cities and large towns. Everything from food to accommodation will be more expensive, and it's a nightmare to drive in there. Plus, you've got all kinds of parking rules that you need to know (and not break).
Be a good camper – Different campsites around the parks will have different rules, and what goes for one place may not be the case for another. Before you get the fire running and the beers flowing, be considerate and respect other campers.
Take it eeeasy – Driving an RV is definitely not like driving your usual car. These things are huge, they turn differently and take some time to get used to. If you're new to it all, take things slow before you speed down that lonesome road.
Save $$$ • Save the Planet • Save Your Stomach!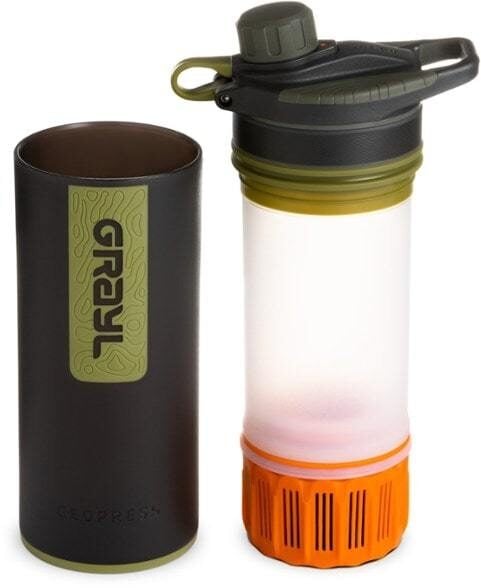 Drink water from ANYWHERE. The Grayl Geopress is the market's leading filtered water bottle protecting your tum from all the waterborne nasties. PLUS, you save money and the environment!
Single-use plastic bottles are a MASSIVE threat to marine life. Be a part of the solution and travel with a filter water bottle.
We've tested the Geopress rigorously from the icy heights of Pakistan to the tropical jungles of Cuba, and the results are in: it WORKS. Buy a Geopress: it's the last water bottle you'll ever buy.
Buy a Geopress!
Read the Review
Staying Safe in Your Rental RV
You're likely not used to driving an RV around, so we want to make sure nothing bad happens to you or your RV.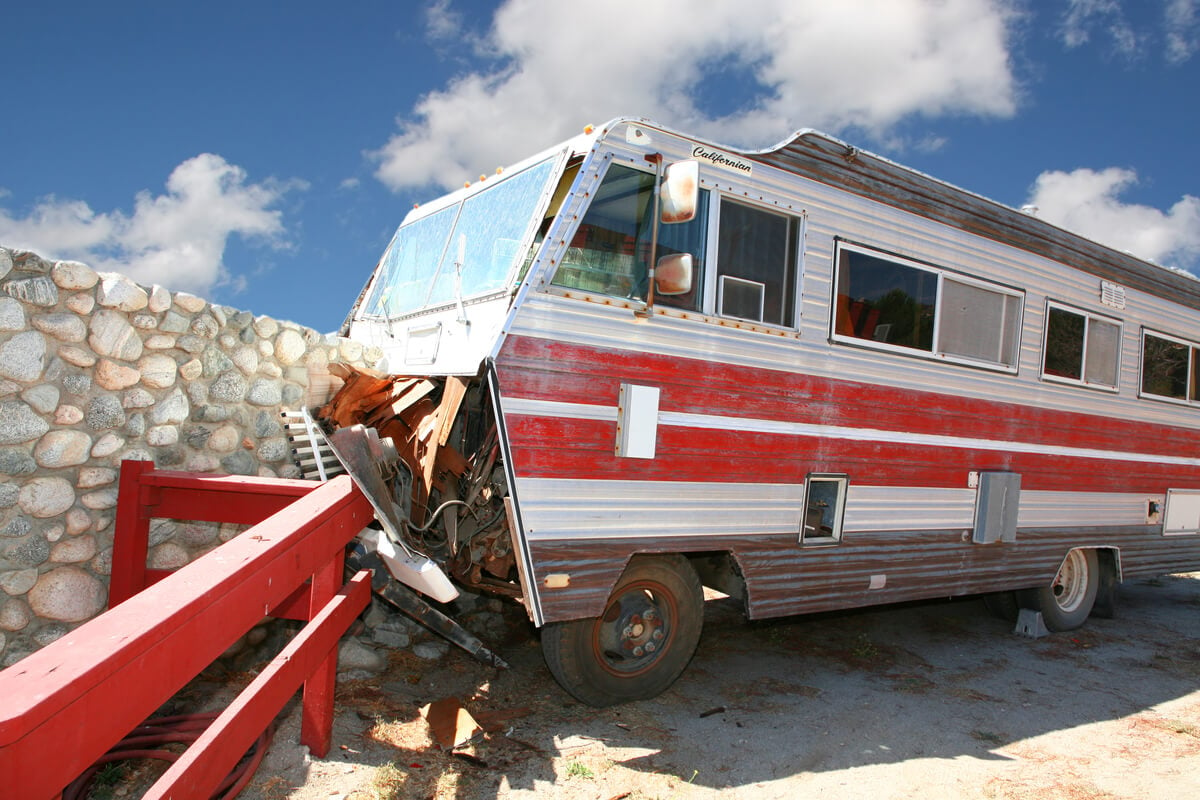 There are a couple of things you can do to make your RV trip to Michigan smoother. One is to key yourself in on how to drive an RV safely. Two is to make sure that it's insured!
Shoutout from Will – The OG Broke Backpacker: Have fun on your backpacking adventure, but please do consider getting insurance—take it from someone who has racked up tens of thousands of bucks on an insurance claim before, you may need it.
Obviously, your RV is going to need insurance, but make sure your person is insured too! Travelling without insurance could be risky. Presenting The Broke Backpacker's go-to Insurer—World Nomads!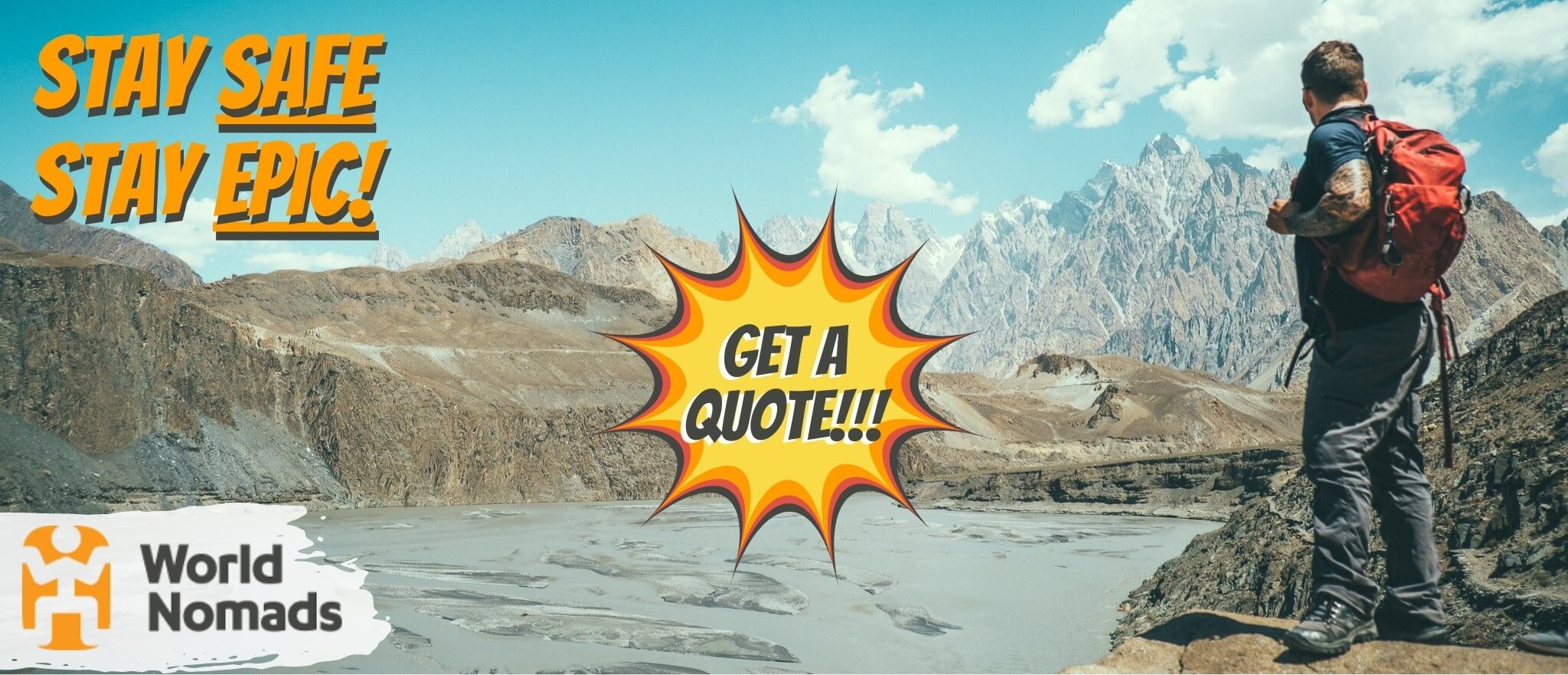 It's good to get lost sometimes, but it's also good not to get too lost. There are people that want you home in one piece.
There's one travel insurance provider The Broke Backpacker trusts for all his wildest shenanigans… World Nomads!
Click the button below to get a quote on your insurance or read our in-depth review of World Nomads' coverage. And then… let the shenanigans begin. 😉
Your Michigan RV Rental is Waiting!
That's pretty much it! We've tried our best to cram in as much info and helpful tips as we could into this guide.
We hope you've learned plenty and got some crazy ideas for that road trip plan that brought you here in the first place.
Taking an RV road trip in Michigan is a dream. There are so many huge forests, lakeside campsites, and waterways that you could literally go on a trip every week and still be discovering somewhere new.
And there's never been a better time to do it. Wide-open spaces, plenty of nature, and a lack of crowds mean you can still feed the wanderlust bugging you, even when travelling further might not be on the agenda… just yet. 
What are you waiting for? Get yourself on Outdoorsy (or RVshare), search for the RV of your dreams, and soon enough, all of this could be yours…
---
Thanks for reading – that was fun! 😀
We bring you epic FREE content!
Find out how YOU can help support us.
We're a big site with a big team and this job isn't always easy. But we do it because we love it – we love providing epic and free content. We love the knowledge that our content keeps you adventuring. We don't ask for money, but if you'd like to find out how you can help the site in more organic ways, click the button below.
Thank you for your support 🙂
---
Bye for now, but not forever!
If you want MORE top-tier Broke Backpacker content like this, then sign up for our weekly newsletter below to get the latest and greatest!
And for transparency's sake, please know that some of the links in our content are affiliate links. That means that if you book your accommodation, buy your gear, or sort your insurance through our link, we earn a small commission (at no extra cost to you). That said, we only link to the gear we trust and never recommend services we don't believe are up to scratch. Again, thank you!